8 of the best social media competitor analysis tools for 2023 (+6 new)

Article summary
Discover the top 14 best competitive analysis tools, including social media competitor analysis tools, SEO competitive analysis, influencer marketing analysis, content analysis, and more! You won't want to miss the chance to analyze your competitors' list from every angle.
20 minutes read
Competitive analysis tools
"Keep your friends close, but your enemies closer," is probably not the first thing you think about when you think of social media and competitors research, but the words by the wise Chinese general and military strategist might be the ones to keep in mind when it comes to staying ahead of your competitors.
While warriors need armor and enormous amounts of human sacrifice to stick to this advice, modern methods of spying on your competing companies are way less bloody. Today, just a handful of dedicated tools for competitive analysis and building marketing strategy can help the pros in pursuit of uncovering the strengths and weaknesses of their competition.
We've tested multiple competitive intelligence tools (not just monitoring software) for social media marketing, newsletters, SEO, analysis, and more. While we highlighted competitor analysis tools, social media platforms are not the only places where your competitors make moves, so we included the best competitive analysis tools for other areas as well.
In this article, you can find a selection of our top competitor research tools for everything your business in 2022.
Awario for social analysis
Social media analytics is a vital part of any competitor analysis toolkit. No social media competitor analysis tools list would be complete without this brand at the top of the list. Yes, that's right, our top pick is Awario. But before you think we're just tooting our own social media marketing tools horn, let us tell you what we can really do.
First things first, if you're thinking of getting started with competitive analysis, chances are that you've already got some monitoring mentions for your own brand. The caveat is, that it's not very convenient to search for your name alongside all of your competition manually, especially across multiple platforms. In fact, it's a pain point for loads of specialists that need to use marketing tools.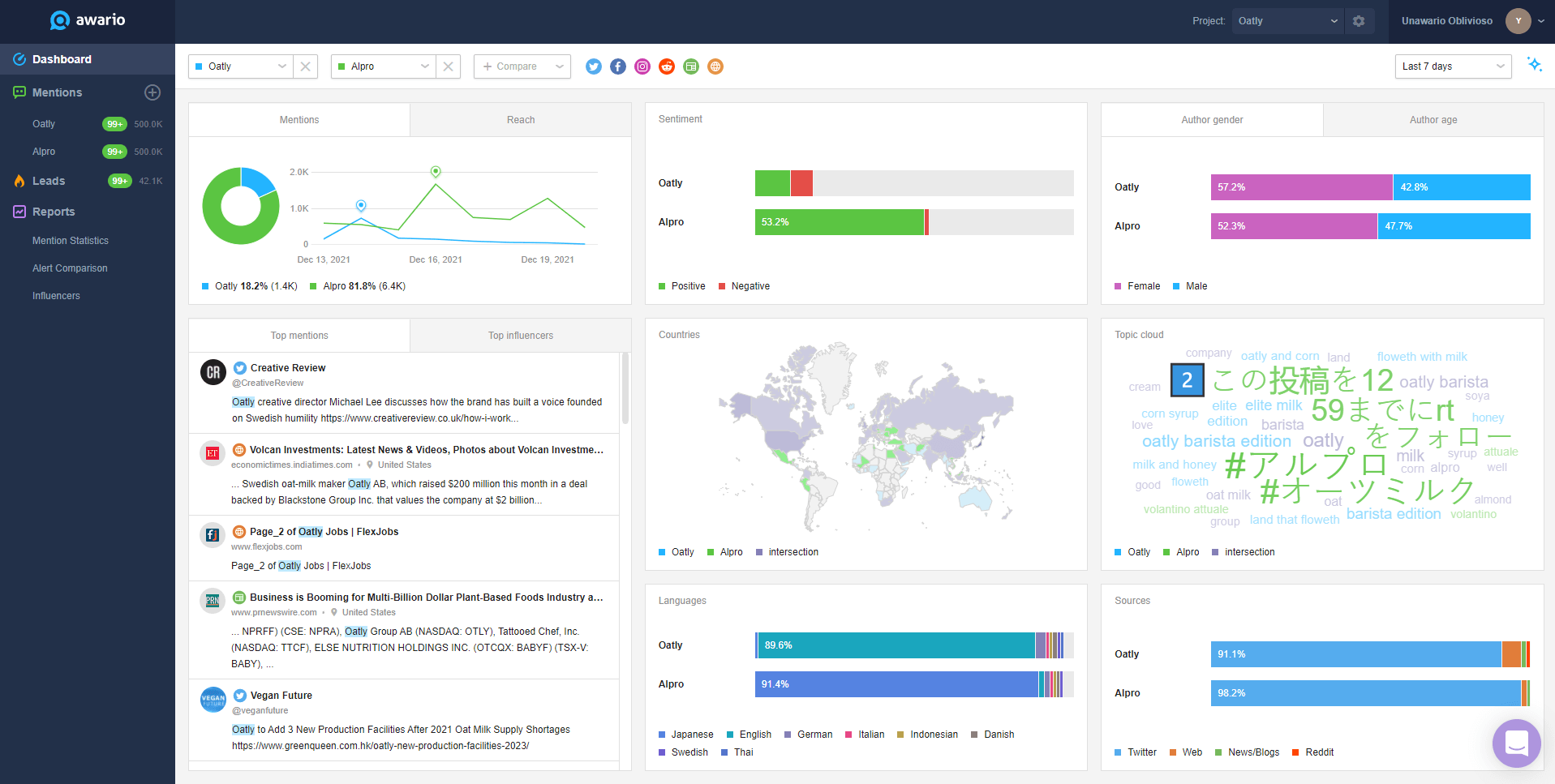 Even if you're only interested in, say, an Instagram competitor analysis, online conversations pop up in unpredictable numbers, so using a monitoring tool that will automate this process is a smart idea.
Awario is a platform that helps with social media competitor analysis. I'd recommend starting by creating mentions monitoring alerts for any keywords you need. Make sure to set up alerts for your top competitors, as the tool tracks brand mentions in real-time across the major platforms, forums, news, blogs, and web pages and present all metrics in branded, shareable reports.
Better yet, make sure to also add a link to each competitor's domain in the Alert Settings. This way, your feed will also include mentions that link to your competitors' content (even though they might not explicitly mention their brand names).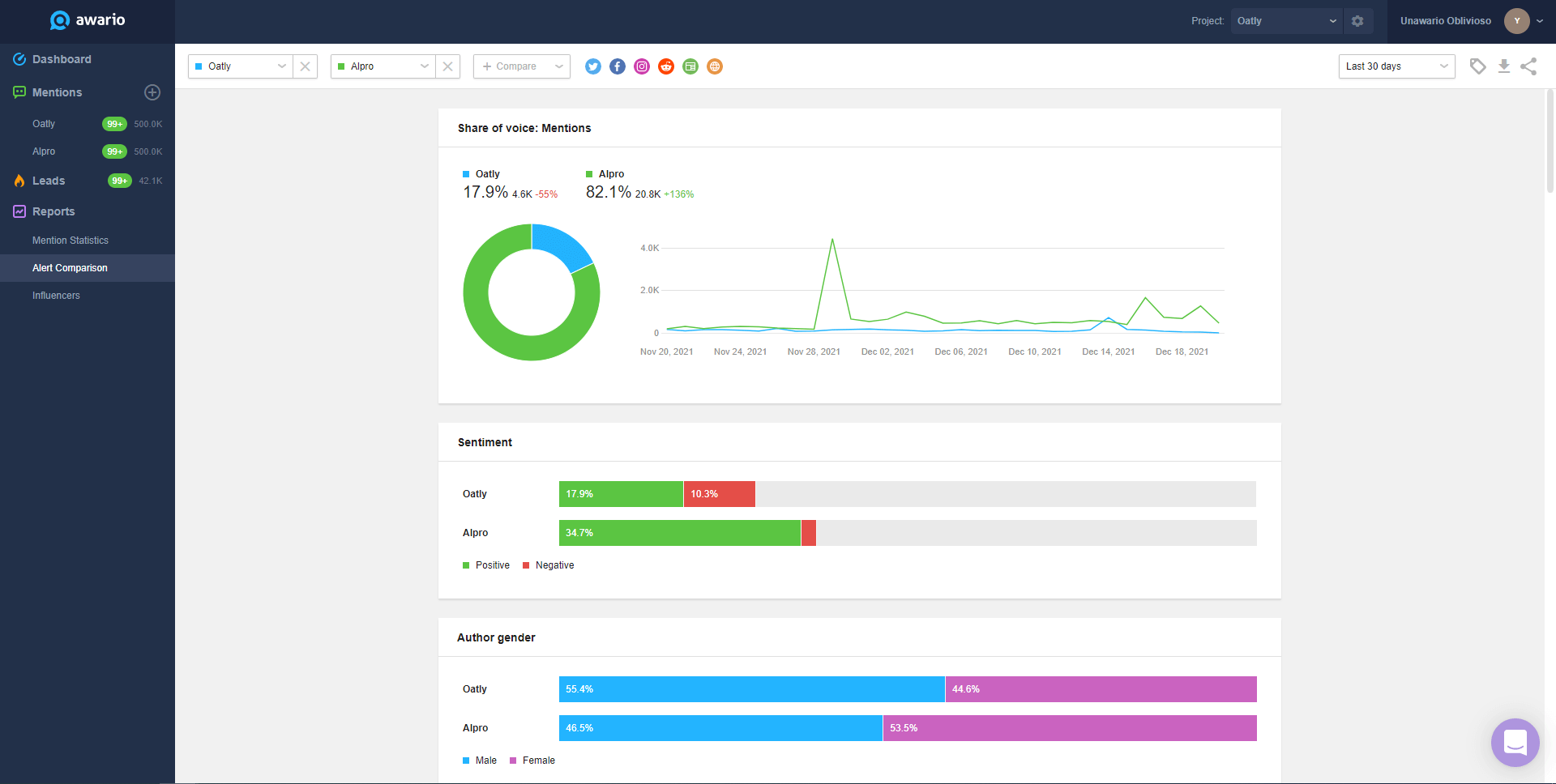 ​​​​​Pricing: You can try Awario with a free 7-day trial. Pricing starts at just $39/mo for the Starter plan ($24 if billed annually) and goes up to $399/mo ($249 if billed annually) for Enterprise. Awario also offers custom plans for agencies and bigger brands.
Sign up for a free Awario trial
See Awario in action with a free 7-day trial. No credit card required.
By signing up I agree to the Terms of Use and Privacy Policy
BuiltWith for technology lookup
Have you ever found yourself wondering what research, analysis, SEO tools, and social media marketing tools your competitors are using? What about their marketing competitive analysis software? Free toolkits? Or the technologies their websites are built on?
BuiltWith is a market analysis tool that will give you answers to these (and more) questions. Just type in the URL of a competitor's site, and you'll see the scripts, services, and plugins the website uses. On top of that, you'll discover all kinds of front- and back-end technologies used by any company. It's one of handy tools to keep one step ahead of your competitors.
Once you've found a platform or service within your competitors' profile, you can look it up on the website to see its usage analytics, the number of users, market share, etc.
This is a real goldmine if you and your competitors are technology providers: BuiltWith lets you both see the technologies used by your rivals and the detailed analytics on the usage of your competitors' services by other websites. Pretty cool, right? Look like this is the competitor analysis tool that needs to be added to your marketing software pack for analysis.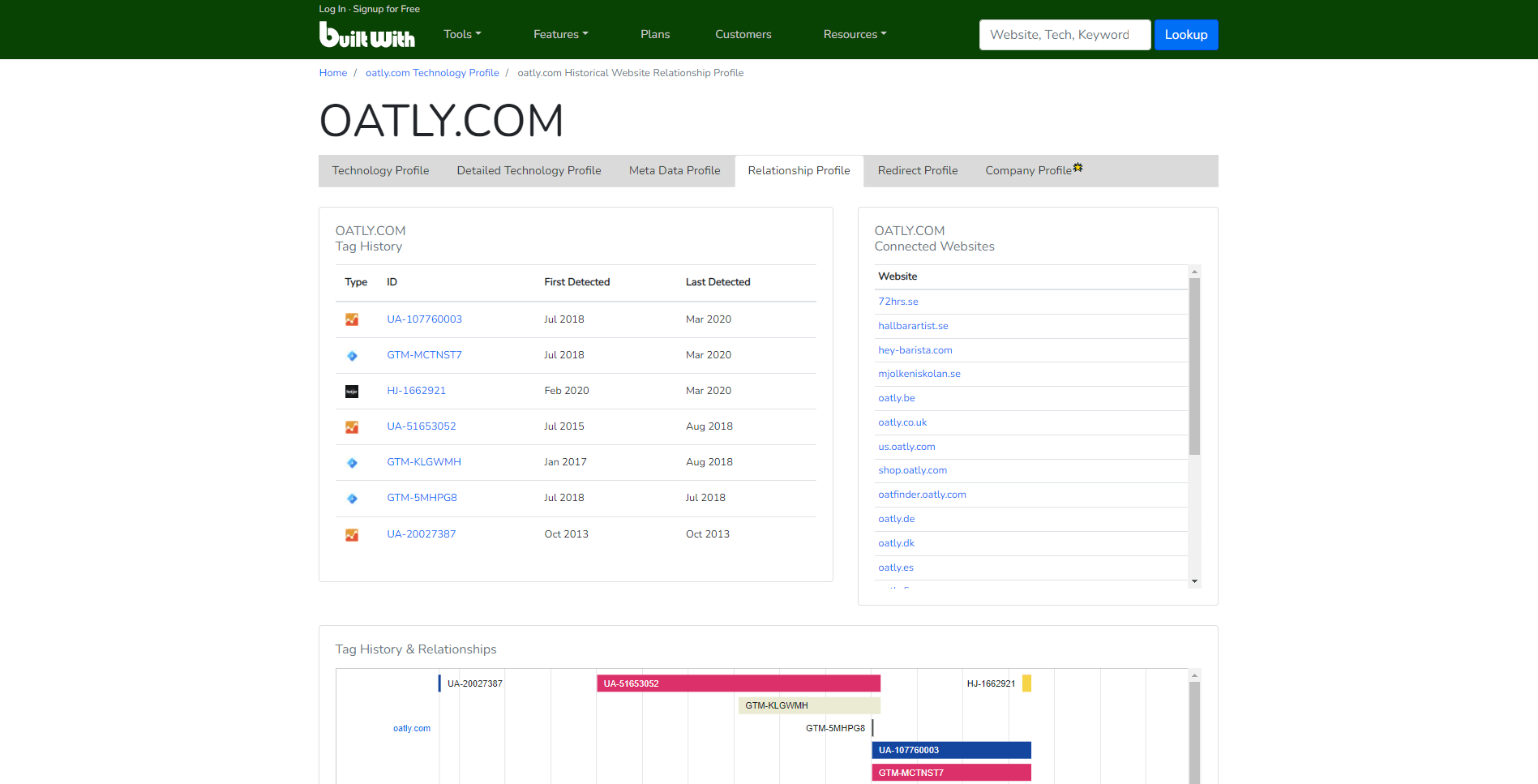 Pricing: BuiltWith is one of the free social media competitors' analysis tools, but more advanced features (like importing a list of websites using given technologies) are included in the paid version. The Basic plan is $295/mo, Pro is $495/mo, and Team is $995/mo. Plans differ in the number of users, lookups, and reports.
SEO PowerSuite for competition research
After you learned which technologies and marketing tools your competitors use, you can get down to the analysis of SEO competitors, their strategies, and their weaknesses. The SEO PowerSuite toolkit will help you at each stage of your SEO campaign—boosting your content and sharing ranking results.
Rank Tracker is a keyword rank checker and research tool. You can download it to get a list of your top competitors based on a target keyword and analyze competitors and their domain strength (a ranking score that predicts how a website will rank in search engine results). Not only that, you can uncover competitors' keywords to then adjust yours, and get a keyword report tailored to your updated needs.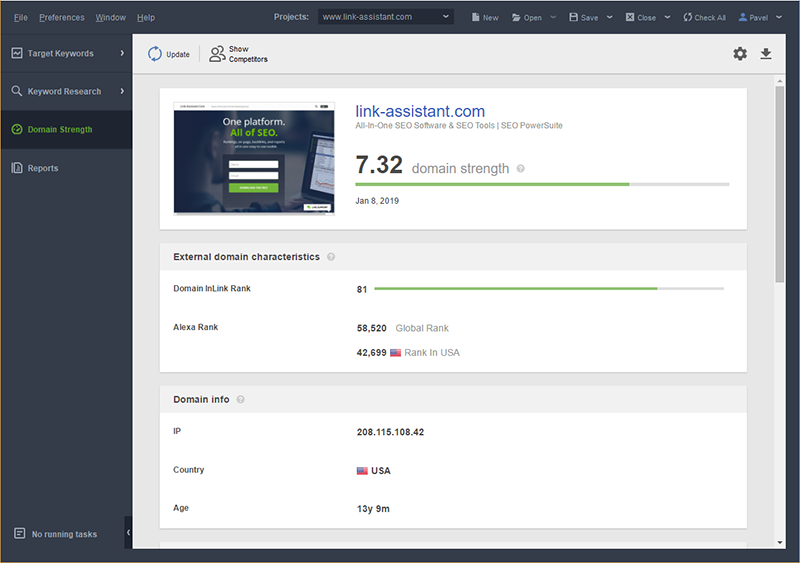 WebSite Auditor will dig through any website to understand how the search engines see your (or your competitors') site. This competitive analysis software exposes all the website issues that can influence indexing, search rankings, or user experience. On every issue created, you'll get step-by-step instructions on how to fix it. For content analysis and optimization, use the WebSite Auditor's content writing tool for SEO. The tool lets you optimize content as you create it.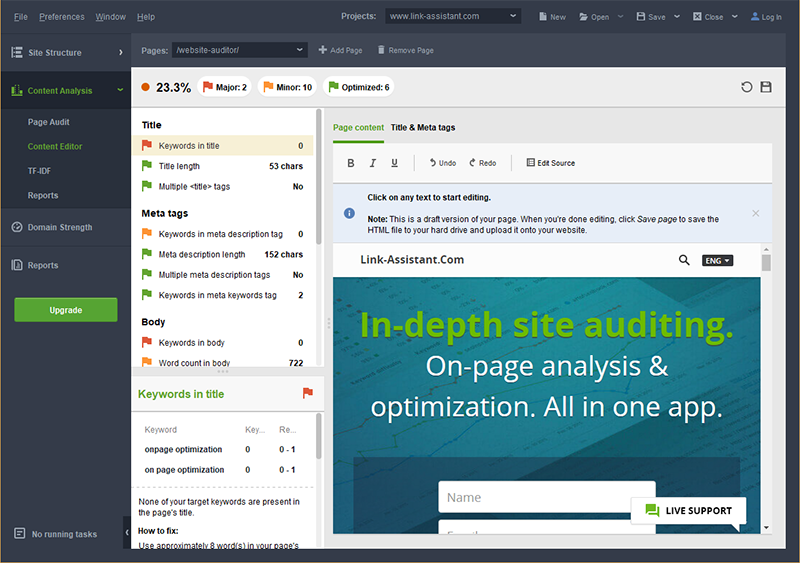 For backlink research, there's SEO SpyGlass, the all-new backlink index is perfect. It will help you spot backlinks within competitors' profiles and develop a link strategy of your own. Sneaky, but oh-so-smart. You can run the analysis of link profiles in the Project Comparison module and get a list of websites that link to several competitors under Link Intersection. SEO Power Suite offers an all-inclusive range of competitor analysis tools for SEO managers.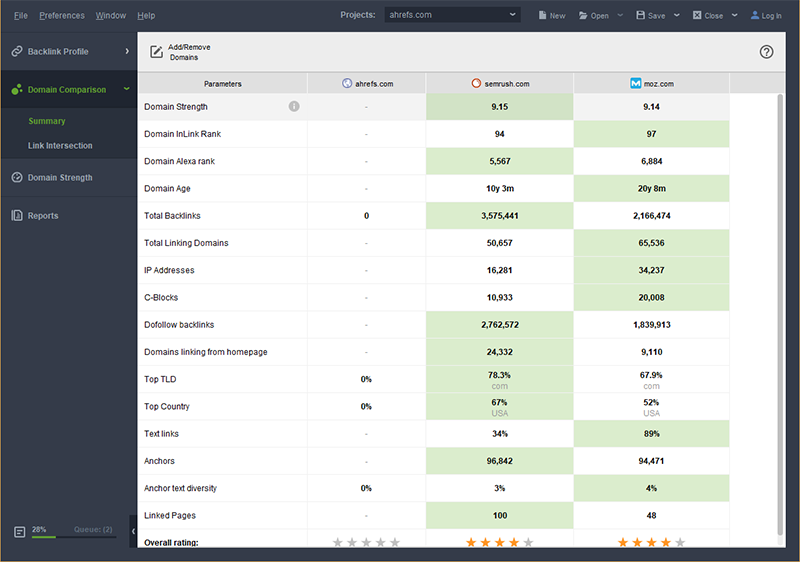 Pricing: For trying out all the apps' functionality there's a freemium version. The Professional license is $299 and Enterprise is $499. Enterprise license offers White-labeling options, various types of exports, and scheduled reports.
BuzzSumo for content analysis
Keep in mind that when running competitive analysis, apart from direct and indirect product competition, you'll encounter websites that compete with you in terms of content.
As content marketing delivers multiple opportunities to drive sales, increase engagement, and develop brand awareness, it's vital to find out what your competitors posting strengths are so you can hack their content marketing strategy and build a better one.
Understanding your competitors' marketing strategies will give you insights into where you can improve or tweak your company's current strategy. It will also show you trending topics in your niche.
BuzzSumo is one of the most powerful competitors' tracking software, as it makes engagement analysis easy, measuring the success of your content compared to competitors' content. You will find their most shared content (for example, by doing a Twitter competitor analysis you'll know who shared content on this particular platform), and have no trouble finding influencers who spread the word about competitors' products and services. Working from there you can create reports that compare your performance to theirs. Think benching your Facebook analytics against similar pages and more.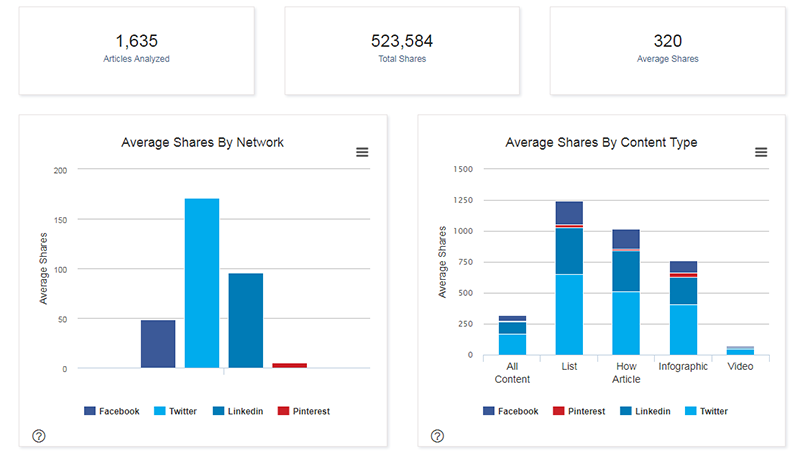 Aside from just finding competitor data from web posts, the analysis tool can undertake social media analysis. This lets you see not only what content is popular but also the content format that your competitors are most likely to use.
Pricing: There's a 7-day free trial which is followed by one of four subscription plans. Prices of this social media competitor analysis tool start with Pro is $99/month, Plus is $179/month, Large is $299/month.
Meet your personal competitor analysis assistant.
Try fully automated, 24/7 brand monitoring with Awario for free.
By signing up I agree to the Terms of Use and Privacy Policy
Google Trends for content strategy
Like BuzzSumo, Google Trends is a great analysis tool for your content strategy. In fact, it's one of the classics when it comes to marketing tools.
The best thing is that you can see how search rankings change over time. It also gives you ideas on related queries, which can help inspire your content. How does it work? In short, there are two ways to look at the keyword data: over the long term or over a short period of time.
By adding your brand name and your competitors', you'll be able to compare the interest in each one over time and see the results of your marketing strategy. There's also a regional interest diagram, showing a map of the world with varying colors to show search volume by country—a great way to select future influencer locations, right?
But, there is one 'but,' Google Trends that can only be used for monitoring competitors' activity on the Web. Unfortunately, social media analysis is not available. Maybe in the future, right Google?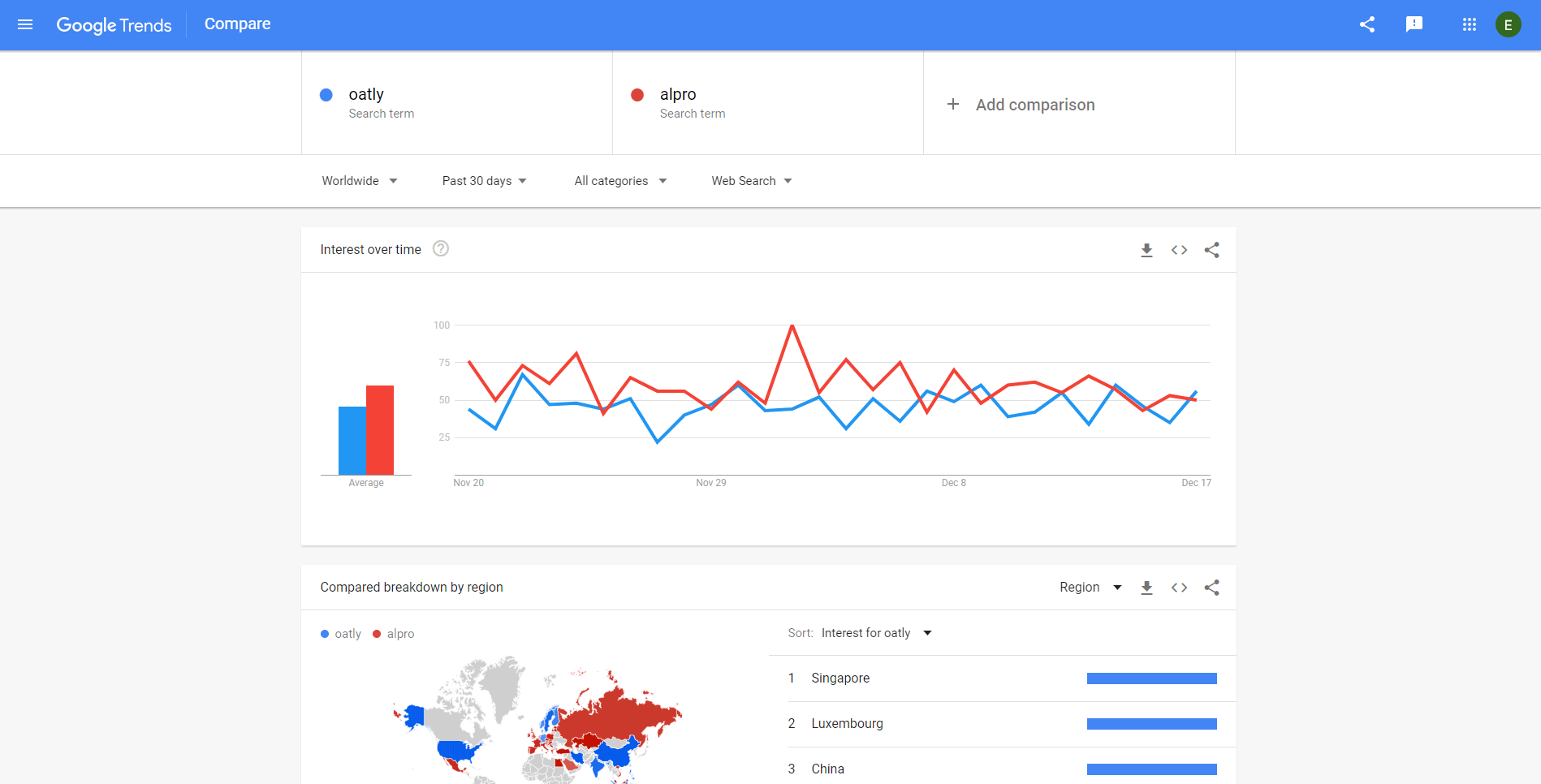 Pricing: The tool is absolutely free of charge.

SimilarWeb for website traffic monitoring
The next important aspect of competitor research is checking competitors' traffic and ad campaigns. SimilarWeb is a handy analysis tool for measuring website traffic and competitor research.
This competitor analysis tool gives you analytics on your competition's traffic and the demographics of their audience, which can be used for future campaigns.
As you and your rivals likely compete for a similar audience, their best traffic sources will usually work great for you, as well. Knowing which websites bring them the most traffic enables you to target the same sites.
Depending on the kind of websites you find, you can contact bloggers and ask them to leave comments on your product, offer to do a guest post, or come up with anything else that may be of interest to them. This type of relationship management helps build solid credibility for your brand, which can set you apart from the crowd if done right.
With SimilarWeb, you can also discover where your competitors buy ads, which ad networks perform best for them, and even see the actual ads they are running. This can help you plan your budget and paid media strategy. On top of that, you can save money by either targeting only the best ad spots they use or going for the long tail (which may bring less volume but will also reduce the costs) to add competitive advantage to your marketing strategy.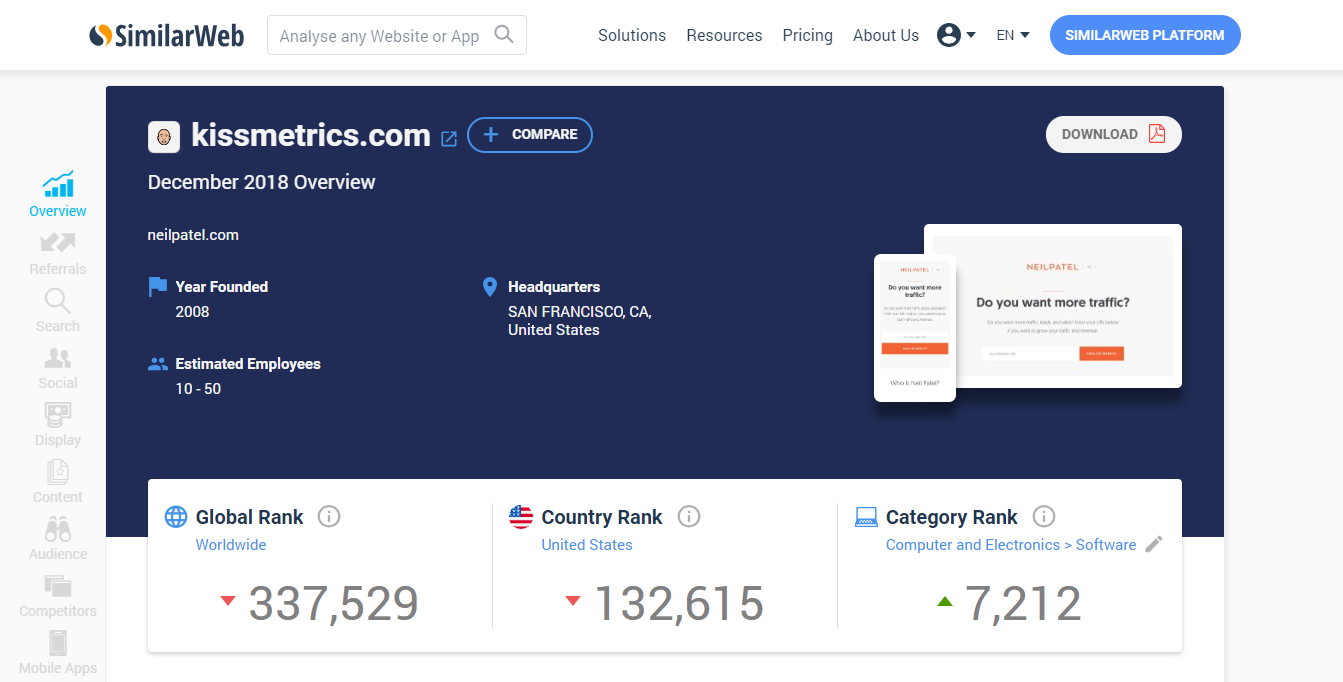 Pricing: SimilarWeb offers a free version. This is limited to 5 results per metric and only has a couple of months of historical data. Prices of custom plans are available upon request.

iSpionage for ad tracking
iSpionage is another tool for competitor analysis and tracking competitors' ads. First, the platform will help you identify your top AdWords competitors. Then you'll be able to find out how much they spend on the paid and organic search, see their published advertisements and landing pages, and find out their approximate monthly PPC budget. You can use this information to identify the top advertisers in your space and learn from the best in your industry.
But what can you do with this info? Well, it's simple. Knowing about how your competitors are building their marketing strategy helps you create yours. This can be anything from building a database of their influencers or even developing your own PPC ad campaign.
Aside from that, if you have to present the results to your boss or are looking for a cool way to share data with your colleagues, iSpionage will help you with some of the best branded competitive reports out there.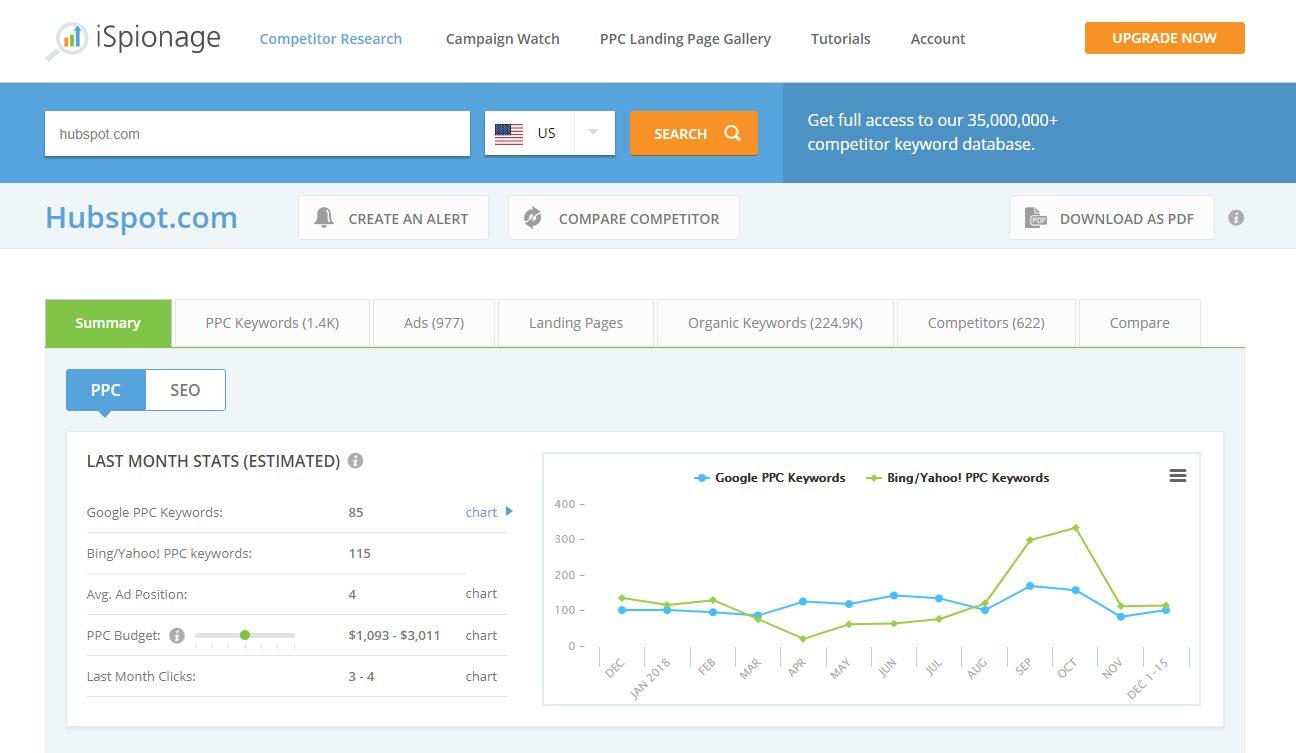 Pricing: iSpionage offers a free account with 10 free competitor analysis reports per day and 3 competitor alerts. Additionally, there are 4 subscription plans: Prices start with Starter for $59/month, Professional for $99/month, Advanced for $299/month, and Enterprise pricing is custom. Purchasing an annual plan will save up to 15%.
Owletter for newsletters analysis
59% of marketers consider email to be their most effective channel in terms of revenue generation. Moreover, well-designed emails will enhance your relationship with existing customers or help you acquire new ones.
If that's not a good enough reason to spend more time crafting better emails than those of your competitors, I don't know what is. So what can Owletter do? With Owletter, you'll be able to do a competitor analysis of newsletters: their frequency, schedule, and over-time trends.
This is one of the tools that captures emails from your competitors and organizes them in a simple, user-friendly dashboard. Over time, you'll have access to an archive of emails with basic analytics for each competitor. For example, how often their newsletters are reported as spam, the total number of emails they've sent, when they send emails more frequently, etc.
Now, what can you do with this information? First, you can spot changes in your competitors' email strategy, and see when and where they're trying something new. This is the perfect time to come up with a perfect template for your own emails. All of this makes Owletter a competitor analysis tool that should be added to your toolkit.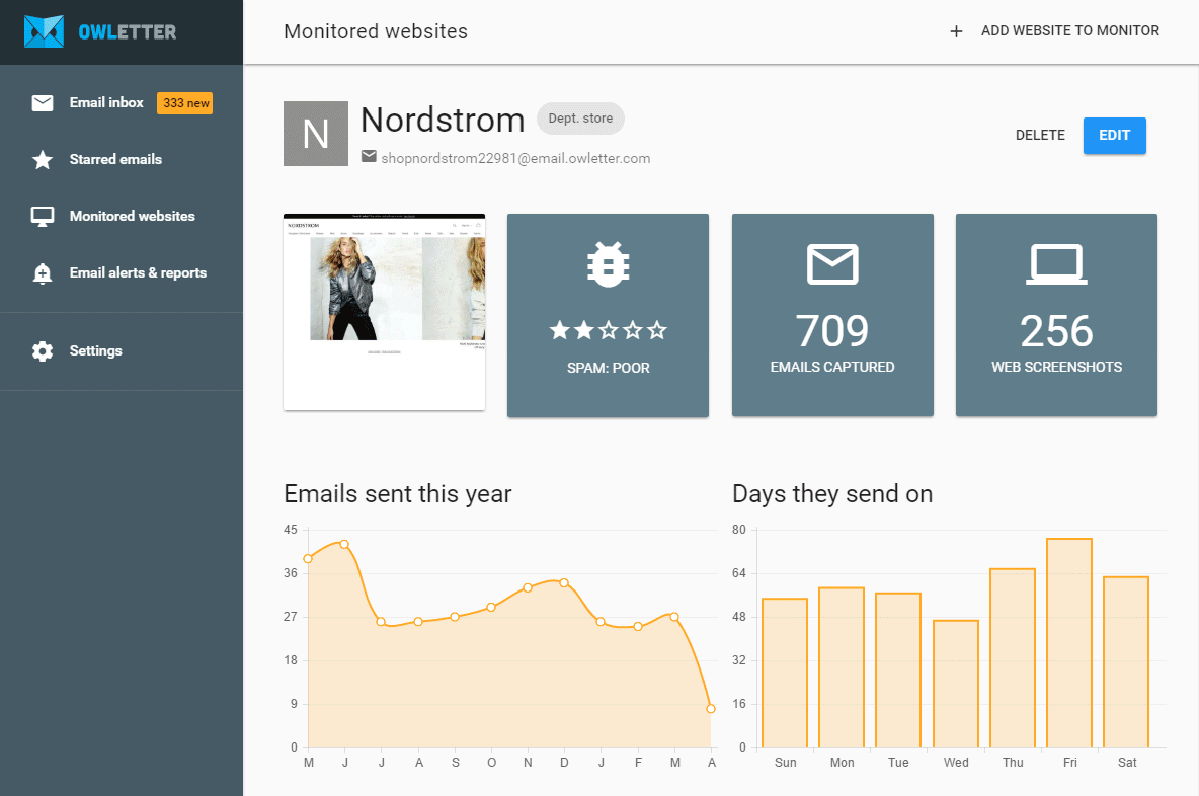 Pricing: You can start with a 14-days free trial. After that, you can pick one of the three subscription plans: Starter at $19/month, Pro at $39/month, or Unlimited at $79/month. Paying annually will get you 2 free months. Plans differ in the number of monitored websites, email alerts, and historical data storage.
Sparktoro for the target audience comparison
Sparktoro is a social media competitor analysis tool. It focuses on researching target audiences, this can help you establish everything from the best marketing strategy to finding the best influencer in the marketplace.
With Sparktoro, you can learn more about your competitor's target audience, including
Hashtags and connection tools—which hashtags do their audiences use and engage with the most?

Competitor analysis—who are the competitors on social media they follow and what do they have in common?

Influencer tracking—which influencers are their audience following?

Social media listening tools—which common terms and links do their audiences share and how often?

Influencer marketing and social media tracking—which social accounts do their audience follow and are they similar to yours?
Sparktore pulls data from several platforms, including Instagram, the web, and podcasts, but its core analytics is rooted in analysis on Twitter.
While it doesn't provide comment monitoring (if you need this, check out Awario), it gives you a full picture of your competitors' audiences on social media platforms and the web.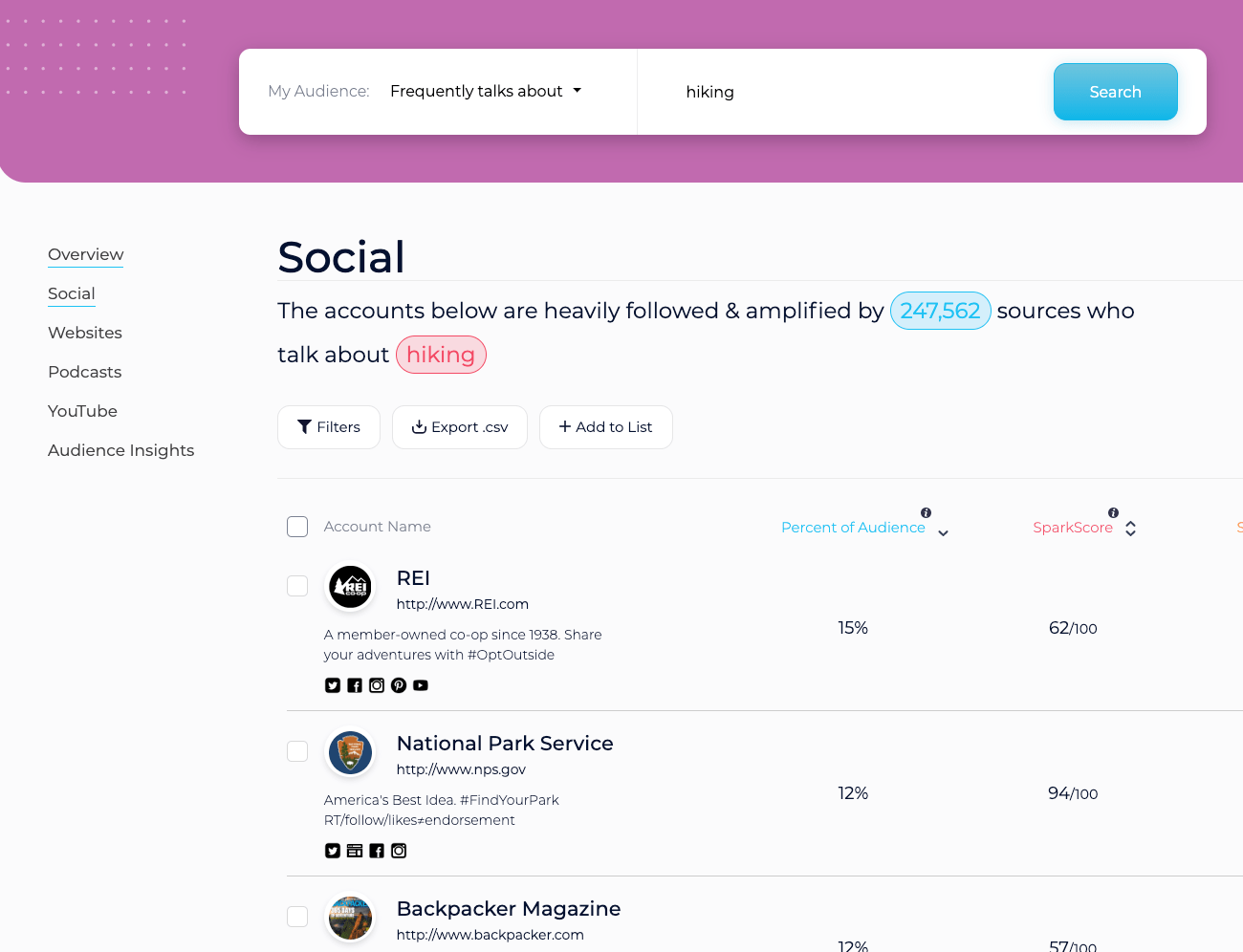 Not only does Sparktoro benefit your social media marketing strategy, but it also amplifies the approach to how to track your competitors. It can help to measure your audiences' likes and dislikes, identify your competitors' followers that might be curious to try your company, and discover actionable social media marketing insights. All this can be used to build your strategy.
Pricing: Sparktoro offers several free competitor monitoring tools and features. It includes a free feature to audit your Twitter followers to find fake followers and bots. The paid plans start at $38 and vary depending on the number of searches. Paid plans provide contact data (emails and LinkedIn) for influencers, a super-handy function for any competitor analysis tools
Feedly for content research
In most cases, your competitors' content strategy is divided between their social media profiles and content platforms, such as blogs or video platforms. While tools like Awario can take care of your competitors on social media, Feedly can audit their blog strategy for free.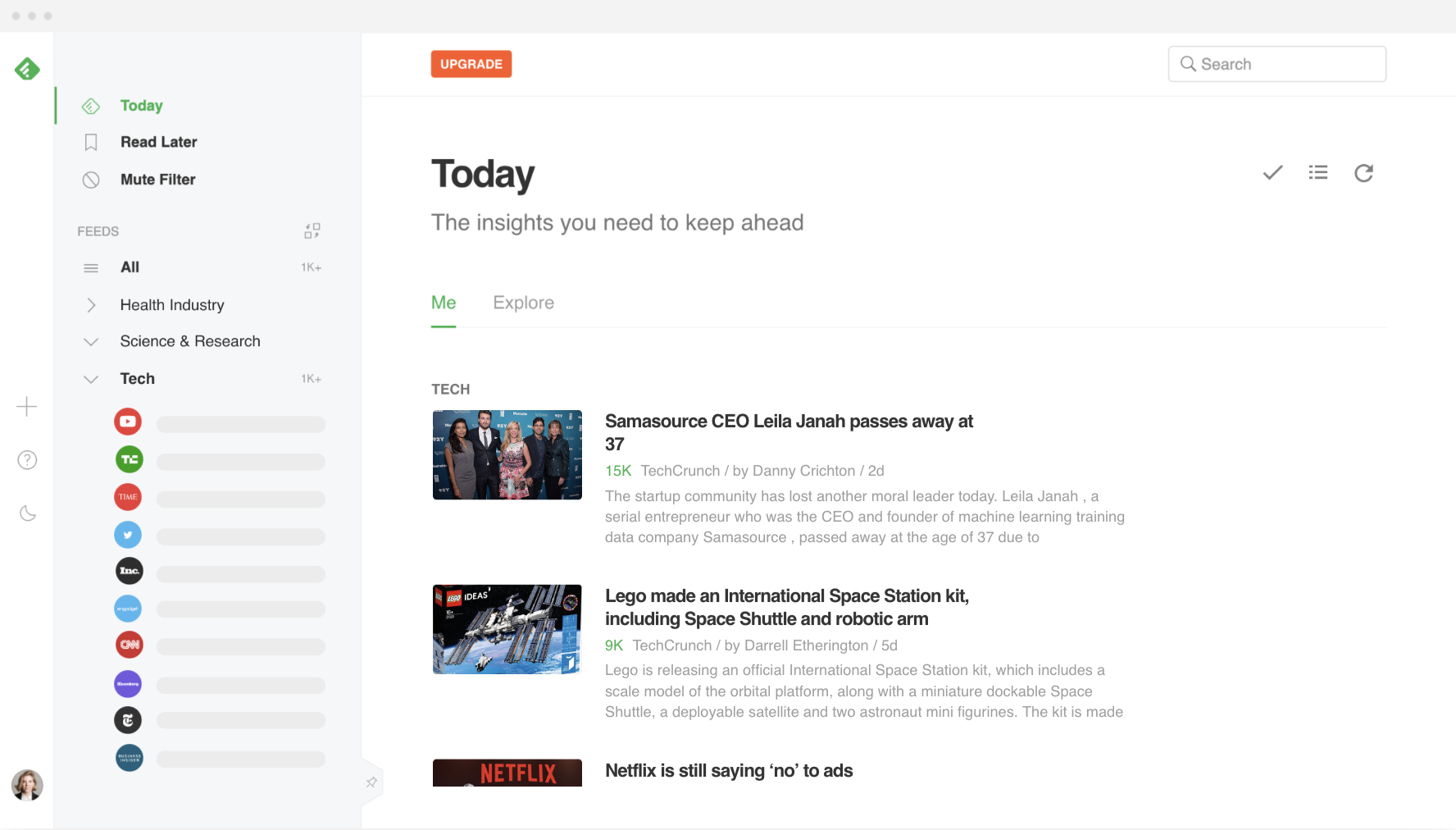 Tools like Feedly can't be really described as competitor analysis tools, but they do have some features that can be used for competitive analysis. Feedly allows you to create a feed of content on a specific topic or from specific websites. You can choose popular topics such as "Social media" or select websites from your direct competitors' list that you want to keep an eye on and build your own content feed.
It's easy peasy to use (especially compared to sophisticated competitor monitoring tools) and simple to navigate. You can track your competitors' updates and analyze competitors' content strategy—measure their content output, keep an eye on popular topics, see what people want to read or watch, and more. All this data and more can be used to build a blog strategy.
Pricing: The basic version has the main feature free, which allows you to make up content feeds for your competitors. Paid plans start at $6 and offer you more sources, the ability to get Twitter analytics, and an AI analytics tool.
Owler for financial competitive analysis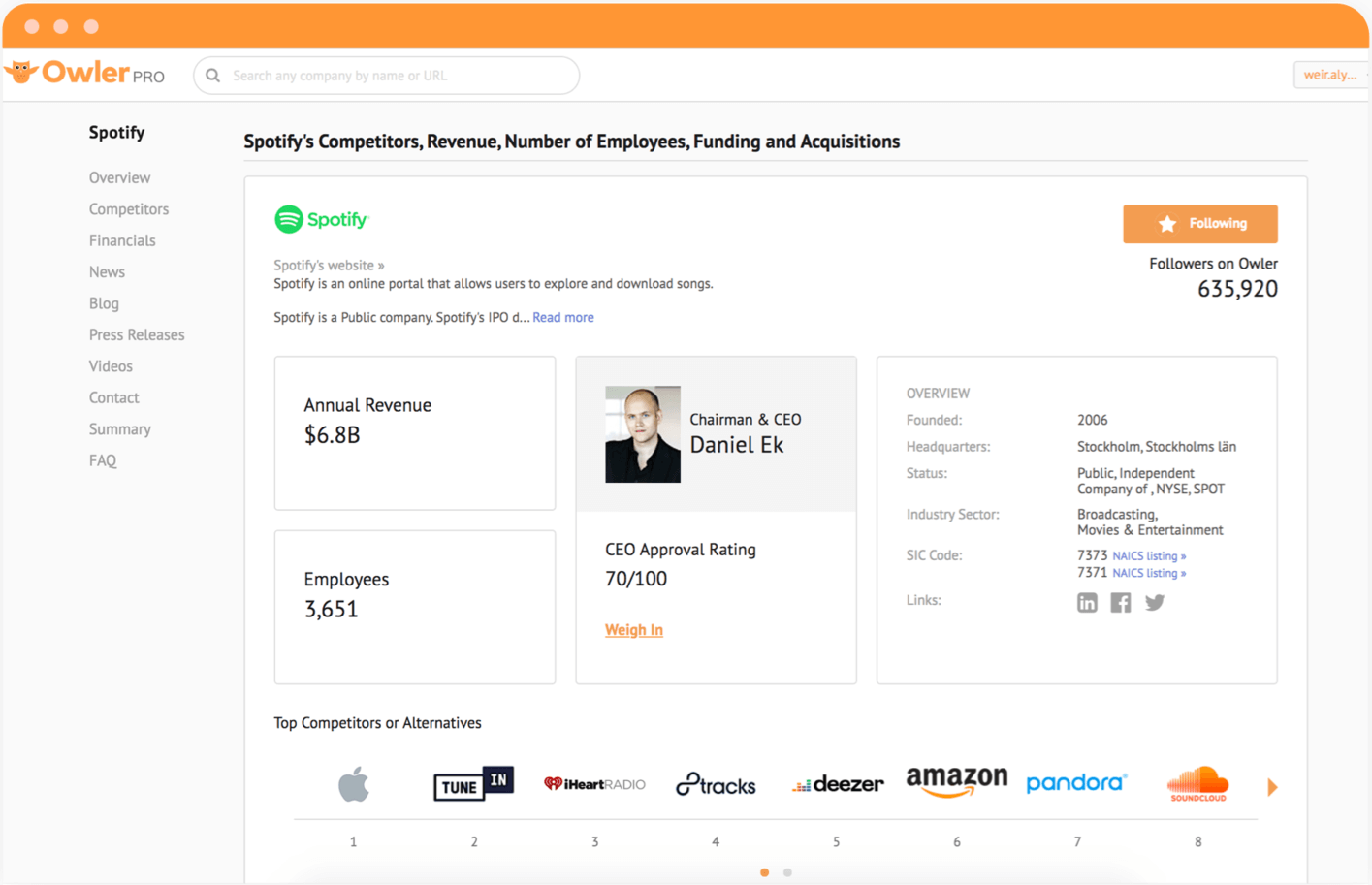 One does not simply just analyze competitors on social media platforms, websites, newsletters, and ads. Oh no! Competitive analysis always starts with the essential— business analytics.
Before you can start analyzing competitors on Instagram—their comments, followers, etc.—you need to know about the company itself. Owler lets you access hard-to-find business data on your competitors. From there you can develop a competitor report with all the essentials—earnings, employee count, revenue, and so on.
The tech gathers data from various sources and applies state-of-the-art analytics to find your top competitors, explore related industries, and, benchmark your company against them. That way you can see where you really stand. With Owler, you can analyze competitors' financials and get real-time notifications about major updates.
All of this is pretty handy when starting out your marketing analysis and strategy.
Pricing: Owler offers a free plan, but its capabilities are fairly limited. The paid plans start at $99 and include more data, customizable competitive analysis, and premium support.
We got content.
Subscribe and we'll be delivering new posts to your inbox for free.
VisualPing for real-time website changes
As a marketer, keeping track of changes to your competitors' websites can be an almost impossible challenge. And a huge waste of your valuable time as you scrawl through sites time and time again. VisualPing says enough is enough. It's high time you got some software onboard to take care of all that monitoring for you.
As I said, VisualPing is a real-time website change monitoring tool. This software is used by industry big names, such as Starbucks, Salesforce, Amazon, and more to monitor changes on their competitor sites. These automated alerts can give you an advantage when it comes to tracking changes. That way your team can quickly assign new workflows, notify the correct team members, and plan a strategy for how to get back on top.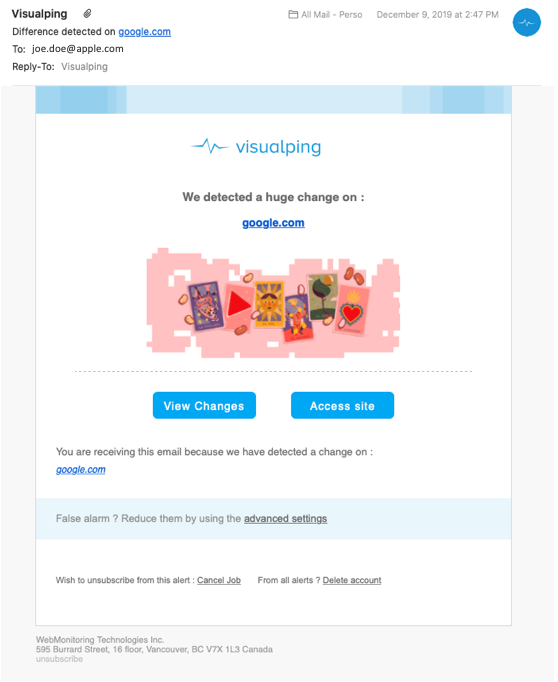 But what's so great about having all this automated, it seems so simple, right? Well, keeping track isn't easy, plus, it is time-consuming. That's before we mention the false alerts created by machine learning algorithms. By taking care of all this, in addition to sending your team alerts at the right time, you can focus on the important stuff, like using this data to create the perfect marketing strategy, run analysis and plan future website updates.
Pricing: Their Business 5K plan starts at $0/per month which gives users 5,000 checks per month per account, this covers a maximum of 100 pages per account. There's also options to customize this per need. In addition, the next plan, Business 10K, offered at $600/yr lets users have even more power to monitor their competitors' online endeavors.
Cruchbase for tracking company updates
Need to know the essentials about your competitors' businesses and use it to your advantage? There's a tool for that. It's Crunchbase. Essentially, Crunchbase is an all-inclusive digital prospecting tool — like digging for informational gold online.
With it, you can find companies that meet a certain set of criteria, like your competitors, find key parties within the company and their contact data, connect with decision-makers, perform analysis and more. Crunchbase is a hive of company insights and data, for example, funding rounds, acquisitions, etc.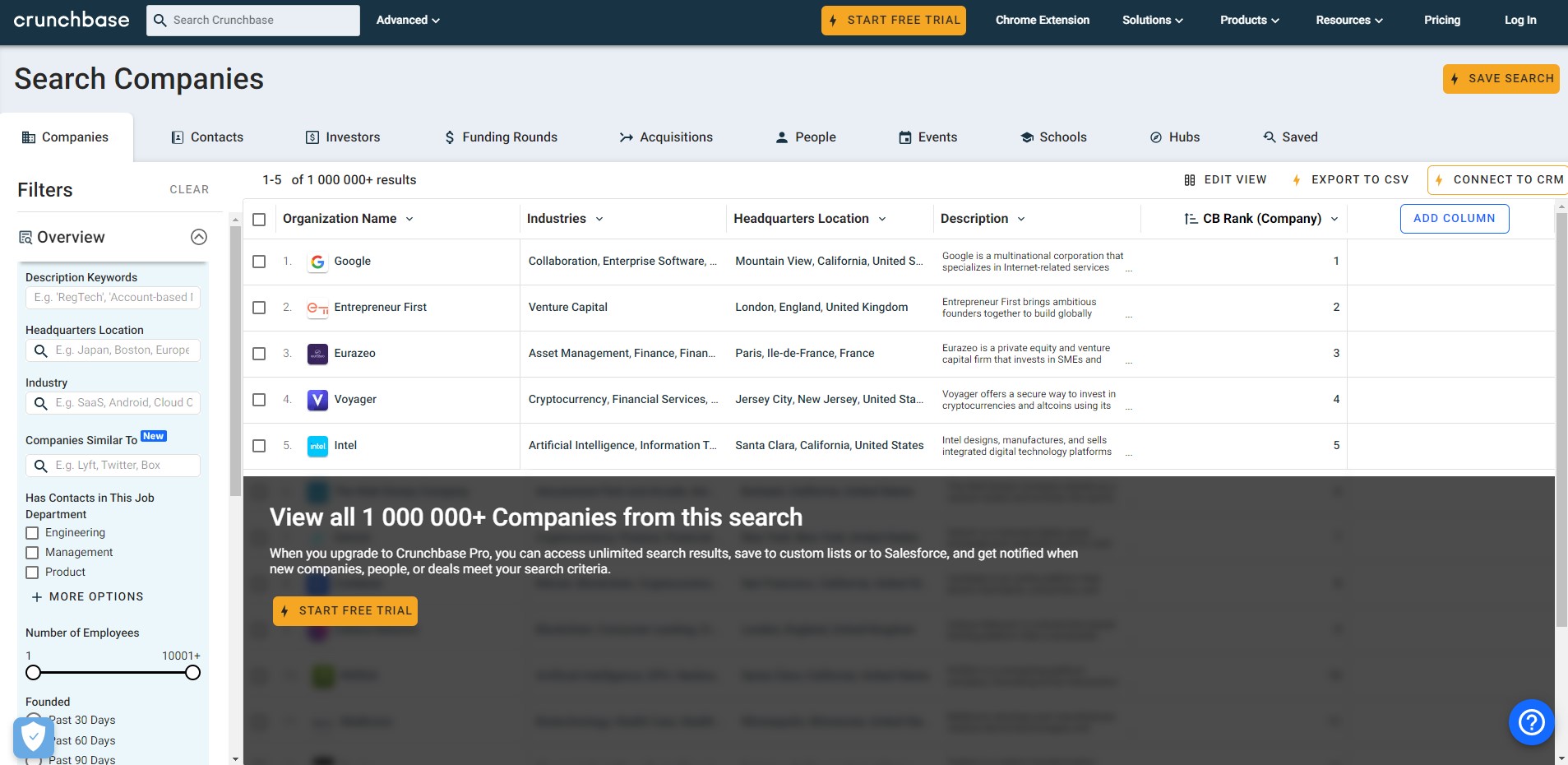 It allows companies to take advantage of key moments and avoid FOMO when it comes to opportunities to do business. With these tools, such as Salesforce integration, you can find companies in your CRM and new ones too to target campaigns.
So, why might this be useful? For example, with this precious data, you can find key staff members, know more about the company and their audience, connect with decision-makers, and do a competitive analysis of companies in your or other fields.
Pricing: Crunchbase offers a number of packages from the Basic version at no cost to a Start package for individuals, billed at $29 per month. This allows you to track a select set of companies. There's also Pro, priced at $49 per month, which has a complete set of prospecting tools. The company offers individually priced enterprise software.
Lusha for leads
Everyone needs a little love and care. The same goes for your leads. Lusha is a certified sales intelligence solution that can seamlessly complement your marketing strategy and become part of your competitor analysis tools. But what does Lusha do exactly?
The platform, trusted by names such as Google, Zendesk, and more, helps organizations better manage their leads, contacts, and databases. By empowering companies with these valuable connections Lusha allows the creation of laser-focused lists that make business prospecting a piece of cake.
In the SaaS platform, you can pinpoint the perfect client or partner to deliver your tailored marketing solution. It allows you to level up your CRM and undertake smarter decision-making even faster.
Backed by such a competitor analysis tool, you can carefully craft your marketing campaign and find the right influencers even faster. Although Lusha isn't designed to be one of the competitor analysis tools, it does provide vast potential for expanding your brand's reach in the market or, at least, knowing who your competitors are.
Pricing: Offering plans from $0 per month with 5 credits for 1 user, Lusha allows access to phone numbers, email addresses, the Chrome extension, and more. For Pro users who pay upwards of $29 per month per user, this increases to include basic team management functionality, list management, export, and shared credit pool features.
Next moves on social media campaigns and more?
Of course, markets devoid of competitors are rare. If a product is worth making, its competitive landscape won't stay empty for long. If it does, the market for the product probably doesn't exist or the customer base is small.
That's why having competitors is not such a bad thing—it keeps you on your toes. But, of course, you'll need a little help, especially if you keep track of their strategies on social media platforms and elsewhere, and you'll need to know how to beat them at their own game. You need tools, social media competitors tools to make an analysis!
To do that, you probably won't need all the competitive analysis tools above. Instead, choose the ones that will help you accomplish the goals of your business.
Got any other best competitor analysis tools you'd to add to this list? Let us know on any social media platform you follow!