How to find Instagram influencers [w/ free and paid tools]
Listen to this blog post!
Influencer marketing is one of the hottest, most discussed, and most effective forms of marketing today. Here at Awario, we've talked times and times again about the hows and whys of influencer marketing. And we don't intend to stop. Only this time we'll focus on finding Instagram influencers specifically and turning them into brand advocates.
Here's why we decided to focus on Instagram influencers:
1. According to the Pew Research Center, Instagram is the second most popular social media platform after Facebook with as much as 32% of U.S. Internet users hanging out on Instagram.
2. As of today, Instagram is the single most engaging social media platform. According to a study by TrackMaven, the platform sees the highest average interactions per post per 1,000 followers. The average engagement ratio on Instagram is 29.67 per post per 1, 000 followers, while this number is 16.54 for Facebook.
3. Finally, it's the platform chosen by influences themselves to spread their word. Bloglovin talked to 2,500 micro-influencers and reported that Instagram is their preferred platform. 59% of influencers said that it's the most effective platform to engage their target audience.
The only real rivals on the horizon for the Instagram influencers are the rising TikTok influencers. But it's still some time before they could top the all-time favorite platform that has advertising and marketing at its core.
Yes, you heard me right. If you consider Instagram to be, first and foremost, your personal photo album, it's all good. However, you can't ignore the constant rise of ads and the ridiculously high number of people who make money, get famous, and spread the word about brands on the platform. And this isn't by chance: Facebook is all about monetization, and them buying Instagram meant the platform is here to make money.
The good news? Insta isn't only making money for Facebook. It can do it for you, too. In this post, we'll discuss why influencer marketing is successful (if so), what kind of influencers are out there, how to do the outreach for the influencers in your niche, and answer the most important question of all: how to find Instagram influencers.
Let's get started.
What is influencer marketing?
Yes, you probably already know what it is, but I have to tell the ones who don't.
Influencer marketing means finding influencers in your niche and using their reach to promote your brand. Celebrities are the classic influencers - we all know that they make as much on advertising as they do by acting or singing or playing soccer.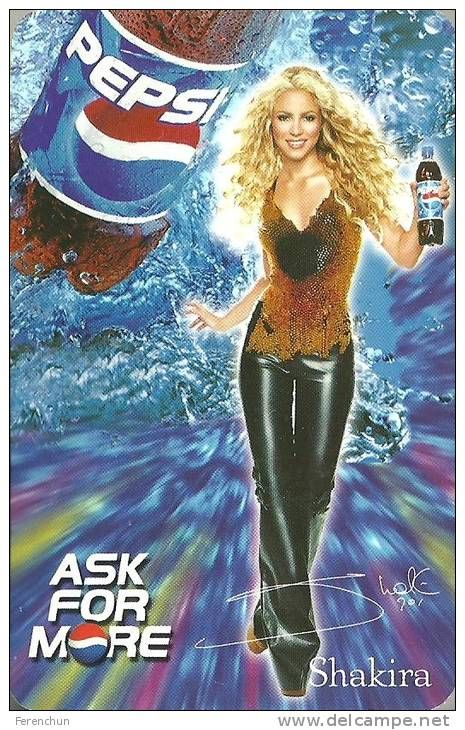 However, it's social media that has made influencer marketing affordable to anyone, as tons of people have become "online famous" since social media entered our lives.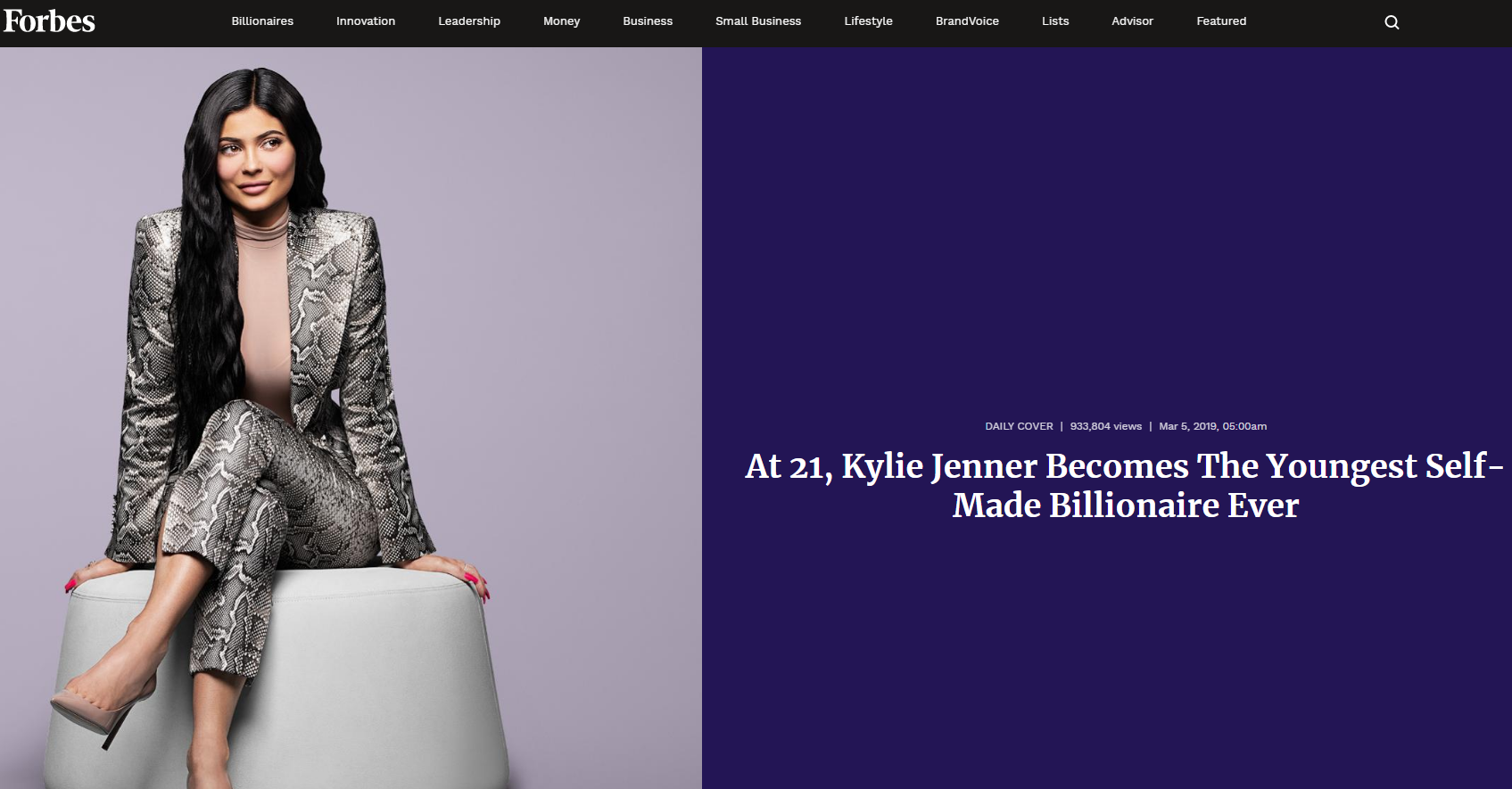 Still, even on social media, there are different kinds of influencers. Let's dig deeper to find out who they are.
What kinds of influencers exist on Instagram?
Celebrity influencers
Celebrity influencers might've achieved their fame by doing something viral on social media, being relatively famous in real life (and then building up this fame on social media), or just being constantly and increasingly interesting to their followers on Instagram and growing a truly gigantic audience. Working with them is usually only possible for large enterprises as the prices of the posts of top Instagram influencers are terribly expensive.
Macro-influencers
Your average influencer has the following between 10,000 and 200,000 skewed hard towards the 10,000 bracket. They are the ones usually being targeted by the companies. Macro-influencers in most cases have a set workflow of how they approach brand promotion, how much they charge, and so on. They are the ones to target if you have a settled budget for influencer marketing.
Micro-influencers
If your budget is very limited or non-existing, your goal is to find Instagram influencers that have a couple of thousands of followers. Micro-influencers won't charge much and sometimes they will mention or review your brand in return for a product discount, free trial, or as a part of building a mutually beneficial relationship. Micro-influencers usually have a very dedicated audience, so if you've managed to collaborate with a relevant Instagram influencer with a relatively small but trusting audience, it's a clear win. The biggest challenge is usually to find influencers like that for your niche.
Now...
Is Instagram influencer marketing really that successful?
The short answer is yes.
The long answer is: according to the study by the Influencer Marketing hub in 2017, every $1 spent on influencer marketing brings $7.65. Moreover, the top 13% of businesses from the study received a return of at least $20 per dollar spent.
Why is influencer marketing so successful?
Probably, because other forms of marketing are failing hard. There is so much advertising online that people developed something that's been dubbed "banner blindness". The Internet users don't see ads anymore, they don't attract their attention. Besides, tons of people install AdBlock.
What about other digital marketing tactics? Google Ads are extremely expensive, SEO is more of a necessity than something that gets you an advantage over your competitors. Social media marketing only really works if you've already gained a large and engaging audience. And how do you get a large and engaging audience? Again, with influencer marketing. It's a vicious circle.
And now to the main part.
How to find Instagram influencers
According to a study by Econsultancy, the biggest challenge of working with influencers is finding influencers. So this is what I'll attempt to help you with in this article.
There are a number of tools to find influencers on Instagram. As you would expect, some of them are free, some are freemium, and some are paid. Here are the best Instagram discovery tools in no particular order.
1. Awario
We stand by the belief that our own tool, Awario, is perfect as an Instagram influencer marketing platform. It's a social media monitoring tool that crawls billions of pages, finds Instagram users that mention a given industry, brand, or any other set of keywords, and calculates how many people have the potential to see these posts. Based on this information, the tool shows you a list of Instagram (or any other) influencers in your niche as well as your brand advocates and the brand advocates of your competitors.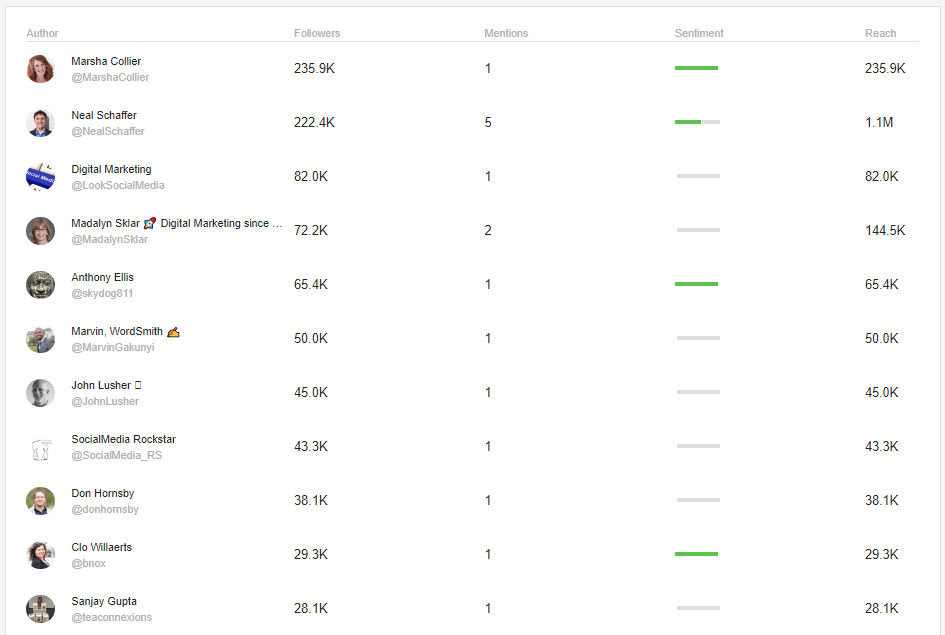 Awario has a free 7-day trial, so you can try before you buy.

2. Klear
Klear is a freemium tool that works great for finding Instagram influencers. Klear identifies audiences' interests, geographic location, age groups, gender, and reach to find influencers that are the most suitable for your brand. Klear also tracks Instagram Stories, saves the ones that mention your campaign, and gives you access to data such as post reach and followers demographics to measure the results of the influencer marketing campaign.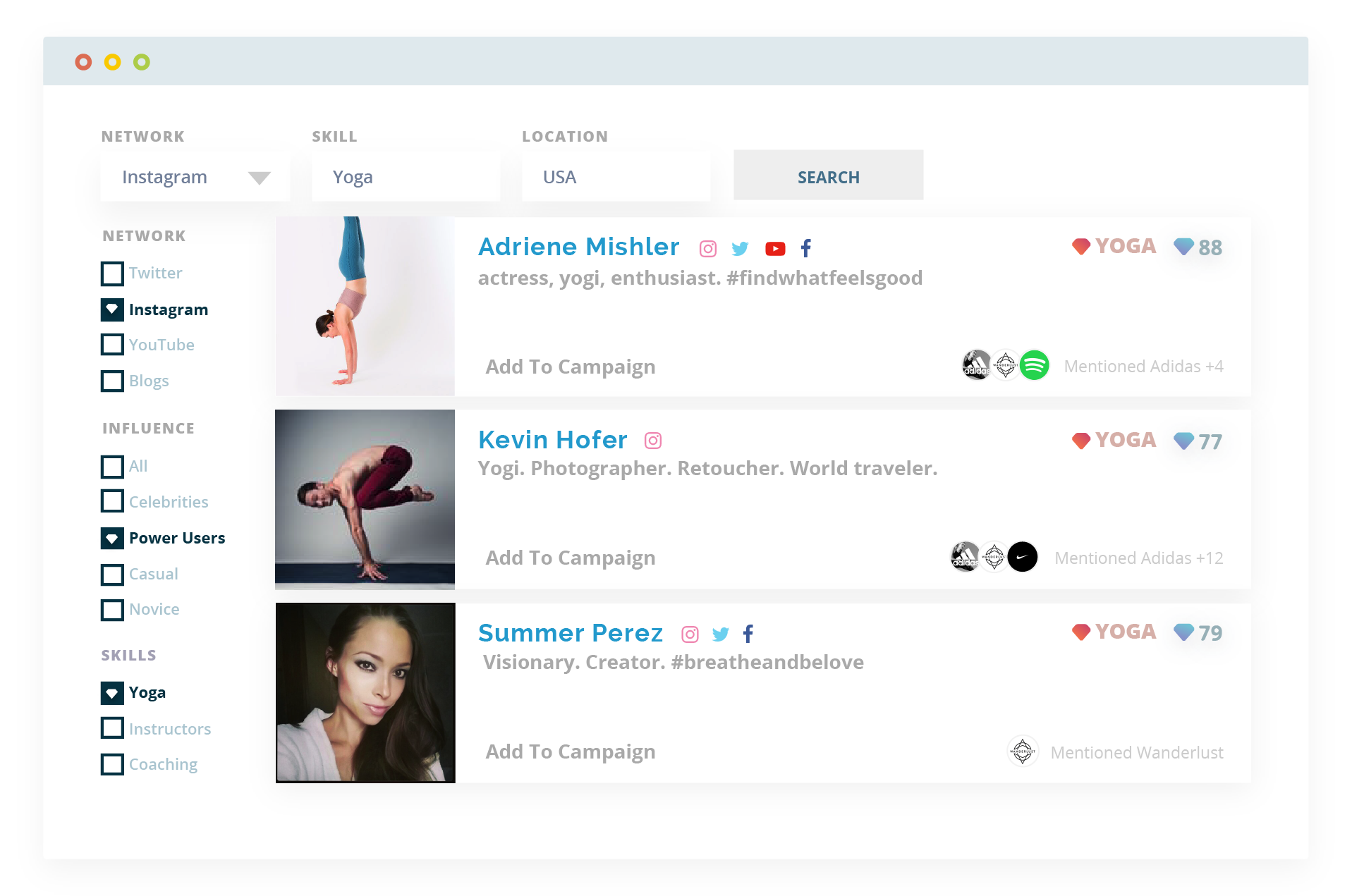 3. Heepsy
Heepsy is an influencer discovery tool that has both paid and free options. A free membership allows keyword search, category filter, and location filter. Heepsy doesn't search the whole Internet - instead, it has a database of 7 million influencers with 5K+ followers from which it chooses the ones that suit your brand best based on their category, area, engagement level, and other metrics. It lets you create influencer lists, export data and start a conversation with the influencer of your choice.
4. Hype Auditor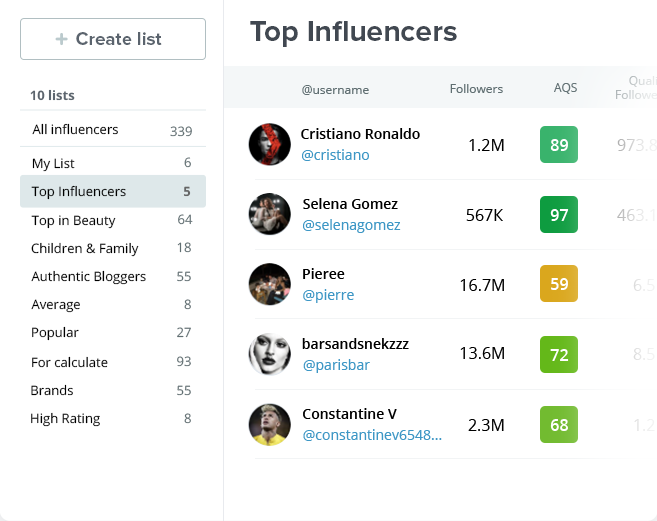 Hype Auditor is a deservedly popular tool for finding and analyzing Instagram influencers. The tool gives much attention to making sure the influencers are real, i.e their followers aren't fake. It helps brands identify influencers based on their reach, demographics, and their audience's language, location, age, gender, and engagement.
5. Ninja Outreach
You can find Instagram influencers for free using Ninja Outreach's free directory page for Instagram influencers. It has a wide range of niche categories where you can choose the one that works best for your business. You can filter the results by location all the way down to the city level, so it's a suitable method for finding local influencers. Whenever you spot an influencer that seems relevant, you can click their profile card to see their Instagram bio. From there, you can open the influencer's actual profile on Instagram and start with the outreach.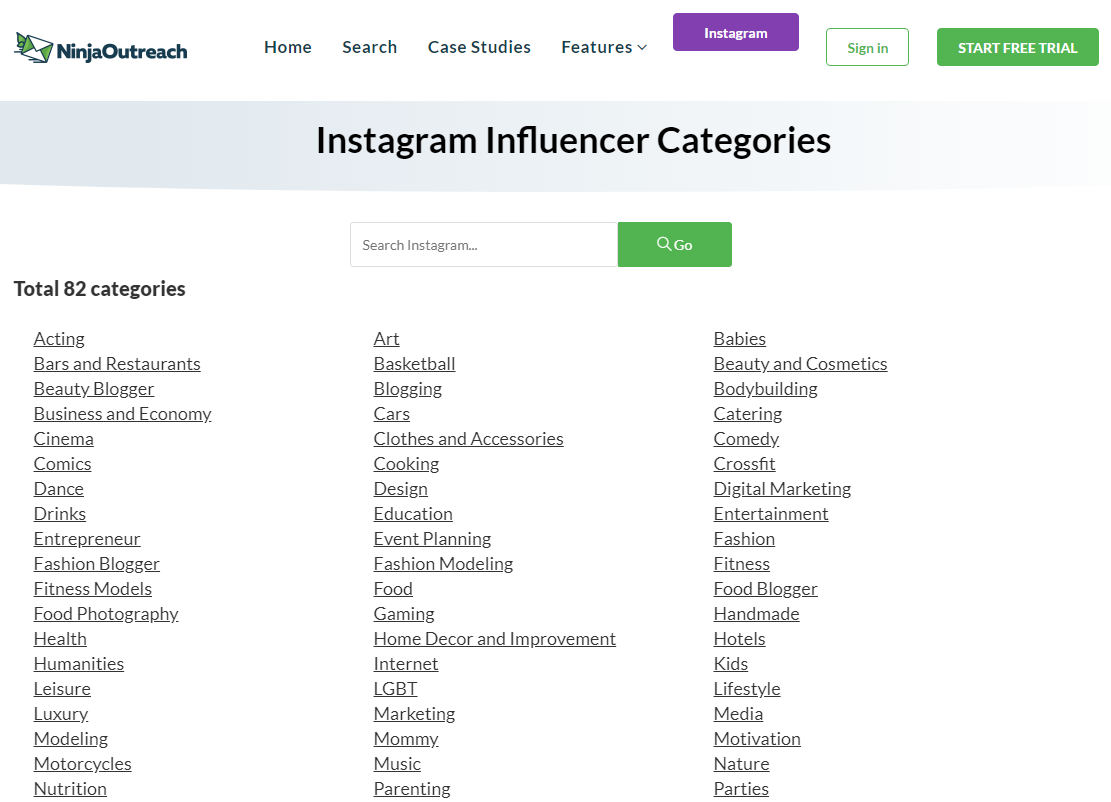 The outreach
Building the relationship
The perfect outreach starts with you attempting to build a relationship with the Instagram influencer prior to any direct outreach. The goal here is for them to possibly notice you and your product before you even get a chance to talk about it. Obviously, this could only work with micro-influencers and macro-influencers, not the Kylie Jenner types. This could also only work with the relevant influencers because they are the ones that might actually care about your product.
Remember, it's equally important for niche influencers to stay up-to-date and discover exciting things as it is for you to gain access to their audience. They have to post very often and they have a dedication to their followers to always come up with something new to say and to offer. It's not easy being an influencer.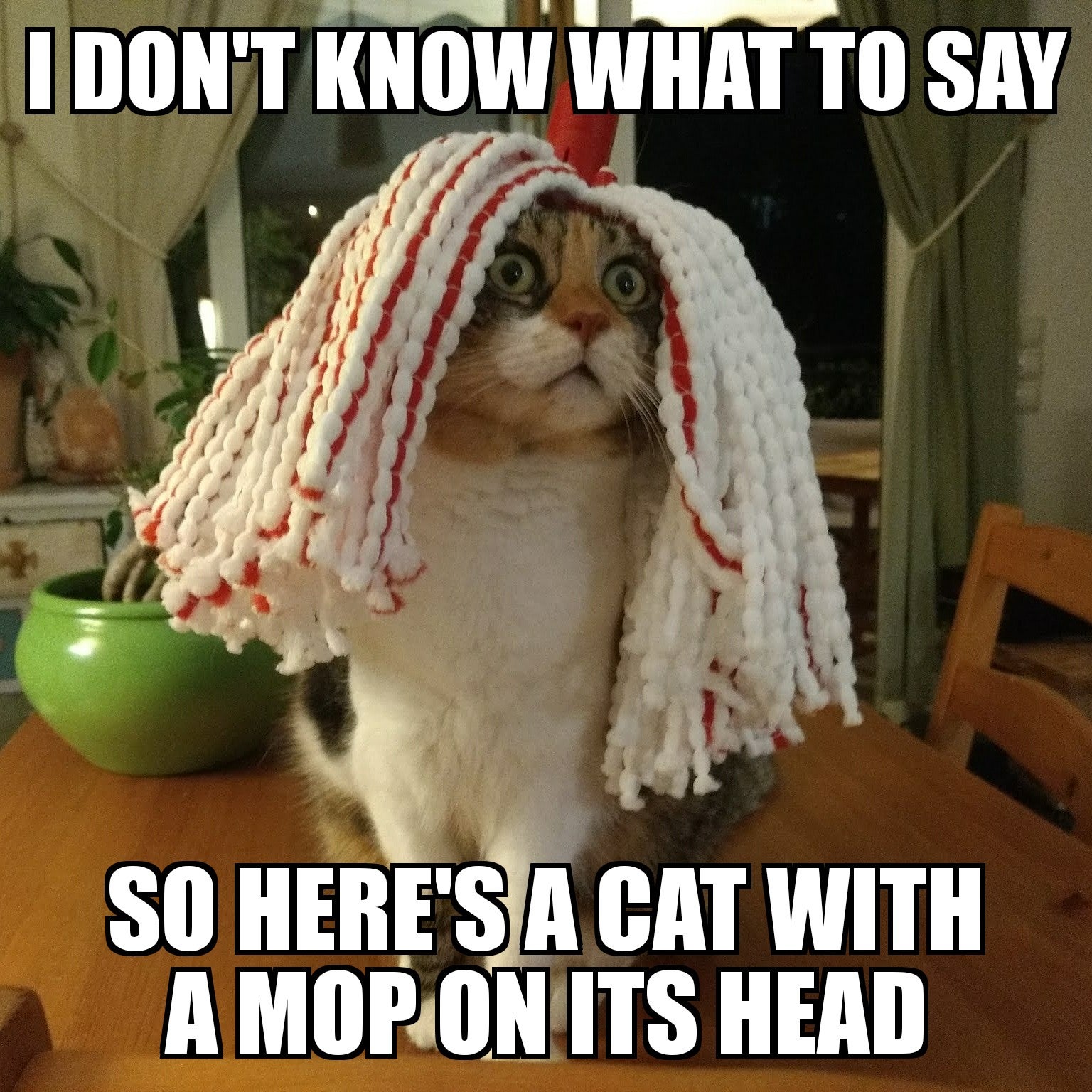 So you have a good chance to simply "get noticed" by one. Yes, just like in Hollywood. That is, of course, if your all-vegan make-up kit or a cafe with the best donuts in town or extremely cute toys are worth being noticed.
Your chance of getting noticed and building a relationship increases if you do the following:
Engage with the influencers' Instagram posts - like, comment, share, use relevant hashtags - you know the drill.
Mention the influencers and link to them in your posts.
The outreach
The common mistake that so many marketers and business owners make is to reach out to the influencers en masse. Standard outreach messages look like spam that even most of us common people tend to avoid like crazy. Influencers even more so: they are constantly targeted by social ads and hunted by marketers. Poor people are sick and tired of the same sales-y automated messages so they delete them without reading.
To increase the chances of your message being read and responded to, make it personal and approachable. None of that "I was a fan of your blog on pollution and sexy swimming suits since I was five". Your message should include:
A short presentation of yourself, your brand, and your product;
A suggestion on how you can collaborate and what's in it for the influencer.
Make sure to do some research before contacting the influencer to find out what it is that you can offer.
What you can offer:
It's still acceptable among micro-influencers to exchange favors. Simply offering an Instagram influencer a free product or an extended trial and asking them to share their opinion and then to voice this opinion online could work well for your brand.
There are a number of ways to pay influencers. The most popular ones are pay-per-post, cost-per-click, cost-per-acquisition, and cost-per-engagement. It's up to you to research which one could work best (A/B tests to the rescue!) and negotiate the model and the price with the influencer.
Whenever you get those terrible feelings deep insight about paying someone a hundred bucks for an Instagram post, remember that on average for every $1 spent on influencer marketing you get $7.65.
However, also measure your results regularly and don't hesitate to change influencers, adjust the paying method, and generally constantly make your next campaign better based on the experience from the previous one.