How to run your own 'Clubhouse' on Twitter Spaces for business

Article summary
Recently, Twitter has announced a Clubhouse rival launch – Spaces. In this article, you will know what it is, how to use the feature, why you should master it, and how to measure the result of your Spaces campaigns.
Did you notice that too?
Amongst traditional networks with photos, text, and videos, the new species is shaped – social audio. It takes us back to the 1950s when people with their families were listening to baseball games and soap operas on the radio. However, now listeners can actively participate in the dialogue.
Imagine you are hanging out in your living room, discussing a new Marvel movie with 20 of your soulmates on the phone. No makeup or a fresh T-shirt is required because your camera is off. There is nothing formal at all because you have found your tribe. This is how social audio networks work.
There are already 30+ social audio networks on the market, including Clubhouse, Fireside, Sonar, Chalk, Discord, and Locker Room. By the way, some journalists and marketing specialists call this form of sound content just social audio.
In March, Twitter has started setting off another social audio network – Spaces.
The way many journalists and bloggers reacted to this news:
Defending the originality of the idea, Dantley Davis, Twitter's chief design officer, said to WSJ that they started thinking about Spaces launching in 2019. Clubhouse just gave them validation that other people were thinking about this as well.
What are Twitter Spaces?
Technically, it is a social audio network built inside Twitter. It is in beta testing now and currently available on iOS and Android Twitter apps. The team aims to bring Spaces to web browsers in the future.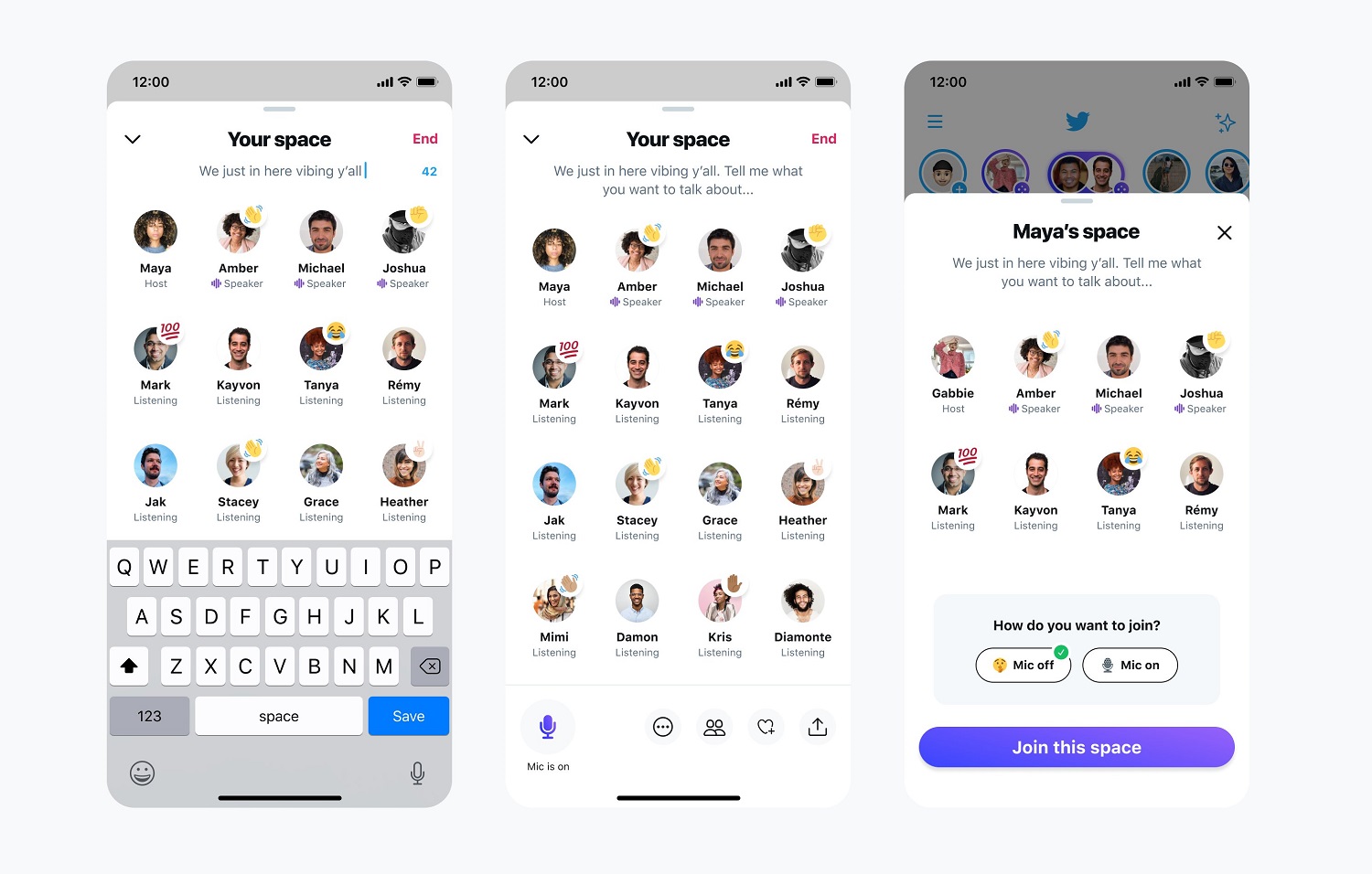 Spaces are about talking and listening, as if you mixed a podcast, a conference, and a radio. Random people gather in real-time audio rooms to discuss any topics. That is why the feature is helpful for organic networking.
There is no recording of your meeting. Although, a Space host who started it can download a copy of the dialogue. Users can only download the transcript. Twitter Spaces is a place for spontaneous chatting without obligation.
Sign up for a free Awario trial
See Awario in action with a free 7-day trial. No credit card required.
By signing up I agree to the Terms of Use and Privacy Policy
Currently, a small part of Twitter users (among 322.4 million) enjoys the experience of being early feature adopters. According to Twitter, "anyone can join, listen, and speak in a Space on Twitter for iOS. Android users are currently able to join and speak in a Space." The social platform is going to give full access to the rest until later this year.
How to join anybody's else Twitter Spaces?
Twitter Spaces look like 'Clubhouse' for everyone. Firstly, you do not need an invitation to be a participant of Spaces. Secondly, the feature works on Android devices, something that 'Clubhouse' has not figured out yet.
You can find and join live Spaces of people you are following. Open the home Twitter tab and check your Fleets. You know, it is a kind of Instagram Stories here.
Do you see these purple highlighted Fleets? Tap any to join your friend's Space.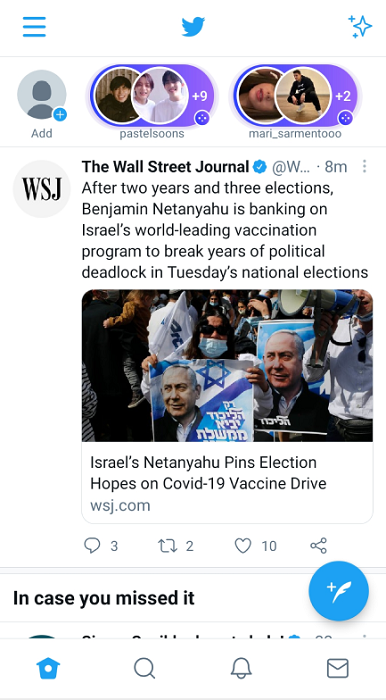 You can check live sessions all over Twitter as well. Add the query 'twitter.com/i/spaces' into the search tab to see Spaces that are on air now and join any you like.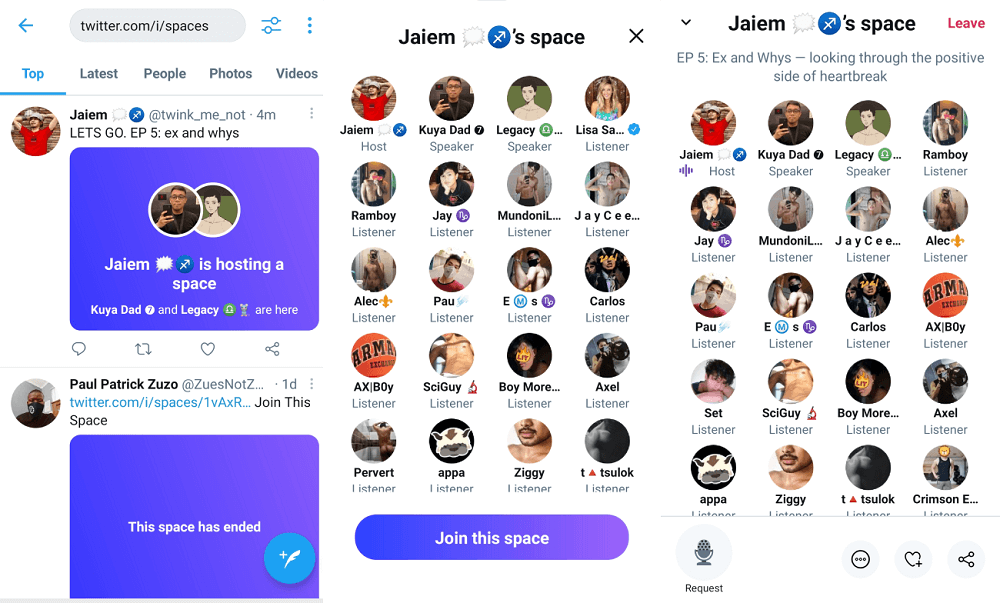 Opening a random Space, brace yourself to a lot of noise in your headphones. Twitter allows up to 11 people in a Space to speak at any given time. Some discussions are heated.
For managing the situation, the platform provides speaking limits. Setting up 'open mic' in a Space, a host can choose between three options: Everyone, People you follow, or Only people you invite to speak.
How to start your Twitter Space?
If you are lucky and have full access already, hit the feather button on a Twitter app to open the drop-down menu with the new Spaces icon. To start your live discussion, you also can tap on your profile image in Fleets, scroll to the right, and hit Spaces. That is it!
There is a short overview of the feature:
Now you can invite listeners through direct messages, tweet the URL of your Space out or share it on other social networks. Take into account that your Space is public by default. Any Twitter user can join it.
Check this Twitter cheat sheet and FAQ about the option.
Why do businesses need the tool?
I found zillions of Spaces with about everything and nothing discussions. Business topics are rarely there. I guess things will change after the rest of the Twitter users get full access to the option. So, you have time to prepare an effective campaign!
Here are some marketing ideas on how you can use Spaces to provide your brand:
Convert random listeners to your Twitter followers
A social audio network is a vast virtual ecosystem where people try to search their tribe – a group of like-minded fellows. In Spaces, the approach of how I can help people is the cornerstone. It is the indicator for your potential listeners.
That is why try to bring value to your Space, do not go there to sell directly. Tell funny stories, share hacks and tricks around your professional field. If you are a good speaker and a strong expert, people will follow you to receive more insights in the future.
Now imagine that you are doing this through your company Twitter account...

Tell about new features of your product
Brands can use Spaces as the sort of an infomercial or a presentation. Since social audio is a fashionable thing and an ad-free zone for people, harness it for showcasing new features of your product or service.
In Spaces, you will receive feedback from your listeners in a matter of moments. Let people share their experiences and talk about their impressions. Your listeners will appreciate this gesture of trust, connecting their positive emotions with your brand.
Of course, you can use these short reviews for your product improvement.
Pro tip
Try to use Spaces for marketing research. While tweeting out your Space URL, you can leave a link to an online survey and gain complete customer answers.
Start discussions on trending topics in your niche
Another way to use Spaces for business is to begin to discuss breaking industry news or trends. Why does it matter? This kind of communication shows your company as a thought leader and strengthens its reputation. It positively impacts your credibility on Twitter as well.
Also, professional topics attract business people. If your company works with B2B, Spaces will help you to find new partners and customers.
Organize a live business event
We all got used to Zoom conferences and webinars last year. Some people even began to hate these contactless events. Social audio is an excellent replacement for 'talking heads' and 'let me share my screen' sessions.
Twitter enables to start Spaces with no time limits. Host your next webinar there. Thanks to no video format, people can join your Space not only at work but also during commuting hours, in a gym, or even while they do home duties.
Speak with the voice of influencers
Twitter Spaces are very self-oriented content. As a host, you can manage a discussion, choosing who can speak or not and when it ends. That is why most people represent themselves through this feature. Fortunately, there is a big following of bloggers.
Find influencers on Twitter which followers are your target audience. There are a lot of ideas for collaborations with them. For example, your company expert can be a guest of an influencer's next Space. Also, you can run merch sweepstakes with branded prizes for winners. Be experimental to succeed.
How to run a popular Space?
Before your start a Space, set up your strategy on this social audio network. You can taste the waters by using social listening tools like Awario.
Your priority is finding your audience, hot topics, and speakers that people would like to listen to.
How to do it?
Meet your personal social listening assistant.
Try fully automated, 24/7 brand monitoring with Awario for free.
By signing up I agree to the Terms of Use and Privacy Policy
Imagine your company is a sports nutrition manufacturer. Open the tool and type in some keywords related to your industry as quires. Check Twitter as the source of monitoring, choose the time limit, and hit Create alert to start the hunt!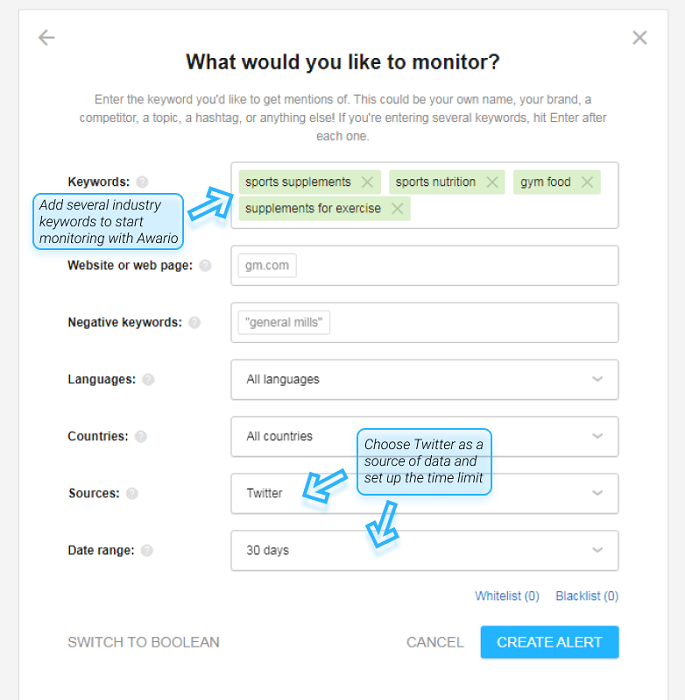 The tool digs up the first mentions of given keywords in several minutes. Then you can analyze Mention statistics. You can see the portrait of your target audience there.
The sentiment of Twitter posts around your topic is rather positive, thus you are nicely on the right track.
As you can see, sports nutrition is more popular among men, but women are interested in it, too. Maybe, it is worth inviting a male sports doctor as a guest at your pilot Twitter Space?

Thinking of your content plan, check audience breakdown by age to pick more relevant ideas for the dialogue.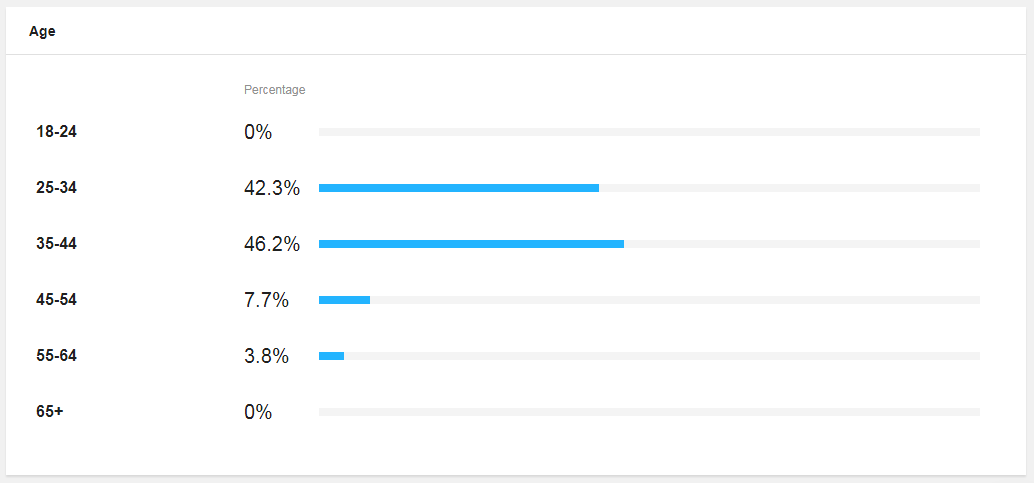 There are topics people tweet most in Topic cloud.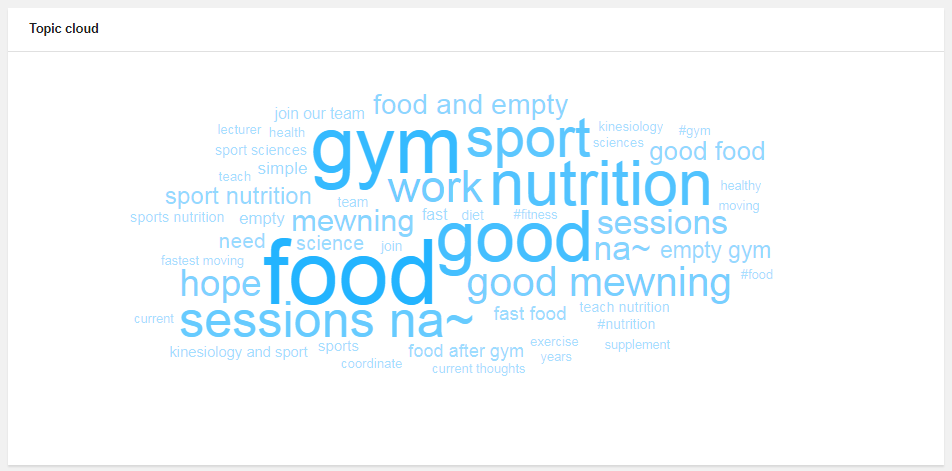 You can analyze any topic by clicking it on Dashboard.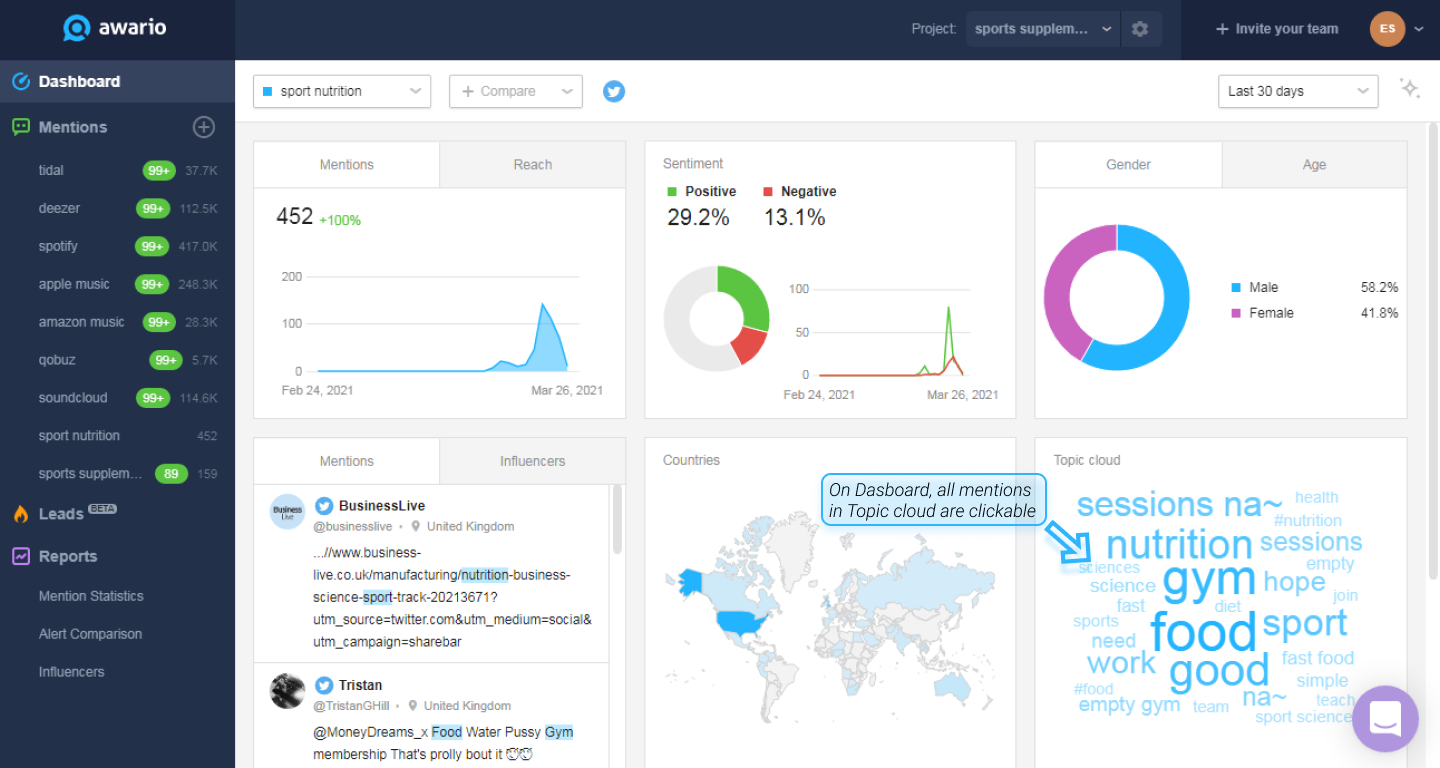 Say, you want to see all mentions with a keyword teach. Awario shows you the Mentions feed with real tweets. Look at this guy whose tweet users share many times. It seems he is a good guest for your Space about sports nutrition. You can reply to his tweet in-app.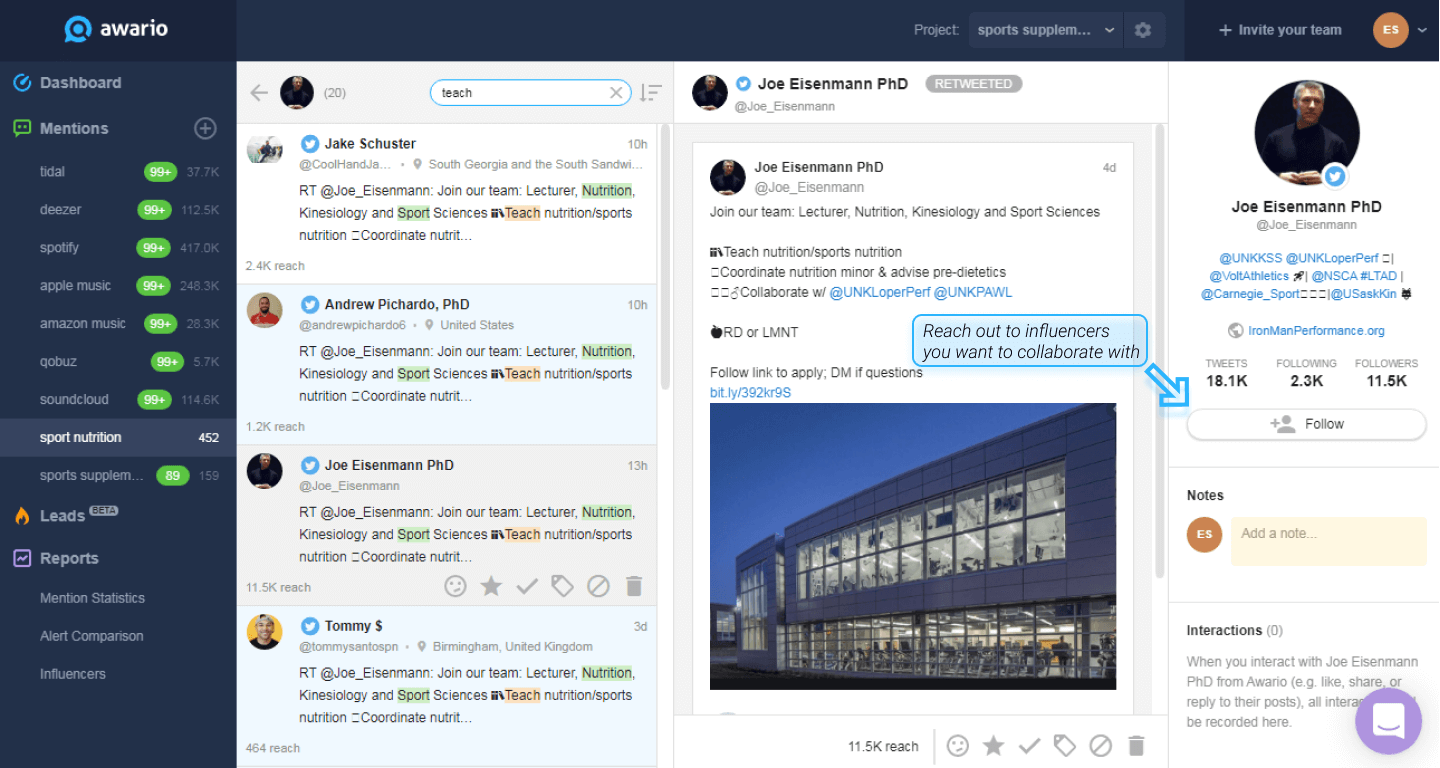 Another way to find appropriate guests for Twitter Spaces is by opening an Influencers report. You can see how many followers they have, the number of your topic mentions, and the sentiment of their tweets.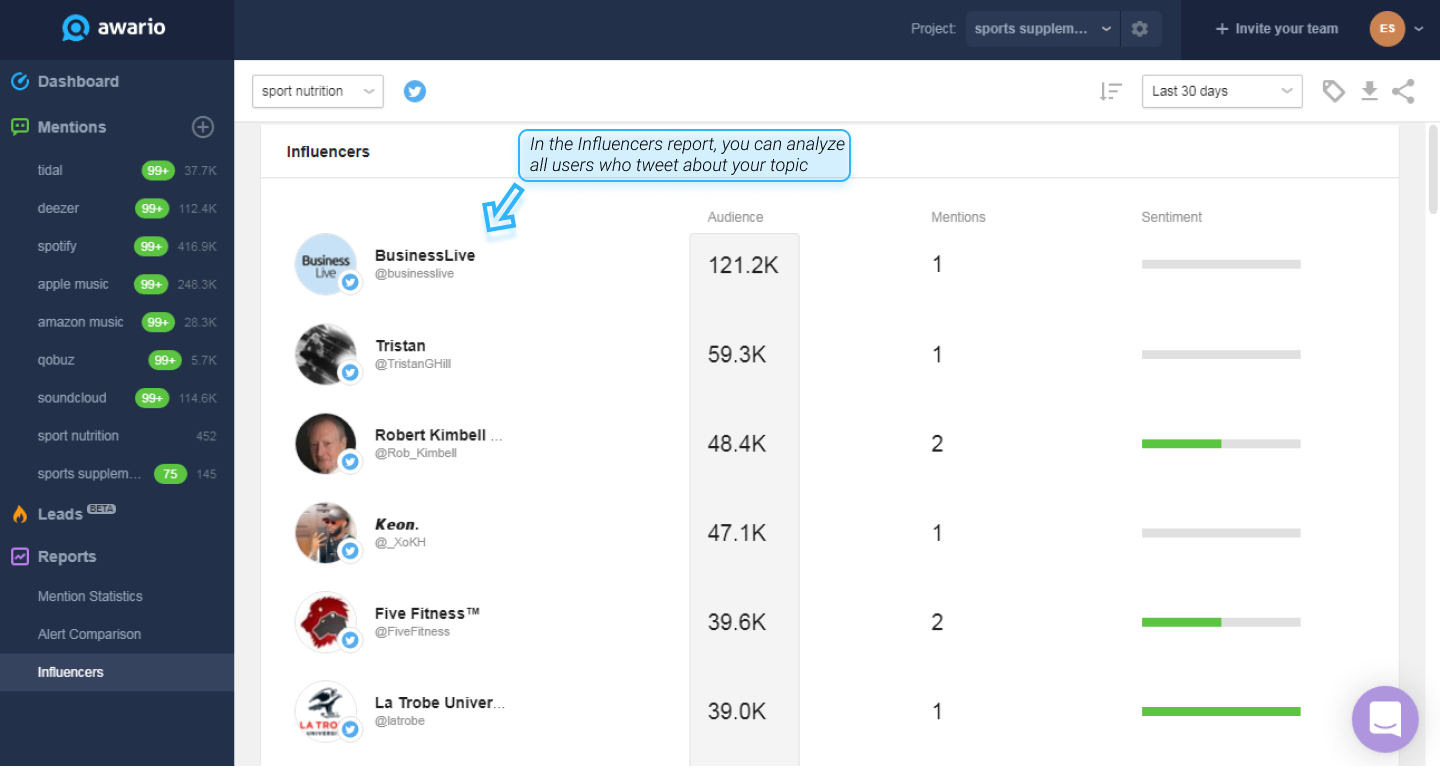 You can change the search criteria anytime and find not only ideas for your Spaces campaigns but monitor your regular tweeting. Using a social monitoring tool as an assistant, you will discover tons of helpful insights for your future marketing activities on Twitter.
Enjoying the post? There's more.
Sign up for our newsletter to get our best content by email.
How to measure the result?
Usually, users announce their Spaces launch via regular tweets with CTA. To grab people's attention, you can write a short message about your topic and speaker, mention other Twitter accounts, leave a Space URL, and hashtags.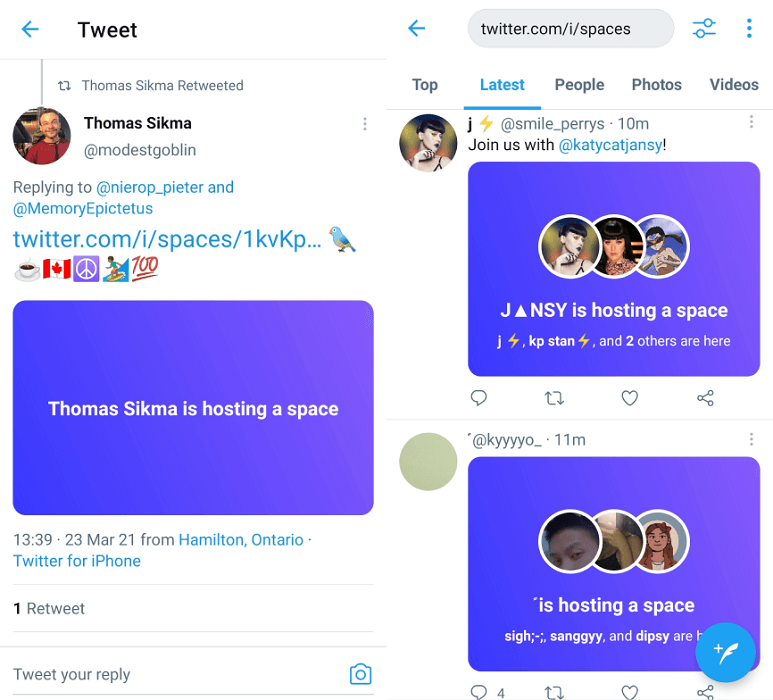 Sometimes, your thankful listeners do this for you.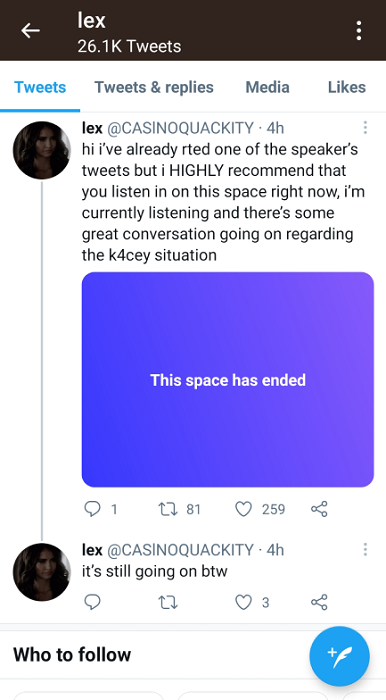 Your Spaces tweets do not vanish after the meeting ends, although links are no longer active there. They stay in the Twitter feed as regular posts. It is good news because you can measure the result of your campaign.
Twitter statistics show you the number of likes, shares, and comments.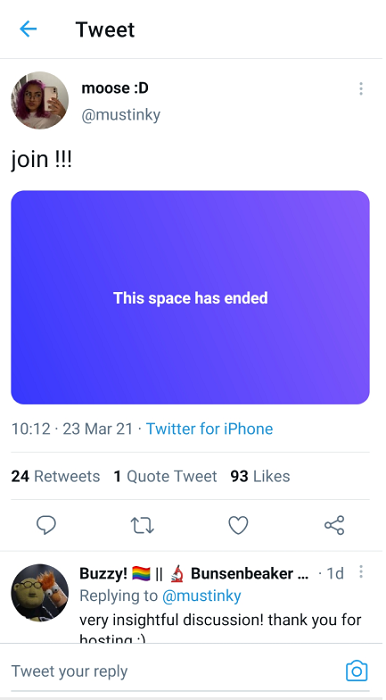 Pro tip
Announcing your Spaces in tweets, use special hashtags as #your_brand_name_Spaces. Then you can search all mentions of this hashtag with Awario to accurately estimate your tweet engagement.
---
Born of old school social platforms, now social audio networks are prone to breaking the rules and being out of control. Is it a visionary or just a teenager who wants to leave home for the sake of playing rock and roll? We do not know yet, but the social audio networks are here to stay.