Marketing mistakes in working with social media in B2B

Article summary
If your social networks are not effective, you need to analyze your recent activities carefully. In this article, you will find the list of common B2B social media marketing mistakes that all marketers sometimes make. Check if you make these mistakes and learn how to fix them.
You have not got any traffic from social media to your web page for weeks. You miss likes and comments on your posts. You think social selling in B2B is not for your brand at all. Keep calm and read this article!
Finding reasons: why is your social media not working well?
There are three main reasons why you do not get to the top on social platforms. Let's look at them in details!
Reason 1: Poor Marketing
According to Statista, there are 4.2 billion social media users in the world year-to-date. People and companies who want to work with you are among them. For this reason, a preliminary marketing study is essential when you want to promote your brand on social media. However, many specialists ignore this step. As a result, they miss the target audience.
Failure to find and understand your target audience
If you do not know who your customers are, where they locate, and what they like, your next social media post is a shot in the dark. Your messages will not bring any engagement till those who are interested in your products find them.
You need to define the age, gender, location, industry, and preferences of your prospects. These tips will help you improve targeting and deliver effective social media campaigns.
Gartner made such a mistake on its LinkedIn page. The company suggested business people share emojis in comments and got almost six times lower engagement rate! As a result, the approach did not reach the Gartner audience expectations.
No B2B social media marketing strategy
Is there any strategy behind your idea to be on social media? "I want to be there" does not sound convincing.
Before you start activities on social platforms, you should create a clear marketing strategy.
Set goals, for example, increase sales or drive traffic to the website. Your next step would be running perform audience analysis that provides you with a big picture and an action roadmap.
With this information in your hands, you can move to choosing performance metrics and establishing your KPIs.
Offhand tweeting or posting is not appropriate for social selling in B2B. Every post on your page should have a clear objective and CTA. If you have no content plan, you improvise. This tactic confuses followers.
Even a simple content plan in Excel will compensate for your efforts in the future. Try scheduling posts in advance, test new content formats, and track what works better. With the content plan, you do not miss out on important events and relevant moments to grab users' attention.
Otherwise, you may end up making changes on the fly like in the example below.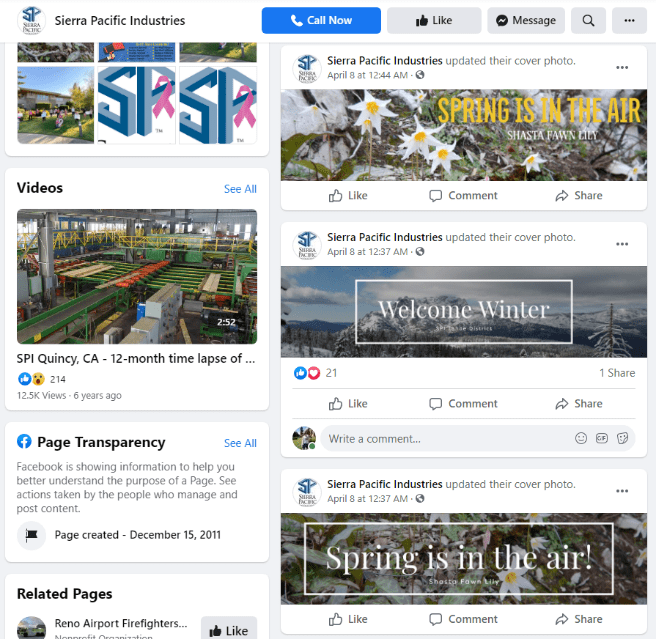 Start monitoring your brand today.
You should've been doing it yesterday – but the next best time is now with Awario.
By signing up I agree to the Terms of Use and Privacy Policy
Reason 2: Bad content strategy
If the problem is not a marketing strategy, probably, it is the quality of your content.
Most social media algorithms consider engagement as an indicator of positioning new posts in the Feed. There are low chances that publications with few likes and shares will get noticed.
What content is unlikely to impress users?
Users will not fall in love with your advertisements, the example below proves this fact.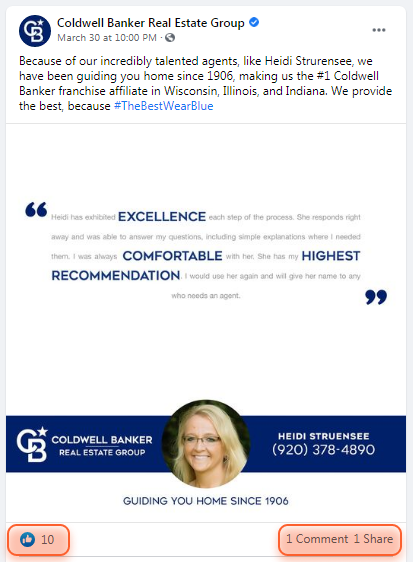 Instead of being a walking billboard, it is good to mix promotional posts with engaging content. For example, you can post one commercial post per every four posts with no ad.
Content repurposing is a good practice that social media managers use. However, every social channel has a specific content format, features, marketing tools, algorithm, and audience. It is like a new game with its own rules.
Copying posts across all company pages without any changes will not help you succeed.
Have a look at these posts below. They are identical. However, the first performed well on LinkedIn while the second failed on Twitter. I guess, the resume is obvious here.

Monotonous and low-quality content
There are dozens of social media networks in the world. Their algorithms appreciate accounts that provide engaging content in new formats. As a result, the platform suggests your updates to users.
For example, video content brings 2-3 times more engagement and views than images or text. LinkedIn video marketing case studies confirm this.
Do not hesitate to experiment with content opportunities.
Reason 3: Poorly set-up promotion and interaction activities
Having good content for your target audience is half the battle. Now you need to bring it out on time and manage posts after their publishing.
Make sure that you avoid the following mistakes.
Inconsistent publication schedule
Without regular posting, your updates can get hidden from your followers. For example, if they expect your news every Wednesday and Friday, and then suddenly you post them on Thursday your followers would probably miss it.
People would ignore your posts if you roll them out more often than 3-5 times per day.
The wrong posting time is another side of the problem. B2B audience reads your content during working hours. Business people do not want to plunge into work in the evening or on the weekend.
This is why it is exceptionally important to define the specific number of messages per week, publication time, and not break these rules. A content plan would again be of great assistance to you.
Do you know that tweets with hashtags can increase engagement up to 1.5x for brands? On Instagram, one trending hashtag can increase engagement by 12.6%.
Hashtags are the system of navigation for users. They search trends, influencers, popular industry pages by them. Use it wisely to stand out with your posts from the cluttered social media landscape. Avoid posting generic and, of course, banned hashtags.
For example, this tweet could probably get more attention if it had hashtags.
Demand for forest products leads to a need for more responsibly grown trees. And that means more landowners are keeping their land forested—rather than selling it for development or other non-forest uses.

Learn more here: https://t.co/dXkwli8PlL pic.twitter.com/gzoMIVjAC8

— International Paper (@IntlPaperCo) April 12, 2021
No engagement with followers
It may seem ridiculous, but many B2B brands are afraid of participation in communications on social media. They ignore users' questions and emotional posts with company page mentions.
However, you are here to build long-lasting relationships with your audience, not just to collect likes, followers, and link clicks.
Instead of being decisively businesslike, show that you are open to communication and opinions' exchange. You can ask your followers a question, tag your partners or industry influencers in the post. People are bound to notice this and connect to the discussion.
Some companies turn off comments on YouTube and thus get a terrible engagement rate.

Meet your personal social listening assistant.
Try fully automated, 24/7 brand monitoring with Awario for free.
By signing up I agree to the Terms of Use and Privacy Policy
Finding cures: how to improve your B2B social media marketing?
Step 1. Find your target audience (TA)
The cornerstone of your marketing activities on social media is correctly defined TA. To succeed, you should learn it and determine the place where your potential customers would be willing to communicate with you.
I will be using Awario (I'll be a bit biased here) to run audience analysis. You can sign up for a free trial, and follow the instructions below. You can also use other social listening tools to do a similar task.
Say your company provides dentist equipment. At first, you need to describe your niche with keywords. You can narrow down the search by choosing the language, location, and source. Set up the date range and create your alert.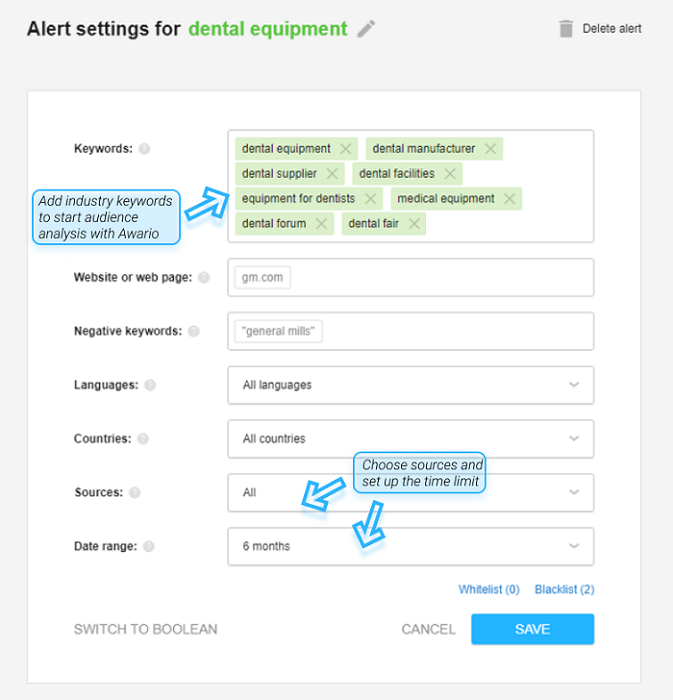 On Dashboard, you can see the first search results soon. The more time you give Awario for analyzing, the more mentions you will get.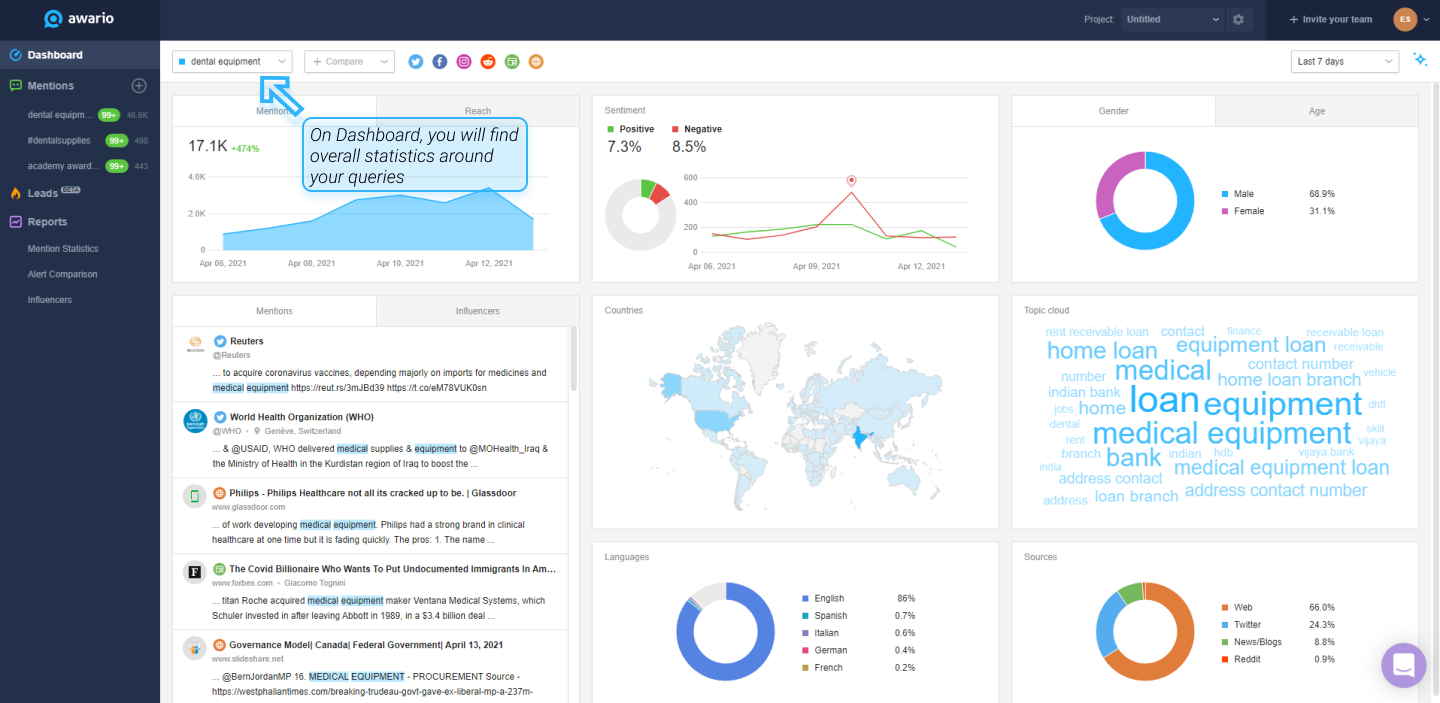 To meet your audience, go to Mentions statistics. There is a detailed report around your keywords. It seems most of your prospects are men from the U.S. Logically that they speak English.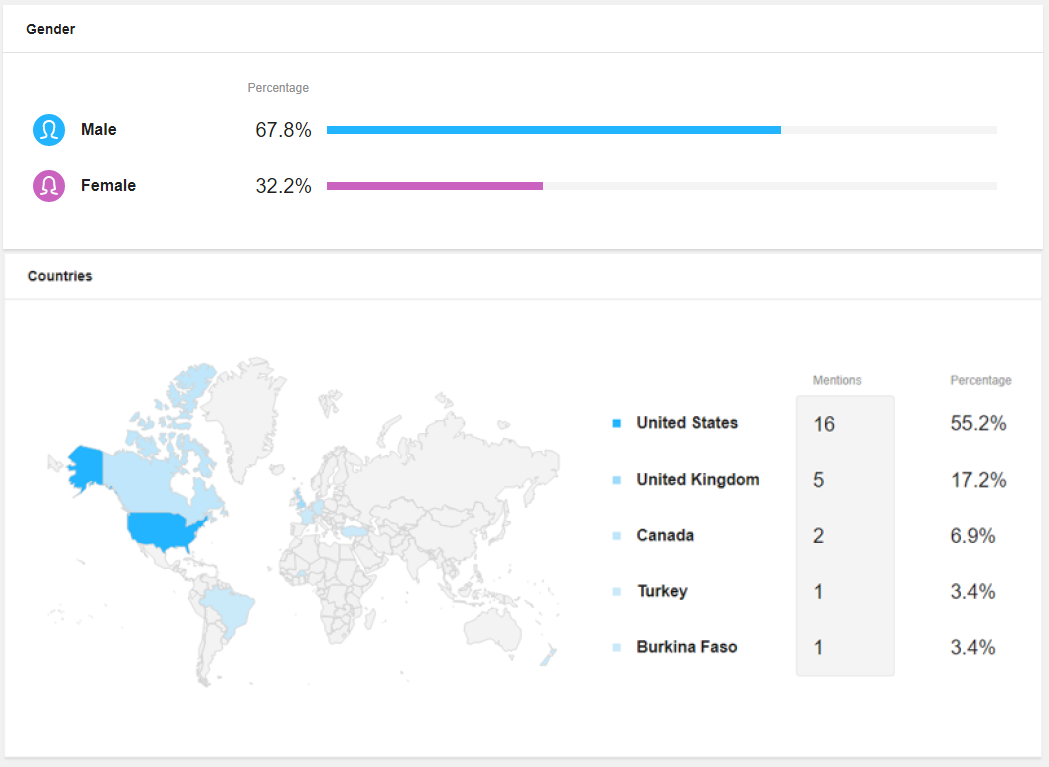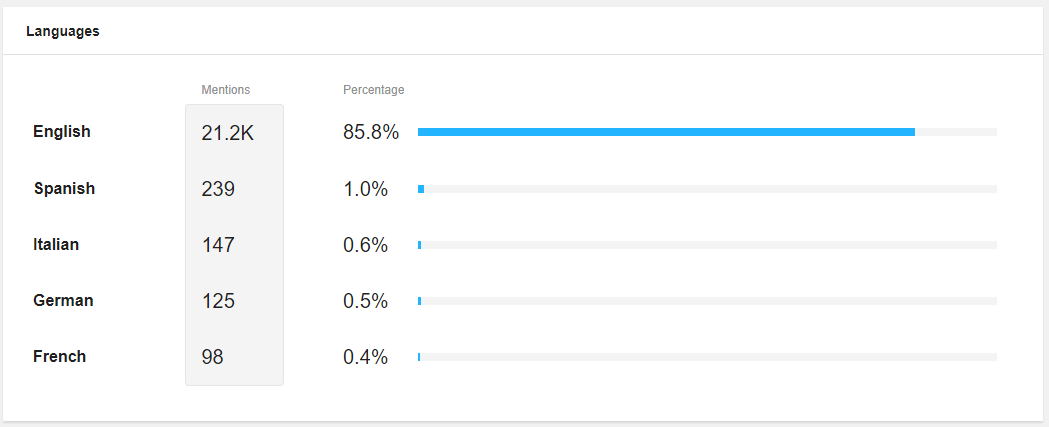 According to Age metric, you need to search for new customers between 25-44 years old.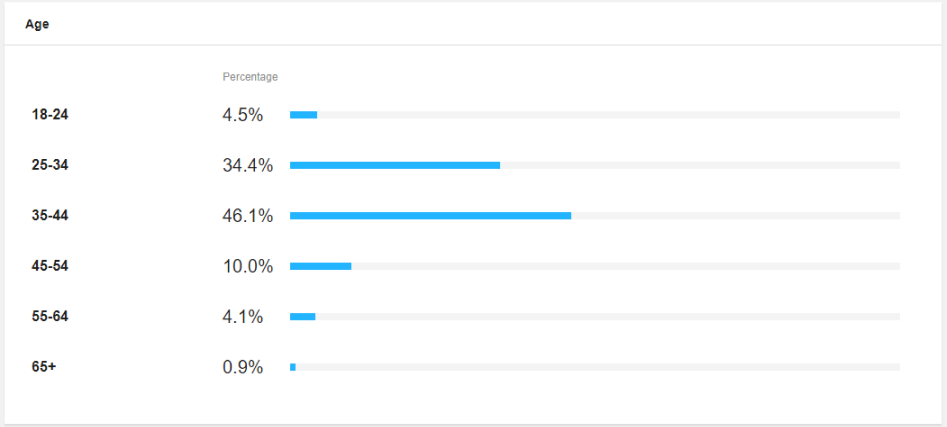 Step 2. Identify the best social platforms for your business
Now you can choose social media only as the data source to detect the platforms where you can find your customers. In Mentions statistics, Awario shows the list of platforms with the most mentions of your keywords appear. In my case, it is Twitter and Reddit.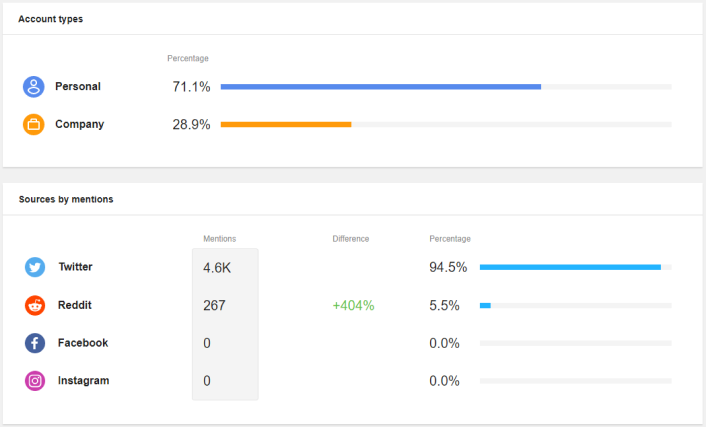 Step 3. Collect content ideas
Awario crawls all the web and popular social networks to find your keywords or brand mentions.
As a result, you have long Mentions Feed that is constantly updated. You can start there when you have a lack of content ideas.
Mentions can be sorted by date, reach, source, and other parameters.
You can delete irrelevant and star more attractive posts for further research.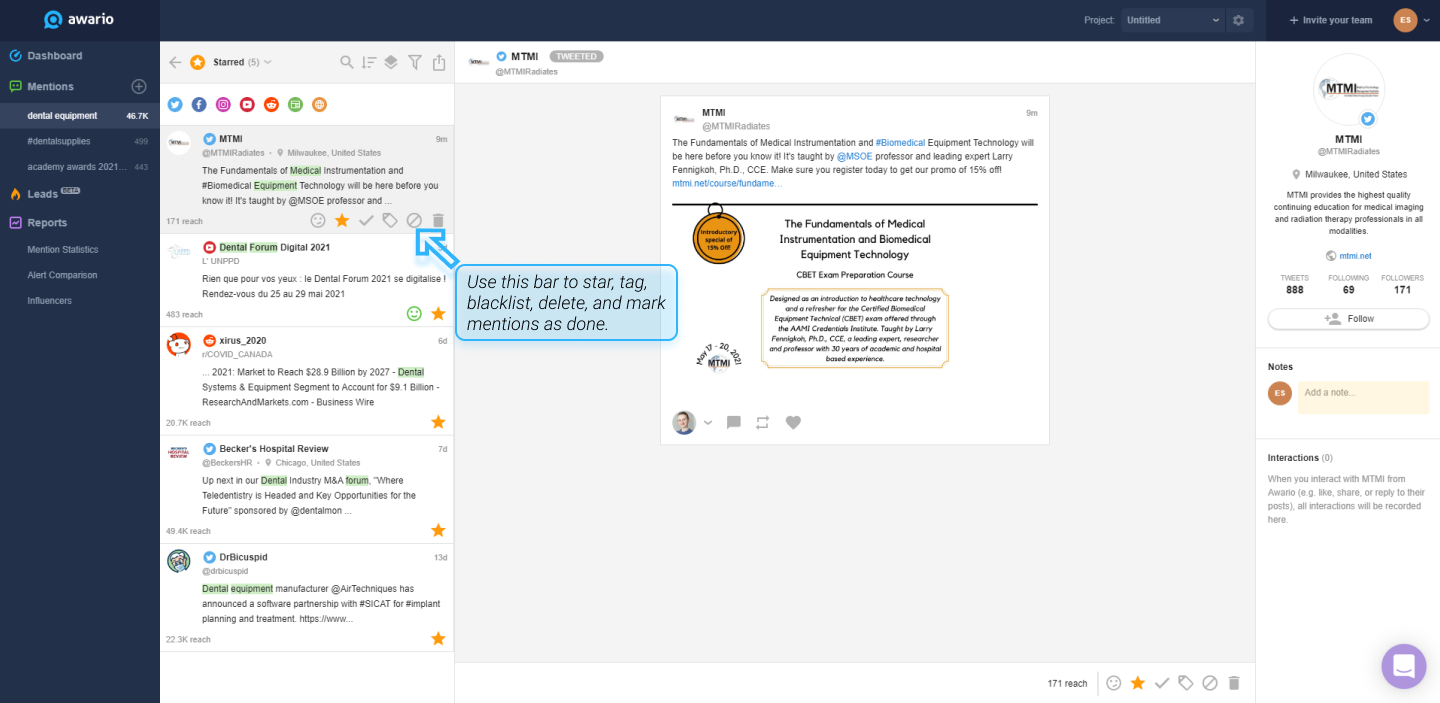 Reading Mentions Feed, you will find industry events, surveys, and news. If you add your competitors' names as keywords, you will catch their messages, too.

Topic cloud is another source of inspiration for you. You can find it on Dashboard, where it is clickable, or in Mentions statistics. These are the most discussed topics within your industry in the cloud.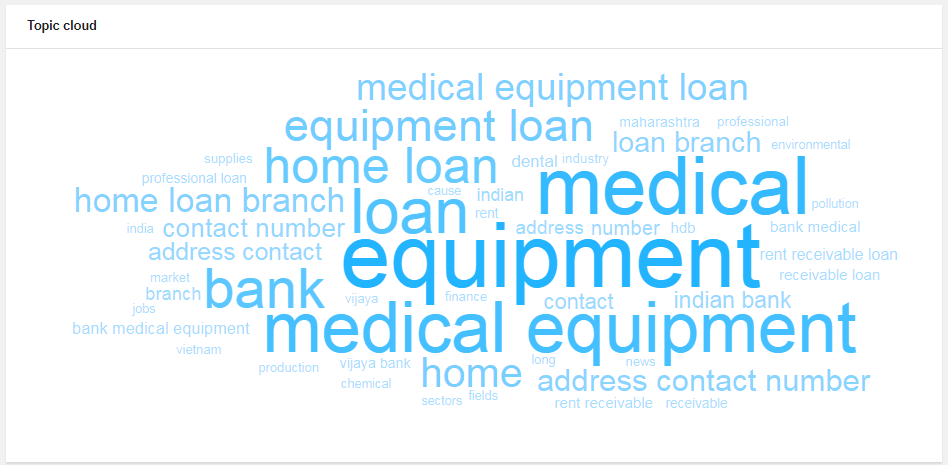 Step 4. Manage your social media activities
Tracking your social media activities in real-time allows you to analyze results and make strategic changes in your future campaigns.
In Awario, you can monitor your brand mentions by keywords or hashtags. It is a helpful addition to embedded social media analytics. You can see:
mentions reach;
share of voice;
users' sentiment.

You can monitor all negative mentions about your brand to reply to people who do not like it so far. Of course, do not ignore positive ones!
Step 5. Reach out to influencers
To spread your ideas wider, you need influencers. Fortunately, social listening tools help with it, too. In Awario, you can open the Influencers report.
Do you remember, we found out that Twitter and Reddit discuss your topic most? You can choose them as sources and find threads' authors with a big audience. Check the Sentiment rate before reaching out to them.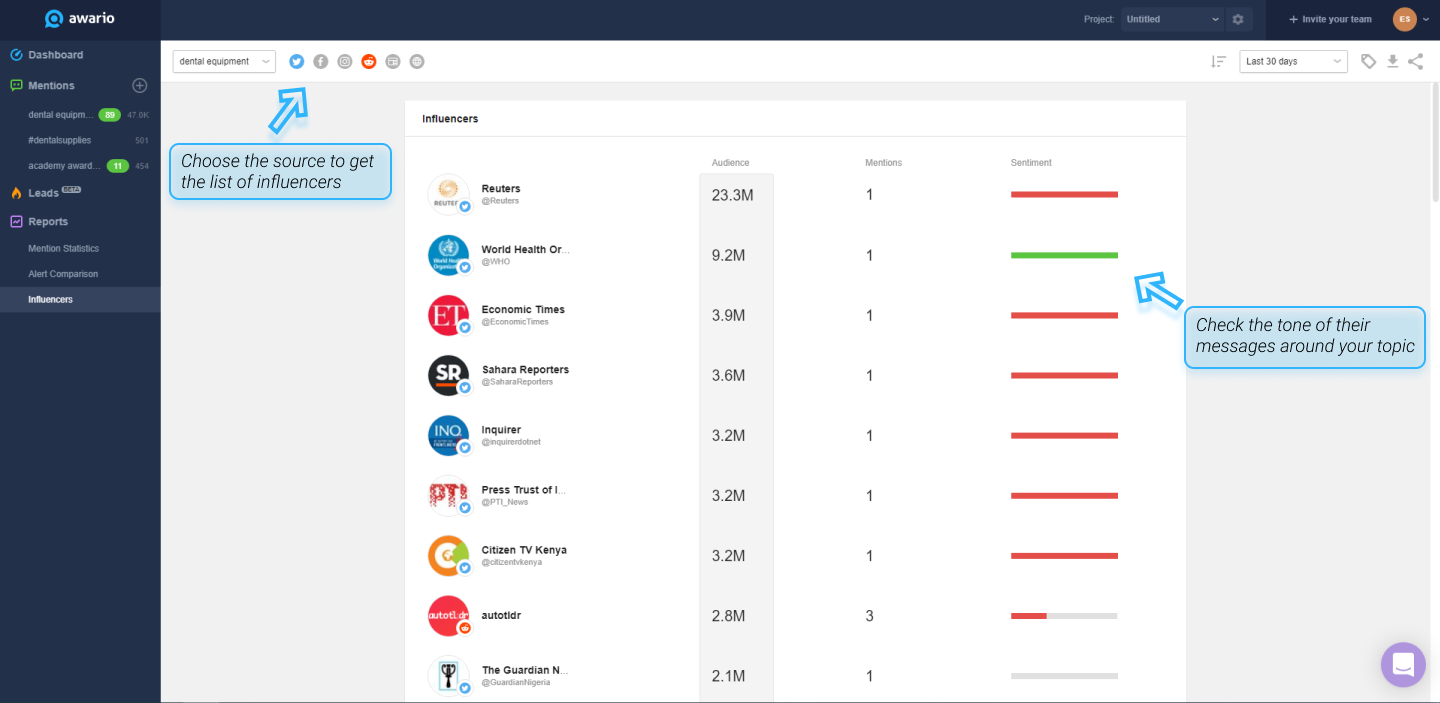 On Mentions Statistics, you can add the widget Most active to see people who often mention your keywords or brand. They have fewer followers than influencers, but there are your brand advocates among them.
Replying to their comments or questions, you can find reliable allies for your future Reddit campaigns.

Of course, you can look for influencers on Twitter, YouTube, and other social platforms as well. Awario will tell you all!
Enjoying the post? There's more.
Sign up for our newsletter to get our best content by email.
---
Any mistake is human, we all make them. In B2B social media marketing, you need to be open-minded and treat your failure as an experiment. It gives you insights to improve your approach. If your marketing laboratory is well-equipped with social listening tools, you will hit the target more often.