Social video marketing: how to convert your viewers into leads

Article summary
Using video for marketing on social media may seem a daunting task for you. Frankly, it's all about a failproof strategy! Dive into this blog post to learn how to make the most of this marketing channel, where to start, and get helpful video marketing tips.
In social media marketing, traffic and engagement do not mean a thing unless they help you convert your followers to customers. These indicators matter, too, but we all want to see the increased number of email signups and purchases at the end of the month.
Video marketing can help you with this task, as well as giveaways, ads, collaborations with influencers, and other ways to grab social users' attention to your brand page.
What is video marketing?
The idea of creating videos for marketing purposes is not new (even a bit archaic). All started with widespread TV distribution. The first video commercial in the U.S. aired on July 1, 1941.
Today this 10-second spot for Bulova, a New York-based watch company, looks not so innovative as 80 years ago.
However, the main idea of video marketing has not changed since then. Video is another way to showcase your products or services to your target audience. Unlike classic advertising, it often can be pure entertainment for your viewers.
Sign up for a free Awario trial
See Awario in action with a free 7-day trial. No credit card required.
By signing up I agree to the Terms of Use and Privacy Policy
Why does your business need video marketing?
People are now watching hours and hours of videos on social media. In 2020, 22% of Americans spent one or two hours weekly watching videos on YouTube, Facebook, Instagram, Snapchat, and TikTok, the recent Statista survey finds. Additionally, 18% of U.S. adults watched online videos for two to five hours each week. Besides, 9% of respondents spent more than 20 hours (!!!) per week watching online videos.
Here are four arguments for why you need to map out your social media video marketing strategy:
Videos convert watchers to customers
It is obvious to use video for products and services showcasing. This is dynamic, immersive, and live content. No text will be able to exert the same effect. If your users are impressed with your video, they often are ready to buy from you.
On TikTok, the 15-second clips from GVE London, a UK's one-stop-shop supercar dealer, get millions of views and thousands of comments.
There are potential customers among luxury cars lovers, too: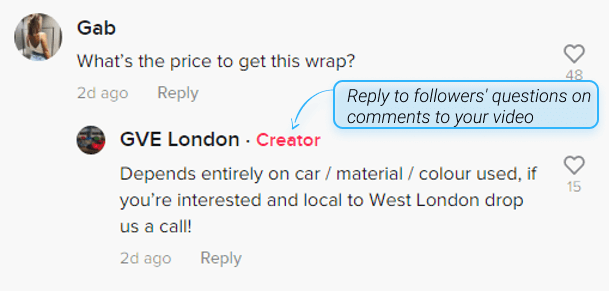 Social media algorithms appreciate video content
You may know how it is hard to beat the algorithms of Facebook or Instagram ruthless to your regular posts. If you have started with your page recently, there are low chances that you will get their attention.
However, the majority of social media encourage your experiments with video marketing. LinkedIn loves videos most because there is a lack of such content on the platform. As a result, your updates can stay at the top of the Feed for a couple of weeks!
This is why launching an ad video campaign on LinkedIn is a great idea. It seems BMW marketers consider it, too.
Videos draw mobile users' attention
Today, people consume mobile content anytime and on the go. With Bluetooth earphones, it is easy to do. Your customers watch videos when they commute to their offices, do exercises on a treadmill, wait for an appointment, and even before going to bed. You can entice them for your brand by frequently releasing videos on your YouTube or Instagram.
As proof, this short video from L'Oreal's Instagram earned 10.5 times more views than their regular posts on average!
Videos create an emotional bond between your audience and brand
Video helps you maintain your brand credibility. Yes, customer testimonials on your website can perform well, too. However, video reviews with happy clients, video tours from your office, and 15-minute answer-and-question webinars can perform even better. It confirms that you are a transparent and genuine company.
Take a look at Starbucks. They have a big following on Facebook and upload dozens of videos with the company's updates. Loads of them spark out discussions.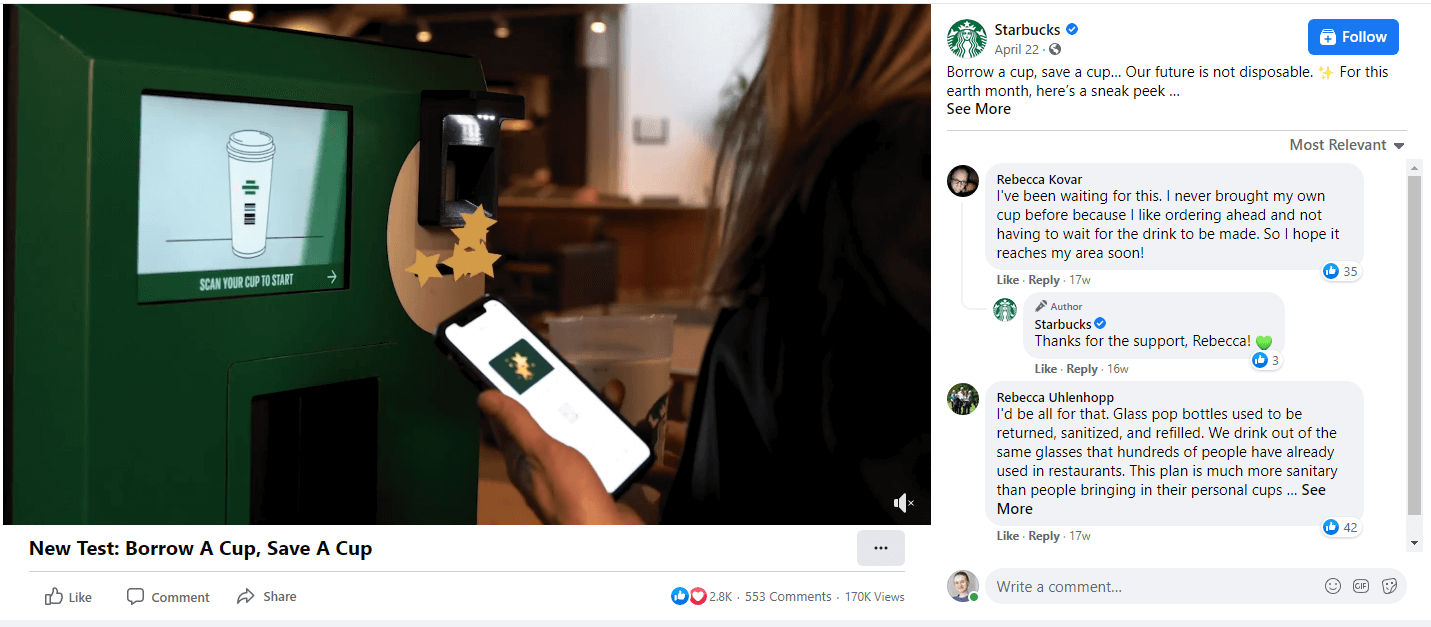 8 steps to a successful video marketing strategy
Getting down to video social media marketing, you need to draw up a clear strategy. Here are eight vital ingredients of it:
1. Set goals
The goal is the starting point of any marketing endeavor. Diving into video marketing, you need to incorporate video into your sales funnel.
Clips can fall easily into each stage of the funnel – from awareness to conversion. The difference is what topic, type of video, and call to action you will use for it.
Building an accurate list of your video goals helps you organize your work. Fill up this document with the following information:
the target audience of your videos
type of video (tutorial, Q&A session, product demo, etc.)
the frequency of new episodes posting – daily, weekly, monthly – or the duration of your video campaign (for example, five videos within two weeks)
the social platform where you want to upload video
the event associated with the release of video (beginning of sales season, a new product launching)
the CTA for your target audience (go to a landing page by a link, use a promo code, etc.)
the key performance metrics with baselines.
This document will further help you estimate the cost of video marketing for your company.
Start monitoring your brand today.
You should've been doing it yesterday – but the next best time is now with Awario.
By signing up I agree to the Terms of Use and Privacy Policy
2. Identify your audience
The more information about your prospects you have, the easier it becomes to shoot videos they will be hooked on.
Probably, you already have built customer personas for your brand and know who your customers are, where they live, what they are interested in, and the like.
If you do not know your target audience well, social listening tools come into play! The tools to which Awario belongs monitor social networks and the Internet at all to find your brand mentions. With thorough analysis they do, you can find out who your people, brand advocates, and industry influencers are on social channels.
First, you need to create an alert with your brand name and keywords associated with it. This short video shows how to do it.
After a while, you will get the first results of monitoring. Go to Mentions statistics, where you find your target audience's demographics.
For example, these are the search results for Audi's mentions from Twitter: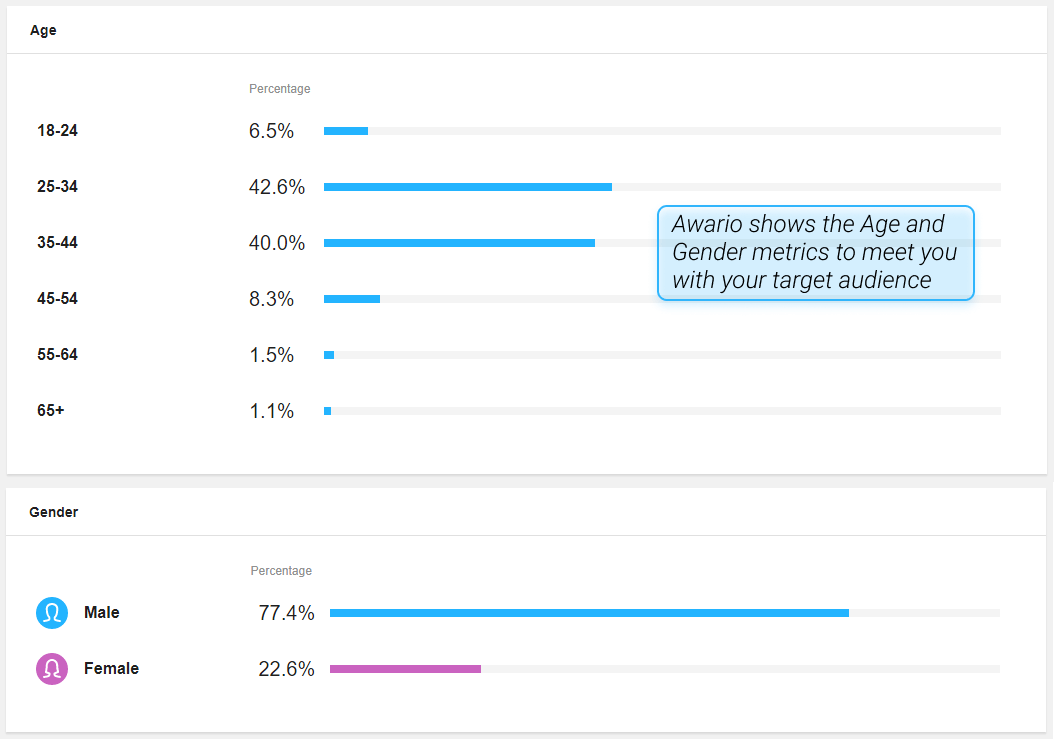 Besides, social listening helps you reveal the location of your target audience and the language they speak. To get more information about people who live in your area, you can choose your city and state as the primary location.
Also, Awario provides the Sentiment metric that indicates how social media users feel about your brand. Do they love or hate it? Be brave and read the negative mentions the tool may reveal. Further, you can build the plot of your clip around your prospects' concerns to handle their objections.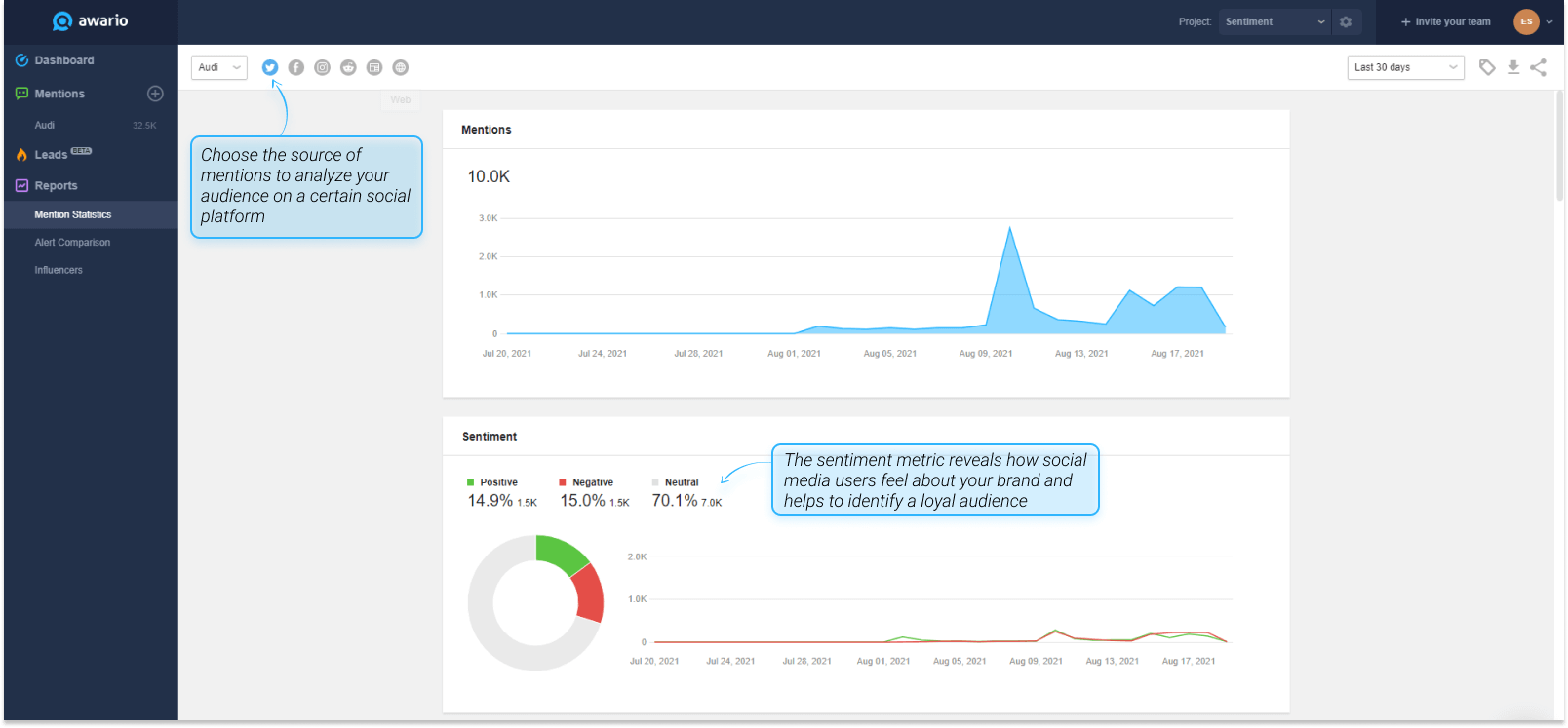 3. Choose social platforms
The next step is to find a social channel your customers love most. It is a guarantee that a video will get broad reach and users' reactions – shares, likes, and comments.
If you have already signed up for Awario's free trial, keep social media monitoring there. In the Mentions feed, you will find all posts with your keywords or brand name.
To speed the research up, use filters. For instance, you can sort mentions by reach, sentiment, and source.
It seems Audi has a big pool of fans on YouTube: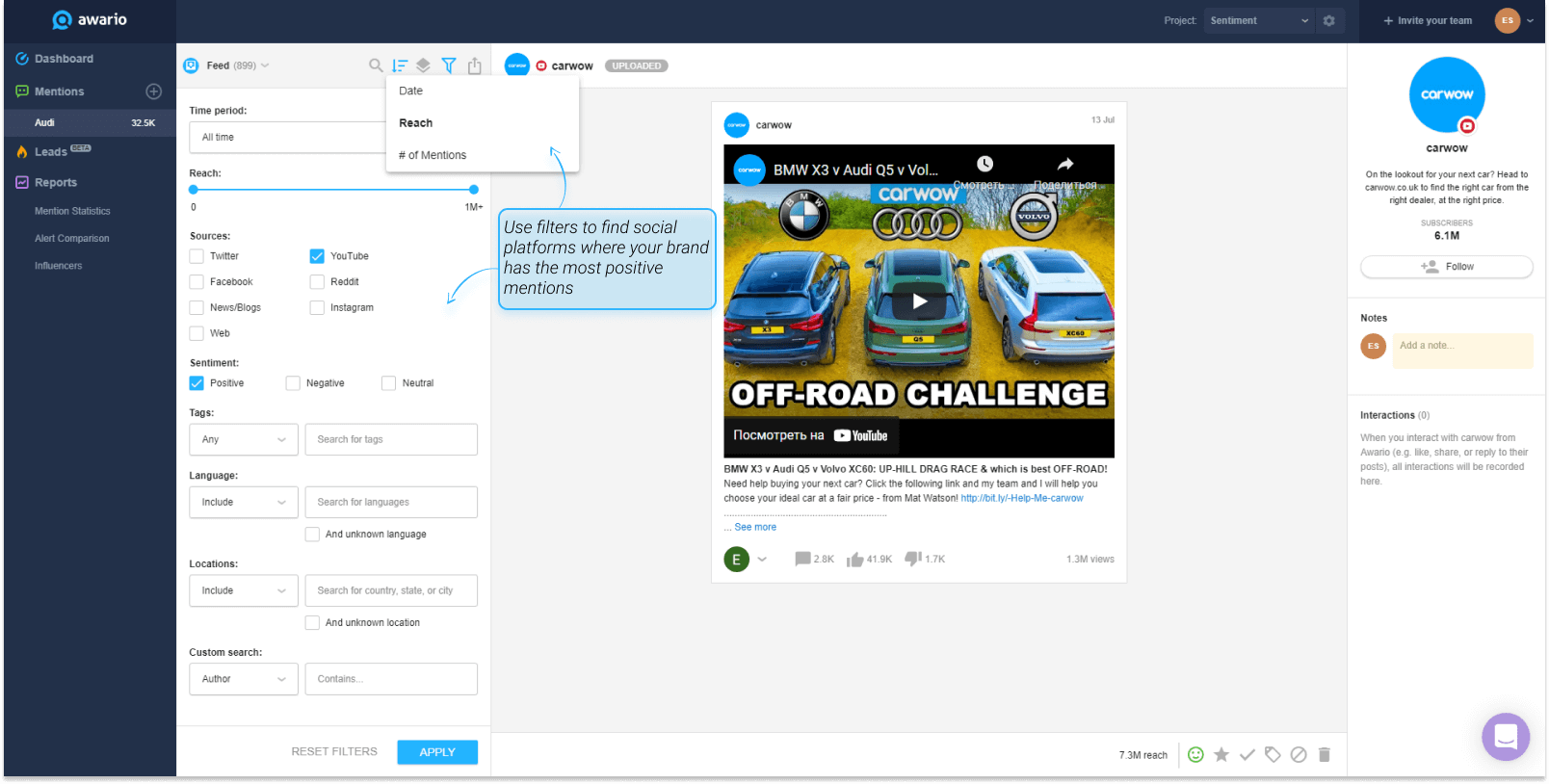 The best social platform for video marketing doing is where your loyal target audience is. However, you can take on the challenge and go behind your enemy lines first. Namely, reveal social networks chosen by your competitors and activate your video campaigns there.
4. Select what kind of video you will create
Here we reach the most creative stage! There are dozens of ideas for social video marketing. Choosing the best option for you, consider your current goal and the stage of the sales funnel your customers are at.
THE MAIN GOAL IS BEHIND
TYPE OF VIDEO
THE SALES FUNNEL STAGE
Entertain your audience
- Behind the scene
- Product manufacturing clip
- Joke, prank, and challenge

Awareness
Introduce yourself or your new product, service
- Live streaming event
- Product review
- Announcement from the founders
- Unpacking video
- Advertising
- About us video
- Shoutout from an influencer

Awareness
Consideration

Educate your audience
- Tips and tricks
- Explainer video
- How-to guide
- Tutorial
- Webinar

Awareness
Consideration
Conversion

Handle objections
- Product demo
- Testimonial, including user-generated one
- Q&A session
- Interview and discussion

Consideration
5. Begin video production
The social video production process is divided into three steps:
1. Pre-Production
In the beginning, you need to create a script and choose who will be in the frame – your CEO, employees, or clients. You need to set up a day and time that works best for them (probably, recording will take several days). Then, choose the location/s for your recording and prepare all the equipment you will use.
2. Production
To create good content, prepare the location early. Check visual, audio quality, and lighting. Consider that your presenters may need additional time to rehearse.
Things will get easier if you simply arrange a video pro for filming. However, your video marketing budget will increase, too.
3. Post-Production
Finally, you need to prepare your video to upload. You can edit a clip, add captions, visuals, sound effects, and graphics.
Pay attention to the social network requirements to video content such as recommended length of a video, thumbnail, layout – horizontal or vertical, style – portrait or landscape, and the like.
What we can suggest is to create an effective hook in the first few seconds of your video. It is a universal advice for any social platform.
6. Add videos to your content plan
It's about time to get out your masterpiece!
If you already determine the best time and day for posting on your social pages, feel free to use these rules in your video content. There are no strict limits for how many clips you can post weekly. For example, TikTok or YouTube are about video only.
For other – not-only-video – social platforms, it is a great idea to pack several videos into one campaign.
For instance, Levi's celebrated the legendary 501 jeans anniversary during an 8-day video campaign. They invited influencers – actors, sports professionals, entrepreneurs, etc. – who shared their personal stories about the first Levi's jeans they wore. The campaign resonated with the brand's followers.
Today we're kicking off our 501® Originals Campaign with seven originals who embody the 501® spirit of creativity, authenticity, self-expression and originality. They're wearing and doing things their own way, while shaping the current moment. Meet the Originals #501Originals. pic.twitter.com/Tebw7JwDDH

— Levi's® (@LEVIS) May 13, 2021
7. Think of video promotion
The distribution tactic depends on a social platform where you want to post your content. For example, you need to create a super catchy and SEO-optimized headline for YouTube videos and add popular and relevant hashtags to your Instagram clips or Reels. All these technics aim to optimize your video for instant search.
By the way, you can come up with promotion ideas using social media monitoring as well. Analysis of the reach and popularity of hashtags helps you to pick the best ones for your video post.
In Awario, you also can check Topic cloud to reveal them: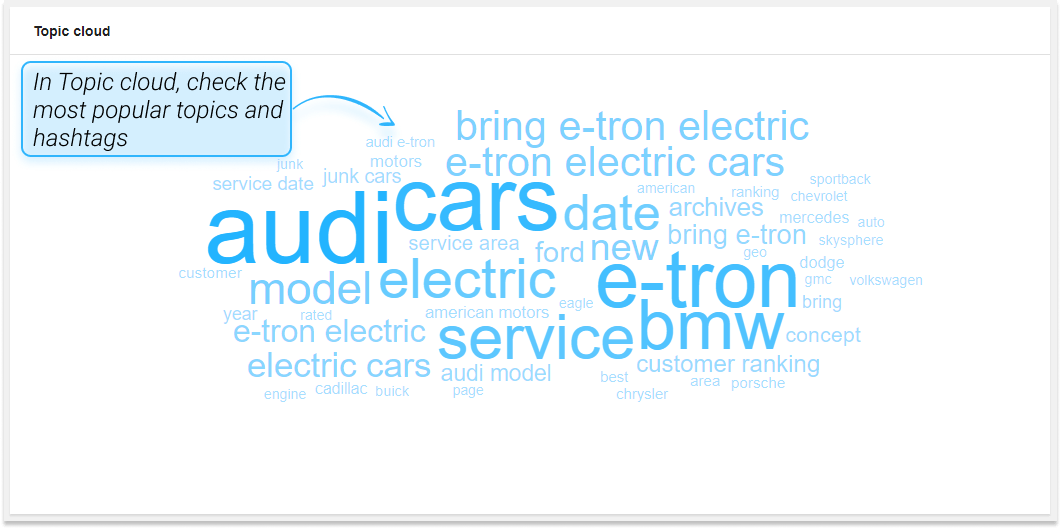 8. Analyze how your video performs
Probably, you have some key metrics for analyzing your social media performance like the number of followers, the engagement rate, and reach. There are no big differences between regular or video posts. This is why you can apply all these metrics to your video marketing results measuring.
Here are some specific indicators to track:
Video conversion rate = the count of video conversions (view-through rate, clicks, engagement with links) / the count of video views
Click-through rate = the count of video clicks (for example, how many people go to a link with UTM parameters in the caption) / the count of video views
The number of shares (as a quick point, you can also add a unique branded hashtag to your video and track it with social monitoring tool after a campaign ends)
Watch time = the sum of seconds or hours watched.
The majority of these metrics are added to social platforms like YouTube or Facebook. You can easily find them in the reports.
Pros and Cons of video marketing for social media
Before you dive into filming, take a look at the benefits and disadvantages of social video marketing:
PROS FOR USING
Enticing. Videos grab users' attention who are cluttered with content now better than regular posts with text and pics.
Multi-purposed.Thanks to the variety of types and formats, you can do video marketing for B2B and B2C companies.
Extremely social. For now, every social platform provides a video feature, so users are ready to consume such content (and starve for it).
Genuine. Video is great to showcase a product, show the emotions of people who use a service, and build trust between a company and the audience.
CONS FOR USING
Expensive. Usually, there are huge budgets behind effective video marketing on YouTube, Instagram, and other social media.
Time-consuming. Even a 15-second clip on TikTok requires a plot and minimal editing.
Hard to update.Unlike texts or visuals, videos are hard to edit. Despite you can turn a long YouTube webinar into short clips for Instagram or TikTok, it is difficult to keep video evergreen.
Enjoying the post? There's more.
Sign up for our newsletter to get our best content by email.
Before you go
In marketing, all starts with a clear goal, and video for your socials is not an exception. With all these things in mind, try to add some video marketing to your social media strategy for now!