How MasterClass wins customers online: a social media marketing analysis

Article summary
Today we are taking marketing lessons from MasterClass — but not from one of their classes. We analyzed their social media strategy to see how smaller brands and startups can achieve the same success.
Remember the first lockdown when everyone started a self-improvement journey? With all this extra time, we wanted to learn cooking, baking, growing our own greens in the backyard, how to code or paint or even do social media marketing. Naturally, we wanted a COVID-proof way of learning all these skills.
For many of my friends and myself, the first online learning platform we thought of was MasterClass. Even though a lot of skills we wanted to learn were not covered by their courses, when we thought about online learning that can bring us joy and comfort, we thought about this company. That's the power of branding and social media marketing.
But how did they manage to do it? How is it possible that despite a cut-throat competition, MasterClass remains one of the most successful online education projects?
We've decided to break down their social media marketing strategy and see what other brands can learn from the company. First, we will analyze their presence on social media and then go through their most prominent social media marketing tactics to see what helped them achieve such a high level of brand awareness.
MasterClass's online success: a social listening analysis
Analyze you online presence
See Awario in action with a free 7-day trial. No credit card required.
By signing up I agree to the Terms of Use and Privacy Policy
We used Awario, to determine how popular MasterClass actually is. We focused on three KPIs:
brand awareness,

and influencers who talk about the brand.
While the first two tell us more about the results of their social media marketing efforts, influencers already give us a peek into their strategy — what channels and accounts they (organically or non-organically) use to reach their target audience.
So let's start with the first metric — brand awareness.
Brand awareness
Awario calculated the number of online mentions and reach of those mentions for MasterClass. In one week, they managed to get more than 2.5 thousand online mentions which got 14.3 million impressions.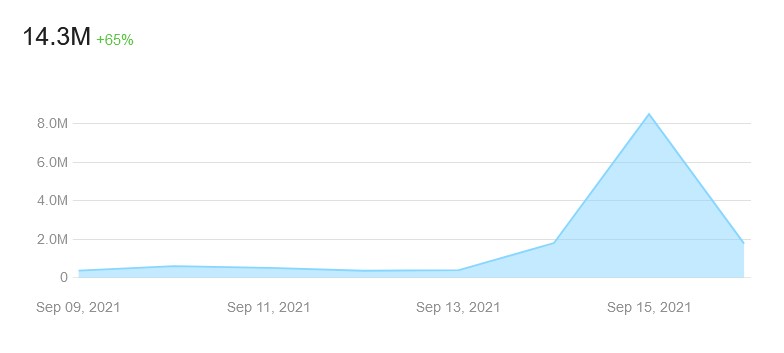 The words mentioned along with MasterClass most often can be seen in Awario's Topic cloud. Some of them are connected to their competitors, but there are also a lot that describe the courses (learn, 6-month) or the teachers (author, academy, and so on).
Reputation
To understand MasterClass's reputation we need to take a look at Awario's sentiment analysis feature.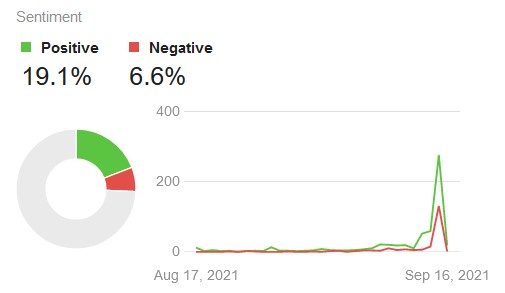 MasterClass has 19.1% of positive mentions vs 6.6% of negative mentions (the rest is neutral), which is a pretty high net positive.
It seems like people are enjoying their courses and the online presence of the MasterClass brand.
Prominent influencers
Awario allows you to easily check influencers talking about your brand through the Influencers report. You can choose platforms that you want to analyze.
In the combined report for all the online platforms, the clear winners are the media websites. MasterClass gets mentions on Business Insider, Cosmopolitan, New York magazine, and other famous media platforms.
YouTube is another platform where they acquired quite a lot of reach through influencers. For example, if we sort the mentions by reach, this humorous sketch from SNL is one of the top mentions. You can say you really made it as a brand when SNL makes a sketch about you.
So now we have robust proof of MasterClass's success, not just anecdotal evidence from my friends. Let's talk about MasterClass's marketing strategy and how they build their brand and then move on to their social media marketing strategy.
Master Class' marketing strategy and branding
MasterClass presents itself as an online platform where you can learn different skills from the top people in the respective fields. The two aspects of their courses distinguish them from their competitors.
Firstly, the subjects they teach vary greatly, and oftentimes they are aimed at learning about the world more than acquiring a specific skill. Depending on the course, they can be very practical, or more entertaining, like watching a good documentary. For example, a course from Chris Hadfield about Space Exploration will probably not help you become an astronaut, but it will teach you about the life of astronauts and space.
Secondly, of course, what has become the face of the brand are the other faces. MasterClass attracts real celebrities and stars such as Gordon Ramsey, Helen Mirren, and Stephen King to teach their courses and is emphasizing that in their marketing strategy. Obviously, people want to learn from the best — and MasterClass really gets it.
So how are these aspects of their product are reflected in the branding?
Visual branding
The visual identity of the brand aims to emphasize the diversity of thoughts and knowledge offered by an expansive and rising range of both courses and subjects. The major elements of the identity are their logo, underscore that is used both in the logo and on their visual materials, and photography style.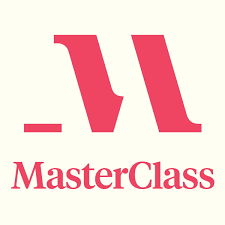 The use of an underscore and the implied edge of each letter in the logo forces the mind to fill in the gaps. These intentional gaps in the logo design were chosen to convey critical thinking and learning — two of the brand's central values.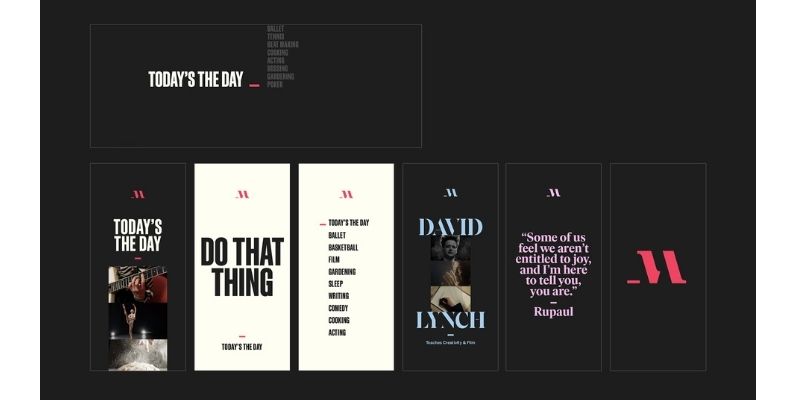 The underscore represents the blank space that's up to the user to complete and a new ability to be learned.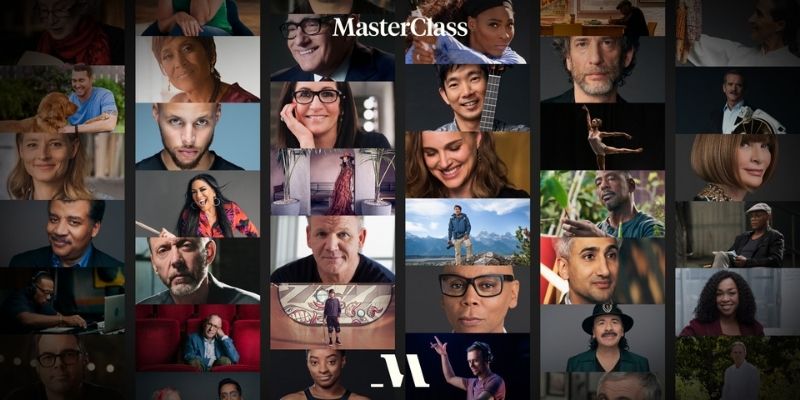 According to the MasterClass, their photography style is intended to create a sense of intimacy and proximity, "aiming to capture the details of an instructor's process or craft while also creating a connection with each member."
Influencer marketing
MasterClass' whole concept is based on influencer marketing. They attract famous instructors not just to raise credibility and respect for their brand but also to tap into the audiences of these celebrities. Be it Natalie Portman or Neil Degrasse Tyson, you can count on their fans signing up for courses to learn more about their idol.
Analyze this, analyze that.
Grab Awario's free trial and run a social listening analysis of your own.
By signing up I agree to the Terms of Use and Privacy Policy
SEO and content marketing
While MasterClass is a video-first platform, they also publish various articles promoting their courses. These articles are mainly how-tos, focused on solving a particular problem a reader might have.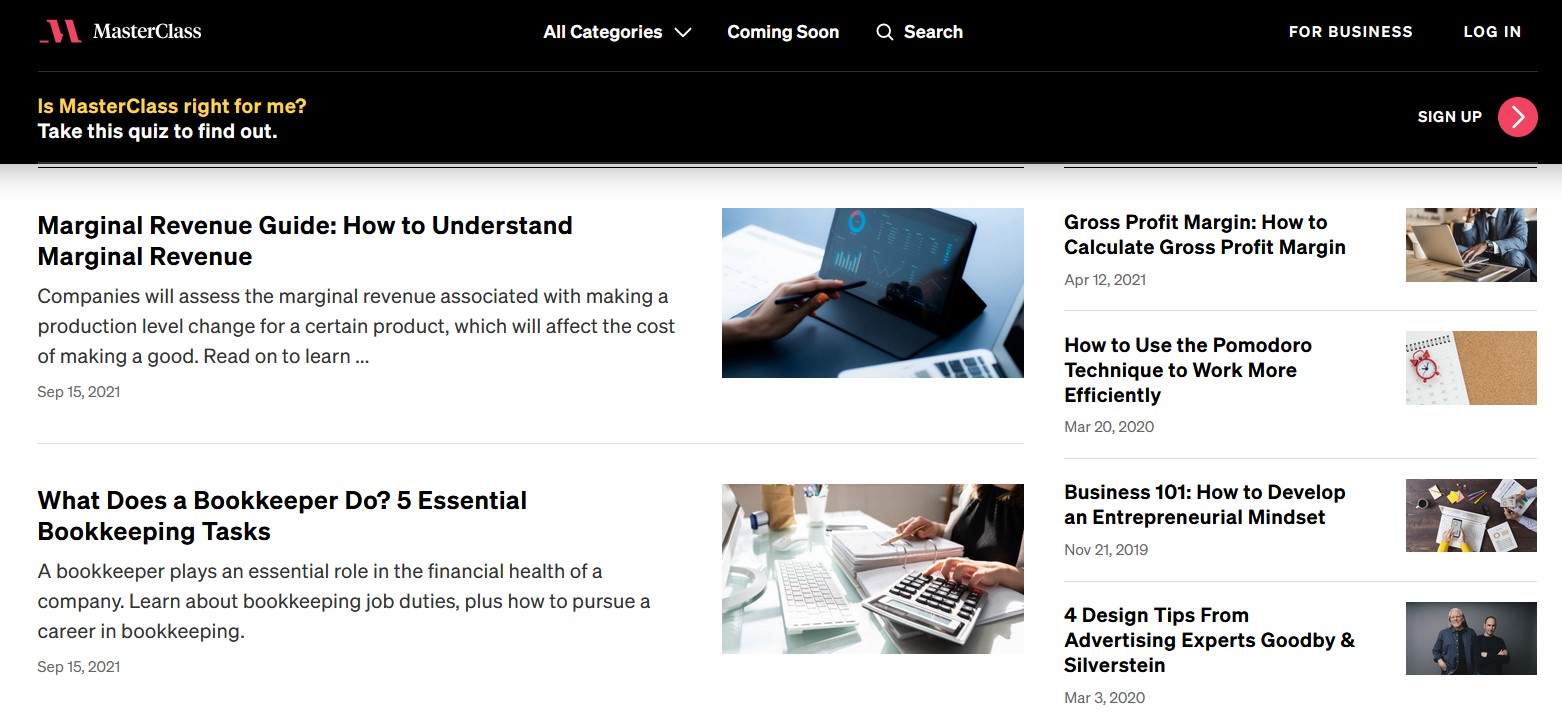 Such content strategy works for their marketing funnel — it taps into the potential customers who want to learn more about a specific niche and directs them to their online courses. Once again, it presents MasterClass as a platform created and fueled by expertise in different fields.
Social media is one of the main channels of communication for the brand. According to Awario, 82% of all the online mentions for MasterClass come from social media. So let's examine their social media strategy and figure out what tactics they are using in their social media marketing.
Master Class' social media marketing strategy
If we take a look at MasterClass's social media, it becomes immediately clear what platforms they prioritize.
The platforms they are most active at are Facebook, Instagram, and YouTube. Taking into consideration the fact that MasterClass puts video first, it's no wonder they chose to highlight the platforms that favour video content.
Video marketing
Indeed, video is the main way of communication across social media for the brand.
For example, if you take a look at their Instagram profile, you'll notice that they almost exclusively post videos. While you generally expect a mashup of photos, carousels, and video posts from an Instagram account, MasterClass almost never does photo posts. They alternate between IGTV posts and video posts on their Instagram account.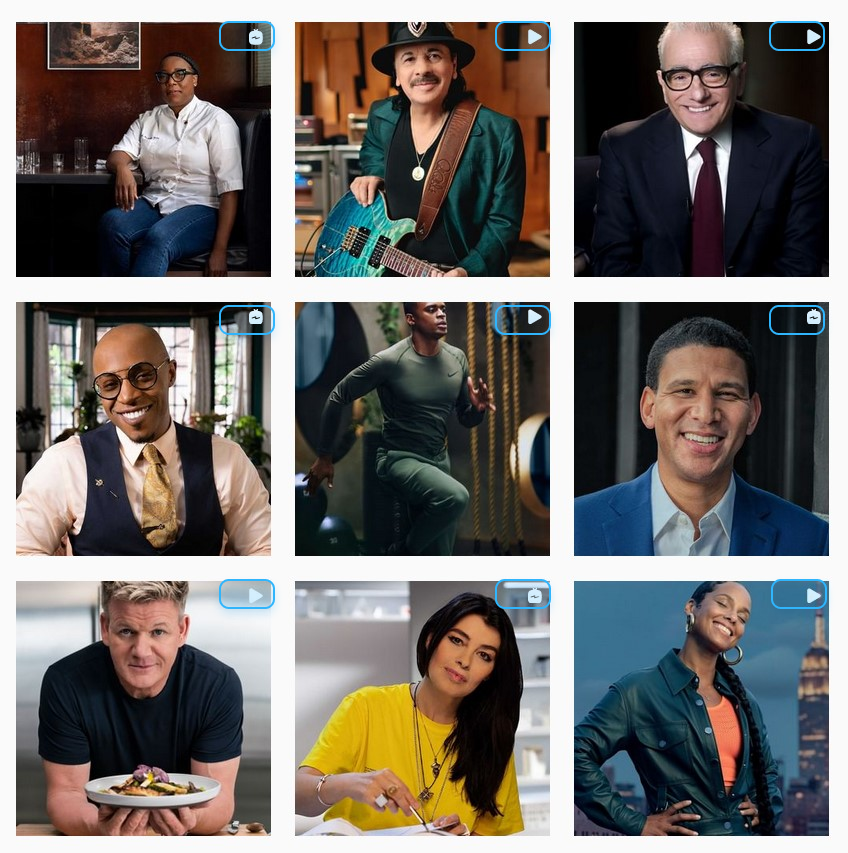 And this tactic pays off! On Instagram, their views average at 70 thousand, and they typically get around a hundred comments per post. They also boast 2.7 million subscribers which is pretty high for an online learning platform.
On YouTube, the main video platform, they have more than 176 million views overall and more than 800 thousand subscribers.
On Facebook, where they have more than 3 million followers, they break up video content with occasional posts from their website: either an article from their blog or a link to a course with a direct call to action.
Even their Twitter profile, which they notably pay less attention to, posts mainly videos and links to their website with some CTAs.
Rhythm is a universal language for @Timbaland. Find value in international music with the legendary music producer. pic.twitter.com/bb5hZUWxsn

— MasterClass (@MasterClass) September 6, 2021
So what are the videos that they post? Well, they are mostly interviews with their instructors, announcements of courses and instructors, and speak peeks into courses. They put the instructors as the main talking heads and the stars of their videos, highlighting their knowledge, skills, and expertise.
It's an excellent example of content recycling — they use the content from the course itself along with promotional video materials created specifically for social media. They combine it to show people what they can expect from the course, but at the same time, it saves the marketing team a lot of time and effort since they don't have to produce more video content.
Marketing tip from MasterClass
Double down on video content on the platforms that prefer it — it pays off.
Besides, you can always use the content you put into your product as promotional material as well. Turn your tutorials and guides into video ads, turn your accompanying articles into social media posts. Recycle the content you create in different forms to save time and effort on marketing.
Storytelling on social media
If we dive deeper into the exact way they structure their video content, we notice that they heavily use storytelling as a tool for promotion.
A lot of their videos feature instructors telling you a little story of how they got their success or what led them to create their own unique way of *fill the blank here*. These stories lead into the content of their class, but they also tell us more about these celebrities — their lives, the struggles they faced, and how they overcame them.
In addition to that, they tie into their social media marketing content with the major events to be relevant. For example, take a look at this Facebook post dedicated to Met Gala.
This is an example of edutainment content typical for MasterClass's accounts: their social media posts are aimed to entertain their followers by showing a knowledgeable celebrity and relating to current events, but also they want to educate their viewers and give them some useful information that can encourage them to sign up for the classes.
Essentially, they are sharing helpful content to push you down the funnel to pay for more educational content.
Marketing tip from MasterClass
You can't just show your product and say how good it is and expect people to buy it. As one of the MasterClass's instructors Stephen King says, people are narrative beings, they crave stories.
Tell your audience a story of success — your own, or your customers. Tie it into the current events and show them how they can get from point A to point B with your product. The story will convince them to try it!
Social media advertising
MasterClass is a true powerhouse when it comes to advertising. I probably won't surprise you when I say that I learned about the brand from YouTube ads — and you probably did too. If not from YouTube, then from Facebook or Instagram since these are the platforms they are actively advertising on the most.
You might think "Okay, I don't have a huge advertising budget to fill social media with my ads, what can I learn from MasterClass?". Well, a lot actually.
First of all, let's look at the ads themselves. MasterClass had two notable advertising campaigns.
The first campaign was their "regular ads" so to say — a video ad where the instructor presents the course, talks about their work and philosophy, and encourages you to sign up. What separated them from the rest were famous faces that you are not used to seeing in advertising and high-quality production.
Once again they applied the storytelling technique we mentioned above. For example, take a look at this ad which doesn't just tell you "Anna Wintour is going to teach you business". It creates this whole magical world of fashion that you get to come into — a unique opportunity that MasterClass kindly provides.
The second campaign was the "So Much New to Know" campaign targeted at people already familiar with MasterClass as a brand. It's clear that this campaign was aimed at people who saw MasterClass's ads but haven't signed up yet — so the company wanted to show a variety of courses they offer and present the many famous instructors they hire all in one campaign so that you certainly find something for you.
At the same time, this campaign manages to convey an air of expertise and diversity of thought which are core values to the brand.
Another lesson to take away here is their targeting. Since the platform hosts such a wide variety of courses it's important for them to target different audiences for each of their ads. Certain courses are targeted at a certain audience, and you'll never get an ad on gardening if you visited the website for writing courses before. They are using all the instruments Facebook and YouTube provide to ensure they reach the right people.
Marketing lesson from MasterClass
Remember who you are trying to convert through your ads. If you're advertising several products, don't try to cover all your target audiences with one ad. Create advertising that will promote the product to its audience for each of them.
Storytelling-wise your ads are not just a story in themselves. The ad campaigns also tell a bigger story, a story of your brand — so remember that when you design a retargeting campaign or a campaign aimed at cold leads. Try to tie in your new ad campaign with the previous one: that will make people remember your brand even better.
In conclusion
In our interview with Stephanie Schwab, she said that online education is one of the industries that innovate digital marketing. MasterClass, while using the true and tried social media marketing techniques: storytelling, content recycling, influencer marketing, does it in such a new way, that they work like wonders!
Take a lesson from them for free and start applying the same techniques in your social media marketing strategy!
Enjoying the post? There's more.
Sign up for our newsletter to get our best content by email.