New York City boroughs: a social listening analysis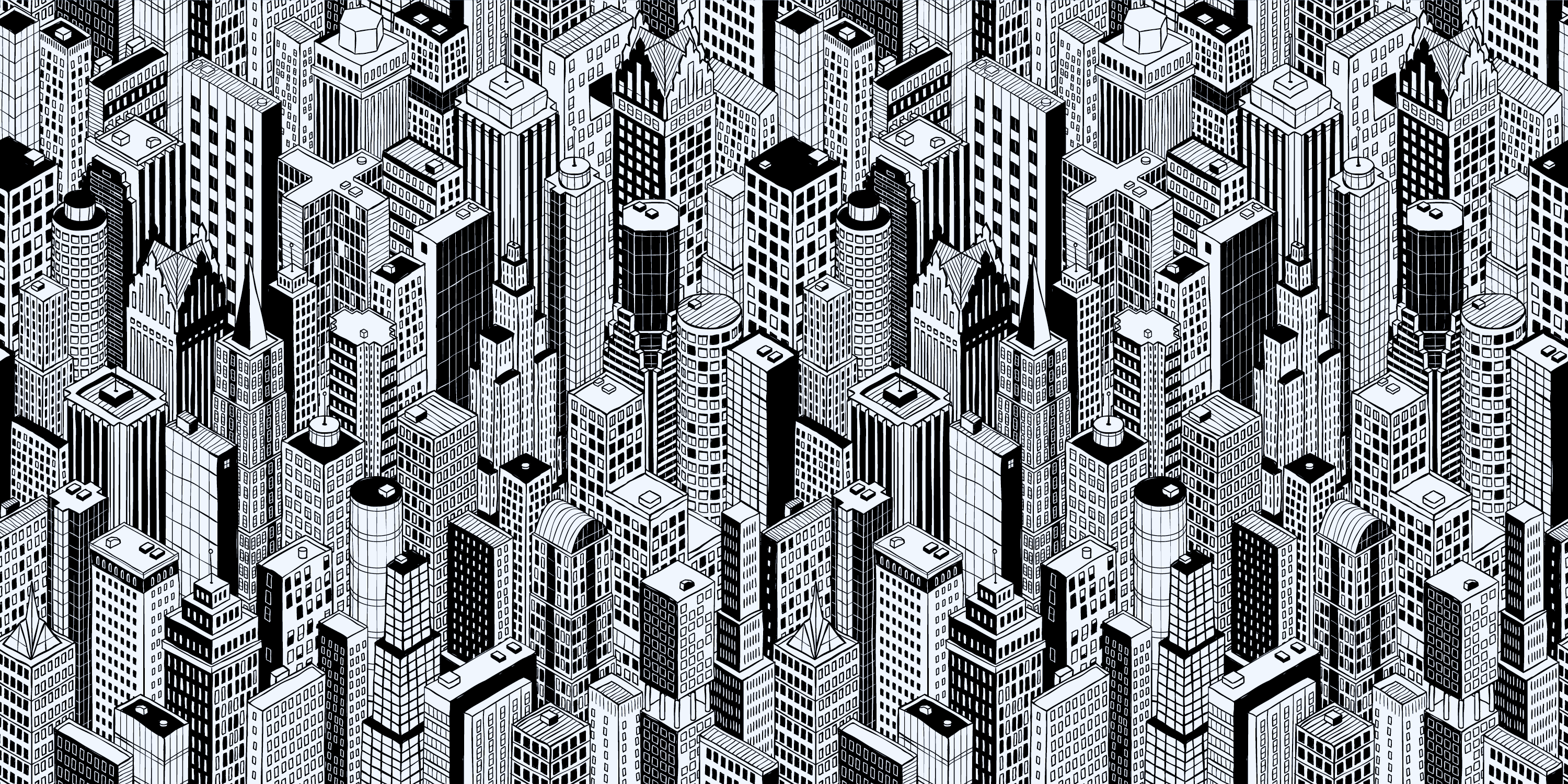 When you hear the term "social listening", you probably think about brand monitoring. With any luck, you can recall a few other use cases: competitive analysis and, perhaps, market research. But the truth is, there are dozens of things you can do with social media monitoring tools. In fact, it's almost any kind of research you can think of.
For this post, we thought it'd be fun to analyze social media posts and news articles about the New York City boroughs. For a month, April 21st through May 20th, I've been tracking mentions of the 5 boroughs (Manhattan, Brooklyn, Queens, the Bronx, and Staten Island) in Awario. I wanted to see which boroughs were talked about the most by social media users, which appeared most frequently in the news (and in what context), what the sentiment towards each borough was, and so on.
I narrowed the search down to mentions in English only, and set it up in Boolean mode to avoid irrelevant mentions and make sure the results I find are actually about boroughs (and not Manhattan the cocktail or Bronx the shoe-making company). The setup was as follows: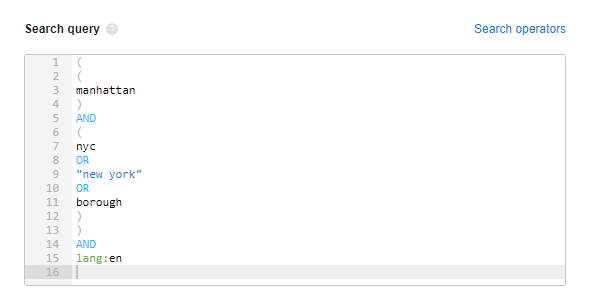 I ended up with over 107K mentions in total. Now, let's see how the mentions of each of the 5 boroughs compare to each other in terms of volume, reach, sentiment, and context (both on social media and in the news).
The 5 NYC boroughs on social media
For the social media analysis, I looked at mentions of every borough across Twitter, Facebook, Instagram, YouTube, and Reddit. Let's see what we can learn from this data.
Popularity: Which borough is mentioned the most on social media?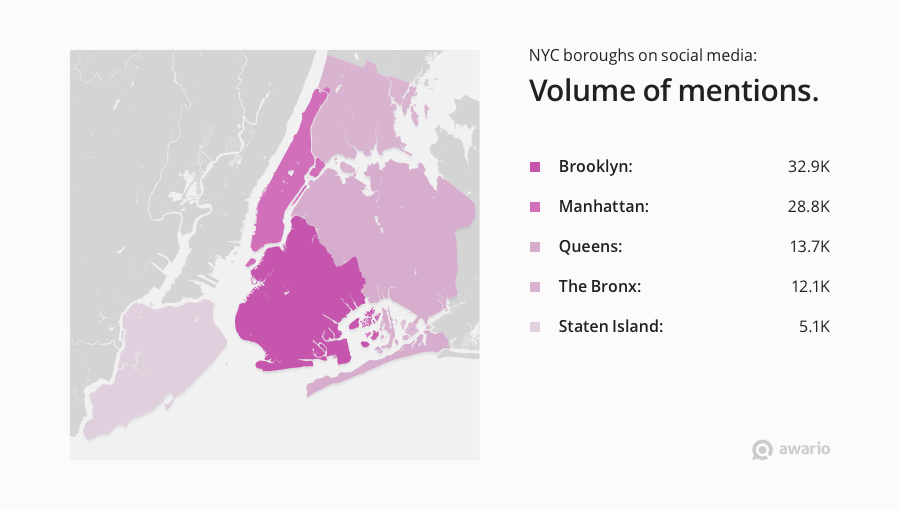 I thought mentions of Manhattan would far outnumber those of other boroughs, but I was wrong: there are 14% more mentions of Brooklyn than Manhattan, New York City's second most mentioned borough. Staten Island is, perhaps not so surprisingly, the least mentioned one out of the five.
Reach: Posts about which borough are seen by the most social media users?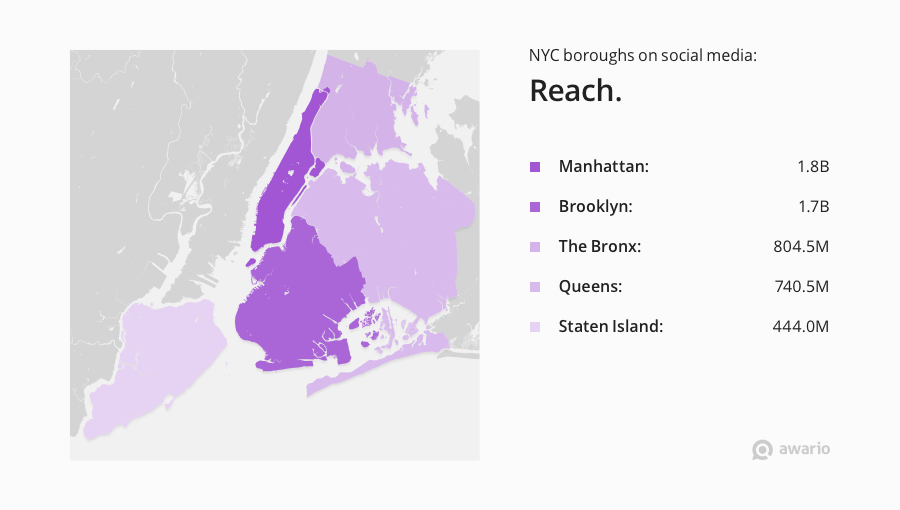 Reach is Awario's estimation of the number of people who see each mention (based on the post's number of likes, shares, replies, and the author's number of followers). I expected Reach distribution to be fairly the same as the volume of mentions - but I was wrong again.
Combined with data on mentions, this tells us that even though social media users talk about Brooklyn more frequently than Manhattan, mentions about Manhattan are actually seen by more people. In other words, people mentioning Manhattan have more influence on social than those who mention Brooklyn. The same is true for Queens and the Bronx.
Sentiment: Which borough has the best rep?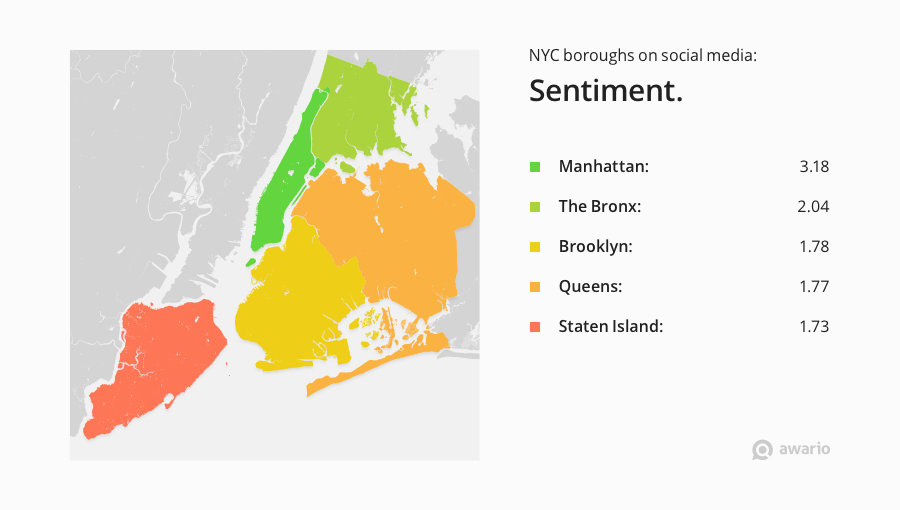 For this section, I wanted to see which borough receives the most (and the least) positive mentions. Above, the 5 boroughs' colours represent the ratio of positive mentions to negative ones (excluding mentions that are neutral). Manhattan has 3.18 positive mentions for every negative one, and the Bronx is the runner-up with 2.04 times more positive mentions than negative ones.
How can Staten Island, the runt of New York City boroughs, get the most negative mentions? Read on: this will become clear when we'll talk about news mentions and key topics.
The 5 NYC boroughs in the news
It may sound a bit odd, but social media listening isn't just about social media. Awario (and a few other social listening tools) let you track mentions in the news and the rest of the web as well.
Now, we know that social media users talk about Brooklyn the most, while people on social media hear about Manhattan the most. Does media coverage bear any resemblance to social media users' opinions?
Popularity: Which borough is mentioned the most in the news?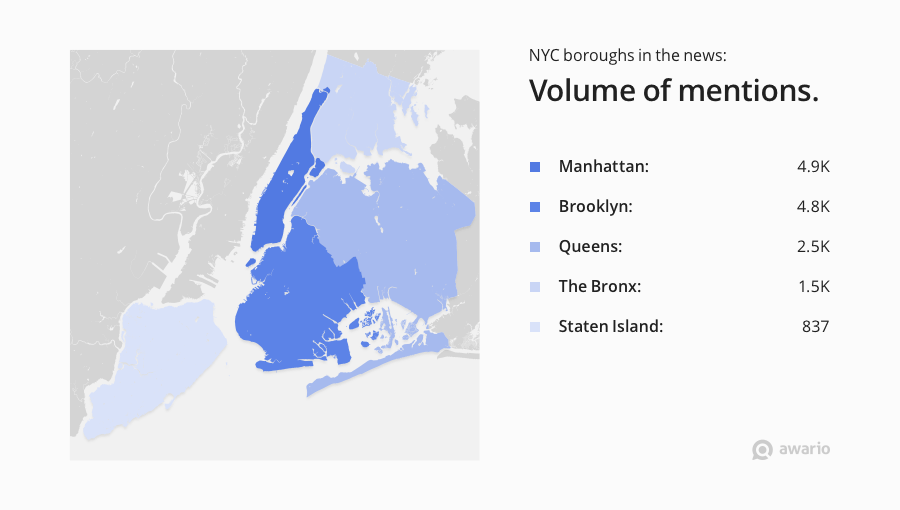 Unlike social media users, news outlets tend to mention Manhattan the most (although Brooklyn is only about a hundred mentions behind). Queens, The Bronx, and Staten Island appear in the exact same order they did in the social media analysis.
Reach: News articles about which borough reach the most readers?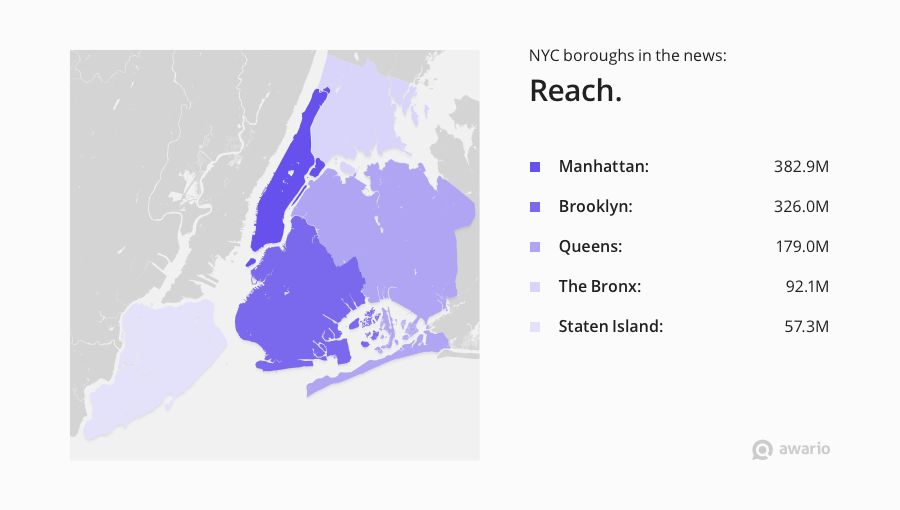 For news mentions, Reach distribution is very close to that of the volume of mentions, except there's an even bigger gap between Manhattan and other boroughs.
Sentiment: Which borough has the best rep in the news?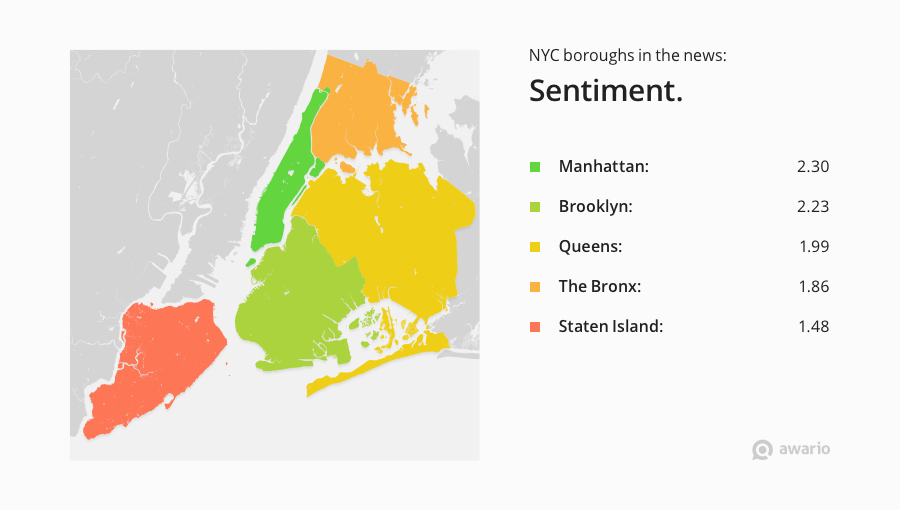 Just like with social media, news articles about Manhattan are the most positive, while Staten Island's mentions were more negative than those of the other boroughs. (Still wondering what that's about? We're almost there - read on!)
Topics: What are the prevalent themes in the news about each borough?
At first glance, the key themes around each borough aren't that interesting or surprising. However, if you look closer…
Manhattan and Trump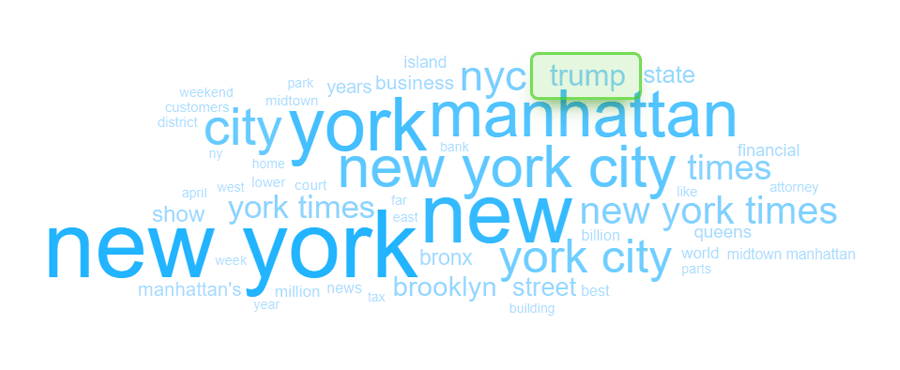 Around 5.7% of news articles mentioning Manhattan also mention Trump. One story dominating the news was about Trump Tower and how people who own units in it are losing money due to the president's unpopularity in the city.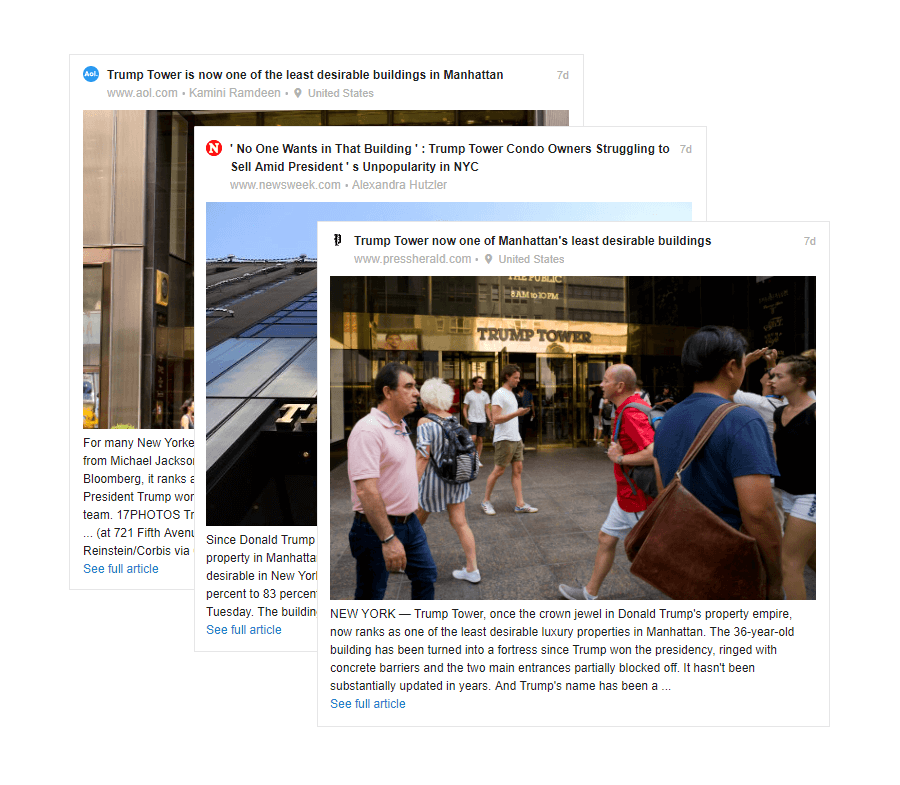 But there was also this story about Moby's awkward encounter with Donald Trump at a Manhattan party.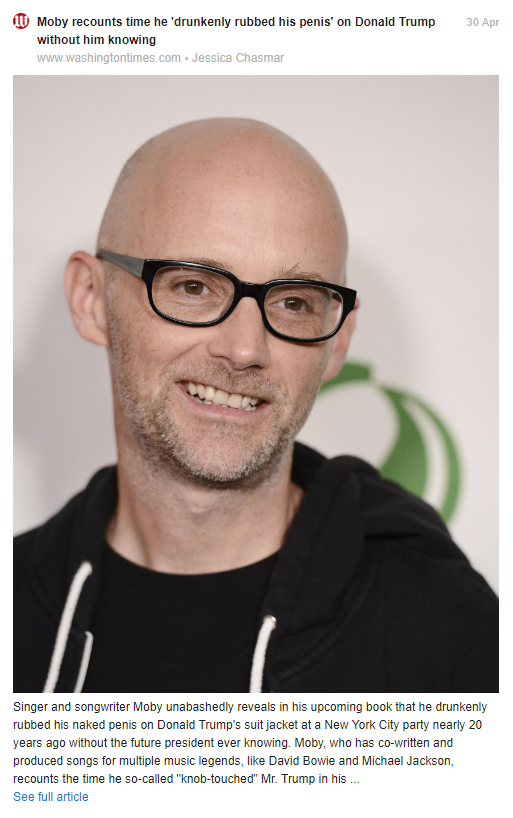 Brooklyn and Measles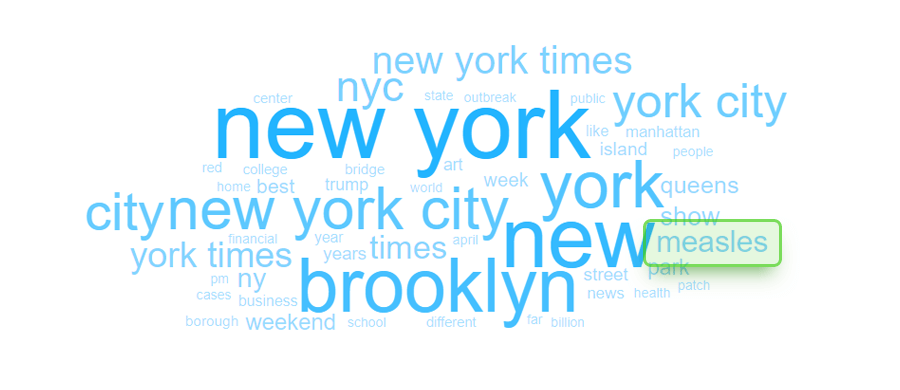 4.4% of Brooklyn mentions in the news talked about measles. The measles outbreak in ultra-Orthodox Jewish communities in Brooklyn has lasted for months, with people refusing to vaccinate their children and anti-vaccination movements spreading. On April 9, Mayor Bill de Blasio declared a public health emergency that requires individuals in Williamsburg to receive the measles vaccine, with possible fines of $1,000 for those who did not comply. That's what a lot of news websites wrote about this month.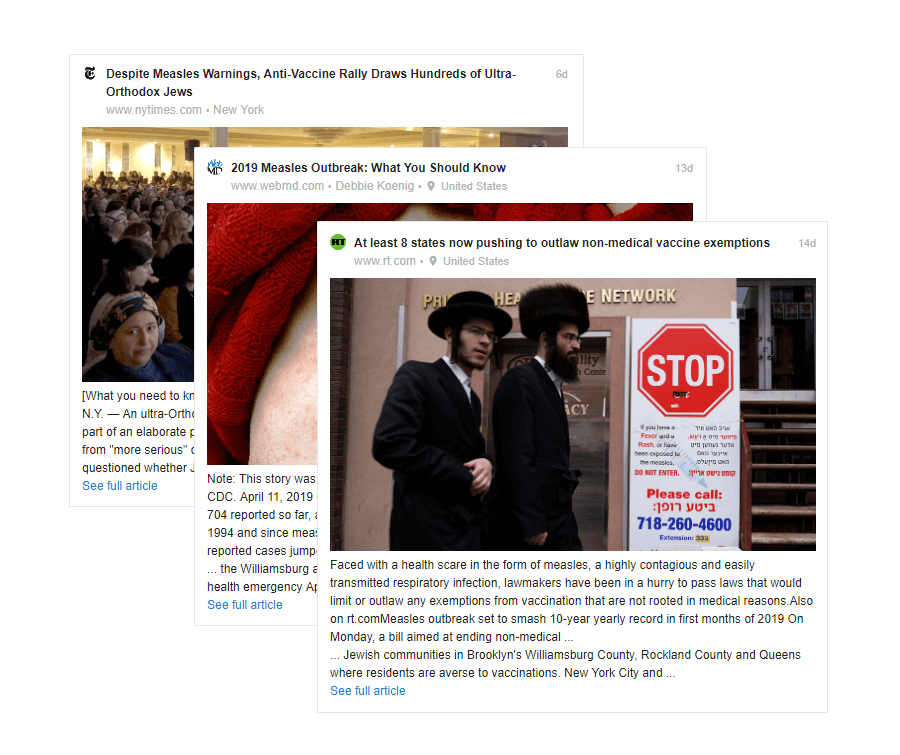 Queens and Weekend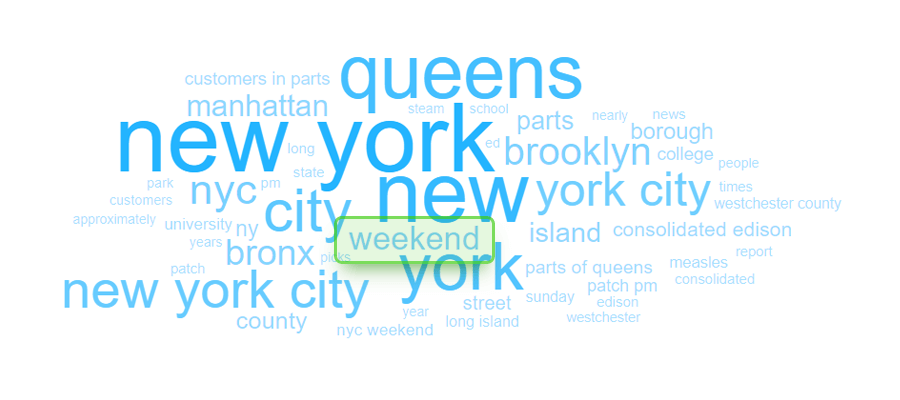 It's been a fairly quiet 30 days for Queens. One of the distinct topics within its mentions was "weekend" at 6.1% - and no, nothing happened over the weekend in the borough. The mentions were generated by articles about things to do in NYC on weekends, which include restaurant suggestions and Queens' Sheep Shearing Festival.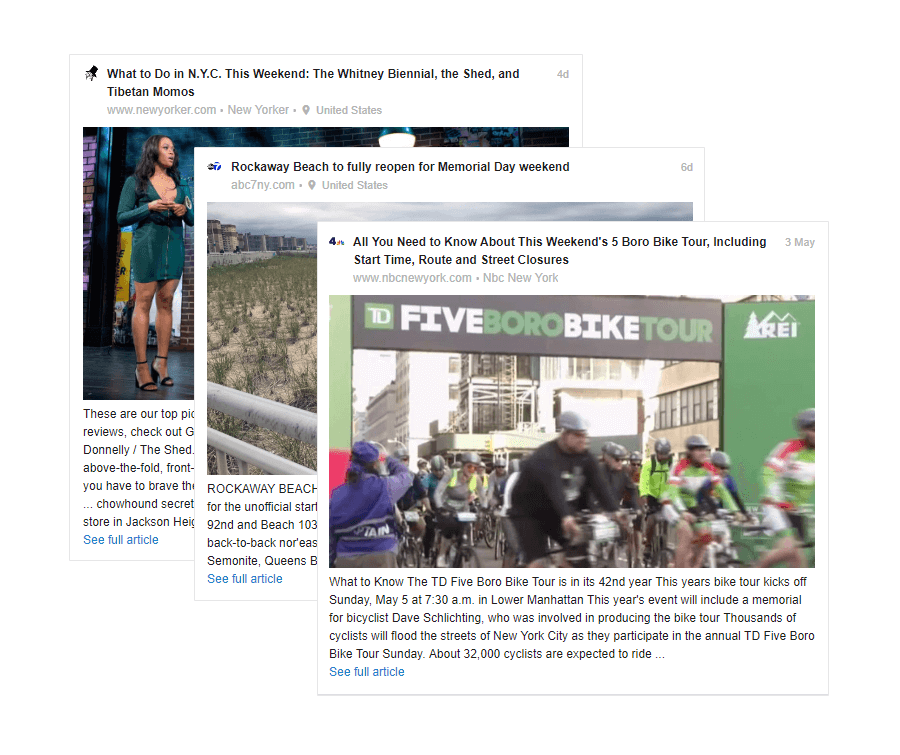 The Bronx and Yankees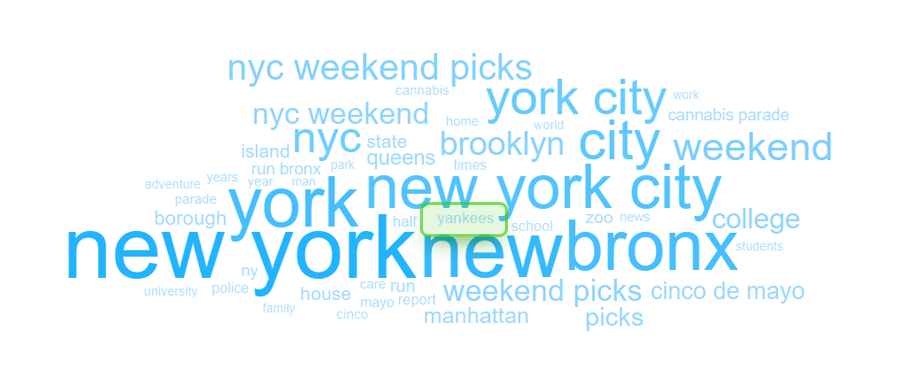 Like with Queens, there haven't been any breaking news about the Bronx recently. One of the prominent topics covered by news outlets over the past 30 days was the borough's team, New York Yankees, with 3.8% mentions.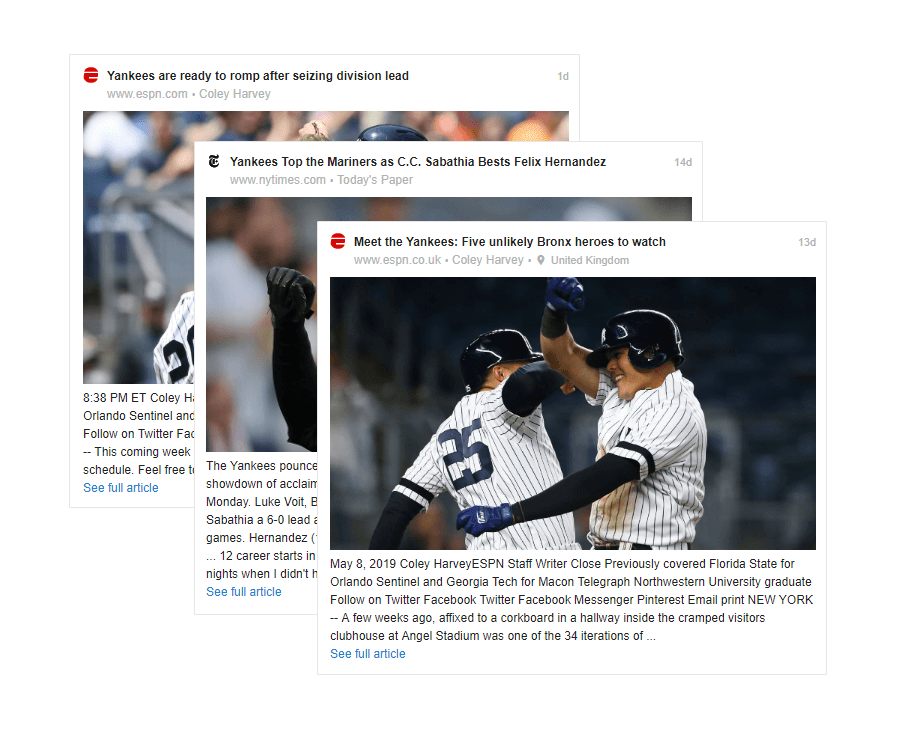 Staten Island, Wu-Tang, and Eric Garner
Apart from the obvious, there were 2 prominent topics within Staten Island's news mentions over the past month.
5.4% of news articles mentioned the Wu-Tang Clan, a rap group after which a district in Staten Island was just named.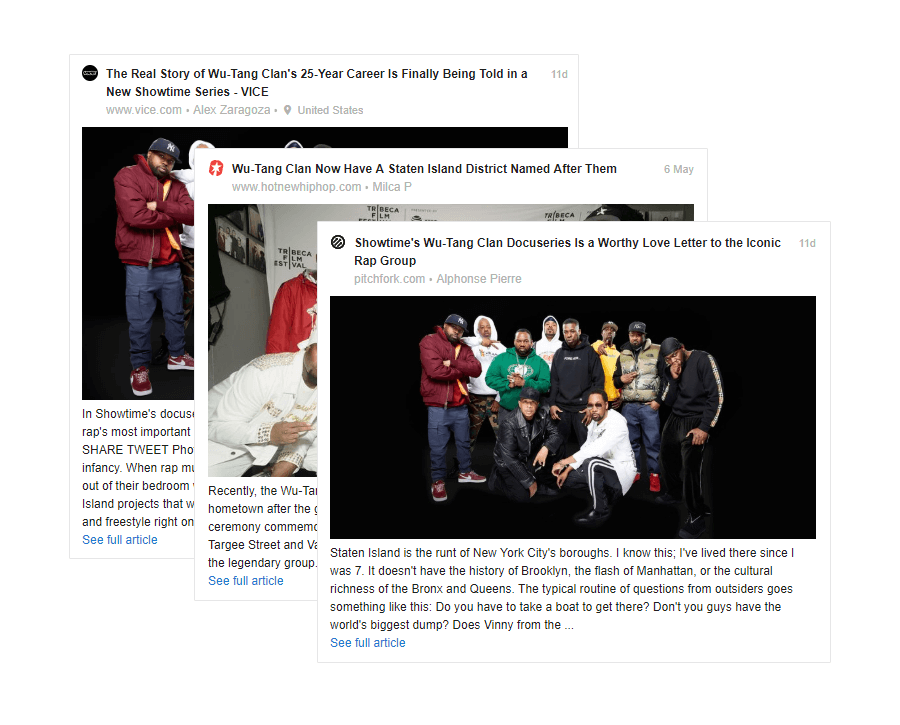 Slightly fewer mentions (5.1%) focused on a more disturbing story and mentioned Eric Garner. Five years after Eric was choked to death by a police officer, Daniel Pantaleo, during an arrest for selling loose cigarettes in Staten Island, disciplinary proceedings against Pantaleo have finally started. The trial revealed new, alarming details about the case, but a grand jury declined to indict Pantaleo on criminal charges. The worryingly insignificant penalties he might face include getting fired from the NYPD or losing vacation days (many believe Pantaleo won't face any charges). As you may have gathered, those articles make up a good portion of Staten Island's negative mentions.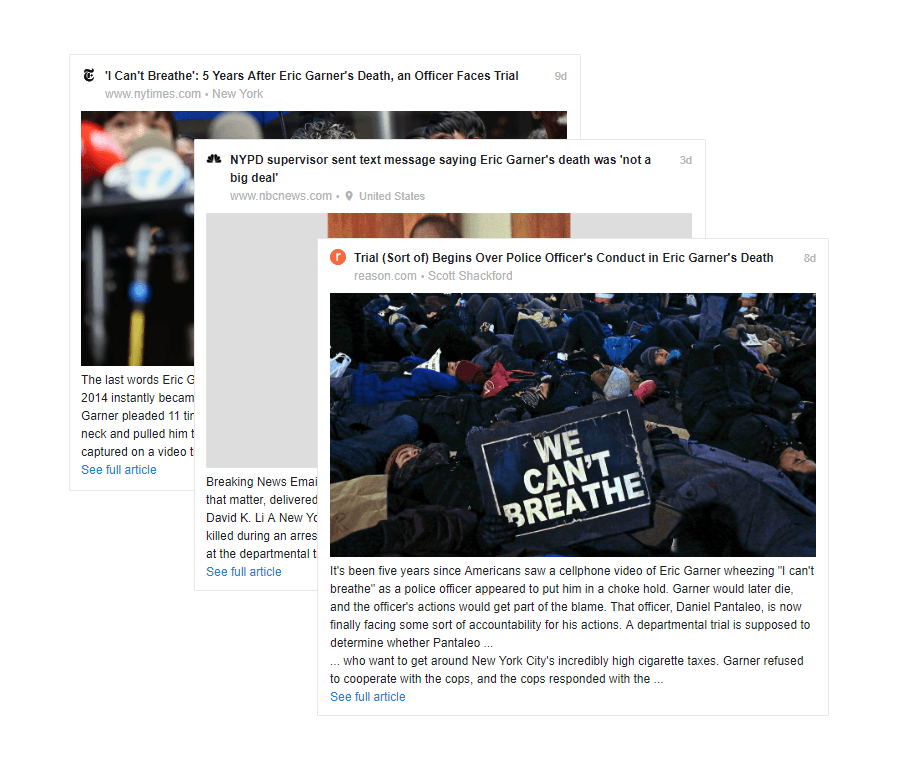 ---
That's where our quick social listening analysis of NYC boroughs ends - hope you enjoyed the read. Do you have research ideas for our next posts? Let me know in the comments below.