Social media for nonprofits: 13 best practices

Social media is an amazing channel for nonprofits to get more people involved in their work. However, even though most nonprofit organizations have some kind of social media presence (according to Hubspot's survey, 98% of nonprofits had a Facebook page in 2017), many nonprofits are struggling with a clear vision on how to benefit from this presence.
That's not surprising considering the fact that many nonprofits don't have a social media manager who is able to dedicate a lot of time to social media. Oftentimes, it's the job of a communications manager or even a volunteer. That's why the best social media practices for nonprofits should ideally be budget-friendly and time-saving.
At the same time, if you put a little bit of effort into social media, it can be extremely rewarding — nonprofits, more than any other type of organization, depend on building a community, and social media is one of the best channels to do it since it generally doesn't require infinite resources. It is a perfect medium to foster a sense of belonging to something greater that is often at the root of charitable actions.
In this blog post, I wanted to share the best social media tips for nonprofits that do not require a huge marketing budget, a big team, or a lot of time to execute them. These practices range from general tips for building your social media content strategy to engagement activities, to ideas for online posts.
1. Implement the 3 As strategy
There is a common principle in social media marketing that suggests dividing the content on your social media accounts into thirds: a third of all posts should be your own content, a third should be dedicated to your industry and can be third-party content, and the last third is promotional content. Obviously, for nonprofits the content itself is different, but the principle of thirds still applies. The so-called "rule of 3 As" suggests the following way to build a content strategy for nonprofits:
Appreciation. The third of all your social media posts should be dedicated to the people who support you. Traditionally it meant donors, but you could expand such posts to other kinds of support as well. Think about your goals: highlight donors if you want to encourage donations, praise your volunteers if you're looking to attract more proponents to your organization, give a shout-out to your allies to strengthen your relationships. Consider a recurring segment like "Donor of the week". Featuring your supporters will also encourage more engagement on social which is always a plus.
Advocacy. Another third of your content should be dedicated to the problem you're trying to solve. There are many ways to enlighten the public about the issues you're working with and we will cover some of them in this article, but the baseline is clear: you want to raise awareness and educate.
Appeals. And finally, the last third is dedicated to calls to action! Many platforms (Facebook, Instagram, TikTok) are adding more ways to facilitate donations such as stickers or buttons on profile pages. You can use these technical features along with traditional posts that link to fundraising pages on your website to encourage users to donate.
This 3 As model helps to take creative blocks out of the content creation, gives you a plan to create content in advance and makes sure you don't saturate your followers' feeds with one type of content.
2. Use social media for research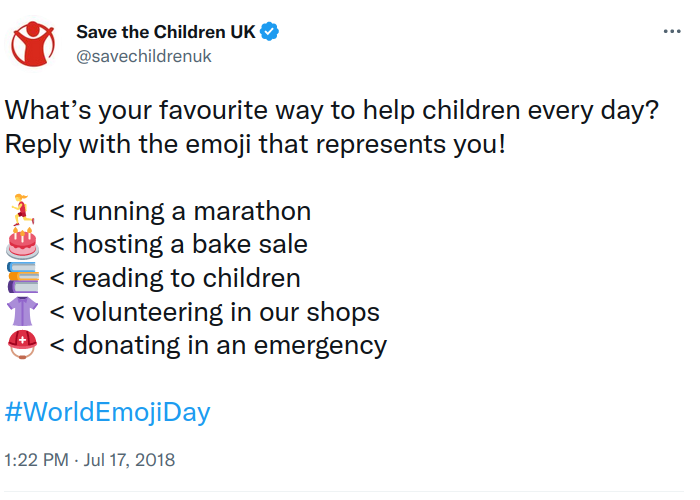 Social media is not just a megaphone which you use to spread your message, it can be a source of insights as well. Knowledge is power, and in the case of nonprofits, knowledge leads to more powerful messages and actions to change the world for the better.
The easiest way to get some knowledge on social media is to simply ask your followers for their opinions: you can use polls provided by most platforms or suggest replying in the comments. Such questions will also encourage engagement, which is favoured by social media algorithms.
You can also use a social listening tool (I recommend Awario and its nonprofit discount program, of course) to gather social media data and analyze what people think about the issues you're tackling, what campaigns resonate with them, what questions they might have and more. If you want to learn more about using social listening for nonprofit marketing, check out the guide I wrote.
For example, Mena Media Monitoring used Awario to learn more about the public opinion on chloroquine which was rumoured to help against COVID-19.
Sign up for a free Awario trial
See Awario in action with a free 7-day trial. No credit card required.
By signing up I agree to the Terms of Use and Privacy Policy
3. Become an expert
Speaking about questions, don't just ask them, welcome them as well! As an activist in your field, you might have a unique knowledge of the cause that few people have — start sharing it! Here are some ways to use social media to encourage questions from your audience:
Use a question sticker on Instagram.

Stream on Facebook and Instagram answering questions from your followers in real time.

Do an AMA (ask me anything) on Reddit.

Use a social listening tool to seek out questions about your cause. Get involved in relevant conversations and share your expertise.
You can turn such Q&A sessions into regular events to establish a consistent strategy to educate and engage with your target audience.
4. Share behind the scenes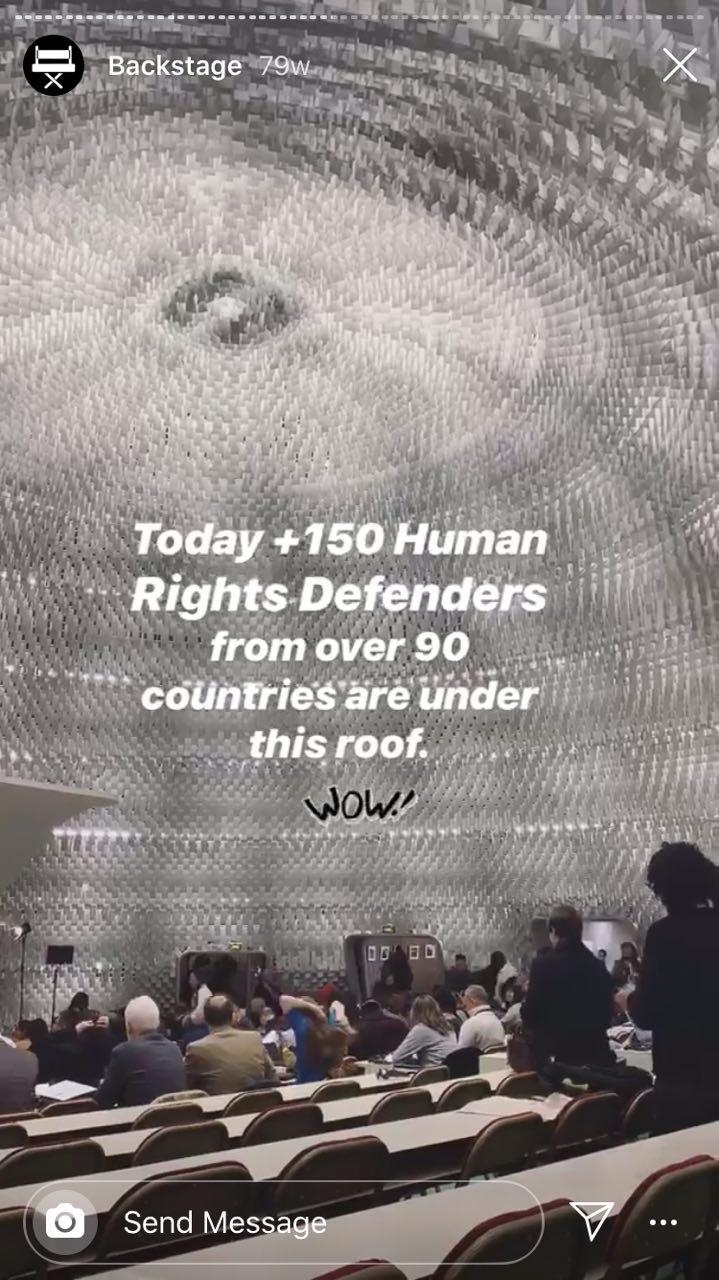 One of the main trends on social media right now is authenticity and sharing what's going on with your organization in day-to-day life can be a great way to create it. To do this, I suggest turning to ephemeral content: Stories on Instagram and Facebook, Fleets that are soon to be launched on Twitter. Such channels are great for raw unfiltered (pun intended) posts that allow your followers to take a peek into the daily life of your organization. This helps to build more trustful relationships with your audience.
Subscribe to Awario blog
Get your weekly fix of marketing goodness by email.
5. Get your team involved (including volunteers)
In the vein of the previous tip, this is another way to show your human side (literally). For nonprofits, usually, there's one person responsible for social media, maybe a couple of people if you're lucky to have a social media team. But why not get all your team involved?
Of course, the point of this is not to make your colleagues do your work, so it's not like you can just hand over the passwords to your accounts and leave. Here are some ways to introduce your team or volunteers to your audience:
Take a lesson from the previous suggestion and host a Q&A session with them.

Encourage your team to tag you in their posts and then reshare them to your organization's profiles.

For a specific event, hand over your social media profiles to your team members so they can show the same event from different points of view (literally and figuratively). Using Facebook or Instagram Stories is a good idea since you don't have to worry about the content not falling into your social media strategy or aesthetic.
Involving your team and volunteers not only gives your organization a more genuine feel but also shows your colleagues that you care about them and want to highlight their successes publically.
6. Interact with your allies
The core principle of social media management is engagement (sorry, the 3 As strategy). It's the only channel that gives you the opportunity to actually interact with others in real time, and you should take it. However, sometimes we forget to be proactive rather than reactive.
Social media is a great platform to find and establish relationships with other initiatives and activists working in your niche. You can find them by doing a little hashtag research and googling, or using a social listening tool such as Awario. Comment on their content, share their posts, maybe even slide into DMs when it's appropriate — all this will draw attention to your organization and hopefully result in long-term connection and collaboration.
7. Tell a story
Humans are creatures that are drawn to narratives, that's how we make sense of our life. Since you're fighting the good fight every day, the best kind of story you can tell is about helping someone. Focus on an individual case that ended in your favour and use social media to share it with the world. Here are some ideas on how to develop a narrative on social:
Twitter Threads. You can use them to divide your story into small parts, every time ending at the most intriguing place and directing your followers to the next tweet.

Story Highlights on Instagram. Tell your story on Instagram in a series of ephemeral posts and then make them a bit less ephemeral: save the posts in the highlights in the right order so that anyone can see it whenever they want.

A series of posts. If it's an ongoing story (for example, you're trying to help a political prisoner), a series of posts spaced out over a period of time will attract attention and get people involved. Unite them using the same hashtag so that people who are tuning in can easily find other posts.
8. Create branded hashtags
Since we mentioned hashtags, let's talk about them a bit more. There are millions of examples where hashtag became the emblem of a large social movement, think #metoo and #blacklivesmatter. You can come up with your own hashtag to draw attention to a specific issue or highlight a series of posts.
Protip: #GivingTuesday is a global movement that encourages people to contribute to charities every Tuesday. You can tap into hashtags commonly used by nonprofits to join a bigger conversation.
9. Use social media marketing tools
Since nonprofits usually don't have a huge budget for social media, many marketers think that they can't afford automatization and plan out content, monitor mentions, and analyze their performance manually. However, there are many tools that give nonprofits free subscriptions or sizeable discounts. Tools can help you identify online trends, build a content plan, schedule your posts in advance, find potential donors, and more. Check out this list of tools that offer discounts to nonprofits to choose what you need.
10. Curate content from underrepresented voices
If your nonprofit is helping people in need, you're probably working with oppressed communities whose perspectives are not often featured in media. These people are the best educators you have, you just need to give a platform to them. Amplify their voices and let them tell their stories through user-generated content which you can share on your pages.
11. Share data but make it personal
It's natural for us to start giving numbers when we want to show the size of the problem, but dry statistics is not the best way to get your message across. Instead of sharing figures, try to put them into a personal context. For example, Awario found that a lot of people are struggling with mental health during the quarantine. A mental health charity could share this data asking people for tips to help in the lockdown, thus getting others involved on a personal level.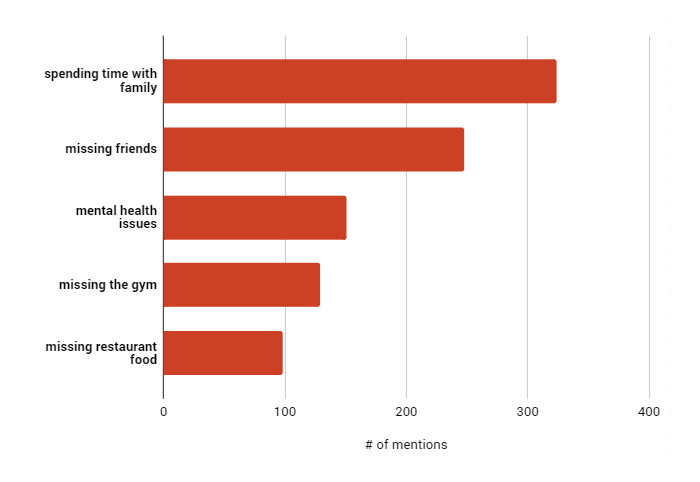 12. Work with influencers
Influencer marketing is a great way to reach a new audience and raise awareness around your organization or a particular issue. It's a good practice not to just pick a random influencer, but choose the ones who somehow are related to your mission or maybe even already support it online! You can use Awario to find relevant influencers and sort them by the number of followers: just create a search query with keywords that are often used when talking about this issue. For example, is you protect animal rights, try putting such words as vegan, cruelty-free, eco-friendly, and so on.
13. Write "How-to" posts that show how supporters can help
Oftentimes, people are aware of an issue and care strongly about it, but they don't have a vision of how they can help. How-to posts can be a great way to address this problem. Give people clear step-by-step instructions on what they can do right now to help your cause, utilize tools such as Canva and Crello to visualize these instructions and share them with your followers.
---
I hope these social media ideas for nonprofits will encourage you to try something new, engage more with your followers and allies, and discover new ways to mobilize your supporters. Compared to brands, nonprofits have an indisputable advantage when it comes to building community on social media in comparison to brands: it's much easier to unite around a charitable goal than around a person trying to sell you something. Use all the tools available to you and get creative with them — and you'll see how rewarding social media management can be for nonprofits.