What happened on Social Media in January: monthly round-up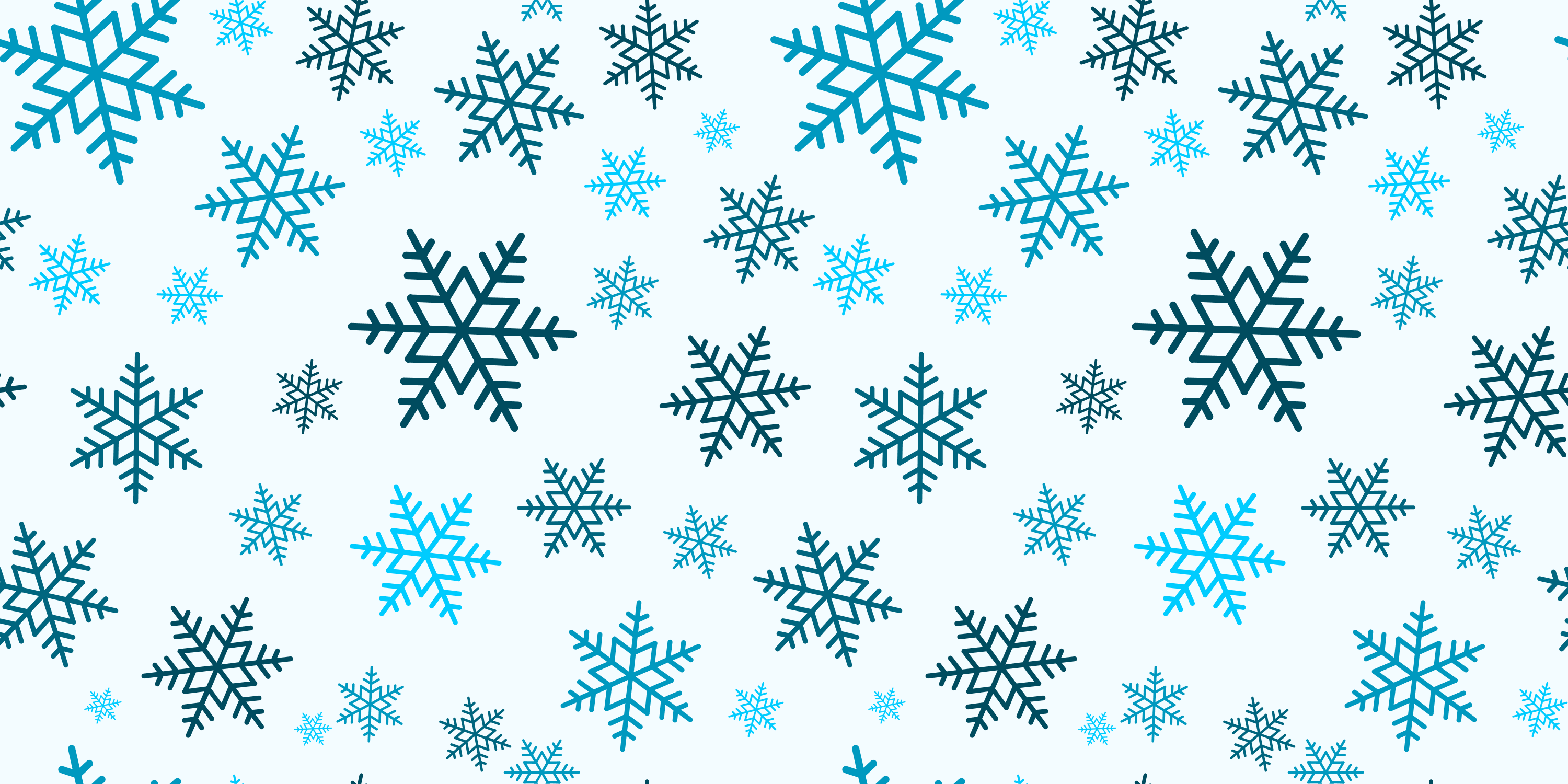 January is traditionally the month of new beginnings, but it seems like someone forgot to tell social media companies about that. In 2020, they are still dealing with the same problems (some are more successful, and some are less). Facebook is trying to battle misinformation on the platform (even though its efforts to establish an Oversight Board convinced no-one), Twitter is battling abuse, Instagram keeps working on Stories, and TikTok finally launched ads, which it's been testing since last year.
But we also got something completely different: a new social media platform, and something kind of the same — a revival of much-loved-gone-too-soon app. There's a chance you missed all of that trying to remember how to work after the holidays, so read our round-up to catch up!
Facebook
Privacy-related tools: Off-Facebook activity, alerts for third-party logins, Privacy Check
I already wrote about the Off-Facebook activity tool formerly known as Clear History tool. It had a limited roll-out last year, and in January it finally became available worldwide. To freshen up your memory: it's a tool that allows you to see which companies shared information about your activity on their websites and delete it if you want to.
In early January the social media network also launched alerts for third-party tools connecting to your Facebook account, such as games, streaming services, and social media management tools.
More control over ads for users
Besides enhancing data security, Facebook also widened users' ability to oversee and manage ads. The new additions include:
The ability to see how a single brand entity could be showing you ads from several branches of a company by uploading your contact info. For example, Nestle advertising to you different brands of chocolate, because you were interested in one of them. You can also disallow the use of lists by multiple advertisers at one time if they are using lists uploaded by the same business account.

If you were targeted by a brand as a part of a Custom Audience, you can include or exclude yourself from their target audience at a business account level. That means any advertiser using any list from that business will also not be able to include or exclude you in an audience.
The company also made some changes specifically for political advertising:
A new metric in Ad Library - Potential Reach - will tell you the estimated target audience size for any political or social ad. The idea behind this move is to give more transparency around microtargeting — the technique that was in the spotlight during the Cambridge Analytica scandal.

More filters and the improved search in Ad Library will allow anyone to search for ads with exact phrases, see groupings of similar ads, and better analyze results — e.g. audience size, dates and regions reached.

In the future, you'll also be able to opt-in to see fewer political ads — though that won't entirely eliminate political ads from your feed.
New setting for your 'Active status'
Now you have more options on how, when, and who can see whether you are online or offline on Facebook, Messenger, and Portal. The update allows you to select different settings for different Facebook products.
No ads on WhatsApp
In a somewhat unexpected turn of events, Facebook is reportedly canceling the plans to integrate ads into WhatsApp. According to The Wall Street Journal, the team responsible for implementing ads on WhatsApp was disbanded and the team's code was deleted from the app.
Seems like Facebook decided to go for another monetization path. As mentioned in the WSJ article, "for now, the focus is on features [which allow] businesses to communicate with customers and organize those contacts".
Redesigned desktop coming spring 2020
I've been using the new Facebook website since I invited myself few month ago

Since it'll be rolled out by 2020 Q1 (finally), what'd be your question about this new website? Thanks https://t.co/VjkiAmHiSW

— Jane Manchun Wong (@wongmjane) January 10, 2020
The platform announced major redesign back at the F8 conference and has been slowly rolling it out for selected users for the last few months. Now it's official: you'll see the new look by the end of Q1. Some major design changes include:
Fewer elements

Focus on groups

Dark mode
Page Management History tab
Now you have a new way to oversee your Page's management — perfect for big social media teams or brands working with agencies. The new tab will show you all the activity by admins on your Page such as role allocation, contact information changes, Business Manager relationships, Group relationships and more.
Previously you could review Activity Log to see who published which posts on your Page, but now you get more insights into the admins' actions.
Don't miss our next analysis.
Subscribe to Awario blog to get social data analyses, case studies, and social listening how-tos in your inbox.
Instagram
Testing DMs on desktop
DMs, but make them desktop. ?

We're currently testing Direct messaging on the web, so you can read and reply to your messages from wherever you are. pic.twitter.com/VJ06EpETxG

— Instagram (@instagram) January 14, 2020
Instagram announced that it begins tests of the Direct Messages in the web-based version of the app. The feature was first spotted last February by reverse engineer Jane Manchun Wong and now it's been officially confirmed.
The wider access to DMs will be useful for regular users and brands alike. Of course, Business Page managers could already access their Instagram DMs from Facebook, but it's going to be much easier to do. There's no ETA for the web-based DMs yet, but it's likely to b released in the near future.
IGTV upload update
Instagram changed the way you upload IGTV videos: you can now do that by tapping the central button. After clicking on the plus sign in the bottom navigation area of the Instagram feed, users can choose between short and long videos. Short videos are less than 60 seconds and can be uploaded to feed, while long videos of 60 seconds and up can be earmarked for IGTV.
Moreover, the IGTV button at the top right corner is gone. Instagram discovered that most clicks on IGTV videos are coming from the Explore tab, users' profiles, or dedicated app, so the company decided to remove the IGTV-centered button. TechCrunch speculated that this could indicate that the feature is not popular enough and might be removed in the future — however, it's too early to bury it yet.
Additions to Stories
Last month Instagram introduced and teased several updates to Stories. Here they are:
@ button to share stories that mention your profile. It's a new Create mode sticker that allows you to see any Stories that mention your profile and re-share them. When you select the sticker you can see how many Stories posts mentioning you there are, browse them, and re-share them until they expire.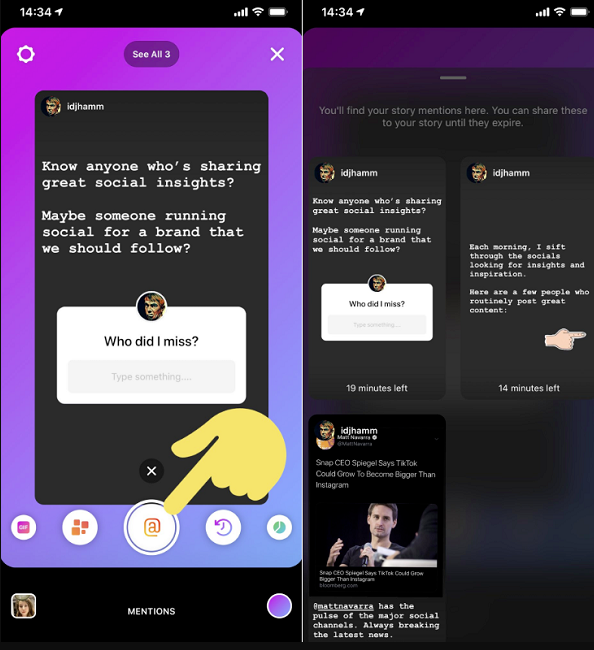 This is an amazing feature for sharing user-generated content!
Maps Stickers for Stories. You will be able to add a sticker with your geo location to any photo or video you share via Stories. This feature was discovered by reverse engineer Jane Manchun Wong and there's no official ETA yet. But I can already imagine that it will become the favourite sticker for travel bloggers and digital nomads everywhere!
Instagram is working on Map Sticker for Stories

(Yes I'm typing this at the airport. Found it when I'm posting a Story) pic.twitter.com/MlLulC4459

— Jane Manchun Wong (@wongmjane) January 14, 2020
New Boomerang modes. Going into even more detail: Instagram added three new options to edit your Boomerangs and a capacity to trim a Boomerang loop. The three options include Duo, SlowMo, and Echo, and each changes the speed at which your Boomerang is played in different ways.
? SlowMo
? Echo
?‍♀️ Duo

Boomerang has new creative twists that'll make you say yaaassssss. Try them all out today. pic.twitter.com/wp0A71RefL

— Instagram (@instagram) January 10, 2020
Pause a story by a single tap. Another update discovered by Jane Manchun Wong: Instagram is testing the ability to pose a Story by tapping it once. Currently, you need to keep your finger on the screen to be able to pause a Story.
Twitter
Restriction for replies
One of the main challenges for Twitter currently is making the user experience healthier. Unfortunately, the platform has a history of notable cases of bullying and harassment and no robust all-in-all solution to solve this problem yet. Last year Twitter added the ability to hide replies to your tweet and in January the company teased the possibility to limit who can reply to you.
Twitter is adding a new setting for "conversation participants" right on the Tweet compose screen. It has four options: "Global, Group, Panel, and Statement." Global lets anybody reply, Group is for people you follow and mention, Panel is people you specifically mention in the tweet, and Statement simply allows you to post a tweet and receive no replies.
The feature is still at the research stage and is likely to be released after some tests later this year.
Tipping in tweets
On-platform monetization is another big trend for social media platforms. Twitter is keeping up with it by testing out the option for users to send each other money from their tweets. As reported by The Information, the company is partnering up with Square to enable tipping on the platform.
One example of tipping on social media is Super Chat on YouTube that proved to be extremely successful. It's hard to tell what it will look like on Twitter but it'll be interesting to see how it may affect interactions on the platform.
Threaded conversations
Last year we wrote a lot about twttr — Twitter's app for experimenting and testing out new ideas. One of the most notable experiments were changes to UI to simplify reading threaded conversations. twttr tested out various options with colourful highlights and tags, but they stopped that the minimal conversation thread design.
The introduction of the new design to Twitter was announced at CES 2020 by Twitter's head of Conversation Suzanne Xie.
Twitter says the new threaded conversations features will begin to roll out on Twitter for iOS first, followed by web then Android, sometime in Q1.
Going forward, twttr is planning to experiment with how small UI and mechanics tweak can incentivize and disincentivize certain behaviours.
Promoted Trend Spotlight ads
Twitter launched a new ad unit that lets brands place their ads at the top of the Explore tab section. The option, which Twitter says is a compliment to its Promoted Trend ads, will support 6-second videos and GIFs, as well as static images. ​
"Your ad will appear at the top of the Explore tab for the first two visits per person, per day. After the initial two visits, the placement moves to the standard Promoted Trend placement and organic editorial content resurfaces in the Spotlight placement."
The new option is an addition to Promoted Trends ads, which are quite pricey, so the cost of Spotlight ads will probably be on-par.
Enhancements for Topics
In the recent interview with Fast Company, Twitter's team revealed the company's upcoming plans for Lists and Topics, two features that got a lot of spotlight lately. The updates' main aim is to make it easier for users to find interesting and relevant conversations. Here's a look at the features announced:
Topic Activity Insights. In order to help people better understand what they'll see in their timeline if they follow a specific topic, Twitter's developing new preview elements on topic listings, which would display things like related hashtags and follower counts, as well as notes on how active the topic is in the app.
Improved onboarding process. Twitter has been notoriously bad with inducting new users, but now they are improving! With the new update, once you install Twitter, you will answer a series of simple questions which will be used to recommend you profiles, hashtags, and topics to follow. That way you won't be left alone with an empty feed when you're starting your Twitter journey.
Improved Topic relevance. UI is not the only thing Twitter is changing. To make sure the topics you follow won't get spammed with irrelevant tweets, Twitter is working on a system to better analyze the content of tweets. The tweets that get into a Topic won't be selected solely based on hashtags or users' profiles. So, for example, if you follow "Football", you can be sure that you won't get an irrelevant tweet from Tom Brady about his traveling plans.
Audience Insights gone
I hope you had time to say goodbye to Audience Insights. The Twitter analytics tab that notified you that your followers are interested in dogs is now gone.
Initially launched back in 2015, Audience Insights provided data on your followers, including demographic profiles, purchase behavior insights, mobile device usage stats and more.
Perhaps, a similar feature will be incorporated in Media Studios, since Twitter seems to be focusing on that at the moment. And for now, if you need some target audience insights from Twitter, why not try Awario?
LinkedIn
New features for Pages
In January LinkedIn announced several features for Pages that could interest social media managers.
Invite to Follow allows you to invite your connections (first degree) to follow your organization's page. To avoid invite spamming, LinkedIn has also included the option for anyone to opt out if they don't want to receive invites. LinkedIn also prevents admins from sending more than 50 invites per day.

LinkedIn Live for Pages now lets you set up a stream from a Page. LinkedIn is also planning to roll out a stream targeting feature with 3rd party tools, including Restream, Wirecast and Socialive.

Post as a Page or Member is a new toggle switch on share box that allows you to post as your personal profile or organization right from the homepage.
TikTok
Self-serve ad platform
TikTok launched the beta testing of its ad platform last year and in January it's finally got an official announcement. Now any brand can create a TikTok ad using targeting options and TikTok Pixel that the platform offers.
In addition to that, TikTok is reportedly working on Creator Marketplace, a tool to find influencers to collaborate with. That would benefit both brands and content creators on the platform.
New search page and feed
As spotted by Matt Navarra, TikTok might be adding a new search page featuring various topics such as Beauty, Gaming, Pop Culture and more. One thing TikTok that was sensational about TikTok is its feed curation process: an algorithm would show you the videos you are potentially interested in without any involvement on your part (and did it pretty successfully is we look at the app's growth). Now users will have more control over what they see.
In addition, the Financial Times reported that TikTok is looking at adding in a new highlights ​stream, which would display selected, original videos from popular TikTok creators, alongside content from professional publishers. The added curation would give TikTok's moderators more control over the viewing experience. This feed wouldn't replace the main feed but instead be another addition to the app similar to Explore tab on Instagram or Discover feed on Snapchat.
Dark mode
As reported by social media expert Matt Navarra, you can now scroll through TikTok at night without hurting your eyes.
TikTok is about to launch its own Dark Mode option pic.twitter.com/JSgQVbzsGh

— Matt Navarra (@MattNavarra) January 28, 2020
New social media networks
January is the month of new beginnings — and, apparently, new social media networks.
The first one was expected: Byte from the creator of Vine finally launched and immediately skyrocketed to the top of Apple Store page. As with Vine, Byte lets you shoot and upload six-second videos. It comes equipped with standard social features like a feed, Explore page, notifications, and profiles. Considering the fact that the biggest downfall of Vine was the failure to monetize the platform, Byte already announced that monetization features are coming out very soon.
very soon, we'll introduce a pilot version of our partner program which we will use to pay creators. byte celebrates creativity and community, and compensating creators is one important way we can support both. stay tuned for more info.

— byte (@byte_app) January 25, 2020
Another announcement was a bit less expected. The creators of Producthunt launched a beta of YourStack, a social media network centered around products. It aims to enable users to share their passion about products they love and discover new things from their friends' posts.
Hope you're hungry cause the pancakes are here! ?? https://t.co/gIOiBcuZO3

— YourStack (@yourstacks) January 28, 2020
"It's super simple, you just search through and create a stack of products you love," Product Hunt founder Ryan Hoover told TechCrunch. "We wanted to make sure it wasn't just software, but also games and books and beauty products, you name it."
Right now the platform is gathering feedback from beta users and it's unclear when it will be given a wide rollout.
---
And that's all the news from January. With the election cycle in full swing, I expect Facebook to get even more defensive about their misinformation issues, Twitter to focus more on in-platform abuse, and LinkedIn just keep doing its thing as usual (do politics even exist on LinkedIn?). What was the most exciting piece of news for you? What was your "new beginning" of this year? Let's talk in the comments!