Top 5 Thanksgiving marketing campaigns and what we can learn from them

Article summary
In this article, we cover the most creative and interesting Thanksgiving marketing campaigns of this year and point out what profitable moves you can incorporate into your own marketing campaigns.
10 minute read
Thanksgiving is one of the favorite American holidays for everyone with the exception of turkeys. People love it for the opportunity to gather with their family and eat delicious food, and brands love it for the opportunity to bump their sales.
Indeed, last year The Robin Report calculated that retail shopping grew about 30% during Thanksgiving. And it wasn't just the food shops - in fact, almost any industry benefits from the holiday season.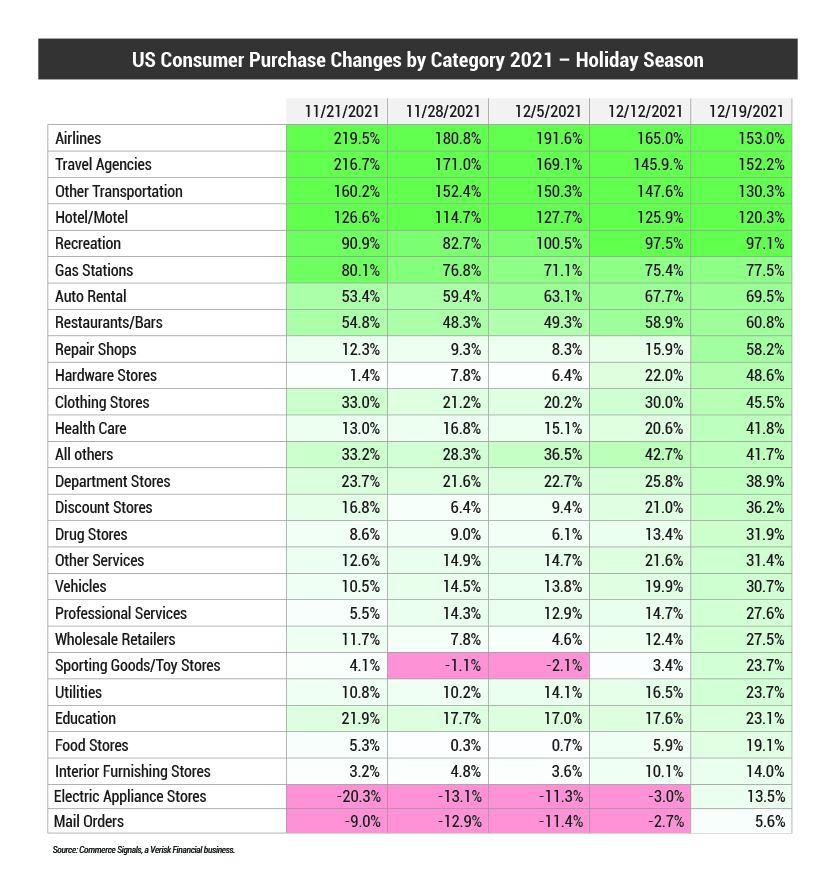 Logically, any brand would want to tap into this market. However, it can be hard to stand out when all the campaigns revolve pretty much around the same thing: gratitude, family, and food.
In this article, we will show you how creativity can help you beat your competition and draw the attention of the customers with 5 outstanding Thanksgiving campaigns.
But before we cover the campaigns, let's figure out how to understand if your campaign is indeed successful.
Sign up for a free Awario trial
Fire up brand monitoring and see Awario fetch social data in real-time.
By signing up I agree to the Terms of Use and Privacy Policy
How to monitor and analyze a marketing campaign with Awario
To analyze the success of your campaign it's not enough to look at the number of sales completed with your promo code or the traffic to your website. It's important to understand:
what audiences did you reach
what exactly did they like about your campaign
how it compares to your competitors
Social listening analytics can help you get insights and answer these questions. Here's how to use Awario to track your marketing campaign:
1. Set up a monitoring alert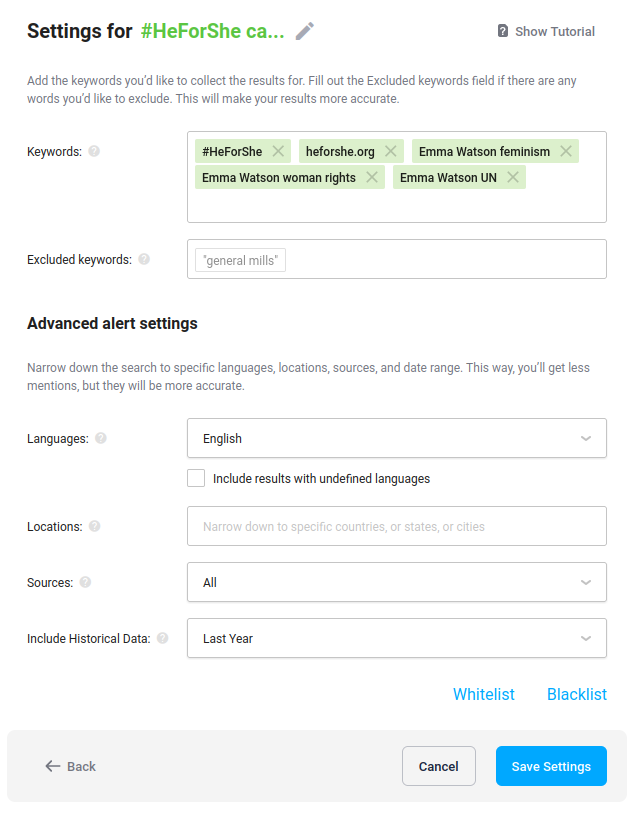 Firstly, you need to create an alert that will enable you to monitor your campaign. To do that, create a new alert in Awario and add everything related to your campaign as keywords: the name, tagline and slogan, related hashtags, influencers, and so on.
If you expect that some of your keywords may bring irrelevant results, think of excluded keywords that will automatically block some social media posts from appearing in your results.
Additionally, you can choose which online sources, places, and languages you want your monitoring to cover.
Once you click Save, Awario will immediately start collecting mentions of your campaign.
2. Tweak your settings
Check results and see if they are relevant to your campaign: maybe you'll need to add negative keywords or blacklist some sources.
Mind you, your own posts will be automatically blacklisted - you can change it in the alert settings if you want to.
3. Analyze social listening insights
Now that you're sure you've got all the right data, let's take a look at the insights.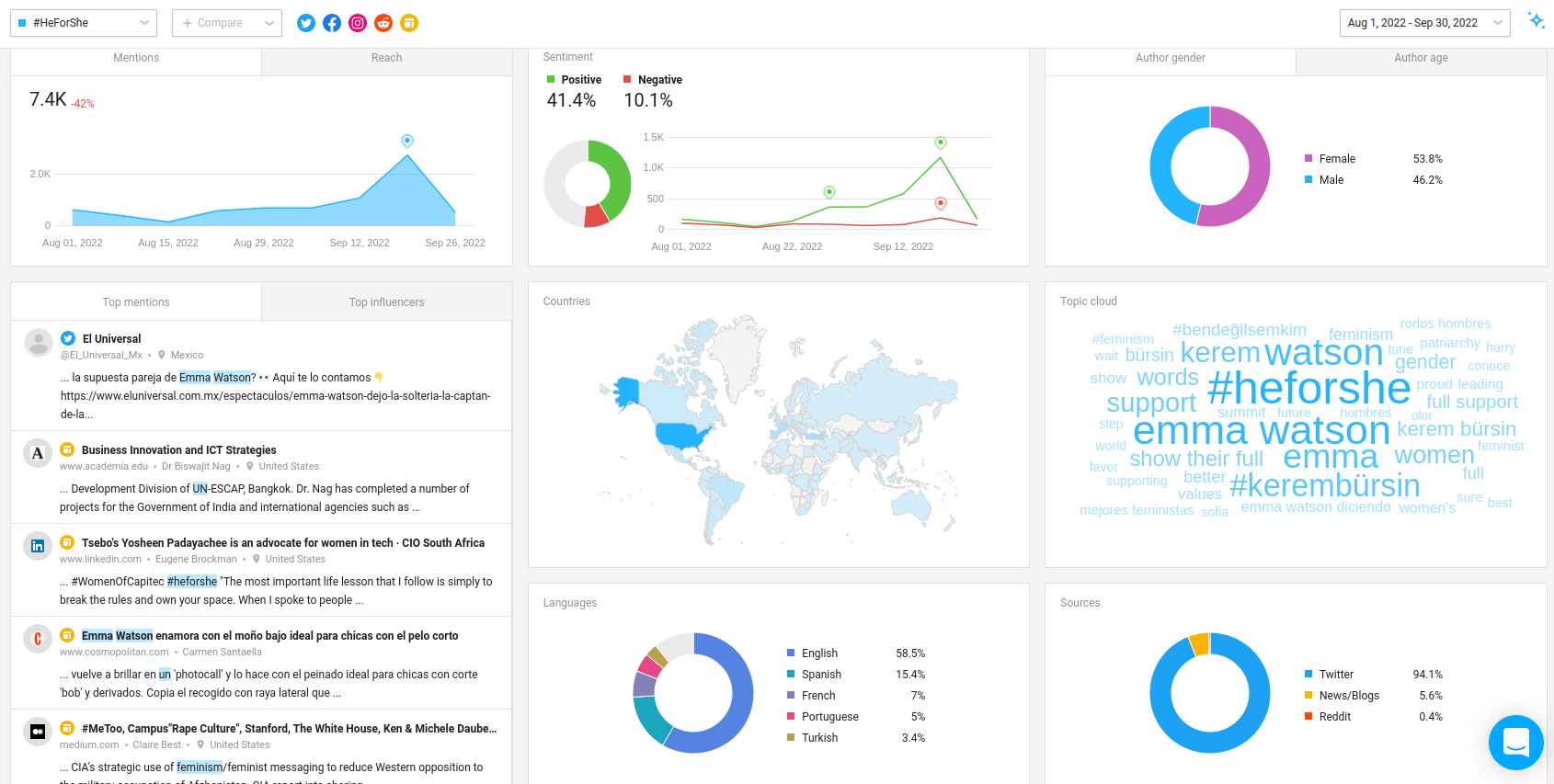 Awario can show you your campaign from multiple angles. Firstly, you can see how popular your campaign is and how many people see it or mention it online.
Besides, you can see what kind of emotional response people have when talking about your campaign.
Secondly, you can identify which audiences are talking about your campaign. You can determine their age, gender, and location.
Finally, you can see the most popular phrases, posts, and authors, which helps you quickly identify the trends inside those conversations.
4. Study individual posts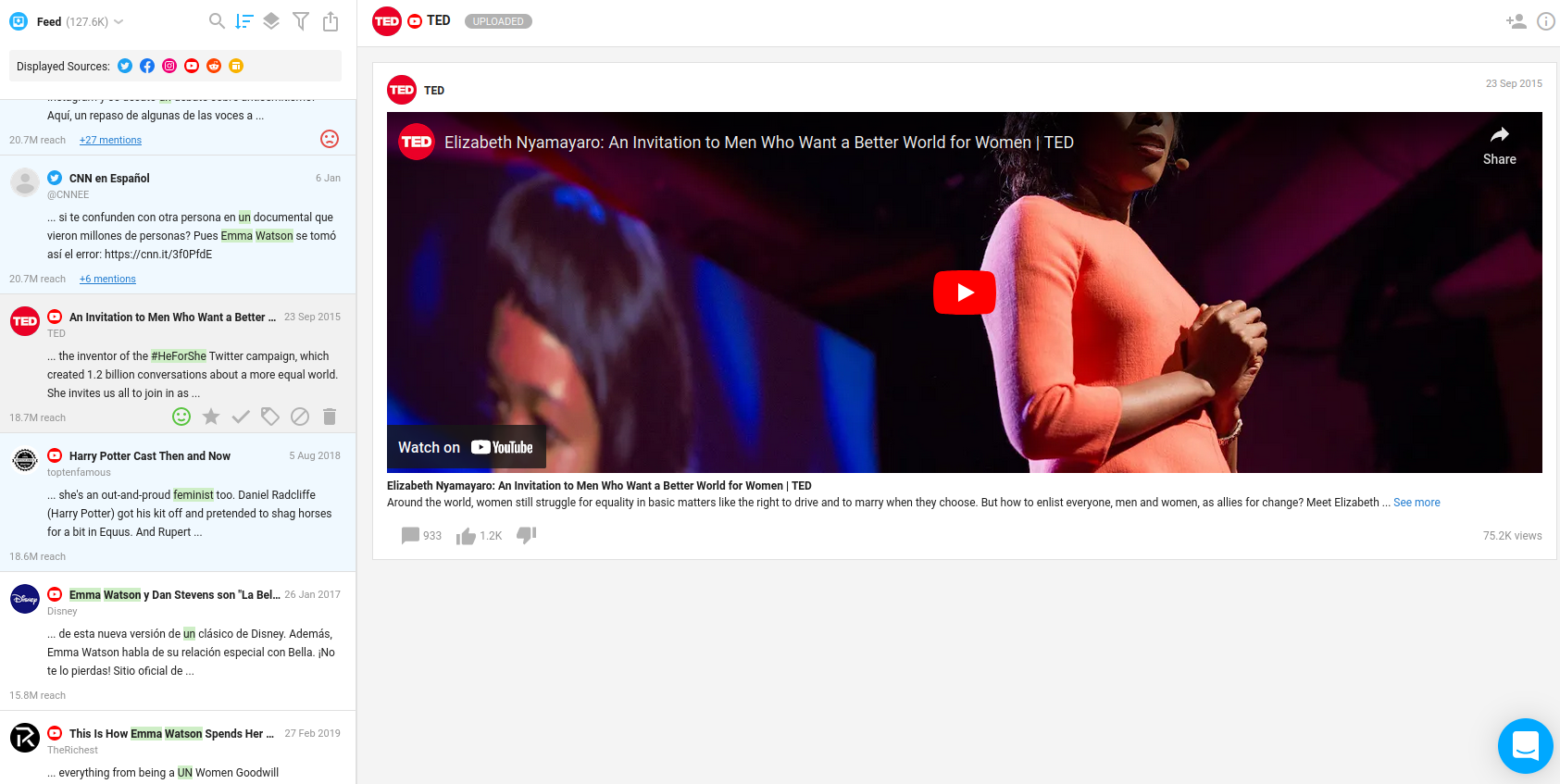 The final step is to check out what exactly people are saying. Dive into the Mention Feed and check out the individual posts.
For your convenience, you can sort them by reach to see the most popular posts first, or filter them to see only positive or negative posts.
So now that you know how to track all your marketing campaigns, let's get some inspiration for your future ones! Here are the Thanksgiving campaigns that drew our attention this year.
Top 5 Thanksgiving marketing campaigns
Friendsgiving With Target
While Thanksgiving is strongly associated with family gatherings, family situations for your customers may be different. There are people who are either too far from home to see their family or prefer their "found family" to their birth relatives.
Target set out to give Thanksgiving experience to everyone, no matter what your definition of family is.
On their website and socials, they introduced the idea of hosting a Friendsgiving and give tons of useful tips for the party. They also partnered up with influencers across many platforms to amplify this campaign.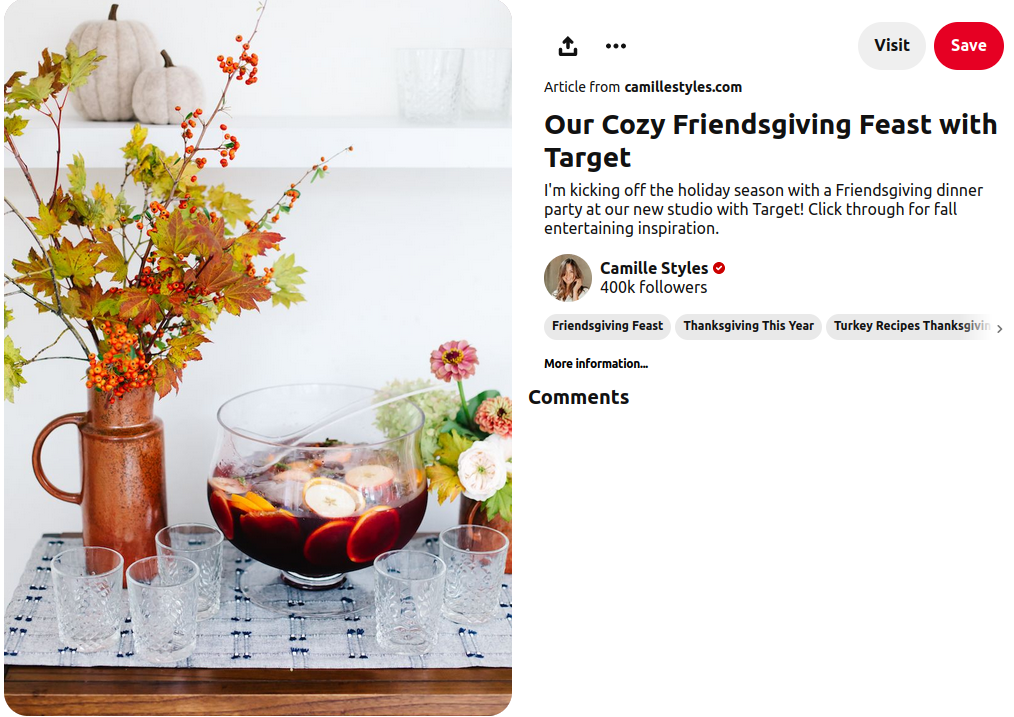 Lesson to learn: creatively spin the traditional message
Holidays are all about traditions, and sometimes these traditions can seem too constricting to create a truly creative campaign.
But there's always a way to find a new angle and combine the traditional elements with a fresh perspective. Find it, and you will surely stand out without alienating your audience.
Sign up for a free Awario trial
Fire up brand monitoring and see Awario fetch social data in real-time.
By signing up I agree to the Terms of Use and Privacy Policy
Whole Foods collaborates with influencers for the holidays
Whole floods employed successful lifestyle influencers to help their customers prepare for Thanksgiving. They created a series of Instagram Reels where they show you decoration and cooking tricks to put you into the holiday spirit.
For example, the blogger as Flashesofstyle online, collaborated with Whole Foods to showcase an easy way to create a fall bouquet that can be used as a decoration.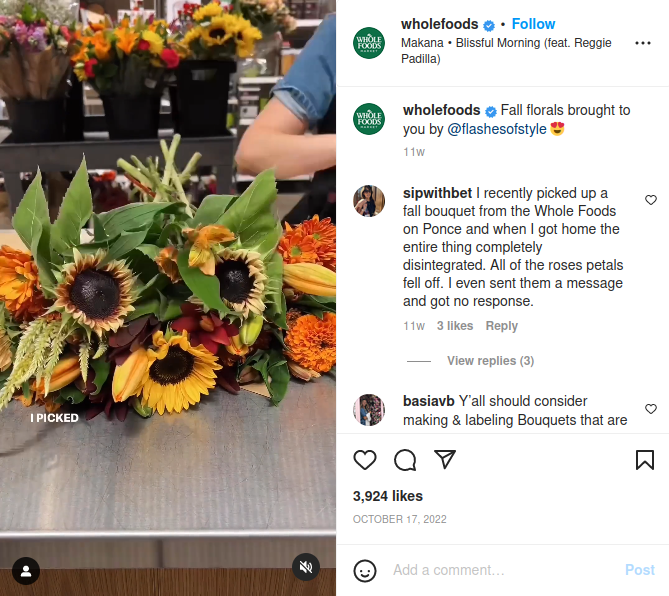 This a great example of using items from the store that some people may not know are available to create an aesthetically pleasing reel that can be easily recreated.
Lesson to learn: embrace influencer marketing
What's great about this post is that it checks a lot of social media boxes. It's:
Co-branded

Influencer-driven

Topically aware
It's also very visually appealing. Viewers can gather interesting tips to spruce up their Thanksgiving decorations in the future, all while staying within budget and impressing family with their floral arrangement skills.
Coca-Cola: cooking with Cola
This might be the most original idea on the list. Most of us are used to having a coke at the side of the table - but Coca-Cola asked "What if it could be the ingredient?"
On their Pinterest, they created a Thanksgiving board with recipes that suggest using Coca-Cola such as sweet potatoes, squash, and glaze. There are also some ideas for how to use the bottles for decoration.
Each pin is recognizable with the classic red-and-white bottle taking central stage.
Lesson to learn: highlight a new side of your product
Whether this campaign was a genuine attempt to give more diversity to the way people consume Coca-Cola or just a way to generate buzz, it certainly draws a lot of attention.
This creative display of real-life use cases in the social posts helps Coca-Cola solidify its brand image and brand association with all things holidays, including Thanksgiving.
And even if your ideas are even more out there and less practical than using Coca-Cola to glaze turkey, they might be unorthodox enough to generate a lot of discussion on the Internet, which ultimately helps your brand.
Choose your favorite food with Walmart
While holidays are times of joy for many people they are also the time of strong opinions. Especially when it comes to Thanksgiving food.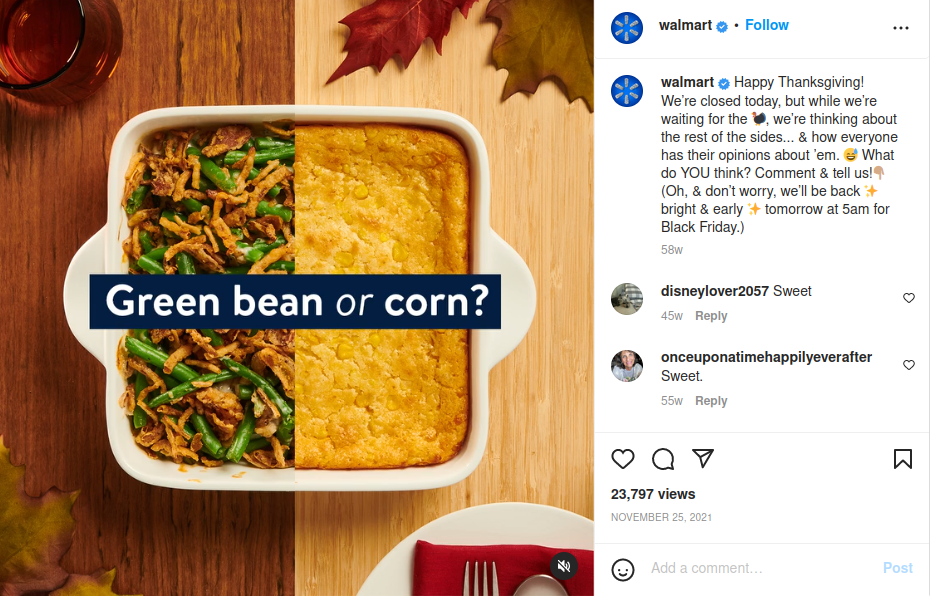 Walmart decided to tap into this by organizing a discussion in their Instagram comments about which Thanksgiving food is the best. They offered people options to choose this or that and encouraged them to comment on their favorites. This post gathered 10 times their normal amount of interactions.
Lesson to learn: engage your audience with relatable content
This is a perfect Thanksgiving post because it is nice to look at and fits in well with the typical holiday theme while remaining branded as Walmart. The content itself is extremely relatable to Walmart's customers since food preferences are always fun to talk about, especially when it comes to traditional food and classic recipes.
The caption encourages online interaction.
Ulta Beauty: a new "pie" chart
On Twitter, Ulta Beauty takes an unexpected approach to their Thanksgiving day post. Using humour, they turn around the idea of a pie chart making it the classic Thanksgiving pies, and joke about some more mundane parts of the holiday season and family interactions.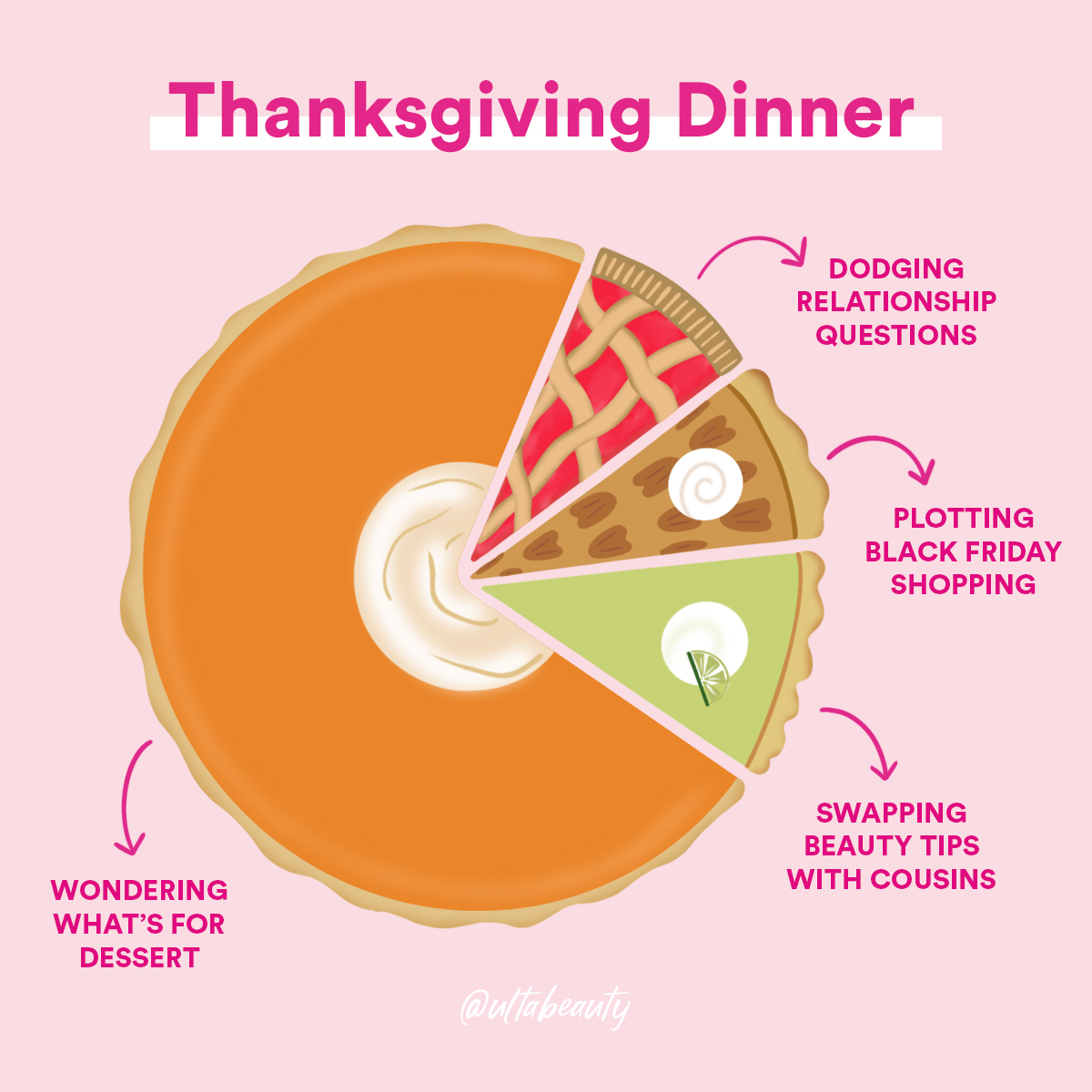 Lesson to learn: use humour
Ulta's play on words and relatable everyday situations are immediately endearing. The humorous nature of their post along with nice visuals makes it immediately stand out on your timeline.
---
During the holidays, it can be hard to think of truly original content. These brands managed to find new fresh perspectives and hopefully inspire you to do the same!
Enjoying the post? There's more.
Sign up for our newsletter to get our best content by email.