5 Independence Day marketing campaigns to get you inspired

Article summary
Get inspired by creative marketing ideas for the Fourth of July! We break down 5 Independence Day marketing campaigns and explain what exactly made them successful and what lessons we can learn.
11 minutes read
Marketers are always looking for the ways to engage and excite their audience. And what's a better way to do that than unite them around a common holiday?
Holiday marketing is so effective because it allows you to authentically connect with your customers on common ground. By becoming a part of their celebration, you associate your brand with positive emotions and build loyalty. That of course if your holiday marketing campaign is successful!
In this article, we wanted to run through some 4th of July marketing campaigns and see what they did right and what lessons we can learn from them. Let's begin!
1. Old Navy
While sales and discounts are usually the most straightforward way to join the 4th of July marketing train, some brands are spicing their sales with nostalgia and patriotic feelings to attract customers to their offers.
Old Navy created a short video for social media talking about what it means to be American. However, they put a twist on it: the video tells aus the stories of people who recently got American citezinship and their definition of patriotism and the love for the U.S.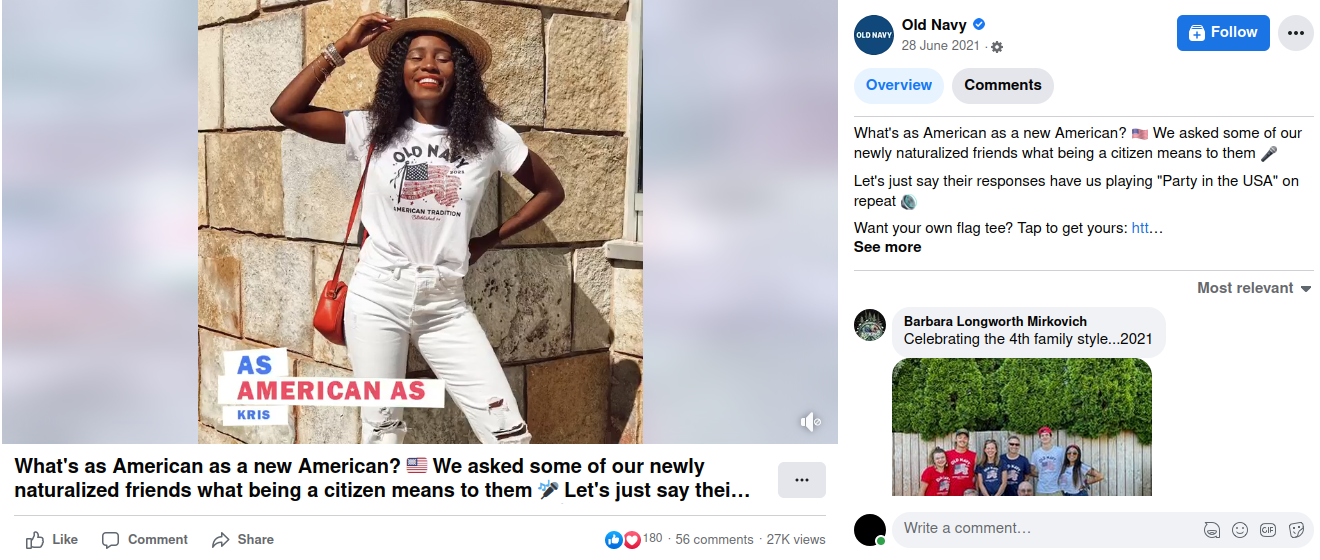 The short clip takes real-life stories of new immigrants and tells why they are "As American As" in their own words, each wearing an Old Navy American Tradition t-shirt. A clever blend of a timeless yet contemporary issue, promoted on social media.
Marketing takeaway
People want to connect with people, not with some abstract entity known as "brand". That's why influencer marketing is so effective. But it's even more effective to get endorsements from the people just like your customers, someone they can relate to.
By using touching stories and perspectives from their clients, Old Navy found the perfect spot to reach their audience in a creative way. This can only be possible if you stay in touch with your customers and know them well.
Fortunately, social media enables consistent communication with our audience. By talking to your followers in the comments and DMs, you learn more about them and their stories, and understand what messages will be persuasive for them.
And if you want to get actual hard data and insights, try social listening tools like Awario. You can dive into the conversations around your brand or your competitors, see the trends in these conversations, and figure out how to make your next marketing campaign as touching as Old Navy's.
Sign up for a free Awario trial
Start social media lead generation with a free 7-day Awario trial. No credit card required.
By signing up I agree to the Terms of Use and Privacy Policy
2. Coca-Cola
Coca-Cola's marketing campaign shows a great understanding of its audience and how and when they consume its product.
For a while, the brand has had a special offer where you can order personalized bottles of coke with various greetings or names. That wasn't a new offer, but the way Coca-Cola amplified it for the 4th of July is genious!
The company offered a 20% discount on purchase of 12 or more personalized bottles during the holiday season. It's obviously a tempting discount for people who are entertaining family and friends and hosting parties and get-togethers for the holiday.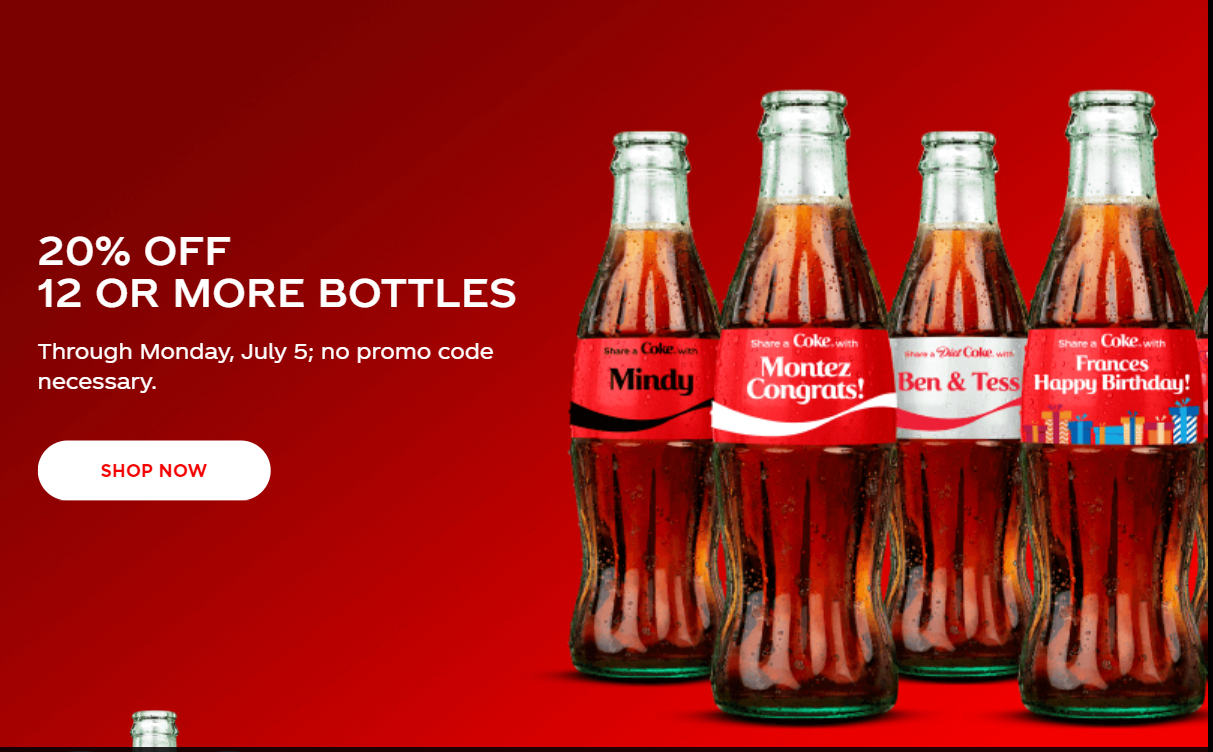 Imagine, you come to a friend's party and there's a Coca-Cola bottle with your name waiting for you. That's gonna make you feel special and maybe even entice you to Tweet or Instagram the bottle, giving Cola free marketing.
Plus (and this is important), the order process states "no promo code necessary".
It's all about making the user experience as seamless and easy as possible, removing unnecessary obstacles to purchase. This might seem insignificant, but it's actually those small details that can make a big difference to conversion rates.
Marketing takeaway
While the personalized bottles are not specifically designated for Independence Day, designing a special 4th of July offer shows how well Coca-Cola can hop on the trends.
The brand smartly utilized its existing assets to encourage user-generated content and get the buzz going for its product.
3. NASA
Part of holiday marketing is finding the connection between a brand and the message of the day. There are many different, possible ways to make that connection, but we enjoyed this one from NASA in a recent tweet.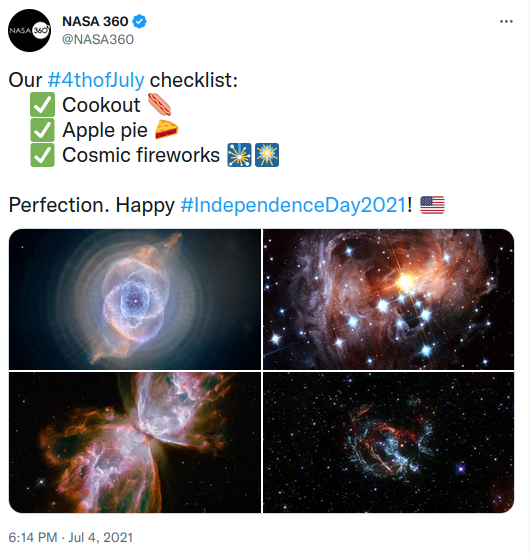 Fireworks are such an integral part of the July 4th celebrations, so NASA tweeted images of "fireworks" in space, breathtaking displays of colorful lights picked up by their equipment.
A wonderful way to touch base with the audience and inspire them with the NASA "product" in the leadup to the holiday.
Marketing takeaway
NASA is a perfect example of finding a way to join social media trends in a creative new way!
You would think that there's not much connection between NASA and Independence Day (besides the space aliens in the famous movie). But the organization found a way to relate to Americans, stay true to its essence and share something beautiful and exciting.
The amount of engagement this tweet got compared to the other posts from NASA shows that it resonated with Twitter on a larger scale and was able to draw attention among the uninspired holiday tweets from brands.
Enjoying the post? There's more.
Sign up for our newsletter to get our best content by email.
4. Reasors
Tradition is another strong theme when it comes to holiday marketing. Putting a new twist on old traditions in your marketing is a sure way to get noticed.
This July 4th video ad by Reasors, an Oklahoma-based grocery store chain, reflects the timeless sentiments and patriotic flavor of the USA that continues to be celebrated today.
This commercial is a great example of how brands can and should speak the language and convictions of their target audience.
As a regional brand, Reasors can focus on the values that are important in their market, rather than a national brand that has to take a much broader approach. You can't please everybody all the time, but if you work with a local audience, you can be much more focused and effective in broadcasting the right message.
Marketing takeaway
We are once again reminded of the importance of knowing your audience.
While nowadays every brand strives to be bigger and more global, customers are turning to smaller businesses and local brands for their everyday needs. That's why using your "locality" as a selling point is always a good move.
Awario's Location filters allow you to find conversations in a specific city or state which makes it easier to analyze local audiences.
Research your community and your local audience, and figure out what are their values. Incorporate those values in your marketing campaigns and you won't be disappointed.
Sign up for a free Awario trial
Start social media lead generation with a free 7-day Awario trial. No credit card required.
By signing up I agree to the Terms of Use and Privacy Policy
5. Perdue Farms
If you're reading this blog post in the advent of the Independence Day 2022, you are probably looking for some last-minute marketing inspiration. Well, you'll be happy to know that not all holiday marketing campaigns require a ton of preparation in advance.
The 4th of July is possibly a meat brand's best friend as grills are fired up nationwide. But that doesn't stop one prominent US brand, Perdue Farms, from using their meat-y content in a clever way.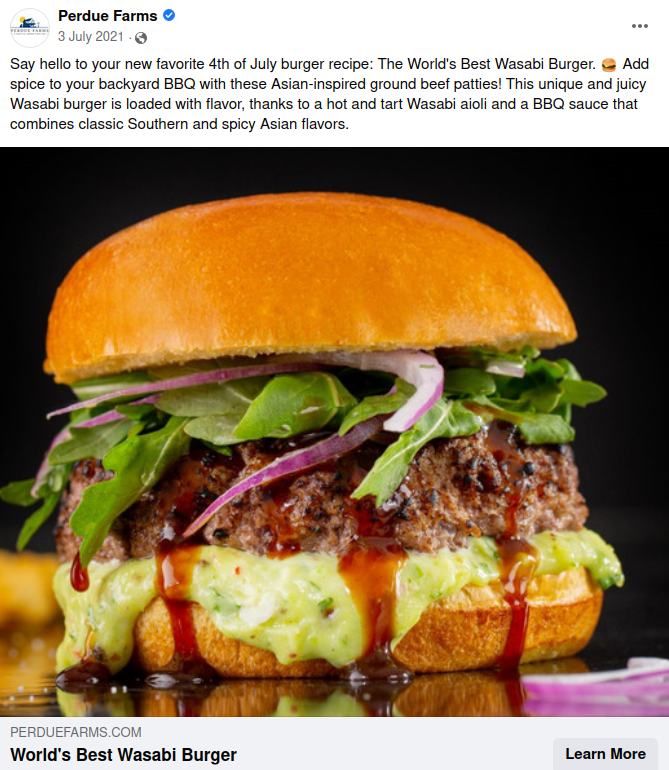 Repurposing content is a great way to stay relevant to customers while making the most of the content assets you have already produced.
For example, Perdue Farms reposted a previously published recipe for the "World's Best Wasabi Burger" as a 4th of July social post, this time with a short message about spicing up the holiday meal with a twist on the traditional ground beef pattie.
The social post links back to the original blog on the brand's website, driving traffic and interest in their offerings by providing useful, engaging content – repurposed of course.
Marketing takeaway
Think about how you can turn the existing content assets into a holiday marketing asset. Perhaps you don't need to create any new content, and a couple of tweaks to an old blog post, a social media copy or a design can get you clicks and likes.
What did we learn?
Let's summarize the marketing lessons we learned in this post:
Actively learn about your audience, talk to them through available channels and use social listening to research their needs and interests.
Encourage and amplify user-generated content for organic promotion.
If you can't create new assets, figure out how your existing products and offers can tie into the holiday's theme.
Holidays can be counted as social media trends - instead of posting banal greetings, find a way to hop on a trend in a creative and relevant way.
I hope these marketing campaigns provided you with some last-minute marketing inspiration! Maybe next year your holiday campaign will be on our blog.