Election watch: social media analysis of the third Democratic debate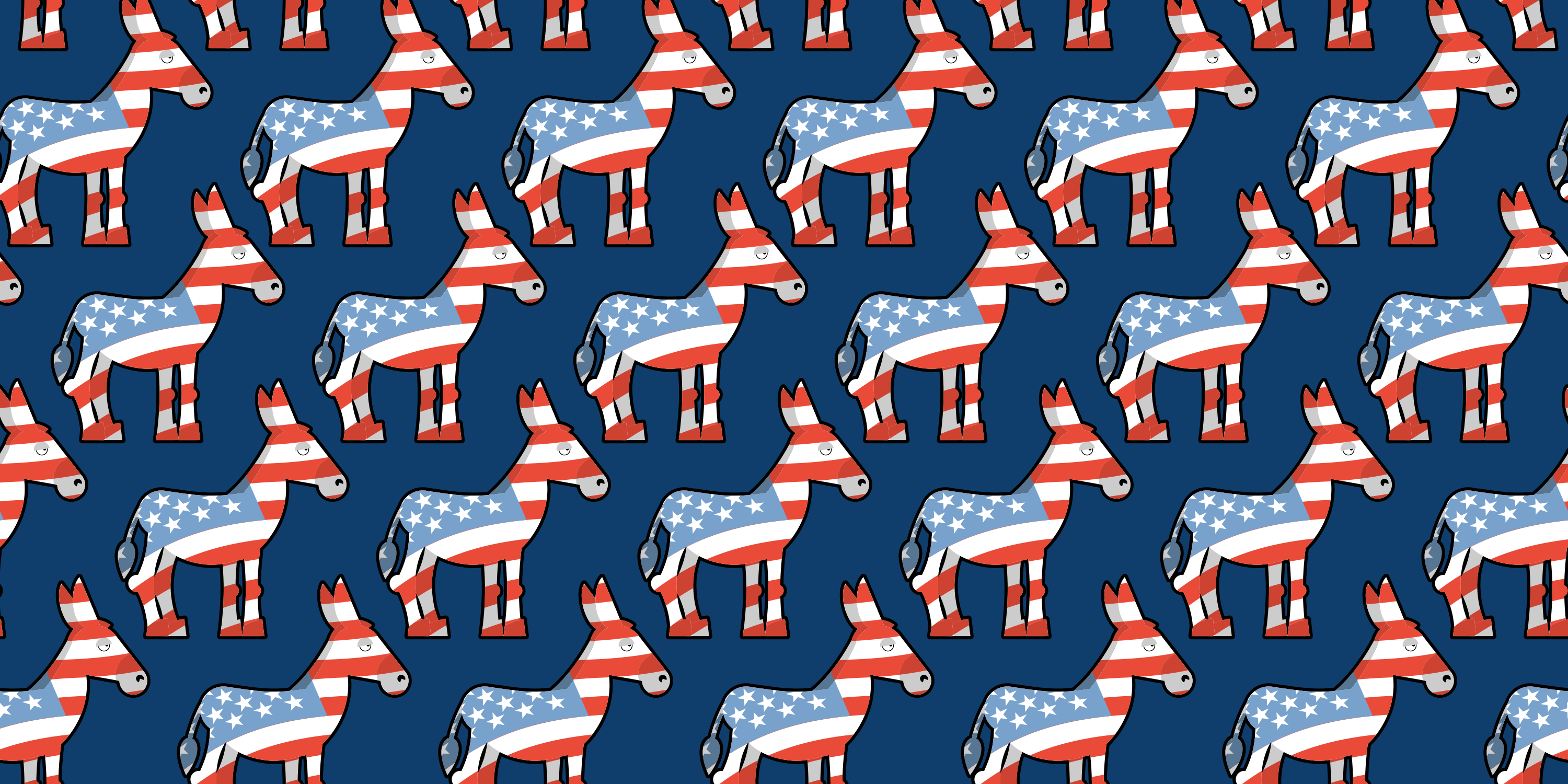 Even though the day of the USA elections is more than a year away, the election cycle is in full swing. And while Republican candidates still remain somewhat a mystery (apart from the few who decided to challenge the current president in his attempt for the second term), Democrats have got quite a lot of news to keep up with.
Social media is THE place for discussing all the events around this election cycle, staying on top of the news and rumors, and sharing your views on the candidates. That's why we at Awario decided to observe how social media reacts to important occasions such as debates, primaries, conventions and of course the elections themselves. Our Election Watch started with social media analysis of the second Democratic primary debate, and now it's time for the check-in after the third debate.
To remember the most important dates of this election cycle (which we will make sure to cover), we created this timeline: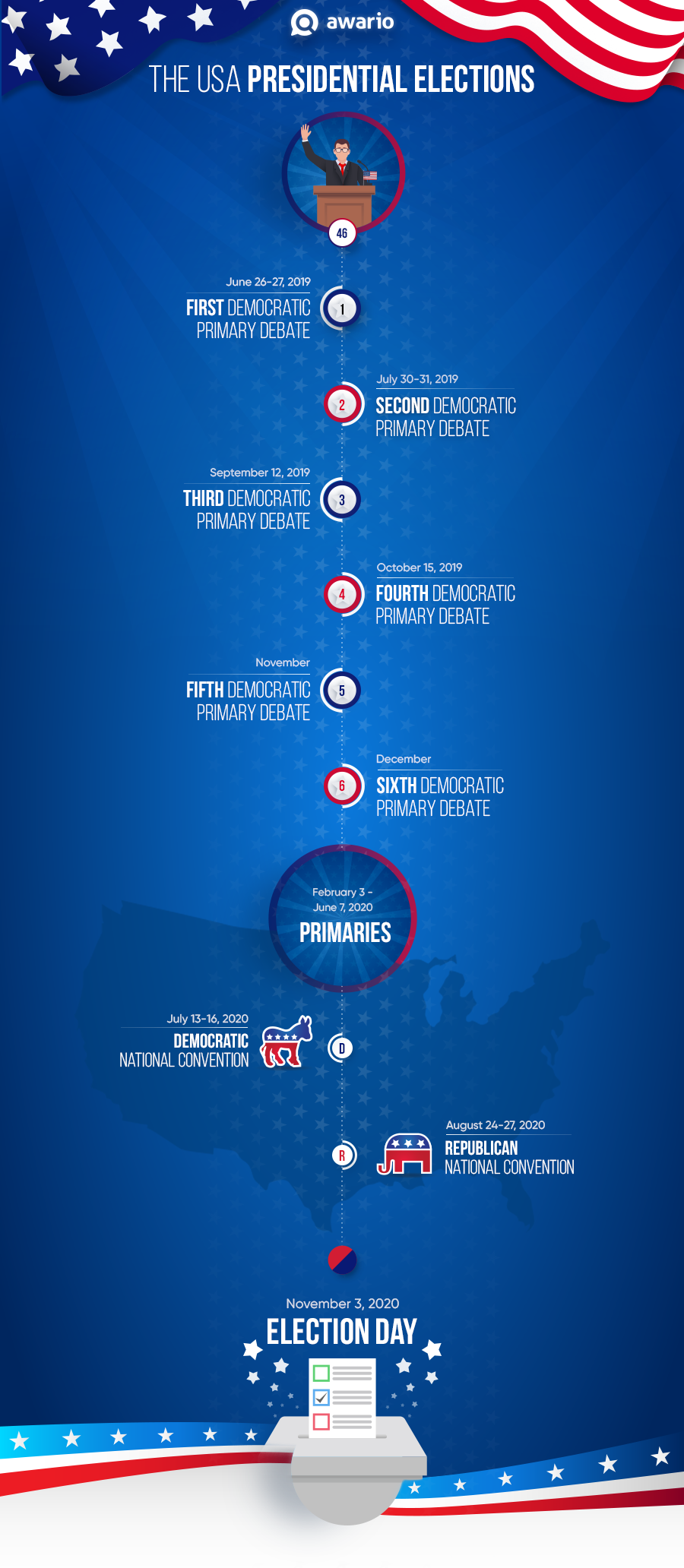 The third Democratic primary debates on Twitter

With Twitter being the platform best suited for live reaction, it's fascinating to see how the debate is discussed on there. We tracked the mentions of such keywords as "USA debates", "democratic debates" and so on in the USA during the last week. Logically, the number and reach of mentions gained its peak on the night of the debate with 40,9 thousand mentions in total.
Even though politics is quite a messy business that brings joy to no-one, the positive sentiment prevailed.

The Topic cloud mostly picked up the names of the candidates, since they were mentioned the most, but you can also notice people discussing who did better or worse during the debate, announcing that they are watching it, and mentioning the current president a lot (which falls in line with some of the candidates on the debate stage).
I mean I "love" my party but is this seriously gonna be the focus of the debate. "Your tone was mean" we need a candidate that can handle trump we've seen how he is in debates if y'all can't handle Castro saying "forgetting what you said 2 minutes ago?" You can't handle Trump. https://t.co/CbO2XfFHyg

— Mandy (@Mandalay_babe) September 13, 2019
---
Presidential candidates: social media analysis
Only ten candidates qualified for the third Democratic debate, which surely made it much more exciting to watch. We analyzed their mentions across social media and the web, in different countries and different languages.
Let's go through the candidates one by one and see what social media thought of their performance. We will look at mentions from last month as well as mentions collected and analyzed during the debate.
1. Bernie Sanders (244,4 thousand mentions)

If we look at the number of mentions of Bernie Sanders from the last 30 days, we can notice two peaks — one is obviously the debate, but what about an even bigger one in August? After going through the mentions dated August 27th we were able to identify a couple of reasons for such a high number of mentions: Solidarity Call organized by Bernie Sanders to help labour rights activists and his announcement of the Green New Deal Plan.
As for the debate itself, on September 12 Bernie was mentioned 13,3 thousand times.

The sentiment around his performance remains largely positive (as does the sentiment of his mentions in general).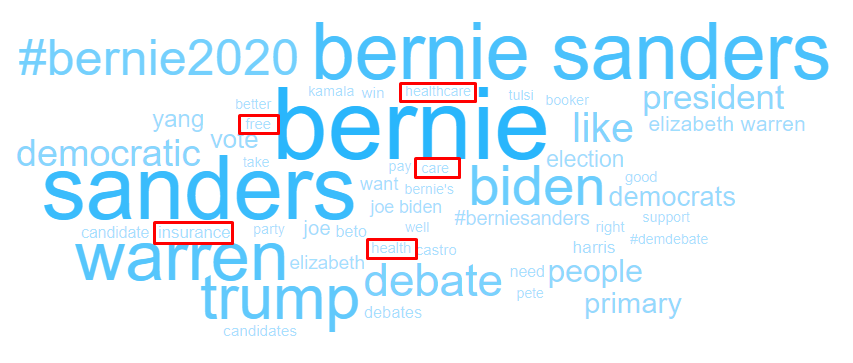 Besides the names of other candidates and the ubiquitous Trump, the topic that came up the most in association with Bernie during the debates is healthcare — it was one of the most prominent focuses of the debate and coincidentally is one of the cornerstones of Sander's platform.
Don't miss our next analysis.
Subscribe to Awario blog to get social data analyses, case studies, and social listening how-tos in your inbox.
The outlets that seem to mention Senator Sanders the most over the last month include The Los Angeles Times, The New York Times, and Newsweek.

Joe Biden just called Bernie Sanders "the President". pic.twitter.com/F3q0bvyjsc

— Florian (@BetaODork) September 13, 2019
2. Joe Biden (206,4 thousand mentions)

For the former vice-president, the debate was a fruitful one. Social media users agree that Joe Biden started strong and even though he faded out a bit as the debate went, he managed to redeem himself after the second debate where he hadn't shown his best side.

Even though he's not as loved by the Internet as Senator Sanders, he managed to win some people over during the debate.

His Topic cloud includes indications that people generally liked his performance on the debate stage (such words as good and win), but there are also topics that point out potential troubles for the candidate: the word old reminds us of the doubts many people have on whether Biden is young enough to be the president, and the word black emphasizes the racial insensitivity associated with his persona.
It's... 2019

— Kevin Maisto (@kevinmaisto) September 13, 2019
3. Elizabeth Warren (178,8K mentions)
Even though she managed to generate 14,8K mentions during the debate, the general consensus is that Senator Warren faded during the debate.

The positive sentiment around her name is consistently higher than the negative and neutral and it even soared during the debate.

The conversation around Warren's performance focuses once again on health care and, a bit unexpectedly, love, which is always a good sign.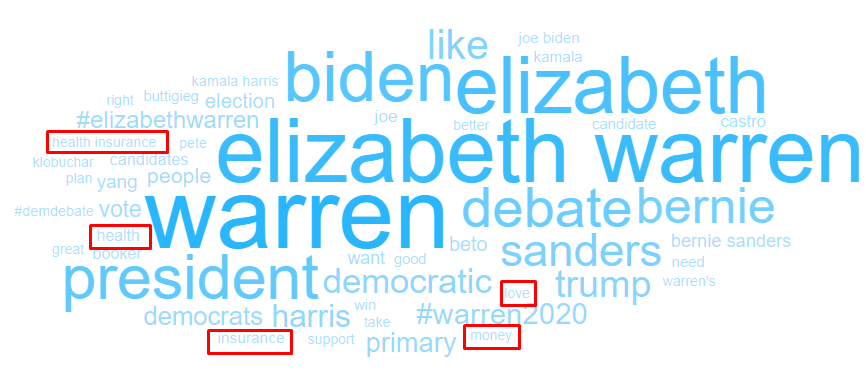 Friend: What are you up to tonight?

Me: I'm gonna grab a six-pack and watch Elizabeth Warren beat the crap out of Joe Biden#DemocraticDebate

— Thor Benson (@thor_benson) September 12, 2019
4. Beto O'Rourke (161,9K mentions)

Beto really managed to gain ground this debate: looking at the number of mentions from last month you see the stark contrast between the buzz around his name before and during the debate. All of this could be contributed to his harsh stand on gun restriction policy.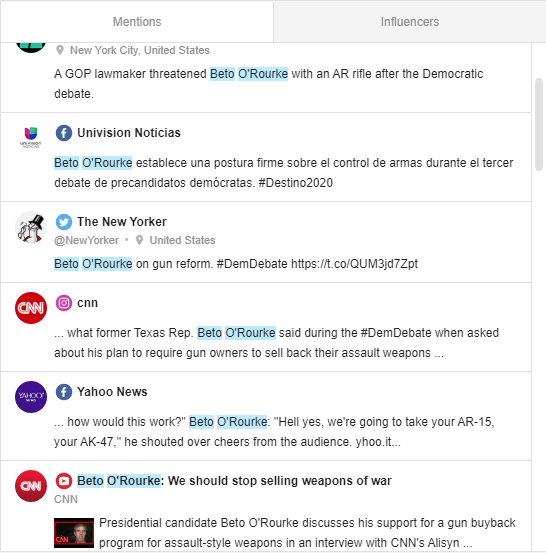 Given the USA's history with gun ownership regulation, this is quite a controversial stand that was reflected in his sentiment analytics.

His Topic cloud also heavily featured gun-related keywords.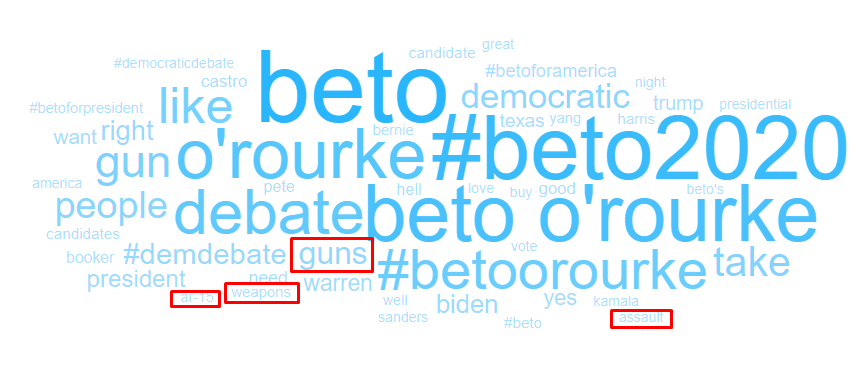 5. Andrew Yang (155,7K mentions)
The media agreed that this debate wasn't as successful for Yang as the second one (his proposal to give $1000 to ten families in America each month was seen as a cheap trick), but in terms of social media buzz, that sentiment doesn't hold true.

You can clearly see a spike in mentions during the debate (on the close inspection of mentions the August one can be attributed to his proposal to fight climate change with giant mirrors).

His sentiment analytics also show that he has quite a lot of support from #yanggang, as his supporters call themselves.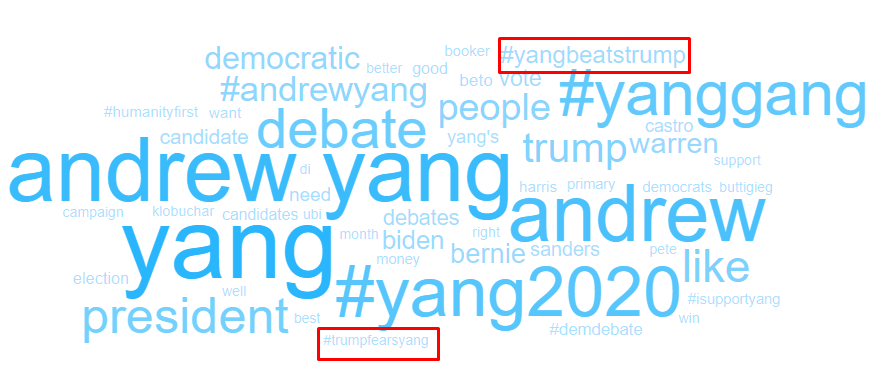 Some keywords and hashtags associated with Yang point to the fact that his supporters have a lot of hope that he'll be able to take on Trump in the elections: even though Trump is prominent in the Topic cloud of every candidate, Yang is the only one who is actually pitted against him explicitly.
The Yang Giveaway is a valuable reminder that virtually anything would be a better use of your money than donating to a presidential primary campaign.

— Matthew Yglesias (@mattyglesias) September 12, 2019
6. Kamala Harris (123,1K mentions)
Kamala was one of the frontrunners for a long time, but lately, she's been hiding in the background.

The debates boosted the buzz around her with 13K mentions in general, but overall her presence was quite unmemorable. However, she managed to become a bit more popular by speaking at the debate stage, as we can see from sentiment analytics.

I woke up to news that Kamala Harris has compared Trump to the Wizard of Oz.

I initially thought she meant the other characters, because he doesn't have a brain, a heart, or any courage...

— Stu Cameron (@stucam7771) September 13, 2019
7. Pete Buttigieg (103,8K mentions)
Mayor Buttigieg has also had quite an uneventful month. The highlight of his debate performance was his coming out story which resulted in 8.7K mentions.

Besides, seems like his story really resonates with voters since his positive sentiment remains quite high in comparison with the negative sentiment.

Mayor Pete Buttigieg ... OMG ... just a pitch perfect answer to the Q about resilience.

He speaks candidly/honestly about coming out as a gay man, about trust, and about not knowing whether his career would be over by living his truth.

So much humanity there.#DemDebate

— Lynnette KhalfaniCox (@themoneycoach) September 13, 2019
8. Amy Klobuchar (85,1K mentions)
While Klobuchar is not seen as a frontrunner of this election, the debate was quite fruitful for her bringing 18.3K mentions (which is, by the way, more than what Buttigieg and Harris managed to generate).

She got involved in the discussion around healthcare deeming Bernie Sanders' plan "bad" and was generally more active than previously. The Topic cloud reflects her strong points.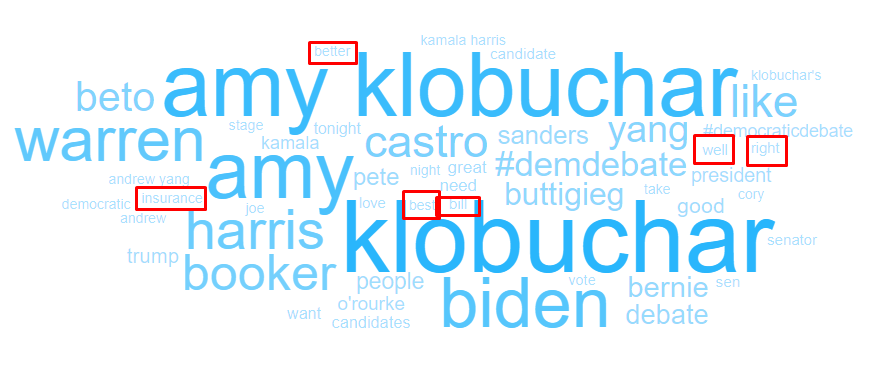 I can't decide who is a better Republican: Amy Klobuchar or Pete Buttigieg? #democraticDebate

— Katie Halper (@kthalps) September 13, 2019
9. Cory Booker (63,1K mentions)
Booker did quite well in the first and second debates, but this time he was simply forgettable — and mostly talked about other people's points.

However, the debate was still a large event that generated 9,3K mentions for him.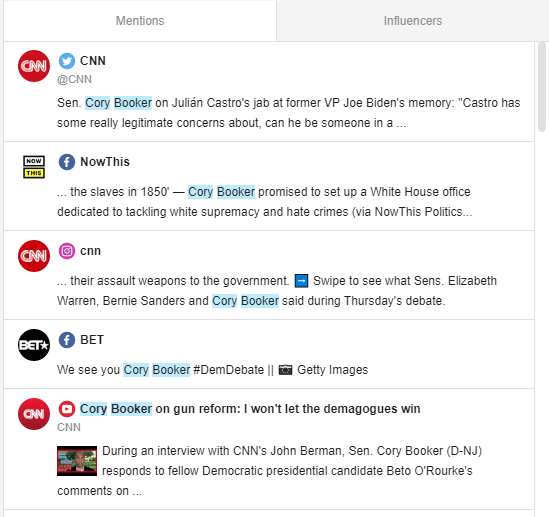 10. Julian Castro (55,1K mentions)

Julian Castro, while not the most prominent candidate, managed to generate quite a lot of buzz (12,7K mentions) around his name by being a somewhat aggressive debater and attacking Biden with remarks on his old age.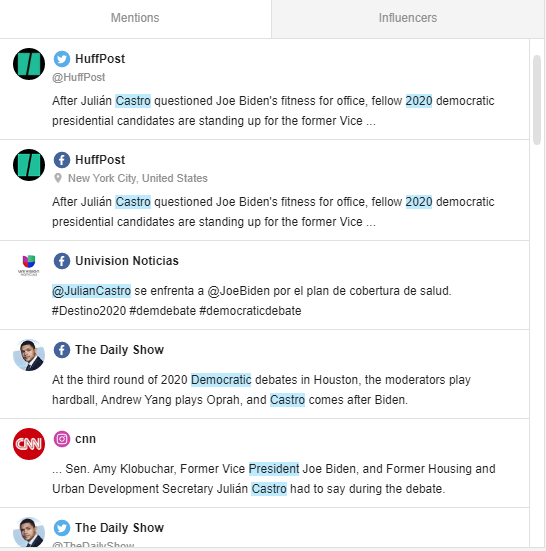 Judging by the sudden spike in mentions, this tactic paid off, but does it make him a more popular candidate? Not according to sentiment analytics!

I'm not having it with anyone who is mad at @JulianCastro or thinks his campaign is over for being "mean" to @JoeBiden. Joe's smirk and response that basically black people don't know how to raise families is what's disqualifying.

— Emily Burgess (@emilymaryburg) September 13, 2019
---
The most liked candidate according to social media
To identify the most liked and disliked candidates we calculated net sentiment for every candidate's mentions. Since the number of mentions for each candidate differs quite a lot, we couldn't just compare their positive/negative sentiment ratio. Moreover, we didn't want to take into consideration neutral mentions. That's how we came up with the following formula:
Net Sentiment = (% of Positive mentions - % of Negative mentions) / (% of Positive mentions + % of Negative mentions)
It's important to notice that while a certain candidate may have the biggest positive net sentiment if they are not talked about enough, they probably don't have a lot of chances to win the Democratic race. But without further ado, here are the candidates from the most to least liked:
| | |
| --- | --- |
| Candidate | Net Sentiment |
| Andrew Yang | 27.3% |
| Pete Buttigieg | 17.3% |
| Elizabeth Warren | 15.2% |
| Amy Clobuchar | 10.7% |
| Bernie Sanders | 7.6% |
| Kamala Harris | 5.5% |
| Cory Booker | 5% |
| Julian Castro | 4% |
| Beto O'Rourke | 3.8% |
| Joe Biden | 3.2% |
Another important caveat is that the conversations around the candidate may affect their sentiment — for example, since Beto is associated with the conversation around gun violence, negative words such as kill and murder may affect his score even though they do not refer to him as a bad candidate.
---
Social media analysis vs the polls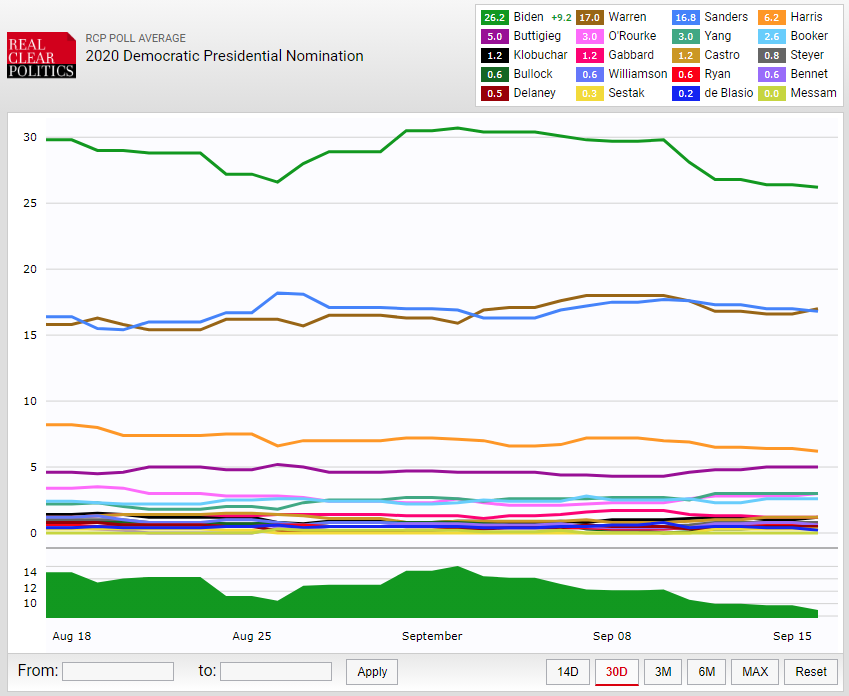 How does social media data compare with the official polling? The latest polls were conducted after the debate on September 16. On the whole, the top 3 is consistent with social media analysis, even though the ranking is different.
According to the polls, Joe Biden is in the lead (26.2 points) which contradicts social media data if we go by the number of mentions and sentiment. Warren (17) and Sanders (16.8) come in second and third respectively with a small gap between them.
Then we have Harris (6.2), Buttigieg (5) and O'Rourke (3), and Yang (3). According to social listening data, Harris hasn't been that successful lately, but the polling proves that she still has a lot of support.
It's hard to say which could be more indicative of potential winners: polling or social media. After all, a high number of mentions doesn't mean that people are actually going to vote for you — although this tactic seemed to have worked for Trump. Anyway, we will see how the opinions of social media users will change after the next debate and whether it will fit more with the polling results in our next edition of the Election Watch.