Vimeo vs YouTube: the best platform for your video marketing strategy

Article summary
In this article, we compare two major video platforms, YouTube and Vimeo in regards to their audience, features, and marketing benefit. We also give tips on how to succeed on both platforms.
Video marketing is a booming niche – 86% of businesses are using video as a marketing tool in 2022, according to Wyzowl's State of Video Marketing Survey. It's no surprise since we as Internet users consume more and more video content, so it's a great opportunity to catch our attention.
When we talk about well-produced long-form content, the platform that naturally comes to mind is YouTube. Of course, Facebook Watch is also popular among some audiences, and many people know about Vimeo. But when it comes to video marketing, YouTube always takes the spotlight.
Is it fair? Well, at the first glance, YouTube is the fail-proof choice when it comes to video placement compared to Vimeo. According to Hootsuite, YouTube gets around 1.7 billion visitors a month while Vimeo only gets 240 million monthly users. But of course, marketers know that it's not about the size of the audience, but its relevancy to your brand.
These platforms serve different purposes. To truly make an informed decision, you need to learn about them more than a mere number of users. In this article, we will compare YouTube and Vimeo to help you decide which of these video hosting websites fits your video marketing strategy.
Sign up for a free Awario trial
See Awario in action with a free 7-day trial. No credit card required.
By signing up I agree to the Terms of Use and Privacy Policy
Let's start with the basic description of both websites and then dive into specifics such as target audiences, functionality, and advertising.
What is Vimeo?
Vimeo is actually much more than a simple video platform. It can be used for many things including:
Hosting high-quality video

Collaborating with your internal team on video projects

Editing your videos
While the first aspect is quite obvious, the other two are not brought up as often. As you can see, they make Vimeo quite different from YouTube, which we'll go in-depth on later in the article.
What is YouTube?
I doubt that you don't know what YouTube is, but you might not think about the platform's general concept.
YouTube is a social video network, meaning a lot of its appeal relies on the interaction between creators and viewers. It's also the major source of modern entertainment for millennials and Gen Z-ers, effectively replacing the TV (along with streaming services).
YouTube is also the second-largest search engine after Google. That means that your video content should be designed with SEO in mind.
Vimeo vs YouTube: what are the main differences?
Even from the brief descriptions of the websites, you can gather that they are not that similar. Although both are used for video hosting, the approach to video content, the audiences, the functionalities, and the monetization varies greatly between these two platforms.
Let's look into these dissimilarities to help you decide which website suits your brand better.
YouTube vs Vimeo: their audience
The audience is the cornerstone of every marketing strategy. No matter how awesome and enticing your content is, if you're not targeting the right audience with it, you won't get any results.
Let's figure out who are the consumers that hang out on Vimeo vs YouTube, both creators and viewers.
Vimeo users are mostly creative professionals, oftentimes those who have first-hand experience with video production. The platform itself was created by a group of filmmakers, so it's no wonder that videographers, visual artists, art directors, editors, and other professional video creators prefer this website.
Naturally, marketing creatives of all kinds are also prominent on the platform.

There are also a few policies that make Vimeo attractive to certain types of users.
Firstly, Vimeo is much easier on censorship including controversial topics, nudity, use of copyrighted materials under Fair Use articles, and so on. So if your creative vision calls for some potentially controversial content or you're promoting products that are often censored (for example, CBD products), Vimeo would be a better choice.
Secondly, Vimeo explicitly states that it doesn't sell users' data. So people who are worried about Internet security and surveillance are more likely to use this platform.
Moreover, Vimeo arguably has a stronger community.
User numbers don't tell the entire story. With such a massive audience on YouTube, the environment is naturally more competitive. Vimeo's smaller, more community-driven platform might be a better option if you're hoping to tap into an existing creative niche, or get featured on their hand-curated staff picks page.
YouTube's audience, on the other hand, is naturally bigger and more diverse. People come to the platform for entertainment and education.
Overall, it's quite hard to pinpoint a specific audience for YouTube since the platform is so popular. Hence, it's important that you create customer personas and do your own research to see if your audience is using YouTube.
As for creators, YouTube is the main platform for vloggers who naturally become influencers.
If we were to compare, I would say that YouTube is more personality-driven, whereas Vimeo is more content-driven.
With the amount of content on YouTube, it might be quite challenging to get noticed so it's important to prioritize SEO and know YouTube's algorithm.
Vimeo vs YouTube: the features of the platforms
As I stated above, the functionalities of the websites are unexpectedly distinctive.
For YouTube, the main feature is undoubtedly its recommendation algorithm. It decides what videos will show up on your main page, what videos will live in your sidebar, and what videos you're most likely to come across elsewhere on the website.
Currently, YouTube prefers long-form (30 minutes+) content separated into parts, but the algorithm is constantly changing, so pay attention to those changes.
Another prominent feature or rather set of features is social engagement features. YouTube provides users with comments, Community posts, different ways to support creators by tipping them, and more.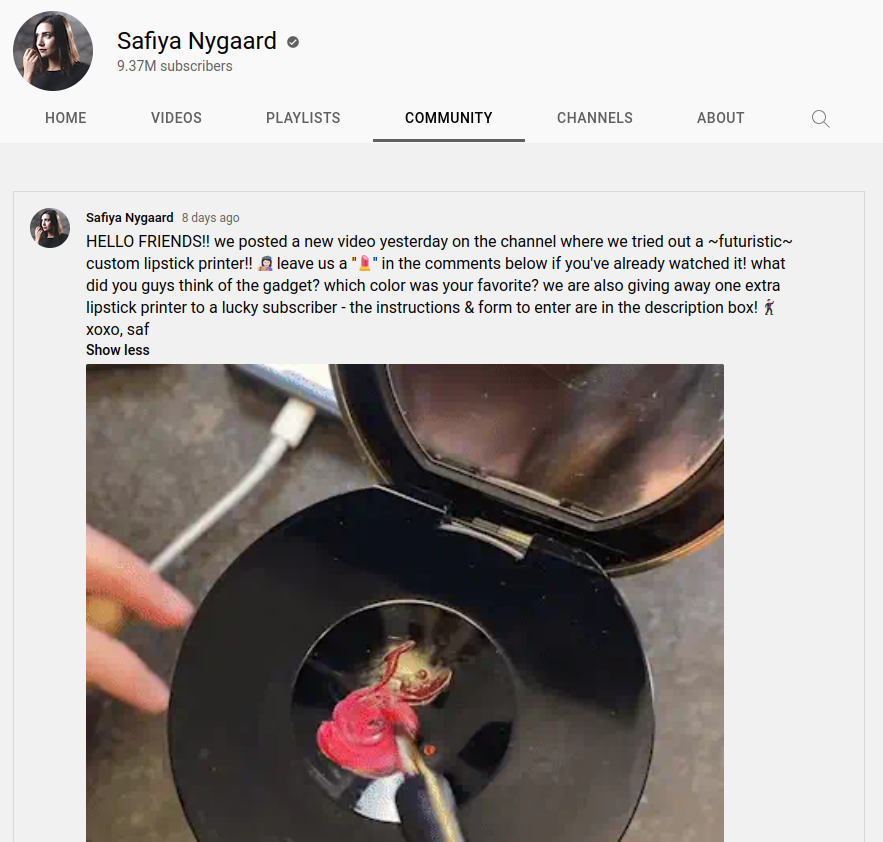 The third outstanding feature is YouTube Streaming. YouTube is the second-largest live streaming service after Twitch. It provides creators with several live video options and enables their audience to interact with the stream in many different ways.
As you can see, all the outlined features contribute to the social aspect of YouTube.
As for Vimeo, the features they provide are focused more on the professional use of video
First of all, Vimeo offers its own video creation tools including templates, stock footage, and a database of video pros. Notably, you can create videos for different platforms, not just for Vimeo.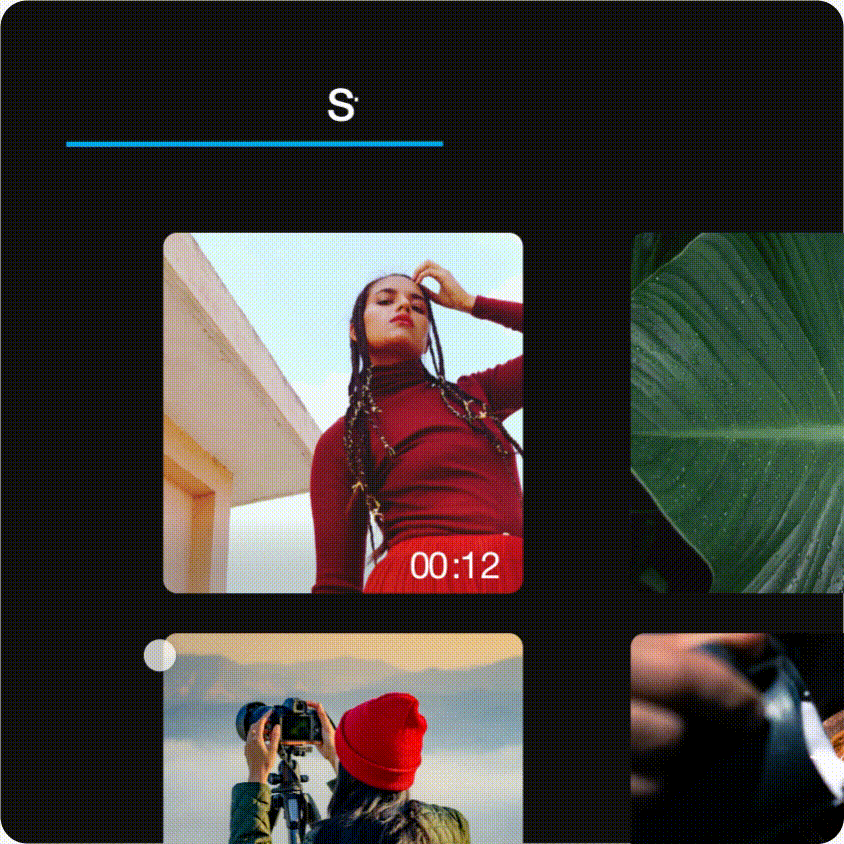 Secondly, the platform offers several features aimed at collaboration on video production such as the ability to leave notes on the video, the ability to add teammates, and file sharing features.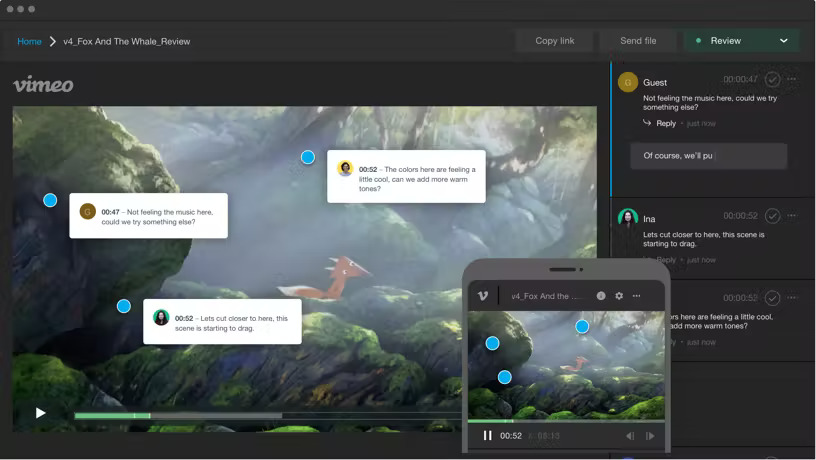 It also includes a bunch of features that enable corporate use of video including different levels of access to the video library, screen recording, hosting virtual events, and more. All these features facilitate video production for corporate relations.
Of course, the selling point of the platform is the ability to host high-quality videos. In a test done by Medium, Vimeo's video quality was crisp, clean, and easier to read. On the other hand, the same video on YouTube was blurry, making it much harder to follow. Sound quality is also higher on Vimeo because the platform supports 320Kbps.
Vimeo vs YouTube: advertising and monetization
Vimeo does not support pre-roll, post-roll, or overlay ads. Without distracting or irrelevant ads before, after, or on top of your video; viewers are less likely to click away, and more likely to better focus on your content.
However, depending on the type of account a member has, Vimeo does allow limited display advertising on some Vimeo pages:
Vimeo Basic members (and viewers not logged in) will see banner ads on all Basic and Plus members' pages, and ads will appear on their pages.

Vimeo Plus members do not see any banner ads, but ads will appear on their pages.

Vimeo PRO and Business members do not see any ads, nor will any ads will appear on their pages.
Conversely, YouTube makes money with ads — so you see all kinds of ads everywhere on YouTube. For advertisers, YouTube offers an advanced, user-friendly ads platform, as well as personalized support from a "YouTube Advertising Expert" when you spend $10 a day on ads.
All in all, YouTube earns profit from ads, whereas Vimeo makes money on membership signups.
Now that we've covered the basics and know both platforms pretty well, let's look at actionable tips that work for both of them.
Sign up for a free Awario trial
See Awario in action with a free 7-day trial. No credit card required.
By signing up I agree to the Terms of Use and Privacy Policy
How to reach your video marketing goals: tips for YouTube and Vimeo
Know your audience
Audience research is the first step of any marketing journey. Without learning who you market to, you can't even choose the right platform, not to mention creating the right content.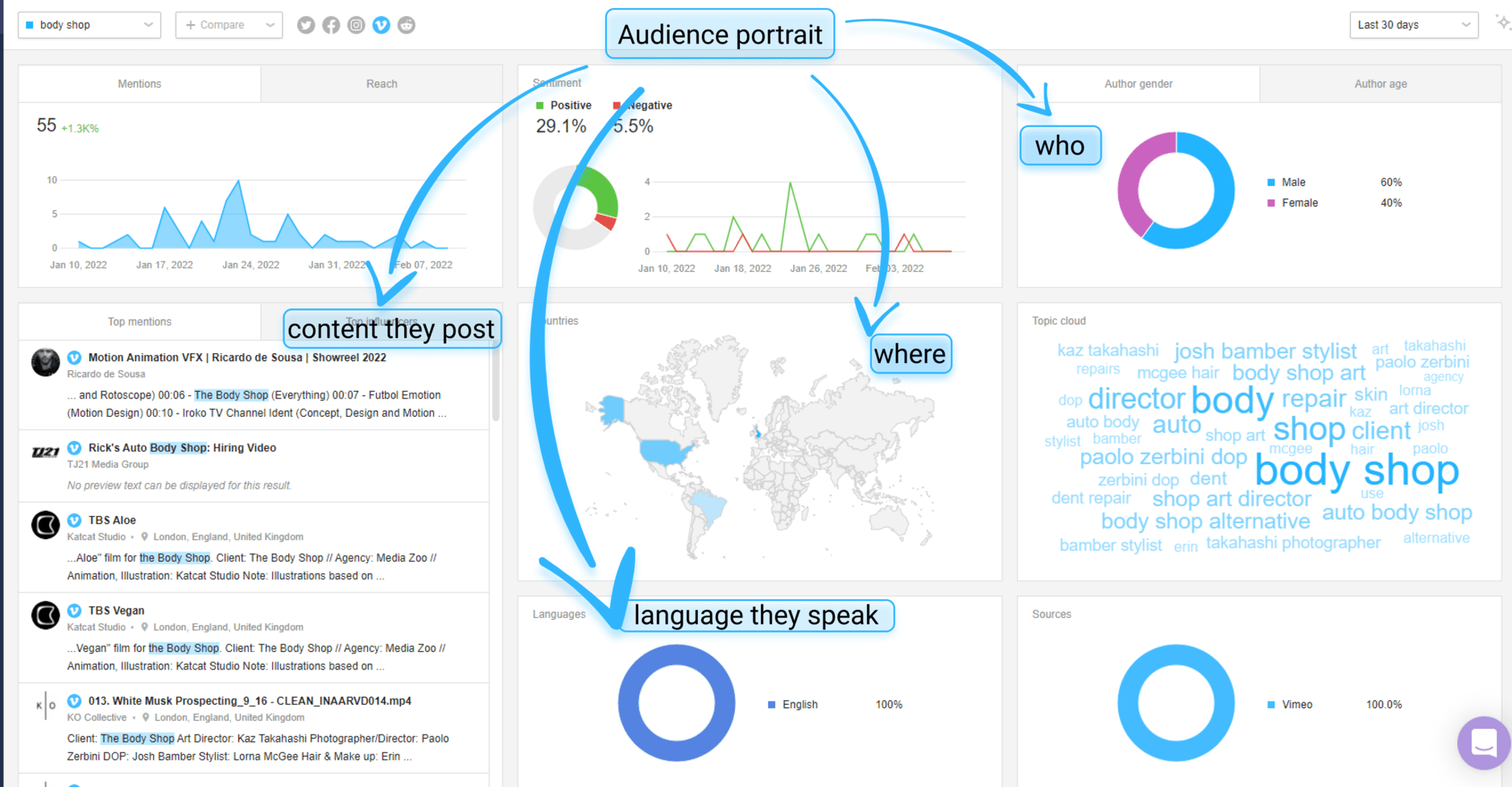 Social listening is a core part of audience research. Social listening tools like Awario help you discover your audiences':
Which social media platforms they use the most

Which languages they speak

What they talk about online

Influencers they follow
And the list goes on. These data insights allow you to build a video marketing strategy that will speak to the consumers who are most likely to buy your product – and will convince them to do so.
Awario offers a free trial and only requires a few minutes to set up so don't hesitate to try it.
Study your competitors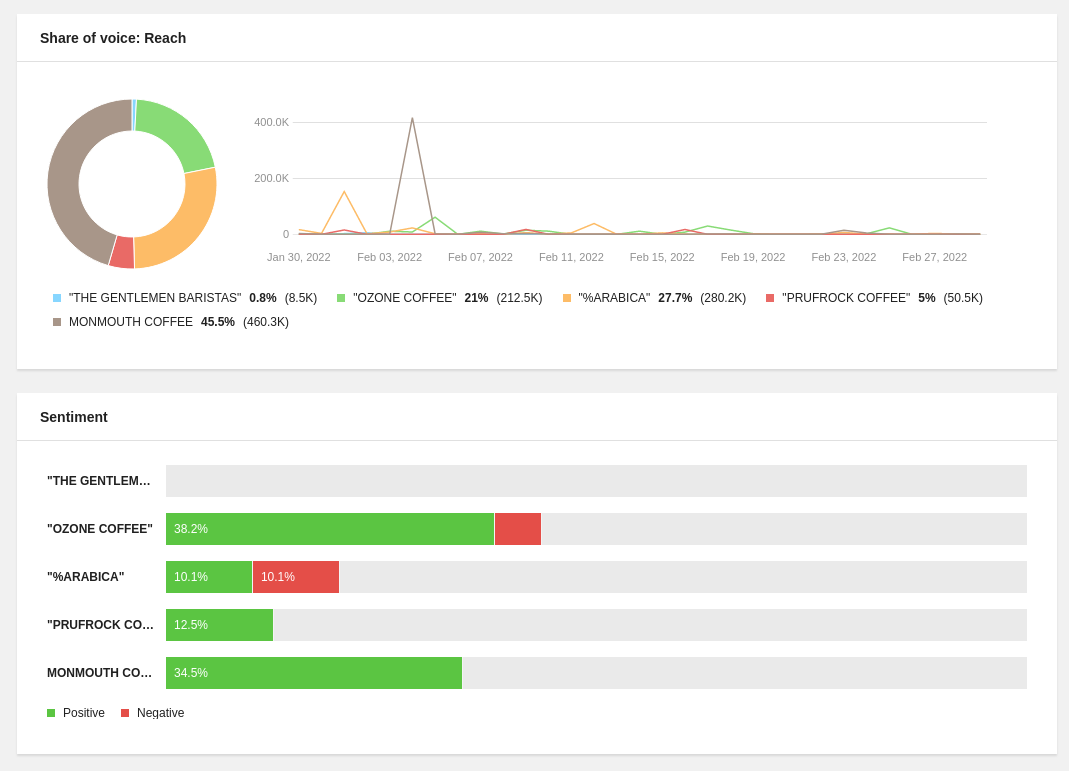 No business can thrive without analyzing its competitors. As for video marketing, the insights you get from monitoring your rivals can tell you what kind of content becomes popular and how to promote it.
You can also note which platform your competitors selected: YouTube, Vimeo, or both. This may help you decide as well, whether you want to avoid competition or understand which website is better for your niche.
If you want to keep an eye on their video output consistently, Awario can help monitor their social media as well as YouTube or Vimeo accounts and notify you every time they upload something.
Social listening can also help you evaluate how popular the videos are, how often they get shared, who watches them, and so on.
Take care of SEO
While YouTube is undoubtedly a more SEO-friendly website, Vimeo videos can also be optimized to show up in search.
You should always be planning to create a video tailored to a specific search query, (e.g., how to pick a font for your website). This will help it to appear in search results directly on YouTube, and bump it in other searches (Google also seems to favor videos from YouTube over those posted on other platforms).
As for Vimeo, choose the same approach. Make sure your title, description, and tags are SEO-optimized. While Google favours its own platform, you still have a high chance to come up in someone's search with the right optimization.
In conclusion
While you might have thought that YouTube and Vimeo are just video-hosting websites, this article proves that they are so much more.
Moreover, they serve distinctly different purposes. Depending on your goals, you can choose one, or even use both of them. You can separate your corporate content and promotional content between two or simply launch a multi-channel video marketing campaign and upload the same content on both platforms to reach as many viewers as possible.