What Twitter thinks of Oscars 2019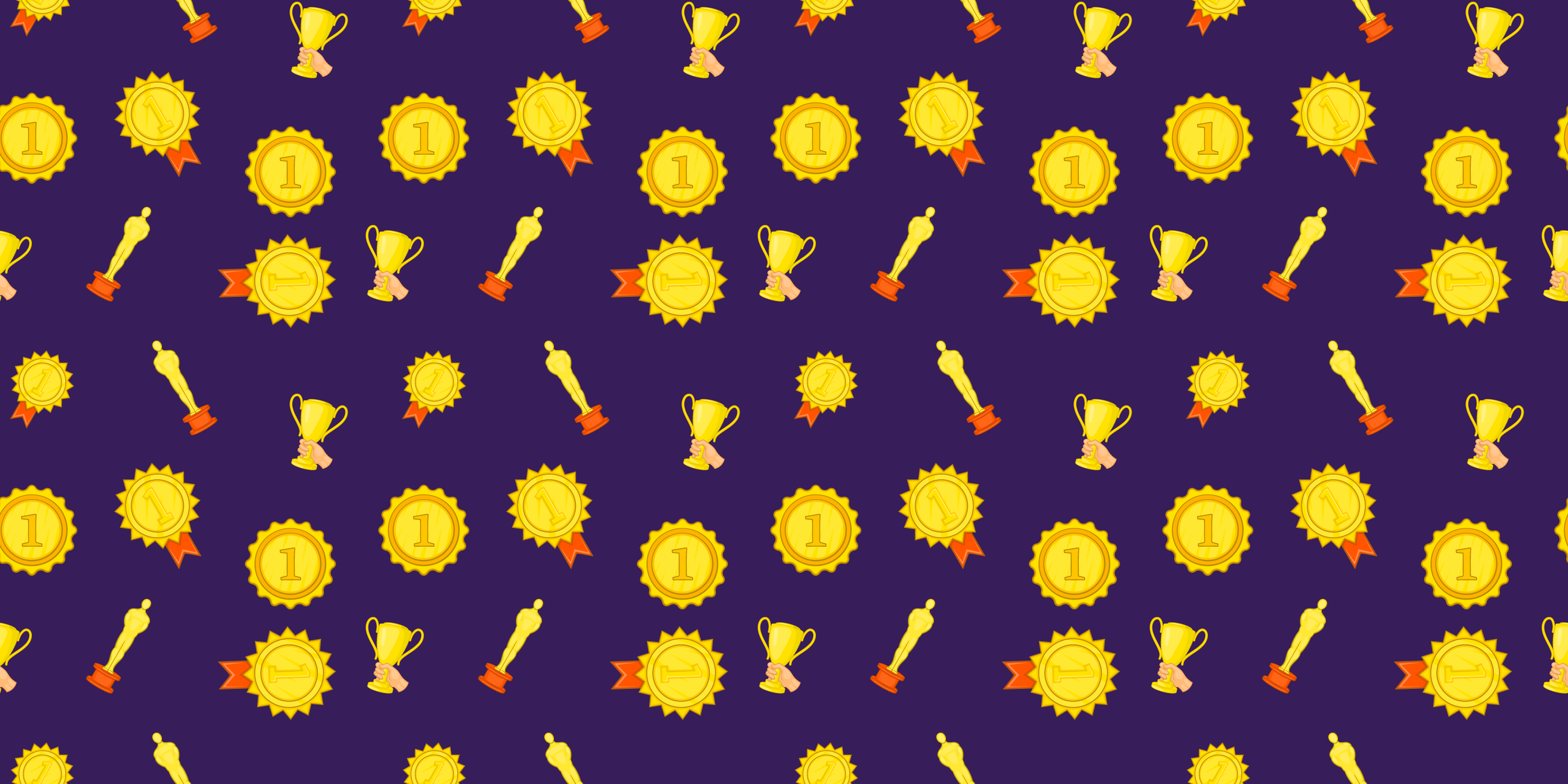 The Academy Awards ceremony is one of the most prominent events in the entertainment industry. The amount of attention it gets is only comparable to the World Cup or Olympics, and those last much longer than one night.
Unsurprisingly, it generates a crazy amount of social media buzz and I've decided to use Awario to find out what Twitter thinks about the Oscars.

As you see, the Oscars started generating discussions even before the event itself with an average of 600 daily mentions, but it gained the highest number of mentions during the ceremony as thousands and thousands of Twitter users were live tweeting and reacting to red carpet looks, winning speeches, musical performances, and so on. The Oscars completely took over Twitter.
Indeed, who doesn't want to voice their opinion (even if you only saw a couple of films competing)? Despite some controversial choices the Academy had made this year regarding the ceremony (getting rid of the host after Kevin Hart's homophobic remarks, deciding to present technical awards during the commercial breaks only to backtrack on this decision later), the Oscars still saw a mainly positive sentiment on Twitter.

There were plenty of great and not-so-great moments during the ceremony and, obviously, Twitter users had a lot to say about them. Based on the number of mentions, the Most Mentioned People and Films Award goes to:
Black Panther (3645 mentions)
Green Book (2757 mentions)
Bohemian Rhapsody (2732 mentions)
Lady Gaga (2413 mentions)
Bradley Cooper (2255 mentions)
Spike Lee (2256 mentions)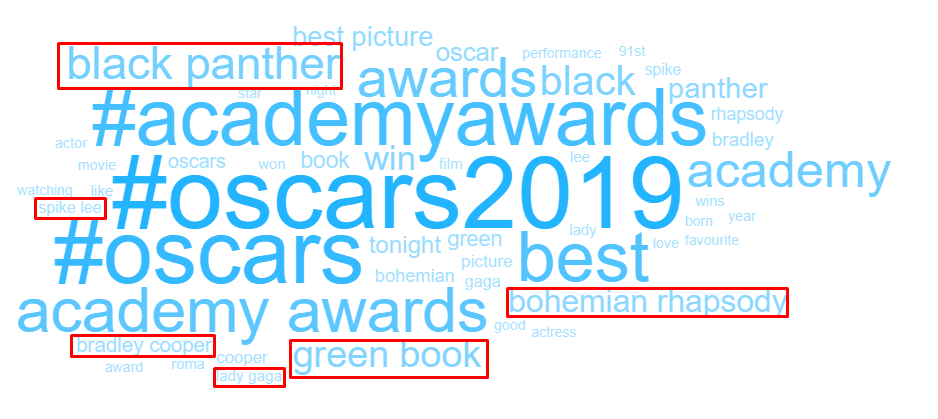 These are the people that came up the most often in the discussions surrounding the Oscars 2019. However, there's much more to learn from social media data. I wanted to take a closer look at Twitter's reaction to the Oscars, so I set up alerts for each nominee in Best Actress, Best Actor, and Best Picture categories.
Since I was interested in their Oscar-winning chances and not the opinions on films per se, I used the Boolean search mode to find mentions of the films and actors specifically in relation to the Oscars.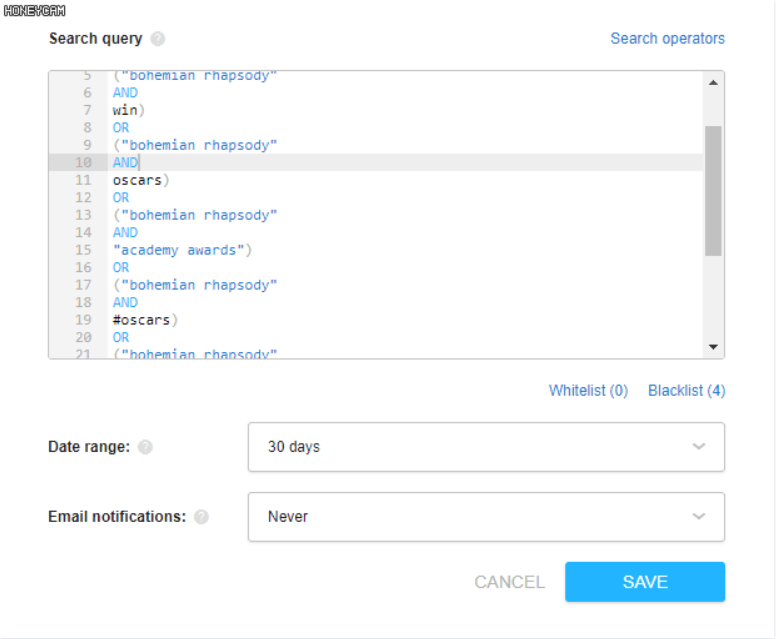 Let's find out who the Twitter's Oscars winners are!
Actress in a Leading Role

These are the three most mentioned actresses. Surprisingly, the actual Oscar winner Olivia Colman only came third in our social media ranking: you can see that the number of mentions spiked once she was announced as the winner, but she's undoubtedly beaten by Lady Gaga.
Lady Gaga won the Original Song Oscar as well as performed an impressive duet with Bradley Cooper on stage, which created a lot of social media buzz and brought her a Twitter Oscars win.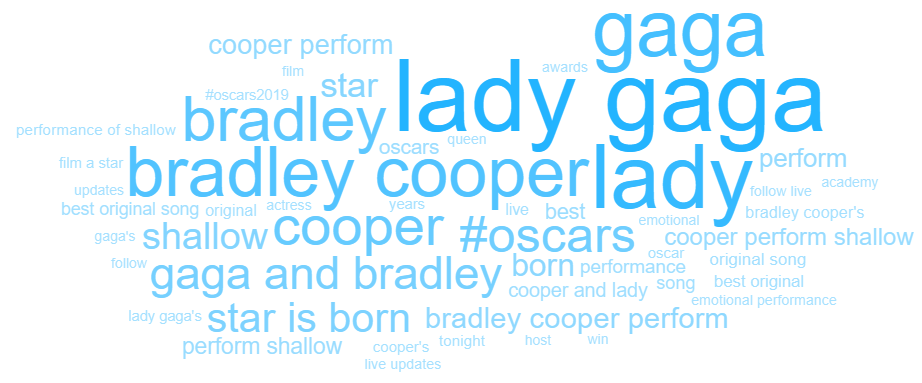 Don't miss our next analysis.
Subscribe to Awario blog to get social data analyses, case studies, and social listening how-tos in your inbox.
Actor in a Leading Role

This time, the Internet agrees with the Academy. Out of five nominees, Rami Malek, Viggo Mortensen, and Bradley Cooper were the three most mentioned, with Rami as an indisputable winner.
As you see, the buzz around him winning an Oscar started to rise even before the ceremony itself, with many Twitter users predicting the win. Rami Malek gave an outstanding performance: and both the film industry professionals and the general public agree on it.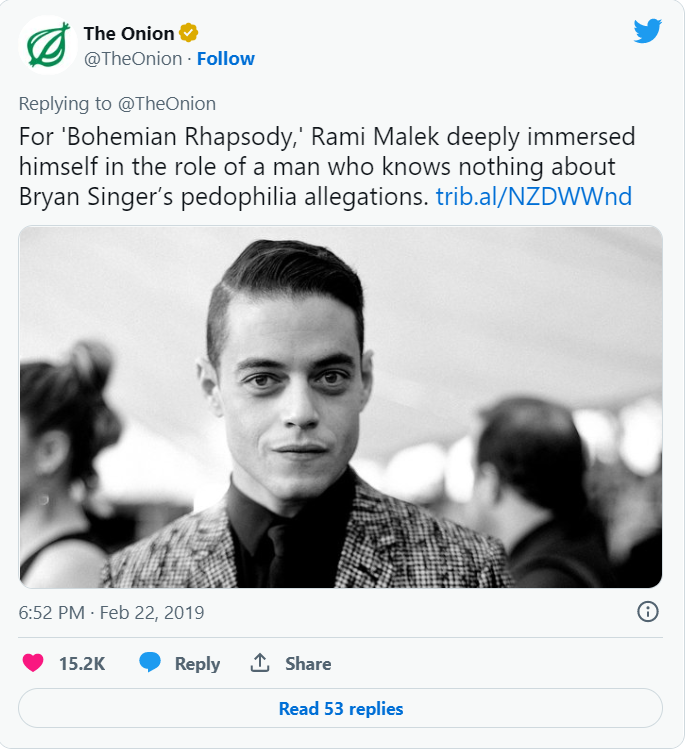 Best Picture

Surprisingly, the actual winner of the Best Picture, Green Book, came fourth in the social media awards with 15 400 mentions.
Out of all the Best Picture nominees, Bohemian Rhapsody dominated the discussion and the reason for that might be the amount of the awards it won. If we look at the topic cloud analysis of the Bohemian Rhapsody mentions, we can see that various categories in which it won awards are very prevalent, along with Rami Malek who took the Best Actor award.

Moreover, some of these choices weren't supported by social media users, which entailed a lot of social media mentions disagreeing with certain wins.
To see if the people wanted to see someone else accepting the golden statuette, I set up an alert monitoring mentions with phrases such as "should win" and "should have won".
And the Internet has spoken: the Best Picture as Decided by Twitter Users award goes to... Roma with 270 mentions. Bohemian Rhapsody (216 mentions) came a close second and Black Panther (206 mentions) got the bronze.
But what about the true underdogs of the Oscars, those filmmakers who didn't get the spotlight? Of course, Twitter has something to say about that as well. I set up an alert to see who should have been nominated and found 1 600 mentions. The most popular opinion on the mistakes of the Academy was that Spider-Man: Into The Spider-Verse (which won in Animation Feature category) should have been nominated for Best Picture.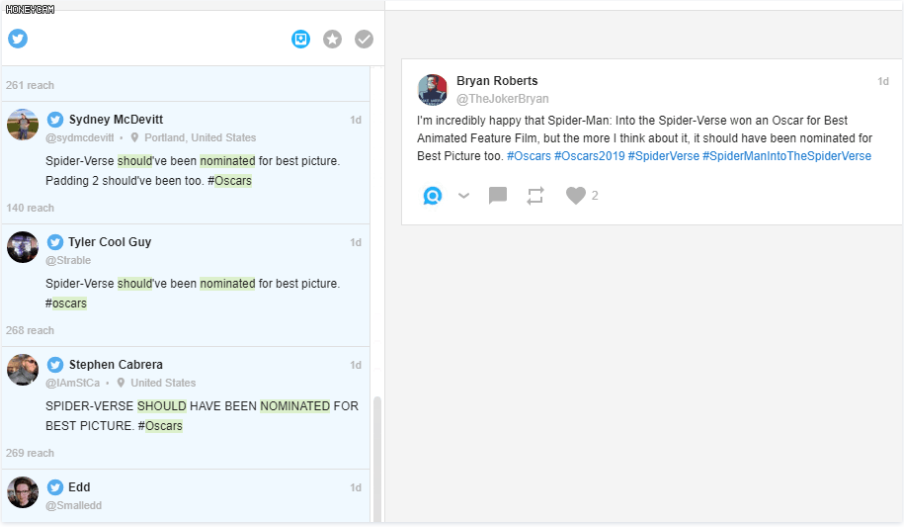 Other people and films which Twitter would nominate for an Oscar include Tom Cruise, Mission Impossible, Rosamund Pike, Hereditary (and Toni Collette), Suspiria, and If Beale Streets Could Talk.
All in all, if there's a lesson to be learned from this deep dive into social media data around #Oscars2019, it is that no matter how obscure your opinion is, there will always be people who share it.