Top 10 CEOs to follow on social media

Article summary
In this article, we list the social media accounts of CEOs who inspire and educate us. Become successful by learning from the people in this blog post!
12 minute read
There are dozens of brand accounts that are worth following on social media to find out "how it's done". Wendy's, Netflix, O2, Spotify, Taco Bell, Oatly... Usually, all SMM effort is going into promoting a brand's account on social media. This pays off: the number of followers grows, the traffic from social media grows, free press follows, the traffic grows much more... And there you have it, a Twitter, Instagram, or YouTube community of loving customers.
There is another way: to have a brand's representative, usually its CEO, attract people, entertain them, teach them, and finally lure them into checking out the product. In this case, the personal brand of the CEO has to be so strong that they practically become a social media influencer.
There is also a third way: for the CEO to use their social media account to promote their values, help people, build the community, and give back to the community. This will not always pay off in terms of the number of customers, but this might make the CEO a happier person, and here at Awario, we're sure this also matters.
To be fair, there are not many CEOs worth following. Most of them just repost publications from the brand's account and are completely uninteresting to anyone who already follows the brand's account. Many don't treat their social accounts as a marketing tool: they post themselves, their children, travels, dogs, and partners - nice and fair, but again, not really interesting from the marketing standpoint.
In this list, I gathered the exceptions: social media accounts of the CEOs who do well on social media and whose example you can follow if you want to build a personal brand, gather followers, and have an account that adds to, if not replaces, the brand's account.
Sign up for a free Awario trial
See Awario in action with a free 7-day trial. No credit card required.
By signing up I agree to the Terms of Use and Privacy Policy
Which CEOs should you follow on social media?
And the first figure is the hero of my recent article, Elon Musk.
You might think the guy is ridiculous and not worth all of the attention he's getting. However, Elon's social media presence is absolutely unique, and I couldn't possibly choose anyone else for the #1 spot.
Musk's Twitter profile (Tesla's and SpaceX's and other companies' CEO is on Twitter and YouTube) is exemplary of how to grab and keep people's attention. He tweets everything, from Tesla's engineering documents to his political views. Without pausing on any particular topic, he covers his successes, failures, relationships, views, and values. You can see there is no plan or strategy there: the personality that shines on Twitter is authentic in its weirdness and controversy.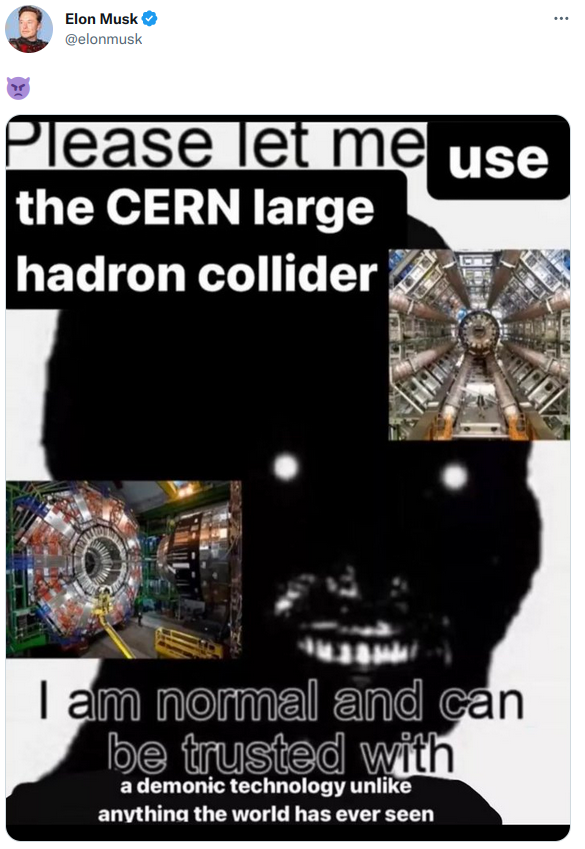 And it works well for him. Elon Musk's account has more followers and higher engagement than any of the companies' accounts and any other CEO. Tesla spends no money on advertising: Elon Musk replaces advertising. His tweets have real, often damaging, power: Tesla's stock regularly jumps up and down reacting to the tweets.
Another CEO who is this exciting to follow simply has to appear in the social media universe, so if you want to be one, follow Elon Musk's Twitter and learn how to be a rock star when you're as far from the music industry as possible.
Enjoying the post? There's more.
Sign up for our newsletter to get our best content by email.
David Karp is the former CEO of Tumblr. You might be actually convinced that you should follow him by this piece of information alone - after all, Tumblr is a strange and intriguing platform.
On his Twitter, David Karp shares his Tumblr's microblogs and messages about social justice, and it's the latter that got him into this list. Lately, many marketers and CEOs showed their support for the Black Lives Matter movement and other social causes. But it's important to do it right, and David Karp did it right. Instead of posting black screens, quotes, and putting #BLM in the Twitter bio, he posted this: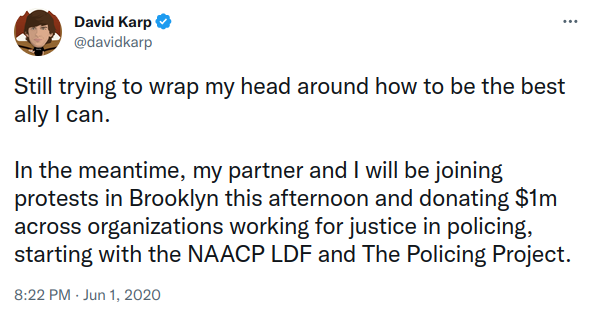 Instead of getting into political conversations about the upcoming elections, announcing his support for a candidate, or otherwise engaging vocally, he did this: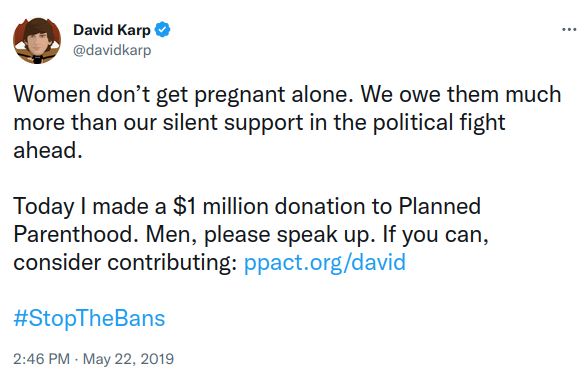 This tweet doesn't only show that David Karp is a man of action, but also that he is one of the rare - very rare - men of Twitter who announce their support for Planned Parenthood. Generally, the conversation around women's rights is left to women. Taking part in conversations that are usually ignored by your own gender, age, race, etc. is bound to get you attention and support. Even when your voice is not backed up by 1 million dollars.
Besides, recently, David Karp posted a print screen of an email he sent out to his team at Tumblr, and that's also a social media win. A rare CEO goes as far as showing how they talk to their employees and what their inner correspondence is. But in our era of authenticity and transparency, it's a great move.
3. Kimberly Bryant, @6Gems
Kimberley Bryant is the CEO of Black Girls Code and an inspiration. On her Twitter, she shares personal thoughts, political views, and experiences and successes of Black Girls Code. She aims to inspire young people of color, bring more good into the world, and at the same time she treats Twitter like what it is - just a platform for random thoughts. Her feed is funny, authentic, and promotes her company just enough for the followers not to get annoyed by the level of promotion.
4. Aaron Levie, @levie
Aaron Levie is the CEO (and self-proclaimed Lead Magician) at Box. Box, in turn, is a cloud content management and file-sharing platform. While it's surely an amazing service, I don't blame you if you don't know it. Box is no Spotify and no Google. Yet, Aaron Levie has 2.4 million followers on Twitter.
Sign up for a free Awario trial
See Awario in action with a free 7-day trial. No credit card required.
By signing up I agree to the Terms of Use and Privacy Policy
His success starts with his Twitter bio. You can say that the guy is laid back and uses Twitter to have fun and probably promote his company a little bit.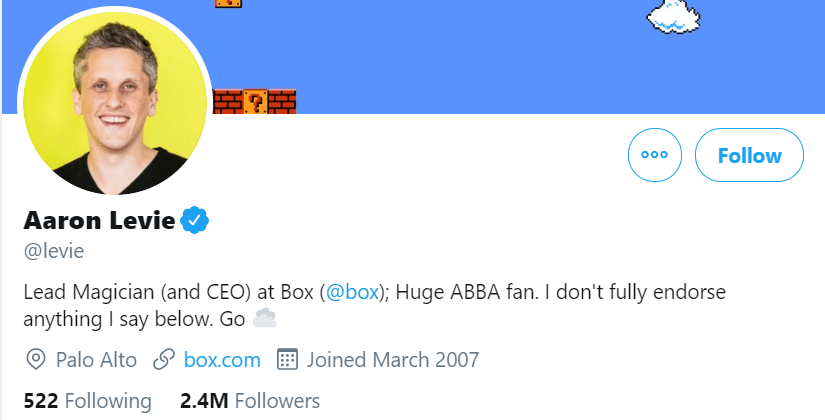 This is true, but also, Aaron Levie talks about important things lightly. Here are some examples:

If you want to speak up about serious issues but avoid being another CEO that gets destroyed for that, follow Aaron and learn.
5. Stewart Butterfield, @stewart
Stewart Butterfield is the CEO of Slack. His personal Twitter account recently got a huge boost in followers, because Stewart wrote a long and detailed thread about what it's like to be the CEO of Slack in the time of coronavirus. You can read the thread by clicking on the post below and getting redirected to Twitter.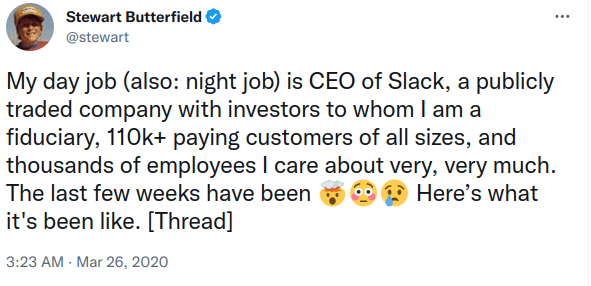 This is a great example of what CEOs have to do more on social media. Open, honest, detailed threads about the job of the CEO get tons of attention, grow the number of followers, and bring real value to the readers.
Stewart often posts insights into his job in addition to sharing information about Slack, Zoom, Dropbox, and other tools that are saving us in these uneasy times.
6. Brian Chesky, @bchesky
Brian Chesky is the CEO of Airbnb. As you probably know (or guessed), Airbnb is going through a hard time. In May, the company had to fire 25% of its employees. Brian turned to Twitter to help his ex-employees find jobs. He showed the world his message to the employees, where he explained why he had to do what he did and what awaits the company in the future. He then created a public directory of ex-employees which makes the hiring process easier. All in all, he used his social media platform to help his community, and isn't it what a good CEO should really do on Twitter.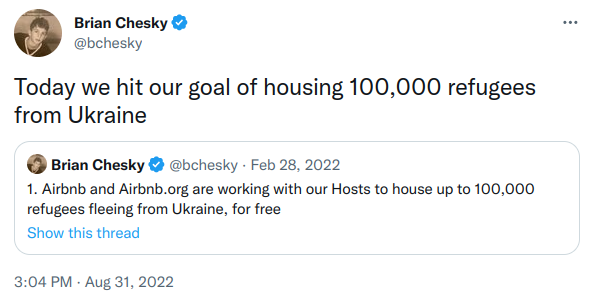 Before 2020, Brian was using Twitter to inspire and promote different Airbnb hosts and experiences. Hopefully, things will at some point return to normal, and you could follow Brian to see how non-aggressive promotion looks like.
Sheryl Sandberg is the COO of Facebook. Her Instagram account has twice more followers than her Twitter account, which might mean she's doing something right there, so I've focused on it. Sheryl's Instagram is all about inspiration, gratification, and support. She posts stories of people that can act as an example to the ones that are struggling to climb the ladder due to their race, gender, sexual orientation, disability, etc. She uses the platform to advocate for equal rights and opportunities and to help those that might be left out.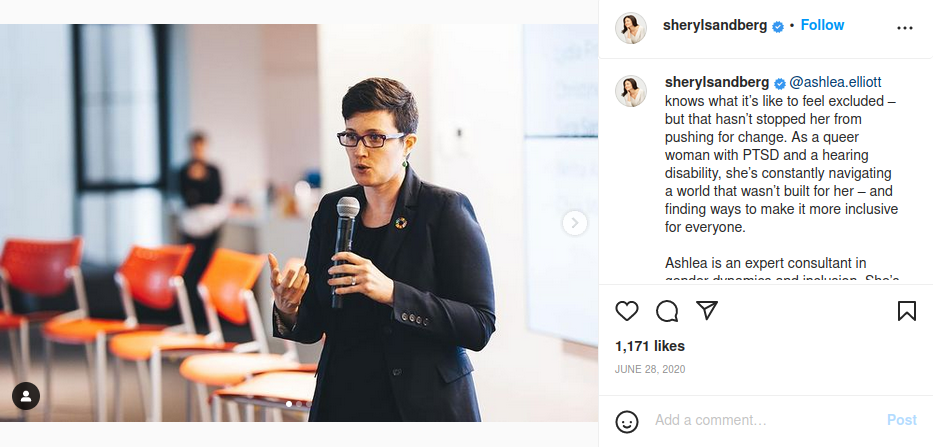 For any CEOs looking for the same course of action, she's the one to follow. For anyone who feels left out, she's also the one to follow.
8. Whitney Wolfe Herd, whitney
Whitney is the founder and CEO of Bumble the dating app. Again, her Instagram account is far more successful in terms of followers than her Twitter account, so I looked into that.
Whitney's Instagram is a pleasant mix of photos and messages from her personal life, her achievements as the CEO of Bumble, and the stories of her journey of building the app. Indeed, it's the stories that catch attention. Which marketer wouldn't want to know how the apps begin to gain followers?
Whitney tells us that all is fair in startups and war. You can even buy people tequilas in bars in exchange for the downloads if you believe in what you do. Whitney also shows that no matter how serious of a person you are, you are still allowed to post photos of your baby, wedding, etc. People love getting a glimpse into the lives of others, and the lives of CEOs are no exceptions.
Jaclyn Johnson is the founder and CEO of Create & Cultivate - an online platform and an offline conference for women who want to bring their ideas to life. Jaclyn's Instagram account looks a lot like any other Instagram account: it's mostly photos of herself, her friends, dogs, and some funny and relevant quotes. Jaclyn stands out not in her Instagram feed, but in the way she constantly communicates with her followers. Her quote from The Zoe Report describes this best:
"Instagram is one of the most powerful tools to connect with your audience. I use it to ask questions, learn more about the women that are in our community, and share my day to day. I also use it to share stories and tips about my own entrepreneurial journey, the good, the bad, and the ugly. But, I often spend most of my time in my DMs, talking to women about their businesses and answering questions they might have. It's an incredible tool to network and now people have access and insights into people they admire like never before."
We had to have a marketer CEO on this list. Larry Kim is the CEO of MobileMonkey and founder of WordStream. He's also a rather famous columnist. Larry Kim tweets marketing advice: which apps to use, which updates to follow, how to create an awesome content marketing strategy. His account is nothing but a feed of truly useful advice with images, graphs, and videos. By following Larry Kim, you'll constantly find out random but important facts: which industries have the biggest unemployment, what's the spent on Instagram marketing by year, what does 1GB of data cost in every country. His account is like a constant flow of information, which is exciting and addictive for any marketer, and slightly useful for everyone else.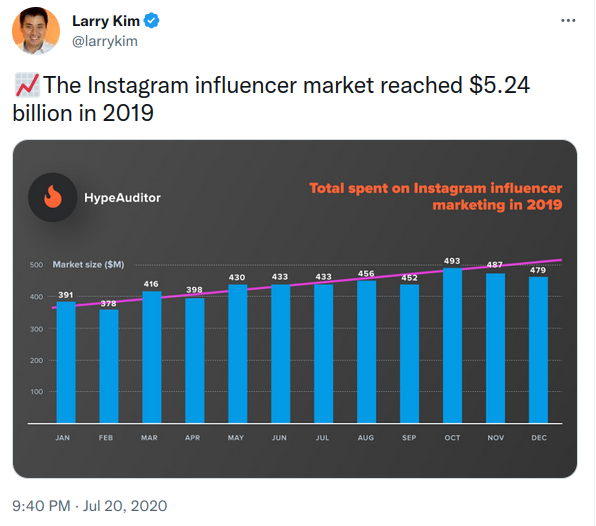 Over to you
Which CEOs do you follow on social media and why? Please, please let me know in the comment section.