Reputation management for individuals: how to monitor your personal brand

Article summary
Thanks to social media, we all have digital traces wherever we move. In this article, we show how you can manage your online reputation and share helpful tips and hacks.
The Information age brought back something the world was just starting to forget: the importance of reputation.
The 20th century was a short period of time when you could move to a different city and start a new life. No one would know your ex-employee, your ex-husband, and the range of things you did back in your hometown.
Today, this is close to impossible, and your reputation matters just as much as when everyone lived in one village and knew each other. Now, you could move to a different continent and it wouldn't matter: your digital trace stays with you, and every social connection you have ever made stays with you forever.
I know this is scary, but truth be told, this is also an asset that you can't ignore. These are the people who'll join you in bringing ideas to life, who'll share your article, recommend you to a new employee, and get you acquainted with your new love.
At the same time, the age of amazing technology brought to life something very new: the importance of your personal brand.
This is the direct result of social networks: the vast amount of people, including your future employees and your future colleagues, get to know you through social networks. Social networks became a tool for self-promotion which people have to now regularly update according to the image of themselves that they've created.
So there we have it: reputation and personal brand as something relevant to everyone, not just celebrities and politicians.
How to do personal reputation management?
1. Google yourself.
You've probably done this before. Googling is the first thing people do when they hear about the individual they want to hire, work with, read a book of, vote for, etc. What you see in the first page of Google is what matters. If you don't like what you see, a couple of hacks might help you.
Create multiple social media profiles and make sure they are updated with relevant information. Google shows social profiles in its top ten results, so they'll take up space and move negative articles to page two.
Look up what keywords the articles with negative or harmful information rank for. Create positive content using these keywords.
If you're a public persona, create a personal website and do robust SEO to make it rank first for your name. Track your rankings regularly to make sure it stays there.
2. Take care of your social media profiles.
Go to all of your social media profiles. Make sure the information presented there is full, relevant, and consistent. Regularly update your accounts with new photos, articles, and personal information that you don't mind sharing. Use Buffer or similar tools for posting one piece of content to different social media accounts.
Look at what you "like" and who you "follow" on your social media accounts. Scroll back to the beginning of your social media history and find out what you've shared in the past. Consider the ancient posts keeping in mind that everything can be used against you. There was more than one case where a politician would follow an indecent Twitter or Instagram account, and there were many, many cases where a sexist, racist or otherwise horrible tweet from the past has cost a public person their career.
Go to the privacy settings of each social network and make sure it's difficult to hack into your profile.
3. Listen to what the Internet says about you.
If your personal brand is really important to you, there's a way to constantly monitor your personal brand, i.e. your name. Whenever someone will mention it on a social media network, a news site, a blog, or a forum ― you'll know. You'll be able to reply in time, like, share, or comment. And after some time, if you're a rather famous person and the Internet talks a lot about you, there will be enough data to tell you whether your popularity is growing, which sentiment is prevalent (positive, negative, or neutral), which topics appear most often around your name, and so on.
Sounds useful, doesn't it?
This is called social listening (or social media monitoring) and is done with a social listening tool, such as our own Awario. Here're the steps you can take to do personal reputation management.
1. Create an alert for your name (include any abbreviations, common mistakes, and alternatives).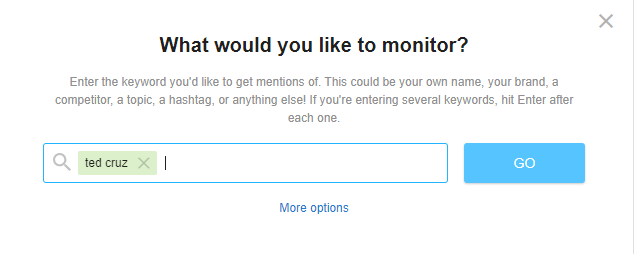 2. Choose sources, countries, and languages you're interested in.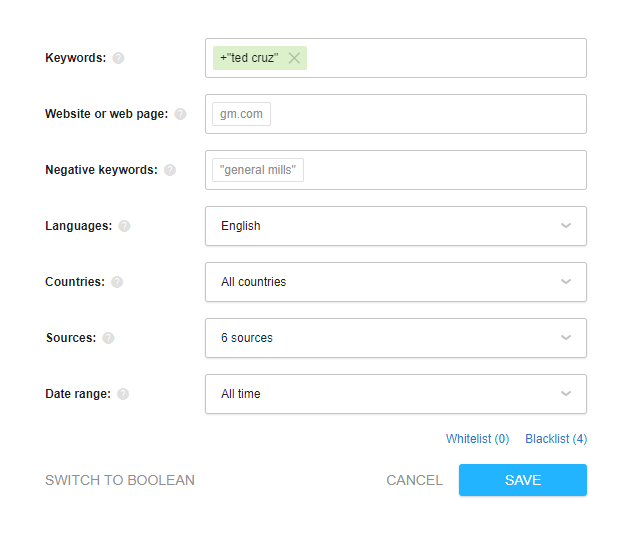 3. Give the tool some time to collect mentions.
Twitter will return mentions in real time, but other social networks, news sites, blogs, and forums will take a bit longer.
4. Look through the Mentions Feed to see individual mentions.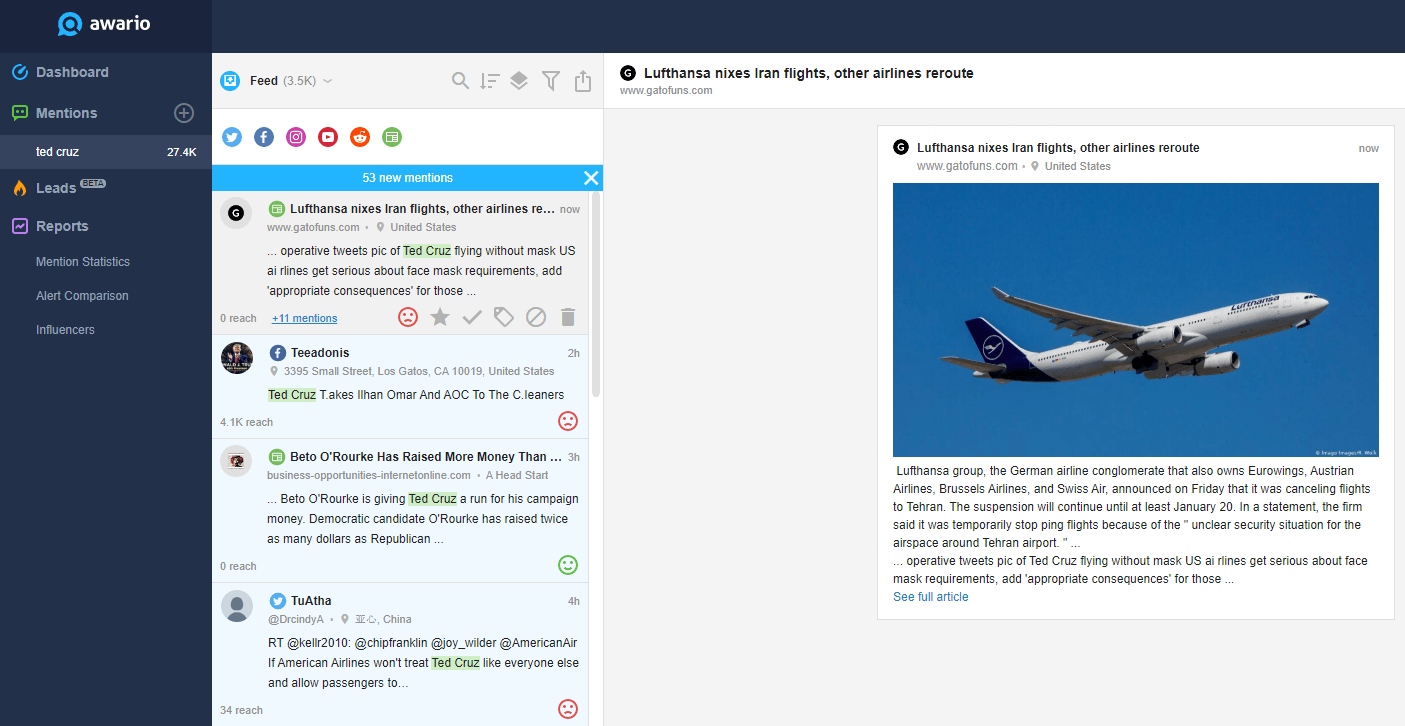 The feed will show all posts that mention your name. It will keep them coming in real time.
As noted before, you can reply to social media posts straight from the app or by being redirected to the social network. You can filter mentions to see the ones written by the most influential authors (authors with the biggest following or websites with the biggest traffic). You can also filter mentions by date, source, country, language, location, sentiment. For example, you can choose to only see positive mentions from the day of your book launch.
5. Go to Dashboard for a quick look at your analytics and go to Mention Statistics for a detailed analysis of your personal reputation.
6. Bonus tip: influencers and competitor research.
While these are not essential for reputation management for individuals, discovering your influencers (part of Awario's analytics) can be useful and plain interesting. You'll know which influential people have mentioned you, and you can then think about what you can get out of it.
Competitor research is another feature of social listening and requires you to create a couple of alerts. So if you want to see who gets more attention online (and what kind of attention) create an alert for your name and for someone else's name. For example, if you're running for political office, you might want to know which one of your rivals gets the most attention. Or, if you're comparing yourself to another prince, you might want to know who is more popular among the people.

Sign up for a free Awario trial
See Awario in action with a free 7-day trial. No credit card required.
By signing up I agree to the Terms of Use and Privacy Policy
What should you do with the information you find?
This depends on your goals and fears. If your goal is not just to avoid a negative reputation, but to build a positive one and to become an expert and an influencer, there are some well-known methods:
Communicate with people that mention you. Reply, comment, like & share. Build relationships.
Join discussions in your area of expertise.
Have a blog.
Write guest posts.
Give interviews.
Collaborate with influencers.
All of this obviously takes time and effort, but being even relatively famous pays off. In 2020 and especially in the following years, having an online audience isn't just for celebrities and politicians. It's for everyone: the more people have heard about you, the easier it is for you to sell a product, find a job, find an employee or a colleague. The further we are into the future, the more apparent it is that we are selling ourselves - our unique personalities, skill sets, and ideas. And there is no better place to show these off and find a buyer than the Internet.
However, if your goal is to just have a "nice and clean" digital trace, this is also fair. To achieve that, follow the tips above.
And if you're living through a social media crisis like this guy Ted Cruz who I decided to use as an example of how social listening works, it might be worth contacting a reputation management agency. Luckily, in our age of reputation rebirth, there is a bunch of them.
Enjoying the post? There's more.
Sign up for our newsletter to get our best content by email.