5 best tools to measure Share of Voice
Summary
In the article, we'll tell what is Share of Voice, how to count it, and why on Earth you need it among your metrics. Let's dive into the details to inveil the secrets.
If you're familiar with competitive analysis, you know about Share of Voice. This metric describes a share of conversations about a given brand, product, or service in comparison to its direct competitors. Simply put, Share of Voice measures your brand awareness and compares it to your competitors'.
Why measure Share of Voice?
The value of competitive analysis is clear: you can't find your exact niche, define UVP, and decide on your development and marketing strategies without it. To assess the market clearly, you have to know the market share of each of your competitors. If you've been in business for some time, you are also obviously interested in your own result. While the actual market share is pretty much impossible to assess, you can use Share of Voice as a substitute metric. The comparable level of conversation the social media and the web produces is a good marker of how known and how popular the brand is.
Do you need Share of Voice tools?
To measure Share of Voice, you'll need a social listening tool. It won't stop at simply measuring the Share of Voice metric. Instead, it will show insights into the online presence of different brands so that you could understand the causes behind some brands being more popular or more talked about than others.
Here are the top five tools to check out.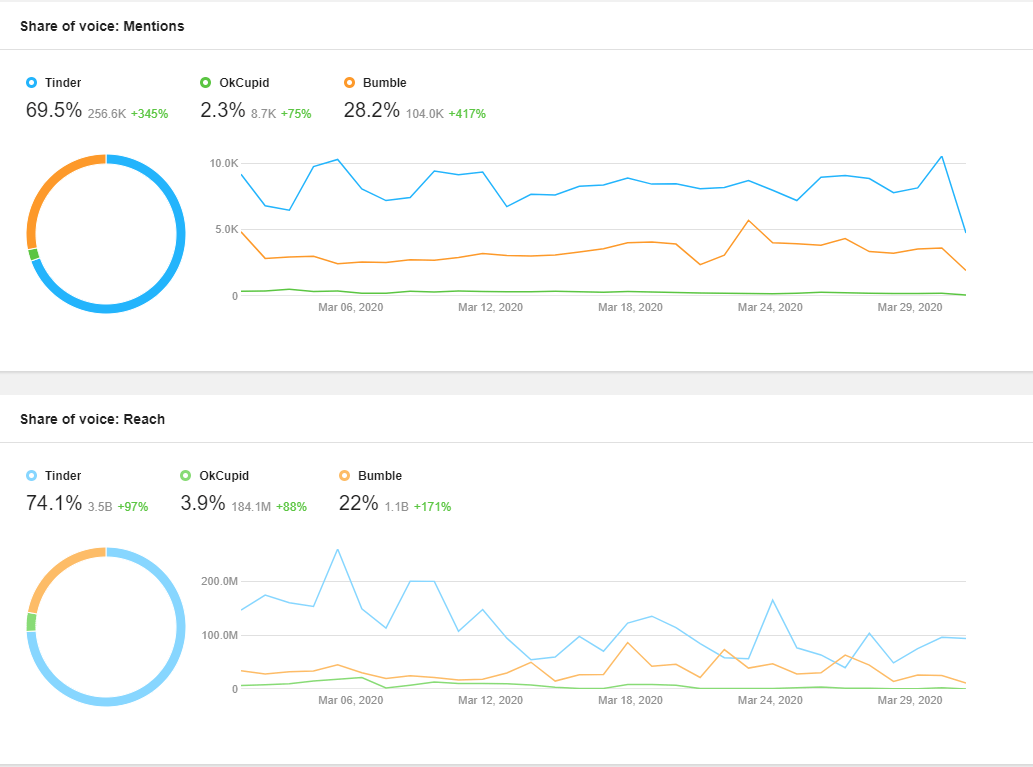 Awario monitors all major social media networks (Twitter, Facebook, Instagram, YouTube, Reddit), news, blogs, and the web. The tool determines your brand's and your competitors' respective shares of conversation online. After you know the overall Share of Voice for your brand and for competitors' brands, you can dig deeper and compare the buzz around brands by sentiment, locations, languages, social media sources, and so on. The tool lets you know not only how much people talk about your brand, but also what they say and where they say it.
The same analysis performed for your competitors can reveal some exciting findings: for example, you will know which competitors gather mostly negative comments, which ones are popular only on specific social media networks, and whose popularity is heavily forced by the news sites.
Awario collects data in real time. This means you can observe how yours and your competitors' metrics change over time, and how your actions and the actions of your competitors affect your respective shares.
Awario has three paid plans, so whether you are on a strict budget or not, you'll find a fitting option. The Share of Voice metric is included in each plan.
Pricing: $29/mo for the Starter plan, $89/mo for Pro, and $299/mo for Enterprise. Saves you 2 months with a yearly plan. Offers a free 7-day trial.
Sign up for a free Awario trial
See Awario in action with a free 7-day trial. No credit card required.
By signing up I agree to the Terms of Use and Privacy Policy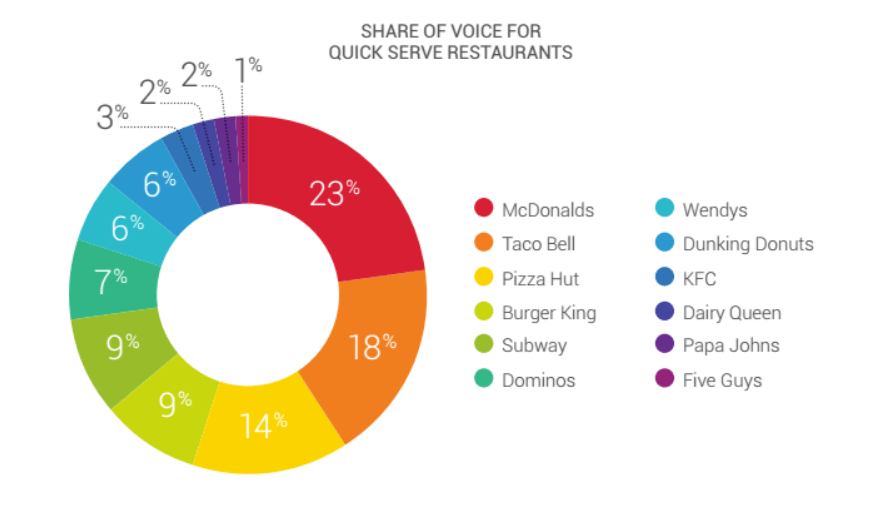 Brandwatch monitors all major social media networks, most niche social networks, news sites, blogs, forums, and the web. If you lack a source, you can add it manually, and Brandwatch will start monitoring it as well.
Brandwatch is often used for thorough and data-rich competitive research. It doesn't only show Share of Voice for each brand but also compares them by sentiment, demographics, location, the interests and professions of their audience. The tool is highly useful if you want to discover more about your competitors' customers and advocates and see how this knowledge could help you promote your own brand.
Pricing: available upon request.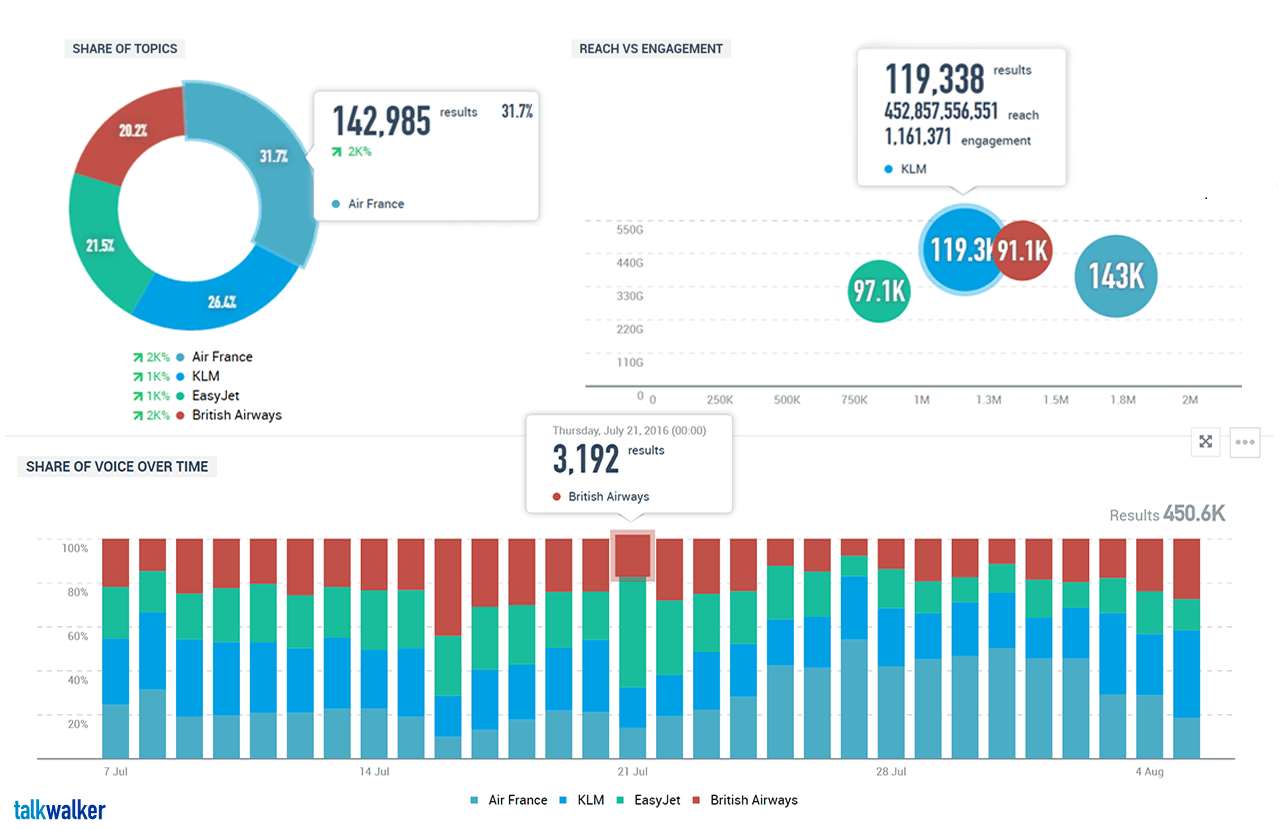 Talkwalker monitors most social media networks, blogs, news, and the web. It shows Share of Voice and net sentiment for each brand. You can compare the conversations around your brand and competitors by sentiment, engagement, specific topics, locations, languages, social media sources, and so on.
The search is happening in real time, so you can watch your brand's Share of Voice and related metrics change over time and spot what the changes depend on.
Talkwalker has a free option, Talkwalker Alerts. While Talkwalker Alerts won't calculate the Share of Voice for you and won't provide you with any insights into the data, you can still run a search for mentions of your brand and for mentions of your competitors' brands, and calculate Share of Voice by hand in a separate Excel spreadsheet. Scroll down to the tool number five to find out how.
Pricing: starts at €6000 per year. Other pricing options are available upon request.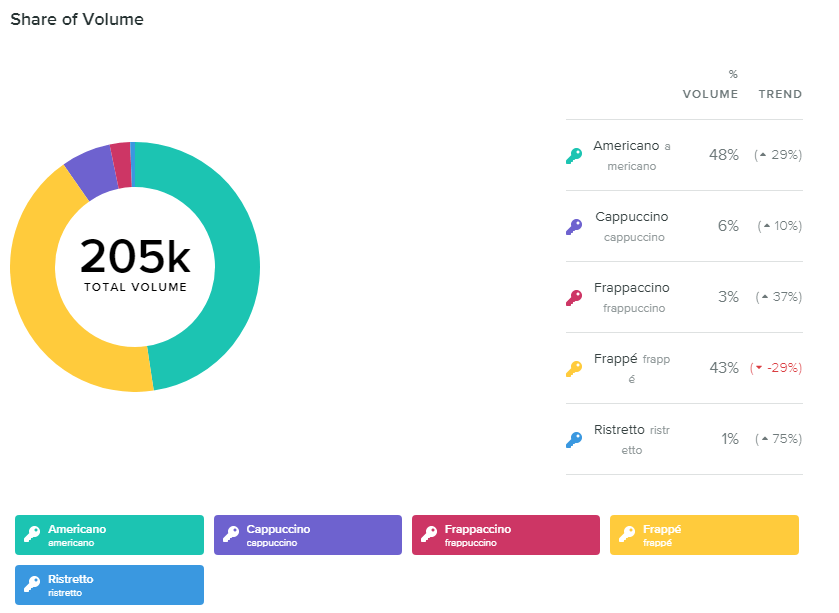 SproutSocial is a social media management tool with social listening as one of its features. This means SproutSocial covers not only your overall brand awareness but also your advertising efforts. The tool measures Share of Voice on social media, news, blogs, and the web just as other tools on this list, and it also measures PPC Share of Voice. This makes it one of the best Share of Voice tools. You get a clear understanding of where your brand stands both in terms of its organic reach and advertising. You can also compare engagement and analyze the products to discover their own shares.
Pricing: $99/mo for the Standard plan, $149/mo for Professional, and $249/mo for Advanced. Offers a free 30-day trial.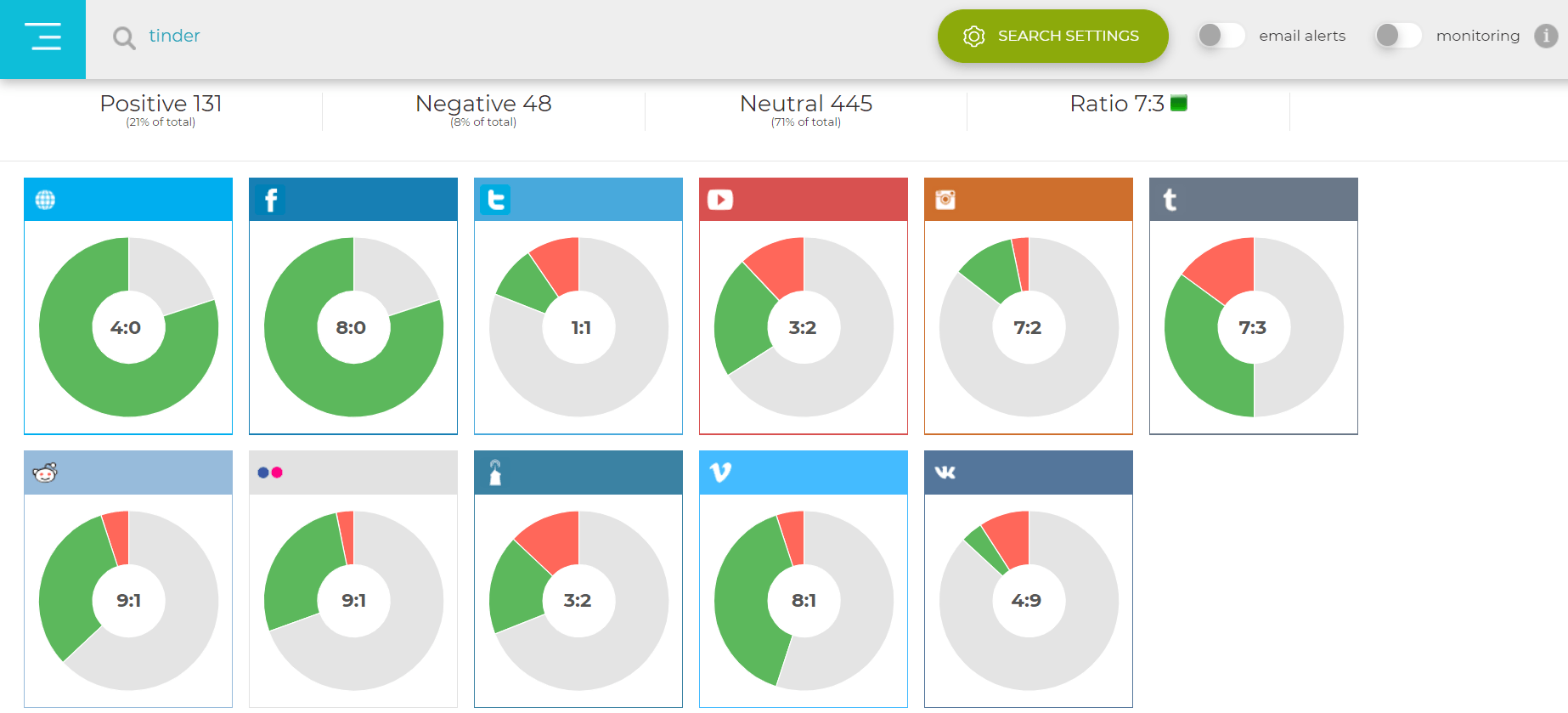 This is a free option for those who don't want to invest in paid tools. Social Searcher monitors major social networks and the web. If you enter the name of your brand in a search bar, the tool will search the mentions of your brand among its sources, and then return a number. You'll also see a number of authors who've supposedly talked about your brand and the brand's overall sentiment. Save the number of mentions in a Google spreadsheet, and repeat the process for all of your major competitors. Make sure to copy all the results into Excel, as Social Searcher doesn't save the information.
Once you've collected the data on all of your main competitors, add up the number of mentions for your brand and your competitors' brands. Divide the number of your mentions by the total number, and turn the fraction into a percentage to get your Share of Voice. Repeat for every competitors' brand if you're doing that as a part of competitor research.
You can use this Google spreadsheet to help you with calculations. Simply put down your numbers instead of the numbers in the table.
Final words
Knowing your Share of Voice will inevitably encourage you to increase it. Luckily, most tools on this list will help you with this, too. Awario, Brandwatch, and Talkwalker reveal relevant social media influencers, collaborating with whom can quickly and effectively raise your brand awareness. The tools will also help you with finding relevant journalists and bloggers that will spread the word. And, of course, don't forget that social listening tools are great for perfecting customer service: all mentions of your brand, tagged and untagged, from all social networks appearing in one place making it easy to reply to them and make disappointed customers happy and satisfied customers even happier. And isn't that what your brand is all about?
Enjoying the post? There's more.
Sign up for our newsletter to get our best content by email.