When as a teenager I went to live at a boarding school, my mum told me to never discuss three topics: sex, nationality and religion. She told me these topics are controversial, and I'll definitely make enemies by initiating them. Surely, these were the exact topics we discussed at almost every dinner. And what's worse, these were the only ones that seemed worth talking about. Everyone had an opinion, everyone was passionate about their opinion. Controversy worked like magic: suddenly the shy ones, the snobbish ones, the misanthropes – everyone would start talking.
"Getting everyone talking" is one of the main advertising goals. It leads to brand awareness, engagement, traffic, and, ultimately, sales. On the other hand, no brand aims to offend a huge group of people, some of which may be in their target audience, and that is exactly what controversies do. On the third hand (imagine you're an octopus), it's pretty hard coming up with a controversial ad that at the same time isn't scandalous enough to get banned. As much as you believe that sex sells, you are simply not allowed to show a short pornographic video involving your brand's cereal on national TV (and even on YouTube). So how do brands deal with all this and what consequences do their risky tactics face? Let's look at some notable examples.
1. Kendall Jenner Pepsi ad (2017)
Here comes the ad that caused the most outburst this year and was called controversial, tone-deaf, plain stupid. It was accused of trivializing protests, the Black Lives Matter movement, the literal live-or-death matters for people throughout history. All of this being undoubtedly true. In case you missed the ad, it shows Kendall Jenner, the TV star and model, ditching her photoshoot and joining the protesting crowd with ridiculously vague posters. She then hands a can of Pepsi to a police officer, which he accepts, and the peace in the world seems to be restored. You can watch the ad here:
In 24 hours Pepsi had to remove the ad from both TV and their official YouTube channel due to the negative reaction that flooded the Internet. The ad was named "The best ad for Coke". But it did produce loads of conversation, so Pepsi still won something over, right? I assume not. People.com tells that the ad cost at least $2 million and around $5 million, including Kendall's fee, with the media buy being roughly $100 million for a campaign. With the Bangkok-filmed ad costing this much, the fact that it's been pulled this soon must've been damaging.
2. Airbnb's "#Weaccept" ad (2017)
Another company that went into current politics, nationality and race issues was Airbnb. But (spoiler alert) unlike Pepsi they got it right. The ad reacted (or seemed to anyway) to the Trump's travel ban and shows a range of faces of different nationalities that should be equally accepted in the Unites States. While the company can't say for the U.S., it at least guarantees that all nationalities will be equally accepted by Airbnb. Here's the ad:
CEO Brian Chesky said on Twitter that the people in the ad were Airbnb employees, which gives the ad a realistic background: something most brands that attempt to portray a similar message lack. Moreover, Mr Chesky had offered "free housing to refugees and anyone not allowed in the U.S." on behalf of the company following the ban announcement. He also promised to contribute $4 million over four years to the International Rescue Committee. So you know it's not just a single ad – it's a brand image that Airbnb aims to have. It's done with a hint of self-consciousness, which, again, differs Airbnb from Pepsi, Coke and the like. The company made an announcement that said:
We couldn't talk about the lack of acceptance in the world without pointing out the challenges in our own community at Airbnb. The painful truth is that guests on Airbnb have experienced discrimination, something that is the very opposite of our values. We know we have work to do and are dedicated to achieving greater acceptance in our community.
That's how Airbnb produced loads of talk (not only positive, mind you), but didn't have to pull their ad; increased their brand image among their target audience, and gained worldwide support.
3. Carl's Jr.'s "Au Naturel" & Carl's Jr.'s "Carl's Sr. returns" (2015, 2017)
Let's go a bit back in history, when Trump wasn't elected yet, and marketers aimed at more sexy and less political controversies. For years the fast food company's marketing was all about burgers and beautiful women. Carl Jr.'s aired Paris Hilton, Kim Kardashian, Kate Upton and others, eventually filming Charlotte McKinney in their 2015 ad promoting Carl's Jr.'s "Au Naturel" burger. You can watch it here:
Every racy ad ever produced by the chain evoked much talking. The brand was accused of producing soft porn, degrading women, and what not. At the same time they were often told on social media that the only thing that makes people buy the burgers were the ads. Carl's Jr.'s CEO Andy Puzder once said that the ads saved Carl's Jr. from obsolescence. He told Entrepreneur:
"If you don't complain, I go to the head of marketing and say, 'What's wrong with our ads?' Those complaints aren't necessarily bad for us. What you look at is…sales. And our sales go up."
Yet in 2017 they stopped the sexy ads, refocusing on brand's history and food quality. This move was as controversial for Carl's Jr. as the years of half-naked models: the young and hungry audience argued in the comments section, producing much buzz and attention for the brand. The new ad actually makes fun of the old sexy ways, and looks like this:
See the difference and decide for yourself! And in terms of sales, we'll see if the new, ironically conservative approach will do for the brand what the combination of girls and burgers used to do.
4. Calvin Klein's "#Mycalvins" (2016)
Calvin Klein is known for controversial advertising. But I mean, they sell lingerie. What lingerie brand would resist provocative sexy ads? Look at Victoria's Secret Facebook Page or anything Agent Provocateur has ever made. And as the society gets shocked less and less easily, what brand would be able to keep up the shocking element?
Yet Calvin Klein managed to outdo themselves, going provocative and creepy by including models that look very young in the ads. The billboards, posters and the like looked like this in their 2016 campaign: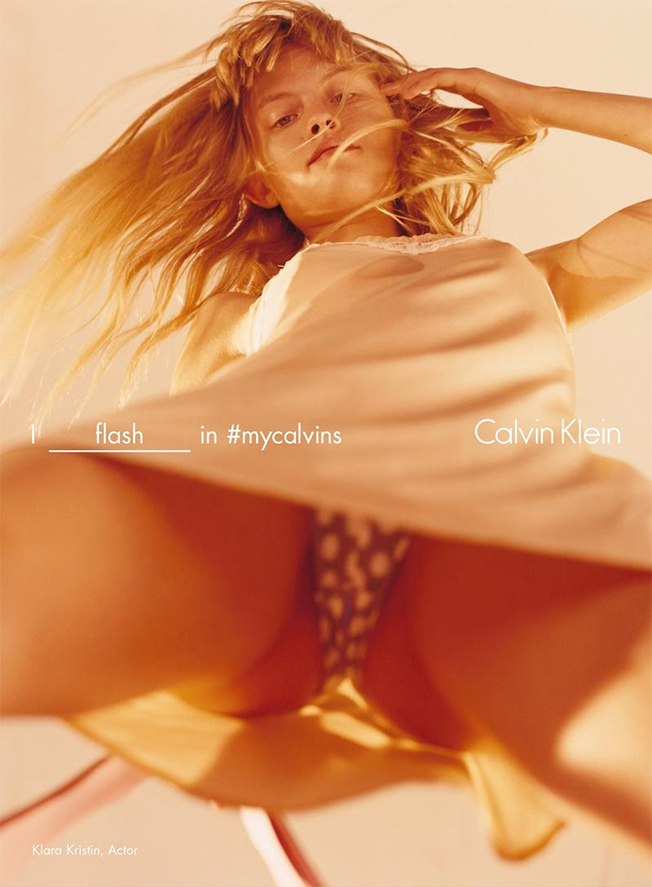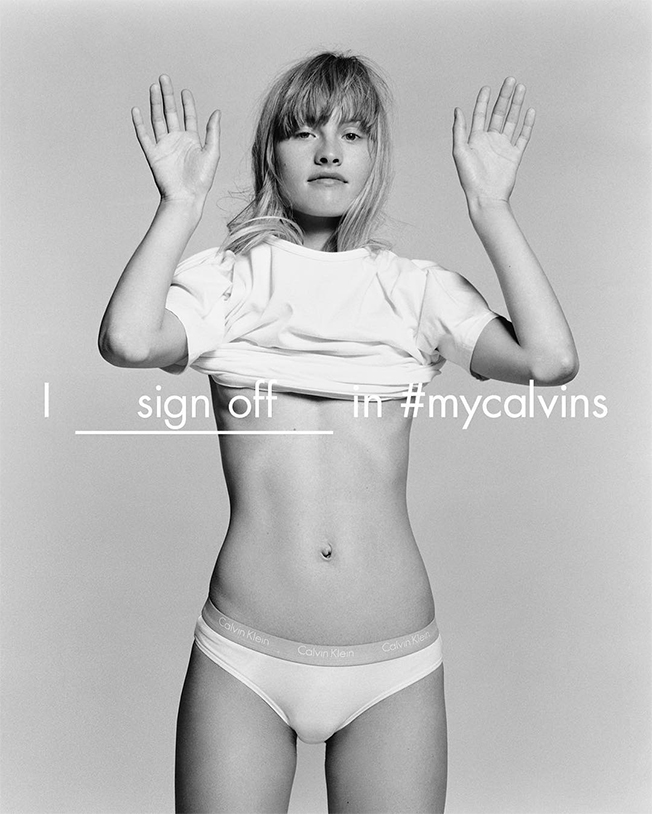 You guessed it, there are worse ones. Now when writing about Calvin Klein, I felt a strong need to put NSFW links instead of actual pictures, but some of these pictures were on billboards on the city streets for everyone to see. Not OK? Surely, the campaign was followed by loads of talking, most of which was negative. However, Calvin Klein deleted nothing. All the images remain on their social media channels to this date. The brand also ignores any comments and mentions on social media channels that are aimed at this campaign. We can only guess how it affected the brand in sales.
5. Diesel's "Be stupid" campaign (2010)
I have a confession to make. Back when it came out, I loved the "Be stupid" campaign so much I actually started popping in Diesel stores. It resonated with me on a nearly incomprehensible level. It was funny, and it somehow made me feel better about my mistakes and my hangover. It didn't seem that controversial: surely, "Be stupid" is a counterintuitive slogan, but it's simply edgy. And with most ads happening, "edgy" isn't a serious threat to the public, is it?
Yet the campaign was banned in the UK for being offensive and encouraging antisocial behaviour. And won a top prize at the Cannes advertising festival a week before being banned. Fully controversial. Here're are some images from the campaign that ended up as billboards, social media posts, magazine ads, etc: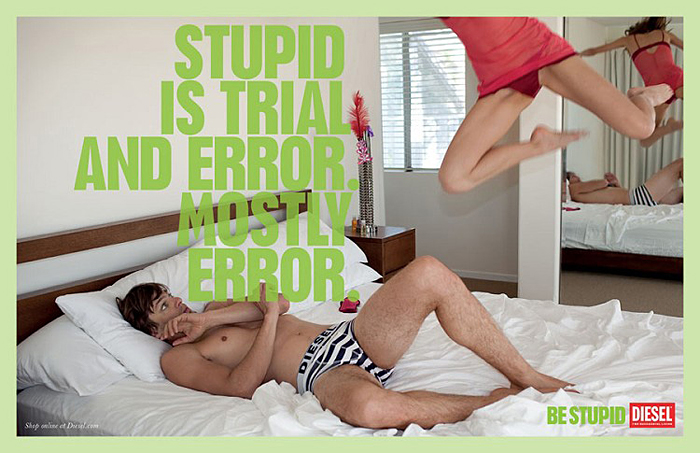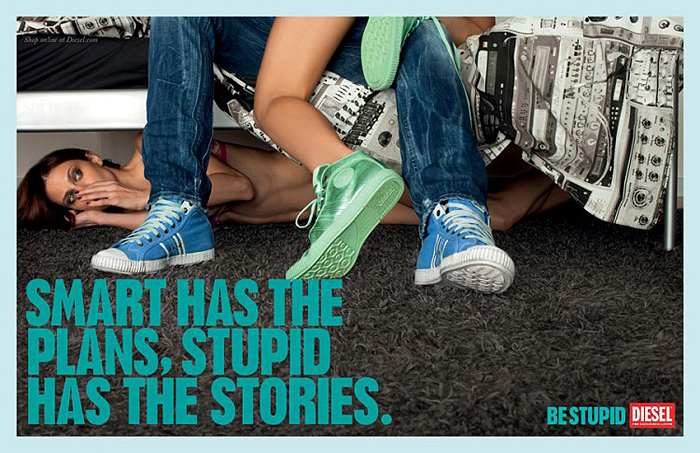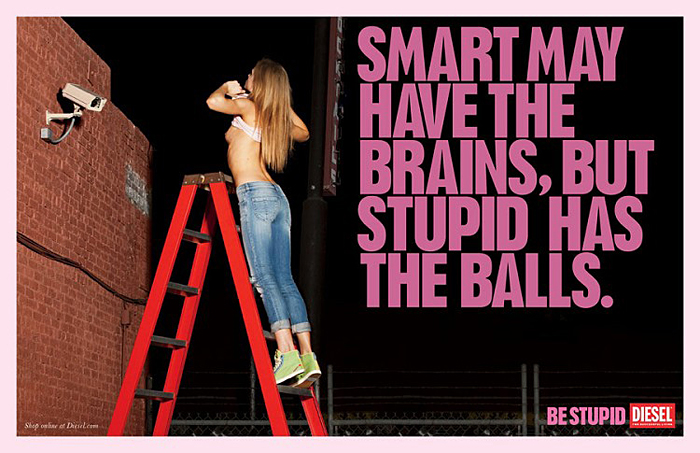 Probably no ad produced quite as much talking, arguing, and side-taking in 2010 as Diesel did. The non-target, older audience predictably disapproved of it, claiming it could lead to the increase of antisocial behavior among teenagers. But let's face it, a picture above is something probably none of the girls from Diesel's target audience would actually do. But most would want to feel like they could do it, because they have the balls, as the ad put it. Because Diesel's TA is just that: teenagers and young adults that want to feel brave, spontaneous and creative.
There was a mixed reaction to the ad among the target audience. Some loved it, some saw it as a satire on the current political and economic situation (2010 wasn't the best year for those that are usually perceived as smart: diplomats, bankers, economists), some got offended that their generation was basically called stupid, some claimed that such advertising is simply, well, stupid and ineffective. Yet they talked, proving the opposite. And discussing this one was far more interesting than discussing Calvin Klein or Pepsi as those ones make a large number of people cringe. Funny ideas for sometimes antisocial behaviour don't make anyone cringe – that's the difference. Naturally, Diesel also got loads of free press. But again, unlike the ads discussed above, the press wasn't totally negative.
Diesel is no Pepsi – many haven't even heard about them before the campaign. And I assume more people started walking into the stores to check what these "stupid" guys were even selling.
---
This just begins the list of modern controversial ads. Are there any that stand out in your opinion? Share in the comment section!