5 ways social listening can help financial services
A common misconception is that if a brand isn't all about fun and entertainment or at least food (which, let's be honest, is both), it shouldn't be on social media.
Serious brands can't have a Twitter account and post memes to engage with their audience. Moreover, said audience isn't even using social media. They are out there working hard all day. When they need financial advice, they Google it - in the worst case. But surely, they don't seek the info about which bank to trust their money with on Twitter, do they?
Turns out, they do. 74% of consumers use social media to guide their purchasing decisions, and these decisions aren't only related to which burger to order today. SproutSocial did a study where they discovered that not only people talk about finances on social media, they often mention the brand, expecting the response. In fact, they found that 46.6% of the conversations about finances that take place on social require an answer, and only 13.4% get it. What does this tell us?
Financial industries are falling behind in social media marketing despite the growing necessity for it.
According to the HootSuite's report for Social Media Trends Report for Financial Services, it was only in 2016 when the financial sector started to adopt social media into its marketing strategy. With this, trust for financial brands increased. According to Edelman's 2016 Trust Barometer, trust in the financial services industry is amongst the fast-growing. Yet, unsurprisingly, it's still at the bottom of the list among industries analyzed.
In this post, we'll see what the financial brands can take from social listening.
1. Understand the market
Just like all other brands, financial companies have to understand their audience to provide better services and effectively sell them. Just like all other brands, they've been using focus groups, surveys, and other traditional methods for a very, very long time. Social media listening shows what people say when they discuss "banks", "credit cards", "loans", etc. And, of course, what people say when they discuss a specific financial company.
However, this is just a part of the story.
Social media data can help with uncovering upcoming economic trends. A study by the European Central Bank found that Twitter is an "economically significant" predictor of international stock market sentiment. Anyone surprised? After the influence that Donald Trump's and Elon Musk's tweets have had in the past year?
Social media is also used to plot socioeconomic trends. IBM reports that research published in PLOS One analyzed 19.6 million geo-located Tweets from across Spain to produce an accurate picture of regional unemployment.
That's the kind of thing you can do with social listening.
2. Perform better competitive analysis
Social media data shows the share of conversation that takes place online about a given company compared to its competitors. It shows also what people say about one company compared to the other, how the sentiment around these brands differs, as well as the languages, locations, and social media sources. It takes concepts such as "attitude" and "awareness" from social media and includes them into the competitive analysis.
Besides, social listening makes it easier to understand how your brand is doing compared to FinTech startups. FinTech is becoming a threat to traditional financial services, taking many of their customers away. Social data shows what customers prefer about FinTech and gives the traditional services an opportunity to invest in time, upgrade their own banking or other apps, and understand how to market to customers interested in innovative products and services.
3. Provide real-time customer service
What increases people's loyalty and trust for financial services? What makes financial services stand out from their competitors? What shows the "human face" of banks and credit card companies and makes people choose them even if the costs are lower somewhere else?
The answer is customer service.
In times when branches are closing and banking becomes impersonal, it's all about the inherently friendly social media and customer service.
People have tons of questions and problems when it comes to banking and financial services. The experience is often frustrating and the apps are too complicated. Millions take their questions and frustration to social media, voicing their opinion on Twitter and Facebook and asking questions. Taking care of these conversations, giving tips, and solving the users' problems is sure to improve the company's image.
Barclay's is one of the banks that's working hard to increase their level of customer service on social media. Their account works 24/7. Customer support doesn't go out of their way to become a hilarious social account (which they shouldn't be doing, banks are serious business), but at the same time, they sometimes joke with their customers and generally don't resemble phone answering machines. And this is already pretty cool.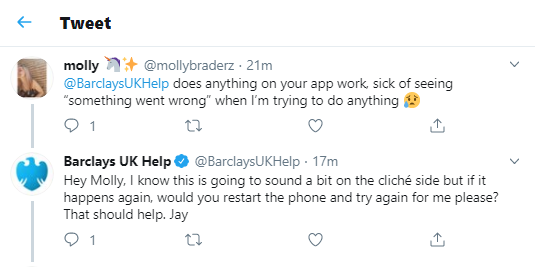 4. Prevent a crisis
Banking and financial industries constantly face some sensitive and high-value issues when working with their customers. Monitoring the sentiment of the online buzz about the brand helps companies to discover and deal with any problems that might escalate. In Awario, you can create an alert for a company and go to Dashboard to get a quick look at brand sentiment, brand mentions, topics discussed around the brand, etc. in real-time. So, if there will be a sudden rise in the negative sentiment or an unpleasant topic that suddenly popped up in the most discussed ones, the company will be the first to know and will have time to take steps before the news sites take over.
It's essential to have a crisis plan in order to prevent a crisis from escalating. Decide in advance what constitutes a crisis, what are the risk factors, who should be tasked with what in each situation.
5. Create a successful marketing campaign
Creating a campaign that attracts new clients might be harder for financial industries than it is for most other brands. This is especially true for social media marketing, where a backlash is usually loud and clear. For example, in 2013, when J.P. Morgan had joined Twitter and started with SMM, they decided to launch a Q&A "What career advice would you ask a leading exec at a global firm?" with the hashtag #AskJPM. The hashtag went viral in all the wrong ways. People attacked the company, referencing a recent court case in which J.P. Morgan was fined $920M.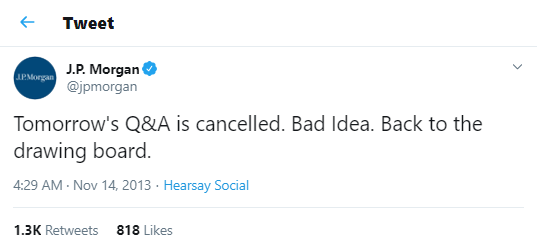 Not that this light-hearted tweet saved the day, but at least the company realized the idea was bad in time and decided not to go forward with it, not to justify themselves, and not to attack their followers. Going back to our point on crisis plans, this response should definitely be a good example of how to react to a social media mini-crisis.
Since then, J.P. Morgan shares financial advice and other information that their followers may find useful.
Other brands do their best to expand their customer base with the help of social media. For example, BNP Paribas bank created a social media community for tennis lovers called We Are Tennis. They also sponsor tennis events, which work as retargeting for them. The bank's social listening tool reported that the conversation about the bank grew and started involving tennis. While BNP Paribas doesn't sell anything in their social tennis community, it still attracts people who probably otherwise wouldn't be considering this bank.
Then we have Bank of America. After doing their research, they turned to Pinterest (unexpectedly!) to attract some new audiences and promote their Better Money Habits site. On Pinterest, Bank of America created boards for different life moments, or rather, purchasing moments, e.g., buying a home or going on a trip. The pins directed viewers to the campaign's website that had educational financial content. In less than five months, the campaign reached nearly 6 million people.
Social listening is unavoidable for the campaigns like this: you have to decide on the social platform, see how the campaign unfolds, and monitor the results.
The web is talking about your brand. Start listening.
Sign up for Awario to never miss a mention of your brand.
Free 14-day trial, no credit card required.