5 ways social listening can help banks and financial services

Article summary
Banks started using social networks later than companies from other industries. To succeed in this new for many brands field, they need to do the groundwork as audience and competitive analysis. In this post, we'll see how social listening can help them with this task.
Updated on June 8, 2021
Some marketers believe that solid B2B brands as banks will not be able to succeed on social media.
Serious brands can't have a Twitter account and post memes to engage with their audience. Moreover, said audience isn't even using social media. They are out there working hard all day. When they need financial advice, they Google it – in the worst case. But surely, they don't seek the info about which bank to trust their money with on Twitter, do they?
Turns out, they do. 74% of consumers use social media to guide their purchasing decisions, and these decisions aren't only related to which burger to order today.
SproutSocial did a study where they discovered that not only people talk about banks and finances on social media, they often mention the brand, expecting the response.
In fact, they found that 46.6% of the conversations about finances require an answer, and only 13.4% get it. What does this tell us?
Financial industries are falling behind in social media marketing despite the growing necessity for it.
Social listening for banks and financial services: how to benefit?
In 2018, HootSuite's experts revealed that it was only in 2016 when the financial sector started to adopt social media into its marketing strategy. With this, trust for financial brands increased. Yet, unsurprisingly, it is still at the bottom of the list among industries analyzed.
Finding out which social networks are favored by finance companies, I analyzed the 15 largest banks in the US. It turns out that all banks have pages, at least on Facebook and Twitter. Many of them work with LinkedIn, Instagram, and YouTube as well. Pinterest is used by financial companies less often. There are no banks on TikTok.
Bank of America is an example of a company with heightened social media activity. The bank has profiles on Facebook, Instagram, LinkedIn, Twitter, YouTube, and Pinterest, with 5.3 million followers overall.
A company with such an extensive influence on the web is a great candidate for social listening research. I used Awario as a research tool. For your marketing experiments, you can start a free trial or use alternatives.
Sign up for a free Awario trial
See Awario in action with a free 7-day trial. No credit card required.
By signing up I agree to the Terms of Use and Privacy Policy
1. Understand the market
Just like all other brands, financial companies have to understand their audience to provide better services and effectively sell them. Just like all other brands, they have been using focus groups, surveys, and other traditional methods for a very, very long time.
However, social media listening shows what people say when they discuss "banks", "credit cards", "loans", etc. And, of course, what people say when they discuss a specific financial company.
However, this is just a part of the story.
Social media data can help with uncovering upcoming economic trends. Back in 2015, a study by the European Central Bank found that Twitter is an "economically significant" predictor of international stock market sentiment. Anyone surprised?
Social media is also used to plot socioeconomic trends. IBM reported that research published by PLOS One in 2015 stated that 19.6 million geo-located Tweets from across Spain to produce an accurate picture of regional unemployment.
That's the kind of thing you can do with social listening.
You need to create an Awario alert with your brand name or/and social media handle. Set up language, location, sources of the data, and date range. Then, wait for a while to see your results.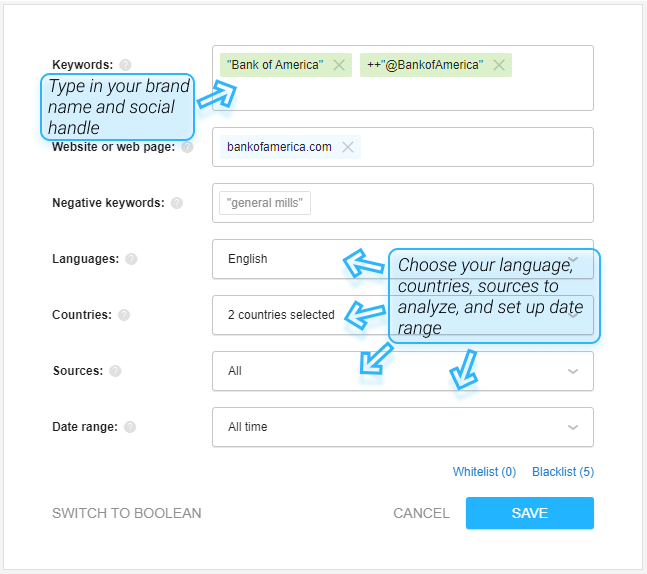 For Bank of America, I chose the US as a key region, including Unknown location, to gather mentions posted through VPN and English as the main language. However, if you want to find out what the world speaks about your brand, choose all Countries and Languages and then check the namesake blocks on Dashboard.
Additionally, you can see the Gender and Age of people who mentioned your brand. For instance, Bank of America's potential customers is primarily men (posted 69.9% mentions) between 25-44 years old.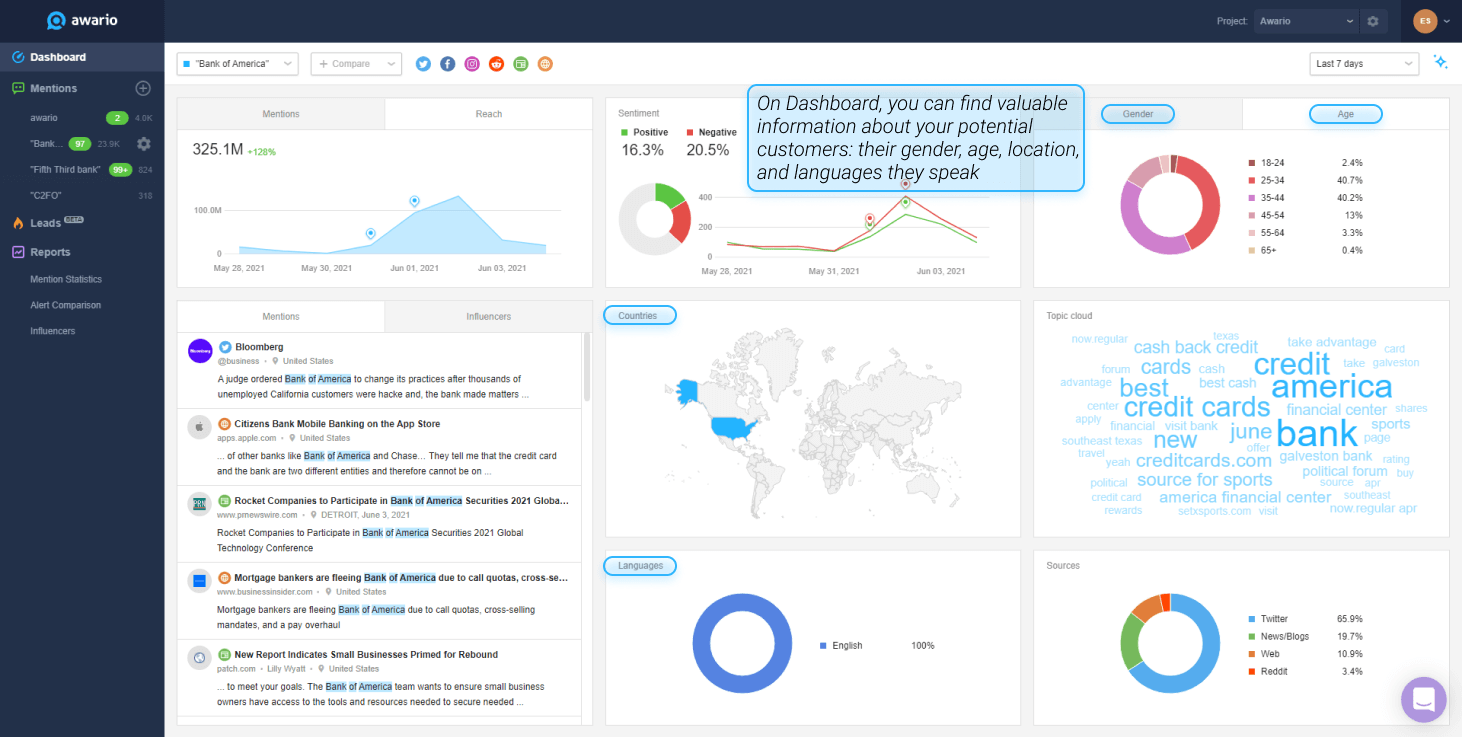 Marketing takeaway
Social listening enables gathering information about your place in the market. You can measure your brand popularity by the Reach indicator, discover who mentions your company in media and social networks.
Also, you can check whether your company is known abroad.
For small banks, it is a great opportunity to meet and understand the target audience, using industry keywords instead of their brand names.
2. Perform better competitive analysis
Social media data shows the share of conversation that takes place online about a given company compared to its competitors. It also shows what people say about one company compared to the other, how the sentiment around these brands differs, as well as the languages, locations, and social media sources. It takes concepts such as "attitude" and "awareness" from social media and includes them into the competitive analysis.
Besides, social listening makes it easier to understand how your brand is doing compared to other banks and financial companies. Social data shows what customers prefer and gives the traditional services an opportunity to invest in time, upgrade their own banking or other apps, and understand how to market to customers interested in innovative products and services.
Let's compare Bank of America with its competitor from the top 15 – Fifty Third Bank.
In Awario, you can use Alert comparison for in-depth analysis that reveals who, where, and how often mention chosen brands.
As you can see, Bank of America has the biggest Share of voice by reach and the number of mentions.

However, according to the Sentiment metric, people speak of its competitors in a more positive tone.

Marketing takeaway
Social listening simplifies competitive analysis revealing the strengths and weaknesses of their brands and yours.
Additionally, you receive clues about your competitors' marketing activities. For example, you can discover media and influencers they cooperate with for promotion, define new markets they try to conquer, compare the audience they target by Age, Language, and Country.
Use this information to improve your strategy and create new effective campaigns.
Meet your personal social listening assistant.
Try fully automated, 24/7 brand monitoring with Awario for free.
By signing up I agree to the Terms of Use and Privacy Policy
3. Improve customer service
What increases people's loyalty and trust for banking, and financial services overall? What makes them stand out from their competitors? What shows the banks' human and makes people choose them even if the costs are lower somewhere else?
The answer is customer service.
In times when branches are closing and banking becomes impersonal, it's all about the inherently friendly social media and customer service.
People have tons of questions and problems when it comes to banking and financial services. The experience is often frustrating and the apps are too complicated. Millions take their questions and frustration to social media, voicing their opinion on Twitter and Facebook and asking questions. Taking care of these conversations, giving tips, and solving the users' problems is sure to improve the company's image.
Let's take a look at what people are talking, for example, about Bank of America.
Awario gathers all mentions in the Feed. You can sort them, for example, by reach, group them, reveal the pinpoint results by setting up time period, sources, and the like.
Try typing in "problem" to start the search by a keyword and find posts of dissatisfied Bank of America customers. It seems the bank needs to respond to numerous complaints about users' accounts.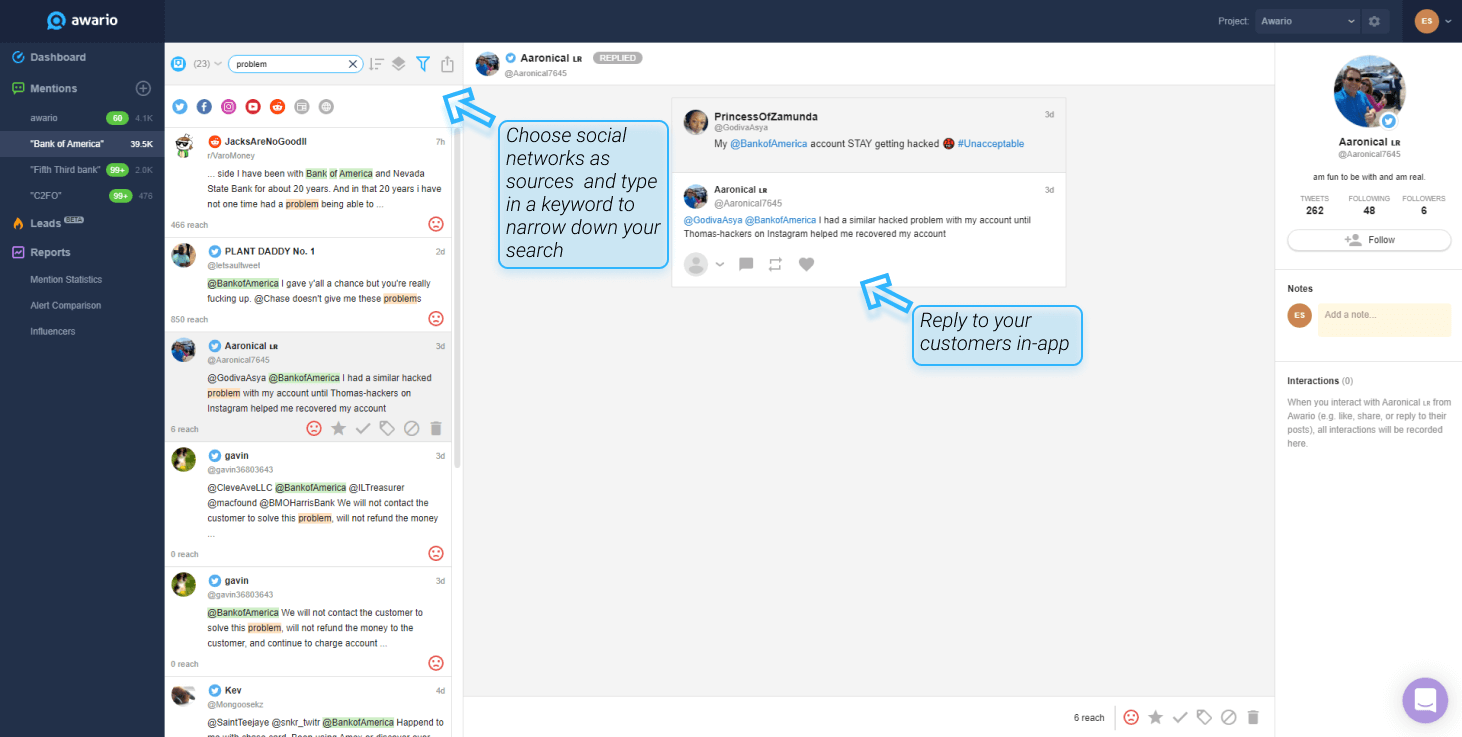 Marketing takeaway
Analyzing your brand with social listening tools can highlight imperfections of your service or product or reveal serious bugs.
Do it regularly, especially, during promotional campaigns of new products. It helps determine what problems users face and quickly fix them.
Of course, do not forget to reply to negative comments and posts around your brand. People will appreciate this attention to their opinions and can change their attitude to your company in future.
4. Prevent a crisis
Banking and financial industries constantly face some sensitive and high-value issues when working with their customers. Monitoring the sentiment of the online buzz about the brand helps companies to discover and deal with any problems that might escalate.
In Awario, you can create an alert for a company and go to the Dashboard to get a quick look at brand sentiment, brand mentions, topics discussed around the brand, etc. in real-time. So, if there will be a sudden rise in the negative sentiment or an unpleasant topic that suddenly popped up in the most discussed ones, the company will be the first to know and will have time to take steps before the news sites take over.
For instance, I want to analyze negative mentions around Bank of America on Twitter. To gather them all, I can sort the Mention feed by source and sentiment. Then, pay attention to the reach of a mention and users' reactions. Do they like, comment, and share a message? As you can see, the post below is alarming.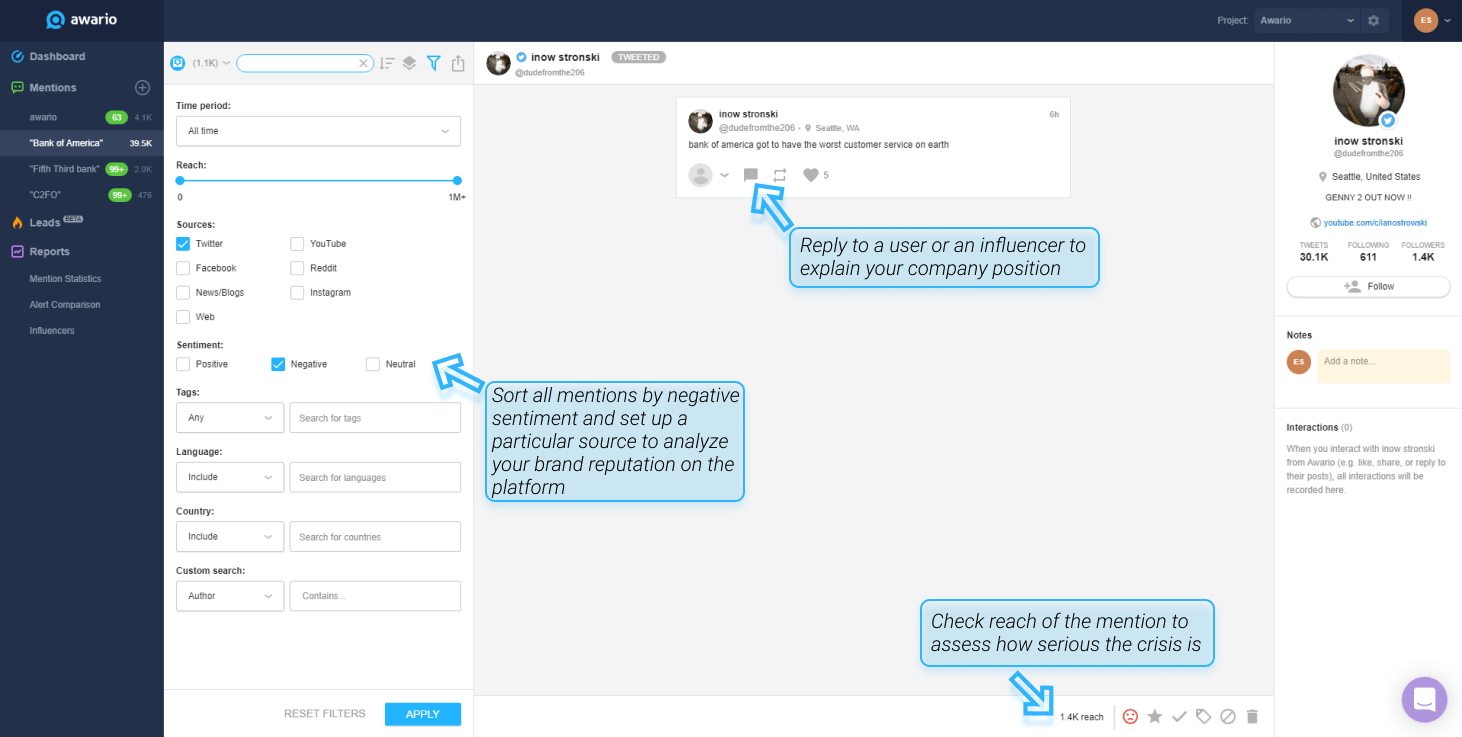 Marketing takeaway
It's essential to have a crisis plan in order to prevent a crisis from escalating. Decide in advance what constitutes a crisis, what are the risk factors, who should be tasked with what in each situation.
Social listening can help you recognize the point when the crisis starts. Daily or weekly analyzing negative brand mentions on the web will detect a problem.
Responding to negative comments in time, you will not allow a local dispute to grow into a loud public scandal.
5. Create a successful marketing campaign
Creating a campaign that attracts new clients might be harder for financial industries than it is for most other brands. This is especially true for social media marketing, where a backlash is usually loud and clear.
Bank of America turned to Pinterest (unexpectedly!) to attract some new audiences and promote their Better Money Habits site. On Pinterest, Bank of America created boards for different life moments, or rather, purchasing moments, e.g., buying a home or going on a trip. The pins directed viewers to the campaign's website that had educational financial content. In less than five months, the campaign reached nearly 6 million people.
When you prepare a new campaign, social listening tools come in handy again. You can use Awario Mention statistics to track trending topics and platforms for your product promotion and target your audience.
Topic cloud with popular topics can be a source of inspiration for you. It shows what people are discussing right now. Besides your brand mention, you can track industry keywords to get more insights.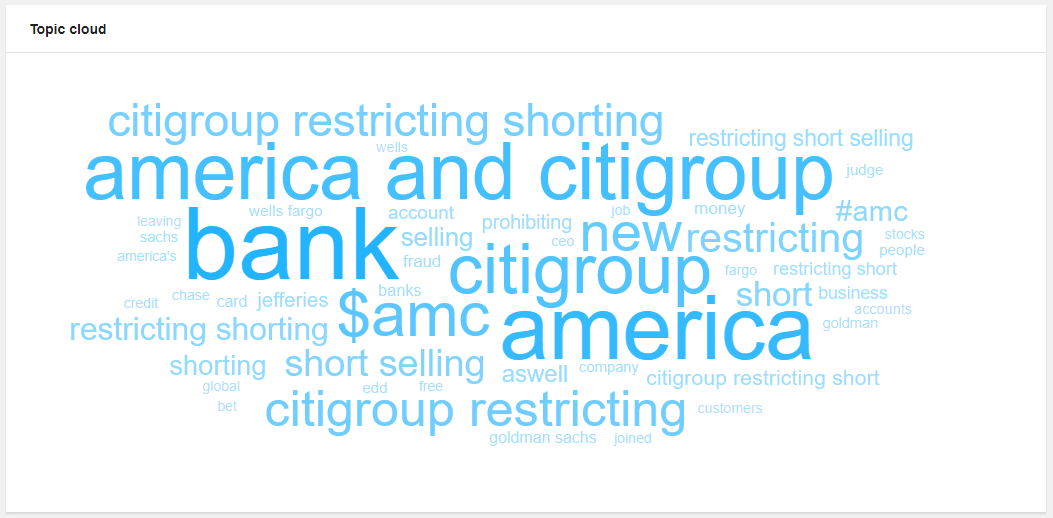 Additionally, you can reveal top Influencers who mentioned your brand most and collaborate with them during a new campaign.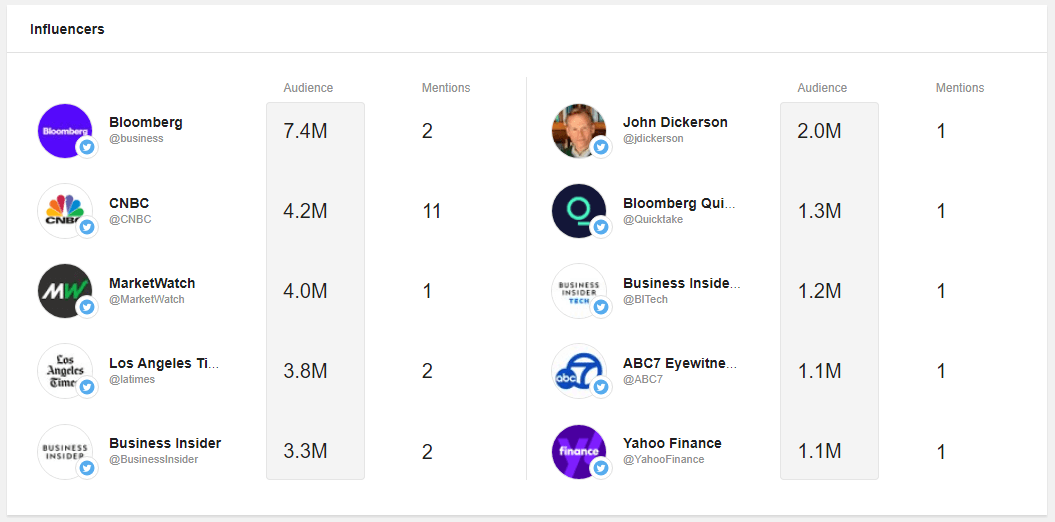 Audience analysis is available, too. Awario shows you the country, gender, language, and age of your prospects – people who have already know your brand and post something about it. Additionally, you can see their account type to detect whether businesses or individuals talk about your company often.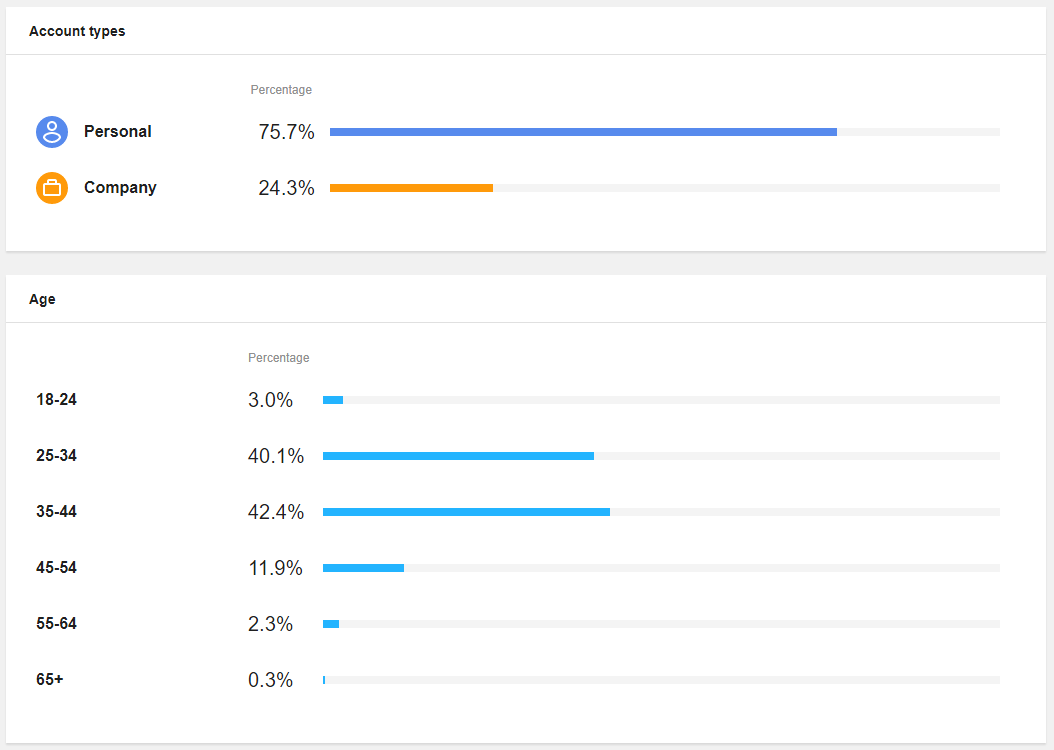 Marketing takeaway
Social listening tools provide valuable data that you can use to prepare an effective marketing and PR campaign. It shows what problems people are concerned about and where they share their opinions around them.
Your task is to prepare a response message for them. For example, when people do not understand how your new service works, educate them. You can arrange an interview with your brand expert, write a how-to article, or shoot a video tutorial.
After your campaign launch, social listening helps you track how it unfolds and monitor the results.
Enjoying the post? There's more.
Sign up for our newsletter to get our best content by email.
Wrapping up
As you can see, social listening is an effective method to define your target audience, decide on platforms for campaign launching, analyze your competitors, and prevent public crises. The best thing about it is universal for all industries. So, start using it today!