How to find partners for affiliate marketing on social media

Article summary
In this article we explain how to find partners for affiliate marketing on social media and what metrics you need to track to assess their results.
As marketers, we have a lot of goals to achieve: raising brand awareness, encouraging brand loyalty, improving the company's reputation, and so on. However, the only goals and metrics that make our CEOs happy are usually the number of sales.
This sometimes leads to a great misunderstanding between marketing and other departments – they ask for more leads converted while we are doing this and billion of other things that require genuine effort and attention.
Luckily, there are some marketing tactics that generate leads and save effort at the same time, and one of them is affiliate marketing.
Affiliate marketing is one of the oldest digital marketing tactics, it was around long before social media were. However, even nowadays it doesn't lose its relevance. According to Statista, affiliate marketing spending in the US has been growing each year since 2010 and is expected to reach $8.2 billion in 2022.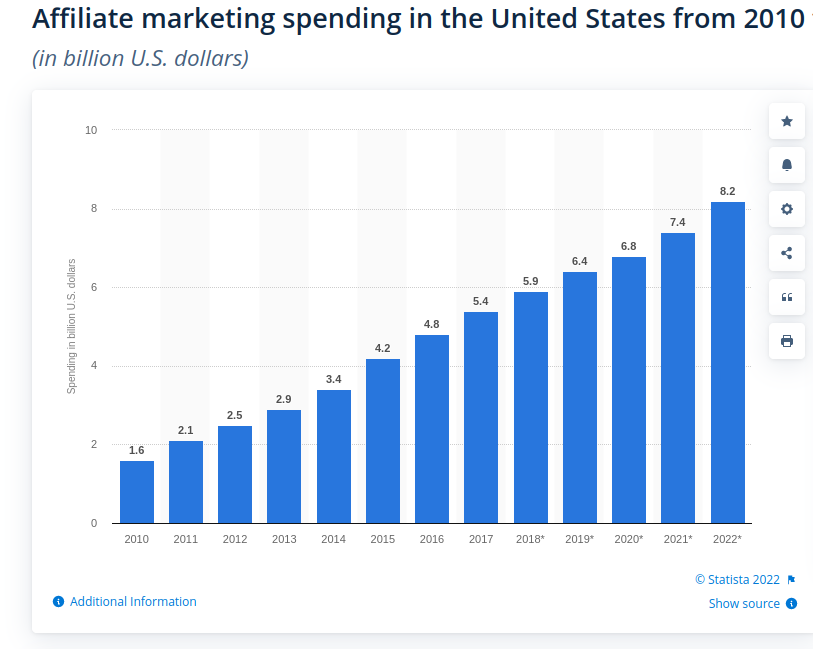 Social media and affiliate marketing are common and fruitful pairing. It allows brands to reach their target audience even quicker than before.
But like any other affiliate marketing program, the main stepping stone is finding the right partners.
Of course, you don't go through the thorough checking process as with influencer marketing when engaging with affiliate partners, but you still need to be sure that these partnerships will bring mutual benefits.
In this article, we explain how to find affiliate partners on social media that are certain to bring you sales.
But first, let's go through the basics and describe affiliate marketing on social media.
What is affiliate marketing on social media?
In the most basic terms, affiliate marketing is the process of selling your product through promotion from a partner on social media. A partner gets a commission from every sale they close.
Here's what this process looks like:
Your brand launches a referral system that allows partners to promote it by using a specific link or code.

Social media creators seek out affiliate programs or you find creators that fit your brand and ask them to join the program.

Creators refer their followers to your product and get a commission from people using the link/code you provided.
As you see, both parties benefit from the program: your brand gets access to new audiences and more leads, a creator gets a monetary reward for their promotion.
The way affiliates promote your product may differ depending on the content and channel: they can post editorial reviews, offer deals & coupons, do paid searches, engage in email marketing, and so on. The channel we focus on in this article is social media.
Let's look at the participants of this process in a little more detail to figure out their exact goals and responsibilities.
Who is who: the advertiser, the partner, the consumer
Just like there are three steps to the flow of the affiliate marketing program, there are three actors involved in the program: the advertiser (the brand), the affiliate partner, and the client.
The advertiser
The seller, whether a solo entrepreneur or large enterprise, is a product creator or retailer with a product to market. The product can be a physical object, like household goods, or a service, like makeup tutorials.
Also known as the brand, the seller does not need to be actively involved in the marketing, but they may also be the advertiser and profit from the revenue sharing associated with affiliate marketing.
The partner
Also known as a publisher, the affiliate can be either an individual or a company that markets the seller's product in an appealing way to potential consumers. In other words, the affiliate promotes the product to persuade consumers that it is valuable or beneficial to them and convince them to purchase the product. If the consumer does end up buying the product, the affiliate receives a portion of the revenue made.
Affiliates often have a very specific audience to whom they market, generally adhering to that audience's interests. This creates a defined niche or personal brand that helps the affiliate attract consumers who will be most likely to act on the promotion.
The consumer
Whether the consumer knows it or not, they (and their purchases) are the drivers of affiliate marketing. Affiliates share these products with them on social media, blogs, and websites.
When consumers buy the product, the seller and the affiliate share the profits. As a rule, the affiliate us transparent with the consumer by disclosing that they are receiving a commission for the sales they make.
Ok, so now that we settled all the terms and the process, let's move on to the question posed at the beginning of this article: how to find partners for your affiliate marketing program.
Sign up for a free Awario trial
See Awario in action with a free 7-day trial. No credit card required.
By signing up I agree to the Terms of Use and Privacy Policy
How to find affiliate partners on social media
The affiliate program that works well usually attracts partners itself: your customers who are passionate about the product and have any kind of audience will be eager to enroll.
However, when you launch an affiliate program or introduce a new direction such as social media for it, you need to find the potential partners yourself.
That's when Awario comes in.
As a social listening tool, Awario does the job of monitoring relevant social media conversations and finding opportunities for promotion. That includes finding opinion leaders and creators in any given niche and industry.
Here are a couple of ways to find potential affiliates with the help of social listening:
By monitoring your social media mentions
This is perhaps the easiest way to find affiliates, but also the simplest to forget.
Your customers might already be prime candidates for affiliate marketing on social media, they just don't know it yet. If you have a client with a substantial social media following, why not invite them to join your affiliate program.
Awario makes it easy to find creators who talk about you online and contact them. They don't even have to tag you – the tool will see their post anyway.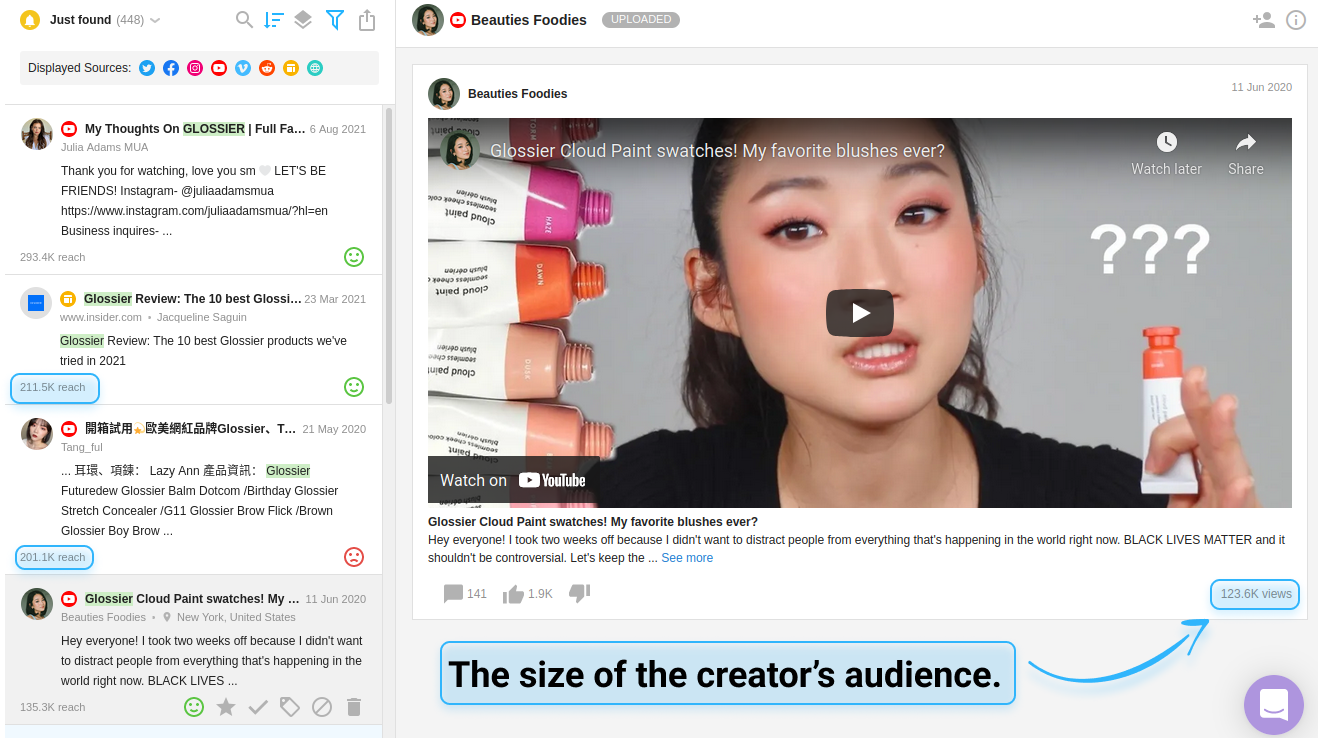 To find creators you need to set a social media monitoring alert. It's quite easy to do: just set your brand name and your website as the keywords and choose the language, location, sources, and time frame of the mentions if necessary.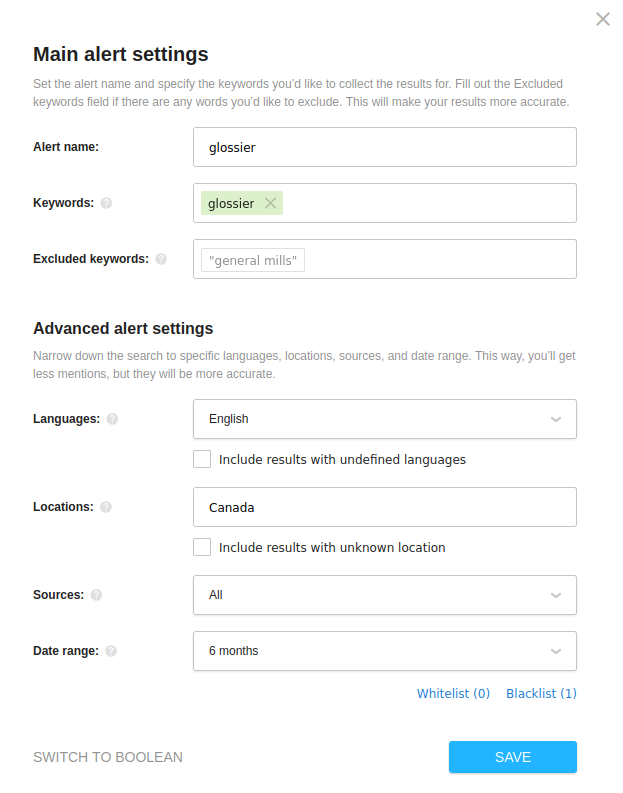 Awario gathers and analyzes social media posts in real-time, so you don't need to worry about missing something.
You can further filter the results by choosing the desired reach (the size of the audience) in the Mention Feed.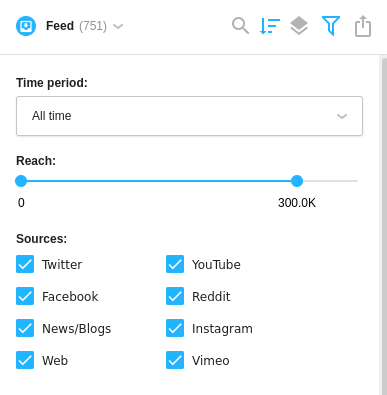 By looking for Influencers, bloggers, and experts in your niche
Influencers can also engage in affiliate marketing. In fact, the more trust the audience puts in a creator, the better affiliate partner they will be, so influencers are perfect for this job.
If you don't have the resources to put into a comprehensive influencer marketing campaign, an affiliate program is a great alternative.
Awario also provides a convenient Influencers report that helps you identify creators in a given niche and rank them by popularity and relevancy.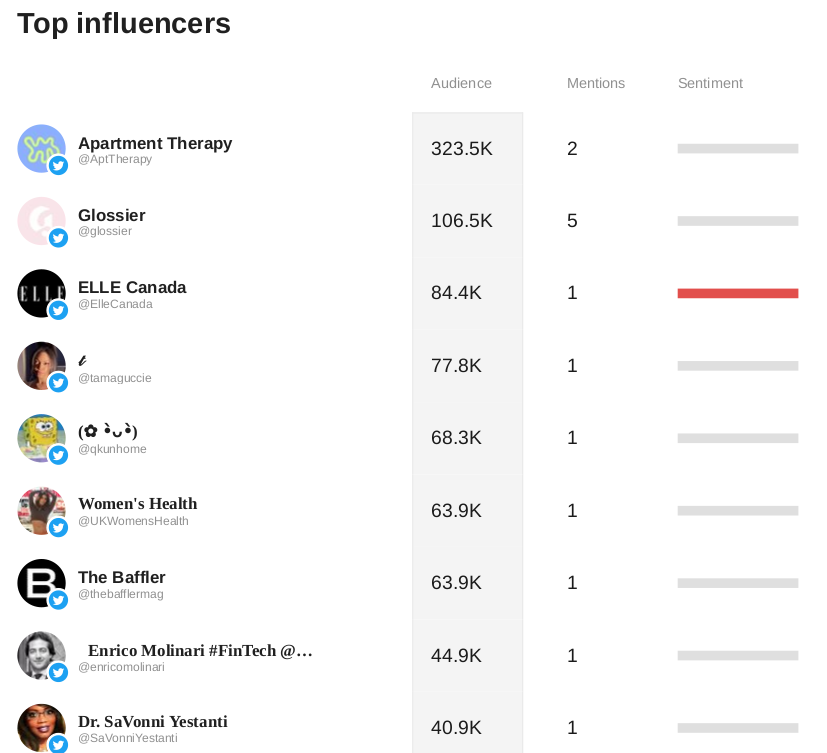 Once again, you'll need to create social media monitoring alert to find them, but this time, instead of the brand name, choose nice-related terms as keywords. For example, for Glossier it would be "makeup tutorial", "makeup haul", "makeup review", etc.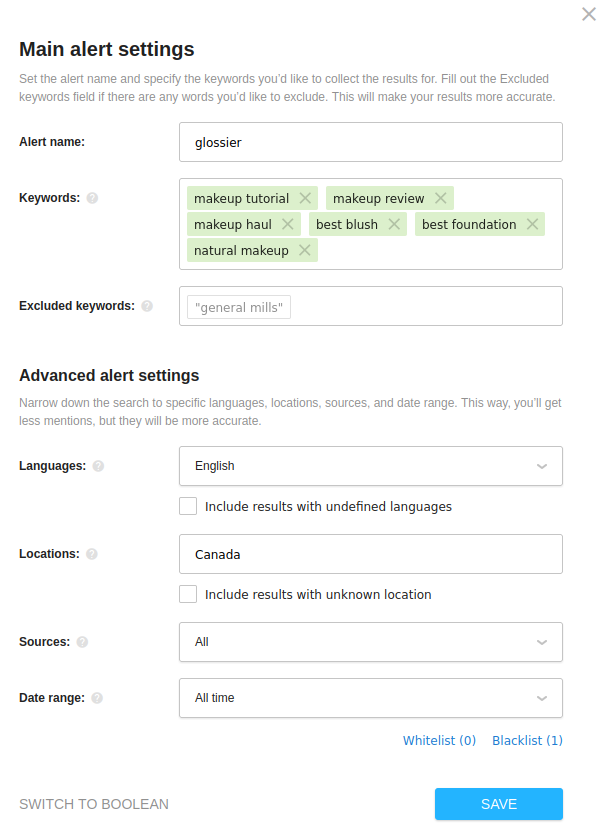 By finding similar but non-competing websites
Another way to tap into affiliate marketing possibilities is to find partners in fellow businesses.
It's often the case that you share a niche with other brands which are not your direct competitors. You can establish beneficial cross-promotional relationships through an affiliate program.
The process of looking for such websites is similar. First, you need to set up a social media monitoring alert with industry-relevant keywords. You can even use the same alert if you decide to try both of these ways for affiliate search.
Once the alert is up and running, filter your sources to only show you mentions from the websites.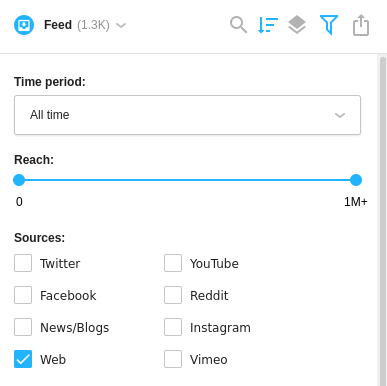 Now you have a list of websites to join your affiliate program at your disposal!
Sign up for a free Awario trial
See Awario in action with a free 7-day trial. No credit card required.
By signing up I agree to the Terms of Use and Privacy Policy
Through word of mouth and communities
Finally, you can take inspiration from your community!
Join forums and social media groups related to your niche and check who are the influential voices inside those communities. These are usually founders, moderators, or simply active members of the community who post and engage with others the most.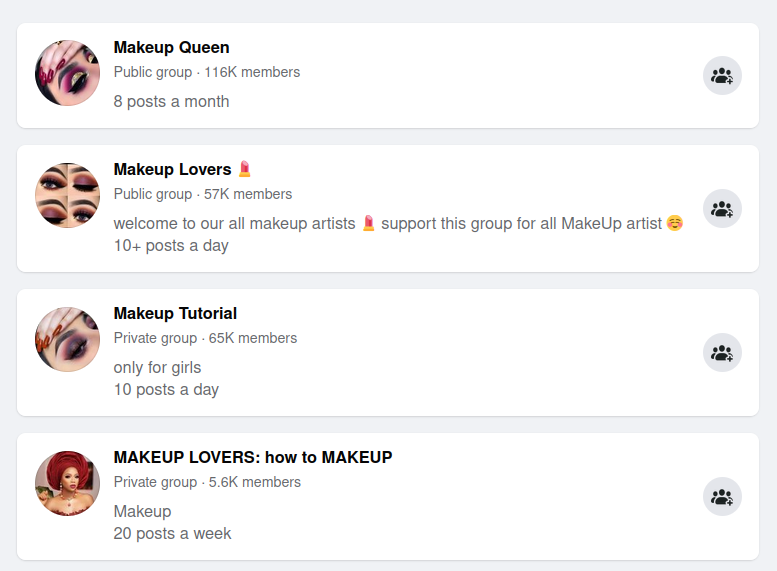 Once again, you can find those groups by using Awario to monitor industry-related topics and spot communities around these topics.
You can use the same alert you set up previously and take a look at the insights. Awario calculates the share of relevant conversation between different social media platforms, so you can easily check which network is more likely to host a community of interest for you.
These are the four easiest ways to find affiliates on social media.
What do you do once you launch your affiliate program, do you just leave it running? Well, yes, but we still need to check the results. That's why we need to decide what metrics we want to track to evaluate the program.
Affiliate marketing metrics you need to track
How do you evaluate your partnership and understand if it's successful or not?
Of course, your main metric will be the number of sales. But it's not the only metric you want to track. Here are affiliate marketing metrics that help assess your partnerships:
Clicks
The number of clicks shows how many consumers were interested in the affiliate's promotion across all their channels. Of course, it's only possible to track if you provide affiliates with a UTM-tagged link – a discount code won't be enough.
A very high number of clicks driving only a small number of sales, or even no sales, can be an indicator of inaccurate affiliate tracking, a low affinity between the audience and your products, or inadequacy between the ad promoted and the landing page.
Conversion rate
The conversion rate will help you go beyond a simple number of sales and highlight which affiliates and social media channels are the most efficient.
You can also compare affiliate marketing conversion rates to the same metric from other forms of marketing to see which strategies work best for your company.
Percentage of active affiliates
To calculate this metric you need to define what "active affiliates" means to you. You can define this to mean affiliates generating clicks — or alternatively, affiliates generating sales — in a given period of time. A six-month interval is typically taken into consideration.
As a result, you will see the share of your affiliates who are actually bringing you profit – and the percent of those who are not as effective.
It goes without saying, that the higher this metric, the better.
Type of active affiliates
Segmenting your affiliates based on the way they generate traffic will help you understand at which stage of the user journey your product is converting most effectively, your audience price preference, and finally the incremental value that each type of affiliate is generating.
Traditionally, affiliates are segmented based on their content or how they are closing the sales: content websites such as editorial reviews, deals & coupons, paid search affiliates, email marketing affiliates, bloggers, or even affiliate networks working as sub-affiliates.
Number of top affiliates and their share of total sales
The definition of "top affiliates" is relative and it depends on the size of the program and your overall online sales. A "super" or "top" affiliate can be considered one that brings in a minimum of 5% of the overall online sales.
For example, if your total affiliate sales are $10,000, a typical top affiliate should count for $500 of it.
In conclusion
The affiliate partners are not hard to find, you just need to know how to do it.
At the end of the day, it all depends on your product: if you offer something consumers can fall in love with, they'll be happy to preach your marketing gospel to others, especially for a little reward.
And if you are looking for an affiliate program with an amazing product, why not join the Awario Affiliate program?
Join the Awario Affiliate program
Enjoying the post? There's more.
Sign up for our newsletter to get our best content by email.