10 best social media tools for 2021

This year has brought social media power to new heights. Not only in terms of communication but most importantly in the way we run business. With the global pandemic pushing almost every sector into digital, online presence is the key to any entrepreneur's success. And you won't do wrong by placing your bets on Facebook or Instagram to spread your brand awareness, build a strong relationship, and boost sales.
Yet, to leverage all the benefits social media platforms have on offer, you'll need a well-equipped kit of social media tools. Efficient and reliable software will cover your bases in all directions from content creation to measuring your campaign's impact.
In this article, we'll first look at some points you must consider before spurring your marketing team into action. Then, we'll go through our list of top ten social media tools to help you identify the ones that can work best for your marketing strategy.
Your mentions are almost here!
Fire up brand monitoring and see Awario fetch social data in real-time.
By signing up I agree to the Terms of Use and Privacy Policy
So how do I choose the media I need?
Before you rush to create business accounts on every platform possible and throw money into creating tons of awesome content - do take some time to answer the following questions:
What social media platforms are loved by my target audience?
If you apply a social listening tool, you can conduct a full-on target audience analysis and decide to focus on Twitter or Instagram if that's where your audience already is. The same way you can spy on your competitor's efforts: there's no shame in following a positive lead.
Which platform can represent my content best?
If it's more about breathtaking images, do not hesitate to exploit Instagram powers. Go to Twitter for more text-based announcements, and you can pretty much employ Facebook for both. Keep in mind that sometimes it's better to concentrate your time and effort on one channel – rather than spreading yourself thinly on all of them.
What advertising opportunities are there?
We are all in for organic growth and authentically engaging content but a shout out once in a while can really boost your marketing efforts.
Still in doubt? You can then read our guide on social commerce to see the ways you can integrate social media with your overall strategy. And once you set your sights on a particular social platform or probably take on a challenge to juggle several, you are ready to get on to a suitable tool to help you manage your account(s) and analyze the effectiveness.
Regardless of the direct application, a good social media tool must meet the general criteria:
Efficient and safe. Whether you're to use it for scheduling or to do sophisticated market research, it must do the job effortlessly and to the full. Also, once social media management entails working with data that can be sensitive, the way the tool treats privacy is not to be ignored.
Timesaving. Especially if you're managing multiple accounts. The less of your social media management is hands-on, the better.
User-friendly and flexible. The app must be pretty intuitive and easy-to-use for you not to lose any time or momentum while learning the ropes. Also, it's best if a tool allows combining features to fit your strategy - you certainly don't want to start from scratch the whole of your marketing campaign to fit the app requirements.
Cost-effective. The price must align with your budget. It's not a good idea to shell out on an enterprise plan unless you are to get the most of every feature it offers. Flexible pricing like annual or monthly subscriptions, or a chance of a free trial always tip the balance in favor of a particular app. What is more, there's often a free version with some basic features which can still meet your requirements.
The key thing, whatever your online marketing strategy is, always keep in mind your goals and your target audience.
10 best social media tools
1. Awario
Awario is a social listening tool that monitors mentions of your brand on social media, news sites, blogs, and the web at large. You gain real-time intel on how many people are talking about you, who they are, where they are located, and which platform they use to voice their opinions. You only need to set an alert for your brand name or niche if you are to apply it for initial market research. What is more, by setting separate alerts for your competitors you can see how you compare against them.
Sentiment analysis classifies each mention as positive, negative, or neutral, enabling you to keep an eye on your brand reputation and be proactive with feedback. Insights function allows you to see the cause behind the emotion and align your communication strategy accordingly. Awario allows in-app interaction with followers as long as you connect your social media accounts to it.
Pricing: Prices range from $29/mo for Starter plan to $299/mo for an Enterprise level. Your choice will depend on the features you need and most importantly the size of your business. A free trial is available.
Meet your personal social listening assistant.
Try fully automated, 24/7 brand monitoring with Awario for free.
By signing up I agree to the Terms of Use and Privacy Policy
2. Hootsuite
Hootsuite is a powerful all-in-one solution for marketing managers that can safely cover almost any task from scheduling your posts in advance to providing analytics on content performance. Social listening is one of Hootsuite's key merits as it sheds light on more than 200 metrics to spot and analyze trends in real time.
It also provides a collaborative calendar allowing your sales and marketing teams to coordinate their effort across multiple social platforms (Hootsuite is compatible with 35 of them), including managing and optimizing ads, and creating a library of branded content for further use.
Pricing: Alongside a 30-day free trial there are three plans available: starting from $19/mo for individual use to $599/mo for large social marketing teams. There are also custom solutions available with prices upon request.
3. Later
Later is a social media marketing platform allowing you to schedule your Instagram, Twitter, Facebook, and Pinterest posts. The drag-and-drop calendar feature helps you map out your content and visualize your feed in advance. The keyword here is visualize since Later focuses on photos, videos, and stories. It also assists you in finding on-brand content, aligning it with your campaign, and adding some personal touch.
Apart from scheduling and content creation Later also presents you with analytics you can leverage to figure out the best time to post or which hashtags will attract more attention. What is more, the Linkin.bio feature turns your Instagram into a mini website where you can confidently track traffic and know exactly which posts encourage conversion.
Pricing: Free for one Social Set (Instagram, Facebook, Twitter, and Pinterest), 30 posts per profile, and limited features. From $7.5/mo for the Starter plan with more media types, analytics, and automated features.
4. Buffer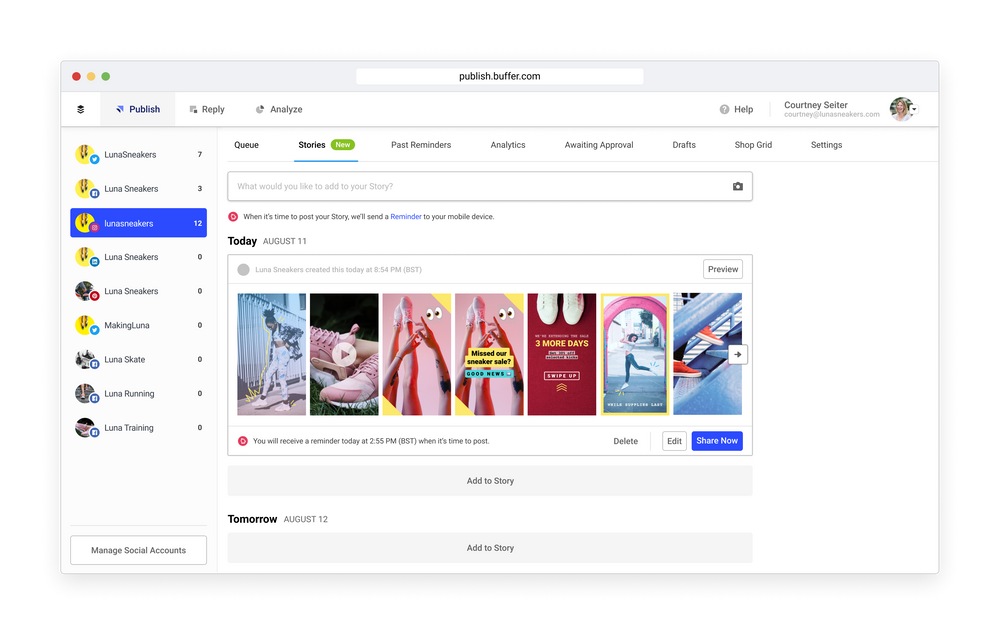 Simple, straightforward, and flexible Buffer is another tool to plan and visualize your social media campaigns. Primarily focused on scheduling it also allows you to measure and analyze your performance as well as engage with the most important comments. For instance, you can see the number of times your post has been seen, the number of clicks on any links you included, comments, shares, and overall reach.
On a paid plan you also gain access to more in-depth analytics with Buffer Analyze. It provides you with insights into engagement metrics, follower demographics, and organic / paid content ratio. It also creates reports and provides recommendations on how to grow engagement and reach.
Pricing: Prices vary from $15/mo to $99/mo which is more suitable for larger teams. For Buffer Analyze it starts at $35/mo and can be advanced to $50/mo with access to premium features. And you can save up to 20% with an annual subscription. There's a 14-day free trial available.
5. Canva
Canva is a design tool that empowers you to create designs for almost any social media platform: from Instagram post to Facebook Cover or LinkedIn banner. It also helps create business presentations, business cards, invitations, brochures... you name it. And the best thing you don't have to be a graphic designer to come up with a nice image.
With hundreds of ready-made templates on offer and easy-to-use drag-and-drop UI, you are in to create visual content in no time. What is more, Canva provides a full-on designer toolkit packed with fonts, illustrations, and stock photos for you to choose from to develop a solid brand image adding a bit of personality along the way. There is a series of quick tutorials giving you an overview of everything you can do in case you feel a bit overwhelmed with the opportunities.
Pricing: Free plan gets you everything you need to get started, there are also Pro and Enterprise plans for $12.95/mo and $30/mo respectively. Both allow premium features like an extended number of templates, branded fonts, larger cloud storage, and scheduling. There's a 30-day free trial option for Canva Pro.
Start monitoring your brand today.
You should've been doing it yesterday – but the next best time is now with Awario.
By signing up I agree to the Terms of Use and Privacy Policy
6. Unfold
An app for storytellers, Unfold helps create beautiful templates for Instagram stories. With the app, you can edit your photos and videos adding filters, texts, or stickers with an advanced toolkit of curated fonts and styles.
Unfold is perfect for brands aspiring to create unique on-brand visuals and generate bigger engagement from their followers.
Pricing: Free for basic filters and standard editing tools. Can be upgraded to advanced editing tools and branded kits with Unfold+ for $2.99/mo or $19.99/mo for brands. In-app purchases are available.
7. Iconosquare
Powerful analytics, management, and scheduling platform for brands and agencies. Despite a huge span of functions, Iconosquare offers a user-friendly responsive dashboard from which you can collaboratively plan your Instagram and Facebook posts as well as monitor their performance. Feed Preview is particularly handy for those wishing to stick to a coherent design scheme in their visuals.
Iconosquare also offers tools like Instagram Audit and Facebook Audit to analyze and enhance your social media presence, while Twinsta allows you to share your tweets on Instagram with clean eye-pleasing screenshots.
Pricing: From $39/mo for Pro which allows 3 social profiles and 2 team members and limited features. Those can be extended and unlocked with an Advanced plan for $79/mo. There is a free trial available and an annual subscription with up to 25% savings.
8. SocialPilot
Use SocialPilot to manage all your accounts from one place. Designed for professionals, teams, and businesses to automate their social media management, it allows planning your content and analyzing its impact. SocialPilot can schedule posts across 9 social platforms including Tumblr, VK, and TikTok. Plus, it can help you generate content customizing it to the platform's specifics.
SocialPilot Analytics presents metrics to pinpoint best-performing content, understand your audience better, discover influencers, and allocate the best time to post. The feature is available for Instagram, Twitter, Facebook, Pinterest, LinkedIn as well as Google My Business. Also, you can connect all your Facebook conversations in one place with SocialInbox, encouraging better cooperation and effortless response process.
Pricing: There is a 14-day free trial period for any of the paid plans on offer from $30/mo for a Starter pack to $100/mo for Agencies. You can save up to 17% with an annual subscription, plus there are custom plans available with pricing upon request.
9. HypeAuditor
HypeAuditor provides in-depth audience analysis for Instagram, YouTube, and TickTock. Apart from basic info like age, gender, location, and language, it presents you with social analytics like engagement and growth rates. But most importantly its mission is to weed out fraudulent and fake accounts via audience quality analysis and comment authenticity detection.
This type of audience analysis is crucial for influencer marketing campaigns as it helps differentiate between real people and other influencers including mass following and suspicious profiles. All of it serves to determine your organic reach and exclude ghost followers.
Pricing: There is a free plan available to start, then the price may vary up to $299/mo depending on selected features like discovery, market analysis, or tracking. You can also save up to 17% with an annual subscription.
10. Klear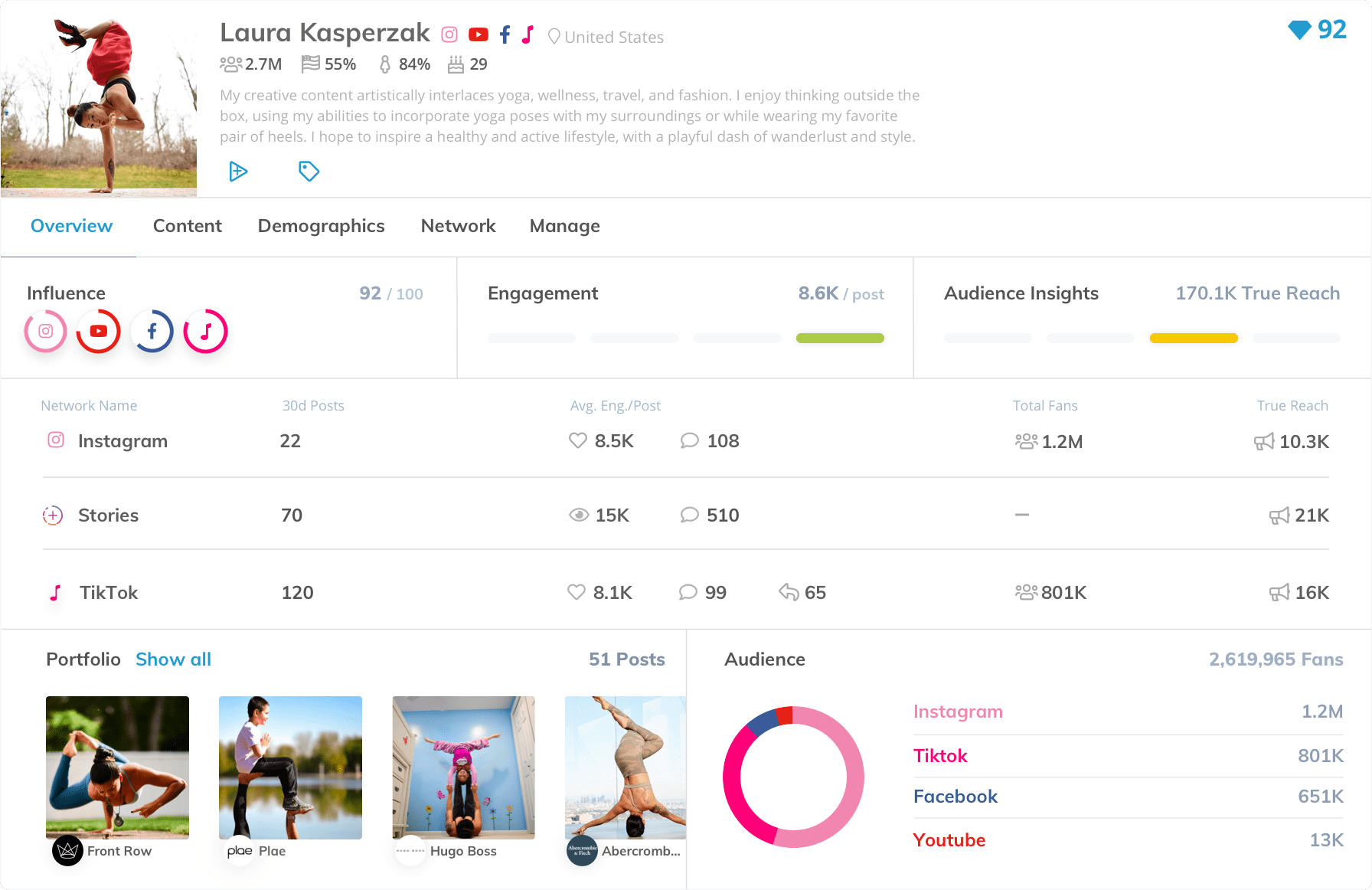 Klear is an influencer discovery tool. What it does is match brands with relevant creators for their audience. Sophisticated filter settings allow you to search for niche influencers by region, age, language, influence level, hashtags, past collaborations, and more. Klear is equipped with FakeSpot technology detecting fake accounts and activity generated by auto-bots to ensure your influencer partnership will contribute to real value.
Apart from connecting you to the influencers, Klear also helps you analyze, manage, and measure the impact of your influencer campaign - all in one place. For instance, it can compile a report on campaign-related content performance and calculate your campaign ROI. With Klear, you also get notified whenever branded content is published including Instagram stories, related keywords, hashtags, and tagged mentions. What is more, all the relevant content is saved automatically to Klear and can be reviewed anytime.
Pricing: Available upon request. You can book a free demo to discover features suitable for your objectives.
---
In conclusion
With an array of tools on offer finding the right one can be no less challenging than trying to manage your social media single-handedly. Still, our advice is to give a try to as many free trials as you can to eventually find a tool that suits you down to the ground. Luckily, many of them allow flexible toolkits thus empowering you to pick and mix only relevant features without spending a fortune.
Start monitoring your brand today.
You should've been doing it yesterday – but the next best time is now with Awario.
By signing up I agree to the Terms of Use and Privacy Policy