6 Mistakes You Are Making with Facebook Ads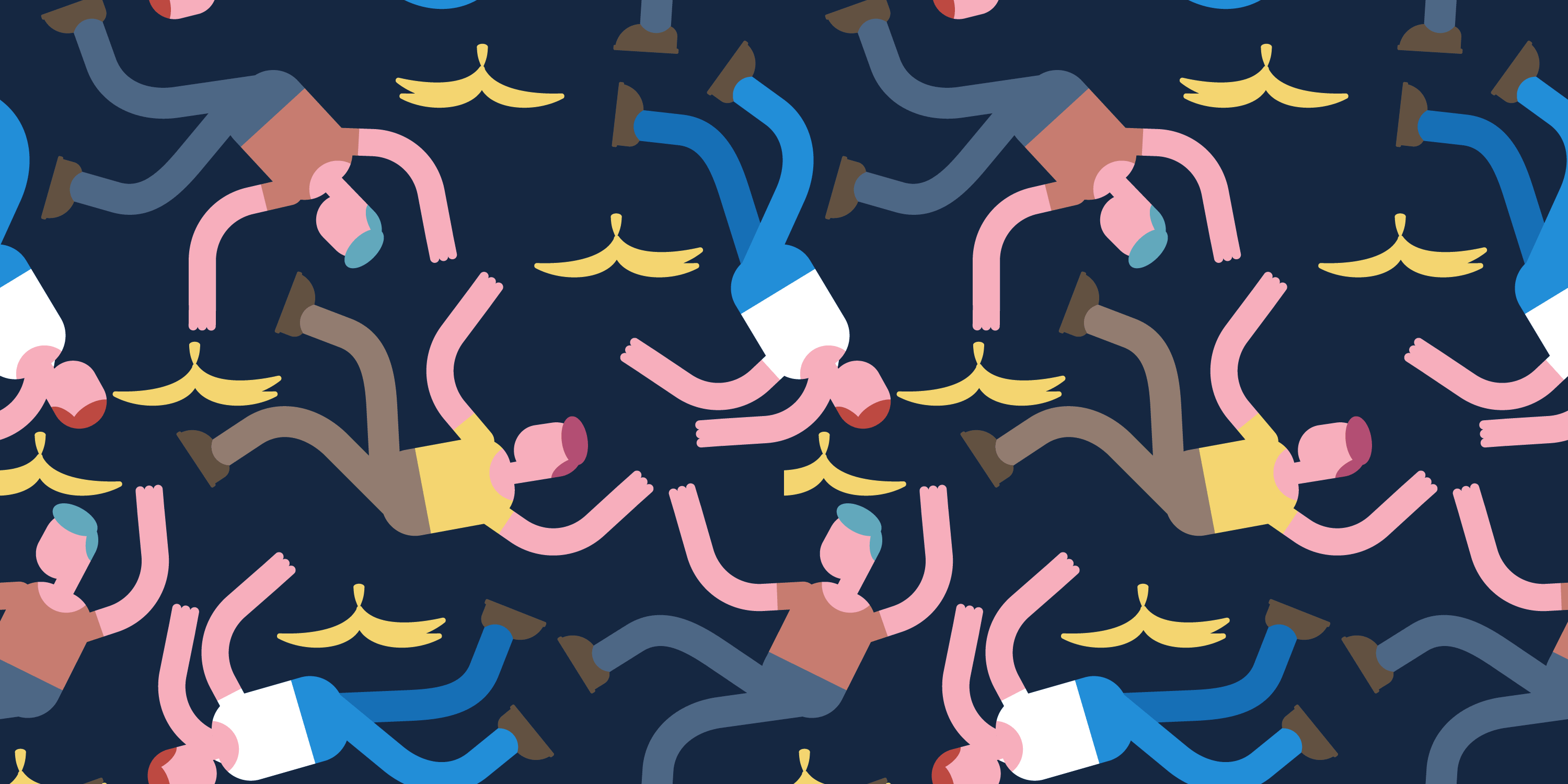 Years ago, when Facebook modified its algorithm and slashed down the organic reach posts received, everyone was very disappointed. All of us wondered how are we going to get engagement and traffic now? But because of this restriction on organic reach, more people began investing in Facebook ads. They experimented with different techniques, gathered data and figured out how to get the most out of ads.
If you know the best techniques you can achieve positive results with Facebook ads quickly. You don't have to worry about building an audience on Facebook before reaping the benefits. But if you're among the 62% of business owners who are disappointed with their Facebook ad results, it's because you are making some mistakes.
Therefore, in this post, I have listed the common mistakes people make with their Facebook ads and how they can be rectified…
Not optimizing your website for conversions:
Facebook ads aren't only about the ad on Facebook, they are also about the webpage the ads lead to.
If you are running an ad just to get page likes, you simply need to optimize your Facebook page and set up a good ad. But when you are running a campaign to drive traffic and leads you need to meticulously optimize the webpage you are sending the traffic to.
So, optimize your website for conversions before you create the ad. Any page you are driving traffic to must be optimized for generating leads, even if it is a blog post. You will achieve the best ROI only if your website converts the most traffic. This should include speeding up the loading time, fortifying copy, adding attractive call to action buttons, etc. Here are 53 Ways to Increase the Conversion Rate of Your Website from Peep Laja.
Not optimizing website for sharing:
When a person visits your website from Facebook, they will be highly inclined to share it on Facebook because they are already logged in. More shares will help your ad drive some extra free traffic. Therefore, make sure you optimize the page for sharing by adding share buttons.
Also makes sure an image that is at least 560 X 292 pixels is set as the Facebook thumbnail for the post. These dimensions ensure that the large thumbnail appears on Facebook when the page is shared on both desktops and mobile devices.
An example of a page that is well optimized for Facebook sharing is this Facebook Ads Guide from Adomas Baltagalvis. It has share buttons at the top of the post.
When you click the Facebook share button, the cover image set at the top appears as the thumbnail as seen below.

The large thumbnail will stand out on Facebook and attract more engagement and clicks. This traffic from shares is free, therefore, you get more traffic from your ad spend.

The blog post is also optimized for generating leads as they have an optin form both in the right, side bar and at the bottom of the post.
This is how you should optimize all your webpages to generate both shares and leads.
Not implementing conversion scent:
Do you know what conversion scent is?
It's when the ad matches the landing page. When the design of the ad and the text present on it is similar to that of the landing page, it indicates a strong scent. This can boost conversions as people see some familiarity between the ad on Facebook and the website they visited for the first time.
Here's an example of strong conversion scent between the ad and the landing page…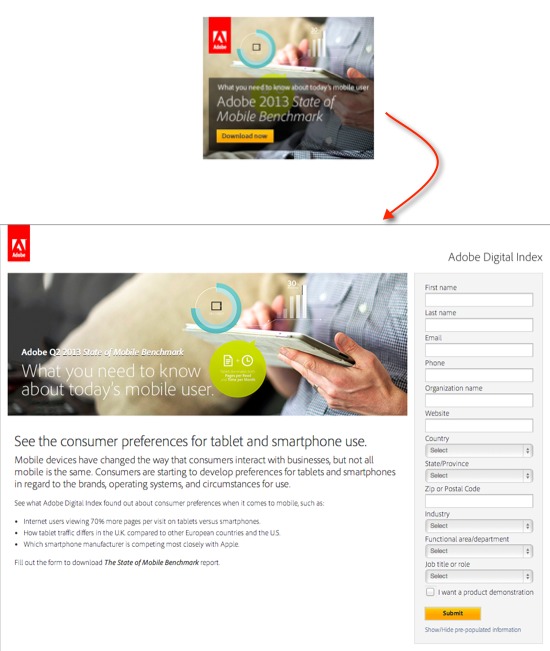 As you can see the ad and the landing page have the same image. The copy is the same. The call to action button is also the same colour. They also branded the ad and the landing page with their logo.
In a similar manner you should create a Facebook ad image that resembles your landing page's design. Just tossing in any image you randomly created using a template won't do the job.
The text headline and description present right below the image of your Facebook ad should also be similar to that on the landing page. Observe your landing page and determine which text present above the fold is the most likely to attract attention and drive traffic to your site. Then copy and paste it to your ad headline and description.
You can modify it a little as it doesn't have to be an exact replica.
Not testing out your ad:
You probably won't create the best version of your ad in your first attempt. Hence, you should create different versions of your ads and test them out with Facebook analytics to see which ones generate the most traffic and conversions.
The best way to test them out is with Facebook's split testing feature as you can try out different versions simultaneously.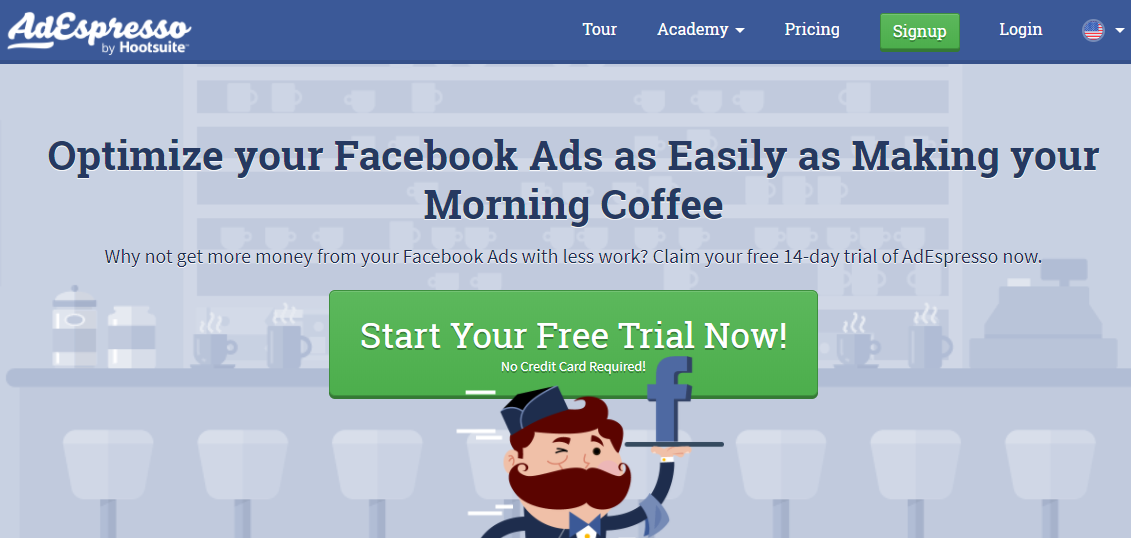 There are also tools like Adespresso that help simplify split testing and collection of data from Facebook ads.
Note that no matter how many changes you make to the ad you should always keep conversion scent strong.
Testing will also help your ad gather initial engagement in the form of likes and comments which can add social proof. This social proof will boost results when you dedicate a higher budget to the ad.
Not being specific with targeting:
Do you know why Apple's iPad and Amazon's Fire are so successful? It is because they are specific on who they target. Apple markets their expensive mobile devices towards people who don't mind purchasing expensive products, while Amazon targets people who have a tight budget.
When you are extremely specific with the people you target, your conversion rates will be higher as you can write better copy that resonates with individuals. But most people fear that this will result in them only reaching a small group of people. Therefore, they create ads that target everyone, which ruins their conversion rates.
To target the right people, you need to first know who they are. So, spend some time interviewing your customers and blog readers to find out everything you need. Nothing beats individual interviews when it comes to audience research. But also do a survey along with this interview as interviewing can be time consuming.
You should interview at least 10 people and conduct a survey that gets a minimum of 100 participants.

A tool like Survey Monkey can help you create and run surveys.
Once you know who your audience is you can set your ads to only target them. You can adjust the placement of the ad, but don't play around with the targeting settings. Even if you create new ads in the future make sure they target these people only.
Not using retargeting:
If you aren't using Facebook's retargeting feature you are missing out on plenty of leads and customers.
Retargeting is when you set your Facebook ads to target people who visited your website.
Facebook provides you with a code known as a pixel. Once you add this to your website, it tracks visitors and makes a note of all the Facebook users who visited your website so that you can create ads that target them.
When you target people who already visited your website they will be more likely to convert to a lead or sale as they are familiar with your work. So make sure you use them.
Here's a video from Facebook on how to add the pixel…
You can also set the pixel to separately track people who visited a certain part like a single blog post or landing page so that you can then target these visitors with highly relevant ads.
The pixel even tells you when an ad converts to a lead or sale. This helps check if your ads are working or not.
Retargeting can also be executed by uploading an email list of subscribers and then setting the ad to target these people.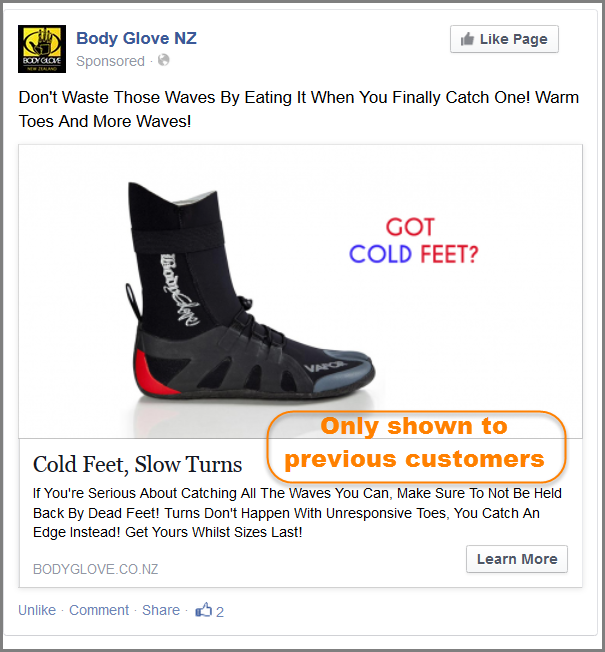 Retargeting can generate big results. For example, Body Glove, a wetsuit company were able to generate $18,750 with a Facebook retargeting ad spend of $114.
Now rectify your Facebook ads and avoid these mistakes…
These are all the mistakes people make when running Facebook ads. Committing them can put a massive dent in the ROI from your advertising. But as you can see above, they are easy to rectify. Therefore, use my tips to fix the mistakes in your current Facebook ads and don't make them in the future.
What other common mistakes do people make while running Facebook ads? How can they fix them? Please leave your comments below.