New in Awario: age analytics for target audience research

Article summary
In this blog post, we tell you all about our new feature — age analytics! We explain where to find it in the tool, how to use age insights in your strategy, and how Awario analyzes the age of your audience.
There are never enough marketing insights! More data means more informed business decisions that are geared for profit. That's why Awario's team is always trying to add more analytics and metrics for our users.
The key to creating an enticing business offer and designing a convincing marketing campaign is your audience. The better you know your target audience, the more information you have, the better you are able to sell your product.
Demographic data is extremely important since it directly tells you who your audience is — where they live, what gender they are, how old they are, what they do for a living. That's the basic information you need to design a campaign. Keeping this in mind we developed our latest rollout — Age analytics!
Age analytics allows you to see which age groups talk about your brand, niche, product, or any other topic. Awario breaks down the social media monitoring data into six age groups, as you can see on this screenshot.

If you haven't tried Awario yet — sign up for our free trial and check out Age analytics first hand!
Sign up for a free Awario trial
See Awario in action with a free 7-day trial. No credit card required.
By signing up I agree to the Terms of Use and Privacy Policy
Where to find age analytics in Awario?
There are several ways to see your audiences' age breakdown in Awario.
First of all, just like other essential metrics, Age analytics are part of the social listening Dashboard. To see them, click on the Dashboard and check the widget in the top right corner where the Gender graph is — here you can switch between Gender and Age analytics.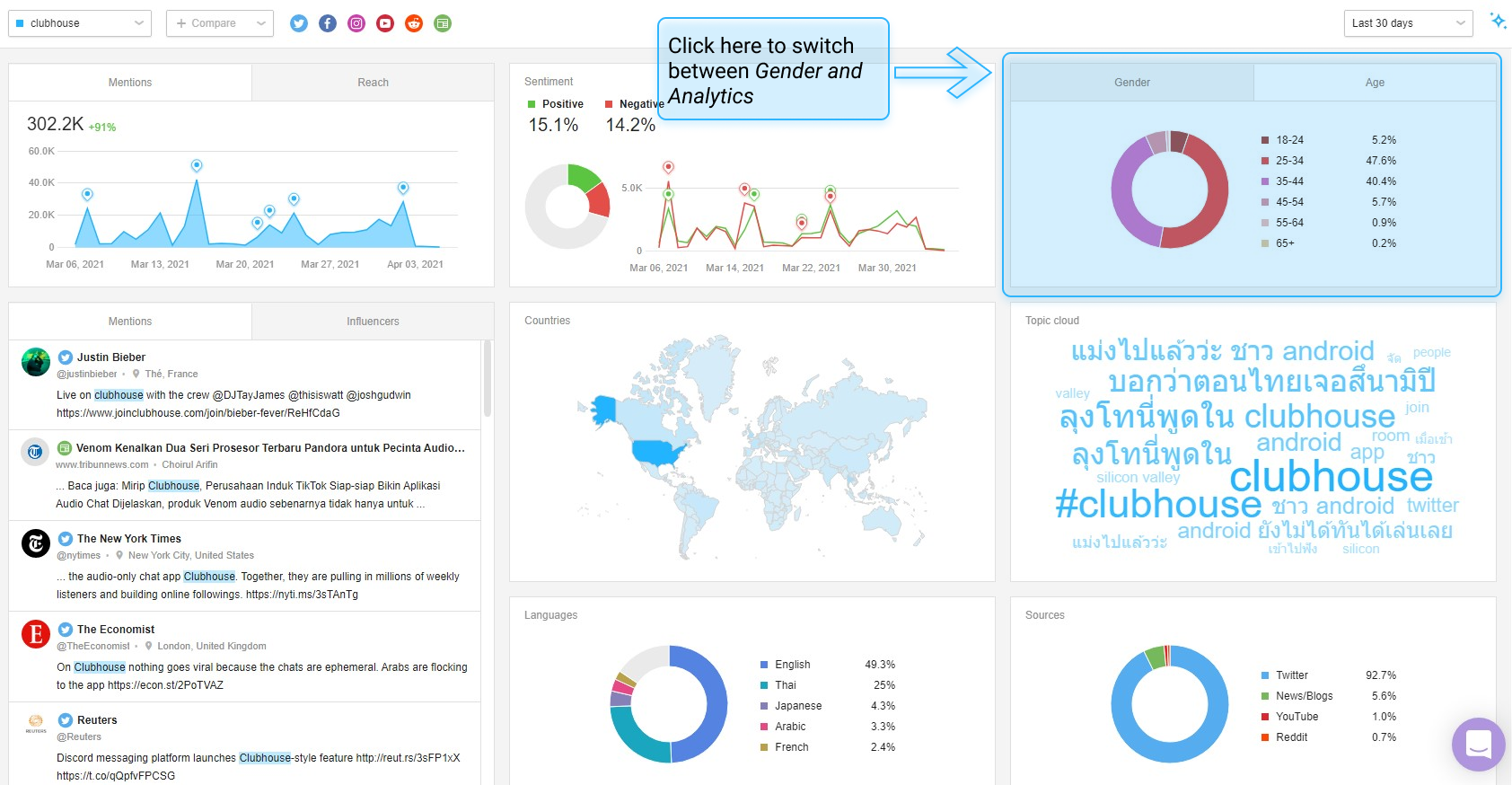 Awario Hack
Reminder: you can pick several alerts to compare them right in in the Dashboard!
The Dashboard is not the only place you can access age insights. If you want to get a social listening report that includes age data, you need to click the Mention Statistics report on the left sidebar of your screen.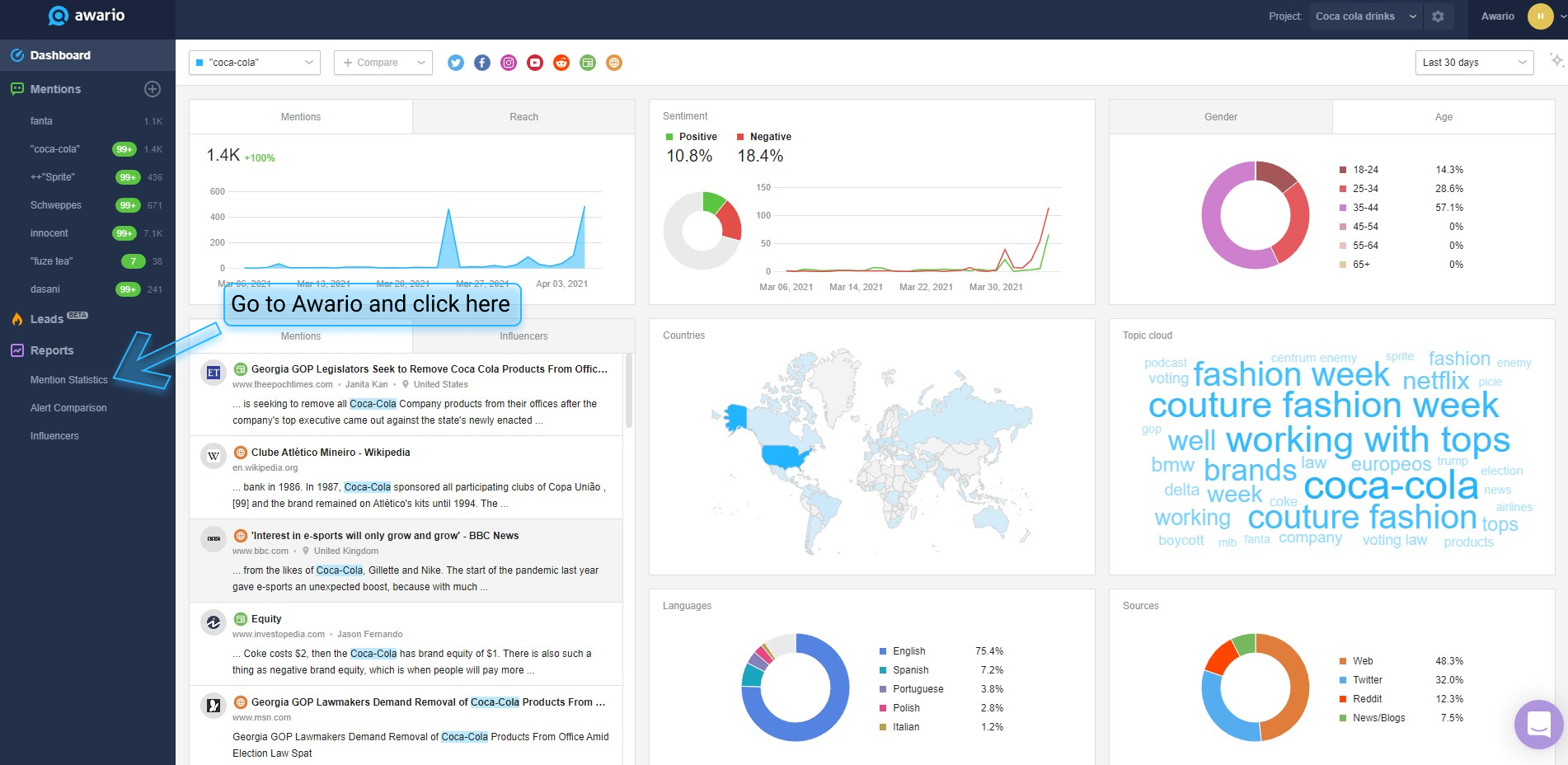 Here you can generate white-label reports for any topic that you monitor. However, Age analytics are not included in reports by default — you need to scroll down to the bottom of your page and click the plus sign to add the Age widget. All the reports generated by Awario can be shared with your coworkers and management via the cloud or downloaded in PDF (for Enterprise users).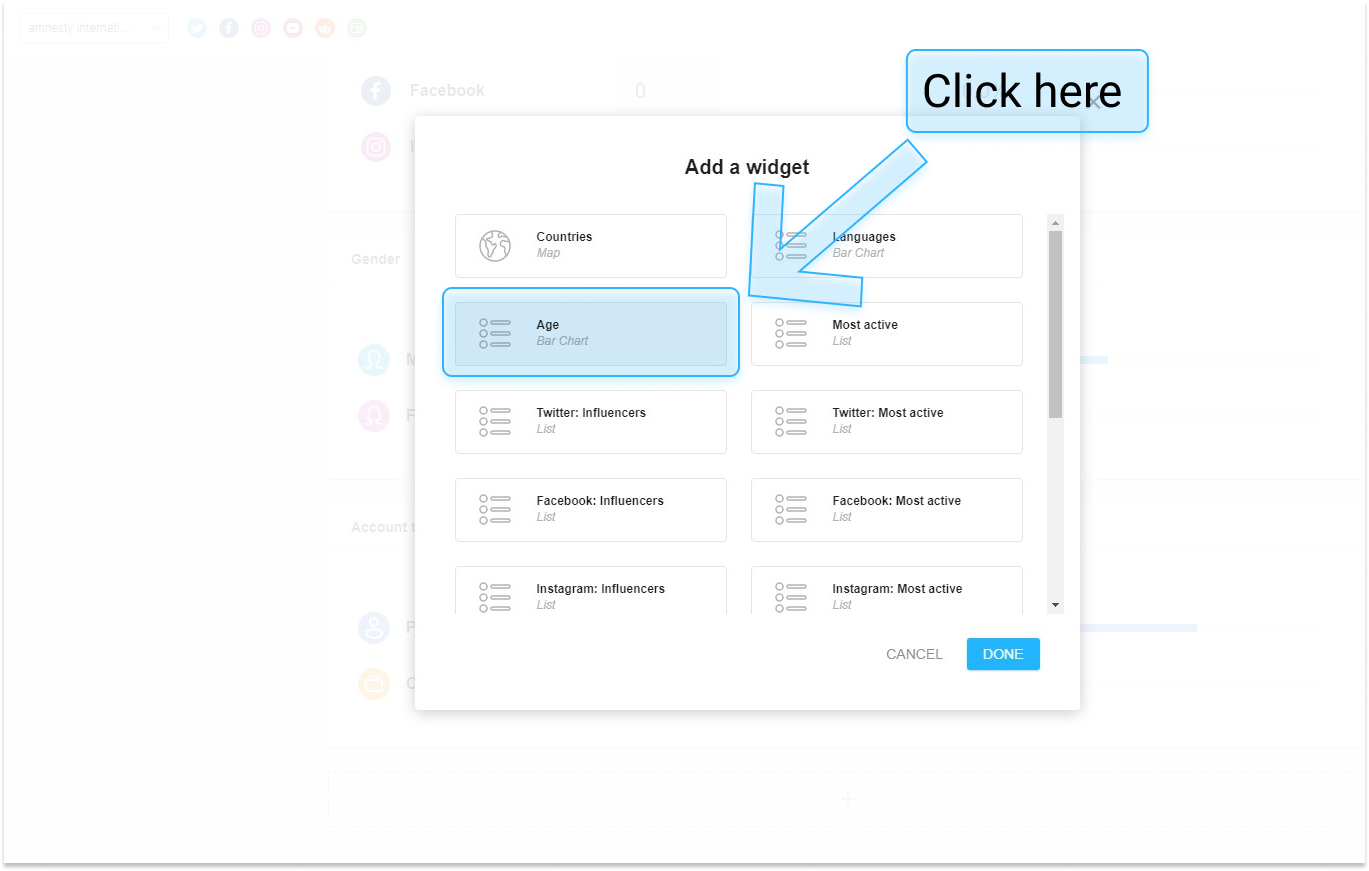 One last place you can find the Age metric is the Alert Comparison report. It allows you to compare up to 15 different topics, for example, your brand and your competitors or your audience and your niche's typical audience.
Alert comparison reports can also be customized, shared, and downloaded just like Mention Statistics reports.
How do age analytics work?
How can Awario tell how old you are?
We do that with the help of a neural network that analyzes pictures of the profiles talking about your topic. Its AI assigns people to one of the age groups based on their looks. That means that age analytics work for any language and any country.
Meet your personal social listening assistant.
Try fully automated, 24/7 brand monitoring with Awario for free.
By signing up I agree to the Terms of Use and Privacy Policy
How to use age insights in your strategy?
Obviously, there are infinite ways to apply demographic data in your marketing strategy or product development, and only you know what questions you need to answer. However, there are common ways to use these insights that you can try right now and see the results. Here are three examples of how you can use age analytics in your marketing strategy:
1. Create a buyer persona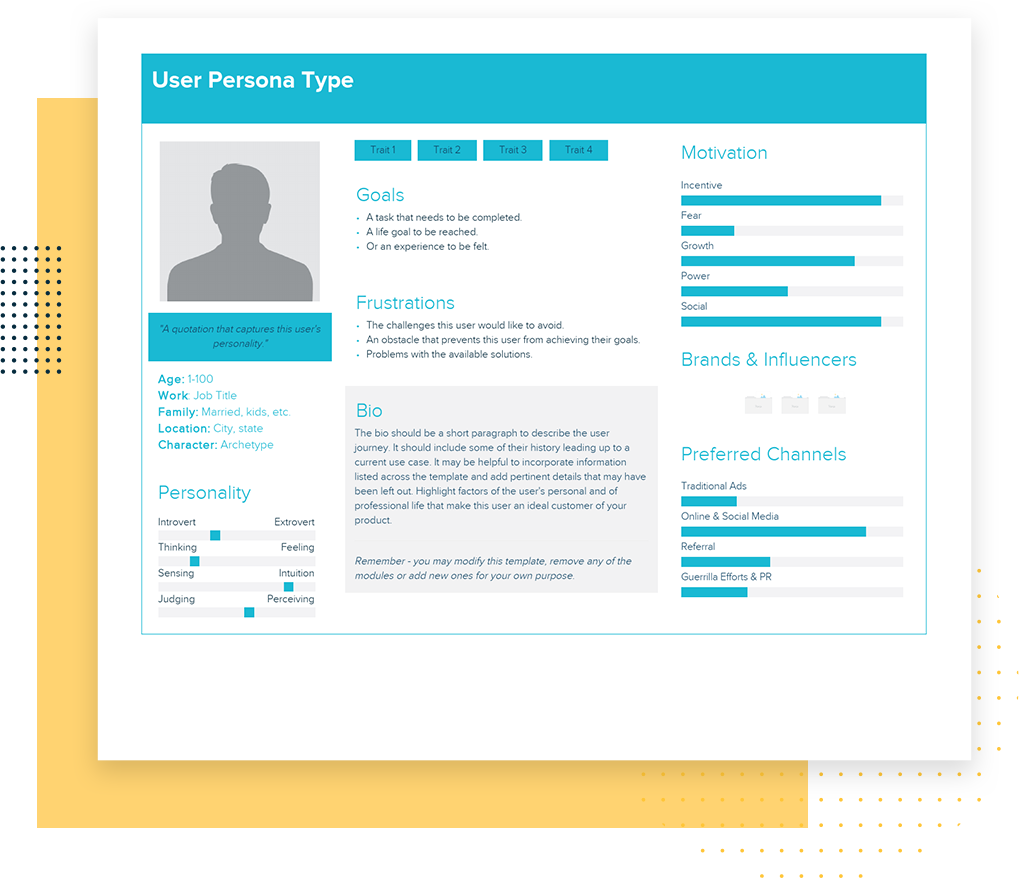 To successfully run a business, you need to know who are you doing it for. Customer personas help you see and study your customers to know who you're marketing to. Using age analytics along with other metrics such as gender, countries, languages, and channels will enable you to create a perfect portrait of your buyer persona for your Marketing and Sales teams.
2. Improve your targeting
Awario gives you an easy way to make sure you are targeting the right people. Firstly, set up a brand monitoring alert and an industry monitoring alert.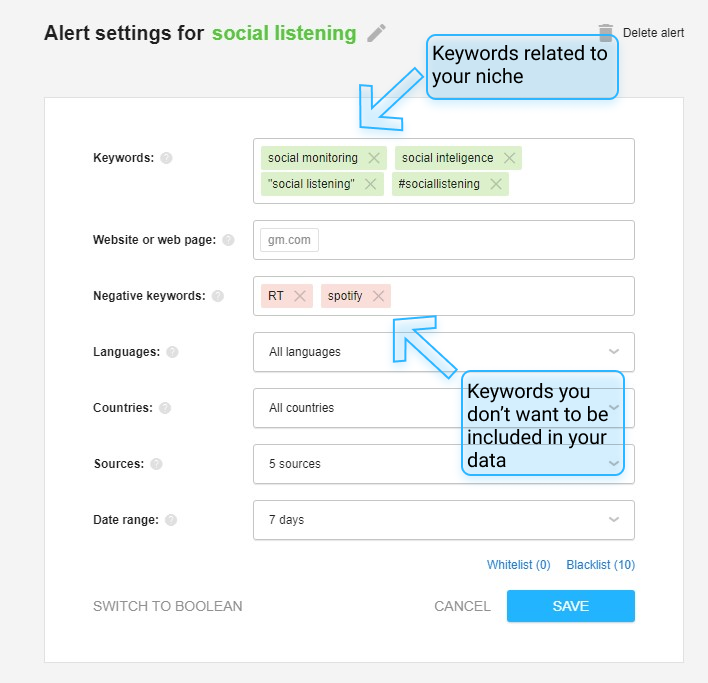 Then go to the Alert comparison report or your Dashboard and compare your niche audience's age with the age of your brand audience.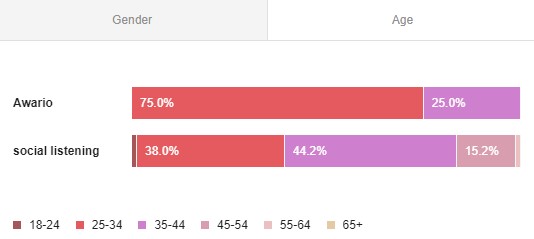 We can see that conversations around Awario skew a bit younger than all the conversations in this industry — perhaps it's a sign for us to target the 35-44 age group.
3. Find new audiences and new markets
By monitoring your competitors in Awario, you'll be able to see how their audience's age breakdown (along with other metrics) compares to yours. Look for gaps to identify demographics that are more prominent within your competitors' mentions than they are within yours - those are likely to be good audiences for you to target.
---
How are you going to use Awario's new metric? What metric we should add to Awario's analytics next? Let us know in the comments below!