8 Best Halloween marketing campaigns: dress up and get spooky!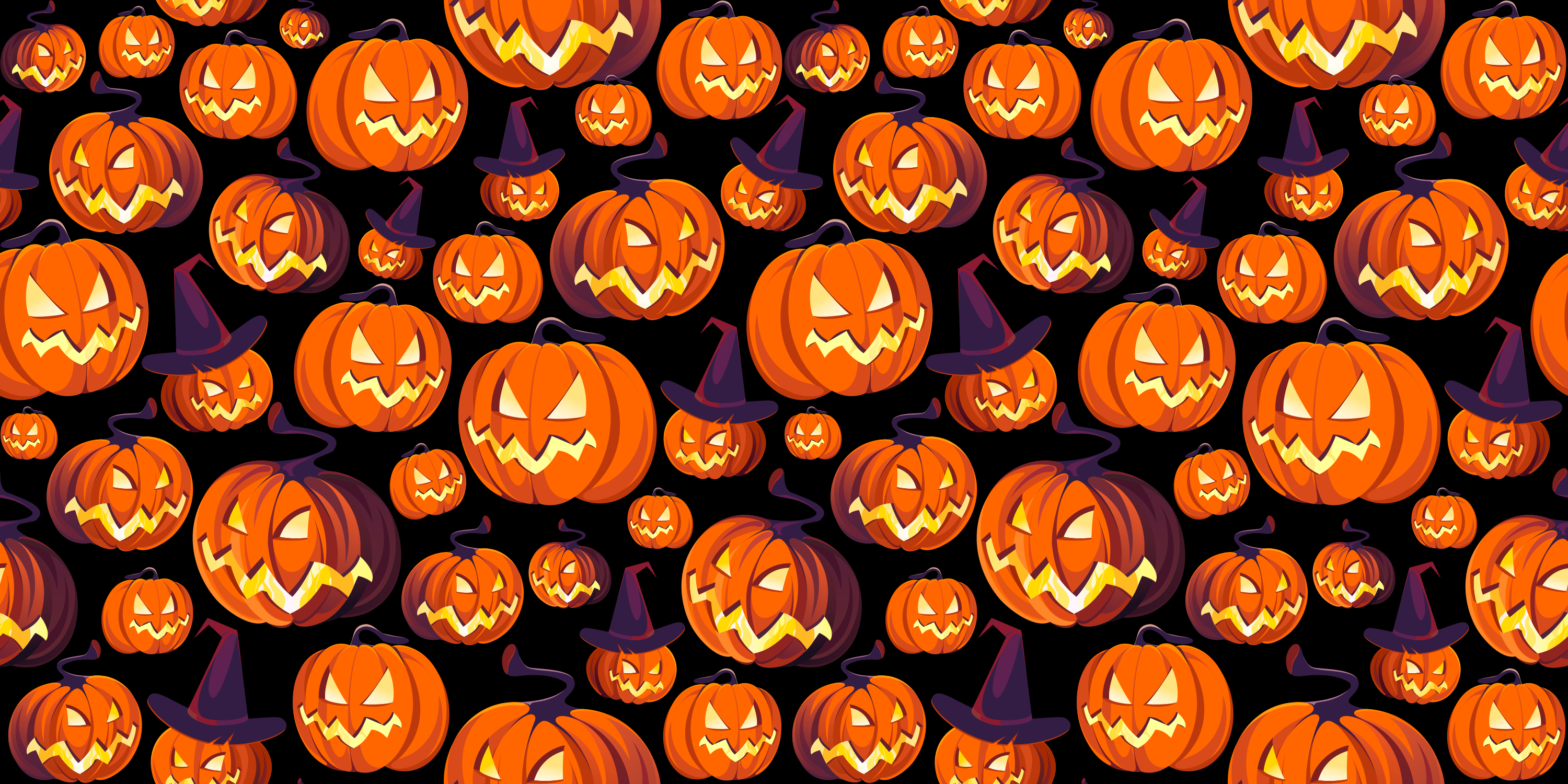 Halloween is a minor splash in sales compared to Thanksgiving, Black Friday, Cyber Monday, Christmas and New Year that come after. However, it's an important splash.
First, there are products for which Halloween is a magic holiday. These are, of course, all kinds of sweets as well as fancy clothing, makeup, and home decorations. Second, even if your brand isn't about any of these products, Halloween gives every company a chance to connect with their customers, grow brand awareness, and show the company's spooky human face. Indeed, these are the goals that most Halloween campaigns are after.
Shameless plug: if you want to see how your brand sentiment and the conversation around your brand changes as the result of your holiday campaign, try Awario. Awario will show you the proportion of good, bad, and neutral mentions of your brand over time, compare your brand to your competitors, and uncover words that come up most often when your brand is discussed online.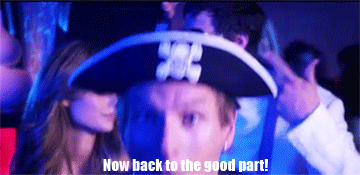 M&Ms - Ghosted (2018)
For candy brands, it's an actual deadly sin to miss out on Halloween marketing. M&Ms used to be all over Halloween, however, they skipped 11(!) years before finally making a ghost-themed ad for 2018. It was a delight, and M&Ms fans finally remembered why they've been into the brand since childhood.
The ad tells a short but engaging story about Yellow and Red being glad they escaped the Halloween party without being eaten, and then Yellow realizing he is actually a ghost. Don't you miss this kind of storytelling?
Boohoo.com - let's get spooky! (2019)
Surely, you would expect something Halloween-related from a company named "Boohoo". Maybe even something huge, budget-unfriendly, and borderline magic. But a fashion retail company (that's what Boohoo.com is, by the way) simply released a meme that 90% of their audience could relate to.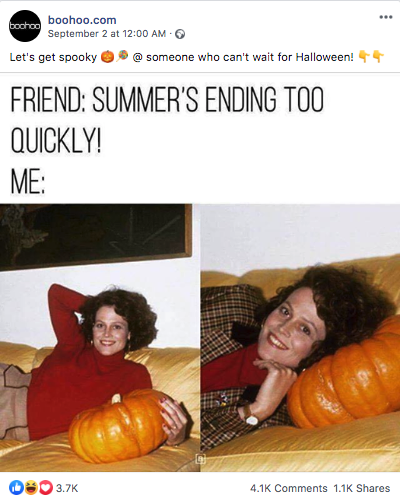 We've talked about meme-based marketing before. In short, it's effective, builds trust, and fosters community.
This simple post attracted a lot of attention, showed that the brand gets its audience, and no doubt gave people a reason to check out some Halloween costumes at the store - all for free :)
Urban Decay - Killer looks from your fave witches (2019)
Urban Decay is one of the smartest makeup brands when it comes to social media marketing. They are always in line with whatever is popular at the moment, be it Halloween or the Game of Thrones finale. They are also heavily into user-generated content, and we know it's a great strategy.
For the holiday, Urban Decay made a page dedicated to Halloween makeup ideas. Products that would be fitting for Halloween are put together for your convenience. You wouldn't find anything made specifically for Halloween there - just usual makeup products that could work with the scary look. And get this: all Urban Decay makeup looks are authored by Instagram influencers. The looks are presented by Instagram influencers, too - no models, no Photoshop. You can see the makeup tutorials for them on YouTube.
Influencer marketing is one of the most effective marketing tactics of today. A holiday like Halloween is a good reason to have a one-off collaboration with an influencer and see how that turns out! For many brands, it's sure to increase the word of mouth and make the online world pay attention to your brand.
Another shameless plug: to find industry influencers and brand advocates in Awario, create an alert for your brand and/or industry, wait for the tool to collect the data, and then go to the Influencers tab to see the list.
Dunkin Donuts - Dunkin's Halloween costume contest (2018)
I'll never stop talking about user-generated content. All best marketing campaigns have customers at their core. By encouraging users to produce content, you're not only saving resources, but you're also spreading the word about your brand to your customers' friends and followers. Surely, Dunkin Donuts doesn't lack brand awareness. However, it was still important for them to remind people that don't regularly go to Dunkin Donuts that the place exists and that it is fun.
Back in October 2018, the coffee and donut company launched Dunkin's Halloween Costume Contest where the participants were invited to wear a Dunkin-inspired costume.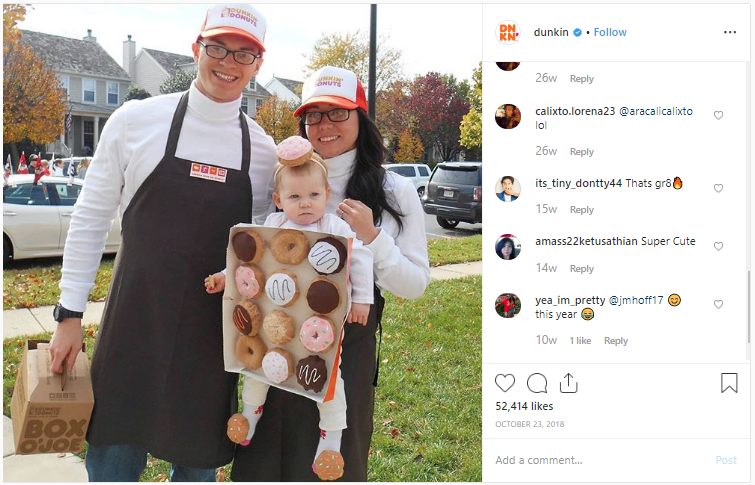 The campaign attracted lots of attention on Instagram and beyond.
Hershey's (2019)
Yes, this is another FMCG brand that loves Halloween with all its chocolate heart. They did something pretty cool this year. First, they made a page with Halloween recipes. On the page, you can discover how to make monster cups, eyeball cookies, peanut butter pumpkin spider… You can also filter the recipes by their difficulty. Second, they made a page with DIY instructions for decorations such as door hangers, maps and games to download, such as Halloween Bingo, and printable candy wrappers! Look, reader, you don't have to sell candies for that - any brand that has anything to do with cooking could do something similar!
However, probably not as much as Hershey's. Hershey's literally did everything for you to enjoy the holiday except for maybe showing up at your doorstep and feeding you candies.
Fanta - Frightening Fanta (2017)
We know Coca-Cola is all about Christmas. Winter doesn't even feel cheerful enough without the Coca-Cola holiday ads. But what about Fanta?
In 2017, the company figured Fanta could be a Halloween drink, and they launched a huge campaign that brought them a 23% increase in sales and was repeated and extended in 2018 and 2019.
First, the brand introduced Halloween lenses to then-popular Snapchat. Then, they changed the packaging. And finally, they introduced the user-generated campaign: teens and Fanta would collaborate to distort reality and prank the internet. Fanta created digital assets for social, web and e-commerce to raise awareness and fuel the desire for the exclusive Fanta Halloween packs.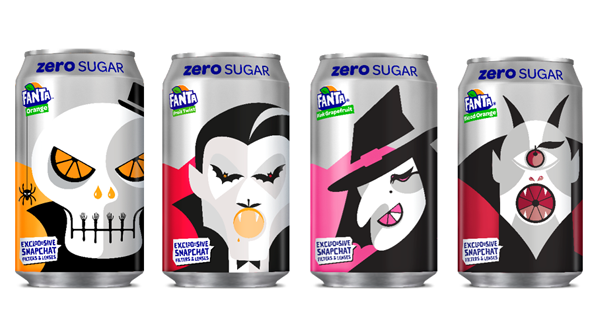 As you most likely guessed, the aim of the campaign was to engage the teen audience. They were the ones to hang out on Snapchat in 2017 and enjoy pranks. Fanta reported that this was "one of the most successful Halloween campaigns in Europe". A highly engaged teen audience of 25 million unique users interacted with the campaign, generating over 137 million impressions.
To repeat Fanta's success (or at least some of it) today, you'll have to use Instagram or TikTok instead of Snapchat. The rest can stay the same.
Skoda - Awaken your inner child (2017)
Skoda went a little nuts on Halloween, 2017. In their Halloween ad, they showed a kid carving out a pumpkin and an adult (the same kid all grown up) carving out... a Skoda. The video aimed to appeal to the child inside every one of us. It's sure puzzling and attention-grabbing enough for the conversation about Skoda to increase substantially on Halloween!
Bacardi (2018) - #dresstobefree
For many, Halloween is just a solid reason to dress up.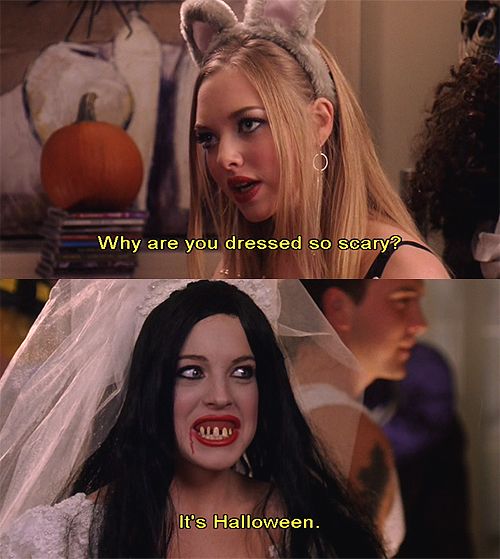 Bacardi caught that mood and made a series of Halloween ads where people dress up. They do that not to fit in, but to be free. Unapologetically. Just like you will be this Halloween, with the skull in one hand and a Bacardi-based cocktail in the other. At least I know I will be.
Bacardi as a product has little to do with Halloween. Their sales probably didn't go through the roof after this campaign. But the brand showed its audience (at least some of it) that they are all on the same page. And that's worth a lot in a world where brands should build an actual relationship with their customers to successfully sell products.
Are you ready for Halloween? At least a little bit? Then get out there, choose a costume, and put out some (digital) candies for your store!