8 best social media management tools (according to social media users)

Dealing with social media profiles of a company can be a mess. But using the right social media management tool will help you quickly clean it up: it will save your time on managing pages and engaging with posts, will help you plan and schedule your content. So, for this post, we decided to apply the power of social media monitoring to create a list of the best social media management tools.
The methodology
Initially, we picked 20 apps from the list of the most popular tools for social media management. We used Awario to analyze these tools from June 1, 2019 to July 1, 2019. We collected everything that was said about them on Twitter, Facebook, Instagram, YouTube, and Reddit, and based on this data, calculated the score for each platform:
The overall score consists of two parts: the Mention score and the Sentiment score. The highest possible value in each one is 5, which makes 10 the maximum overall score. To calculate the Mention score, we assigned 5 points to the tool with the biggest number of mentions. Based on this proportion, we calculated the scores of other tools. To calculate the Sentiment score, we defined the ratio of positive mentions to negative first, and assigned 5 points to the app with the highest ratio. And for other tools we defined scores proportionally.
Below, you can find the list of the platforms that collected 500+ mentions in June, their descriptions, metrics, and influencers:
1. Buffer
Score: 6.6/10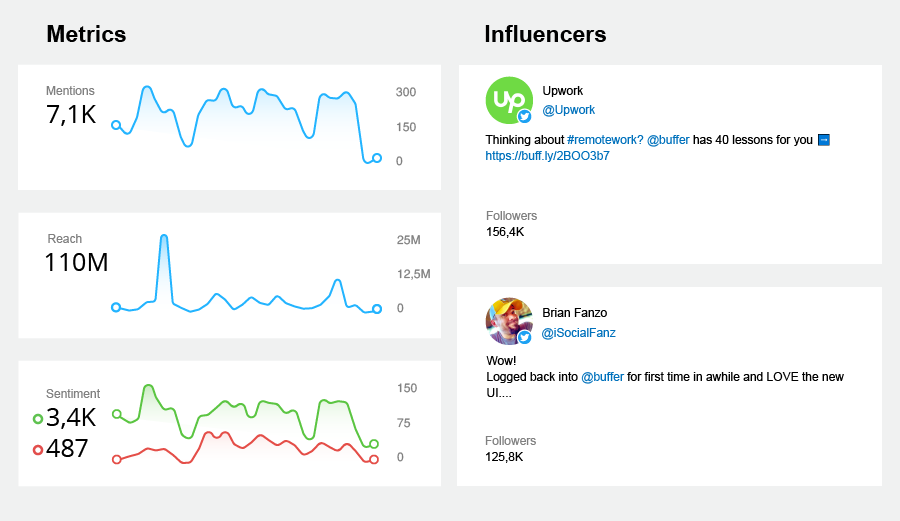 Buffer has something to offer to any social media marketer. The company provides 3 products:
1) Publish, which is designed to schedule posts,
2) Reply — creates an inbox for business profiles across multiple platforms,
3) Analyze, that analyzes performance of your brand in the given moment.
Buffer offers both iOS and Android apps as well as the Chrome extension that makes the process of scheduling really flexible. Buffer has a really great positive-to-negative mentions ratio, that shows that their marketing team did a great job in June.
Pricing: Free trial. Subscriptions for Buffer Publish start at $15/month.
2. Hootsuite
Score: 6.1/10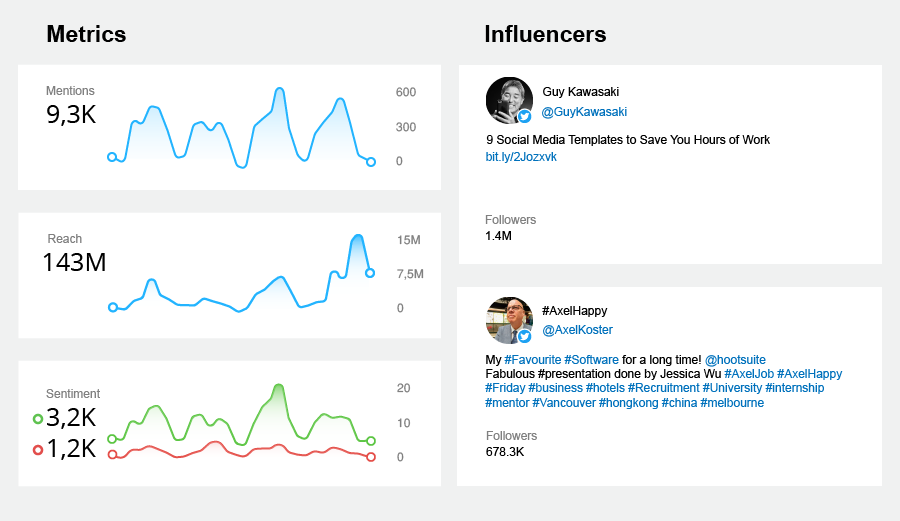 Hootsuite is one of the world's most popular social management platforms. Apart from the default set of management capabilities, such as scheduling and publishing your content, the app offers streams that track your keywords on social media. Hootsuite lets you respond to customers or influencers directly from the dashboard, or you can assign responses to someone else on your team. Hootsuite repots include stats about location, language, and gender statistics. Hootsuite was the unrivaled leader in the number of mentions and Reach in June.
Pricing: Free trial. Paid plans start from $19/month.
3. eClincher
Score: 5.3/10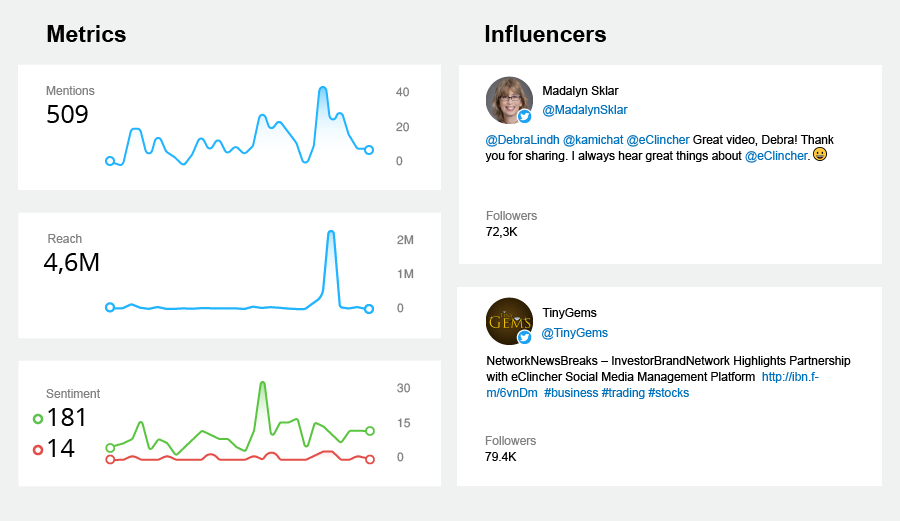 eClincher is a pretty straightforward and easy-to-use platform. The tool searches for influencers, offers smart queues, suggested content, and URL shorteners. eClincher has an impressive list of tools it integrates with: Facebook, Twitter, Instagram, LinkedIn, Pinterest, Google My Business, YouTube, Yelp, Google Analytics, and RSS. It's interesting that eClincher hasn't collected a lot of mentions compared to other shortlisted tools, but thanks to the amazing sentiment score it came in third. It was ranked first in the Sentiment score and gained 2x the score compared to the second-ranked tool.
Pricing: Free trial. Subscriptions start at $59/month.
4. Sprout Social
Score: 3.2/10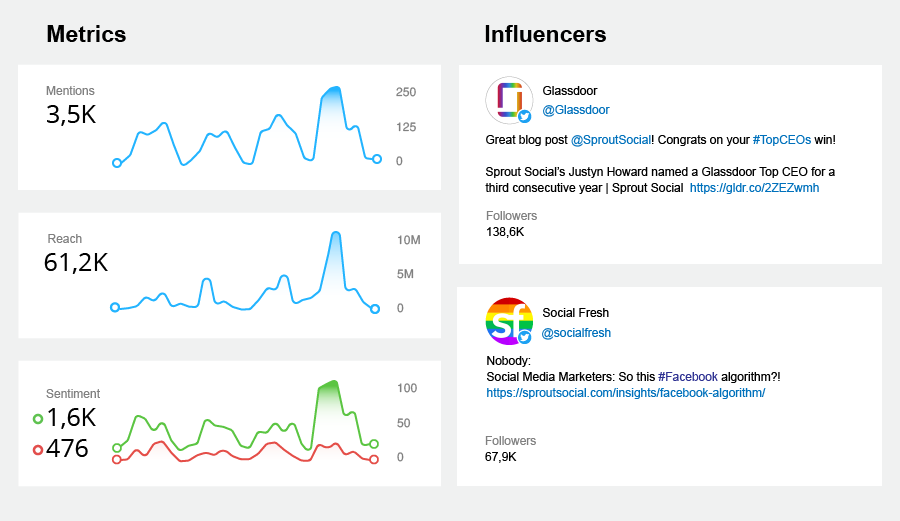 Sprout Social excels at multiple things — from social media monitoring to scheduling to publishing. The tool is equipped with a unified inbox for a company's social profiles. The platform lets you plan and publish your content, generate data-rich reports, and assign tasks to your team members. Judging by the graphs seems like Tuesday and Thursday are the best days for Sprout Social to make blog posts, since they are shared most on these days.
Pricing: Free trial. Subscriptions start at $99 per user/month.
5. MeetEdgar
Score: 2.5/10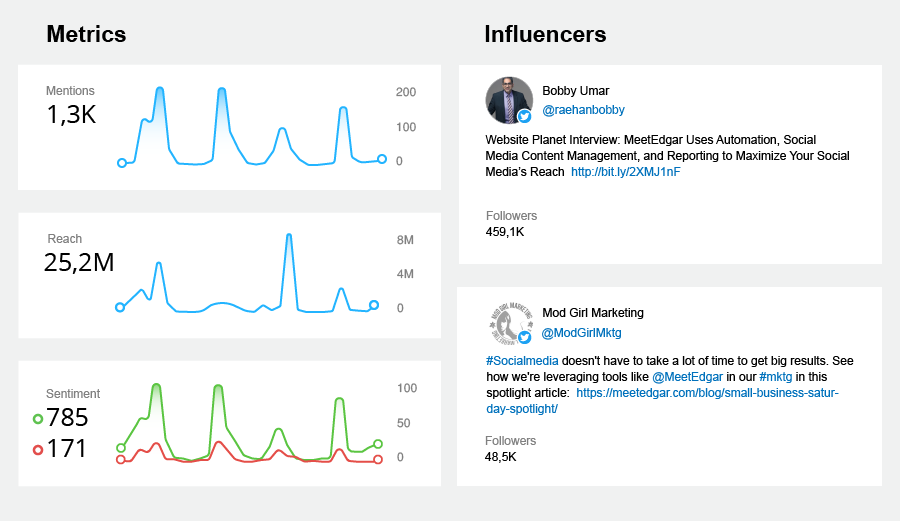 MeetEdgar is a social media management tool that automates your content on Facebook, Twitter, LinkedIn, and Instagram. The tool offers A/B tests for social messages to see what resonates best with your audience. It also provides you with advanced reports that include follower count, clicks, etc., and are automatically sent to your inbox each week. MeetEdgar has really big spikes in overall mentions number, reach, and positive mentions once a week.
Pricing: $49/month.
6. Sprinklr Social
Score: 2.4/10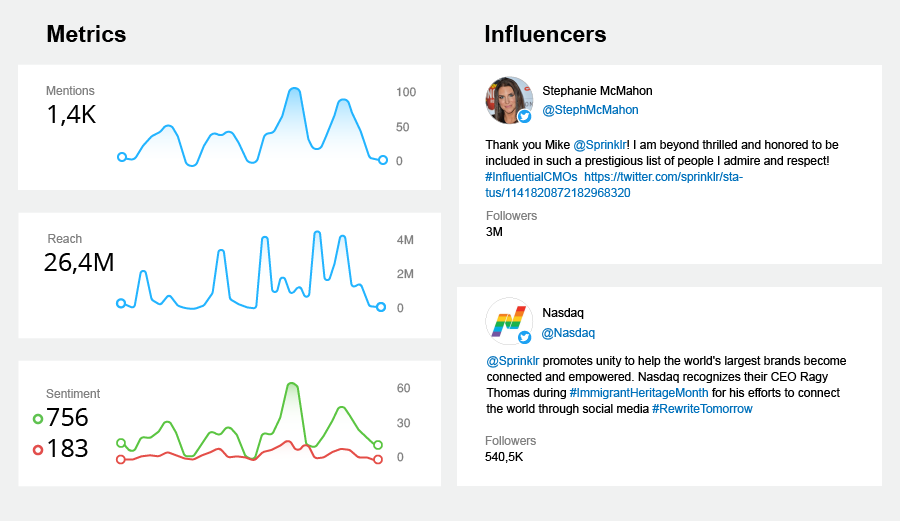 The Sprinklr platform offers 5 modules for marketers: Modern Marketing, Modern Advertising, Modern Research, Modern Care, and Modern Engagement. These tools, along with the AI-driven technologies used by the platform, are meant to deliver real-time insights and increase customer satisfaction. Needless to say that this tool offers all the essential features for social media management. You can see that Sprinklr is working hard on growing their brand awareness, which can be tracked by the constant increase of mentions and reach.
Pricing: Available upon request.
7. AgoraPulse
Score: 1.8/10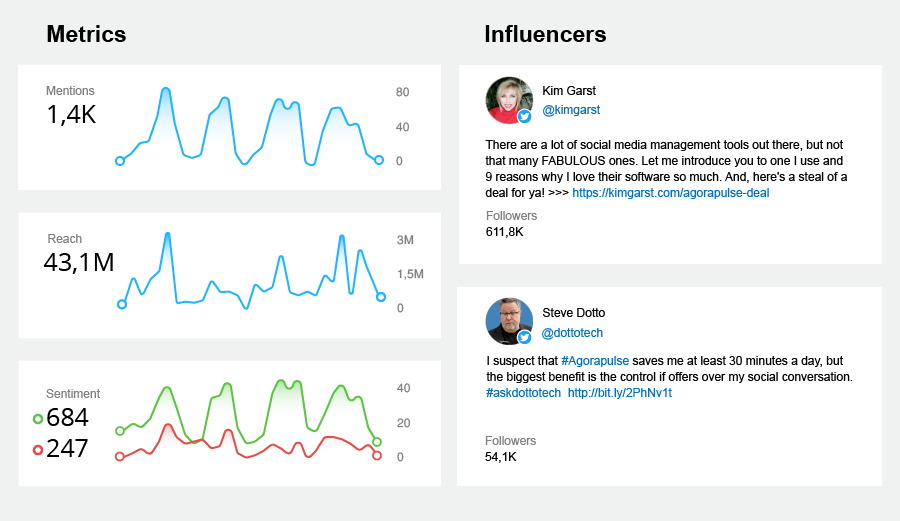 AgoraPulse makes social media management simple. It creates a single dashboard for managing Facebook, Twitter, Instagram, YouTube, and LinkedIn. The platform has collaboration capabilities for assigning tasks to your teammates. The tool collects actionable data such as fan growth, engagement, awareness, etc., and presents it in customizable reports. Although there wasn't that much buzz around AgoraPulse in June (compared to the leaders), the platform emerged in the list of top tools because of the several spikes in mentions, where people were just leaving positive feedback about the company.
Pricing: Free trial. Subscriptions start at €99/month.
8. Crowdfire
Score: 1.1/10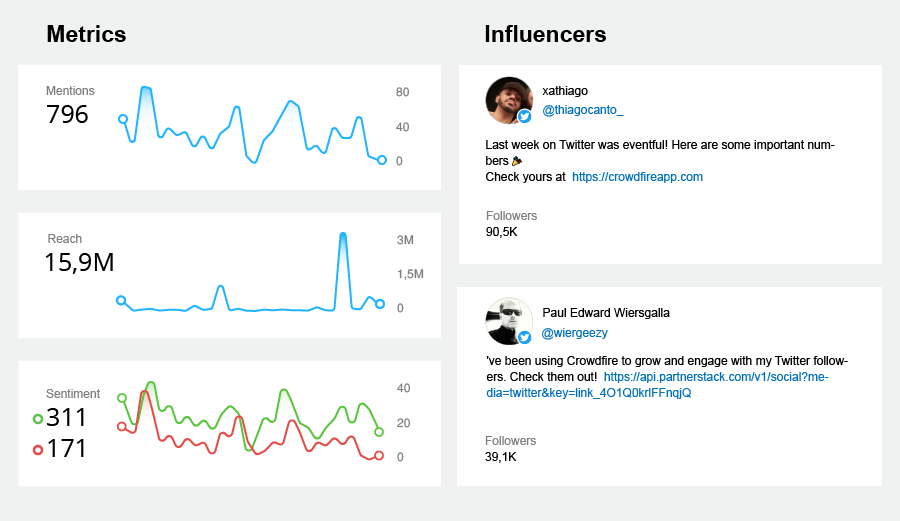 Crowdfire is a platform that enables you to schedule posts on Twitter, Facebook, LinkedIn, Pinterest, and Instagram. The platform automatically discovers articles and images that will fit your audience, lets you pre-schedule all your posts in advance and publish them at times that are best for you. Crowdfire had a few spikes in Reach during the month, but what's really interesting is that it has points on the graph where negative mentions surpassed positive. It turned out that Crowdfire users often use Twitter to express both positive and negative thoughts about the platform.
Pricing: Free version. Subscriptions start at $10/month.
---
I hope this post will help you choose the best SMM tool for your business. If you think that we forgot to include something in the list, let us know in the comments section.