Coronavirus on social media: Analysis + live data

Nobody - except for, perhaps, Bill Gates - was prepared for the coronavirus pandemic. The virus (and its devastating impact on public health and wellbeing, the economy, and our everyday lives) is probably the most discussed topic everywhere today, and social media is no exception.
For this article, we set Awario to monitor these conversations around social media and web. We wanted to see what we can learn from millions of mentions of COVID-19 and the phenomena the pandemic brought around, such as remote work, quarantine, and panic buying.
Let's start with the mentions of the virus itself on social media, in the news, and around the web at large.
COVID-19: how big is the conversation and what are its key themes?
Since March 10 and up until April 1 (the day I am writing this artcile), coronavirus and related terms have been mentioned almost 14 million times across social media and the web. Depending on when you are reading this, the numbers on the real-time chart below might be much larger. Feel free to hover your mouse over any point on the chart to see how many mentions we found on any given day.
It seems that everyone - from governments, organizations, brands, and celebrities to your nextdoor neighbour - is talking about the virus. Here are some of the most influential mentions of COVID-19 so far, also updated in real time.
What's even more interesting is the reach of those conversations - the estimated number of impressions they all have had combined. According to our data, it's already over 2 trillion - and it's not going down.
Trillions may not be the easiest numbers to digest, but let me put this another way: if there are 4,574,150,134 internet users around the world, then...
Over the last 3 weeks, an average Internet user has been exposed to coronavirus-related information online 460 times.
We also wanted to explore the most frequently mentioned words and phrases within the conversations about coronavirus. The word cloud below shows the top words and phrases within the freshest million of mentions and is also updated in real time. If you look closely, you may notice that Trump is one of the words - he's is only person whose name made it to the word cloud.
Lastly, we used topic clusters to identify the top themes within the latest mentions of coronavirus. Here are the biggest themes that pop up within these conversations, along with the number of mentions in each cluster.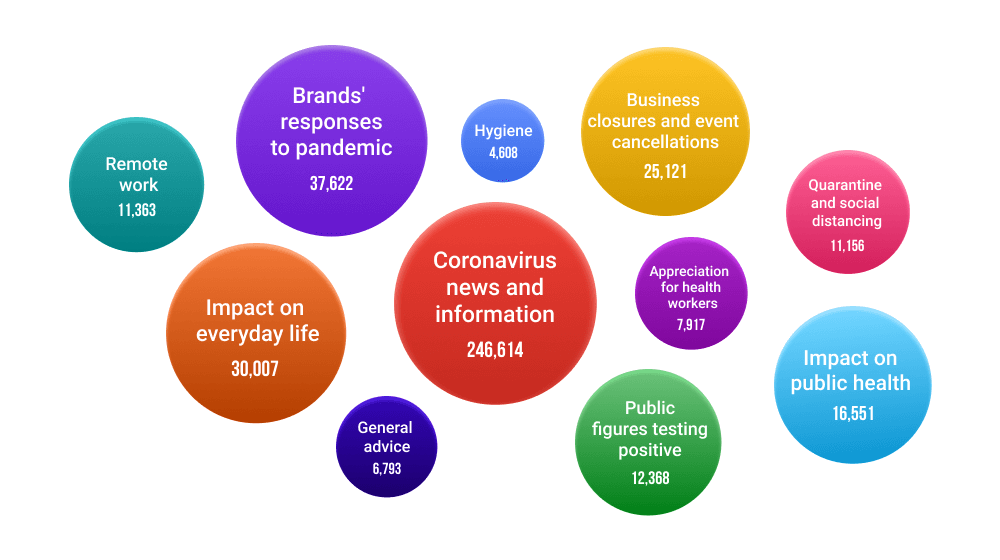 Remote work: how do people feel about working from home?
Among other things, the pandemic has resulted in a massive work-from-home experiment. We used Awario to track mentions of remote work, home office, and working from home. Since March 1st, Awario collected 733,200 mentions of these terms.
First things first, we wanted to look at the sentiment of the mentions to see how people felt about working from home:

It turns out working remotely has been a positive experience for most. But what aspects of remote work are people most (and least) thrilled about?
Don't miss our next analysis.
Subscribe to Awario blog to get social data analyses, case studies, and social listening how-tos in your inbox.
For this part of the analysis, we looked at unique social media posts (excluding shared posts and retweets) that didn't contain links (not to flood the data with posts sharing news articles and blog posts with productivity advice). We then searched for mentions that contained positive phrases (like the best part, the best thing, I love, I enjoy, etc.) and negative ones to figure out which parts of remote work bring people joy - and which don't. Lastly, we looked at the most frequently used words within the data sets, grouping similar words together: e.g., dog, cat, kitten, and puppy all became pets.
So what do people like about working remotely?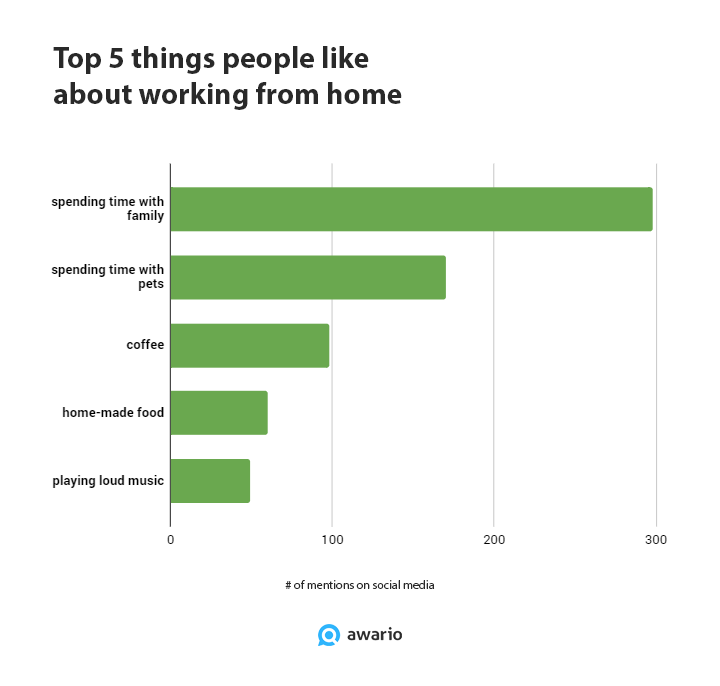 Predictably, people appreciate the extra time they get to spend with the people and animals they love, eating healthy, and being able to blast music while they work (I so can relate). Perhaps more surprisingly, people tend to like coffee at home better than the office alternative (although, more likely than not, it's not the coffee itself, but the appreciation for little things in life that I'm sure we're all feeling).
Puppy in my lap, candle going, Harry Potter on and fresh coffee in my Disney mug... I love working from home

— whit (@whitscasnyyy) March 18, 2020
Pros of quarantine:
• I'm saving SO much money
• I work from home
• I sleep in every day
• I haven't set an alarm SINCE
• I'm quarantined with the best partner & my cat
• I started painting & reading for fun again
• I get to cuddle & binge watch Netflix all the time

— ???☽ (@AlyssaaRoush) March 24, 2020
But what are the worst parts about remote work? Here are the things people are struggling with the most when working from home: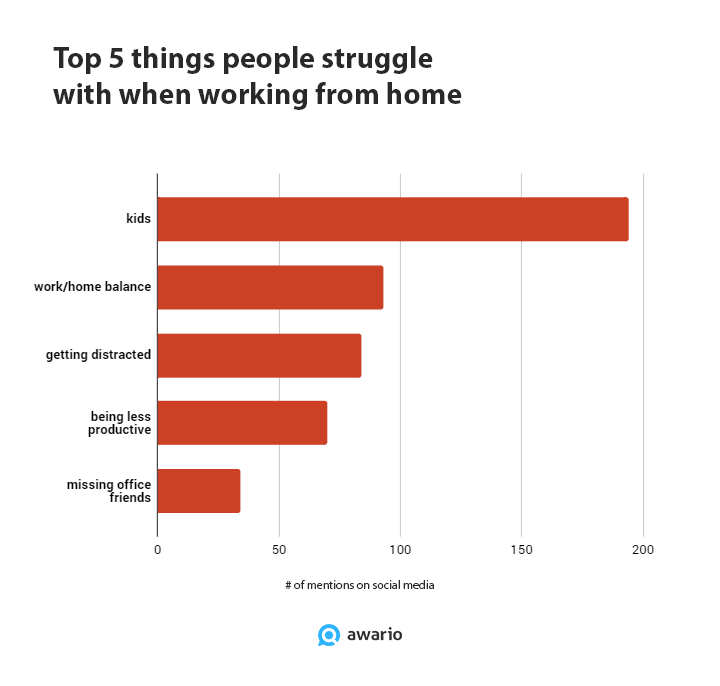 No surprise here: juggling childcare and work is a struggle for many. Others are having a hard time balancing their work and home life, staying productive, coping with distractions, and missing their office friends.
Working from home with young kids sucks.
Thank you for coming to my ted talk.

— Thierry Lauret (@TLauret) March 31, 2020
Okay, so one of the bad parts of working at home are the distractions.

My 3rd Gen model #PS3, which still works, has 500 gigs worth of games.

I uh.....might be tempted to play the original #Killzone in HD. And there's also KoF XIII. This is bad for me. Can't help it!

— Roberto ? #Vitaisland, #SwitchCorps, #PS4 ?? (@jehuty88) March 25, 2020
Quarantine: what are the best and worst parts about self-isolation?
With about a third of the world's population in quarantine, we wanted to look into the mentions of quarantine, self-isolation, and social distancing. Since March 10, Awario's collected over 1.7 million mentions of those keywords. Fun fact:
Within social media conversations about quarantine, Netflix is by far the most frequently mentioned brand with 9,960 mentions.
Just like with remote work, we wanted to look at how people felt about self-isolation and social distancing.

The results were similar: there are about 3 times as many positive mentions of quarantine as negative ones.
And just like we did with remote work, we set out to explore people's most (and least) favourite things about staying at home.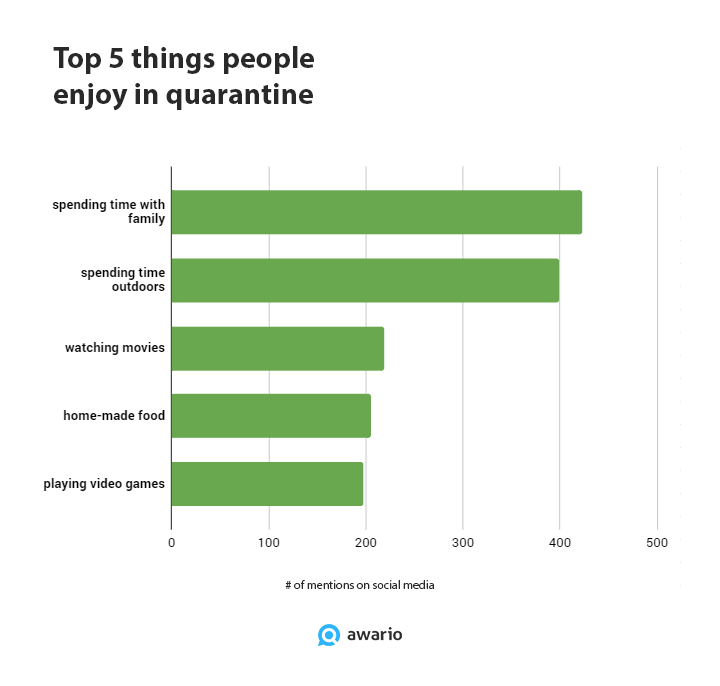 People are grateful for family time, still getting to spend time outdoors (while practicing social distancing, of course), binge-watching movies and TV shows, cooking, and playing video games.
Quarantine good things:
We've had family dinner with everyone at the table for 7 days straight!
Spending quality time with the kids.
Back yard catch.
Playing dolls with the girls.
Any good moments for you? List them...

— Dolemite (@Dolemite15) March 27, 2020
As for the negative things...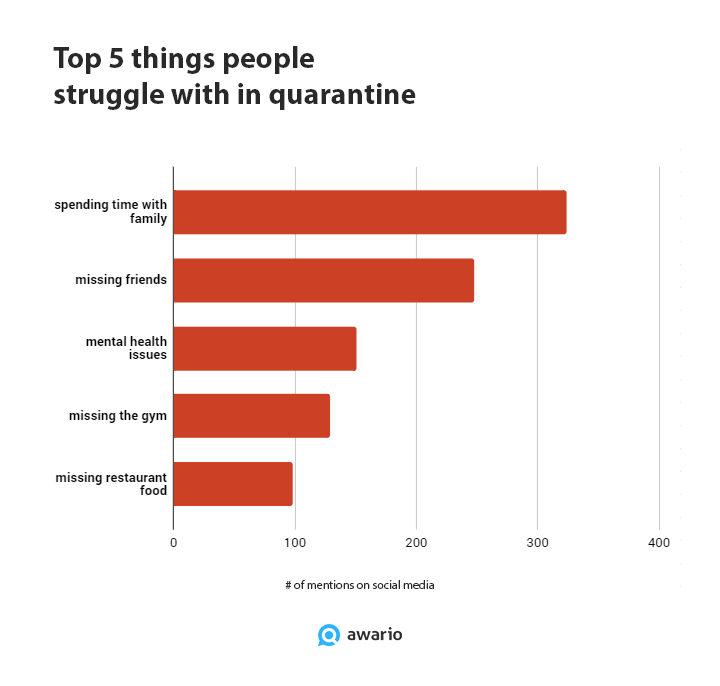 You may have noticed family time is listed as both the best and the worst part about quarantine. And indeed, it is the most frequently mentioned aspect of self-isolation in both contexts.
Day 13 of self quarantine but day 1 of quarantine with the ENTIRE family and I HATE IT HERE!!!!

— Tammy (@Chickenwaaang_) March 25, 2020
Missing their friends, struggling with mental health, not being able to go to the gym and enjoy restaurant food are also within the top 5 negative aspects of self-isolation for social media users.
I'm just so frustrated with myself from r/depression
Panic buying: what are people stocking up on?
Lastly, we wanted to analyze another phenomenon the pandemic brought around - panic buying. We set out to monitor unique posts mentioning phrases like out of stock and sold out on social media, and looked at the most common words and phrases within those mentions to identify goods people report as being out of stock the most.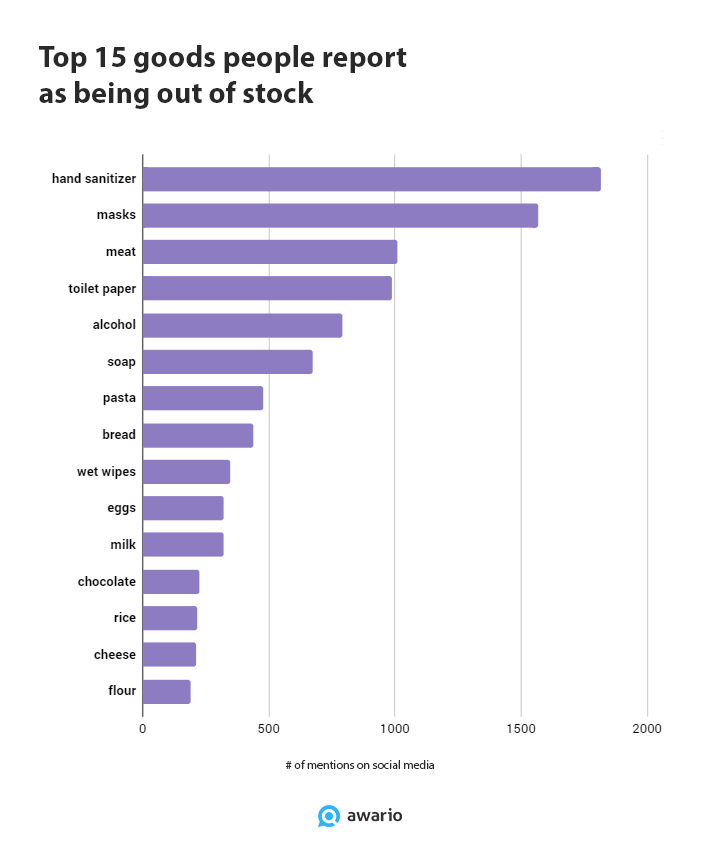 Although live chickens did not make it to the top 15, it's a definite - albeit very sad - trend.
This completes our analysis of conversations about coronavirus on social media. Please let me know what kind of data you'd like us to look at in our next article in the comment section below!
---
P.S.: Is your company trying to help during the pandemic? If it involves social data, we'd love to join forces. Take a look at our nonprofit program, or get in touch if you have a specific idea in mind on how we could help together.