New in Awario: Domain stats (and how to use them)

Exciting news: domain stats just went live in Awario! Whatever Awario plan you're on, you'll see them in the right-hand part of your screen by clicking on any mention from news, blogs, and the web.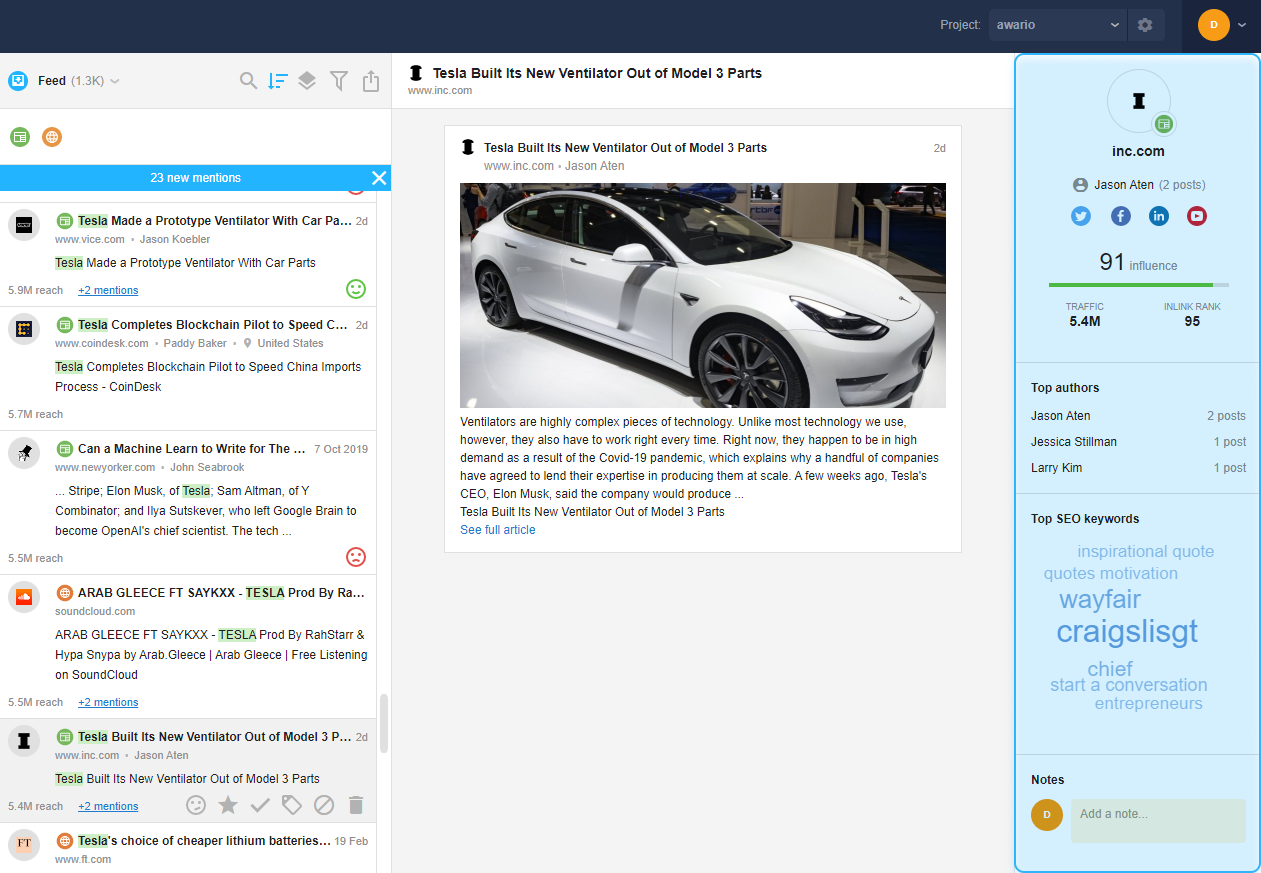 If you're wondering what these stats are and how you can use them in your social listening process, this guide is for you.
Start a free Awario trial
See domain stats (and much more!) in action with a free 7-day trial.
By signing up I agree to the Terms of Use and Privacy Policy
Anatomy of domain stats
First things first, let's explore what's new.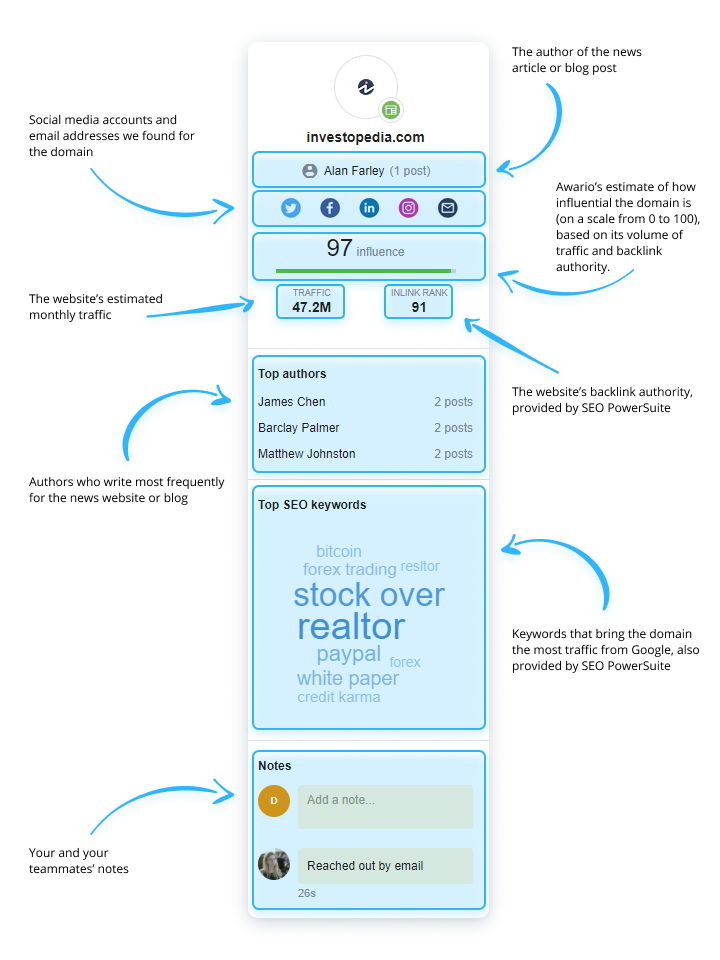 These metrics will be useful for anyone monitoring their brand online to quickly evaluate the authority of a mention on news websites, blogs, and the web at large. But there're also a few not-so-obvious ways you can use this data for PR, SEO, and beyond. Let's dive right in!
Hack #1:

Befriend bloggers and journalists who've mentioned your brand

Domain stats will be incredibly useful for those of you looking to build relationships with bloggers and journalists who're already talking about your brand. By looking at domain stats, you'll be able to quickly see how influential the website that mentions you is and what topics it covers, so you can figure out if it makes sense for you to reach out to the article's author and start building a relationship with them.

So how do you do this? Chances are you already have an Awario alert set up for your brand (if not, now is the time to sign up for a free trial and create one). In your alert feed, filter mentions by Source only leaving News/Blogs and Web enabled. Optionally, you can click on the filter icon to also filter mentions by other parameters.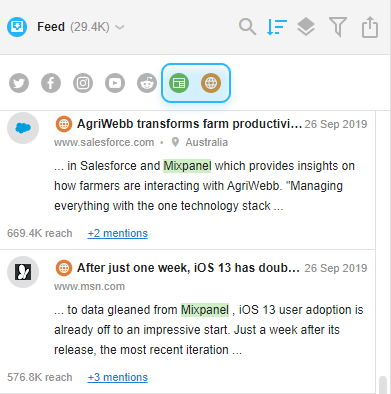 Click through the mentions one by one and explore the data Awario's collected. Look at the domains' Influence to see if it makes sense to partner up with the platform and examine Top SEO keywords to see what the website is about and whether it's relevant to your niche. If you decide it makes sense to work with a journalist, copy their name to look them up on LinkedIn or try and find their email adress with a tool like RocketReach. Alternatively, use the social media and email buttons to connect with the team behind the website.
Now, onwards to the fun part: discovering new opportunities for PR, link building, and other kinds of partnerships!
Hack #2:

Uncover opportunities for link building and guest posting

This hack will let you find websites related to your industry, as well as blogs that mention your competitors or link to their websites. Those are going to be good candidates for link building and guest posting, since those sites already write about related topics.

In your Awario dashboard, click on the + icon next to Mentions to set up an alert for your industry. If you aren't already monitoring your competition, feel free to create a single alert for industry keywords plus your competitor brand names. Make sure to specify your competitors' websites in the Website or web page field and select News/Blogs and Web under sources.

Here's an example of what this alert may look like for a brand like Spotify: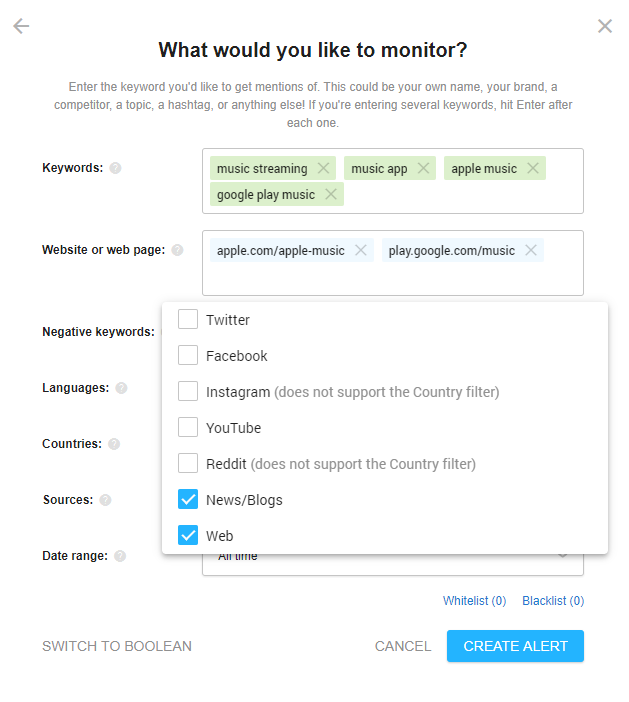 Make yourself a cup of cocoa and give the app some time to collect the results. In a few hours, you should have plenty of data to work with. Jump to your feed and start exploring!
Pro tip: Filter results by Reach to find websites you can realistically work with
Depending on your keywords, you may get a bunch of results from big media outlets and news websites which aren't exactly the best candidates for link building. Similarly, you can come across smaller websites that aren't necessarily going to bring you SEO value.
This is where Reach - Awario's estimate of the website's daily traffic - comes in. Use the Advanced Filter in your Awario feed to set a Reach range for websites (along with other parameters, such as Country and Language) to find websites that are better suited for your SEO efforts.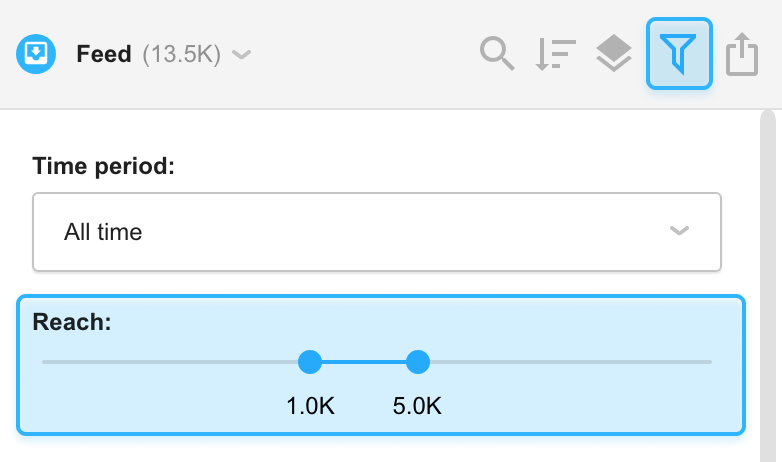 Go through the mentions one by one and pay attention to every website's overall Influence score, InLink Rank (a backlink authority metric by SEO PowerSuite), and Top SEO keywords to find the best opportunities for link building and guest posting. Finally, use the website's contact details for outreach.
Hack #3:

Find PR opportunities and reach out

The alert you just created for your industry and competitors is the only thing we'll need for this step. Go to your Awario feed and sort your mentions by Reach to see results from the most popular websites first.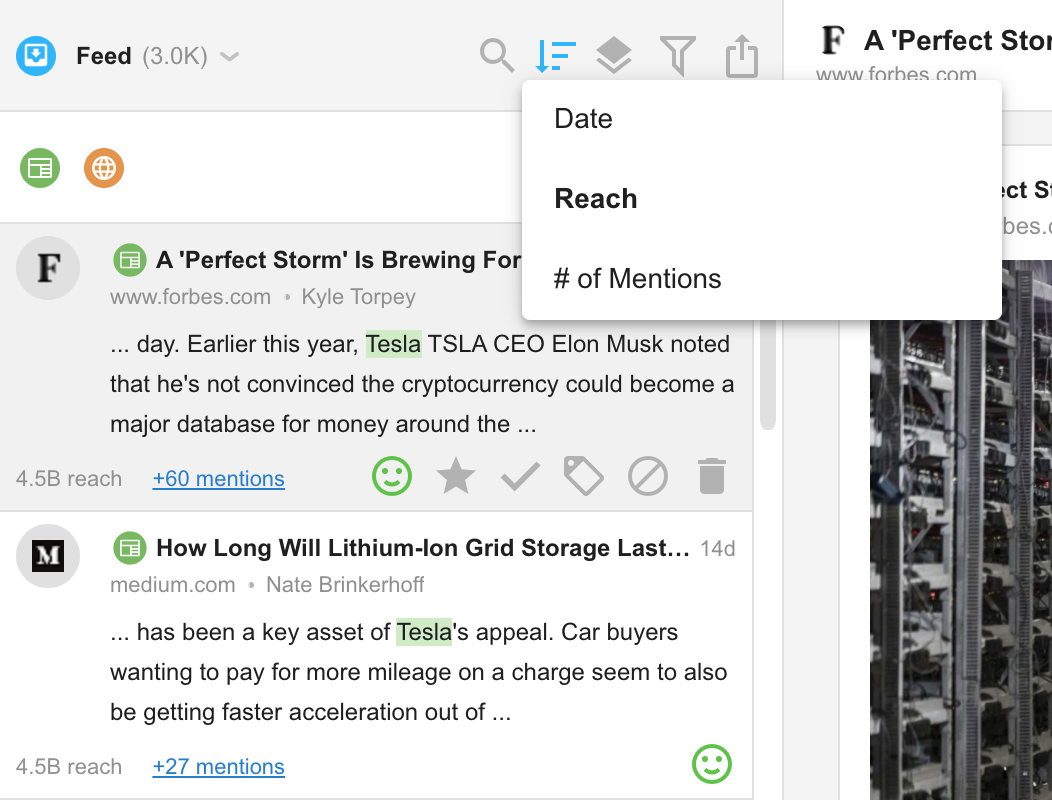 Look at domain stats to find websites that are relevant to your niche (via examining Top SEO keywords), have a reasonable Influence, and enjoy a solid amount of Traffic. Pay attention to the context your competitors get mentioned in, too: do news websites cover their branded research, company news, or something else? It's never a bad time to draw some inspo from your competitors' tactics.
When you spot a domain that checks all the marks, take note of the article's author and the website's top authors - those are going to be great candidates for outreach. Alternatively, feel free to use the social media links or the website's contact email address to contact the team and inquire about PR opportunities.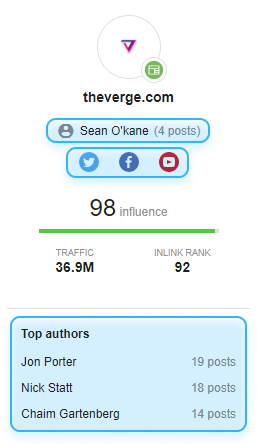 Hack #4:

Reclaim linkless mentions

Whether or not unlinked brand mentions bring SEO value is a big debate. What isn't debatable, however, is that backlinks still play a huge role in your website's rankings. So researching websites that mention your domain but don't link to your site and doing some outreach definitely won't hurt.

If you already have an alert set up for your brand, jump to your feed and filter mentions by Source to only see mentions from News/Blogs and Web. Better yet, make use of Awario's Boolean search and create a separate alert to only monitor unlinked brand mentions.
Pro tip: Create a Boolean search to monitor unlinked mentions
In your Awario dashboard, click + next to Mentions. Hit More options and then Switch to Boolean. Copy and paste the template below and replace the placeholders with your brand's name and website URL.
"Your Brand Name" AND NOT link:"*.yourwebsite.com/*" FROM news-blogs,web
With this setup, Awario will only look for mentions of your brand name that do not link to your site across news websites, blogs, and the web.
Go through the feed to see if links from any of the domains are worth pursuing. Look at the websites' Top SEO keywords, InLink Rank, and overall Influence to pick the best prospects for outreach.

Finally, make sure to leave a note about your progress so that you don't forget which websites you've already reached out to.
Final words
Those were my top hacks to use Awario's domain stats. Do you find the new metrics useful in your social listening routine? Have you got hacks of your own on how to use these stats? Let me know in the comments below.