Influencer marketing 2022: 8 tools for in-depth research and many tips
Article summary
Marketers often face challenges while looking for brand advocates. Where to start, how to evaluate candidates, what strategy to follow? In this article, you will find tips and influencer marketing tools that can help you with the influencers research.
Encouraging introductory remarks
Every marketer and their mother is talking about how awesome influencer marketing is — and they are not wrong. Even though influencer marketing has been repeatedly included in the "20xx trends" for at least the last ten years, it is there for a reason.
This strategy had some changes over time, but it still remains one of the most effective digital marketing strategies out there. According to the 2020 survey conducted by the Influencer Marketing Hub, 49% of consumers depend on influencer recommendations. Perhaps that's why 91% of the survey respondents believe influencer marketing to be an effective form of marketing.
The best thing about influencer marketing is that this type of social media marketing is universal and affordable for almost every business. You can work with brand advocates effectively regardless of the niche your company belongs to.
However, as I mentioned before, there have been a lot of changes introduced to the way we carry out influencer marketing campaigns. Can you be sure that your influencer marketing strategy is not outdated?
You can with this article! We gathered the most up-to-date influencer marketing tips to show what you should and shouldn't do in 2021. This advice is based on influencer marketing trends that we could observe in 2020.
So let's refresh your influencer marketing strategy according to influencer marketing 2021 trends.
Tip 1: Work with micro-influencers
For newbie marketers, the more followers an influencer has, the more leads their campaign will generate, right? Wrong! The biggest mistake a marketer can make is to go chasing follower numbers. A study by Experticity found out that 82% of consumers are "highly likely" to follow a recommendation made by a micro-influencer.
Oftentimes, micro-influencers are focusing on a specific niche: they can talk about growing plants, reading Tarot cards, reviewing different bikes, visiting interesting tourist destinations, and so on. This helps you choose an influencer whose followers are certainly in your target audience. Additionally, you can include in your brand advocates a pool of bloggers who live in your business location. Laser-focused marketing is the best kind of marketing!
Another advantage of micro-influencers is the relationships with their audience. Due to the size of their following, they are able to build a more genuine and authentic connection with their followers, and thus, people trust their recommendations much more than those of a macro-influencer.
For these reasons, it might be more beneficial for your brand to contact a smaller influencer for an influencer marketing campaign. So, start your first influencer research by analyzing micro-bloggers that have the same target audience. (Spoiler: You can use an influencer marketing tool for this!).
Tip 2: Pay attention to analytics
As we learned, marketers are convinced that influencer marketing works. But it's not enough to believe that it works, in the marketing world, data is everything and you need to back up your beliefs with robust analytics.
When you set up an influencer campaign, it's most likely you check the number of clicks and purchases from URLs you provide the influencer with. Many marketers stop at that. However, this is not enough.
It's becoming more and more common to ask influencers for deeper analytics such as:
the number of views or impressions,

engagement rate,

new followers,

and so on.
You can also use social listening to check how much buzz your campaign generated and among which demographics it was more popular.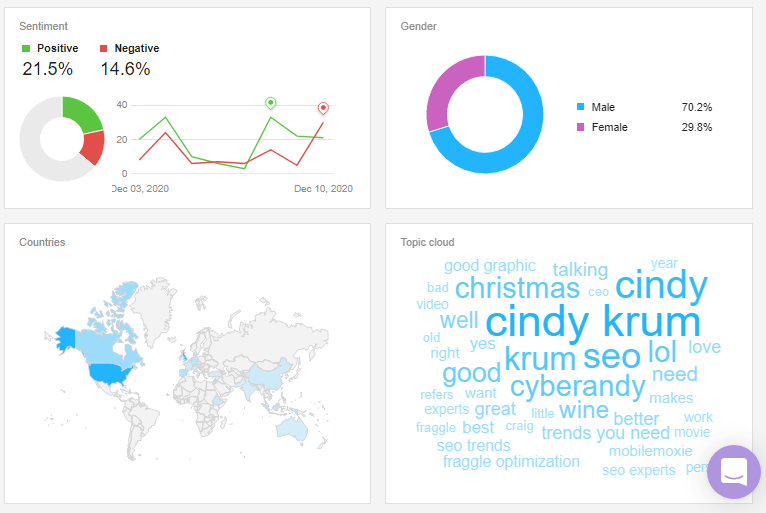 Analyzing all these numbers, you can understand if your collaboration was successful. Some marketers use Influencer KPIs to reveal the strengths and weaknesses of each blogger they work with. For instance, they measure influencer responsibility by checking how long they responded to their emails or DMs, how many times they postponed the publication of their posts. It is a useful approach to find the best brand advocates with fantastic outputs.
Sign up for a free Awario trial
See Awario in action with a free 7-day trial. No credit card required.
By signing up I agree to the Terms of Use and Privacy Policy
Tip 3: Get creative with influencer campaigns
In 2020 and especially 2021 it's no longer enough to post a picture of a product and say you like it to convince people to buy it. Both brands and influencers are getting more creative with their influencer campaigns and using different mediums, formats, and types of content to convert consumers.
Take a look at this paid partnership post by Hannah Witton. The Old Vic theatre partnered with Hannah to promote their online Christmas performances and asked her to play Jingle Bells with the handbells they've sent her.
They partnered with her for several reasons: she lives in London and The Old Vic is a London theatre, she loves theatre and musicals, and she has a bubbly charming personality perfect for this kind of a challenge. Thus, she matches their target audience great!
This campaign is a perfect example of сreative influencer marketing. Don't just give your influencers a short pitch with a product description and call it a day. Use your imagination!
Tip 4: Say yes to long-term partnerships
More and more brands are prioritizing long-term relationships with influencers over one-time collaborations. For example, in the make-up world brands create PR lists with trusted influencers and send them every new product they launch, invite them for their events (in pre-COVID times obviously), take them on trips, invite them to host their online streams, and so on.
Of course, building relationships requires more effort than collaborating on one social media post, but the ROI can be incredible. The audience of the influencer is getting reminded of your brand more and more often and thus becomes more and more interested in it.
Besides, long-term collaboration is a sign of a brand's quality: you wouldn't use a product more than one time if it was a bad product or service. It is true for Twitch influencers first.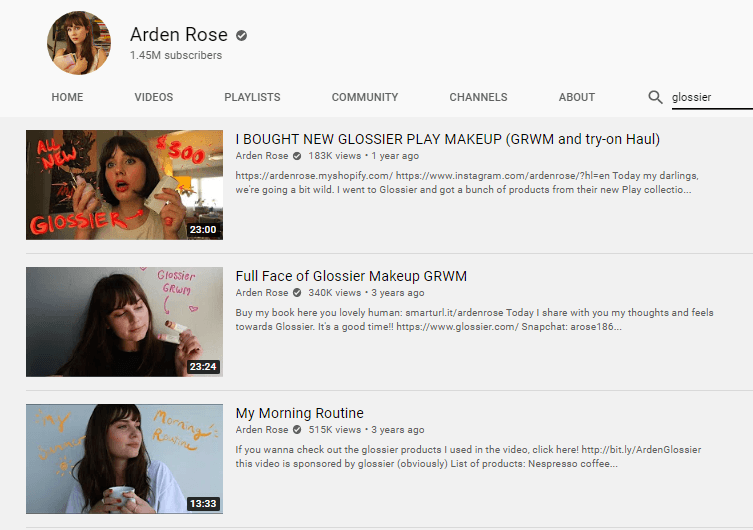 For example, this influencer has been partnering with Glossier for the last 3 years and many of her followers learned about the brand through her videos.
Tip 5: Invite influencers to host virtual events
Speaking about online streams, with many people locked inside to stop the spread of COVID-19, online events are more popular than ever. An online event doesn't have to be a huge deal like an awards show or something like that, it can be just a live-stream on Instagram, a Q&A session, a LinkedIn how-to clip, or something else as easily produced.
This tactic was successfully used by Joe Biden during his presidential campaign. The future president invited influencers from different niches, from young women rights activists to mommy bloggers, and they interviewed him on their topic of interest. The interviews were streamed on Twitch, YouTube, and Instagram.
It would be presumptuous to say that influencer marketing helped Joe Biden win the elections but it certainly worked. All the more reasons to try it yourself!
Tip 6: Use reputation analysis and marketing tools
When choosing an influencer, it's extremely important to monitor their reputation. You need to make sure that you won't stir up controversy or straight-up cause a PR crisis by partnering with this Internet personality.
Luckily, modern marketing technology allows you to run a check of someone's reputation much quicker and on a much deeper level than a simple Google search could do. Today you can start detailed influencer research and analysis with any free or paid influencer marketing tool you would like!
In addition to that, online reputation management tools are often using social listening technology, so you can employ them for influencer search as well. With a powerful influencer research tool, you can find influencers based on keywords related to your niche. As a quick point, we wrote a more thorough guide on how to find influencers if you want to check it out!
To give you some impression of what top reputation analysis and influencer marketing tools look like, here's a small list!
Start monitoring your brand today.
You should've been doing it yesterday – but the next best time is now with Awario.
By signing up I agree to the Terms of Use and Privacy Policy
Online reputation management tools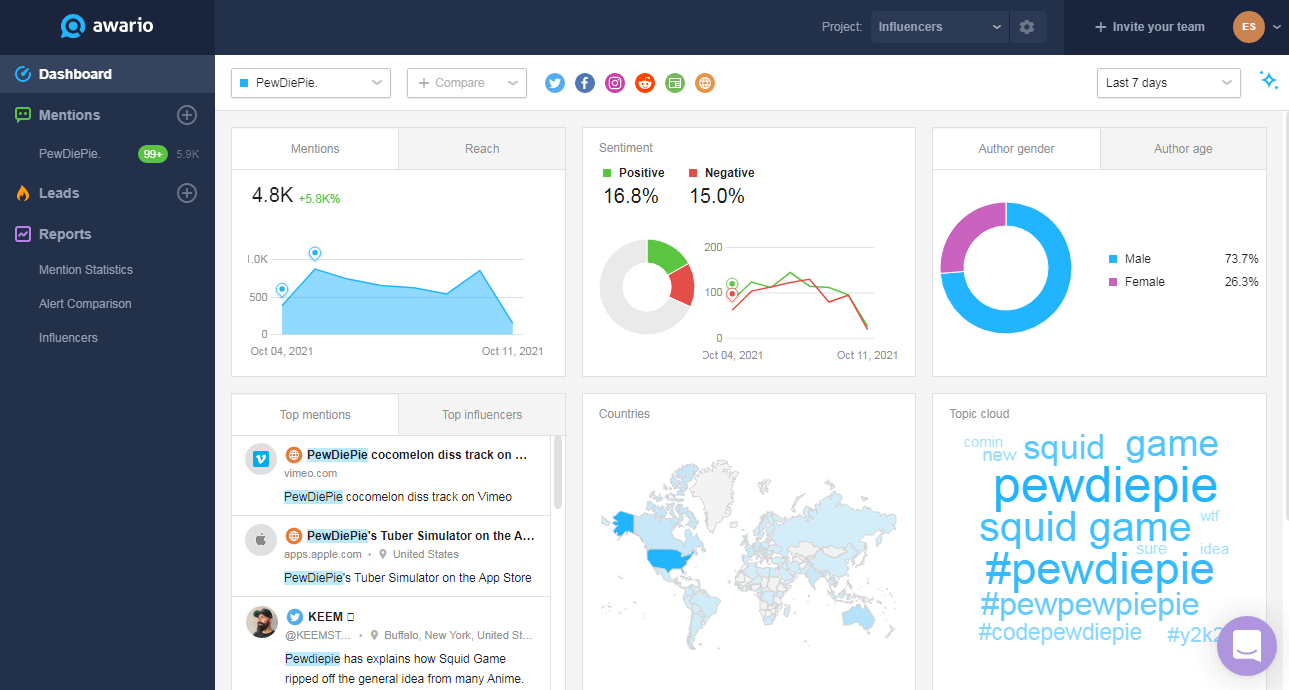 Awario is a social listening tool that helps you monitor and manage your online reputation. It also has a dedicated Influencers report that ranks influencers in your niche based on their reach i.e. how many people see their posts. So, you can use it as an influencer research tool as well.
In the Influencers report, you can see how prominent voices in your industry talk about your brand and related topics, what kind of sentiment they express, how often they mention them, and so on.
Awario also can help with brand monitoring, lead generation, link-building, target audience research and more depending on your goals. You can try it for free for 7 days.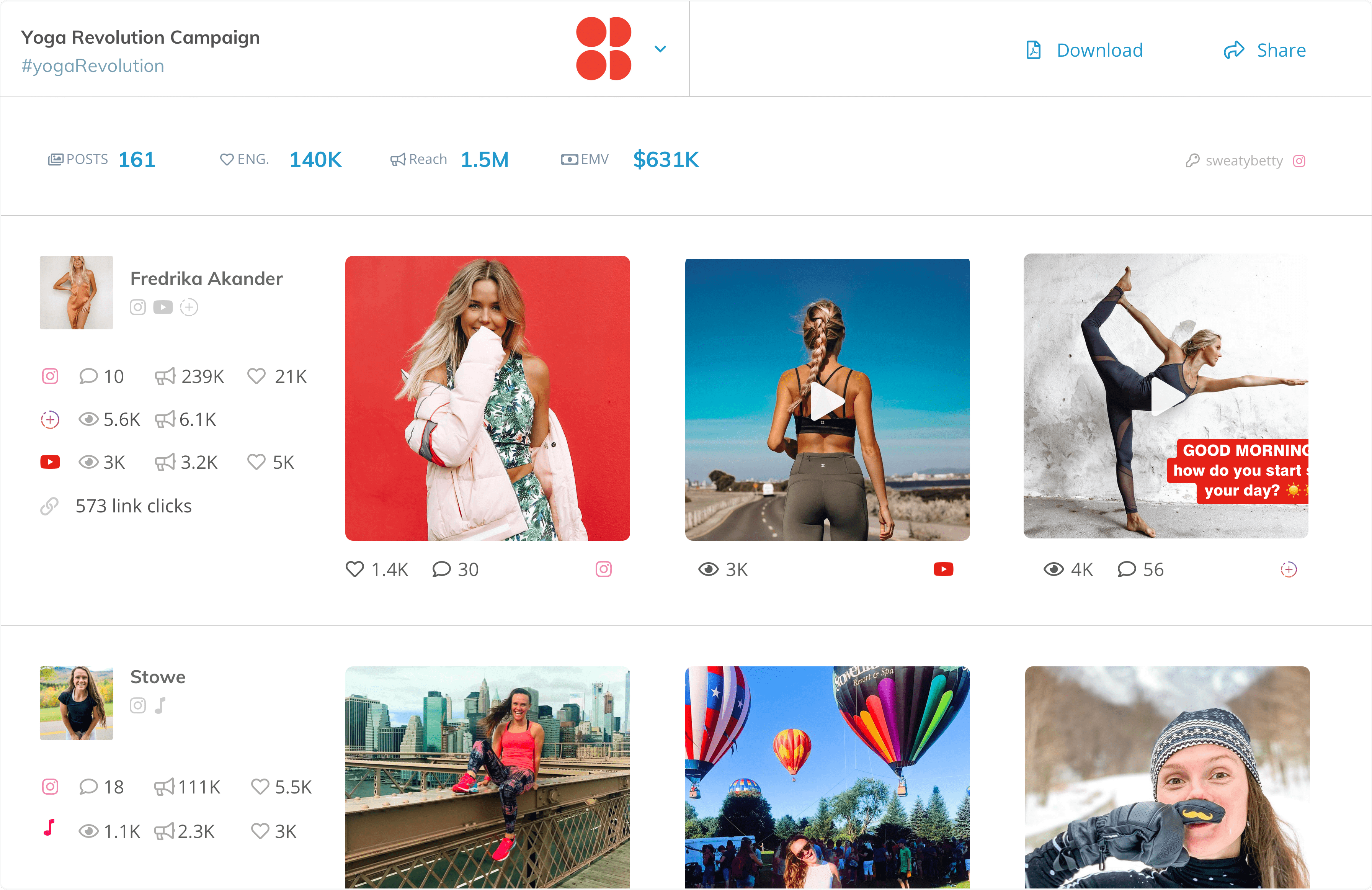 Klear is an influencer marketing platform to help you find and manage online influencers.
The tool helps you find influencers, analyze their popularity, demographics of their audience, facilitate your reach out and collaborations. Klear also analyzes the results of your collaboration: the aspect that we highlighted in our article.
There are no free plans for Klear. However, you can schedule a demo to try it.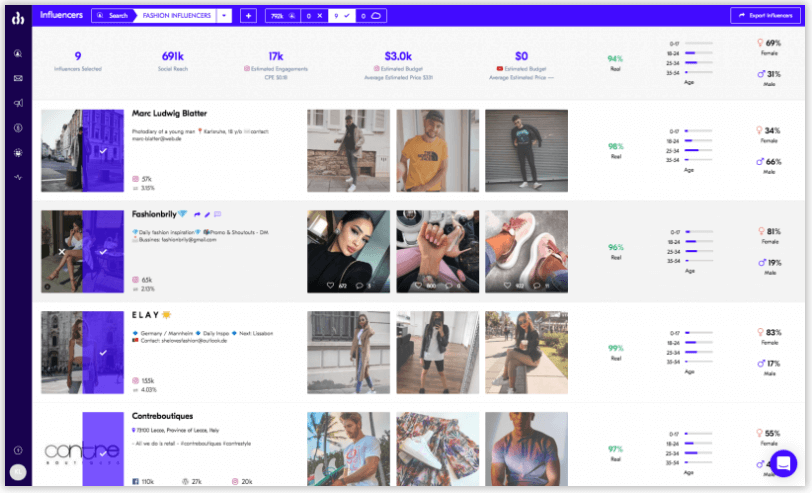 Upfluence is a full-scale influencer platform, offering a well-rounded set of features including an influencer search and discovery engine.
The platform analyzes each piece of content an influencer produces for reach and engagement rate. It's more of a database of influencers than a social listening tool that searches for influencers online, but with more than 3 million influencers it should be more than enough to find someone who is a perfect fit for your brand.
A free trial for this influencer marketing tool is not available.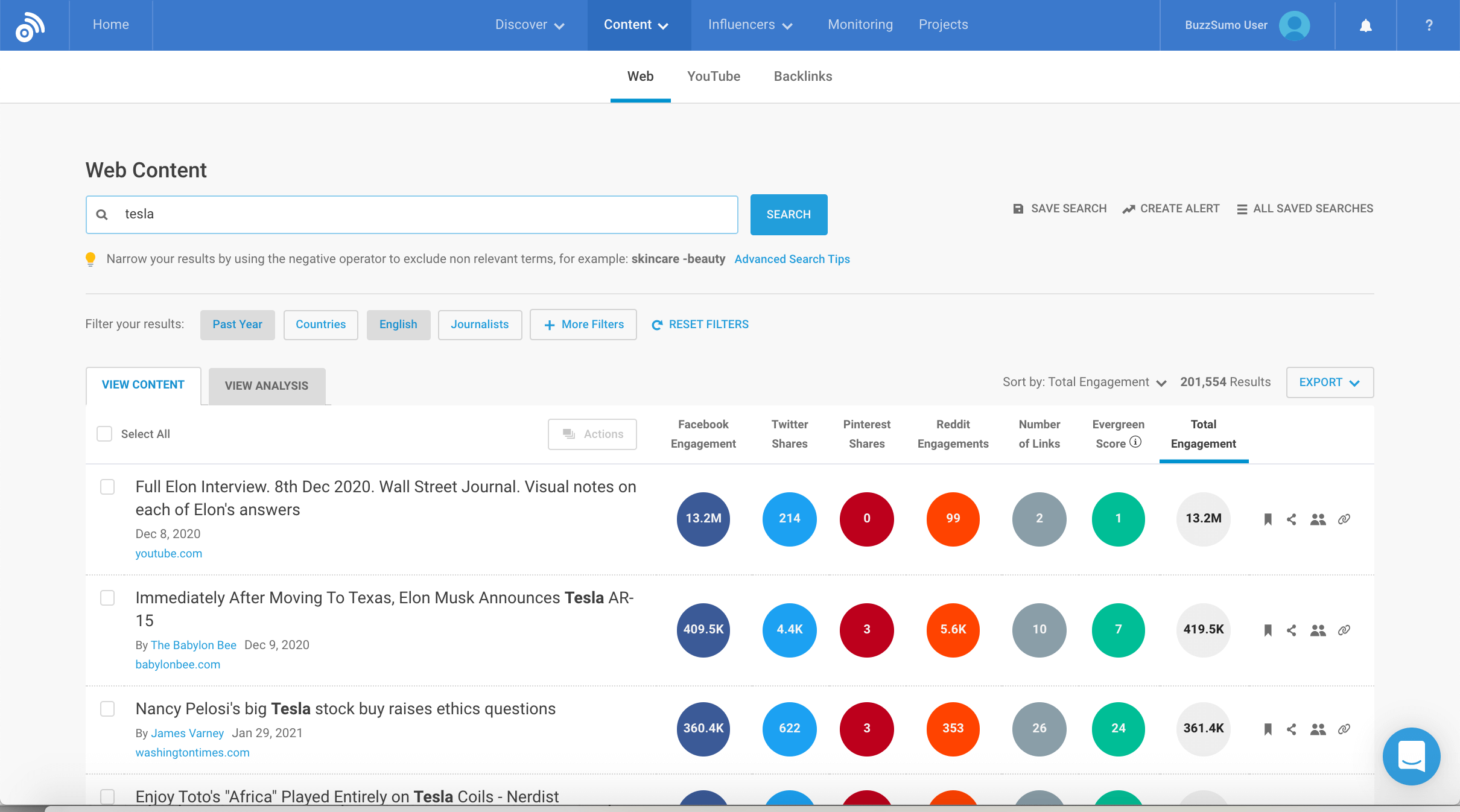 Buzzsumo is primarily a content analysis tool, but it has a separate dashboard dedicated to influencers. It includes an Influencers and Outreach section which allows you to find, analyze, and follow influencers. You can sort this in many ways to determine who are the most important influencers on social media in your niche.
Since the tool works heavily with written content such as posts and articles, it also displays such stats as domain authority for blogs and websites, which is great if you're looking to collaborate with a blogger or a journalist.
You can test this influencer discovery tool for free for 30 days.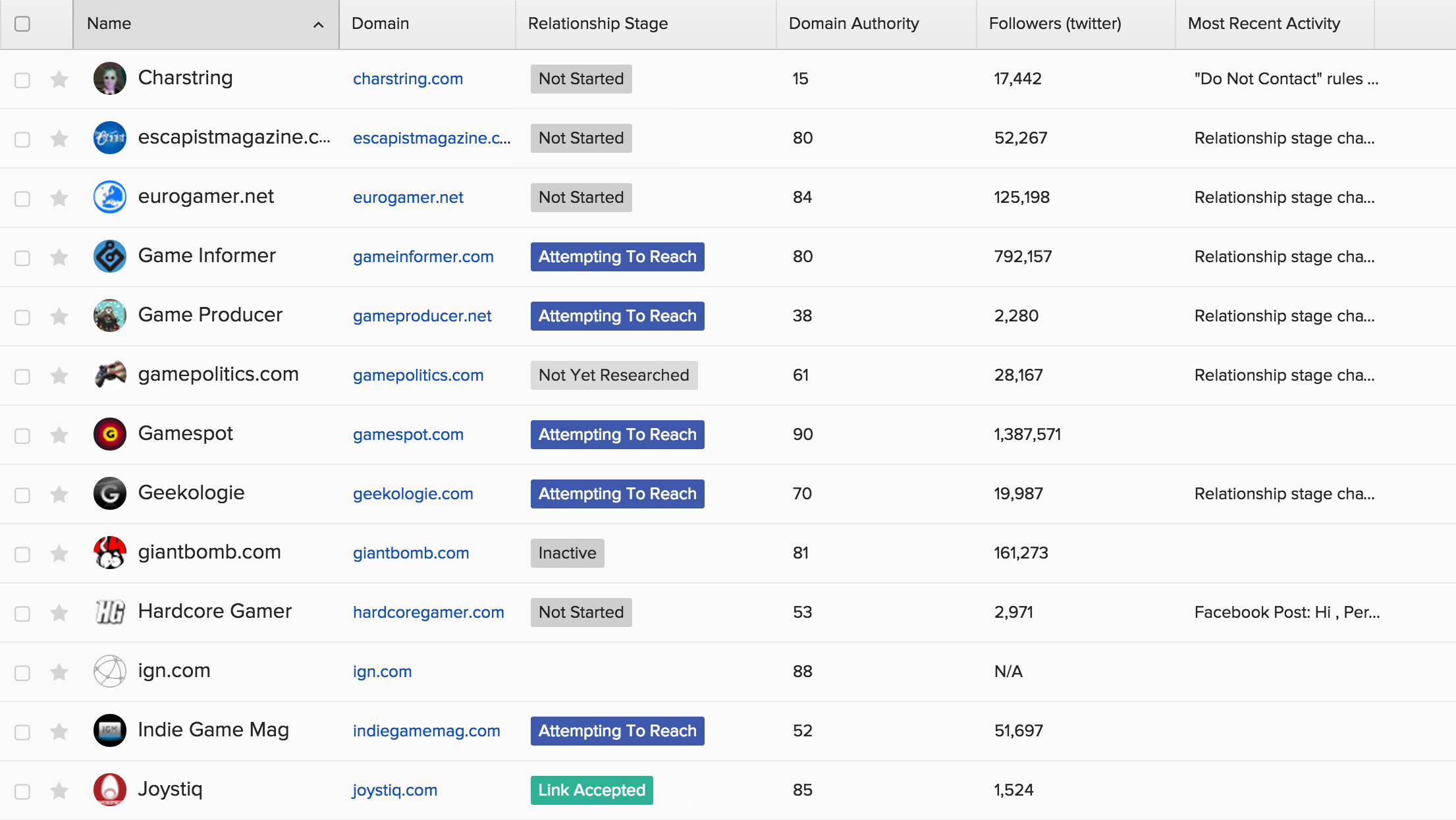 Buzzstream is one of marketing tools that works with social media and websites but focuses on websites and blogs specifically. You can analyze their social media presence as well as their website's audience.
Then, you can easily add those influencers to sortable, filterable prospect lists. For example, you can sort by authority, or whether someone has promoted you in the past.
Once you have your prospect lists with their email adress, BuzzStream makes it easy to send out personalized emails and automated follow-ups, as well as see data on how effective your outreach efforts are.
The influencer research tool has a free trial period.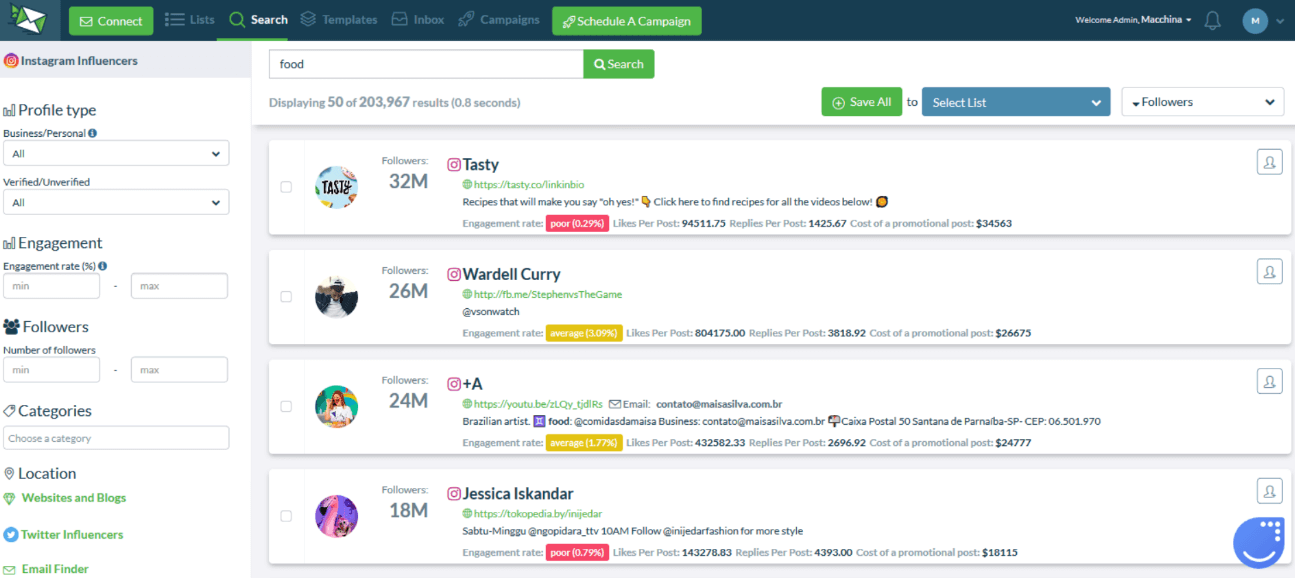 What's about outreach marketing tools? For instance, NinjaOutreach can help you with influencer research on YouTube and Instagram. It works as a database with millions of social accounts. Filtering them by location, topic, niche, and other categories, you can reach out to bloggers which are best for your brand.
Additionally, NinjaOutreach is a shared work environment where your team can track influencer campaigns, organize your customers, monitor conversations, replies, and clicks.
Using the platform is free within 7 days.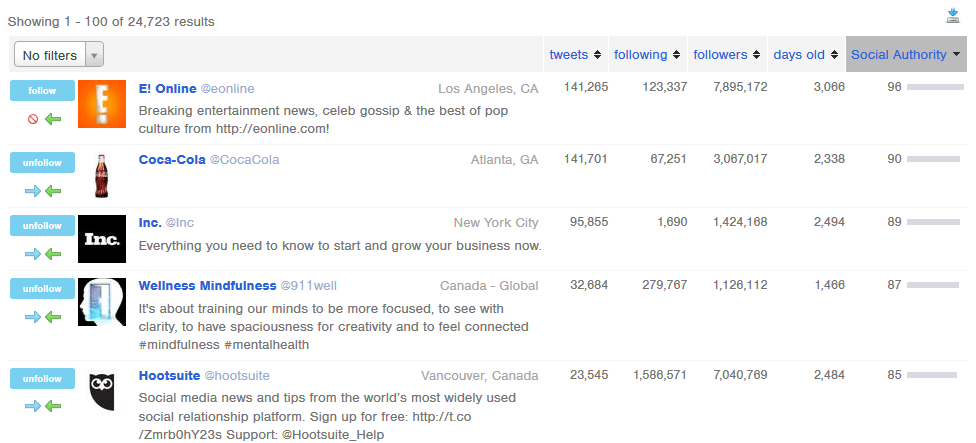 Followerwonk (formerly a tool from Moz, an SEO solutions provider) is an ideal platform to build relationships with Twitter influencers. By the way, this influencer marketing tool is one of dozens of free tools for Twitter monitoring. Type in any account to the search field, and the tool shows you all essential information around a page, including its Social Authority rate.
You can search Twitter profiles or Twitter bios only using keywords related to your industry. Also, there are a lot of useful in-app features such as Follow and Unfollow an account, compare up to three profiles, analyze Twitter users by slicing them into actionable segments to find the most influential or identify dormant ones.
Followerwonk offers free access with limited functionality.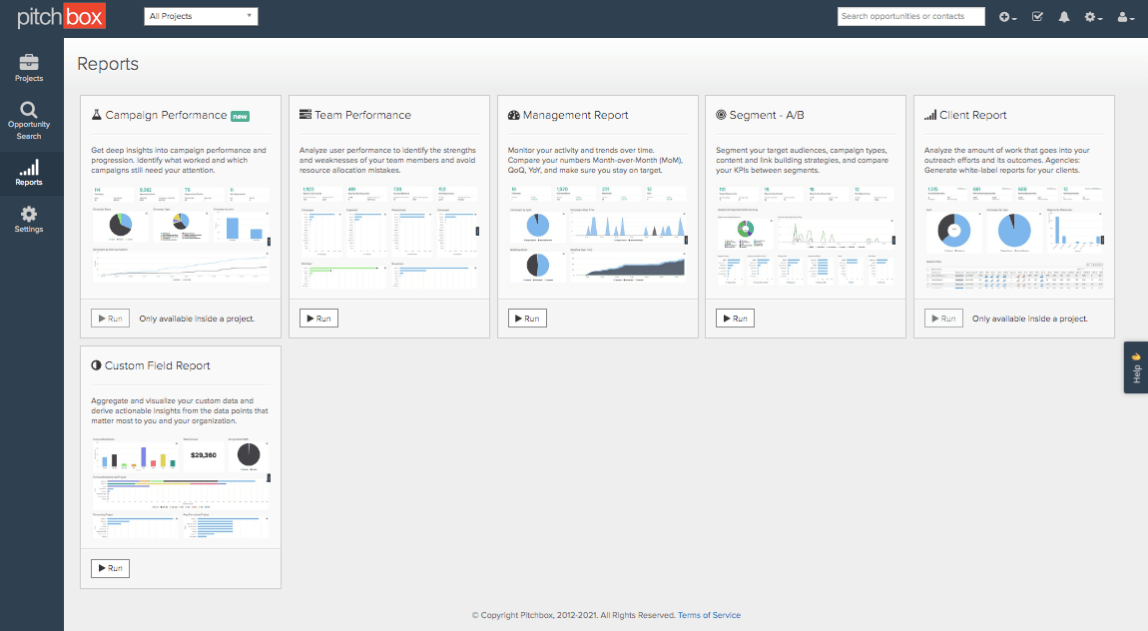 The final point on the list of powerful marketing tools is Pitchbox! This is a content marketing and influencer outreach platform for publishers, SEO agencies, and companies. You can use it for influencer research as well.
Pitchbox has a big database of bloggers with a keyword search. Thanks to integrations with Moz, SEMRush, and other SEO tools, the platform detects the best websites for link building. Additionally, the platform provides outreach, campaign tracking and reporting features, CRM, and SEO email client.
A free trial is not available, but you can book a demo to try a tool.
Before you go
While you are doubting whether to implement influencer marketing into your social media strategy or not, your competitors might already activate their campaigns! It is the best reminder that you need to try it, too. With the special tools, this task looks rather fascinating than time-consuming and daunting.