3 unfortunate Halloween marketing campaigns (and what we can learn from them)

Article summary
In this article, we break down the secrets to a successful Halloween marketing campaign and examine three failed campaigns to see what mistakes we should avoid.
As with any other holiday, Halloween is full of brand opportunities. Even for the brands that are not so spooky, Halloween is a great occasion to launch an awesome marketing campaign. After all, Halloween is not just about scary things, ghosts, and dark forces — it's also trick-or-treating, comfort movies, cute pumpkin carving, and many other things that can fit with your brand message and aesthetic.
A Halloween marketing campaign can be an excellent way to get some additional exposure, raise your brand awareness, and boost your sales by tapping into the holiday spirit.
The key to the winning campaign is knowing your audience and the side of the holiday they enjoy: be it crazy parties, scary movies, or cozy baking.
But how can you make sure that you understand your customers? Well, there are many ways you can analyze your audience: polls, interviews, creating a customer persona, and more. Social listening is a valuable technique that can help you find data insights on your audience and realize who your customers are.
Before we move on to the qualities of a successful Halloween marketing campaign and talk about scary examples, let's figure out how to analyze your audience with Awario!
How to analyze your audience with Awario
Awario collects publicly available online data and analyzes it for marketing insights. These can be social media posts, articles, blog posts, videos, and everything else your audience chooses to put out on the Internet.
By analyzing what your audience posts, accounts they follow, and where on the Internet they hang out, you can figure out their likes and dislikes, and what they are going to think of your next campaign.
I broke down the social listening analysis process into easy-to-follow steps.
Step 1: Create a social listening alert
The first step is to set the parameters based on which Awario will look for the data. Here you need to choose keywords that Awario will monitor, and languages, countries, and cities from which you want to get data, and online and social media platforms for monitoring.
You can also Blacklist some sources such as specific websites and social media pages to stop Awario from gathering data from them.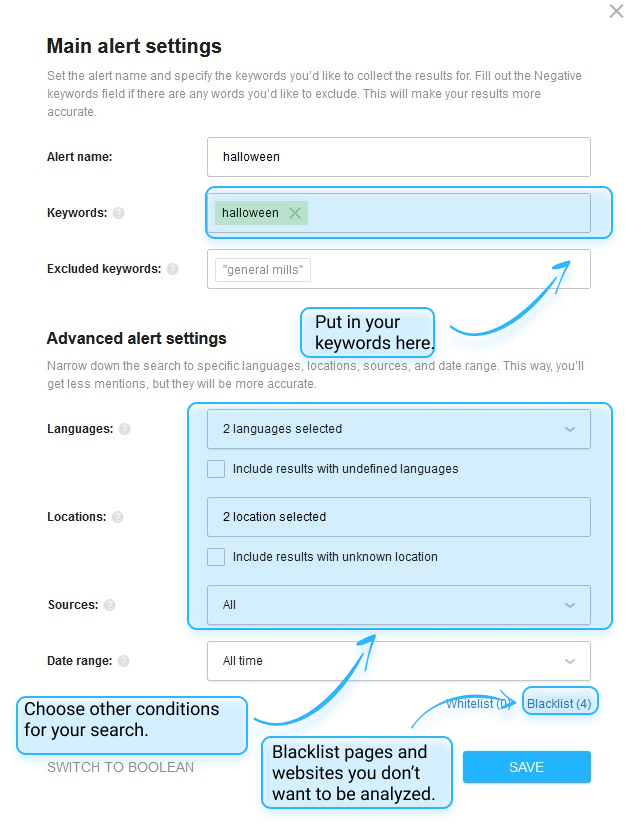 Do you still have questions about this step? Check out this short video on how to set up a social listening alert!
Selecting your keywords is the most important part, and you have two options here. On one hand, you can focus on your existing audience and set your brand name, as well as your products' names and direct competitors to find people who show some interest in your product and examine their online presence.
On the other hand, you can go a bit broader and think of the topics and events that might be of interest to your audience. Maybe these will be brands and products in the same category as yours or something completely unrelated like TV shows, hobbies, celebrities, etc. You can even interview a couple of existing customers to figure out what topics might suit you best. Then come up with keywords based on these topics.
Pro tip
Once you launch your campaign, you can set up a campaign monitoring alert to analyze how many people saw it and how they reacted. Simply use the name of the campaign and its slogan as keywords.
Step 2: Check out audience insights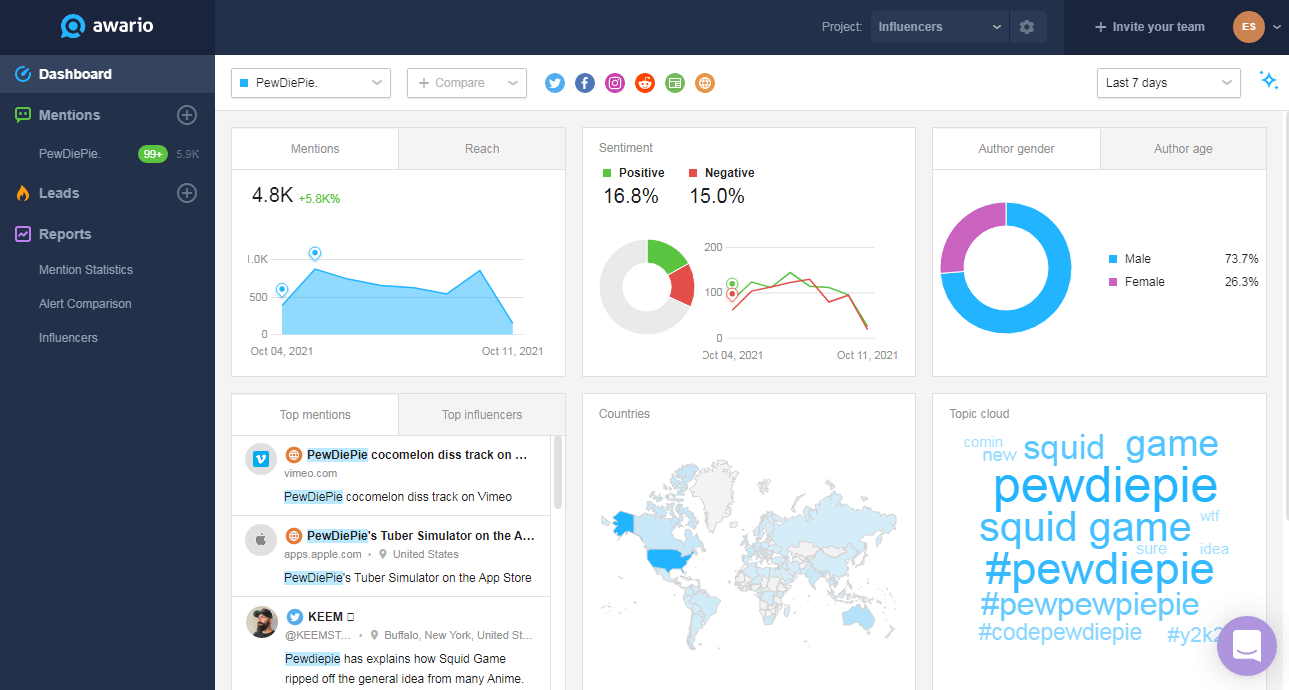 Before you dive deeper into the data Awario gathered, you have tons of opportunities to learn about your audience through the tool's analytics.
Awario shows you:
your customer's age
their gender
where they live
which social media platforms they use
which languages they speak
what they talk about most often
what's going viral at the moment
and more!
For you, the most important metrics here will be the demographics such as age, gender, countries (if you're running an international analysis), sources, and the Topic cloud i.e. the phrases used the most by your potential customers.
By looking at the Topic cloud for a short period, you can pinpoint which topics are going viral right now, and if you choose a larger time frame, you'll get a sense of popular phrases among your audience in general.
Step 3: Dive into the mentions
The final step is to work with the data directly. Awario organizes all the mentions of your keywords in an easy-to-use feed which allows you to look through all the social media posts and interact with them.
Take note of the topics people mention, their consumer habits, brands they talk about the most, products they discuss, and so on. Based on this data you can make up a believable audience portrait. You can even quickly look through the profiles of people mentioning your keywords to get a better feel of who your audience is.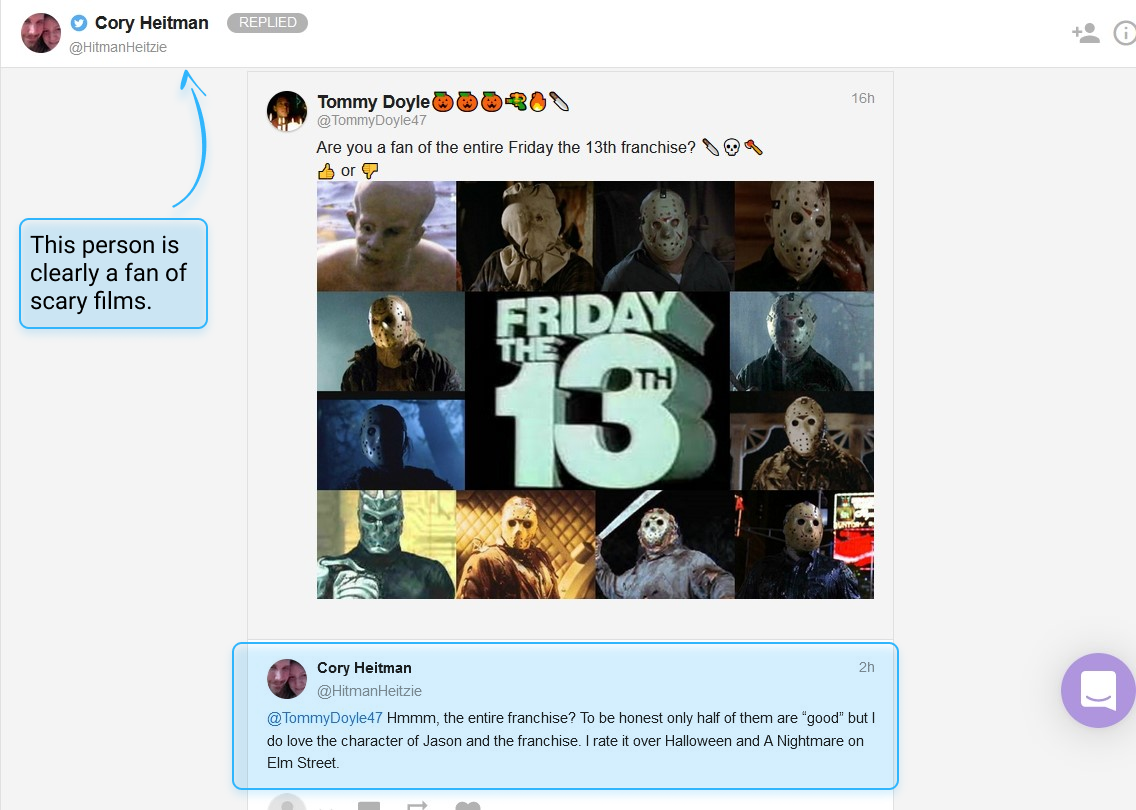 Once you got all your insights, you have a clear understanding of your target audience, you are ready to design your Halloween marketing campaign.
A good Halloween campaign, as any good marketing campaign, fulfills three principles:
it subverts the expectations;

it's memorable;

it speaks to your emotions.
However, there are still some errors that you can make if you don't put enough thought into it. Sometimes marketers get so caught up in making their campaign memorable, that they forget who their audience is and fail.
Let me tell you a scary tale of three failed Halloween campaigns and what we can learn from them.
Three spookily bad Halloween marketing campaigns
Let's look at these examples and see what we can learn from them!
Fox's 'Does This Axe Make My Head Look Small?' Sleepy Hollow advert
What happened
In order to promote the release of its series Sleepy Hollow on BluRay, Fox launched a campaign with a tagline "Does this axe make my head look small?" and the accompanying hashtag #headlessday. The campaign adopted a humorous tone of voice featuring one of the most prominent characters of American horror — the Headless Horseman.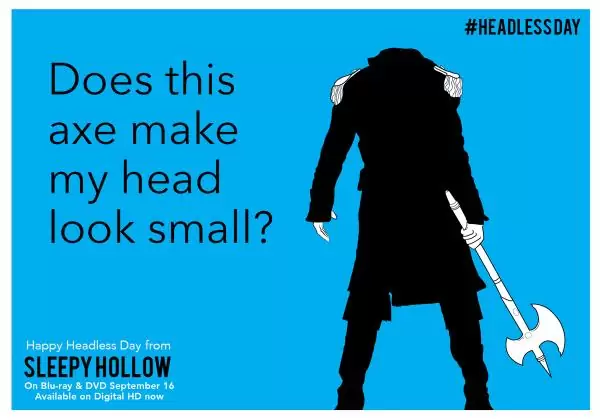 The series itself was heavily based on American history and folklore, the Headless Horseman played an important part in the show, and the campaign subverted the expectations by putting the frightful character in the humorous context.
So what went wrong?
Fox failed to take notice of what their audience was discussing at the moment. On the day of the launch, terrorist organisation ISIS made the news headlines once again due to another journalist beheading. Many of these beheadings were in the public eye around the same time of year. And while Fox's advert took inspiration from American literature and history, the influence of the news and the prominence of ISIS crisis was so great on people's minds, that the message seemed completely inappropriate.
When it comes to scary stories the main enjoyment we get from them is that they are only stories. When there are parallels to these stories in the real world, we want to distance ourselves as much as possible.
Marketing takeaway

Timing is everything. Maybe any other year this campaign would have worked wonders but at the time, these weren't what people wanted.

If Fox used social listening to monitor what their audience was talking about at the moment and stayed on top of the hottest news, they would probably save themselves from public backlash.
Stay on top of latest trends with social listening!
See Awario in action with a free 7-day trial. No credit card required.
By signing up I agree to the Terms of Use and Privacy Policy
Questionable Halloween costumes from Tesco and Aida
What happened
Halloween costumes can be a sensitive topic for many reasons: some historically accepted costumes are actually borderline racist, others can be considered too revealing and inappropriate. But Tesco and Aida managed to introduce even more controversial costumes as a part of their "Halloween costumes" campaign.
The images of mental asylyms and their patients are often used in horror fiction — American Horror Story is one example. But watching or reading a story about a scary thing happening in a mental hospital and dressing up as a "Mental Patient" to go to a party are two different things.
Supermarket chains Aida and Tesco came under fire for including "Mental Patient" and "Psycho Ward" outfits on their website. Mental health activist critiqued their portrayal of mentally ill people and claimed the outfits further stigmatised people suffering from these problems.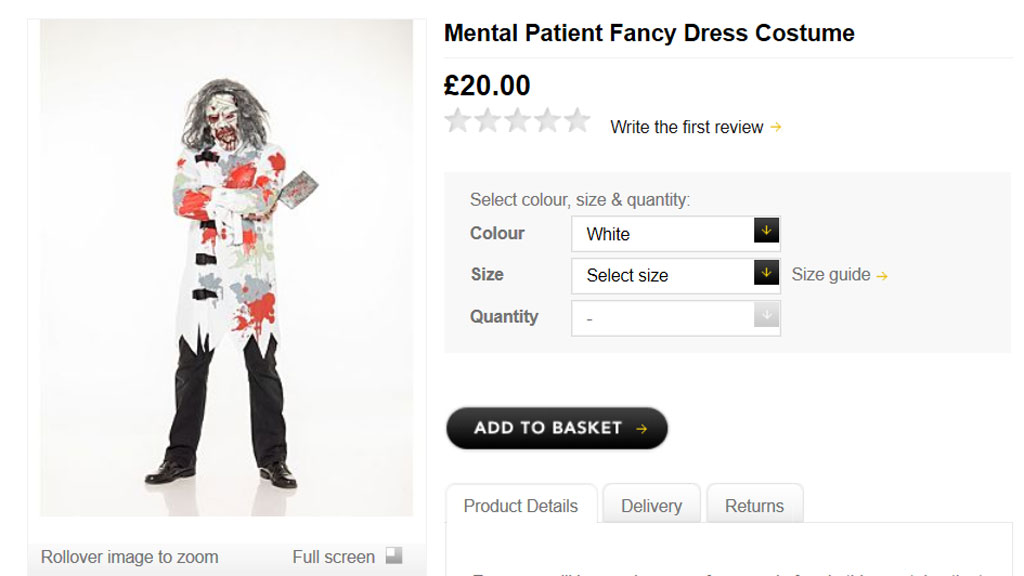 Eventually, the companies withdrew the outfits from their websites and apologized.
Marketing takeaway

Stay in touch with the public opinion on what is acceptable to take lightheartedly and what's not. Even black face once was socially accepted, and now it's a complete taboo.

By tracking conversations on the Internet, you can find out what topics are considered sensitive and stay away from them in your campaigns.
Subway's "Fresh Fit" commercial
Subway tried to make fun of the culture around revealing Halloween costumes at the same time joking about people dieting for special events — but something went wrong.
In the now-deleted commercial, a woman is eating a Subway sandwich instead of a burger to "stay in shape for the Halloween". She then goes through a bunch of sexy Halloween costumes including "Hot Devil" and "Foxy Quaterback".
It seems like the video's aim was to make jokes about all these ridiculous costumes, but the audience didn't get the jokes. The ad was criticized for focusing on women's buddies. Many people pointed out that the man in the advert doesn't feel the need to change his diet or look a certain way, unlike the woman.
What's interesting is that Subway's message was to make fun of sexist stereotypes but they actually fell into one themselves. Subway ad could hit the right spot, but they didn't emphasize the ridiculousness of the costumes hard enough and made the only man in the ad ogle at the woman and make flirty comments.
Marketing takeaway

If you're going to address a sensitive topic in your campaign, make sure you have the clarity of vision and message.

If you find the topic to joke about, make sure people actually understand it's a joke.
Enjoying the post? There's more.
Sign up for our newsletter to get our best content by email.
Trick or treat: what will your campaign be?
Hopefully, with the examples you have at hand, you will be able to stay safe from bad marketing decisions, and your Halloween marketing campaign will be a treat!
There are plenty of awesome marketing campaigns that turn to diffferent aspects of this holiday for inspiration from partying to childhood nostalgia and the love of the macabre.
Explore your audience, choose the right message and tone of voice, and you are certain to win the hearts of your customers (which is even better than Halloween candy).