How brands can thrive adding a pinch of Pop Culture to their marketing strategy

Article summary
Many companies refer to mass culture images in their campaigns because the potential for Pop Culture to increase sales and visibility in a marketing strategy is enormous. In this blog post, you will find some remarkable examples and benefits for your brand.
In 2020, a South Korean model HoYeon Jung decided to become an actress because of the short life span of a model career.
By the time of her acting debut early in 2021, she had taken three months of acting lessons altogether, starred in two music clips, and had 400K Instagram followers. Not a very impressive start, is it?
However, by the end of the year, HoYeon Jung has been the most famous South Korean actress with 23.7M fans on Instagram and a Louis Vuitton and Adidas global ambassador.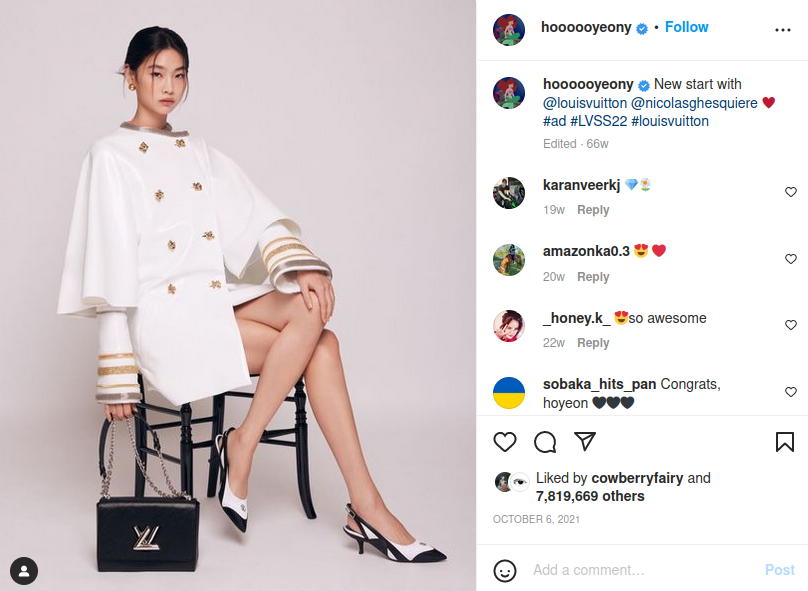 What did help her to succeed?
She only played one of the major roles in a super popular Netflix's K-drama 'Squid Game'.
In this story, Louis Vuitton and Adidas are companies that add Pop Culture references to their marketing campaigns.
By the way, Vans, Alibaba, Durex, and other global brands have also used 'Squid Game' images on outdoor billboards and social networks.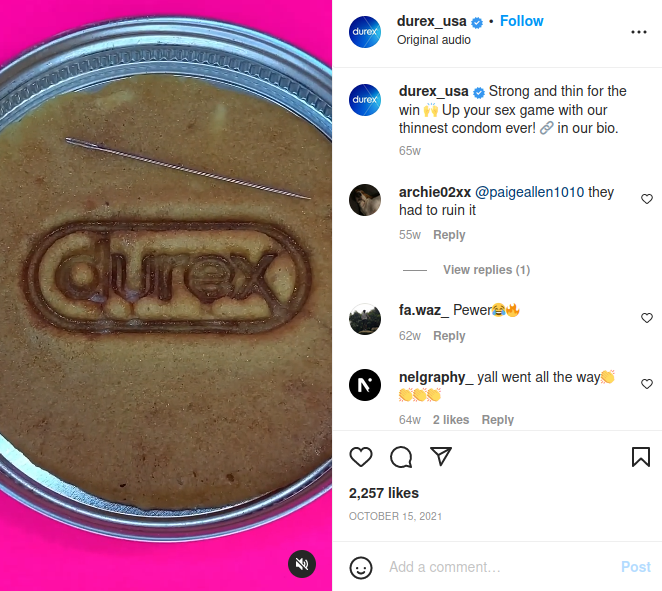 Why does your company need to be Pop Cultural Relevant?
Many brands leverage the success of Pop Culture events by implementing recognizable memes, images, and quotes into their marketing strategies.
Let's take a closer look at why you should adopt this tactic, too.
Sign up for a free Awario trial
See Awario in action with a free 7-day trial. No credit card required.
By signing up I agree to the Terms of Use and Privacy Policy
1. People discuss on trending topics.
Of course, you have already known that the average user's attention span is 8 seconds only. I bet, for now, this span can be even shorter because the Microsoft study revealed it was published back in 2015.
Anyway, it's getting harder and harder to keep human attention with your content. However, you can still hook your customers with trending topics. Pop Culture images are perfect for this purpose because there was a moment when almost everybody knew and talked about The Kardashians, 'Game of Thrones', and TikTok dance.
All you need is to build a bridge between these popular topics and your brand like Oreo did. Its version of the HBO's hit title sequence has more than 1M views on YouTube.
2. People seek new content formats on the web.
The social media landscape looks like a grand avenue of a big city with all these bright signs of cafes and bars, billboards with giant taglines, and uprising music coming out of fancy stores. There is a lot of visual, video, and audio content designed to trap thousands of passersby.
However, we live in an age of distraction, so many people walk by. That is why brands permanently experiment with content formats. Remember the hype around Clubhouse and TikTok.
For instance, this Clinique TikTok clip represented a new lipstick in the shade Black Honey suddenly went viral (101K views against 5-10K on average for its page). Customers appreciated the shade's universally flattering color and flocked to cosmetics stores where the product flew off the shelves for several weeks. As a quick point, the #blackhoney hashtag has over 28.2M views for now.
3. People track and discuss the news around current social, environmental, and political issues.
News is the most popular and affordable piece of information for Earth residents. The day's biggest news stories immediately have widespread coverage via TV, radio, and online platforms.
The more important news is, the more details readers want to get. Sometimes brands get a grip on the breaking news to gain attention to their posts. As a result, newsjacking helps branded content instantly reach interested followers.
Not surprisingly, the news stories are often marked with dedicated hashtags such as #megxit, #blacklivesmatter, #election2020, #covid19italia. News-like hashtags are used by millions of people on Instagram, Twitter, and other social platforms.
The most significant events of human history, for instance, the coronavirus pandemic, are accompanied by social media challenges. A cosmetics producer CeraVe is a good example. Their #ThankYouNurses campaign became the best one on Twitter in 2021.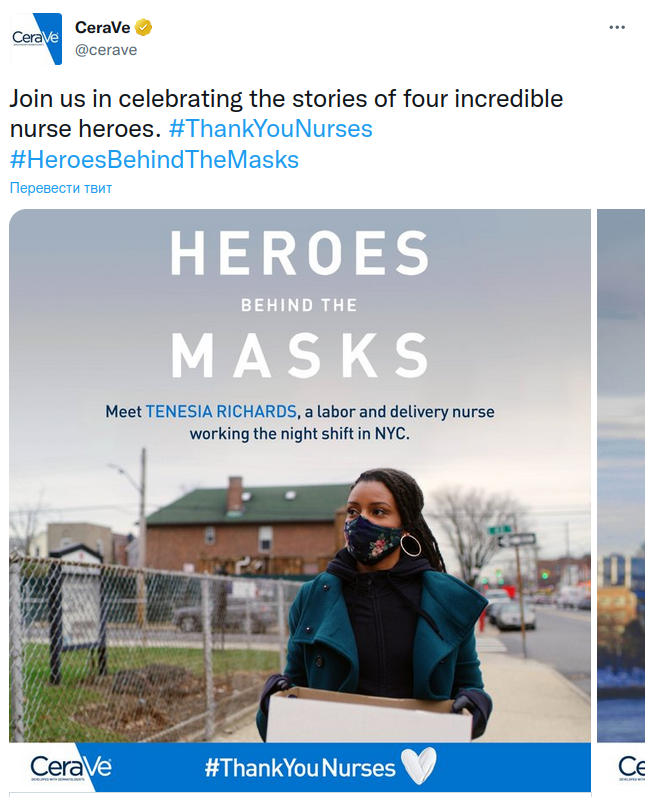 4. People watch the latest hit TV shows, films, and music releases.
Entertainment events can also occupy the minds of consumers for quite some time. For instance, there is widespread interest in the highest-grossing films within several months after the premiere. (Yes, the Hollywood guys do their best).
Adding entertainment references to your content makes it a bit familiar for your customers and, as a result, more attractive for them.
Denis Villeneuve's 'Dune' is a fine example of a big entertaining story for the last year. The epic sci-fi film premiered early in September 2021, so brands actively used it as a hook for customer attention during the holiday season campaigns. These campaigns earned many engagements on social like the Walmart one that offered a limited edition of film copies to its customers.

5. People use new buzzwords and memes.
Usually, the web community doesn't watch their tongues. Being sarcastic and witty, online users feel free to gossip, create and share memes around any significant event.
Companies can benefit from this again. One of the most popular memes of 2021 is an image of Sen. Bernie Sanders taken during Joe Biden's inauguration. This snowboarding equipment shop offered to repeat his outfit to their customers, and people appreciated it!

Meet your personal social listening assistant.
Try fully automated, 24/7 brand monitoring with Awario for free.
By signing up I agree to the Terms of Use and Privacy Policy
How can businesses benefit by using Pop Culture references?
The significance of Pop Culture is obvious for companies that grow and succeed. Here are the real benefits of using quotations and images from popular music, art, fashion, film, and TV culture in your marketing strategy:
Increasing brand awareness
By developing your content plan around popular topics, you can draw more attention to your company and improve your content visibility on the web. People as consumers have higher chances of being captivated by references from the recent Spider-Man movie or Dua Lipa's hit.
Understanding the audience
Trying and serving what the target audience is looking for enables your brand to be at par with the world. It also helps you understand your customers better because Pop Culture is based on widespread similar tastes.
Forming a close bond between a brand and its community
Pop Culture speaks a language that most people understand. By embracing it in your content, you can build a strong connection with your customers.
Proving brand authenticity
Responding to central issues and significant events on social media humanizes your brand and makes it more approachable, reliable, and authentic.
How to navigate Pop Culture
What if you hate Marvel, ignore Netflix, and think of any The Hot 100 track that is not worthy of your ears? How to stay up to date with actual TV shows, music, and movies?
Luckily, you don't need to be a fan of Aespa to know that this Korean girl group is gaining momentum or track HBO's updates to reveal that 'House of the Dragon' is one of the most anticipated TV shows in 2022. You only need powerful social listening and media monitoring tools for analyzing what the web is talking about right now.
You can start your immersion into Pop Culture with Awario (by the way, a 7-day free trial is available for you). That is how you can use it:
1. Find trending topics and hashtags for your campaigns
Awario, like other similar tools, scans social platforms, blogs, and news sites to show you who, where, when, and how has mentioned your brand name or keyword. Setting up your first alert, you can choose the date range, language, location, sources (including, that ones you don't need to have scanned) to get more accurate results.
The tool gathers most mentioned keywords, hashtags, and topics related to your query in the Topic cloud. The bigger word is, the more people mention it online.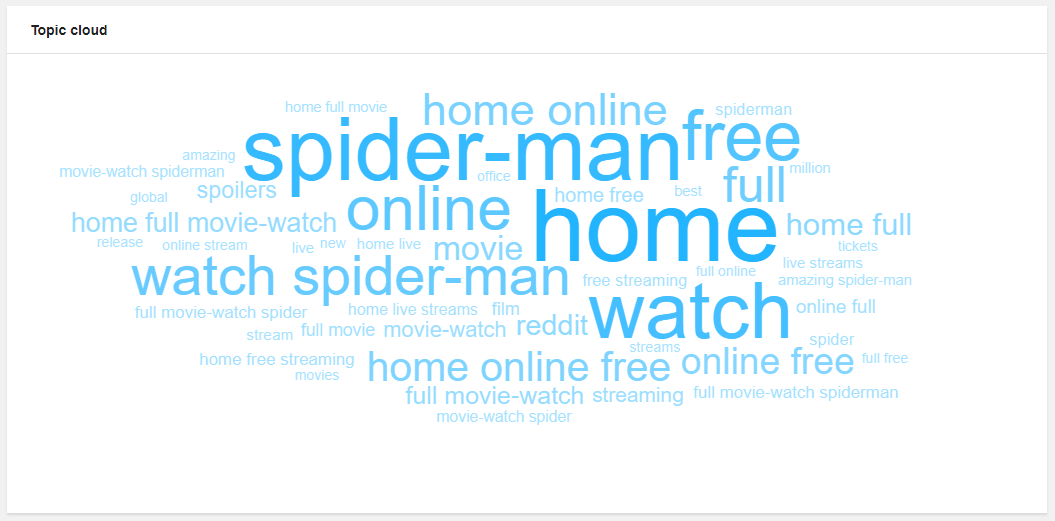 You can use the Topic cloud feature to check what is popular on the web right now using more general keywords as queries — "most anticipated films in 2022", "top 100 songs for 2021", etc.
2. Analyze your audience
Ok, you have already found out that the Internet is buzzing about the latest Marvel movie. It seems publishing Spider-Man-ish memes or quotes can bring your Twitter page to life. The next step is to determine if your customers are on these discussions. Otherwise, your content won't catch on with your followers.
Social listening helps you again. Awario gives you a hint of who these people interested in a Spider-Man release are, showing their Age, Gender, Location, and Language. Go to the Dashboard to see demographics and other information about the audience and compare these data with your customer personas. Are there any matches? Run your campaign, then!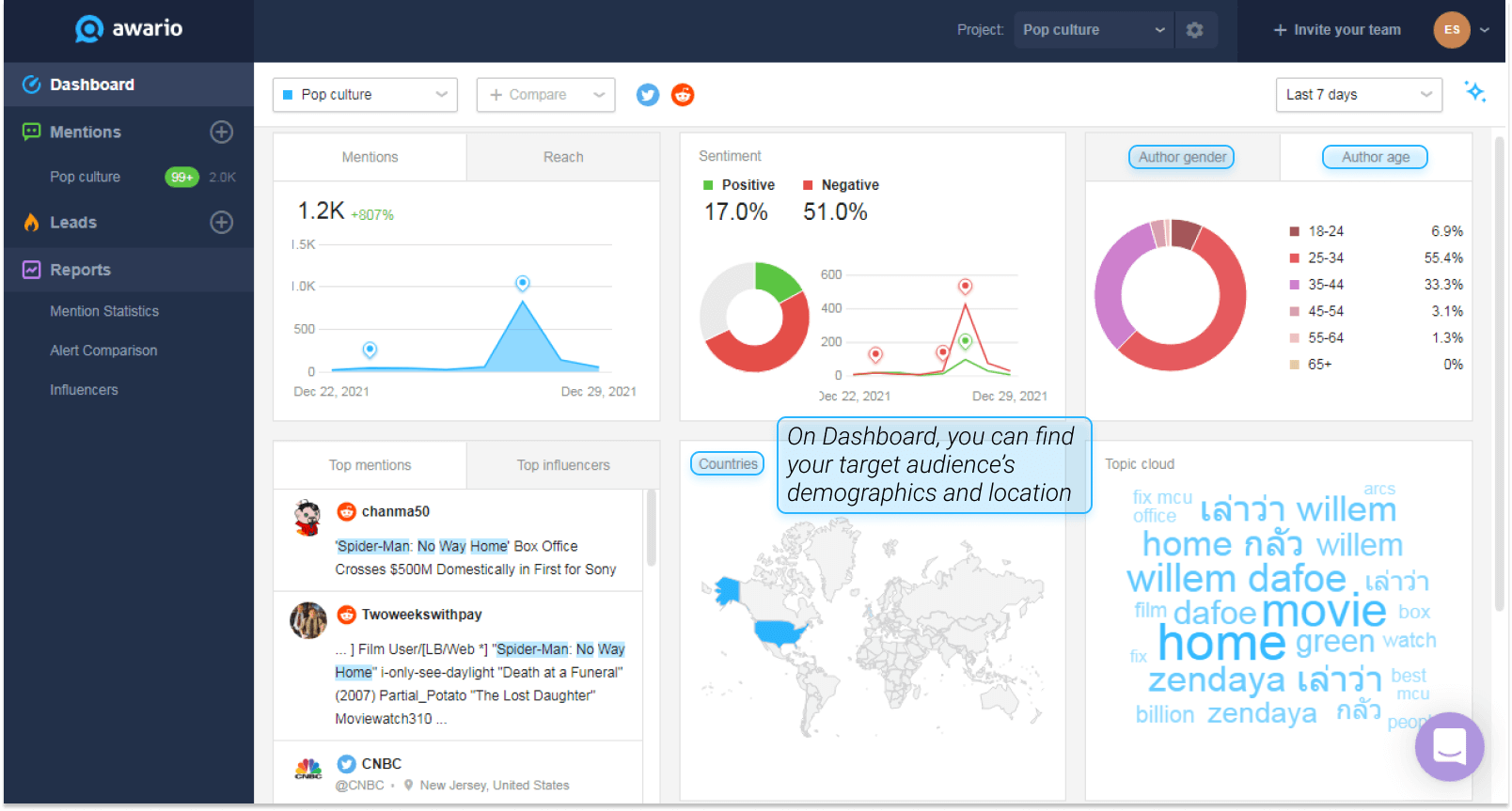 3. Find and use UGC around big events
Usually, there is a lot of user-generated content around pop culture events such as the Oscars, Super Bowl, or a new iPhone sales launch. On social platforms, people post Stories, upload photos and videos, share their emotions and opinions about the thing with their friends.
Brands can benefit from these activities, too. For instance, you can find posts with a big reach and many engagements to replicate the idea on your page or even retweet this piece of content (check its relevance for your following, though).
In Awario, you can find dozens of content ideas in the Mentions feed. The tool brings the search results there. Filter them by reach, date, or sentiment to find the very post you need.
For instance, 'Spider-Man: No Way Home' memes have already entered the room!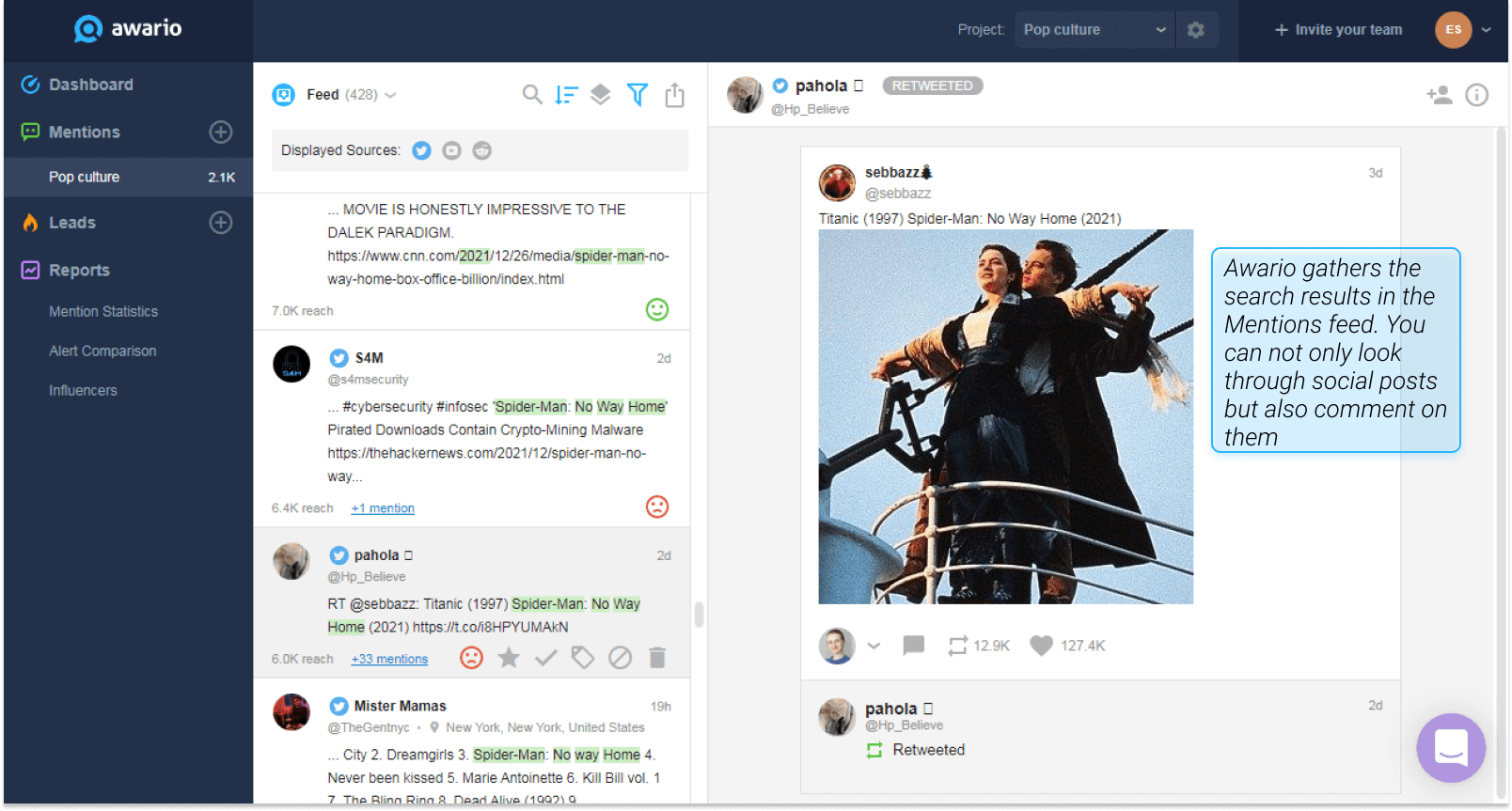 Just have a look at the engagements!
4. Find influencers for collaborations
Mixing influencer marketing with pop culture references can perform effectively.
You can find social accounts dedicated to popular movies, fashion, or music that make a massive impact on your prospects. Then, reach out to these bloggers to launch a campaign or shoutout and showcase your products or services.
Awario reveals influential pages on Twitter, YouTube, Reddit, and other social platforms and packs the Influencers report with them. You can check how big audiences they have deciding on partnership with them.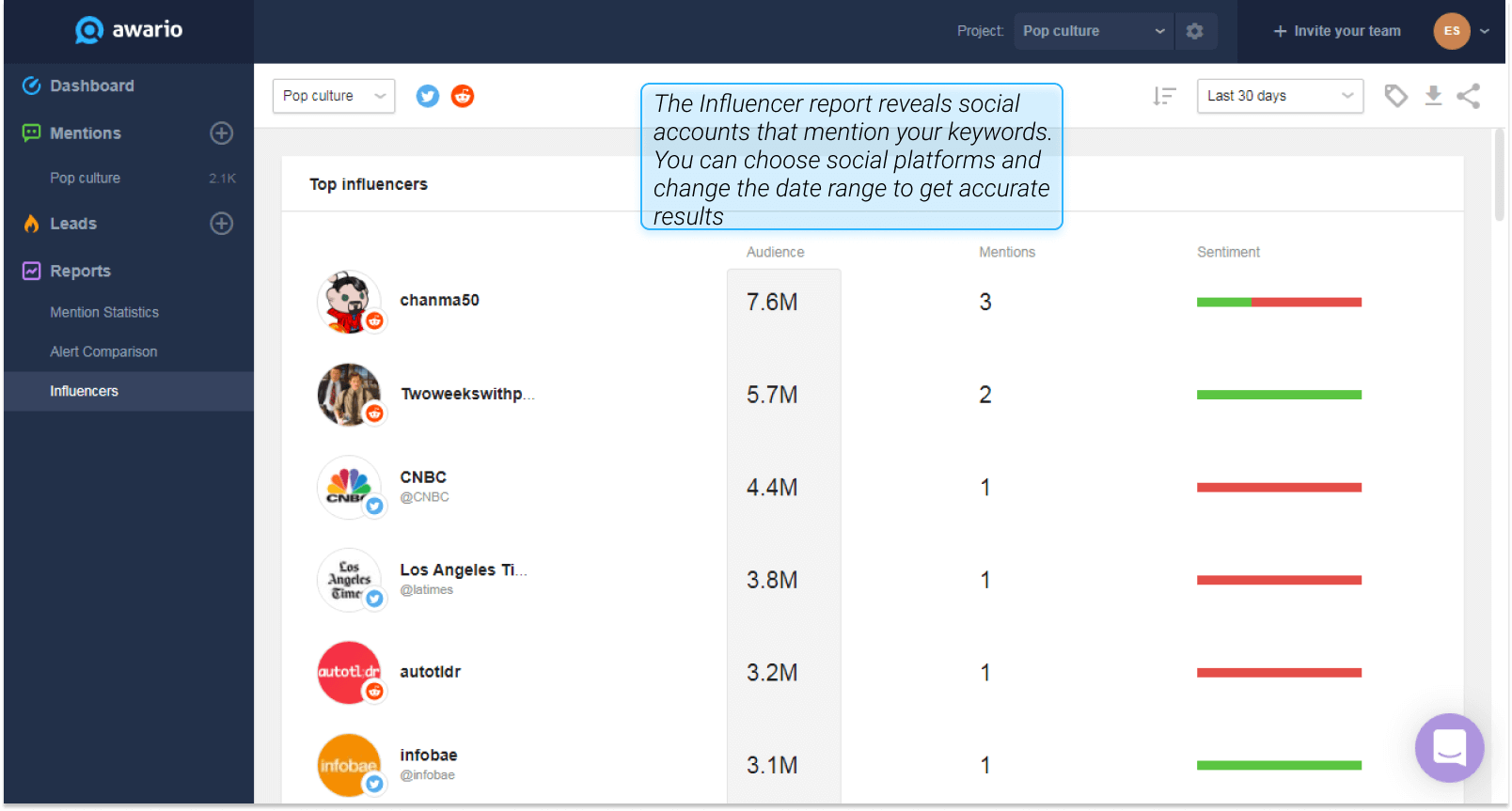 5. Check sentiment and reach before launching a campaign
Finally, you need to check what your customers feel about a topic. Do they like or hate it? Are they interested in updates? Is it relevant for your audience at all?
Identifying the volume of the topic's mentions on the web, reach, and sentiment helps you suggest how your followers perceive such content. Go to Awario's Mentions statistics to check these indicators. The tool shows how many times people mention a topic online. By the way, you can also get historical data to see when the discussion starts and anticipate when it ends. Maybe, it is too late to jump on the trend.

Additionally, pay attention to the sentiment graph that reveals the percentage of negative, positive, and neutral mentions related to a topic. Take in mind, discussing overly controversial issues on the Internet can be risky for your brand's reputation.

Enjoying the post? There's more.
Sign up for our newsletter to get our best content by email.
Wrapping up
Using Pop Culture idols, images, and quotes in marketing activities requires you to be creative and have to courage to take a stance on a particular issue. Also, you need to know your target audience to a T to keep your brand relevant for them. Ultimately, Pop Culture campaigns can be successful by showing your consumers that your company stays engaged with them and keep up with the rest of the world.