6 influencer KPIs to monitor for campaigns

Article summary
It is crucial to measure the progress of your collaborations with influencers to improve your influencer strategy. In this article, you can find six key metrics that help you analyze and improve your influencer campaigns.
For now, companies are ready to spend a big part of the marketing budget on social activities with influencers. It is expected that influencer marketing industry will grow from $8 to $15 billion by 2022.
Why?
Because influencer marketing works. Because your customers and prospects trust people they identify with, not brands or corporations. Sometimes, they trust friends on Facebook even more than recognized experts. It is no wonder that business wants to take advantage of it.
On social media, influencers are no longer just users with a large following. For now, they are professional bloggers who use marketing tactics to prepare and spread their content. As a result, influencer marketing management is changing, too. One-time interactions have been replaced by full-fledged campaigns with quantified goals and costs.
These changes require a new approach to work with social bloggers and media.
Why do you need influencer KPIs?
Before running an influencer marketing campaign, you need to set up a measurement strategy. Since you hardly be willing to put your money on the table for big promises, having a clear measurement matrix is a must.
Here are four main reasons why:
No guesswork during the decision-making process. Figures are always more convincing than words. With influencer KPIs, you can decide on social accounts for your campaigns without making major concessions on price and conditions.
Easy budgeting. Influencer KPIs help you quantify your campaign's ROI. You can compare your results to costs before your social activity will be activated. It saves your time and money.
Next-level influencer marketing management. Influencer analysis by KPIs enables you to create or update a database of the best bloggers in your niche. Having the pool of brand advocates, you can simultaneously launch big campaigns designed for different products, audiences, or regions.
Influencer marketing strategy development. With all this data, you can improve your influencer strategy or create a new influencer marketing program from scratch. For example, you can activate more campaigns with micro-influencers than before or reach out to celebrities.
Sign up for a free Awario trial
See Awario in action with a free 7-day trial. No credit card required.
By signing up I agree to the Terms of Use and Privacy Policy
Begin with spot-on influencer analysis
If you have recently started with influencer marketing, first, you need to research bloggers you would like to work with. Skip this paragraph and scroll down to the campaign metrics if you have been working with influencers for a long time.
The best way to do influencer analysis is to follow them and read their content for a while. Here are the main things you need to take note of:
Audience
Find out if a blogger has the same audience with your brand by revealing their follower's demographics:
age
gender
location
language.
By analyzing topics, location tags, the style of the posts, you can understand the audience of a blog.
If you prefer to work with more accurate data, pay attention to social listening tools such as Awario. They can do thorough audience analysis based on your brand mentions on social media, blogs, and news sites.
For instance, this is the dashboard with the main statistics around Sephora's mentions that Awario has collected:
Average engagement rate
The next step is checking how many comments, likes, and shares posts of an influencer earn on average. You need to be sure that everything that an influencer does – Stories, tweets, Reels, or TikTok videos – is getting people to talk and interact with his or her content. It means your brand has a better chance of being talked about, too.
Let's take a look at Selena Gomez's Twitter that Awario put at the top influencers of Sephora. Yes, she is a celebrity. However, it is not so hard to find an influencer with the same active fan base.
I'm excited to share Perfect Strokes Universal Volumizing Mascara is now available only @Sephora and @RareBeauty. I can't wait for you to try it! Tag me in your before and after with #perfectstrokes. https://t.co/XBNeMJVtaq pic.twitter.com/qsM7dY85I3

— Selena Gomez (@selenagomez) August 31, 2021
You can analyze influencers' accounts in-app as well. To find all posts with your mentions (or keywords related to your brand), go to the Mentions feed. You can filter them by sentiment, source, language, location, etc. To quickly find influencers with a high engagement rate, choose positive mentions only and filter them by reach.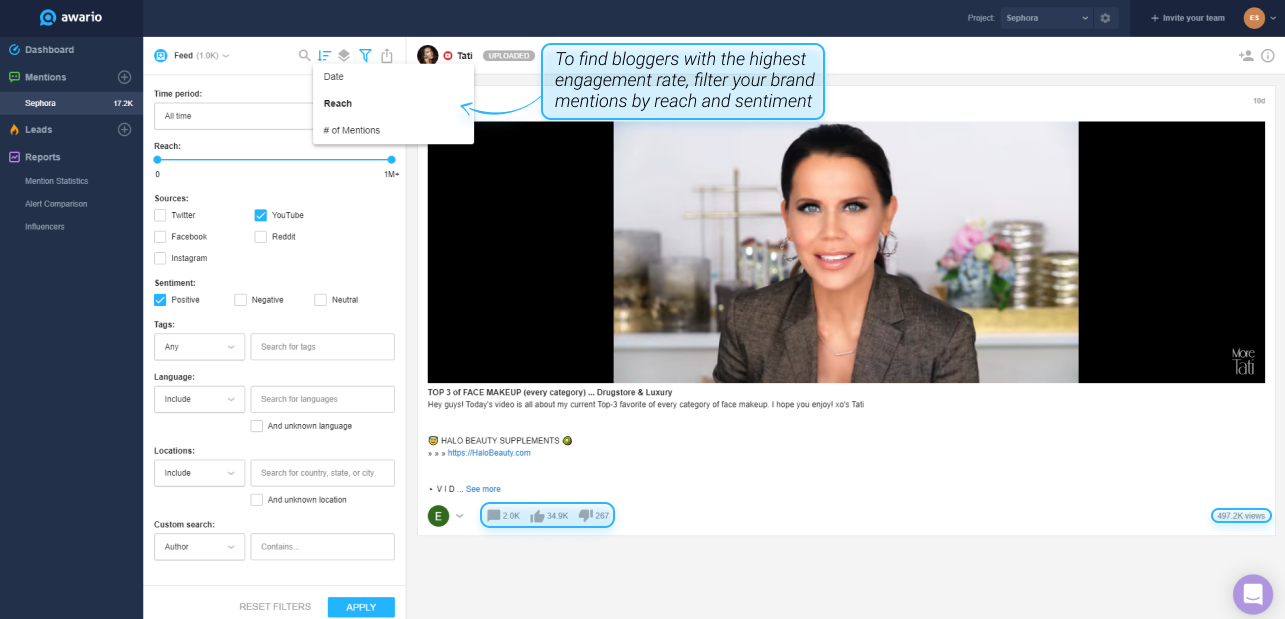 Frequency of posts
Also, pay attention to the frequency of publications on an influencer's account. You need to estimate how many tweets or Instagram photos he or she creates per day or week. It is an important thing when you intend to run a campaign that consists of several posts.
Besides, it helps you determine Influencer Post Volume – the number of pieces of influencer-generated content about your brand. Here where social listening comes in handy again.
The Awario's Influencers report shows how many times your brand was mentioned within a given date range. The sentiment rate is a hint to an influencer's attitude to your company.
Seems everybody on Twitter loves Sephora: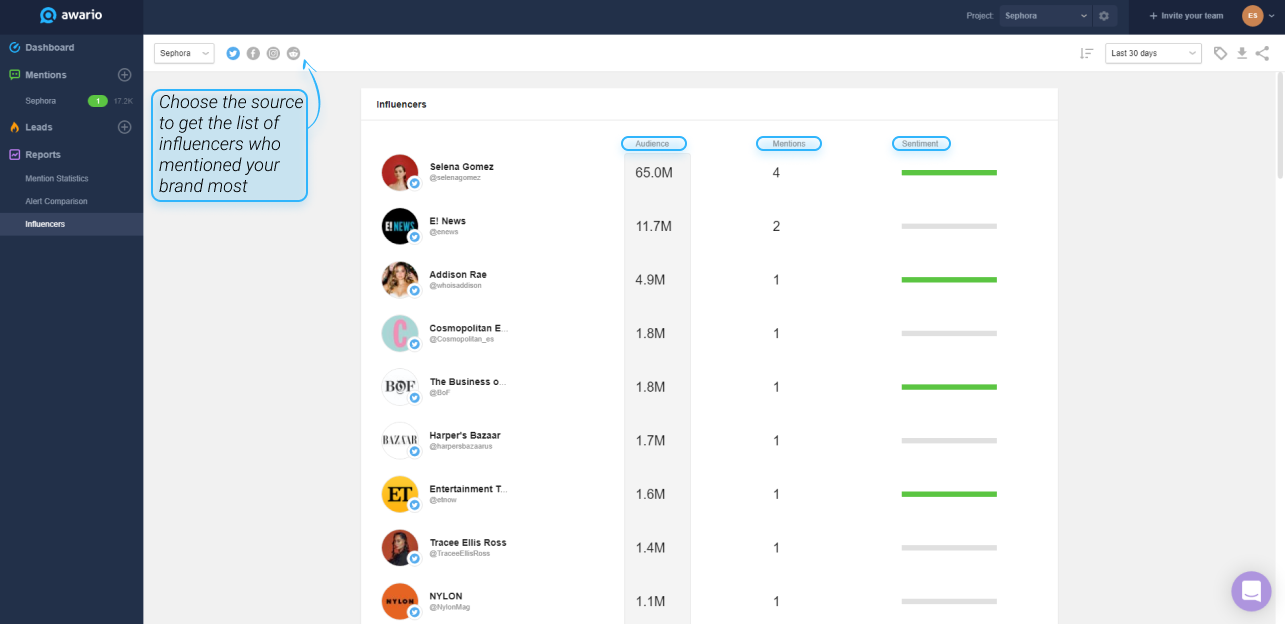 Content relevancy
The last point is about the key topics of a blog or a social account. You need to measure the frequency of publishing content relevant to your brand.
Agree, if your company is a cosmetics producer, your collaboration with beauty bloggers can be more effective than with sports admirers. Ideally, a post dedicated to your brand should seem a regular one for followers. This is what is called native advertising.
Analyzing stats and topics, do not forget to check out if your company's values are aligned with a blogger's values. It is a lot easier to work with influencers who support the same ideas and have the same interests and beliefs. They can seamlessly incorporate your message into their content plan and deliver it to their audience.
For example, if you target families with children, no one can tell about your products better than moms or dads, or if you need to advertise print on demand shirts, your best will be collaborating with young creatives.
What to avoid
Unfortunately, influencer fraud is real. Sometimes, there are fake accounts behind thousands of followers or likes. This is why you need 1-2 weeks for monitoring before reaching out to an influencer. If you reveal suspicious spikes in the number of followers or views, feel free to ask a blogger to explain them. If the answer sounds unconvincing, it is better to back out of the deal.
The poor performance of the previous campaigns that an influencer ran is another reason to think hard again. If other brands relevant to your niche did not hit their goals with this collaboration, there are low chances that you will succeed. By the way, you can contact these companies to get firsthand feedback and dispel your doubts.
Also, analyze the blogger's communication style with the audience. Avoid influencers with passive aggression who constantly judge everybody and scoff at everything they do not like. Usually, they choose controversial topics and let their followers be toxic and rude in the comments. Do you want it all to be associated with your brand?
Meet your personal social listening assistant.
Try fully automated, 24/7 brand monitoring with Awario for free.
By signing up I agree to the Terms of Use and Privacy Policy
Where to look at
Usually, bloggers have the information about their page's engagement and the following that is ready upon request. On the majority of news sites and blogs, you can find and download a media kit – a file with the stats you search for.
Besides, you can go to websites with open statistics around social pages like Social Blade to check out the number of followers, views, topics, etc. in dynamics. Free and paid influencer databases as Influence.co also have this information. As a quick point, there are a lot of tools for social media influencers searching.
If you would like to do influencer monitoring yourself, social listening tools are the best option for you. With them, you can determine the search terms and get accurate results. Social listening enables you not only to follow influencers and read their content, but also to get marketing insights and generate thorough reports.
KPIs to track for influencer campaigns
There are six key metrics you can use to estimate your collaborations with influencers. As a quick point, when we say metric, we often mean a set of indicators that described a certain aspect of a campaign. It's difficult indeed to do a thorough influencer campaign analysis considering just a few simple characteristics.
1. Brand awareness growth
Usually, brands collaborate with influencers to increase their awareness on social media. Depending on your goals, you can promote your social account or webpage through popular bloggers. In any case, you can measure the effectiveness of your campaign by the same metrics.
Audience growth
The more people see your content, the higher your brand awareness is. This is why increasing the number of followers on your social page is a good sign.
To be sure that new followers came to you after the influencer campaign, you can use a Mutual feature to see all people who are subscribed both to you and the influencer. To get accurate results, check out the number of mutual followers before and after your campaign.
This feature is available on many social platforms like Instagram, Facebook, and Twitter.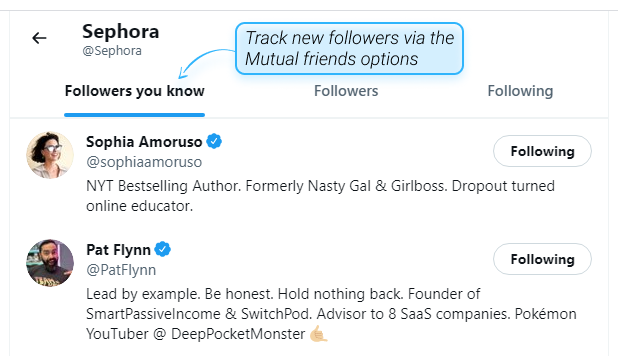 Impressions and reach
Impressions show how many times a single user has seen your post. Reach shows the total number of people who can see it on a social platform. If these indicators are higher than your average ones, it means that your message covers a new audience.
Usually, they are included into reporting that social networks provide.
You can check Reach with social listening tools as well. For example, Awario reveals the reach of each post on social media. It is interesting to compare this result with the numbers that an influencer will share with you.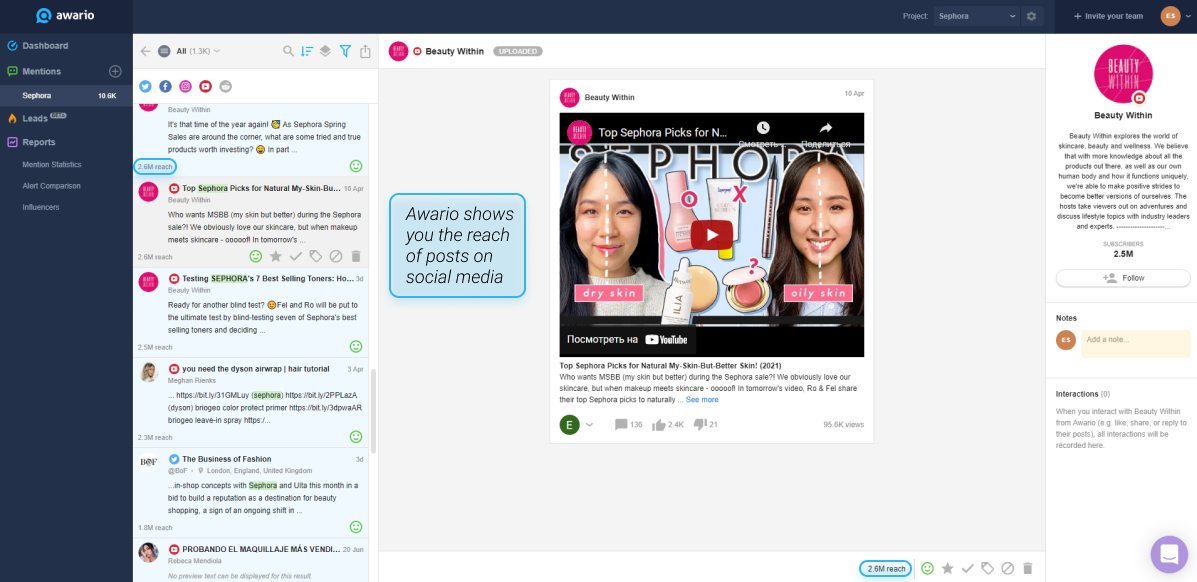 Brand name and hashtag mentions growth
Additionally, you can measure an influencer campaign effectiveness by the number of your brand or branded hashtag mentions. If your collaboration hits the goal, these indicators will increase.
Let's see how Sephora is doing. In Mention statistics, you can find the graph that shows any changes in the number of brand mentions.
Seems the collaboration with Selena Gomez was fruitful for the brand.

2. Engagement rate
Social media users always react to messages that somehow got them hooked. A controversial topic, a notable visual, or an interesting offer can be a trigger for them to like, comment on, or share this post.
To calculate the engagement rate of your influencer campaign, you can use this basic formula:
Engagement rate = (total number of likes, shares, and comments / the number of followers) * 100
Marketing specialists agree that a good engagement rate is between 1% and 5%. According to Hootsuite, in 2020, the average engagement rate was 4.59%. The baseline always depends on your industry though.
You need to analyze the engagement rate considering not only the number of likes and subscribers. The sentiment of posts – positive, negative, or neutral – matters, too.
The majority of social listening tools calculate this indicator automatically. Their measurements are based on AI algorithms.
For instance, Sephora marketers can stay calm with 52,3% of positive brand mentions on the web.

3. Click-Through-Rate
Brands often launch influencer campaigns to boost their sales. In such cases, posts contain links to landing pages with special offers. To measure the performance of these campaigns, you can calculate their Click-Through-Rate (CTR):
Click-Through-Rate = the number of clicks / total impressions
CTR is usually expressed as a percentage. It shows how many followers of an influencer are ready to turn into your customers.
If CTR is high, but the conversion rate is low, it is about time to change something on your landing page.
4. Referral traffic
This metric comes in handy when you launch an influencer campaign to promote a piece of content on your website. For example, you try to find new readers for your company's blog. However, you can track referral traffic to your internet shop page, too.
All you need to do is prepare a link with UTM parameters for a blogger that will post it.
The result of your collaboration will be seen in the Google Analytics reports. Go to Acquisition/Campaigns/All campaigns to track how many users visit your webpage by this special link.
5. Purchases
Your influencer marketing program can be based on a variety of collaborations. You can give an influencer a kit of branded stuff (for instance, T-shirts, mugs, and stickers) like many companies who promote on Twitch do. Or you can offer a special discount for your brand advocate's subscribers.
For instance, Sephora has recently launched this kind of campaign with the OK! magazine.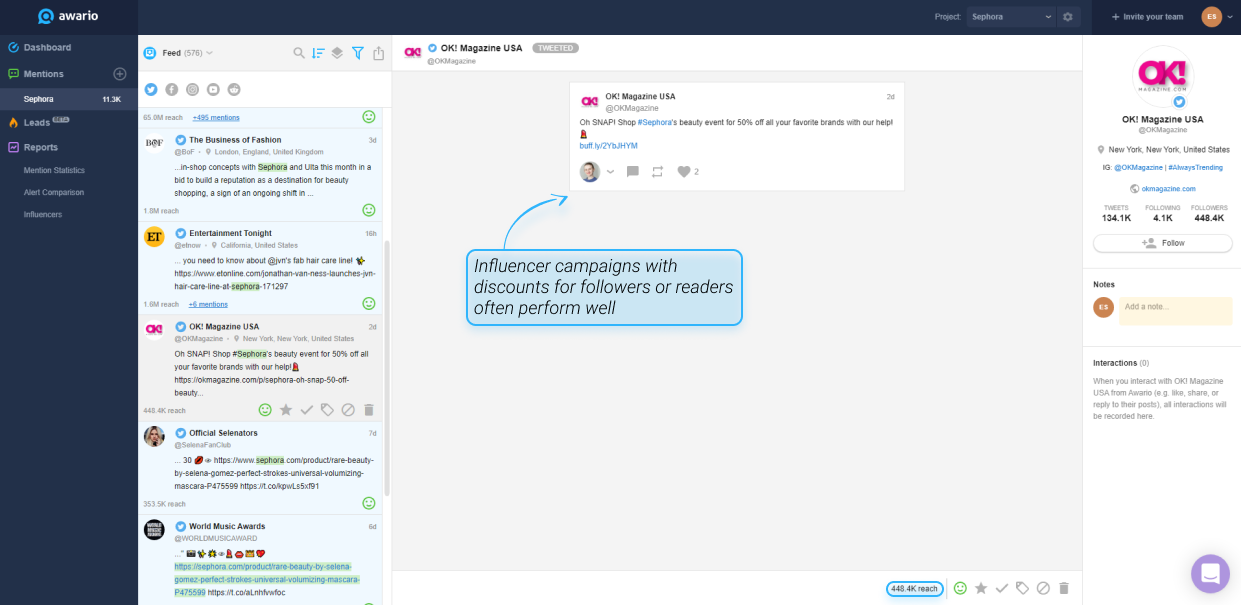 The number of new purchases, deals, or contracts can be a performance indicator of these collaborations.
6. Influencer KPIs per influencer
After you have run several influencer campaigns, it is about time to compare bloggers you worked with to each other.
It is convenient to create a table with the main influencer campaign KPIs and add all your results to it. This analysis shows the competitive advantages of each blogger that you can consider for future campaigns.
You can reveal that some social pages have very active followers who share and comment on posts most and the others drive a lot of referral traffic to your website. It is obvious where you should launch an influencer campaign dedicated to your new product.
When you face the reliability problem, the campaign's results are less important. This is why you also need to assess your influencers by analyzing how long they responded to your emails or DMs, how many times they postponed the publication of your posts, and the like. Otherwise, your next joint campaign could be an epic fail.
Enjoying the post? There's more.
Sign up for our newsletter to get our best content by email.
Was it a success?
Analyzing influencer campaigns, do not forget to go back to your influencer marketing strategy and check if your key goals are accomplished:
Was it your target audience who viewed, liked, and commented on an influencer post? Maybe, they were just random users who scrolled their social feed out of boredom.
How many new customers did you earn thanks to this collaboration? If your main goal was getting more purchases, the engagement rate increasing means that your campaign is failed.
Did this influencer campaign perform better than your organic social content? You need to compare your time and money costs to your results.
There are a lot of metrics to measure influencer campaigns, but you need to figure out which of them apply most to your company. This is why begin with a few KPIs that work for your brand best according to your influencer marketing program.
It enables you to do a thorough analysis and unlock the potential of social media.