Top 3 Instagram Growth Services of 2020
Take Your Insta Game To The Next Level
Currently, there are loads of Instagram growth services available, so anyone can easily get overwhelmed and end up choosing the wrong app for their Instagram growth.
To stop you from making that mistake, we've decided to gather the best of the best in one place, so if you're curious to know which services made the top of our list, keep on reading!
What Is An Instagram Growth Service?
Before we dig into the top three, let's quickly review what a growth service is. Essentially, an Instagram growth service grows your account by consistently increasing your engagement rates. It can be either a team of social media strategists or an automatic online tool. The number one thing you need to be aware of is that you only want organic growth.

What does this mean?
In a nutshell, you want a growth strategy that involves a human factor. Many growth services use bots to boost your account, and once Instagram finds out about it (which they will), you might end up blocked or banned.
Three of the Best Instagram Growth Services
Time to move on to the part you came here for. What are the three most esteemed and reliable Instagram growth services in 2020?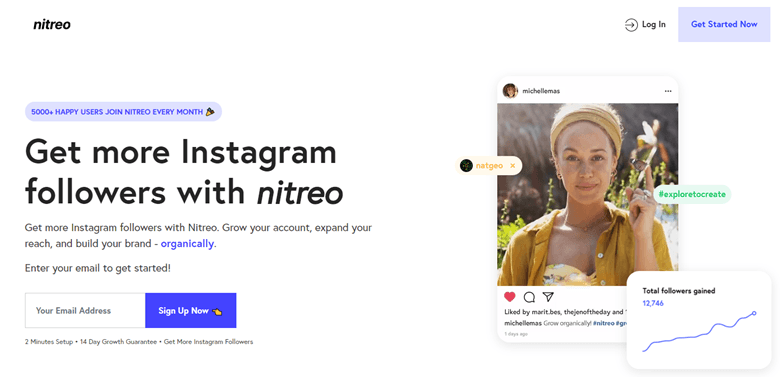 Nitreo is a set of tools that organically boost your account. According to the company, they use a combination of real smartphones and AI. Before, we've mentioned that automatic growth is bad, but it doesn't necessarily have to be - like in this case. Nitreo uses advanced AI to perform actions, but all operations are supervised by a real human being, thus securing organic growth.
Nitreo has some basic features like any other growth service, but it also has a few distinctive ones, like their advanced multi-level targeting. Besides the regular targeting filters, like hashtags, geotags, etc., Nitreo also has the option to target by min/max followers, the number of posts, type of account, and many more.
Earlier, we mentioned Nitreo has the human factor. It's actually a dedicated account manager you get upon signing up. Having a real person with whom you can interact is a real game-changer.
How does Nitreo help you?
Nitreo does the best thing you can ask from a growth service - they help you achieve organic growth. This means you'll gain followers who are real people interested in your content, which is the ultimate goal.
Are there any cons to using Nitreo?
Nothing is perfect, and neither is Nitreo. Admittedly, it wasn't easy trying to find a major flaw in this growth service. The biggest one is probably the lack of a free trial - it'd be nice to test it out before paying for a subscription.
All in all, Nitreo is a safe service. If you want to know all there is about it, check out this comprehensive Nitreo review.
Enjoying the post? There's more.
Sign up for our newsletter to get our best content by email.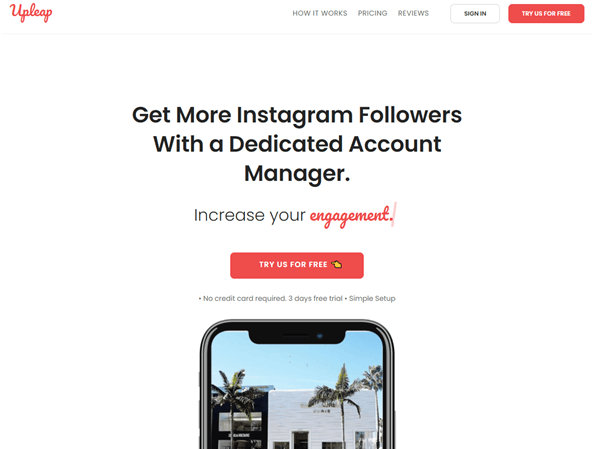 Upleap is a growth service that helps you create strategies to increase your engagement rates and enhance your overall presence on Instagram.
What makes Upleap stand out is their personalized approach to Instagram growth - once you sign up, you will get assigned a personal account manager who will do everything they can to grow your account. You can forget about bots with Upleap - all you get is real organic growth.
Upleap has a set of features that will boost your account. It works based on targeting filters that you need to set up according to your desired audience. Once you choose a target audience, your manager will take it from there. You can keep track of your progress on the Dashboard.
How does Upleap help you?
Your manager will make sure you only get real followers. The fact that there are no bots involved means safety is guaranteed, and you don't ever have to worry about getting banned for breaking Instagram's rules. The bottom line - you get genuine and safe organic growth.
What are the downsides of using Upleap?
To be honest, Upleap is not the most budget-friendly service. However, considering how much you can benefit from the service, it's worth it. If you're thinking of trying Upleap, dig into this complete Upleap review to get all the company facts.
3.KENJI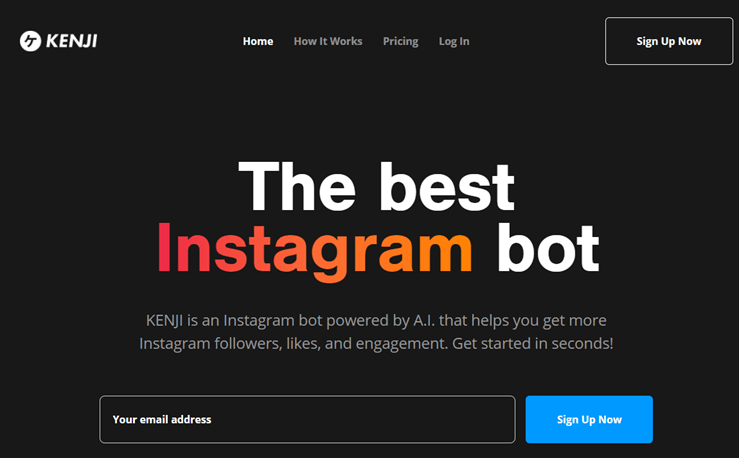 You probably know that using bots is not a preferred way to grow an account. Just like any rule, this one has exceptions too, like when it's a bot powered by advanced AI, which is the case with KENJI. While KENJI is, technically, a bot, it's one of the rare ones that provide organic growth. The service is reliable, and you can count on them to keep it 100% transparent.
Pretty good for a bot, uh?
Since it's a bot, the first thing you need to know is it's completely safe to use it. Their site is SSL secured, and they provide password safety measures. Now that that's clear let's see how it actually works. KENJI was built to machine learn your targeting niche on-the-fly. This means it's constantly improving which accounts to interact with. It interacts based on your filtering settings, and it performs actions such as follow/unfollow, react, auto-like, story view, and whitelist/blacklist.
Everything KENJI does is created to look as human-like as possible. It interacts with real users only, and it analyzes Instagram's algorithm to make sure it doesn't exaggerate with bot activity.
What are the cons of using KENJI?
The biggest con is that you have to download software to your device. However, we've thoroughly tested it, and it didn't contain any malware, which means it's safe to use.
To get more info on KENJI's features, feel free to browse this concise KENJI review.
Final Word
It's not easy managing to stand out among all the growth services available, but Nitreo, Upleap, and KENJI manage to do it.
Not only are they reliable growth services, but they are also organic Instagram growth services.
Achieving organic growth is the main objective and the reason why you want to employ the use of growth services in the first place.
Before you choose any growth tool, ask yourself a few questions. Is it safe to use? Will it jeopardize my account? Does it provide organic growth and real followers?
If the answers are yes, no, and yes - congrats, you've managed to find an honest company with your best interest at heart!
Start monitoring your brand today.
You should've been doing it yesterday – but the next best time is now with Awario.
By signing up I agree to the Terms of Use and Privacy Policy