Top Instagram growth services you need to know in 2023

Article summary
Currently, there are loads of Instagram growth services available, so anyone can easily get overwhelmed and end up choosing the wrong app for their Instagram growth. To stop you from making that mistake, we've decided to gather the best of the best in one place.
14 minutes read
Instagram growth services
Updated on September 2022
There's loads of Instagram growth services out there. But which one to choose? It can be easy to get overwhelmed in the sea of services and offerings. That's why our team has been busy testing them out and we're here to tell you the results.
So, if you're curious as to which Instagram growth services made the top of our list, keep on reading.
What is an Instagram growth service?
Before we dig into our top hits of this and previous years, let's rewind and take a look at what a growth service is. Essentially, an Instagram growth service helps grow (or build) your account by increasing your engagement rates consistently. However, the term doesn't have just one specific meaning. A growth service can be anything from a team of social media strategists to an automatic online tool.
But as we all know, the one thing that's important for marketers, alongside that authentic brand connection is results. That's why the number one thing you need to be aware of when selecting an Instagram growth service is what you're using the tool for—organic growth—and how good of a job it does at it.

What does this mean?
In a nutshell, you want a growth strategy that involves a human factor. Many growth services use bots to boost your account. And while those subscriber numbers may go up, this isn't authentic and once Instagram finds out about it —and they will l—, you might end up blocked or banned. This is not good for business.
That's why, when choosing a service, it pays to note precisely how the Instagram growth service works and how it gets the results it gets. With that in mind let's take a look at our top picks.
Golden classics: our faves from previous years
Nitreo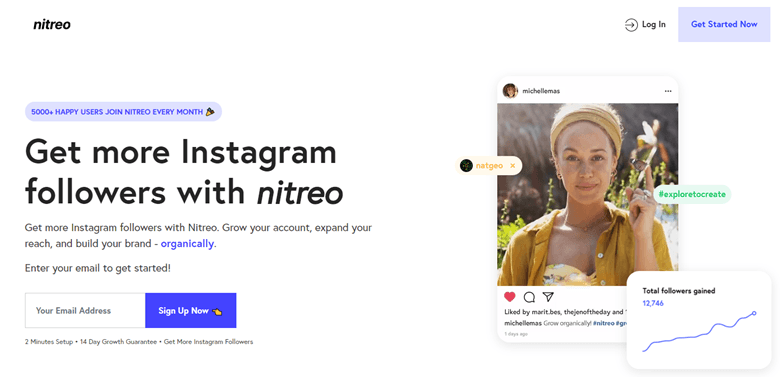 Nitreo is a set of tools that organically boost your account. According to the company, they use a combination of real smartphones and AI. Before, we've mentioned that automatic growth is bad, but it doesn't necessarily have to be—like in this case. Nitreo uses advanced AI to perform its actions, but all operations are supervised by a real human, which ensures organic growth (aka good growth).
Nitreo has some basic features like any other growth service, but it also has a few distinctive ones, like their advanced multi-level targeting. Besides the regular targeting filters, such as hashtags, geotags, etc., Nitreo also has the option to target by min/max followers, the number of posts, type of account, and many more.
Earlier, we mentioned Nitreo has the human factor. It's actually a dedicated account manager you get upon signing up. Having a real person with whom you can interact is a real game-changer. After all, we all hate talking to bots
How does Nitreo help you?
Nitreo does the best thing you can ask from a growth service, they help you achieve organic growth. This means you'll gain followers who are real people interested in your content, which is the ultimate goal of any marketer. After all, real followers can lead to real sales.
Are there any cons to using Nitreo?
Nothing is perfect, and neither is Nitreo. Admittedly, it wasn't easy to find a major flaw in this growth service. The biggest one is probably the lack of a free trial. It would have been nice to test it out before paying for a subscription.
All in all, Nitreo is a safe, efficient service that does what it says. If you want to know all there is about it, check out this comprehensive Nitreo review.
Enjoying the post? There's more.
Sign up for our newsletter to get our best content by email.
Upleap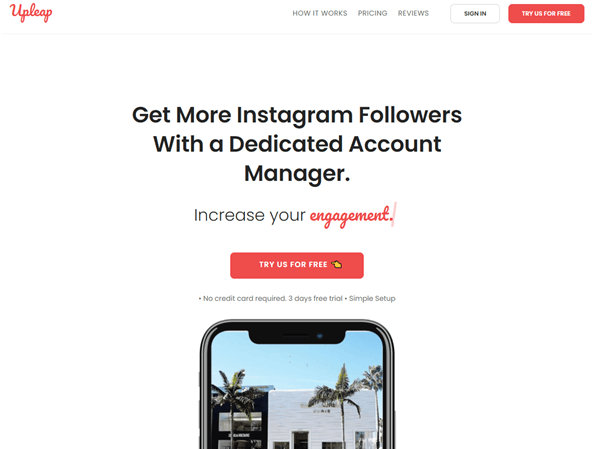 Upleap is a growth service that helps you create strategies to increase your engagement rates and enhance your overall presence on Instagram.
What makes Upleap stand out is their personalized approach to Instagram growth. Once you sign up, you will get assigned a personal account manager who will do everything they can to help grow your account. You can forget about bots with Upleap, with this service all you get is real organic growth.
Upleap has a set of features that will boost your account. It works based on targeting filters that you need to set up according to your desired audience. Once you choose a target audience, your manager will take it from there. You can keep track of your progress on the Dashboard.
How does Upleap help you?
Your manager will make sure you only get real followers. The fact that there are no bots involved means safety is guaranteed, and you don't ever have to worry about getting banned for breaking Instagram's rules. The bottom line, you get genuine and safe organic growth.
What are the downsides of using Upleap?
To be honest, Upleap is not the most budget-friendly service. However, considering how much you can benefit from the service, it's worth trying it. If you're thinking of using Upleap, why not dig into this complete Upleap review to get all the company facts before you pay for that subscription?
KENJI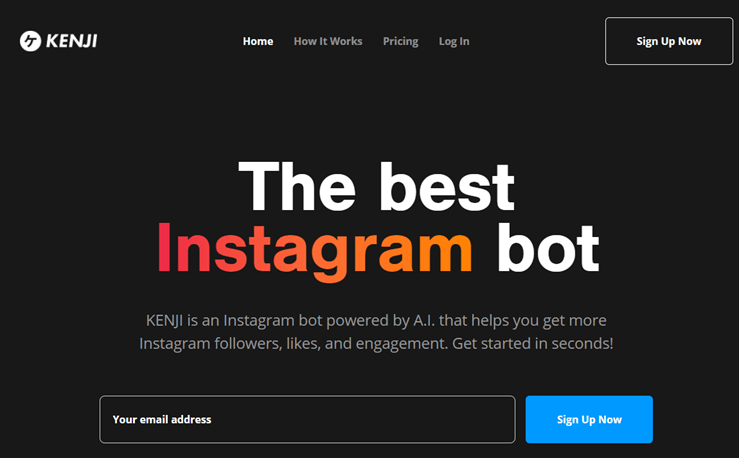 You probably know by now that using bots is not the preferred way to grow an account. Just like any rule, this one has exceptions too, like when it's a bot-powered by advanced AI technology that really rocks at what it does, which is definitely the case with KENJI. While KENJI is, technically, a bot, it's one of the rare ones that provides organic growth. The service is reliable, and you can count on them to keep it 100% transparent.
Pretty good for a bot, huh?
Since it's a bot, the first thing you need to know is it's completely safe to use. Their site is SSL secured, and they provide password safety measures. Now that that's clear, let's see how it actually works. KENJI was built to machine learn your targeting niche on-the-fly. This means it's constantly improving which accounts to interact with. It then interacts based on your filtering settings, and it performs actions such as follow/unfollow, react, auto-like, story view, and whitelist/blacklist.
Everything KENJI does is created to look as human-like as possible. It interacts with real users only, and it analyzes Instagram's algorithm to make sure it doesn't exaggerate with bot activity.
What are the cons of using KENJI?
The biggest con is that you have to download software to your device. However, we've thoroughly tested it, and it didn't contain any malware, which means it's safe to use.
To get more info on KENJI's features, feel free to browse this concise KENJI review.
Newcomers: Instagram growth services for 2022 & the future
Kicksta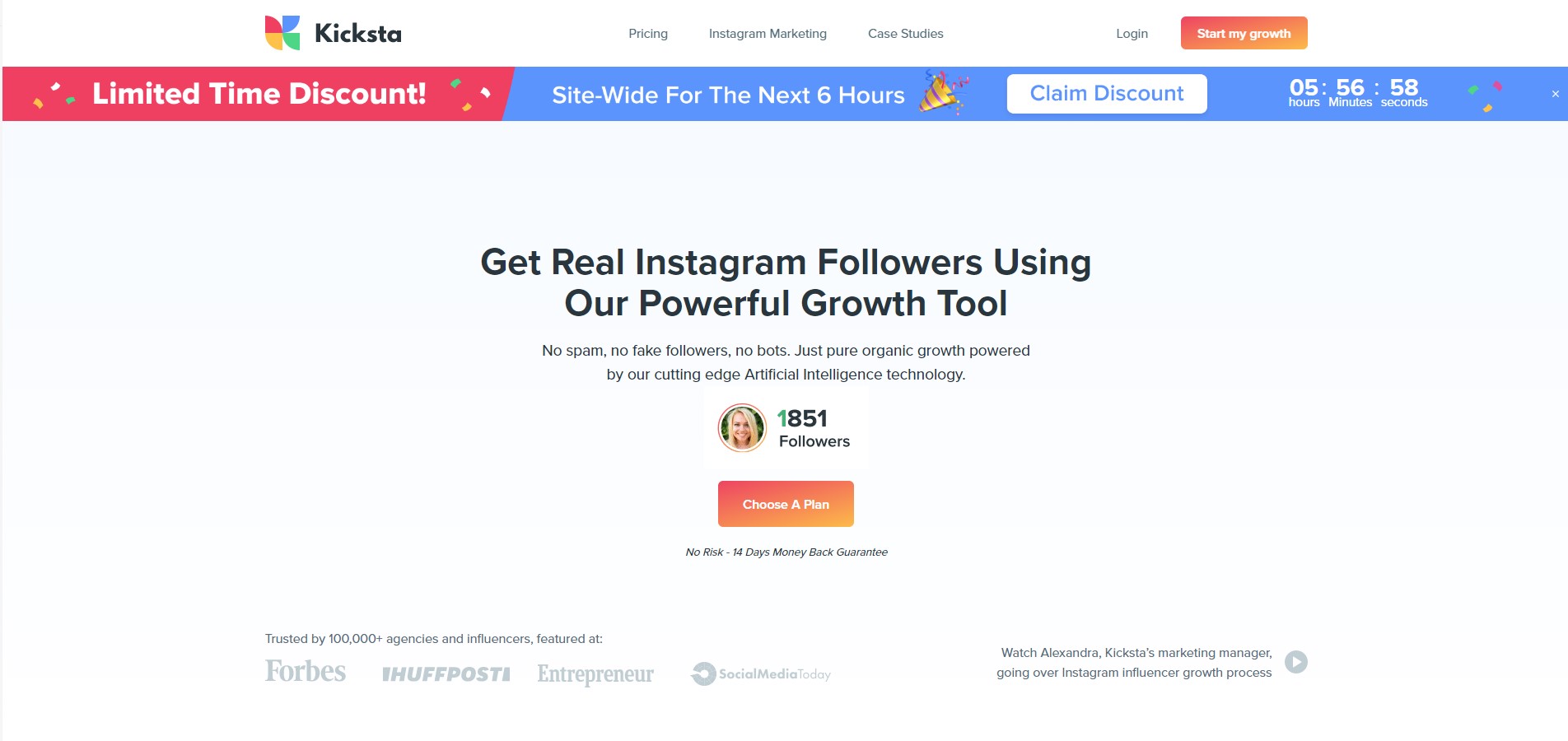 Kicksta is a handy Instagram bot that automates follower-engaging processes. You just need to share the list of people you're considering targeting with Kicksta, and all the rest, the bot will do for you. It will like posts for the targeted audience you've listed and their followers. This can be your general account followers, influencers, or even competitors. It's often worth showing on your competitor page that there is an alternative brand.
Sign in to the Kicksta account and make a list of the people you'd love to target. Share this list with Kicksta and that's it! Kicksta uses Artificial Intelligence to follow the selected audience and decides if these accounts are genuine or not. When the app likes your followers and the followers of your followers, they can get interested in you, check your page, and, eventually, subscribe.
Kicksta also provides lots of filters. This way, you can filter out the people and brands with similar to your interests, locations, industry niche, and others and add them to your liking list.
How can Kicksta help you?
According to the company, Kicksta screens out bots and fake accounts and brings real, authentic organic followers to you—simple! It's easy to boost your audience and promote your brand on Instagram using Kicksta.
Are there any possible downsides of Kicksta?
Kicksta doesn't come cheap, the Standard plan is $49 per month whereas the Premium Plan charges $99 per month. But with the Premium Plan you get advanced targeting, enjoying VIP email support, creating negative targeting lists by excluding certain accounts, and much more.
Kicksta uses only a like-based technique which can bring you followers at the start but doesn't guarantee that they won't leave you as quickly as they've come. Another issue can be that Kicksta is fully AI-automated, this doesn't guarantee only relevant followers or followers that have any testimonials that they are real.
Buzzoid

Growing an audience and gaining views is one of the most burning issues for Instagrammers, so it's no surprise that there are myriads of services offering quick audience-boosting services. Buzzoid is another social media tool that is aimed at generating followers, likes, and views with no fuss, no muss.
Buzzoid is a time-tested company that has been providing Instagram follower-growing services since 2012. We can say that Buzzoid uses quite conventional boosting methods—buying followers, buying likes, and buying views.
Depending on the Buzzoid subscription plans, it offers high-quality and premium followers. The main difference between the two is that high-quality accounts are quite basic, they have a profile picture and some account data but hardly have any uploads. Premium followers have more similarities with real people. Nevertheless, the company claims that all the followers they provide are real accounts.
How can Buzzoid help you?
Buzzoid helps Instagram users quickly grow their audiences or number of likes for promo campaigns. For this, Buzzoid provides quite detailed subscription plans where you can spend only a small amount of money to get more viewers and followers. For example, it offers 100 followers for only $2.97 whereas you can get 5,000 followers for $148.50 with a decent discount of only $39.99.
Are there any weak spots in Buzzoid?
Buzzoid uses quite conventional methods of growing an audience. Instagram algorithms are well-trained to notice and eradicate such quick follower boosts. Though, if you dilute your followers with an increased number of likes you can get lucky and bypass strict Instagram algorithmic guards. So, our advice—use Buzzoid sparingly to get the best results.
Let's get social!
It's not easy to get noticed on social media, but having the right tools on hand certainly helps. These six key services can boost your following, while maintaining all Instagram regulations (mostly).
Not only are these companies reliable growth services, but they are also organic Instagram growth services, and that's what makes them great! So, we recommend checking out his list and giving them a try.
If none of them are quite what you're looking for, that's ok too. But before you choose any growth tool, ask yourself a few questions. Is it safe to use? Will it jeopardize my account? Does it provide organic growth and real followers?
If the answers are yes, no, and yes—congrats, you've managed to find an honest company with your best interest at heart! So why not share it with us? We'd love to hear which growth services really boost your business.
Start monitoring your brand today.
You should've been doing it yesterday – but the next best time is now with Awario.
By signing up I agree to the Terms of Use and Privacy Policy