The ultimate guide to promoting your brand on IGTV

Let's start with the basics, just in case you've been living in a bunker (don't get out, it's still 2020).
What is IGTV?
IGTV (Instagram TV) is a long-form vertical video channel that is created by Instagram and accessible only from Instagram.
IGTV was introduced when researchers behind Instagram noticed that short-form videos are not always enough for Instagram users. Often, a story just doesn't fit into the 30 seconds that one used to have to tell it. So now, you can start watching the 30-second Instagram video in an Instagram feed or a Story, and then continue in IGTV after clicking again to let the platform know that you want to continue viewing the video.
Why should you consider IGTV for brand promotion?
IGTV isn't only there for regular users. Brands also often can benefit from it. With the help of IGTV, brands can:
Increase engagement
Increase brand awareness
Work better with influencers
Improve and broaden their marketing strategy
But why would brands want to choose this platform and this method?
Of course, while every platform has its specific benefits, there is something about Instagram. Mainly, Instagram has the highest brand engagement out of all social media platforms. Almost 80% of Instagram users follow at least one brand. With such effectiveness of Instagram, you've got to make the most of it.
Then, there is the effectiveness of video content.
The past couple of years have shown that videos cause the most engagement on the Internet. Every platform won massively when video content was introduced. Facebook had a literal rebirth.
Sign up for a free Awario trial
See Awario in action with a free 7-day trial. No credit card required.
By signing up I agree to the Terms of Use and Privacy Policy
Overall, the merger of Instagram and video content is a golden one. So let's dive in and see how we can get the most out of it.
How to use IGTV for brand promotion?
1. Educate users about ways to use your product
One of the most popular types of content for brands is educational content. And naturally, it's often harder to make than it looks. To properly educate someone, you need more than 15 seconds and so much more than an image. Previously, these were the main reasons why this type of content was not that popular on Instagram.
But now this has changed.
In most cases, it's easy for brands to come up with tutorials that are genuinely useful for their users. Makeup brands host makeup sessions, clothing brands present style videos, fitness brands introduce mini-courses, and, as it often happens, software brands simply show how to use their software.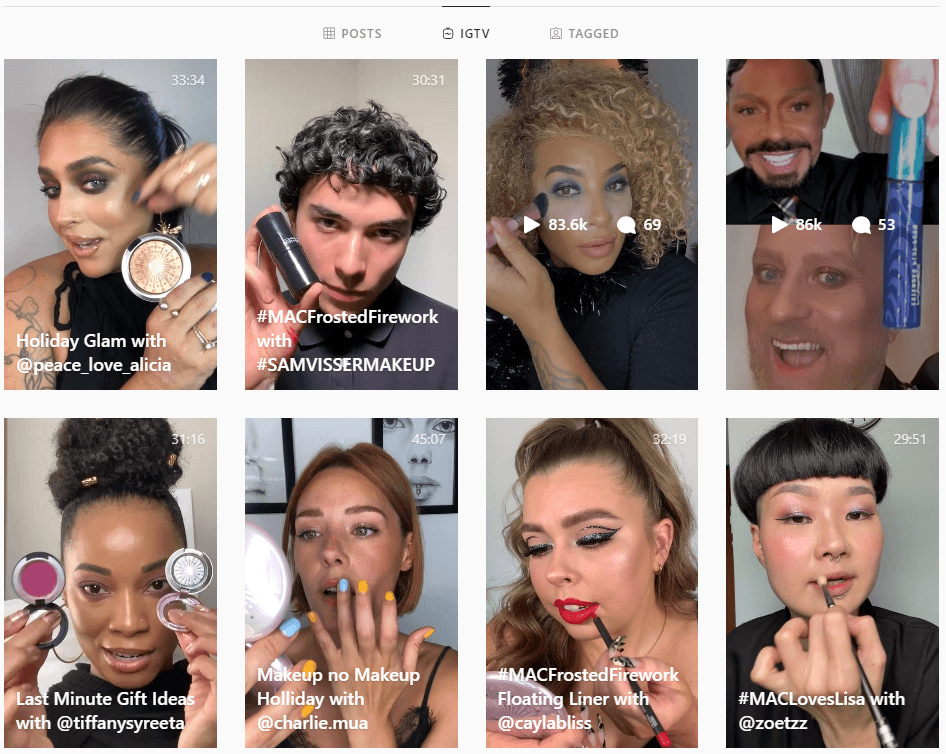 Educational videos increase engagement, increase brand awareness, and act as a non-sales-y, not-that-annoying type of promotion that Instagram users often welcome. Instagram brand-friendly users often even follow the accounts for the opportunity to regularly watch brands' educational videos.
2. Host Q&A sessions
More and more, people want to be involved in everything ― even in the making of your own product. They want to tell you what's good and bad about it, what they would change, and how you can do better.
So truthfully, I would call this type of session something different than a Q&A session. A "product discussion" session? Or something you do at a product launch?
In any case, if you want to communicate with your audience (and you do want that), organize a way for your audience to openly share their thoughts and ask their questions, and make a video where you reply and react to each one.
Don't forget to promote the session in advance! The best way to do this is with Instagram Stories (but you probably know that).
3. Show behind-the-scenes videos
The demand for authenticity runs high: both on Instagram and far beyond it. Filters and perfect lightning don't cut it anymore; quite the opposite, they can make a brand seem fake. Unfiltered models, real faces, raw sounds, and messy offices are much more welcomed when it comes to brand promotion.
While this doesn't necessarily mean you can throw away your extremely expensive camera equipment, there's something you still can do to look authentic. Namely, behind the scenes videos.
Film short compilations of how your product is made, how your colleagues interact, what happens when the day of the launch is nigh, and so on. Give your audience something to laugh at and raise their eyebrows at.
4. Collaborate with influencers
Influencer marketing is already an Instagram hit. All IGTV does is open new opportunities for collaboration. You can try more formats (borrow some from YouTube) and just simply keep the influencer longer on your channel or spend more time on theirs.
In an IGTV video below, a clothing brand Urban Outfitters partnered with Paramore - a collaboration that has definitely hit the spot for many buyers.
5. Stream an event
Events are rare in 2020. But this will eventually change, and conventions, seminars, and similar useful social activities will no doubt be back. Besides, some companies still organize online events in these trying times, and that's still better than nothing.
And for those who still won't be able to attend, there can be an IGTV stream.
This is definitely something your users will appreciate, tell their friends about, and recall when they need your product. And as we know, reciprocation rarely fails!
6. Show off customer stories and testimonials
Once in a while, filming a customer's story or a testimonial might do good for your brand. For some of your followers, this will become a final push towards purchasing your product or service. For example, the before/after stories are now often seen in the IGTV format, as they allow us to know the details of the transformation.
However, this might also hit Instagram users as a bit too promotional of a move, so don't overdo it.
IGTV: tips for content promotion
As we know, creating amazing content is never enough. Whether your battlefield is Instagram, or TikTok, or blog, or website, you've got to do the promotion and optimization to make it work. Here are some tips for increasing the chance that people will watch your IGTV videos.
1. Cross-promote your video
Cross-promotion is essential whatever you do. Your target audience is spread out. Not a single person follows you on all of your social media platforms. That doesn't mean they won't be interested to view some exclusive IGTV content.
But you have to let them know it exists and remind them regularly about it.
It's also possible to promote through Instagram. I've touched on that before, but here's a more comprehensive guide:
Use the not-so-secret power of Instagram: Instagram Stories. Preview and link to your IGTV video from them.
Share short previews of your IGTV videos to your Instagram feed
Share IGTV videos to your connected Facebook page
2. Make sure the video is watchable with no sound on
Many people don't watch IGTV videos with their sound on. Make sure that the video makes sense either way or add subtitles.
3. Hook the viewers upfront
People in 2020 don't have much time or much patience. If your video isn't useful and interesting immediately, no one will wait until it becomes better. Especially on a platform like Instagram.
Your IGTV video should hook the viewer in the first 15 seconds. This means no buildup is required: all important info should come straight away.
4. A/B test different video lengths
You don't need to make the video as long as the platform allows you to. What you need is to find the length that will make most users watch the video till the end.
This means experimenting with different lengths and choosing the best one.
5. Use IGTV video insights to track results
Instagram provides you with the opportunity to see how your videos have performed (and we're forever thankful). With View Insights, you can see your engagement rate, retention rate, and other important info. And of course, you can see likes, shares, and comments on Instagram.
All this information should be separately gathered so that you can understand whether IGTV works for your brand, which format works best, what people like, dislike, and have questions about when they watch your videos.
Conclusion
IGTV is one of many forms you can attract your target audience to come and check out your products. It can be used for educating and entertaining your followers, as well as for building a community around your brand.
IGTV, if done right, is almost certain to increase engagement around your brand. And this is a necessary step in any social media marketing brand strategy.
Enjoying the post? There's more.
Sign up for our newsletter to get our best content by email.