Unconventional holidays for SMM: how to benefit

Article summary
Many marketers run big campaigns on social media only during the major holidays. However, they could extend marketing calendar through unconventional holidays. In this article, we are going to analyze such examples and give actionable tips.
The majority of holiday marketing campaigns on social media are launched some weeks before Thanksgiving, Christmas, Valentine's Day, and other dates when customers are ready to do one-stop shopping. It is a big competition time. Companies bombard customers with sales, gift coupons, X dollars cards for the next purchase, and so on.
However, New Year, the 4th of July, and other significant dates are not the only occasions for special activities on social platforms. How about leveraging unconventional holidays to promote your products and services during the whole year?
What holidays we are talking about?
There are a lot of uncommon holidays in the United States. These dates are not official day-offs, federal or state holidays. For example, according to this calendar, there are 31 special dates in May! Besides, you can find even more occasions to celebrate through multiple "World Days" dedicated to memorable events or famous people.
There is a fascinating story behind every holiday. Usually, these dates promote the ideas of partnership, animal care, free speech, and respect for different opinions, like Zero Discrimination Day. Some unconventional holidays were created by businesses to promote particular products or services, for instance, National Hat Day or Deep-Dish Pizza Day.
All in all, you can benefit from including these holidays in your monthly content plan for social networks.
How businesses use unconventional holidays
Launching a holiday campaign is an effective way to improve your social media performance. It helps marketers to achieve various objectives.
To retain followers, you need to mix your promotional and informative posts with entertaining ones. If finding a new topic is a challenge for you, focus on a holiday of the day! You can convey its main idea through your brand attributes like a logo or corporative colors, preparing specific pictures, Reels, GIFs, or other visuals. Do not hesitate to experiment and have some fun!
For example, a Hello Kitty brand posted this funny picture on Groundhog Day to amuse the Twitter followers.

Hello, #GroundhogDay ❤️ #HelloKitty pic.twitter.com/gzxJknalzB

— Hello Kitty (@hellokitty) February 2, 2018
People loved the post. It received lots of likes and shares as it evokes positive emotions and refers to an old American tradition. Not only Hello Kitty fans loved this post. Holidays always unite people!


Participating in or sponsoring local events is one of the best ways to build and raise your brand awareness. With social media, you may want to increase your campaign coverage and connect with your customers in several states. Preparing a campaign, pay attention to National Days that everyone can enjoy.
Quincy Medical Group used National Clean-Up Day to emphasize the brand's care about environmental problems.
In the post, managers used the hashtag #NationalCleanUpDay that linked the message to the online movement and increased the post's visibility in the Facebook feed.
Check how many people recognize your brand!
Sign up for a free 7-day Awario trial. No credit card required.
By signing up I agree to the Terms of Use and Privacy Policy
There are tons of holidays dedicated to products especially, traditional dishes and drinks. If your company works in the catering, restaurant, or fast-food industry, you can use food-oriented holidays to boost your sales.
For example, this cafe from St. Louis, Missouri, celebrated Ice cream for Breakfast Day on Instagram.

Also, you can work with influencers like this diner from NY that collaborated with a local food blogger on National Sandwich Day.
Holidays related to your brand are good dates to run campaigns around new products. For your followers, they won't seem over-promotional. Your campaign can grab more attention through a specific holiday hashtag.
This brewery wisely picked the National Beer Day for introducing a new beer blend on Twitter.
#NationalBeerDay calls for a new #BreckBrew! ?? Introducing our rotating IPA series, Hop In Hand.

Our first IPA in the series features a unique hop blend named Trident - developed for those seeking a hop-forward mix of fruity, citrus, tropical, & passion fruit. pic.twitter.com/sfLPTWoeTn

— Breckenridge Brewery (@BreckBrew) April 7, 2021
As a result, the post not only earned likes and views from the page's followers but also was retweeted by a big beer community.

People follow brand pages on social media not only to buy something from these companies. Reading your posts, they want to find tips and tricks, industry trends, any helpful pieces of information that answer their questions. By meeting their needs for useful content, you can build a strong connection with your target audience.
Holidays dedicated to significant events in human history can be a good reason for tweeting or posting on your social media. In these posts, you can outline your brand mission, share inspirational ideas with your customers, or tell a short story.
For example, this company that provides affordable flights tweeted about Wright Brothers Day. The post became popular compared to others in the account and earned more retweets and likes. People like to deal with companies honoring National history. For small businesses, it is a great way to join something significant.

If it weren't for the Wright Brothers, there'd be no cheap flights. On this day in 1903, Orville and Wilbur Wright completed the first successful flight in a mechanically propelled plane - and we'll be forever grateful ? #WrightBrothersDay ✈️

— Scott's Cheap Flights (@scottsflights) December 17, 2019
Brand reputation development
Perhaps nothing affects the reputation of any brand as positively as participation in charity projects. If your company supports such initiatives, there are many days in the year when you can talk about them on social media.
In March, Walkers Crisps started the charity campaign around Red Nose Day. This day aims to bring people together by funding programs that keep children safe, healthy and educated. This campaign is British originally but supported by American brands, too. As you can see, followers appreciated this initiative of the company.

BE FUNNY, RAISE MONEY. We've teamed up with Comic Relief to support mental wellbeing and we're starting by spreading a little positivity across the Internet! Post something positive on Twitter using #WalkersTweetRelief and we'll donate £1 on your behalf for Red Nose Day* ? pic.twitter.com/RFl9oOSCda

— Walkers Crisps (@walkers_crisps) March 12, 2021
How to run a successful unconventional holiday campaign on social media
To succeed by experimenting with holiday content, you need to do preliminary topic research, analyze your audience, and plan a campaign strategy.
One of the most common mistakes companies make when launching holiday campaigns is late planning. It is better to start your preparations some weeks before the date.
1. Decide on your campaign topic
The better you know your target audience, the more successful your campaign will be. At this stage, understanding if your prospects are interested in a topic that you chose is the main task.
Doing audience analysis or topic research, I rely on social listening tools like Awario.
Start monitoring your brand today.
You should've been doing it yesterday – but the next best time is now with Awario.
By signing up I agree to the Terms of Use and Privacy Policy
Once you open a tool (you can use your 7-day free trial), create an alert with keywords and hashtags related to a holiday (I chose National Hug Day).
Set up the search by geography. I recommend adding an Unknown location to the US or any country where you locate. This trick helps you consider users with VPN on.
Then, specify social media where you are going to run your campaign as sources. To do in-depth research, let Awario collect the information for all time.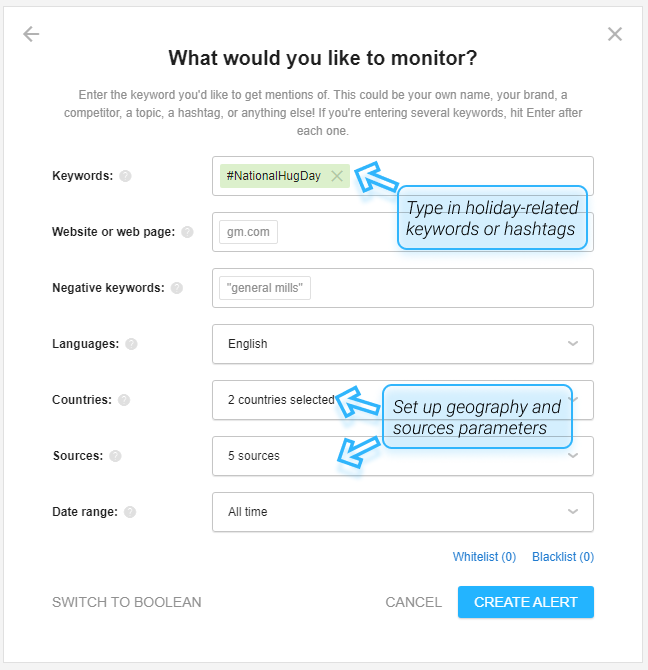 The tool brings you results in a matter of seconds. However, if you can wait for a while, Awario will find more data around your topic.
To draw the first conclusions, have a look at the Dashboard with the key indicators:
keyword reach
sentiment
the number of mentions
audience gender and age.
As you can see, people in the US are aware of National Hug Day and really admire it.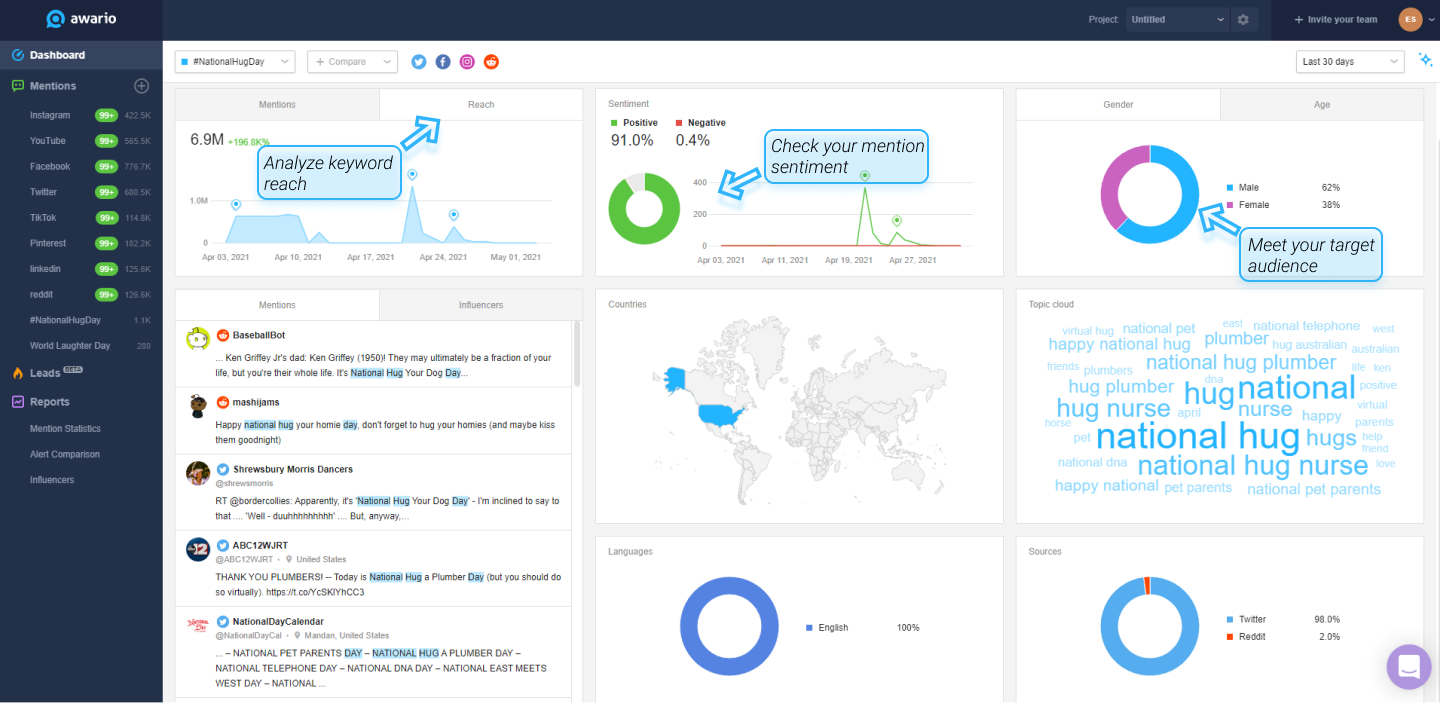 Then, you can meet the target audience of this holiday and compare the data to your customer portrait. Go to Mentions Statistics for checking Age and Gender metrics. Are there any matches?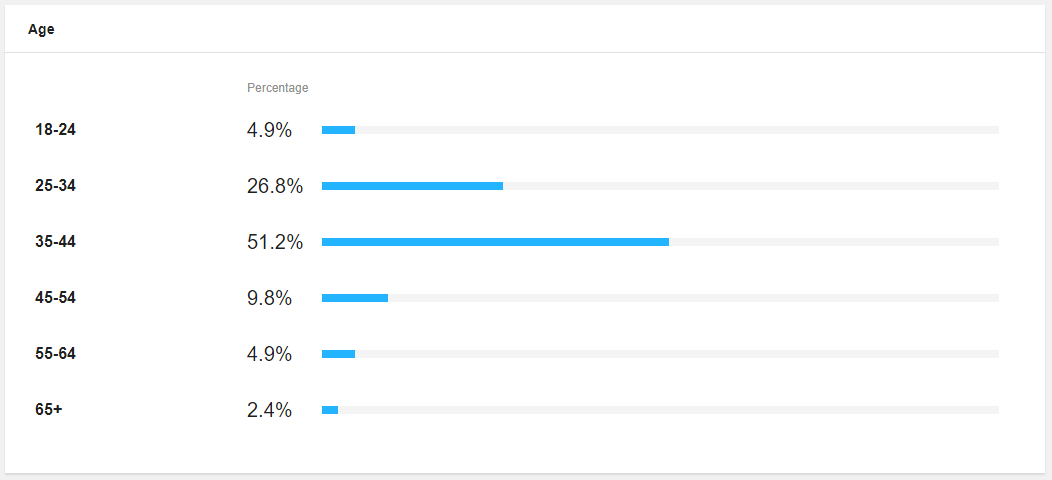 Also, you can check account types where your mentions were found. In this case, 75.3% of them are personal, so people share messages around this day more often than businesses do. It means the holiday is significant for them, and they will appreciate your post about this day most likely.
Comparing up to 15 keywords is another super handy option in Awario. It will help you test topic ideas when you are mapping out your marketing calendar.
In Alert Comparison, you will find see various metrics. Share of voice reveals the most recognizable and popular mentions. For example, Americans mention National Hug Day more often than World Laughter Day.

2. Set up your goals
Now it is about time to determine what is the goal behind your holiday marketing campaign. It helps you outline the concept, create an offer, and choose the best social channels for spreading your message further.
For example, if you want to boost sales, you need to choose what you want to promote – bestsellers, new, or slow-selling items. Additionally, determine how you want to promote your goods or services. Would you run a giveaway, provide free shipping, discounts, promo codes, or share a gift guide?
3. Create content and visuals
If you aim to run a holiday campaign on various social media, you need to adjust your message, considering the audience's preferences and platform's features.
Besides photos or videos for social media, you may want to create a temporary leaderboard banner for your website. This is a good idea when your holiday post will contain CTA to the internet shop or a landing page.
Also, you can prepare specific email patterns if you want to use this channel for the distribution of your holiday content from social media.
4. Work out hashtag strategy
Using holiday hashtags improves your campaign engagement. Check if any online movement around a holiday is and add its hashtag to your post. Also, you can make your own holiday hashtags.
Keep in mind, different types of hashtags tend to perform well on different social networks. Their number also matters. For example, while Facebook posts engagement is falling dramatically after six hashtags are included, on Instagram, 11 is the optimal number.
Besides, adding hashtags in a post will help you easily monitor the results of your campaign.
5. Reach out to influencers
Probably you will need to collaborate with influencers, non-profit organizations, or your marketing partners, to cover more people during your holiday campaign.
In Awario, you can find influencers who mentioned keywords that you chose for analyzing. There is an Influencers report where you can check how large the audience they have is. Also, you can see their mentions sentiment – positive, negative, or neutral.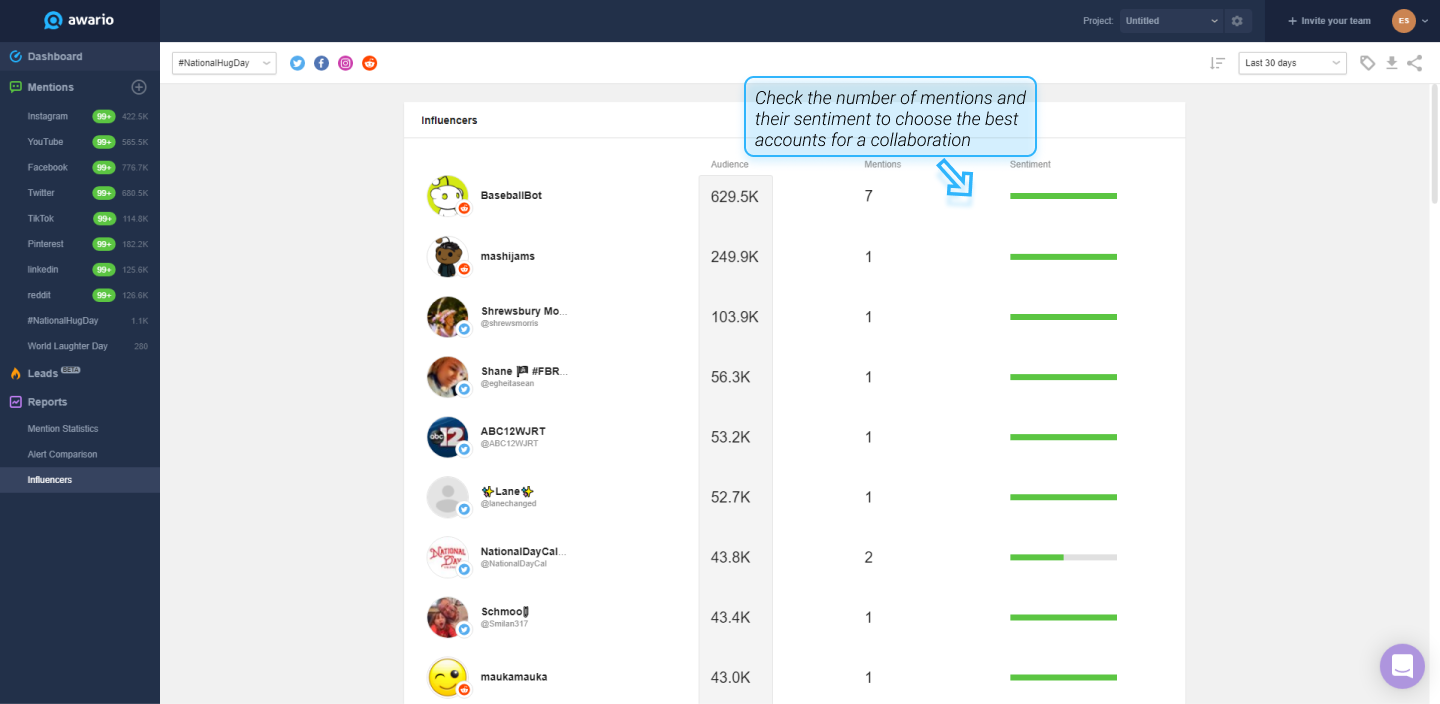 In the list, all links are clickable, so you can go to any profile and analyze its content and engagement rate.
6. Track your campaign performance
Measuring your holiday campaign results helps you to fix mistakes you made and understand what types of posts are worth replication in the future.
The first thing you can monitor is the engagement rate of your posts. For this purpose, you can use metrics embedded on social media platforms. By tracking this indicator, you will see what content appeals to your audience and optimize your new campaigns.
Also, you can check your referral traffic from social media during the campaign through Google Analytics. If you add links to your post, combine them with UTM tracking parameters for more accurate measurements.
Reach and impressions also give you insights into how engaging your posts are. The more expansive reach and the number of impressions they have, the more interest in your brand they will generate.

Enjoying the post? There's more.
Sign up for our newsletter to get our best content by email.
---
Most brands usually spend a large share of their budget on a big holiday season from October to December. Launching campaigns around unconventional holidays can be your secret weapon in social media marketing. Who knows, maybe your efforts will end up with a National Your Brand celebration like Oreo.