Best video marketing software: 12 tools to analyze, create, and edit in 2023

Article summary
Video content is gaining momentum on all popular social platforms and corporative websites. Are you ready to take the challenge on your brand's pages? In this article, you will find the best video marketing tools a video maker, digital marketing, and SMM specialist need to have on hand.
Well, you are here for at least three reasons.
First, you want to drive more traffic to your website or landing page. Second, it would be great for you to increase the average time on your website and social media page. Finally, lead generation and purchase boosting are your priorities for now.
Luckily, effective video marketing can help you tackle all these tasks.
According to the Statista study, 85% of American users watch online videos monthly. Besides, 54% of customers want more video content on their devices because this is their favorable content type on socials. Not surprisingly, 87% of your colleagues — marketers and SMM specialists — use video marketing to promote their brands.
Distributing branded clips across various paid and owned media channels, you can drive more interaction and better engagement with your content.
Jumping on the trend, you need to sharpen your tools. Video marketing software enables you to automate a plethora of routine operations. Besides, the majority of the best video marketing tools provide analytics features. It turns video marketing into a fascinating task!
Before going into detail, let's have a look at what these tools are.
Start monitoring your brand today.
You should've been doing it yesterday – but the next best time is now with Awario.
By signing up I agree to the Terms of Use and Privacy Policy
What is a video marketing tool?
Usually, it is a software as a service platform for video customization, publication, and analysis. With video marketing tools, you can:
Do competitor analysis and search for trending topics on video social platforms and video hosting sites.

Do your target audience analysis to reveal what users are watching the most.

Find and reach out to popular bloggers for influencer marketing campaigns on YouTube, TikTok, and other social networks.

Create videos for different marketing goals — from educational, informative, and entertaining clips to all kinds of video ads.

Set up, schedule, and publish video campaigns on leading social and video hosting platforms.

Launch A/B testing and do video SEO.

Gain performance data to check if your videos work well and compare your stats against your competitors.
It's hard to imagine an all-in-one video marketing tool that can tackle all these tasks. Anyway, it would hardly be affordable for each marketer and video maker.
Using different video marketing tools for different tasks is much effective for your budget. Usually, a simple tool with a few helpful features is enough for your first video marketing project.
Basics of digital video marketing
Creating any digital marketing project includes four big steps:
analysis,

planning,

content creation,

content management.
At first, you need to determine what kind of video content your target audience likes, where your customers and prospects consume it, what your competitors do on video platforms.
With this information in mind, you can draw up a video marketing strategy. For example, you can add to your plans launching influencer marketing campaigns or focus on YouTube marketing shooting educational clips. Using the best video marketing tools for analysis and planning, you will be able to make data-driven decisions.
Then, it's about time to get creative, choosing a cover image for thumbnails, writing scripts, and editing your recorded clips. Here is where a video marketing tool that provides a video editor feature comes in handy!
Finally, you can get into video management: schedule video content, share it on social pages, distribute it across your marketing channels, reply to comments, and... analyze it again. Tracking the performance of your uploaded videos helps you improve your content strategy.
As a result, the digital marketing cycle constantly repeats.
Now let's take a look at the best video marketing tools that will be useful to you at each stage — from analysis to management.
What tools are used to monitor video on the web?
Video marketing is a part of digital marketing. It means you can harness online monitoring tools to track and analyze what other brands from your industry do on the web.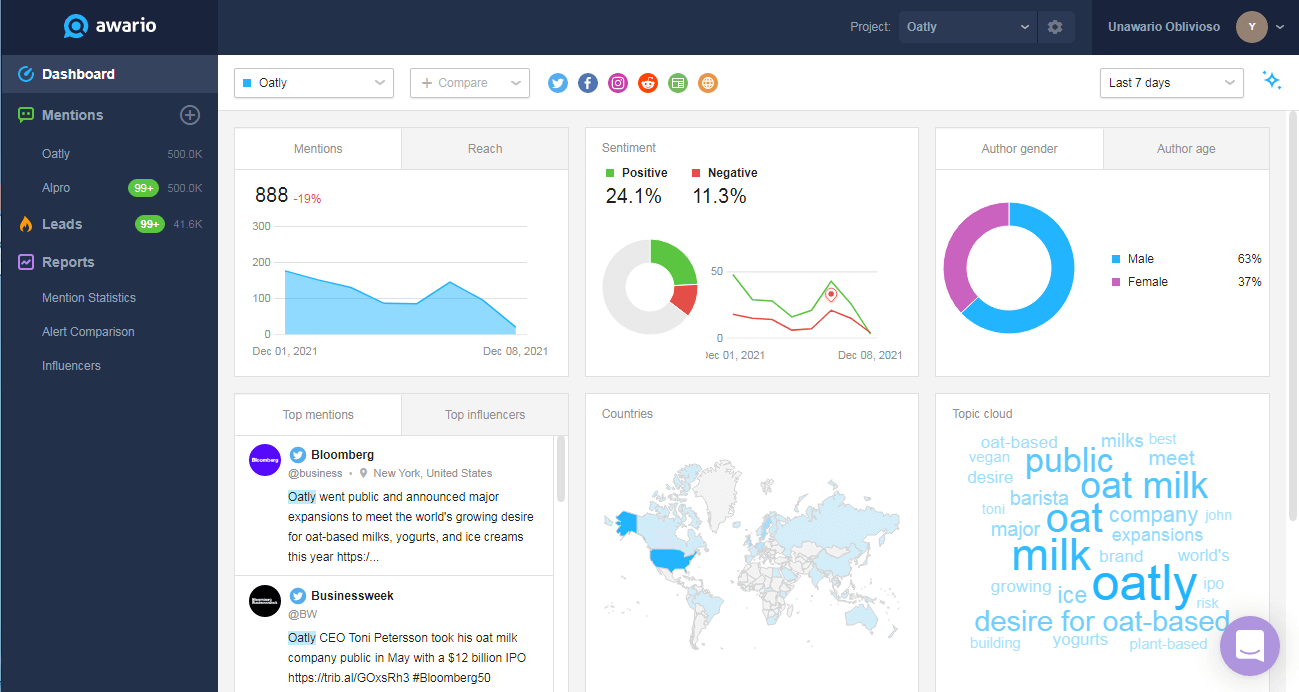 Awario is a good option for a thorough audience and competitor analysis. With the tool, you can reveal trending topics and find video marketing campaign examples for inspiration.
Awario tracks your brand mentions, industry-related keywords, competitive companies' names — any word you set up as an alert — over the Internet.
On Dashboard, you can see essential graphs and stats that give you an idea of where and when to start your first video marketing project. It helps you better understand who your target audience is through the Gender, Age, Countries data. Also, you can see the volume and reach of messages with your keywords.
Dive into the Mentions feed to see what pieces of video content the tool found for you. Filters enable you to get the very results you search for. For instance, choose all YouTube videos from the US where your keywords are mentioned within the last 30 days. Additionally, the tool provides the sentiment filter to look through all mentions with a positive or negative tone.
Awario scans news sites, blogs, forums, and social platforms (including YouTube). You can use the tool to find influencers and popular video bloggers to collaborate with. Also, it is a helpful source of analytics around your online activities.
Pricing: $39/mo for the Starter plan, $119/mo for Pro, and $399/mo for Enterprise. You can save up to 40% with a yearly plan.
Free trial: Sign up for a free 7-day trial.
Your mentions are almost here!
Fire up brand monitoring and see Awario fetch social data in real-time.
By signing up I agree to the Terms of Use and Privacy Policy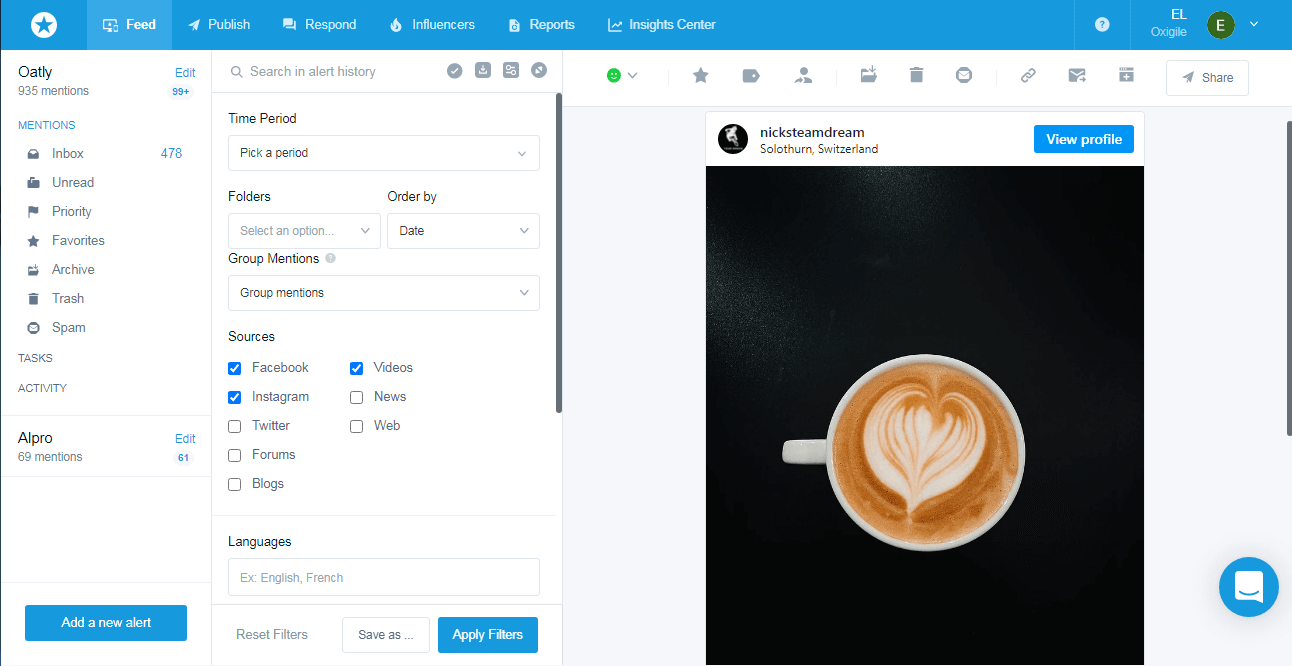 It is another tool to analyze your industry before your first video uploading. Mention provides features similar to Awario. Initially, you need to set up an alert or several alerts. As a quick point, you can determine your industry and type in the company name during your first session in the tool. It will make alert creation easier for you.
Then, go to the feed where the tool brings the first results. To speed up your search, you can sift the mentions through filters (source, date range, language, sentiment, Influence score). Choosing videos as a source, you will gather all clips related to your keywords in the feed.
Mention scans social platforms such as Facebook, Instagram, Twitter, forums, and blogs. Additionally, the tool finds influential channels on social platforms in case you want to start influencer video marketing with bloggers.
As well as Awario, Mention has a Reports feature. You can generate reports using white-label templates and editing them to your liking.
Pricing: Solo is $29/mo, Pro is $99/mo, and ProPlus is $190/mo. The price of Enterprise plan is available on request. A yearly plan saves you two months. Besides, you can set up one alert for free.
Free trial: Mention provides a free 14-day trial.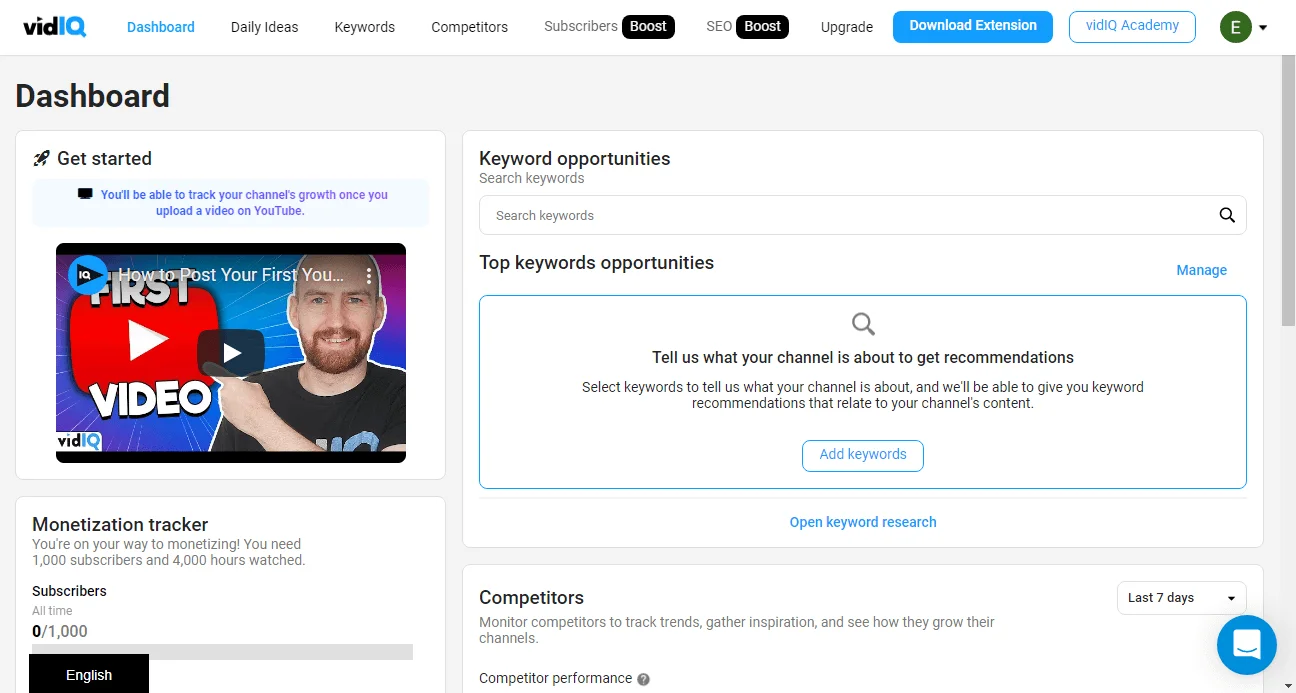 If you have recently run a YouTube channel, take a look at VidIQ. The video marketing tool analyzes other clips related to your niche and gives you a hint on how to develop and promote your content on the video platform. By the way, there is a VidIQ browser extension that provides insights for your YouTube clips optimization.
The app searches for keywords related to your brand, estimate whether your topic is popular on the platform, shows you competitive channels, and even comes up with a couple of content ideas. It sounds great for a video marketing beginner!
Back to your competitors' analysis, VidIQ detects their top videos, shows stats around their subscribers, average views within a selected date range. It is a good starting point for everyone who wants to launch a YouTube channel.
With paid plans, you have more opportunities. For example, you can use a video SEO feature to get more views on your older videos, analyze what your subscribers are watching, detect the best time for video posting.
Pricing: Pro starts at $7.50/mo, Boost is $39/mo, and Boost+ is $415/mo.
Free trial: No, but you can sign up for free to use the tool version with limited functionality.
What tools are used to make a marketing video?
When you gather enough data and draw up a content plan with videos, it is about time to get creative! At this stage, you need software for creating and editing clips. The following best video marketing tools help you bring all ideas to life.
Shakr is a kind of video marketing laboratory for creating and editing with around 1000 ready-to-use templates for various social platforms. You can edit your clips and personalize them to your target audience. Besides, you can convert your designs into templates through the tool. It is a super handy feature for brands that launch dozens of video ads on Facebook, Twitter, TikTok, and other social platforms.
With the tool, an experienced video maker can improve video projects made with Adobe After Effects. If you are a newbie in digital video marketing, the Shakr creative lab is ready to help you with original ideas. You can order on-brand videos from pros since Shakr provides a video creation service.
Providing a lot of templates for various platforms, Shakr gives you a hint of what people will like and engage with. The tool has a couple of ideas for video ads based on your audience demographics and location. All you need is to upload a clip taken with your camera and refine it a little.
Although this video tool is hardly affordable for small business companies, it is a great option for agencies and brands that promote their products through targeted videos.
Pricing: A Creative Automation plan starts from $2000/mo. To get more information about other plans, you need to contact the Shark customer support team.
Free trial: No.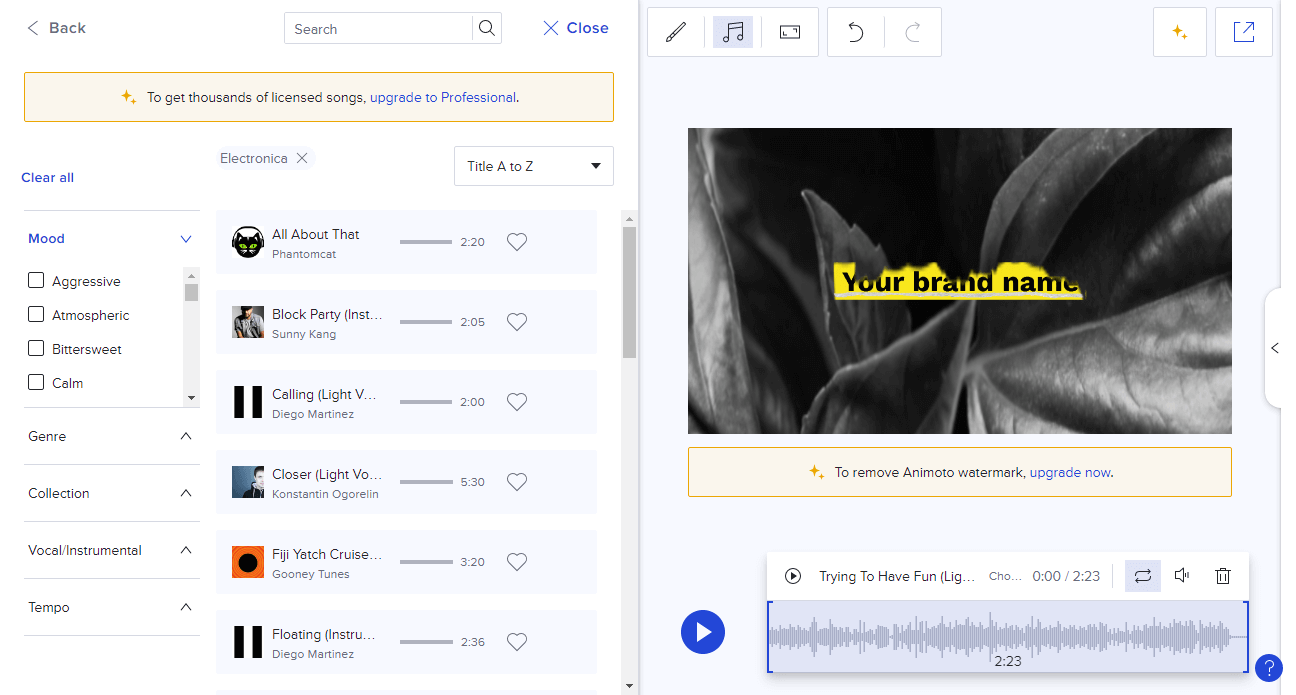 This video editor works not only for business but also for education, pro photography editing, and personal use. You can determine your goals with Animoto during the start session to customize the tool for your needs.
At first glance, Animoto is a big collection of video marketing and images templates. For instance, you can create a behind the scene clip, Amazon Promo during the sales season, Product or Service promotion video, or Valentine's Day clip. However, there is a creation from the scratch feature, too.
Creating your clip, you can choose aspect ratio (Animoto points out the optimal options for Facebook, Instagram Stories, or YouTube) and soundtrack, change thumbnail design, add visual effects and subtitles to your clip.
You can use this video marketing editor to create slideshow clips, entertaining videos, and promos for socials.
Pricing: Basic is €14/mo, Professional is €28/mo, Professional Plus is €69/mo. Annual plans save you up to 50% of the price.
Free trial: No. However, you can use the tool with limited functionality and an Animoto watermark on clips for free.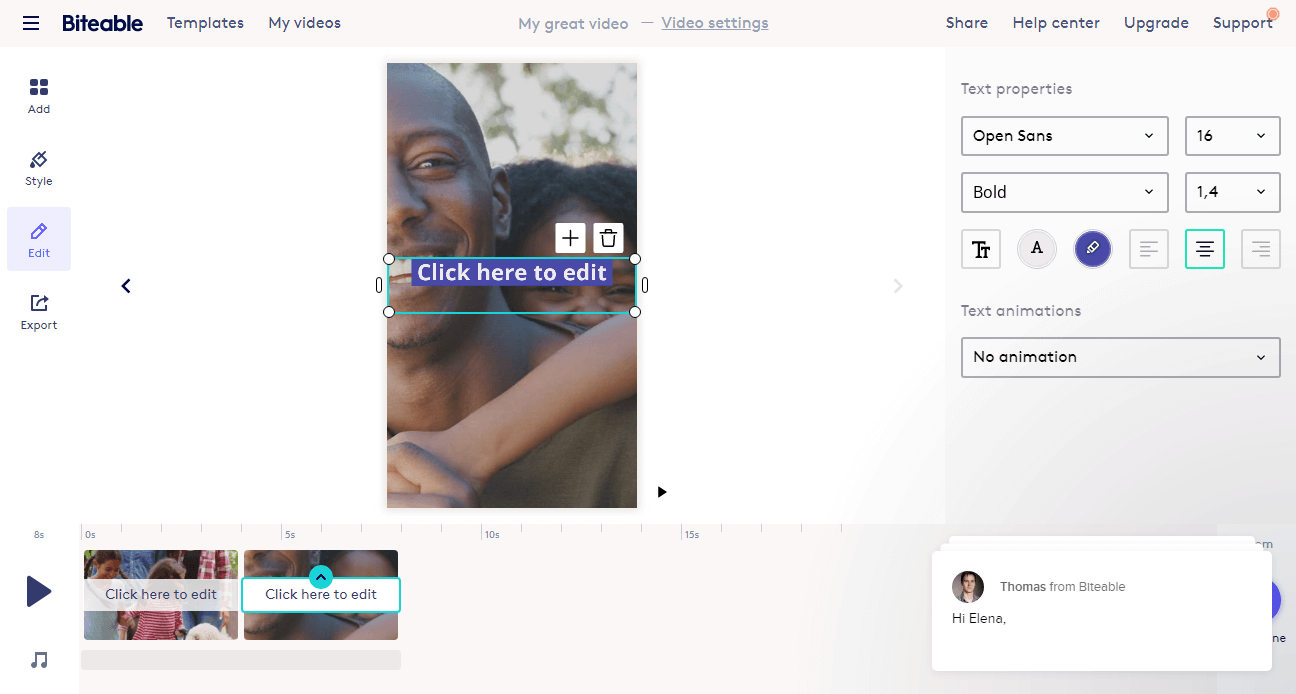 Biteable is a bit similar to Animoto. It also has a powerful video editor with many ready-to-use templates and animations, and a big music collection. However, it primarily works for slideshows, educational clips, and video presentations best. Anycase, take notice of this tool if you are a novice video maker.
Creating your first clip, you can choose a video platform where you will post it. The app provides patterns for Snapchat, YouTube, Twitter, and Facebook. Creating and editing clips for mobile video ads is available too. It saves your time and helps you get a high-quality piece of content for your social pages fast and easily.
Pricing: Ultimate is $99/mo, Teams is $2500/mo. Annual plans save you up to 50% of the price.
Free trial: No, but a free version with Biteable watermark is available.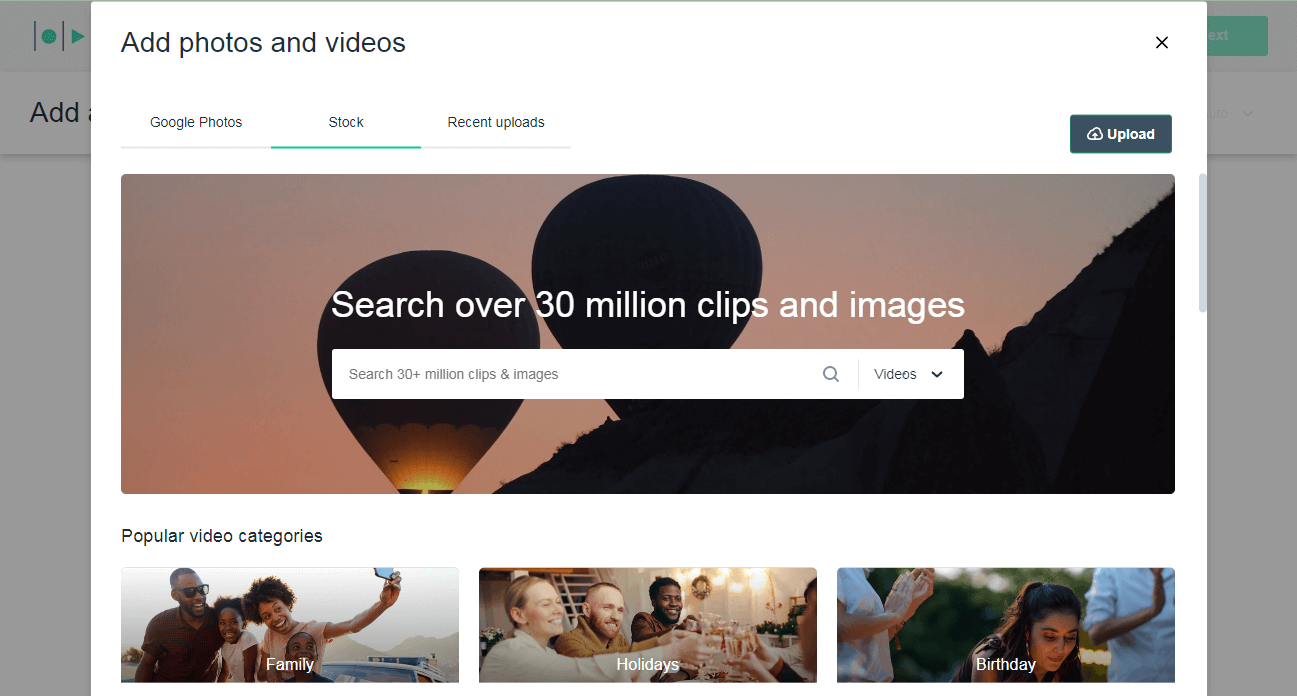 Magisto is a professional video marketing tool provided by Vimeo, a pro video hosting platform. Primarily it is an option for experienced video makers, however, novices can use it, too.
The app is designed for creating high-quality pieces of video content. You can choose a template from a big photo and video library, or upload your clip to the video editor. Then, add to your clip special effects, captions, and music.
Magisto has patterns for any occasion — a new product launching, business presentation, video ad campaign on Facebook or YouTube activating, and so on.
Pricing: Premium is $9.99/mo, Professional is $19.99/mo, Business is $69.99/mo. Annual plans save you 50% of the price.
Free trial: A 7-day free trial for Professional and Business plans is available (a monthly plan for Vimeo is included). However, there is a strict payment policy. Adding a payment card is required for the activation of both trial options.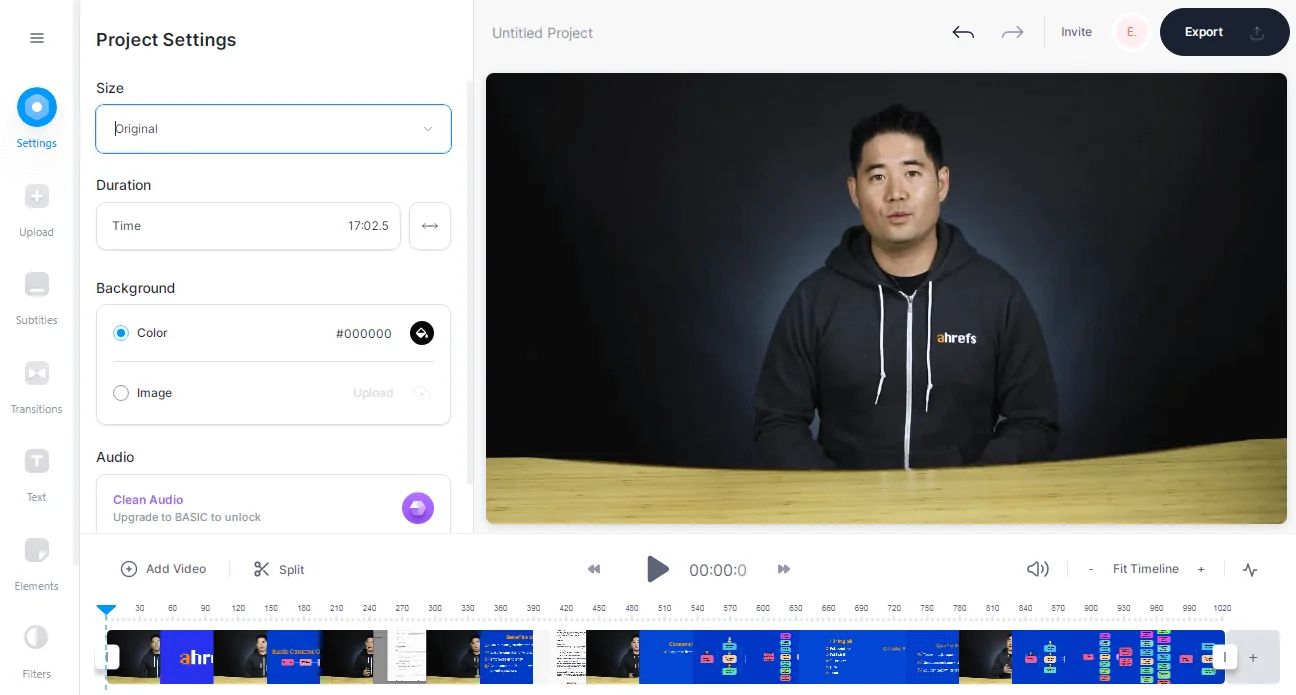 This is one of the best video marketing tools for YouTube content creators. For instance, you can upload YouTube clips to this video editor by a link. It means you can change published videos to repurpose them. Creating clips from scratch is available, too. Besides, there are many ready-to-use templates in the app.
In addition to the standard features, the video editor provides professional ones. You can remove background noise and enhance audio quality, add and edit subtitles manually or turn on auto subtitles, add visual effects such as transitions, filters, emojis, overlaid text, logos, stickers, and so on. Veed is full of ideas on how to make your clip more attractive for YouTube users!
You can use the tool individually or invite your team members to your online project.
Pricing: Basic is $18/mo, Pro is $19.99/mo, Business is $30/mo. The price of the Enterprise plan is available on request. Annual plans save you up to 33% of the price.
Free trial: No, but you can use Veed for free (for clips are under 10 minutes and 50MB, a Veed watermark added).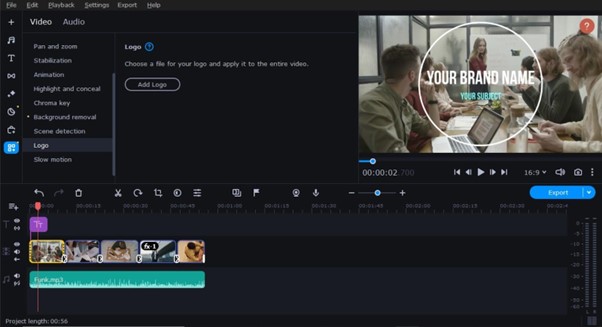 Movavi Video Editor is a powerful video marketing software for creating and editing videos for beginners and semi-pros. The interface is user-friendly, and the creators promise you will need no more than 20 minutes to master the app.
Besides general features like cutting and pasting clips, adding music and captions, and making transitions, Movavi offers a range of opportunities for creative minds. For example, you can create a picture-in-picture effect, apply motion tracking or make a slow-motion – there are plenty of options to choose from.
One more thing to love about Movavi is that it has some AI features. You can auto-enhance, delete noise, stabilize the video or upscale it with one click.
This video marketing editor is suitable for creating how-tos, vlogs, product reviews, short promos, and video ads, etc. It also supports Full HD and 4K videos, so you can be sure your projects will look great on any screen.
Pricing: $54.95 for a 1-year personal license, $74.95 for a lifetime personal license.
Free trial: Yes, 7-day free trial with some limitations and a watermark on video projects is available.
What tools are used to manage videos on the web?
Finally, your clip are ready to be published online! Of course, you can do distributing manually. However, using one of these best video marketing tools makes this task easier.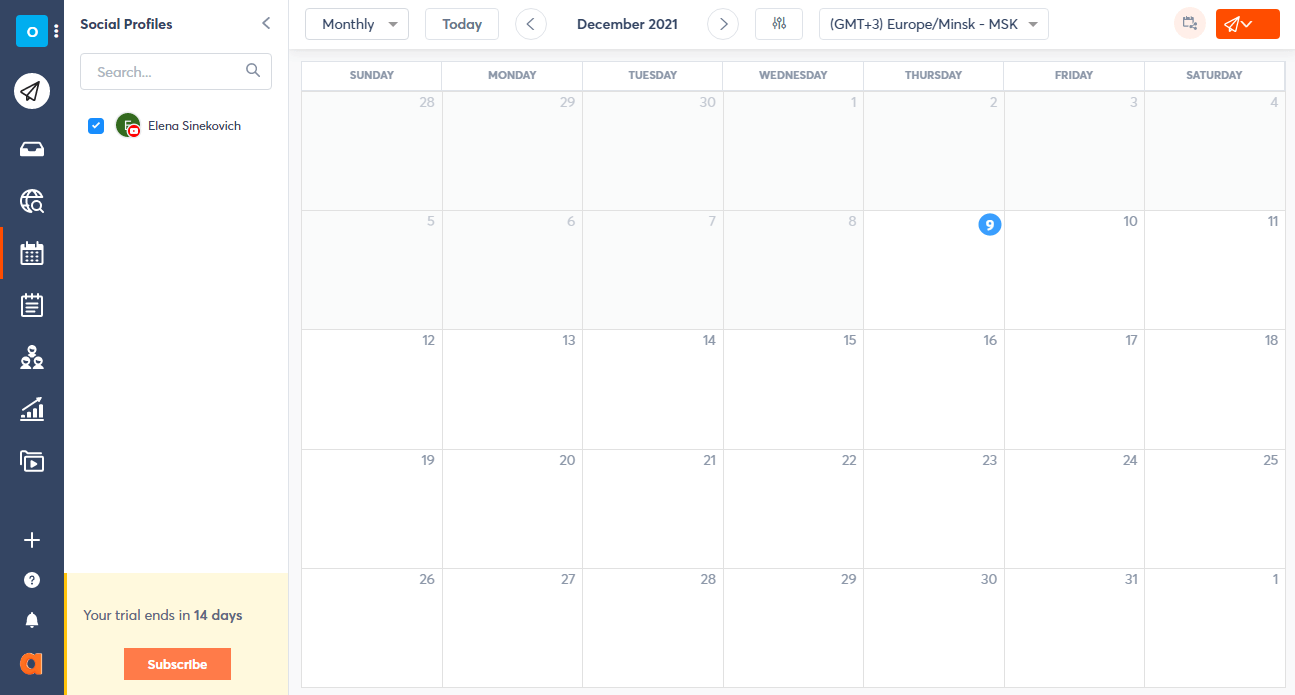 Agorapulse is a social media management platform for small businesses, SMM agencies, and large companies. Working on the platform individually or with a team, you can schedule and post content on popular social networks and analyze how it performs.
The tool can help you with video marketing tasks as well. Go to a publishing calendar to schedule, add to a queue, or publish your posts with clips and videos on YouTube, Instagram, Facebook, LinkedIn, or Twitter. You can add a title, captions, hashtags, and turn on notifications for your subscribers.
Agorapulse is one of the best video marketing tools that has not only publishing but also social listening and reporting features. For instance, you can search for keywords or brand names on YouTube to track what your competitors are doing. Also, you can start influencer marketing by revealing popular channels that your customers are watching.
Additionally, you can monitor the stats about your followers and generate reports around your video activities.
Pricing: Pro is $99/mo, Premium is $199/mo. The price of the Enterprise plan is available on request. Annual plans save you up 20% of the price.
Free trial: A 15-day free trial is available. Individuals can use Agorapulse with limited functionality for free.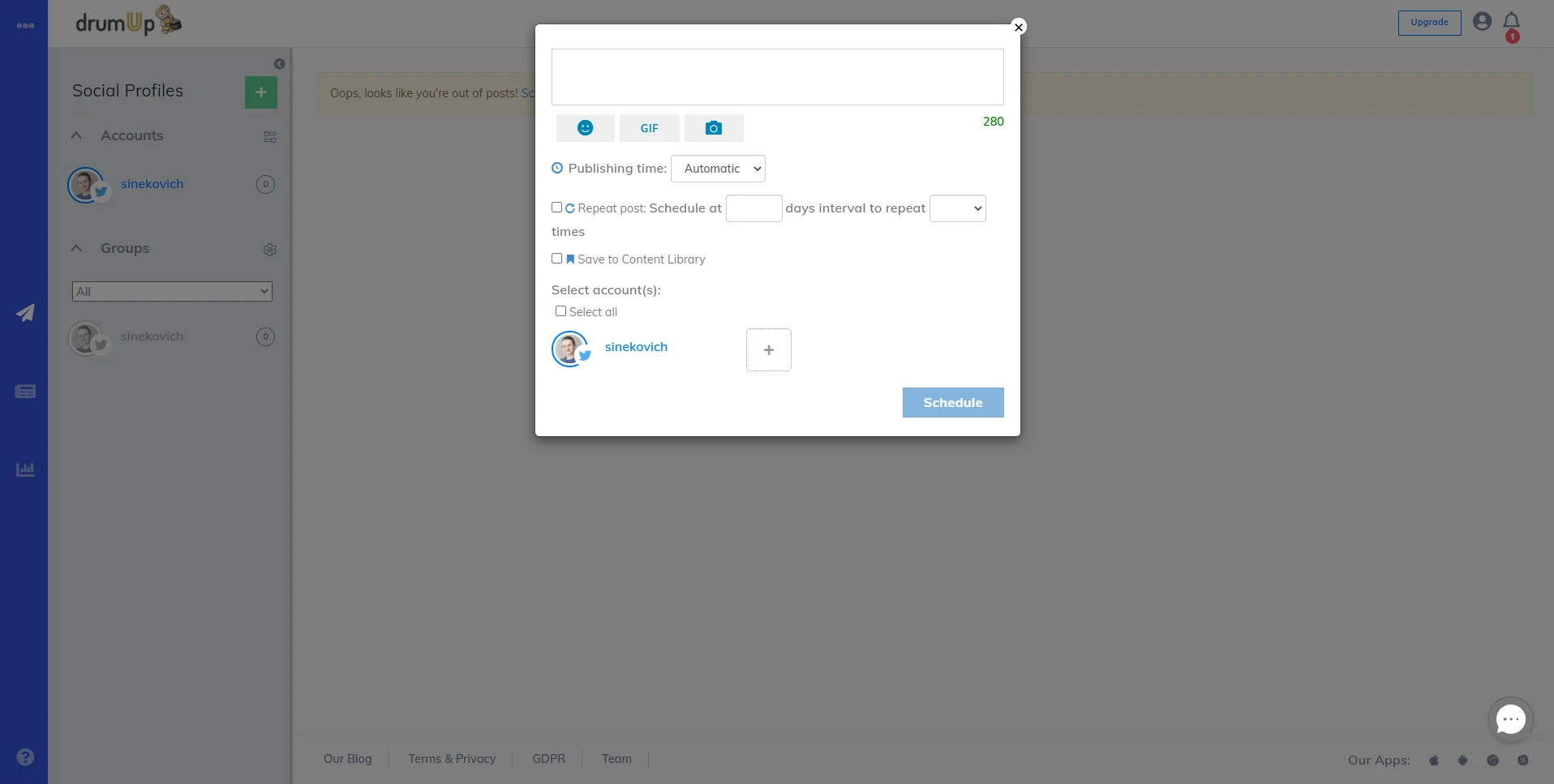 This tool helps you prepare, schedule, and share relevant content for Twitter, Facebook, and LinkedIn. In DrumUp, there are three main features: scheduling, keyword and hashtag tracking, and reporting.
You can search for pieces of content on social platforms that your customers may appreciate, publish your posts, and analyze their performance (engagement rate, the number of likes, and shares). This is a must-have in social media management.
Although DrumUp may seem like a very simple tool, it is a great option for beginners in video marketing. The app with no additional features sometimes works better than the best video marketing tools with dozens of unnecessary components.
Pricing: Starter is $15/mo, Pro is $39/mo, Small Business is $79/mo.
Free trial: A 14-day free trial is available. Also, you can use DrumUp for free to manage one social account.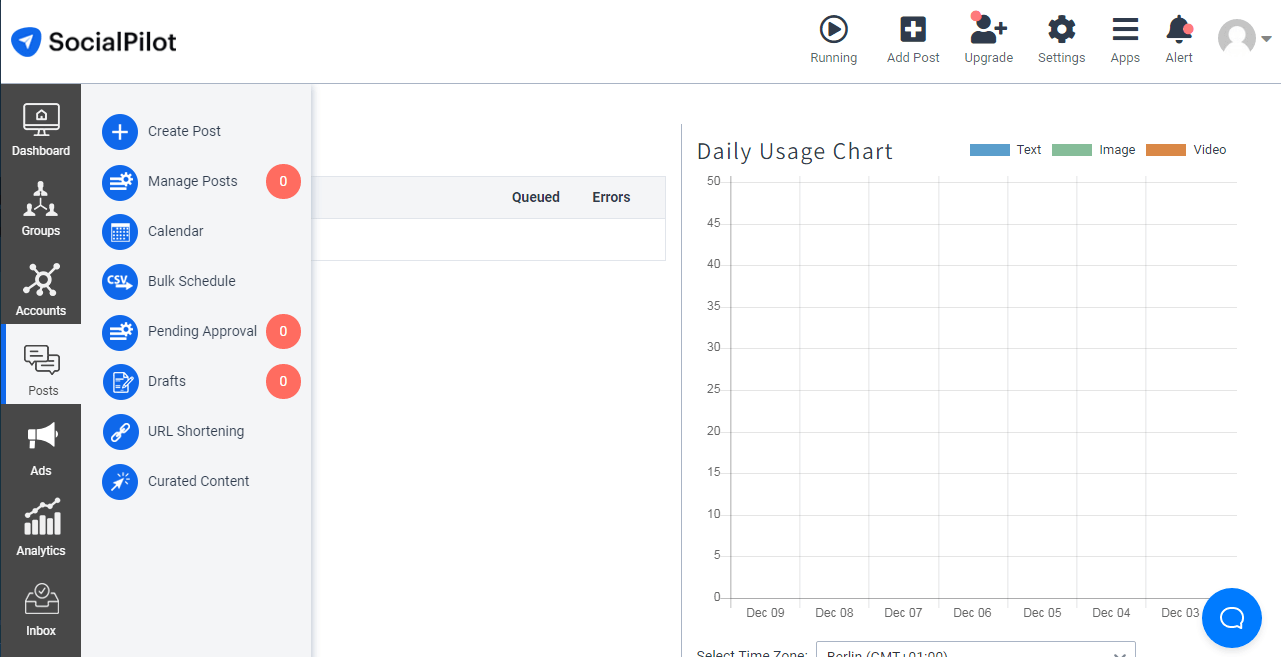 The last tool in the list is SocialPilot, a professional platform for social media managers that enables you to schedule, publish, and curate content across different social accounts at once. The tool offers content management features for Facebook, LinkedIn, TikTok, Instagram, Twitter, Pinterest, and Google My Business.
SocialPilot works best for video ads management as well. You can connect your ad accounts to run campaigns, boost your popular posts, and analyze their effectiveness with the app.
You can use the tool with your team, download SocialPilot extensions for Chrome and Firefox, and integrate it with your account on Zapier. The mobile app for Android and iOS is available, too.
Pricing: Professional is $30/mo, Small Team is $50/mo, Studio is $100/mo, and Agency is $150/mo. Annual plans save you 15% of the price.
Free trial: A 14-day free trial is available.
Don't miss our next story!
Join our blog community and have the freshest content emailed to you.
Over to you
Stepping into the video marketing field, you may feel anxious. Yes, it is a time-consuming activity with high content production costs. However, no one expects you to shoot the most viewed YouTube video for 2022 in one go. Start with short educational and entertainment clips for your Instagram or TikTok followers. In the end, even legendary TV shows such as Friends and The Big Bang Theory started with a pilot episode.