6 hacks to help marketers in leads' generation on social media networks

Article Summary
Want to move beyond boosting brand awareness and engagement on social networks? After you have grown a big and active following, the next step is lead generation. This article is for marketers who search for effective methods of attracting quality leads on their social pages. We will cover in detail what lead generation is, how it is done, and how to automate it.
Time to read: 14 minutes.
What is lead generation on social media?
Turning an ordinary follower into your regular customer includes - three stages.
Lead generation is the first of them. At this stage, marketers try to attract prospects to business by sparking their interest in products or services that a company offers. Collecting information about the leads — people who opened communication with a brand, for instance, submitted for your trial, blog updates, or white paper — is a part of lead generation too. Having names, emails, location, occupation, language, interests, and other data about your leads, you can move on to the next stage.
The second one is nurturing leads when your task is to nurture your leads down the sales funnel.
Finally, everyone who has passed this way to the end — from Awareness to Purchase — can become your regular customer. That is how converting leads works.
In lead generation, quality matters, not quantity. You should find people who meet the criteria established for your target audience. Having these criteria keeps you from chasing the wrong individuals and companies. There are no universal criteria. They depend on your niche, business, and strategy.
Sign up for a free Awario trial
Start social media lead generation with a free 7-day Awario trial. No credit card required.
By signing up I agree to the Terms of Use and Privacy Policy
Why do you need it?
There are many traditional approaches to lead generation like email marketing campaigns, referral programs, SEO, conferences, and speaking events. They perform well, but social media can perform even better.
Social platforms are a super crowded place where your prospects can hear about your company by word of mouth. It is the primary factor behind 20-50% of purchases. Having a "seal of approval" from influential people or ordinary users with active followers, your company can survive even in a competitive niche.
Additionally, there are dozens of diverse social networks. Each one unites people from different generations and professional fields. It means you can determine the social habitat of your prospects in advance. For instance, 65% of B2B companies claim that LinkedIn is the most effective platform for lead generation.
In the end, social platforms are just insanely popular. Facebook has 2.45 billion users daily. Twitter boasts close to 400 million users. This year Instagram has reached 2 billion monthly active users, and TikTok has hit 1 billion monthly active users globally.
All you need is to draw all these people's attention.
Hacks to lead generation on social media
Here are some powerful lead generation techniques to try on social platforms:
1. Find those who complain about your competitor's product or service
People who write something around your niche or discuss competitive brands are your prospects.
Tracking your competitors' mentions on social pages helps you kill two birds with one stone. First, you can detect their weaknesses and improve your product or service. Second, you can reveal the specific needs that your target audience has and check if your brand covers them.
Also, there is no harm in you-diving into one of these online discussions (use your brand social account, of course) to leave a helpful comment in the context of the post, for example, answering a customer's question about your industry-related topic. Who knows how many people from this thread will follow your page.
2. Detect social users that post about a problem that you can solve
Another target group to pay attention to is baffled users. On Reddit, Quora, Facebook, and LinkedIn, you can find a lot of I-need-help posts. Being responsive to people who are looking for answers or sound pieces of advice will serve your brand well.
Keep in mind, that your answers shouldn't be over-promotional, corny, or incomplete. Answering questions, you need to be a true expert in this matter, otherwise, your replies may be harmful to your brand reputation.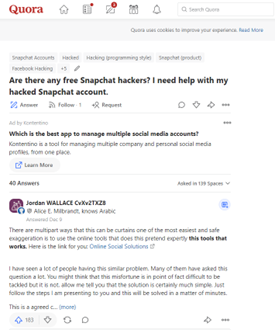 3. Search for people asking for advice in your product category
Do you follow pro groups and communities on social platforms? Many of them are full of your prospects — middle-level specialists, solopreneurs, startup owners, and even CEOs. Using your experts' social profiles is the best tactic to attract their attention.
Choose communities dedicated to your niche. For instance, it is easy to find hangouts of SMM managers, marketers, Michelin chefs, or hairdressers on Facebook. It seems there are social communities even for the rarest of professions!
The majority of such social communities are private — you need to be approved by an admin to join them. Having been invited, avoid posting ad-like messages and direct links to your landing pages. You are here to talk to people and share valuable information. Sometimes, all you need is to be a bit patient. The community members often take the first step themselves!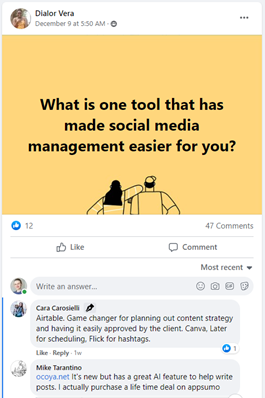 4. Participate in hot discussions
Social media is designed for chatting, and businesses can benefit from this peculiarity by involving in hot discussions around their industry-related topics or even social issues.
Socials are constantly humming like a beehive. You can find heated discussions everywhere. For instance, check the Best of Reddit community, monitor popular threads on Twitter and the most used Instagram hashtags, or type in your keyword in the Facebook search bar to reveal dedicated posts with the highest engagement and thousands of comments.
Your activity will be detected by people interested in your company or product.
5. Post clickable content
All previous techniques will perform poorly if your social account is not compelling and informative. When users are intrigued by your replies and comments, they go to your page to learn more about you or your brand.
Beautiful pics and fascinating texts are not enough to generate leads. Instead of posting another photo or video, spice up your page with clickable posts. Social platforms provide features to do that.
For instance, you can customize a YouTube clip with cards to retain viewers and nudge them to watch other videos on your channel.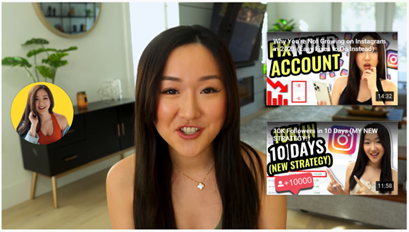 On Pinterest, tagging your products on an Idea pin is available. Clicking on a tag, a customer goes to your catalog or landing page. By the way, Facebook provides the same feature.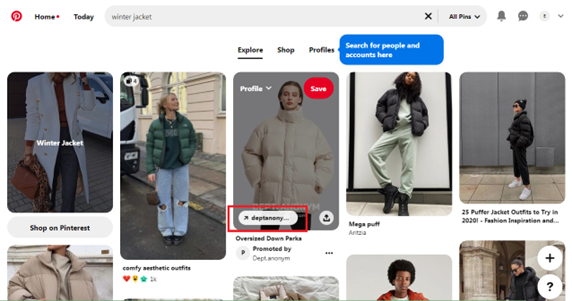 Also, there are shoppable Instagram posts and Stories. Additionally, you can use the Swipe up button on Stories as CTA for viewers.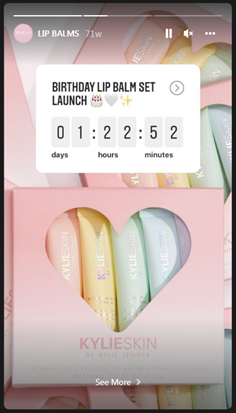 https://www.instagram.com/kylieskin/
Clickable content looks more attractive to users because it is interactive. All these photos and clips are like a rabbit hole for your users. Scrolling their social feed, they are ready to fall there.
6. Run lead ad campaigns
The organic lead collection takes much of your time and requires a lot of your creativity. If you want to come up with the first results immediately, pay attention to lead generation ad campaigns.
Running lead ads is available on all popular social platforms.
On Facebook, you can launch a lead generation campaign as a promoted form that a customer needs to fill in to get a discount or a white paper. Primarily, you need to install Facebook Pixel on your e-shop or company website. Also, you can sync the ad with your CRM to collect the data users share with you there.
Your post can appear in the News Feed, Facebook Stories, Instant articles, In-stream videos, and so on.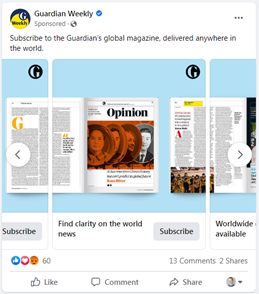 Instagram lead ads work much like Facebook.
Also, Lead Gen Forms are offered by LinkedIn. With this feature, you can generate leads via Sponsored InMail and Message Ads or use Dynamic Ads with direct call-to-action.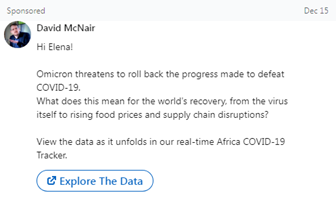 YouTube TrueView ads are designed for generating leads too. These clips have CTA buttons that can link to your web pages. Creating an ad, set up Leads as a goal you want to achieve.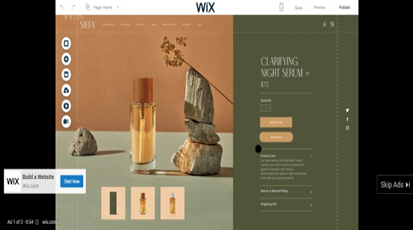 How can you automate social media lead generation?
Generating leads on socials, you are playing a long game indeed. Luckily, you can automate routine activities with specific tools and speed up the process. Here are some tricks to try.
Start social selling today.
You should've been doing it yesterday – but the next best time is now with Awario.
By signing up I agree to the Terms of Use and Privacy Policy
Set up rules for your CRM to add your followers as leads and contacts
As you may recall, generating leads is equal to collecting data about your prospects. Most likely, you keep the information in your CRM. The problem is how to add new contacts to the customer base. Manually? You're kidding!
Some CRM can do it automatically. For instance, with ZOHO, you can set up specific rules to automate lead generation via social media. How does it work? You choose criteria to instruct CRM when to add a social media user as a new contact or lead to the database.
Here are some examples of criteria for you:
Twitter users mention your brand on the platform,

Twitter users retweet your post on their feed,

Facebook users comment on your post.

Yes, it looks like true marketing magic!
Use marketing automation tools
Many of your social activities around lead generation aim to drive more social media traffic to your website. You can see that your Facebook or LinkedIn perform successfully. However, who are these people and companies visiting your web pages?
Marketing automation tools with the lead generation feature help you get answers! For instance, Leadfeeder tears the covers off anonymous companies that visit your website. The tool reveals user behavior and identifies remote workers. Behavioral and demographic filters enable you to segment the leads with the highest potential. potential. For LinkedIn lead generation, you can look into Linkedhelper automation software that automates the entire lead generation funnel process. With this information in mind, you can move to lead nurturing and converting. With this information in mind, you can move to lead nurturing and converting.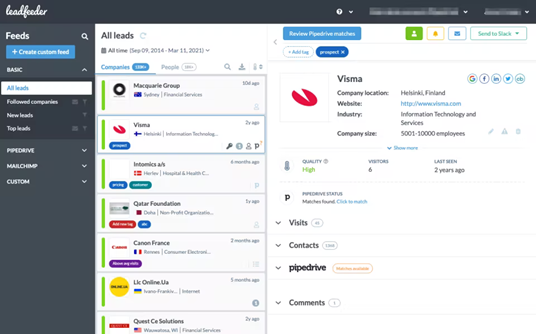 Use social listening tools
Finally, harness social listening to obtain customer and competitor analytics. Social listening tools scan Facebook, Reddit, Twitter, Instagram, YouTube, and other popular resources to find your brand and competitor mentions or industry-related keywords. Then, they convert the data into detailed charts and reports that you can use for lead generation.
For instance, Awario gathers demographics, location, and language data showing you who your prospects are, where they live, what social platforms they prefer, and what topics they are interested in.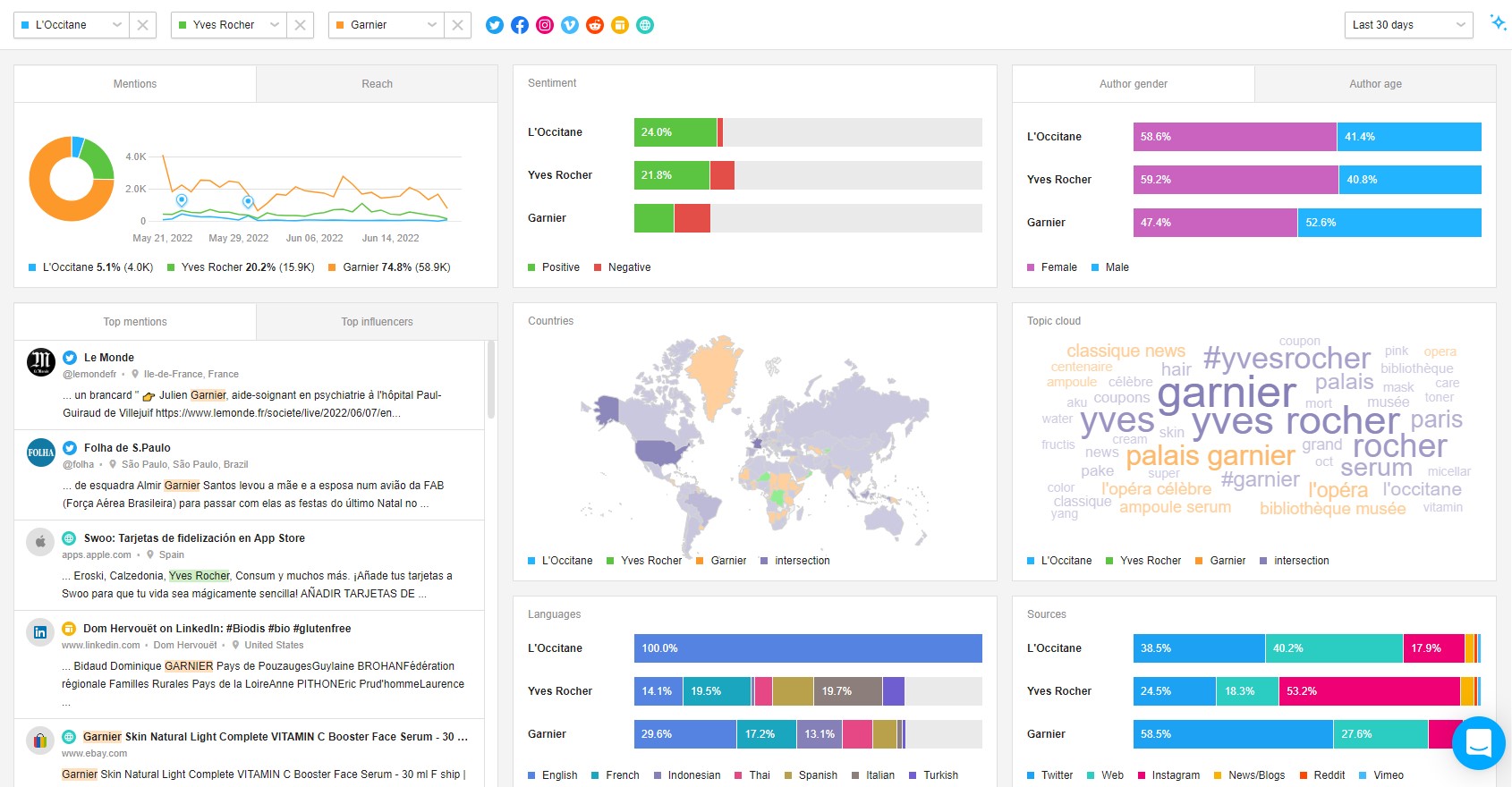 With the Leads feature, you can fast and easily reveal negative mentions of competitive brands and hot discussions around their products and services. Dissatisfied customers of your competitors are your prospects. You remember, don't you?
Final thoughts
In lead generation, measuring results and refining your approaches matter as well. Having the right tools, you can gather leads and get marketing insights to resolve and improve your strategy.
Enjoying the post? There's more.
Sign up for our newsletter to get our best content by email.