12 of the best social media monitoring tools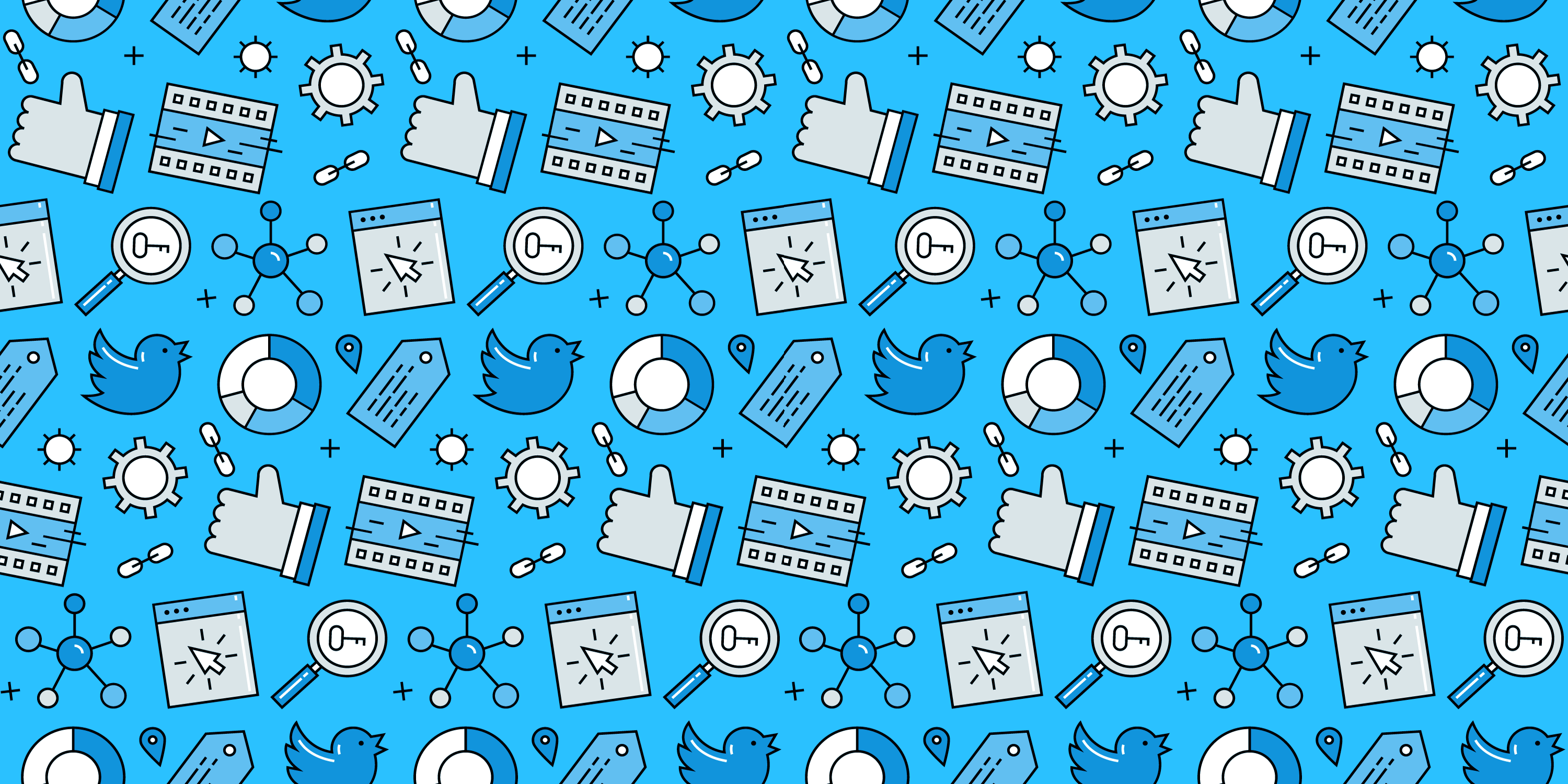 I'll never get tired of singing praise to social media monitoring tools: they are generally quite easy to use and they can be used for almost everything. And I really mean EVERYTHING; inside and outside of social media management realm, from tracking hashtags and monitoring your brand mentions to predicting industry trends, finding leads on social media, and analyzing customer satisfaction.
The diversity of applications you can find for a social listening tool is not the only thing diverse about social listening tools. The market of social media monitoring software is also extremely varied: you have Enterprise-level powerful social data analysis machines, you have no less powerful but much more affordable social listening tools, you have free tools, and you have tools that utilize social analytics for a specific goal such as content research or influencer discovery.
However, choosing a social media monitoring can be difficult: most of us don't have the time to go through all the free trials, read all the reviews, and hear out all the opinions. That's when this article comes in handy! But first, in case you're new here, let's talk about social media monitoring in general.
What is social media monitoring?
Social media monitoring or social listening, as it's sometimes called, is an act of monitoring social media platforms for any social mention of your keyword(s) and keyword combinations with the help of social media monitoring tools. With social listening tools, you can:
Monitor mentions of your brand.

Track conversations and engage with the potential target audience.

Respond to complaints and questions about the product.

See what people generally think about your brand.

Find relevant content to use in your social media management strategy.
The last one is very important: social media monitoring tools don't just show you every social mention of your keyword(s), they analyze the data behind them and put it in perspective (although, that's not the case for free tools). You can find out your social mentions' reach, the sentiment behind them, associated topics, who talks about your keywords (demographic data), and so on.
Some tools even offer access to historical data (although it won't be a free tool for sure), which means that you can see changes in your analytics immediately once you start using the tool. So let's say you start to monitor the mentions of your product, an innovative bottle opener. For example, you might notice that your bottle opener was mentioned an unusual number of times at the beginning of July 2018 - all because Keanu Reeves praised it as the best bottle opener for opening the 4th of July beer. You might want to tweak your marketing programs to include more Keanu after that (although let's face it, Keanu is always good to include in your marketing strategy, ask Xbox).
#Xbox and #KeanuReeves in Cyperpunk are the hottest #E3 events so far

(based on the analysis of Twitter data by Awario) pic.twitter.com/2O39GSWmE8

— Awario (@AwarioApp) June 10, 2019
Just remember that finding mentions of your brand name is not the only way to use social listening.
Now that you have an understanding of the concept of social listening, let's move on to the topic you came here for, the tools themselves. In this list, I tried to present a variety of software for different needs and different budgets, from the best free social media monitoring apps to state-of-the-art social analytics tools.
Top social media monitoring tools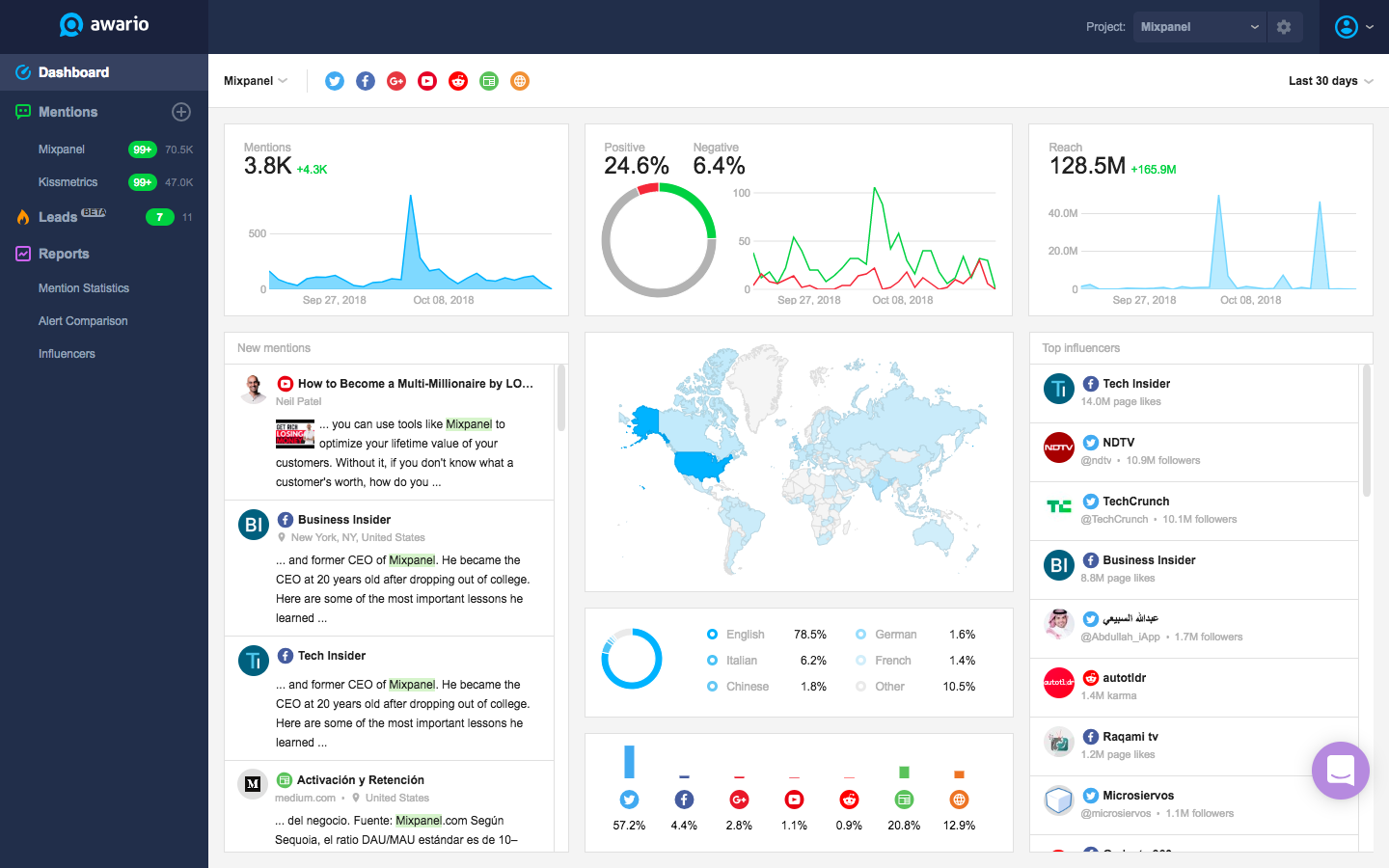 You'll say "Oh, of course, they start with their own tool!" and to that, I'll say, firstly, this list is organized alphabetically, and secondly, Awario is awesome and it would be a crime not to include it (also, it would probably completely miss the point of writing this extremely SEO-friendly article *wink-wink*).
Awario is a relatively new tool (entered the market in 2015) whose goal is to make Enterprise-level analytics affordable for anyone. Unlike most tools, it can be used both to analyze and monitor equally well. You can respond to your mentions right from the platform in real time and analyze large amounts of social data for marketing monitoring insights. The tool is quite flexible: if you want to uncover its full potential, I suggest checking out this guide on how to use social listening in 29 different ways.
Main features
Powerful analytics. The tool analyzes the number and reach of your social mentions, the sentiment behind them, breaks down the data based on the location, language, and source of the social media posts, topics associated with your keywords, and so on. You also have an Influencers report, which shows you people with a large audience who mentioned your keywords on each platform, and Alert Comparison report which is perfect for competitor analysis or, for example, comparing two hashtags to find out which one is stronger. All the insights are visualized in comprehensive downloadable PDF reports. If you work at a social media agency, you'll be glad to know that all three types of reports are white-label.
Historical data. Depending on the platform you monitor, you can discover social media posts that date back to more than 10 years ago. This could be useful for in-depth research into an industry, competitor, or a certain product.
Boolean search mode. Boolean enables you to create complex and flexible search queries which are great for tracking mentions that might be used in various contexts (think an apple vs. Apple™).
What makes it stand out?
Awario Leads. The tool provides you with a free add-on which uses predictive semantic analysis to find social mentions indicating buyer intent. This could be a social selling magic wand for small businesses — for example, somebody tweets asking for recommendations on organic sunscreen, and here you're, metaphorical hands full of sunscreen, linking right to the product page.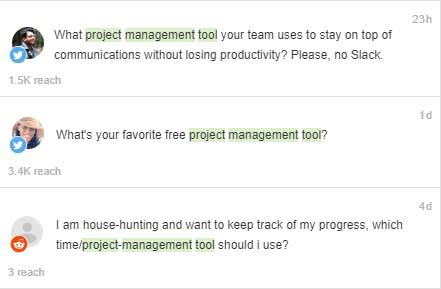 Whitelists. If you're interested in monitoring specific pages, you can set the tool to get social data from them first. For now, Whitelists are only available for Facebook and Instagram, but we're planning to add support for more sources in the future.
High value for money. Not to brag, but Awario is one of the most lucrative tools on the market. Social media monitoring software prices typically depend on the number of social mentions and alerts you get per month - the more mentions you want to find, the bigger the price; and our tool has one of the most beneficial price-mentions ratios.
Supported social media platforms
Facebook, Twitter, Instagram, YouTube, Reddit, news and blogs, the web.
Free trial
You have two weeks to test out the social media monitoring tool for free. The free trial version capabilities correspond to those of the Starter plan.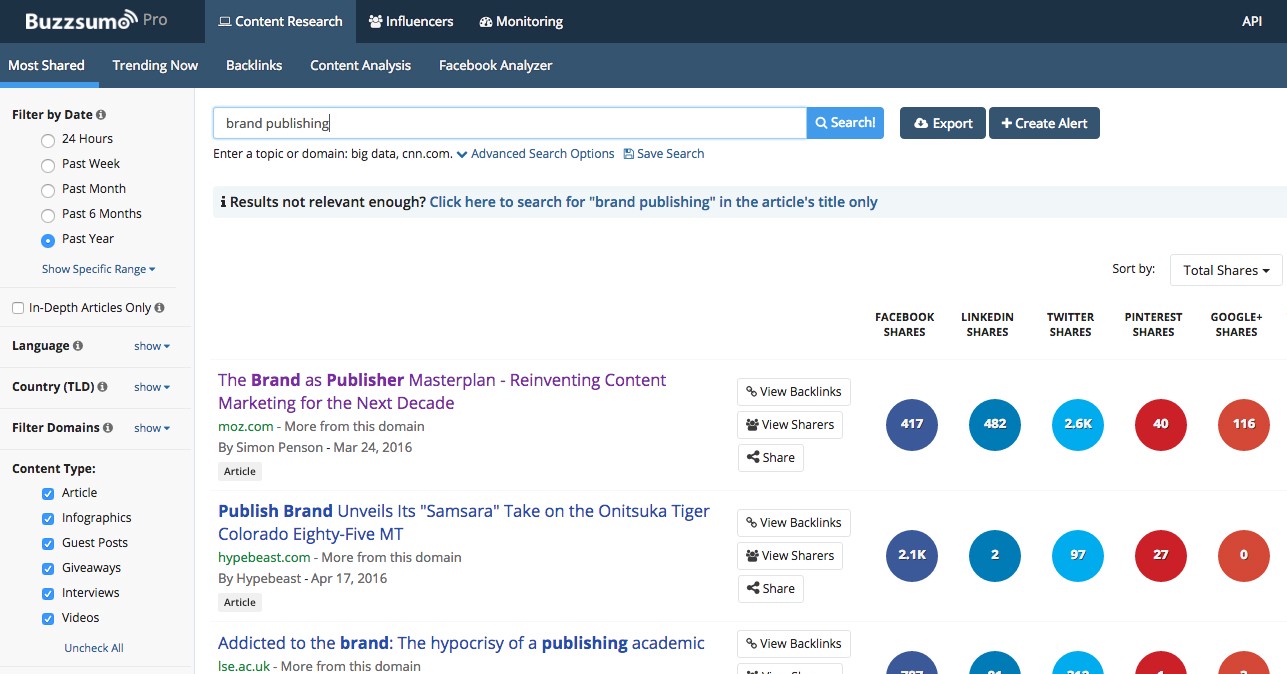 Buzzsumo is owned by the social media intelligence powerhouse that unites Brandwatch and Crimson Hexagon, but it chooses to approach social media monitoring from a different perspective. Most apps on this market are either brand monitoring and reputation management-oriented or extremely versatile in their use, but Buzzsumo focuses on a specific area of marketing — content marketing. It analyzes content performance across social networks and on the web.
Main features
Content Analysis. This doesn't refer just to social media content — it also includes links you share. It's the first dashboard you see once you log in your Buzzsumo account. Content Analyzer helps you discover the most popular content on the Internet: once you enter your keyword, you will be able to see how many shares and backlinks the articles containing this keyword got, and how much engagement on social networks. Buzzsumo also assigns the articles the Evergreen Score, which measures the number of social engagements and backlinks an article receives 30 days after the article is published.
You can filter this search by country, language, content type, word count, and publisher site.
Influencer discovery. Buzzsumo's influencer research capabilities are mainly focused on Twitter and the web. The process is similar to content research: you put in your keyword or key phrases, and Buzzsumo gives you a list of influential people in this niche. Buzzsumo distinguishes five types of influencers: bloggers, influencers, companies, journalists, and regular people. The tool analyzes how likely an influencer is to engage with someone's content by calculating retweet and reply ratios.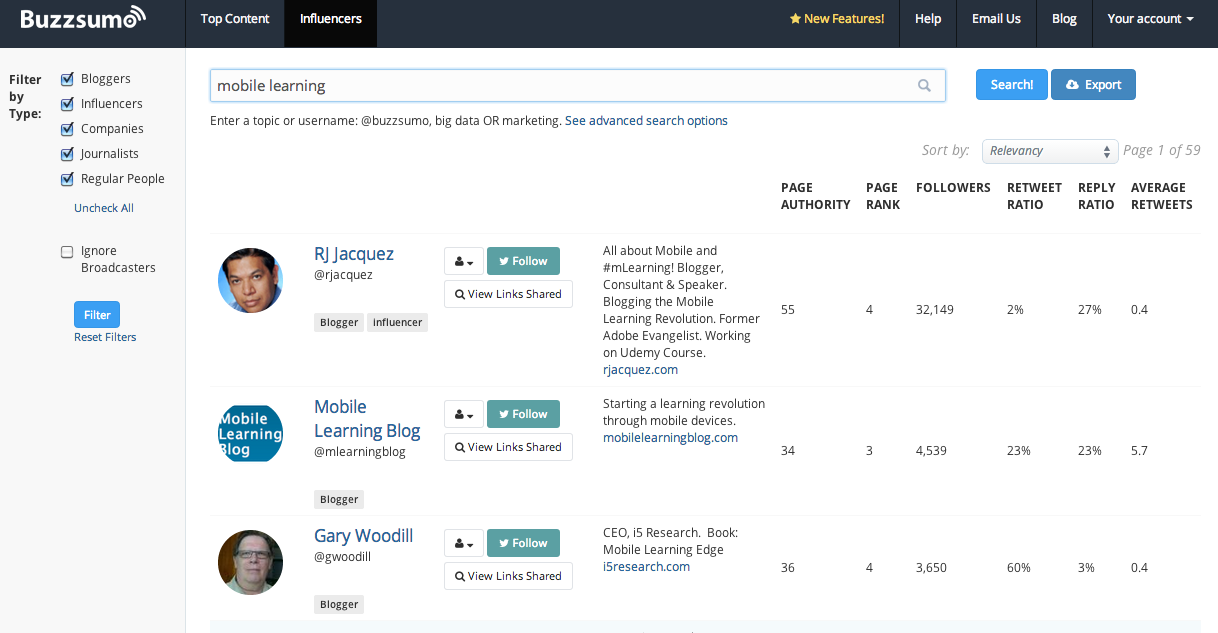 If there's a web address linked in a person's Twitter bio (for example, their blog), Buzzsumo pulls the data from Moz to evaluate Page Authority and Domain Authority of their websites. Page Authority score shows how authoritative a website is and how valuable the links placed there are, and Domain Authority shows how well a website will rank on search engines.
You can export the lists of influencers or build influencer lists right from the application that could be useful for outreach and networking.
Monitoring. With this feature, social monitoring is used to check your own content performance. You can take a look at your backlinks, your shares, and your overall reach online. This feature could be used for brand monitoring as well, although it's quite limited in terms of analytics: you don't get sentiment analysis or any demographic measurement.
What makes it stand out?
Buzzsumo is quite unique in its nature, although, you could use a social media monitoring tool like Awario for content discovery as well, just saying. In addition to that, it has some cool features which may not get enough spotlight, such as:
Trending Now tab will show you what content causes the most buzz around the web. It's separated by topics like Tech, Business, Video, Fashion, etc. You can set various filters and share the RSS feed of the result. This is a good way of keeping up with trends.

Most Shared and Backlinks are pretty-explanatory but I wanted to highlight that they could be useful for monitoring competitors' content strategy.

Alerts notify you of the new brand mentions, articles, and backlinks by email.
Supported social media platforms
Facebook, Twitter, Pinterest, Reddit, the web.
Price
There are four paid options depending on the features you need: Pro at $99/month, Plus at $179/month, Large at $299/month, and Enterprise at $499/month.
Free trial
There's a two-week free trial and Buzzsumo also offers free plan limited to five searches a day.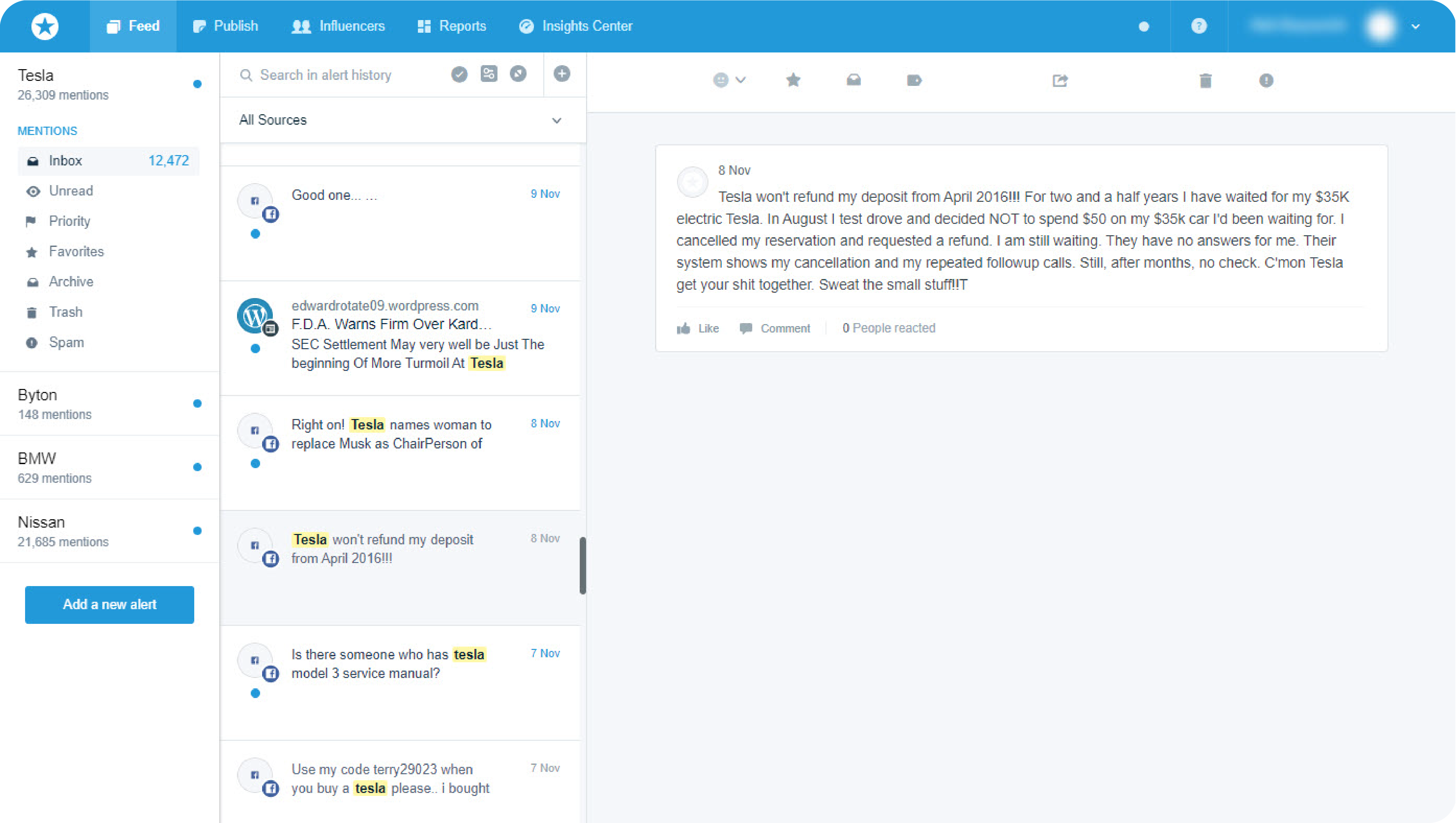 Mention is one of the veterans of social media listening industry: the company was founded in 2012 and has been providing social media listening services since then. Mention prioritizes real-time social monitoring — once you set up an alert, you'll get mentions not older than 24 hours. Historical data is only available in the Custom plan upon request.
Main features
Social Mention Feed. This tab shows you the social mentions of your keyword(s) appearing in real time. You can filter them by source and type (unread, prioritized, favorited, deleted). You can also mark irrelevant social media conversations which contain your keywords as spam to help Mention figure out which context is not interesting to you.
In the same dashboard, you have the Tasks tab which could be very useful for working in teams.
Influencer search. Similarly to Buzzsumo, Mention searches for Influencers on Twitter and the web. It uses the data from the influencer marketing tool Klout to assign each influencer an Influence score and ranks them accordingly. You can follow or reply to Twitter influencer right from the dashboard.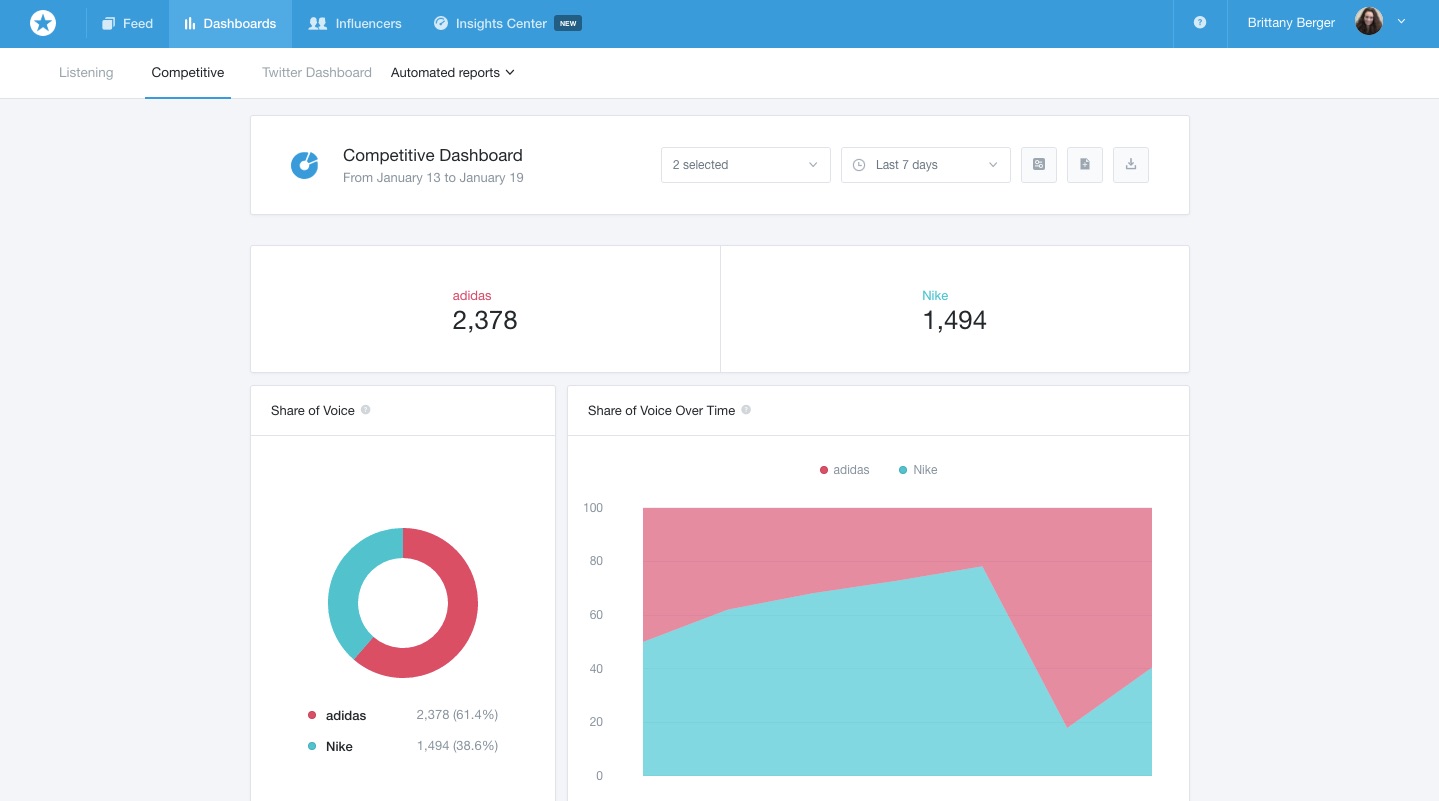 Competitive dashboard. If you're monitoring more than one set of keywords, you can compare them against each other to find out your share of voice, compare the positive to negative sentiments ratio, and so on (need I comment saying that you can also do it in Awario?)
What makes it stand out?
Customizable reports. With Mention, you can tweak and modify your reports by including and excluding various metrics. You can also set up automated delivery, for example, to update your marketing team on your overall reach and sentiment dynamics once a week.
API integration. Mention allows you to build their API into your own tool, or embed it into your website. It also helps to collect social media listening data in an Excel sheet or a dashboard tool, which could be useful, if you need all your digital marketing stats in one place.
Mobile app. You can take your social media listening on the go with Mention's mobile app.
Supported social media platforms
Facebook, Twitter, Instagram, YouTube, Reddit, news and blogs, the web.
Price
Mention has three plans: Solo for $25 per month, Starter for $83, and Enterprise which cost starts at $600 a month, but depends on how many mentions and features you require.
Free trial
Mention offers a month-long free trial as well as a free social media monitoring tool with a limit of 250 mentions.
You can check out the Awario and Mention comparison here.
The web is talking about your brand. Start listening.
Sign up for Awario to never miss a mention of your brand. Free 14-day trial, no credit card required.
By signing up I agree to the Terms of Use and Privacy Policy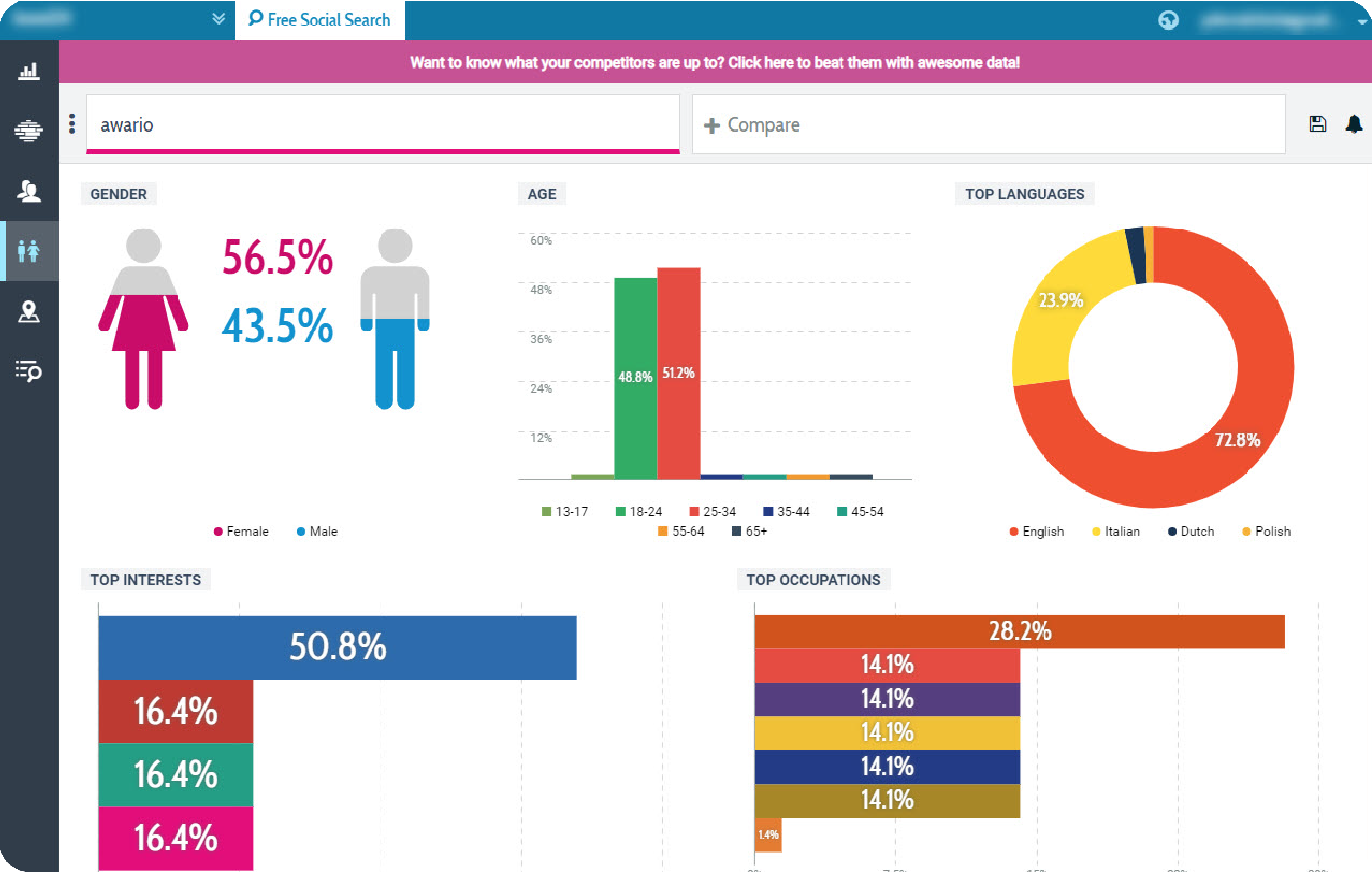 The three tools mentioned above are generally affordable for small businesses, but social listening tools market can also boast Enterprise-level tools (marketing talk for 'crazy expensive'). Talkwalker is one of the best out of this bunch. It's robust analytics and plethora of monitored social networks makes it a good choice for a company with a substantial social listening budget.
Main features
Extremely detailed analytics. Talkwalker's main strength is its analysis of social data: besides typical data, it also breaks down mentions by gender, offers separate dashboards for hashtag analysis, and shows you how content spreads across multiple media types. Moreover, Talkwalker can measure metrics from selected social media profiles to show how much success they had with their social media marketing strategy. Thanks to Facebook Insights integration, you're able to overlook your own Facebook activity right from the social media monitoring tool as well.
Talkwalker also uses social listening to identify influencers in a required niche.
Grouping. It's likely that if you're investing in a pricy tool, you're going to work with a big amount of social data and several projects. That's why Talkwalker does everything to make your workflow more smooth: you can group and organize your mentions and projects however you please.
Customizable and automated reports. You can use one of the thirty templates based on different use cases or create your own unique report. All the analytics available in Talkwalker are exportable in various formats. You can also create a separate dashboard with all the data you want to share: this could come in handy when you, for example, need to share the data around a marketing campaign and showcase how it affected general brand awareness.
What makes it stand out?
With social media tools like Talkwalker, there are plenty of advanced qualities, but most of them are just improvements on the existing features: deeper analytics, a wider range of social channels, more options to visualize data. However, one feature, in particular, deserves all the spotlight.
Image and video recognition. Image recognition is not a completely innovative feature for Enterprise-level tools, but video recognition is completely unique to Talkwalker. The social media monitoring tool finds your logo on images and in videos and collects them along with other social media mentions.
Supported social media platforms
Facebook, Twitter, YouTube, Instagram, Flickr, Foursquare, Instagram, Soundcloud, Vimeo, Dailymotion, Weibo, news sources, the web.
Price
The prices start at $9,600 per year for a basic plan, you can upgrade from there depending on your budget and needs.
Free trial
Talkwalker doesn't offer a free trial, however, it does provide one of the best free social tools to get the basic analytics of a keyword or a keyphrase. Talkwalker Alerts allows you to set up alerts for your keywords similarly to Google Alerts but for social media. Free Social Search enables you to check some key stats around your keywords and hashtags. You can request a demo to get the full Talkwalker experience.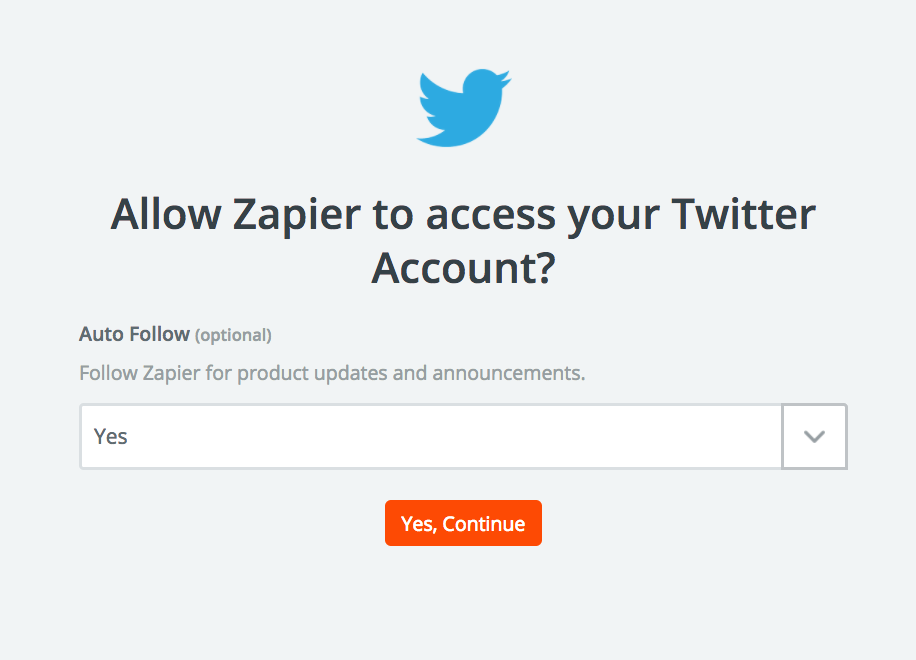 Plot twist: Zapier is not a free social media monitoring tool, it's not even a social media tool… but it can be! That and much more!
If you haven't heard of Zapier before, it's an integration tool that enables you to automate various tasks on the Internet including collecting mentions from Twitter, Instagram, and the web through Zaps.
Main features
So there are three ways to do social media monitoring with Zapier:
You can connect Twitter to your Gmail, Hipchat or Chatter and receive notifications whenever your keyword is mentioned on Twitter. This makes tracking brand mentions on Twitter easily. You'll also get daily, weekly, and monthly email summaries of those mentions. Exporting mentions is also made possible with Google Spreadsheet integration.

You can receive mentions from the websites which has RSS feed or API and collect those mentions in a Google Spreadsheet or get notified through email.

You can integrate Instagram and Slack to get notified every time someone posts a specific hashtag.
What makes it stand out?
Well, the workflow with Zapier is completely different, but where it really shines is in its versatility. I know I talked a lot about how versatile social media listening tools are, but with Zapier you can automate more than a 100 tasks and data collection is simply one of the many applications there is for this tool.
Supported social media platforms
Twitter, Instagram, the web.
Price
Zapier provides two price ranges: for individuals and for teams. The individuals one starts with $20/ month and grows with the number of integration available, the teams one start at $250 but you can add more integrations and features which will affect the price.
Free trial
There's a free version of the tool with 5 integrations available and you can try each plan for free for 14 days including plans for teams and companies.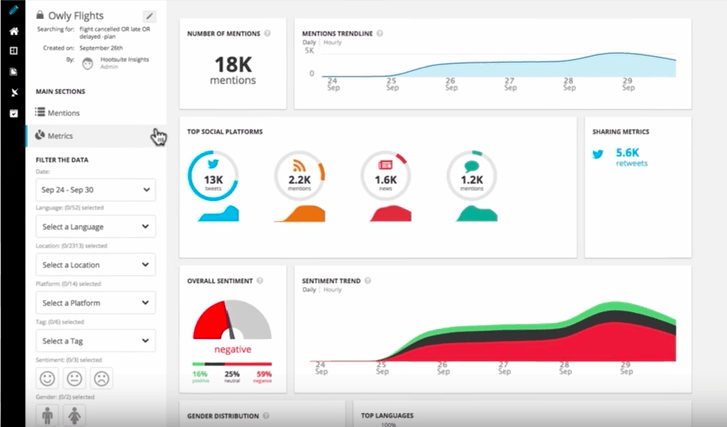 Hootsuite is a social media management software that offers some social listening capabilities. Within the tool, you're able to set up monitoring stream which track your keywords and keyword combinations. You can engage with the found mentions right from the tool.
Main features
Boolean search logic allows you to create targeted search queries for more focused monitoring. Hootsuite's Quick Search uses Boolean operators to form queries and find relevant mentions.
Hootsuite offers a bunch of social listening metrics including sentiment analysis, mention volume by the day of the week and hour, Word Cloud and so on.
What makes it stand out
Since Hootsuite is primarily a social media management tool, it's a perfect platform for those who want to have all their social media marketing powers in one platform. When creating reports, the tool allows you to combine data with other stats such as your colleagues' response rates and your profiles' social media performance.
Supported social media platforms
Twitter, Facebook, Instagram, Tumblr, websites.
Price
Pricing starts at $19 per month.
Free trial
You can test Hootsuite for free for 30 days.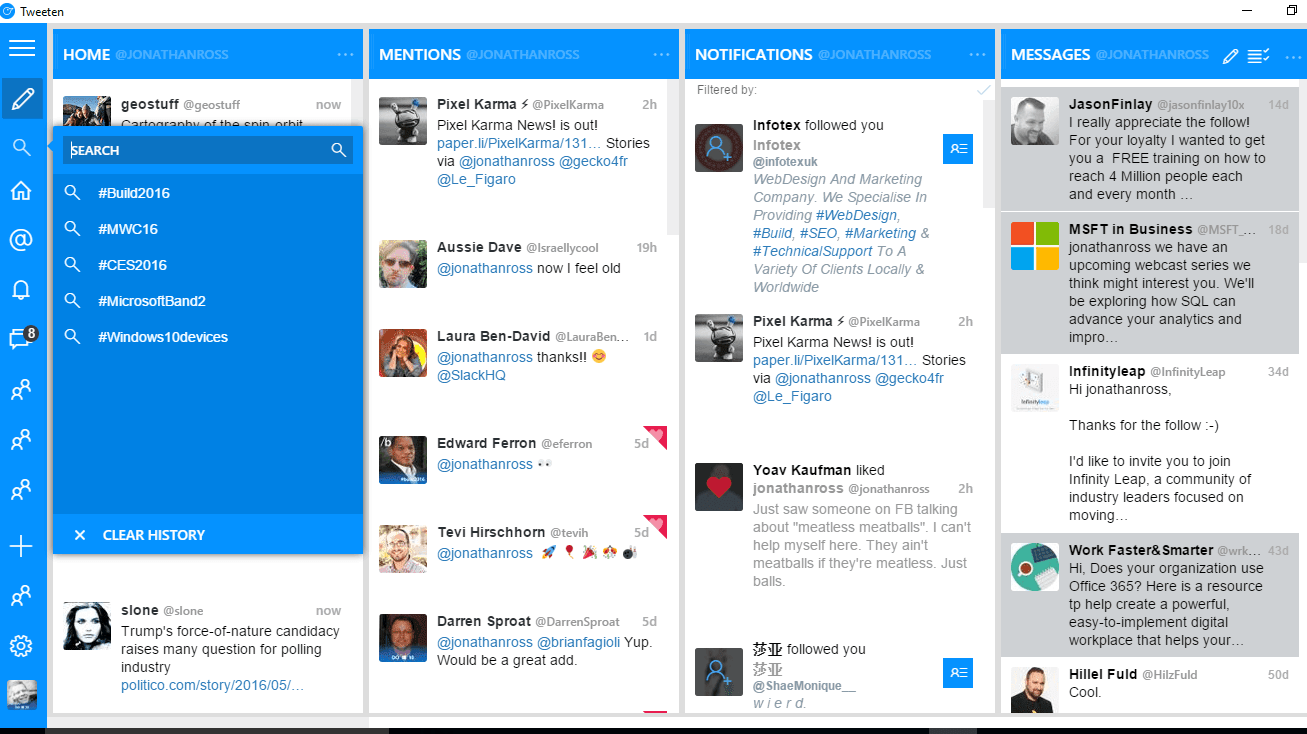 If you're looking for a Twitter monitoring tool, Tweetdeck might be the best option for you. It's an official Twitter product so you know it's a robust Twitter tool. Social media marketers can use Tweetdeck for scheduling tweets, organizing notifications, and monitoring Twitter mentions.
Main features
Tweetdeck displays different columns each dedicated to one of Twitter's sections. You get to see your notifications, mentions, Twitter lists, and feeds for multiple accounts at once. As for Twitter monitoring, you can create monitoring queries using the same logic the Advanced Twitter Search option offers. You can create as many queries as possible.
What makes it stand out
If you're looking for free social media monitoring, Tweetdeck is an excellent tool for managing all your Twitter activity from posting to engaging. Besides, the tool is completely free and since it's made by the social media network you can be sure it's search capabilities are as reliable as they can be.
Supported social media platforms
Twitter
Price
Free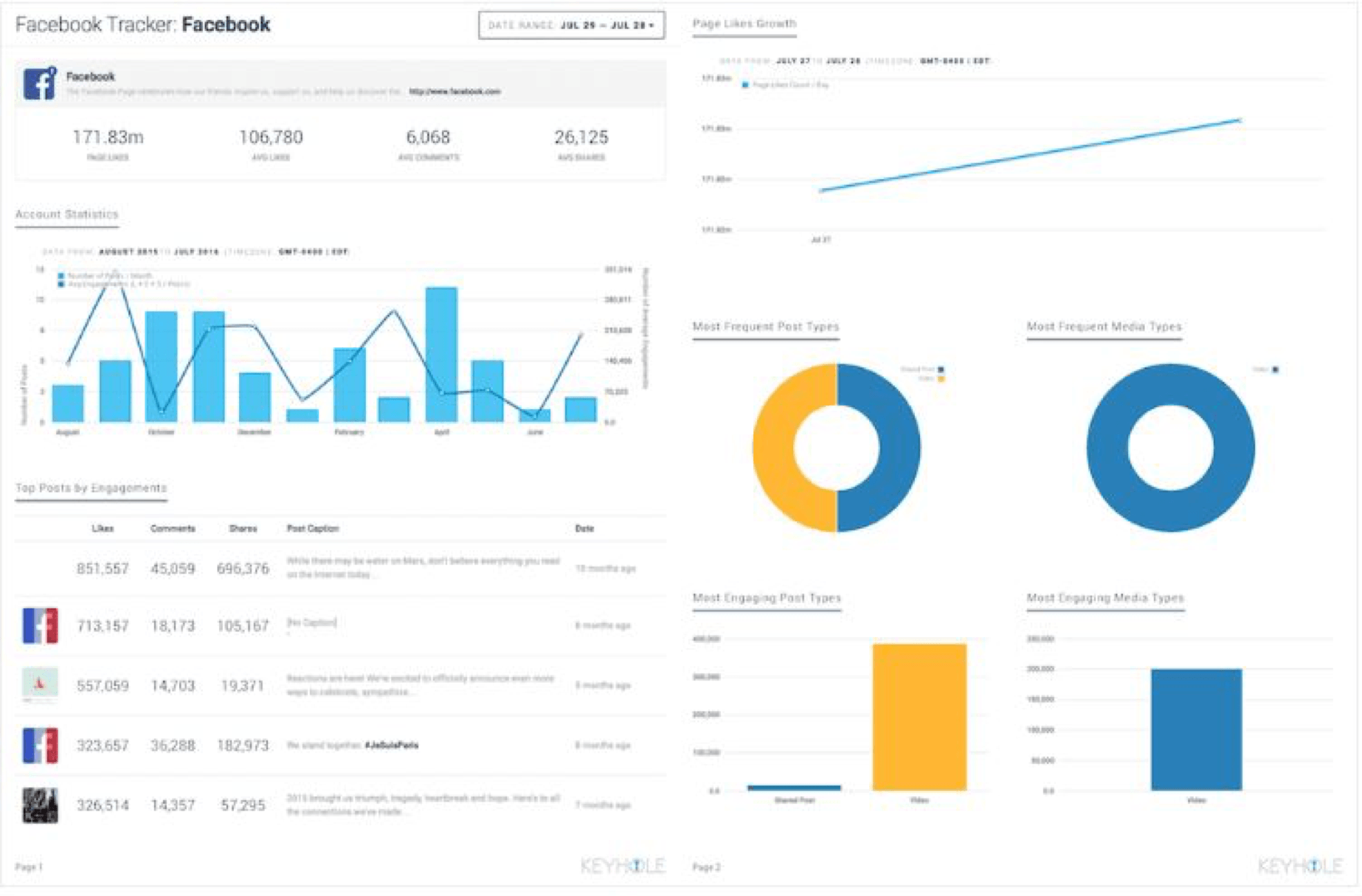 Keyhole is a social media analytics tool that combines the analysis of your own social media profiles with the breakdown of social listening data. It focuses on hashtag tracking, however, you can also monitor online conversations.
Main features
The tool's main advantage lies in its detailed social media analytics. Keyhole monitors social media to find all the mentions of your hashtags and keywords and analyze who, where, and how talks about them. It is able to find influencers and calculate the ROI of your hashtags.
The tool allows you to build custom reports with analytics of your own social media profiles and social media monitoring data. You can share these white-label reports with your colleagues and stakeholders. The tool also offers influencer management.
What makes it stand out
The tool provides you with 5 years of historical data meaning that as soon as you start monitoring, you'll get access to 5 years worth of mentions.
Supported social media platforms
Twitter, Instagram, Facebook, YouTube.
Price
The pricing starts at $49 for account analytics OR social listening, but if you want to get both, the tool will cost you $59+ per month.
Free trial
Keyhole offers both a free trial with a limit on analyzed posts and a 30-day money-back guarantee.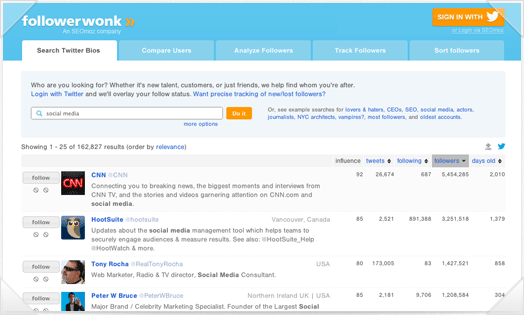 This is another tool that focuses primarily on Twitter, but its monitoring potential is a bit different from other monitoring tools. Followerwonk focuses not on the Tweets themselves, but on the bios of Twitter profiles. It allows you to compare several accounts, track followers, and find connections between influencers, your target audience, and competitors.
Main features
Followerwonk finds relevant Twitter bios based on your keywords and analyzes them. Moreover, it allows you to see the followers of specific accounts and find out the Social Authority i.e. influence of each account.
What makes it stand out
The fact that Followerwonk focuses on Twitter bios separates it from other free social media monitoring tools. It's an extremely useful tool for mapping your target audience — by analyzing bios and seeing who follows your competitors you can find potential customers who might be interested in your brand.
Supported social media platforms
Twitter.
Price
The tool is free, but follower analysis is only available in the paid plans that start at $29/month.
Free trial
There's a free version of the tool available.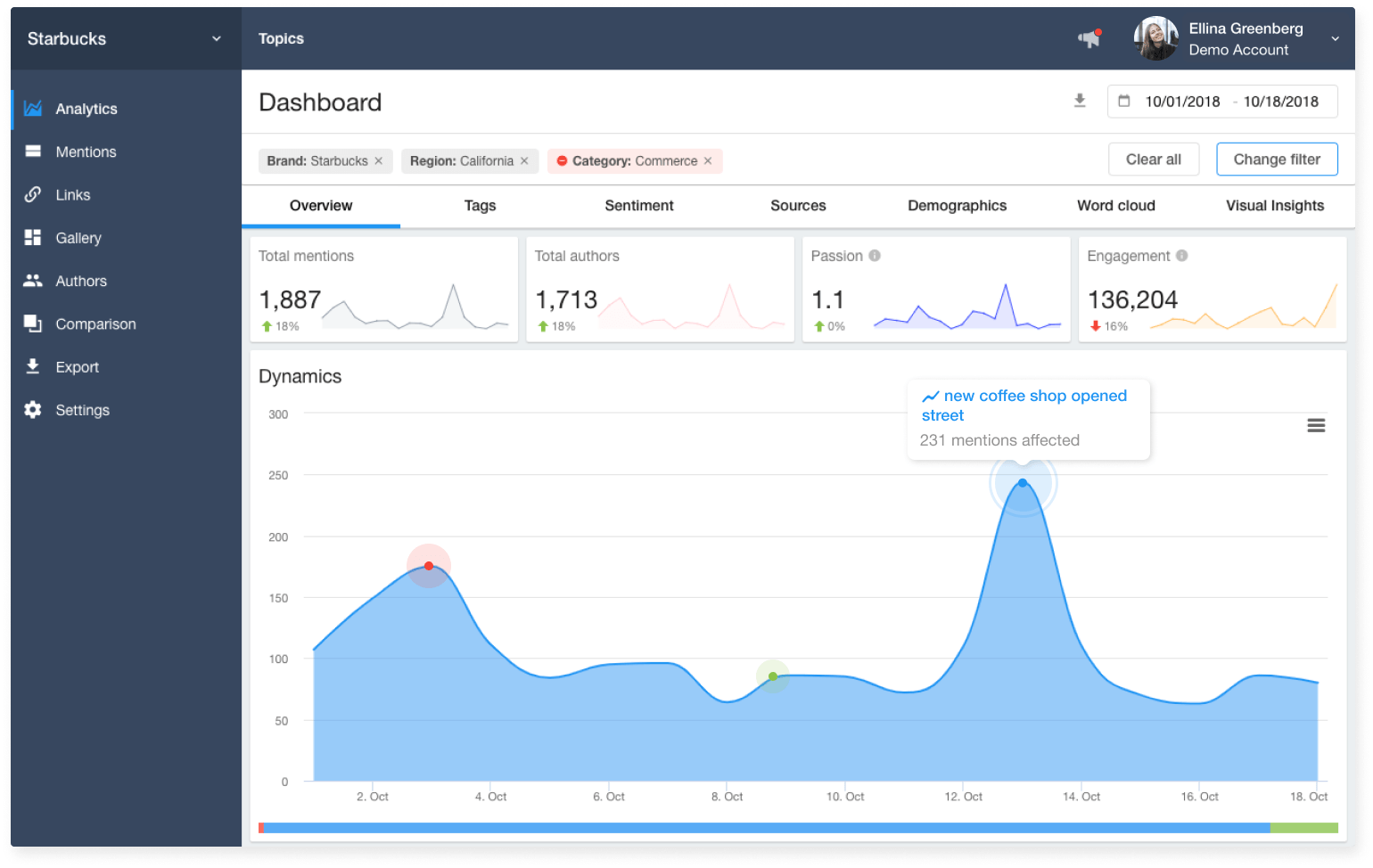 YouScan encourages you to actively use Boolean search logic to build extensive social media monitoring queries. Every plan offers only five searches, but they can include as many keywords and keyword combinations as you like.
Main features
Once you set up your search using the Boolean operators, you'll be taken to the dashboard with all the mentions the tool was able to find. You can sort and filter mentions based on your preferences. The tool also finds influencers who mentioned your keywords and ranks them based on their popularity. The platform's analytics include demographic data, sentiment analysis, and word clouds.
What makes it stand out
The main advantage YouScan offers is its robust image recognition. The tool goes beyond simply identifying images that contain your logo and breaks them down by people, activities, and objects depicted. You can integrate the tool with Slack, Telegram, or Helpdesk.
Supported social media platforms
Twitter, Instagram, YouTube, Facebook.
Price
The pricing starts at $1,000 per month for the Standard plan.
Free trial
There is no free trial, but you can request a demo.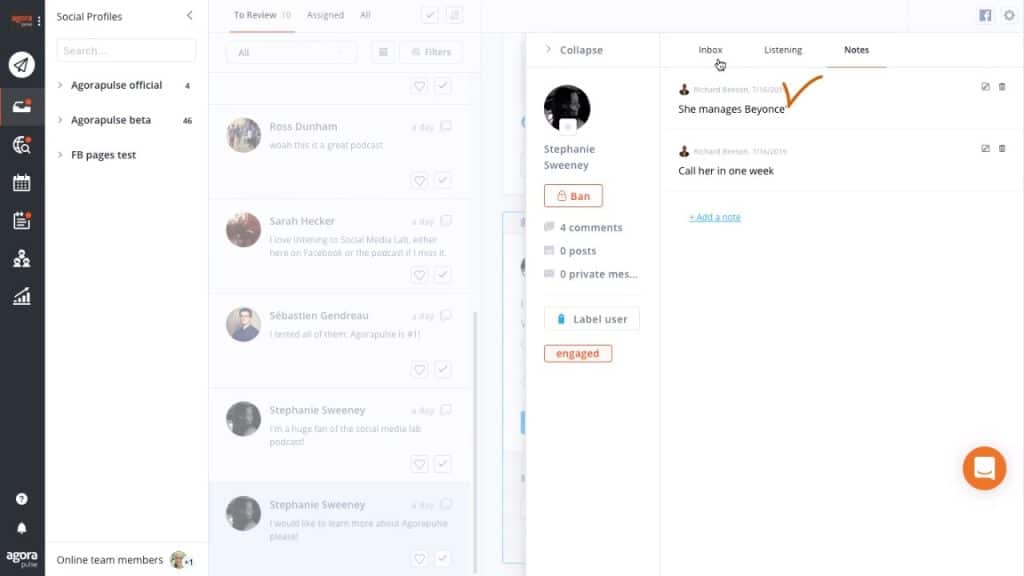 Agorapulse is a social media management platform that offers social listening capabilities. First and foremost, it's a platform for managing your social media presence: scheduling content, responding to direct messages and comments, planning social media campaigns, and reporting. However, it does offer social media monitoring functionality.
Main features
The monitoring capabilities Agorapulse offers depend on the social network you want to monitor, but, in general, the tool allows you to track keywords and Boolean queries, add stop words that you don't want to see in the found mentions and add location and language filters for Twitter mentions. You can engage with the found social posts right in Agorapulse's dashboard or label and assign them to different members of your team.
What makes it stand out
It's a convenient platform for all your social media marketing needs. While social listening capacity the tool offers is fairly limited, you can easily use Agorapulse for community management, having the social media inbox and mentions in one place.
Supported social media platforms
Facebook, Instagram, Twitter, YouTube.
Price
Social media monitoring is included in each plan Agorapulse offers. Pricing starts at $79/month.
Free trial
The tool gives you 28 days for free.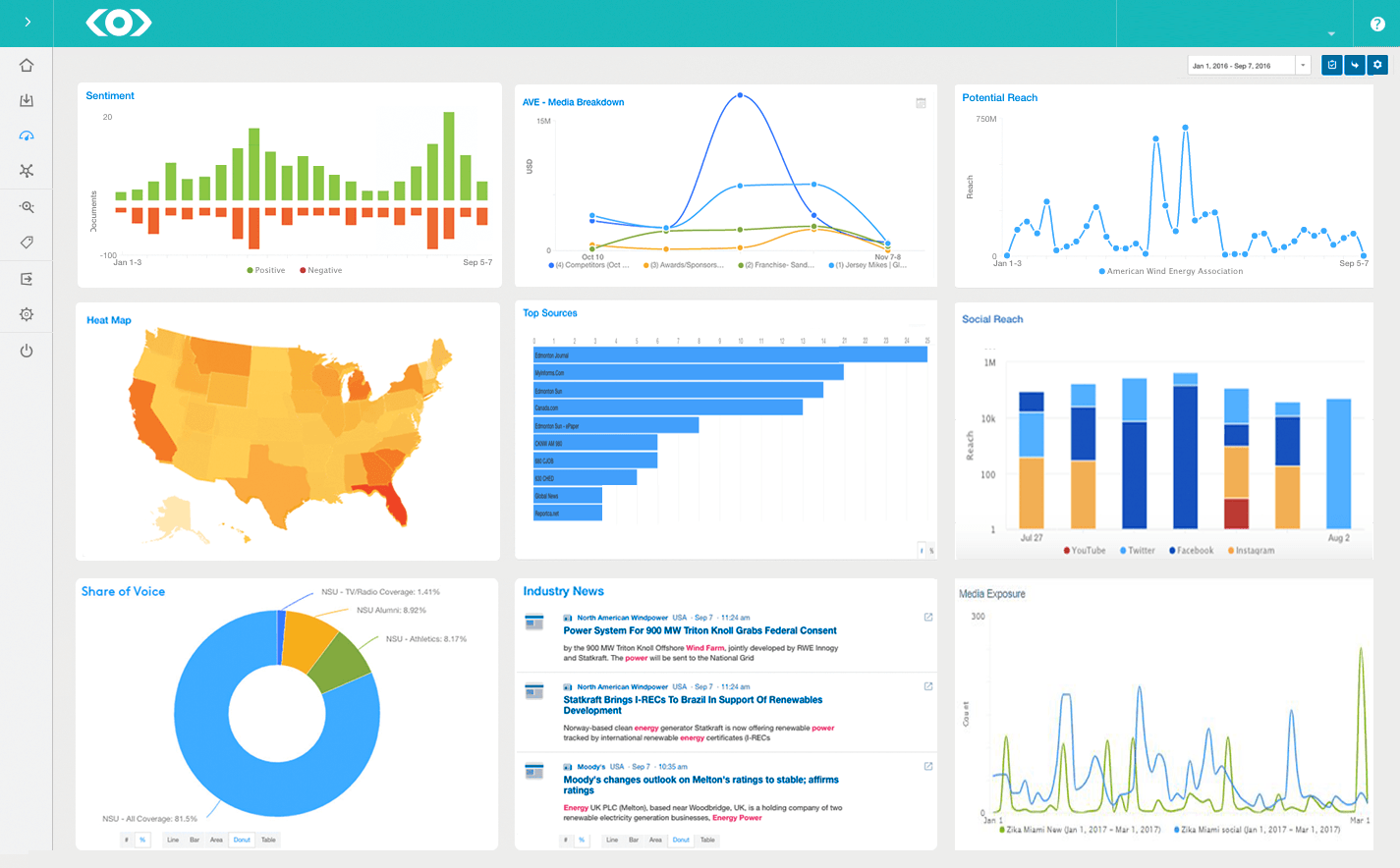 Meltwater is a large marketing analytics hub that includes social listening and monitoring. It finds mentions from all over the web and collects them in organized dashboards for easy access.
Main features
Meltwater allows you to set up an unlimited number of searches and provides you with historical data. Its comprehensive analytics enable you to examine the sentiment of mentions, carry out competitive research, find influencers, and manage your reputation. All the visualization the tool provides is interactive so you can click on any part of the graph and find the data behind the analytics.
What makes it stand out
As a premium software, Meltwater offers a bunch of amazing features including API access to the data center, target audience segmentation, and trend analysis.
Supported social media platforms
Twitter, Instagram, Facebook, websites.
Price
The pricing is calculated upon request based on your requirements.
Free trial
There's no free trial but you can request a demo.
---
These are twelve very different social media monitoring tools for any goal and any budget including the best free social media monitoring tools. Every monitoring tool has something unique to offer, so I hope you found exactly what will help you improve your social media marketing strategy on this list (and I also hope you'll give Awario a try)!