Dating apps: social media analysis

Dating apps have been a recreational, sometimes even addictive activity for many for a long time now. You might think now that pandemic is upon us and one can't go out on a date that people use them less. In fact, the usage of dating apps has increased. A Bumble representative announced that globally there has been a rise in the number of messages by 23% and in-app video calls by 31% since mid-March. Michael Kaye, a communications manager at OkCupid, said the dating site has seen a 30% increase in global daily messages.
This isn't that surprising. People feel isolated and crave any kind of social contact. For some, this means trying out activities they haven't done before. And then gamification which is such a natural part of dating apps (and dating?) takes over. For others, quarantine and self-isolation encourage using apps regularly instead of on a night out.
Moreover, dating apps made some effort to adapt to the current situation. For example, Tinder made their Passport feature available to all members, allowing users to connect to anyone, anywhere in the world.
So, in honor of the further rise of dating apps, we analyzed the most popular ones using Awario. We discovered which one is used the most, which one makes the users happy, which brand mentions have the worst sentiment on social media, and how the current context affects their usage.
Sign up for a free Awario trial
See Awario in action with a free 7-day trial. No credit card required.
By signing up I agree to the Terms of Use and Privacy Policy
Tinder
the most popular app
the app most associated with quarantine
In the two months that we monitored dating apps, Awario brought 404K mentions for Tinder that got 5.8 billion impressions (that means millions of people saw Tinder mentions multiple times during this period).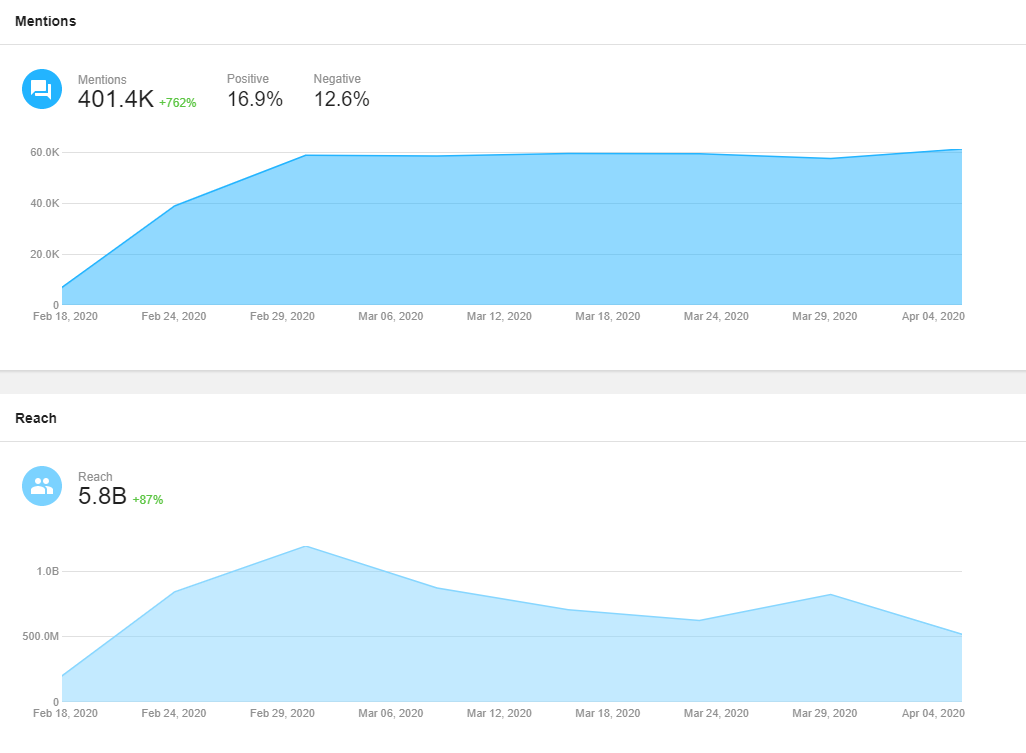 The distribution of mentions by locations and languages shows that Tinder is mostly used in the US, followed by Brazil and the UK.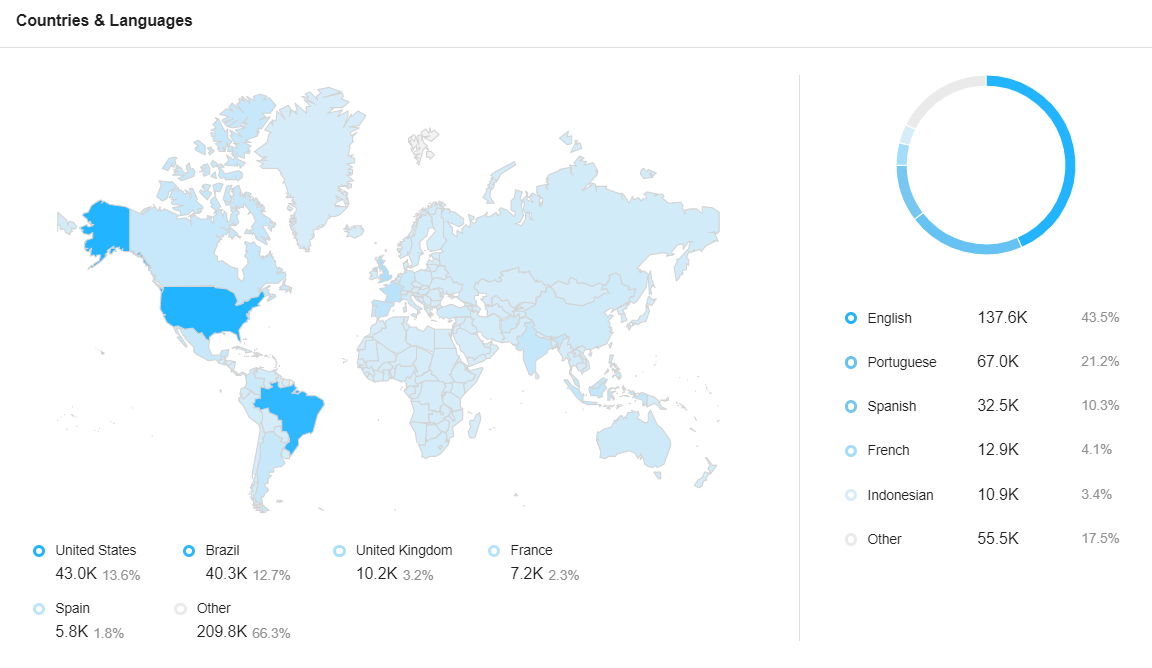 Tinder became somewhat a meme in times of quarantine which means that when people talk about isolation, they talk about Tinder. Just look at that Topic cloud!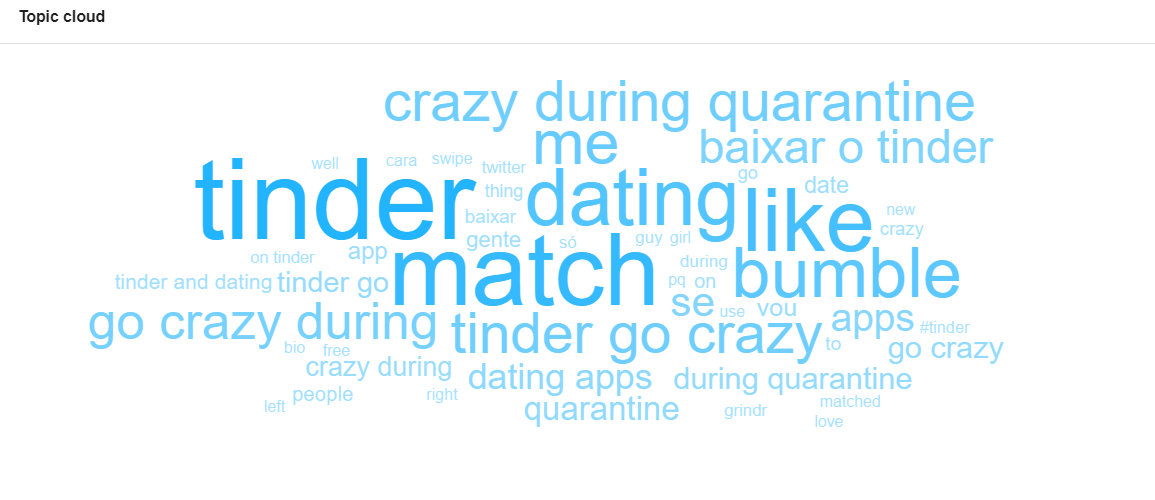 eHarmony
the app with the best sentiment
the app most focused on relationships
Surprised to see eHarmony so high up on the list? I was too! While much less popular than most dating apps, eHarmony was the one with the best social media sentiment - 48% of eHarmony mentions are positive! No other app came close to this number.

It's not only the overall sentiment that signals that eHarmony users find each other and live happily ever after. The Topic cloud for eHarmony is wholesome and super-focused on relationships. Unlike the one of Tinder that we've talked about before which is all about going crazy.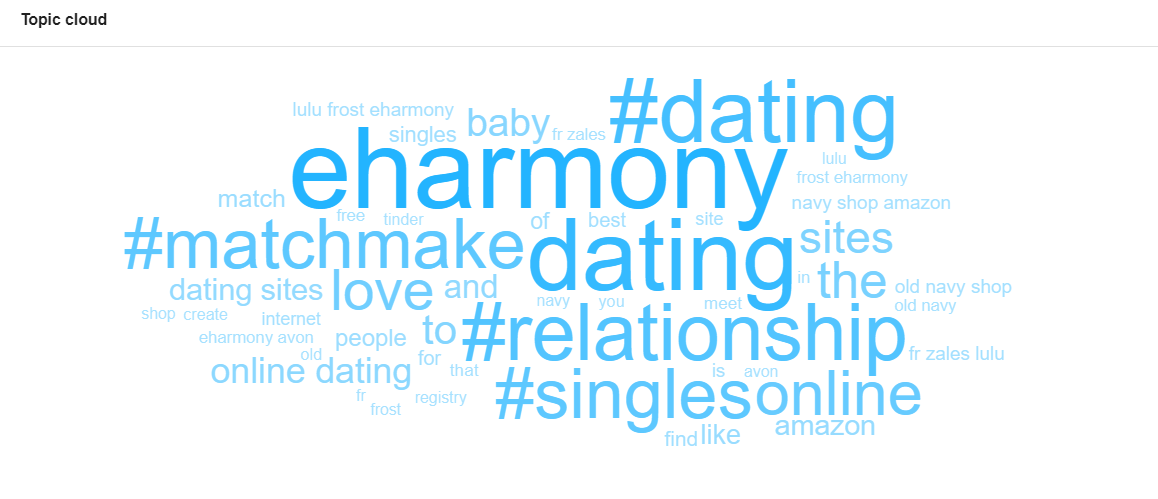 I looked at the most popular mentions around the app, and my theory was proved by Mashable.
eharmony review: A long, annoying sign-up process makes for a long, happy marriage https://t.co/zHExlgX0Fs pic.twitter.com/TqUJmSt0M2

— Mashable (@mashable) March 31, 2020
Forget swiping. If love is your goal, suffer through the eHarmony signup process.
OkCupid
the most balanced app
the most political app
OkCupid came third in the popularity contest right after Tinder and Bumble, which makes it a rather popular app. It also has quite positive sentiment analysis results: in terms of being mentioned in a positive way, OkCupid came second after eHarmony with 35.5% of positive mentions.

Being fairly popular and fairly loved, OkCupid joins this list as the most balanced app. But that's not all one can say about OkCupid.
I analyzed the most popular mentions around the app and discovered that it's also the one with a strong political stance. Its recent feature lets the users filter out people who don't believe in climate change.
It celebrates women's freedom: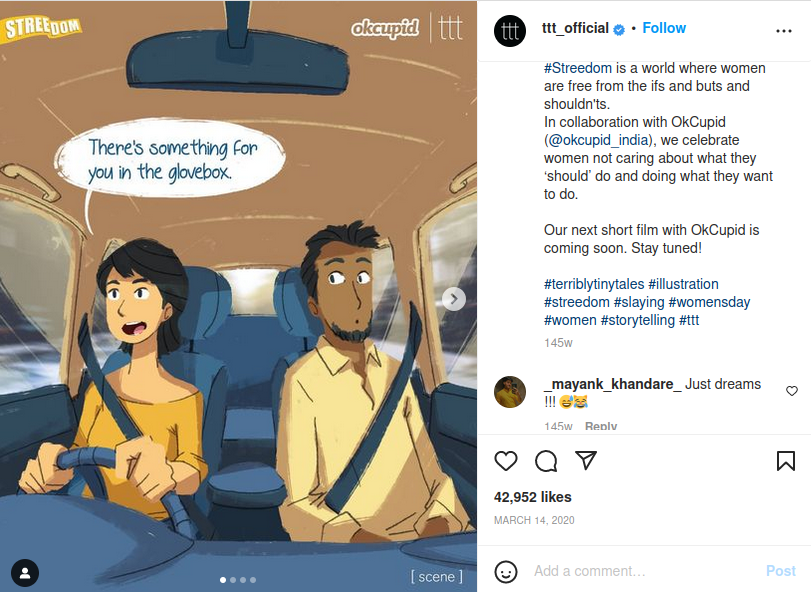 and creates campaigns that piss off Fox News.
This earned OkCupid the title of the most political app.
Bumble
second most popular app
the app with the worst sentiment
Bumble was the second most popular app with 138,100 mentions in a two-month's period of monitoring. Mentions generated 1.7 billion impressions, which means that the number of people who have seen the mentions multiplied by the number of times they've seen them equals 1.7 billion. This is a good result for a dating app, although Tinder is much further ahead in this category.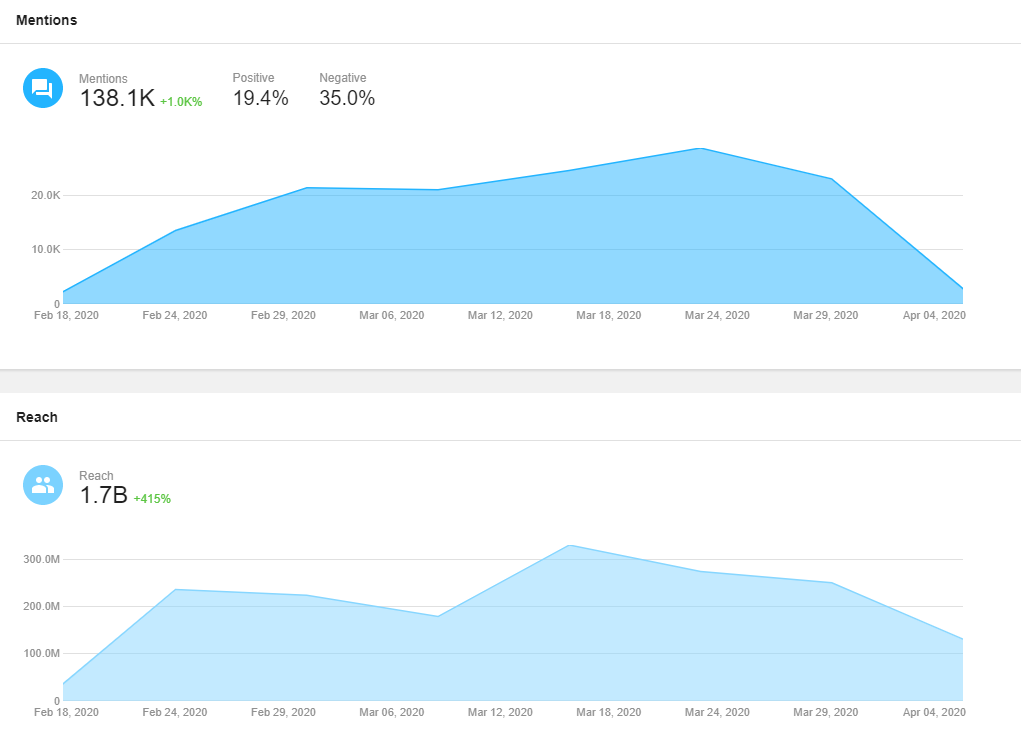 Nevertheless, Bumble loses significantly to all other dating apps due to the terrible results it showed in sentiment analysis. With only 19.4% of positive mentions and as much as 35% of negative mentions, Bumble seems unsatisfactory for its users.

Perhaps, too many people got heartbroken on Bumble. I genuinely hope it's a temporary thing that will pass.
So these were the dating apps that stood out one way or another on social media.
Did this inspire you to sign up for one of those and have some flirty conversations? Or maybe you feel more like performing a social media analysis for your brand?
If it's the latter, sign up for a free Awario trial.
If it's the former, remember that Michael Kaye, a communications manager at OkCupid, said that they don't recommend using a coronavirus opening line. "Our data shows those messages are 5% less likely to get a reply, and the ones that do have conversations fizzle out faster," he said.
Enjoying the post? There's more.
Sign up for our newsletter to get our best content by email.