What happened on Social Media in June: monthly round-up

Happy first month of summer — although, when you're reading this, we've already left the June behind. Your holiday plans may have been disrupted this year, but with social media news, it's business as usual.
Twitter launched Voice Tweets out of nowhere, Instagram added new visual effects and Facebook got into political controversy once again. As always, we are here to guide you through all the most important social media news of the month.

Facebook
The boycott against spreading hate on the platform
The major political mobilization that's been happening in the U.S. didn't escape social networks. In addition to countless posts urging you to sign petitions and support human rights organizations' fundraisings, the social media networks themselves got into political controversy.
Facebook got a lot of slack for its inaction around inflammatory speech on the platform. In particular, the company was criticized for not removing Donald Trump's remarks about the #BlackLivesMatter protests. For example, many people called for Facebook to remove the following post, which got a public interest notice on Twitter for the glorification of violence.

Facebook employees staged a virtual walkout as a response to the platforms' inaction. In addition to that, major civil rights groups and initiatives called on advertisers to pause their Facebook ads for the month of July.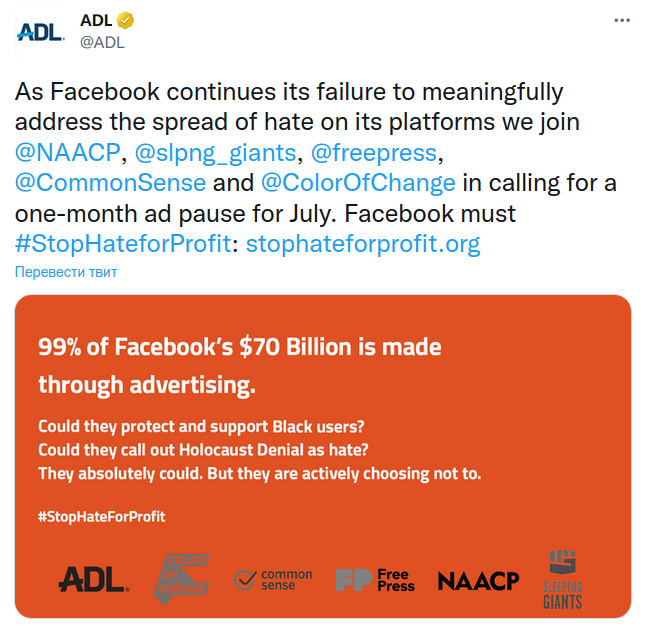 The companies that so far have decided to stop their advertising on Facebook include Starbucks, The North Face, Coca Cola, Levi's, and others.
Switch between personal and business accounts on Messenger
Many businesses are using Facebook Messenger in their lead generation processes, so it's only natural that the company wants to assist them. Now you can switch between your personal messages and the DMs of your business page with a simple toggle. To switch the account you simply need to tap and hold your profile picture at the top left corner.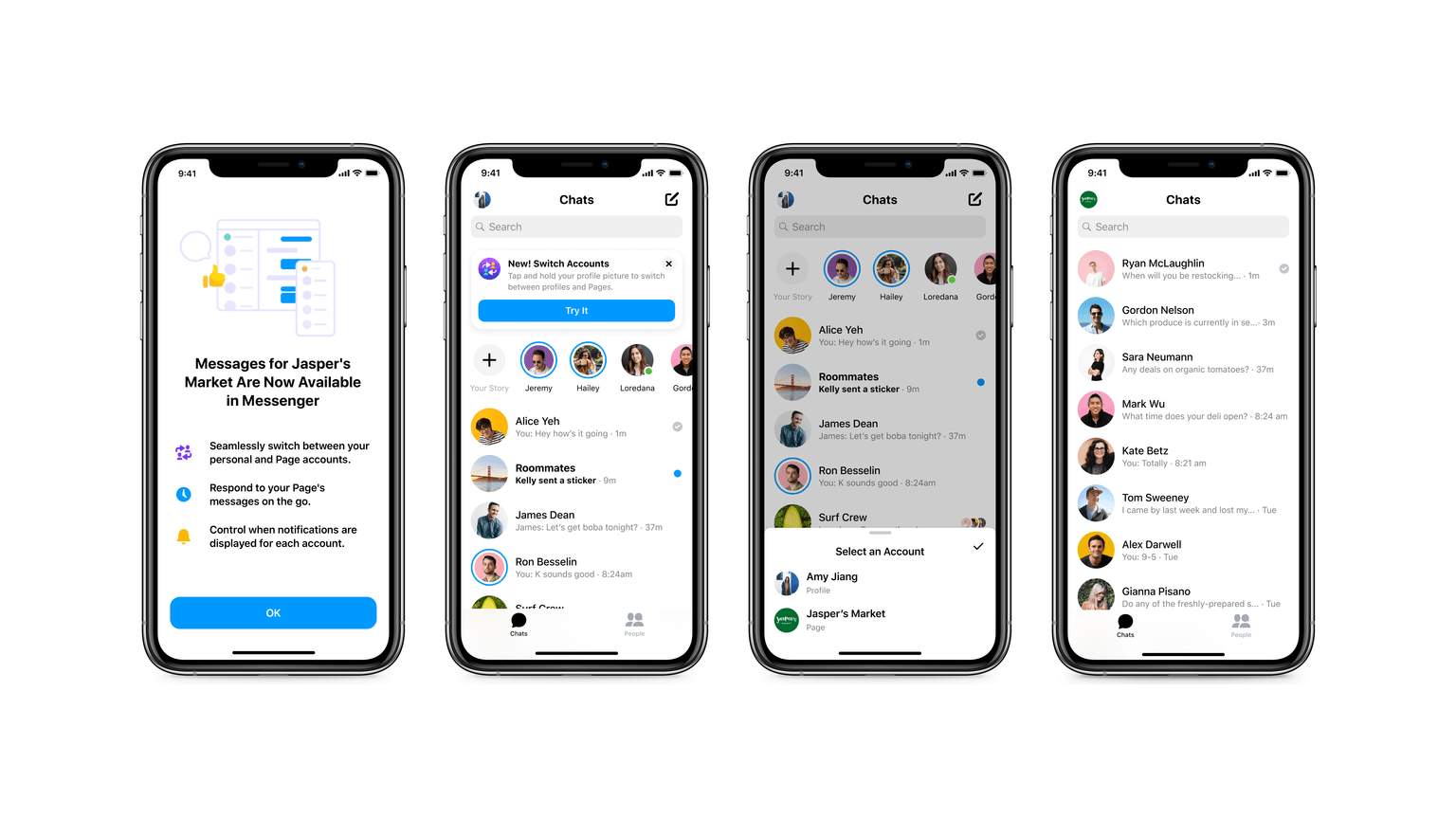 Updated 'Manage Activity' settings
Last month Facebook announced that it's improving 'Manage Activity' options to give users more control over the content they shared. You will now be able to archive and delete your posts and images in bulk.
To delete or archive posts, go to your Activity Log and click Manage Activity. Archiving will keep them visible for you but not for your friends, and deleting will permanently erase them.
Launching Voting Information Center
In order to mobilize voters, Facebook is launching a Voting Information Center with authoritative information, including how and when to vote, as well as details about voter registration, voting by mail, and information about early voting. It will also include posts from state election officials and verified local election authorities. The prompt to visit the Center will be placed on top of Facebook and Instagram feeds.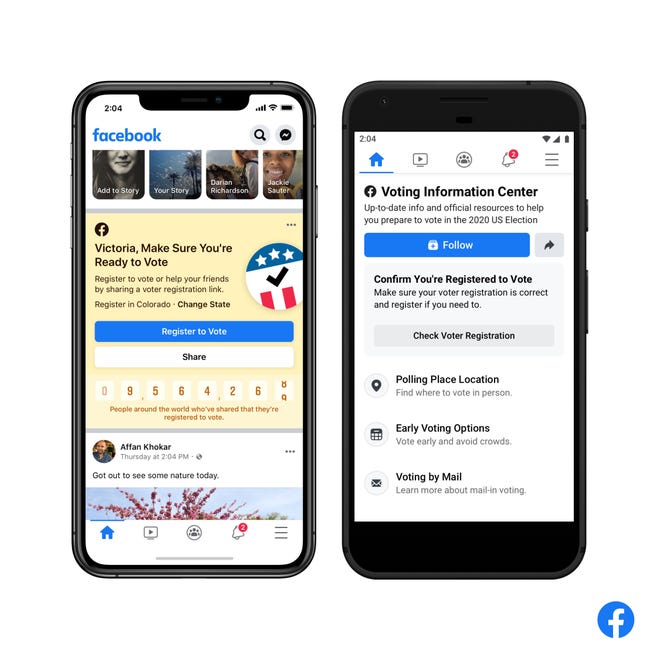 A new option to opt out of political ads
But, if you absolutely don't want to be mobilized or have already decided on the look of your ballot, you can remove politics from your feed entirely. In June, Facebook gave users a bit more control over political ads on their screens. Now Facebook users are able to turn off political, electoral and social issue ads from political candidates, Super PACs and "other organizations that have the 'Paid for by' political disclaimer on them,".
When users come across one of these ads, there will be an option within the ad to turn off all future political ads. Users can also head to the settings features of Facebook and Instagram to turn them off. In addition, users who have decided to turn these ads off can report any ads they come across that they believe should not have been shown to them.
Facebook News now available to all the US users
Facebook News, which was first tested in October 2019, is now available to all U.S. users. The Facebook News feed is programmed by the common efforts of journalists and algorithms. Users can react and share articles, but not comment. Users are also able to hide articles, topics and publishers they don't want to see.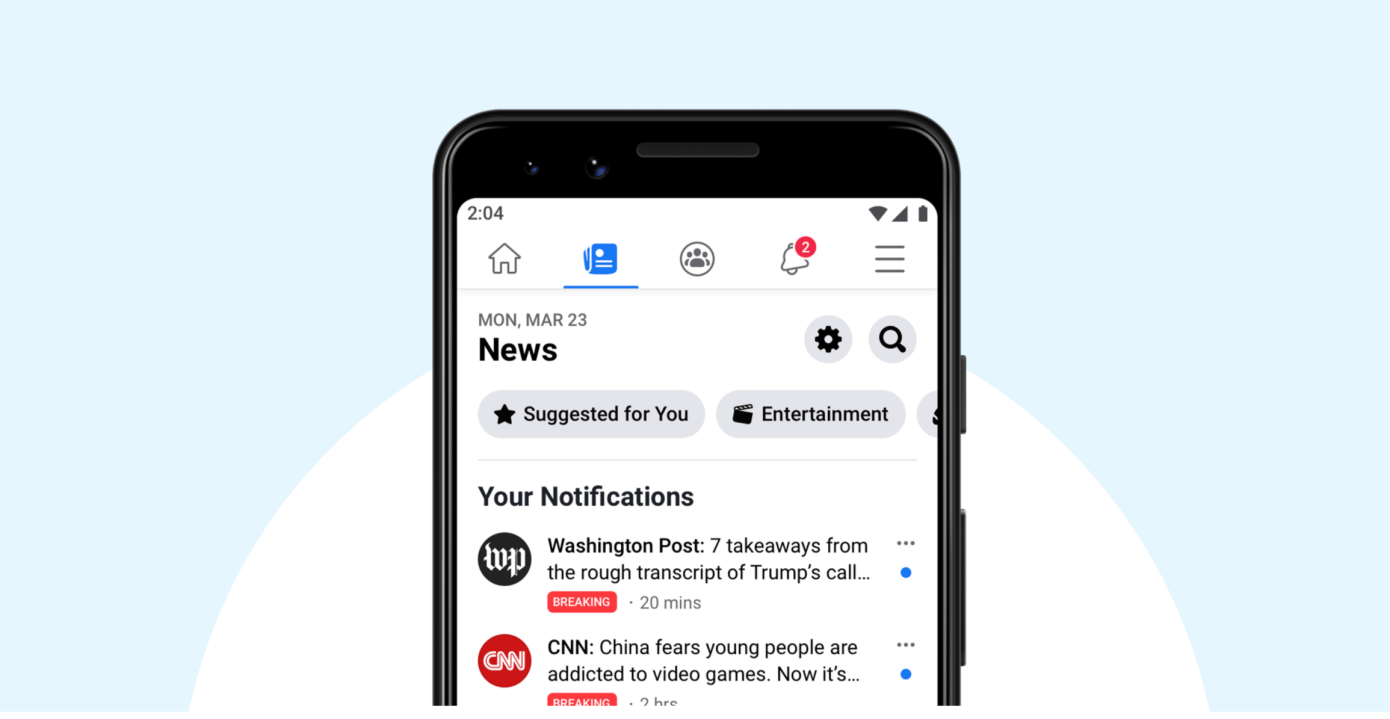 Of course, Facebook have been in the center of the fake news debate time after time, so it's no wonder the company took so much time to develop the new product. The publishers will have to serve a sufficiently large audience and abide by integrity standards to be included in the Facebook News feed. The standards are not specified, but the company says it looks at signals such as misinformation as identified by third-party fact-checkers, clickbait, engagement bait, or use of scraped content.
You can find the News tab under the three-lined menu in the top right corner.
Enjoying the post? There's more.
Sign up for our newsletter to get our best content by email.
The new comment engagement metric
Facebook might be looking to add more stats for individual comments to incentivize users to engage more. Matt Navarra, the social media expert, shared screenshots which show the impact your comments made on the post's reach and engagement.
Comment insights display how many more reactions and impressions your comment generated for your post, based on data from the last 28 days. These indicators can be displayed on both personal or Page updates.
Instagram
Create new ads without a presence on Facebook
As you might know, switching to Business profile and running ads on Instagram required a Facebook Page. Now the businesses in the U.S. and Turkey don't need to use Facebook Ads Manager to promote posts on Instagram if they haven't done it before. If you've already promoted posts on Instagram, it's most likely you've already linked your Instagram and Facebook accounts, and this option won't be available to you.
To promote your Instagram Post:

Tap the post you'd like to promote.
Below the post's image, tap Promote.
Fill in the details of your promotion by setting things like Destination, Audience, Budget, and Duration.
To complete your promotion, tap Create Promotion under Review.
New Pride month visual effects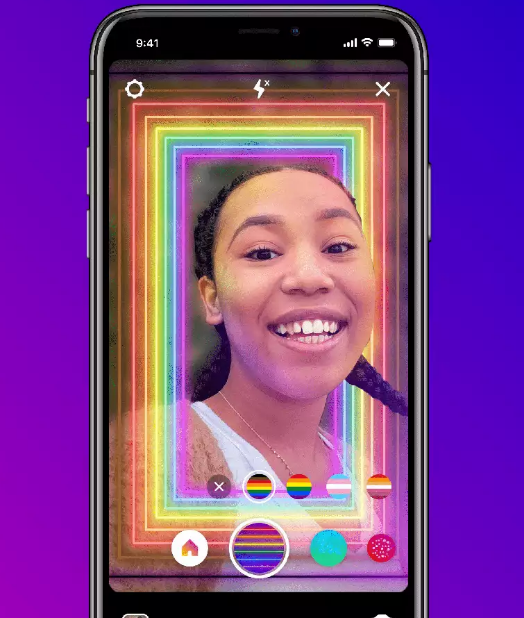 Many brands expressed their support for LGBTQ+ community in June, and Instagram was one of them! For Pride month, the social network added several celebratory tweaks to the platform.
The Pride-related hashtags were highlighted in rainbows, and a new visual effect — a rainbow frame — was added for Stories. The app also added new Pride-themed stickers.
Twitter
Audio Tweets
Last month Twitter launched audio or "voice" tweets for iOS. You might have seen them on your timeline — tweets that look like a video with your profile pic in the center and an audio message. In true Twitter's fashion, each voice tweet is limited to 140 seconds — although you'll obviously be able to say much more than in 140 or even 280 characters.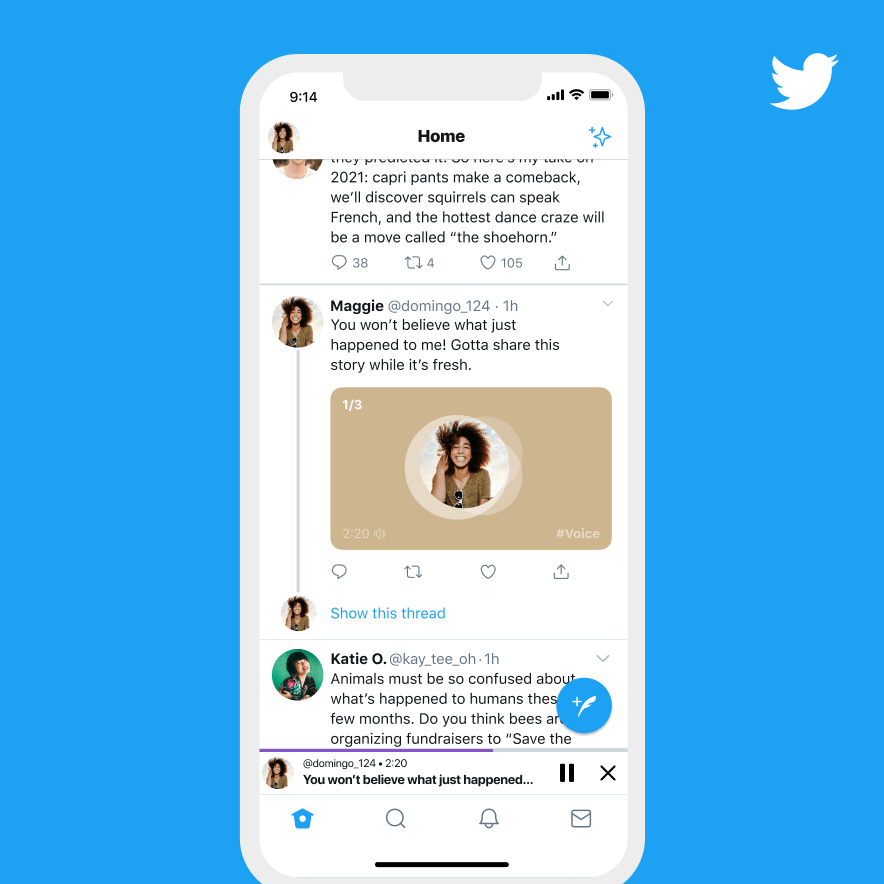 To create a voice Tweet, open the Tweet composer, and tap the new icon with wavelengths. You'll see your profile photo with the record button at the bottom – tap this to record your voice.
For now, creating voice Tweets is only available to selected users.
A new prompt to open link in a tweet before Retweeting it
Twitter is always trying to make conversations on the platform healthier. In the new effort, it's adding a reminder to actually read articles before Retweeting them.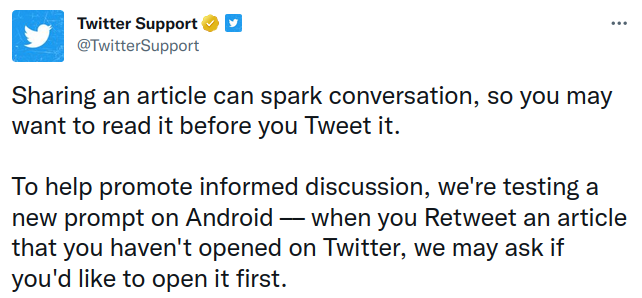 Now when you go to Retweet the article containing a link you haven't opened, you'll see the following screen pop up: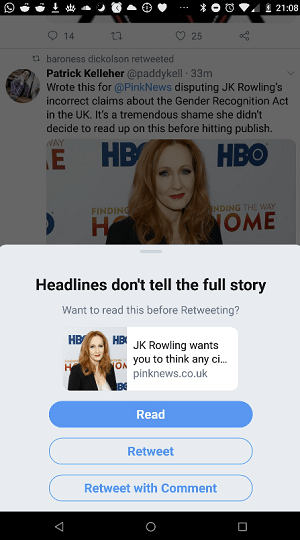 The ability to view Topics in a single feed
Twitter Topics are a great way to follow the subjects you're interested in, be it football or astrology. But, for now, you get the tweets on the Topic you're subscribed to in your regular feed. You can't even really look through the tweets in a Topic before subscribing to it.
However, Twitter is working on a way for you to check out Topics before subscribing, as discovered by Jane Manchun Wong.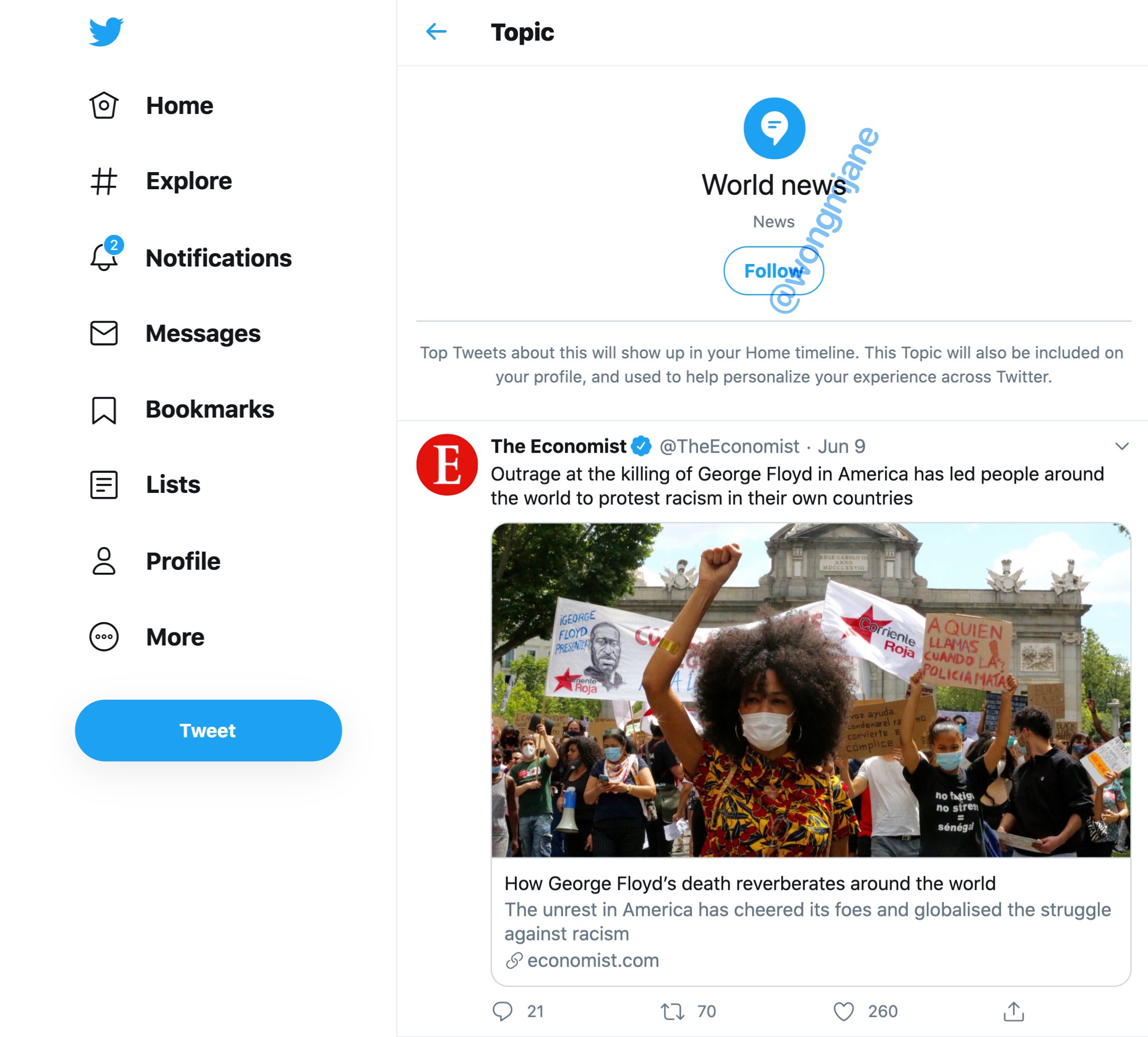 This will make it easier to decide whether you want to add new Topics to your timeline.
Reactions for tweets
Twitter was spotted last month to be testing more reactions than a simple like. In this screenshot shared by Jane Manchun Wong, we can see an option that enables you to respond to a tweet with an emoji, among the various other response options.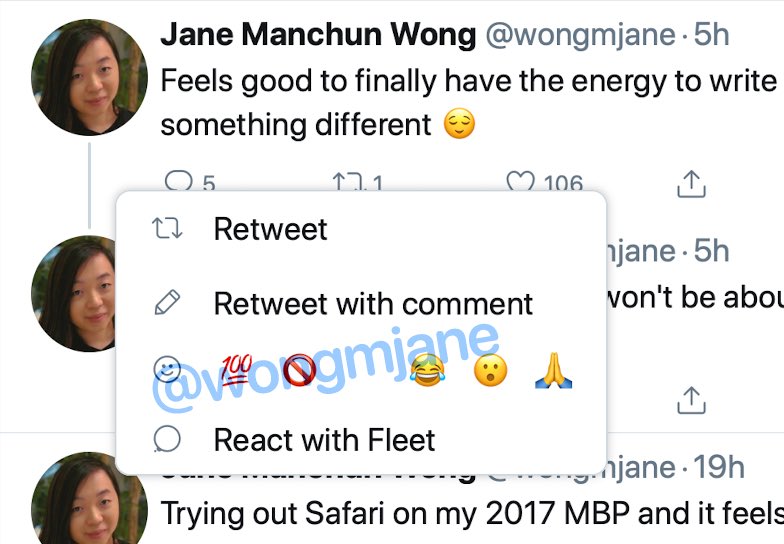 You can also notice that you'll be able to reply with a Fleet, Twitter's Stories-like ephemeral format.
For now, how exactly the reaction will be displayed is unclear.
Reopening verification applications
Twitter might start to accept verification applications soon! As discovered by Jane Manchun Wong, Twitter is working on a new option that would enable users to apply for profile verification from their account settings.
According to the screenshots, you will be able to apply every 30 days until your application is accepted.
LinkedIn
LinkedIn Stories come to Australia
We already covered LinkedIn's experiments with ephemeral content — the countries that got the access first were Brazil, the Netherlands, and the UAE. Now Australians are also able to share temporary status updates on LinkedIn.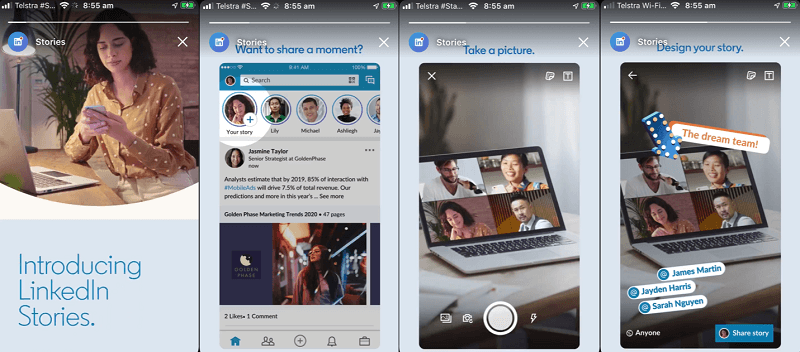 When you first access a LinkedIn Story, you're encouraged to check your privacy settings for Stories viewing. You can choose what other users will see when they check who viewed their Story:
Your name and headline

Private profile characteristics

Private mode (anonymous)
As you see, you're able to view Stories anonymously on LinkedIn.
A 'Current status' option
According to Jane Manchun Wong, LinkedIn is testing an option to update your connections on what's happening with you with a one-line summary that would appear on different surfaces within the app.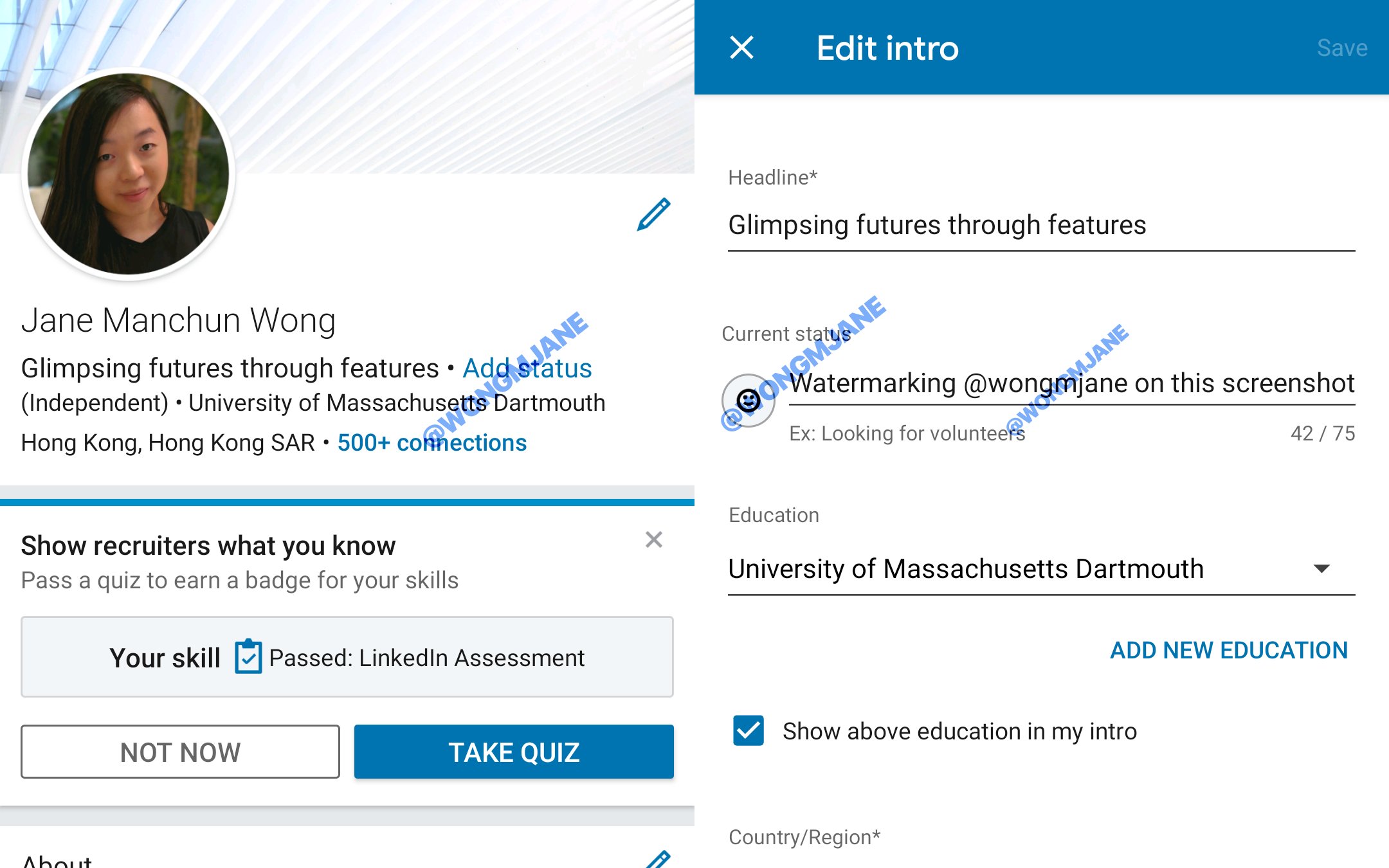 The 'Current status' field allows for a 75 character summary, which would then be displayed when people hover over your profile within the app.
A support reaction
As you know, Facebook recently added a new post reaction to show support, and now LinkedIn is doing the same. Even the design is quite similar: Facebook's reaction shows an emoji hugging a heart, and the support reaction on LinkedIn depicts a hand with a heart.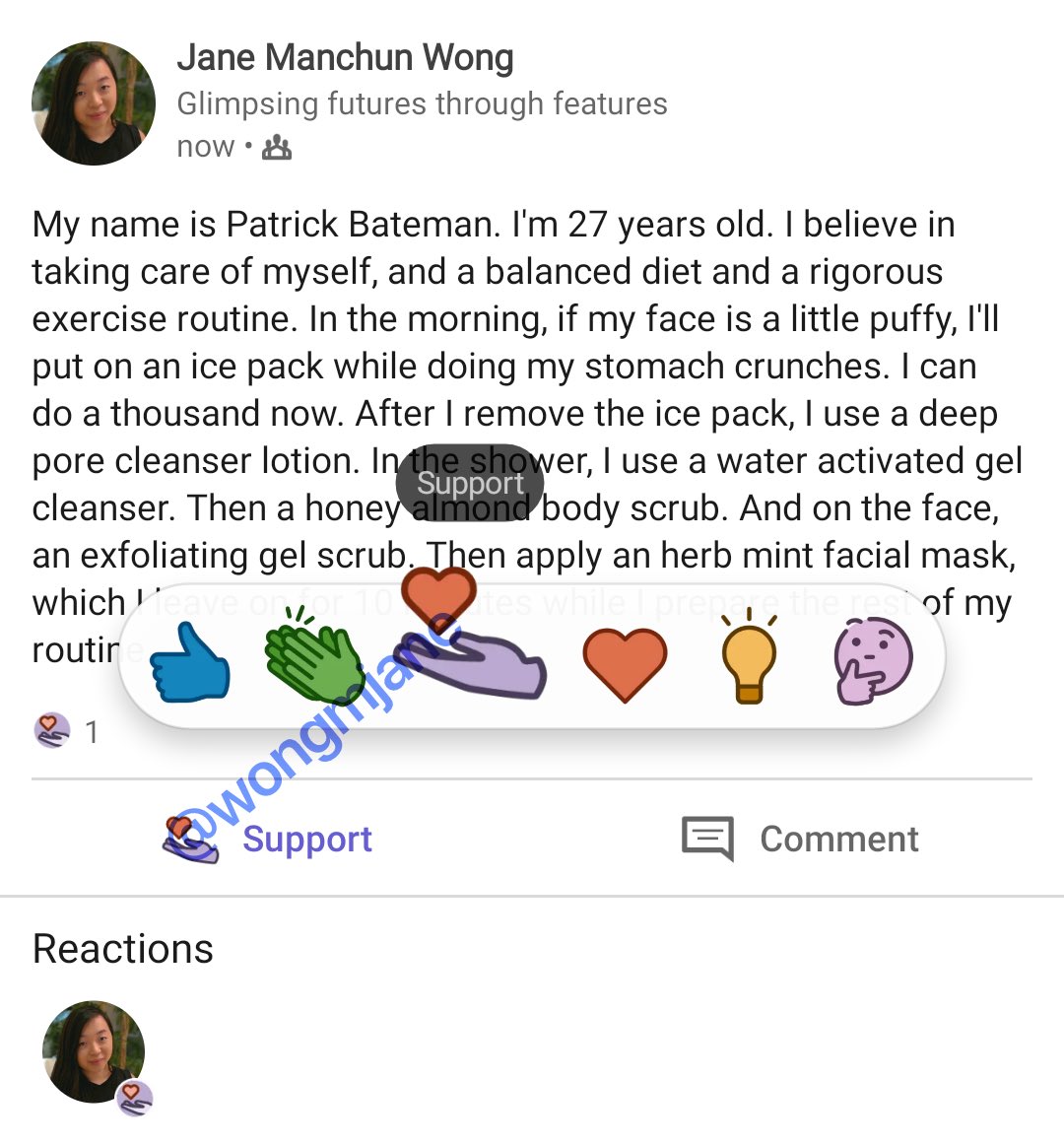 And that's all the social media news for the month of June. Not that many new features were launched or discovered last month, but social media platforms got involved in some interesting debate that could affect the future of social media — check our May roundup for details on Trump vs Twitter. Will this volatile political situation change the way we use social?