Starbucks: 10 best and worst marketing campaigns

Article summary
In this article, we examine Starbucks' most notable marketing campaigns and see what marketers can learn from them. Learn how Starbucks became the symbol of the generation and get inspired for your next campaign!
As Medium put it, some businesses are made for social media. And Starbucks is definitely one of them. It seems like the minute social media became "the new thing", Starbucks was all over it with its bright cups, and pretty coffee foam, and hipster Instagram filters.
It looks like the whole fashion of Instagramming coffee is Starbucks' fault even, though there's no proof for it. How did this happen? How come we not only see their coffee shops on every street, but also on every second Facebook account?
The short answer is that it's because they're experimenting with social media marketing campaigns all the time. Sometimes the experiments go well, and surely sometimes they don't. But because they've done so many, we can choose the best ones and the worst ones and drive some conclusions about what works and what doesn't.
After all, it's Starbucks - they've got the budget to play big. Most of us don't - we've got to learn from someone else's successes and failures.
Luckily, there are many ways for marketers to get experience-informed insights without spending much money, and social listening is one of them.
Before we dive into Starbucks' wins and losses, let's take a look at an easy way to run a campaign analysis for your brand or your competitors.
How to analyze a marketing campaign
Campaign analysis should be the basis of any effective social media campaign: how else are you going to get the necessary data and insights to plan your next creative social media campaigns? The best brands understand the importance of audience and trend analysis but campaign tracking is as important.
Social listening is a great affordable tool to track your or some else's social media marketing campaigns. Here's how to use it.
Step 1: Decide on your goals
Social listening is essential for any social media campaign since it gives us tons of insights. But to run effective analysis, you need to determine what exactly do you want to get out of this analysis.
Do you want to see how the perception of the brand changed as a result of the campaign?

Do you care how the campaign affected brand awareness?

Or are you curious what elements of the campaign made it so successful?
All these questions can be answered by social listening, but you'll need to prioritize different metrics and might even require different alert setups. That's why it's important to decide on the goals for your analysis from the very beginning.
Step 2: Set up your social listening alert
To start tracking a social media campaign, you need to set up a campaign alert.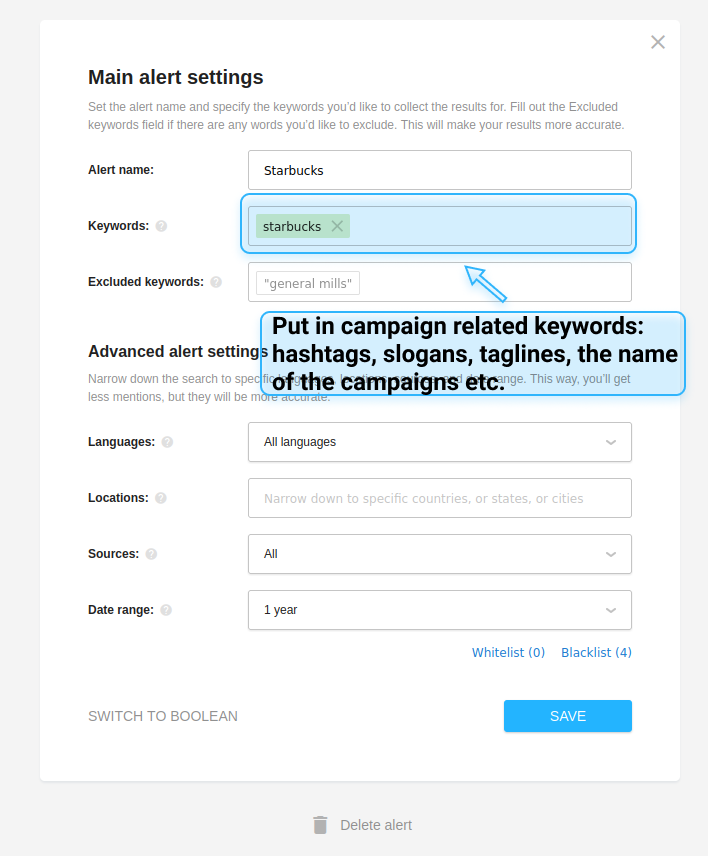 Awario tracks any keyword or keyphrase you put in, so your task is to fill the Keyword field with all the words and phrases related to your campaign, for example, slogans, taglines, hashtags, names of the campaign and accompanying videos, influencers you collaborate with and so on. If you're tracking your competitor's campaign, the rules are the same.
If you have a designated landing page for the campaign, add the URL to the page as a keyword as well.
Awario also provides you with ways to focus your campaign analysis on a specific location, language, or source of data, which will be useful if you're running a localized campaign.
Step 3: Take a look at the social listening insights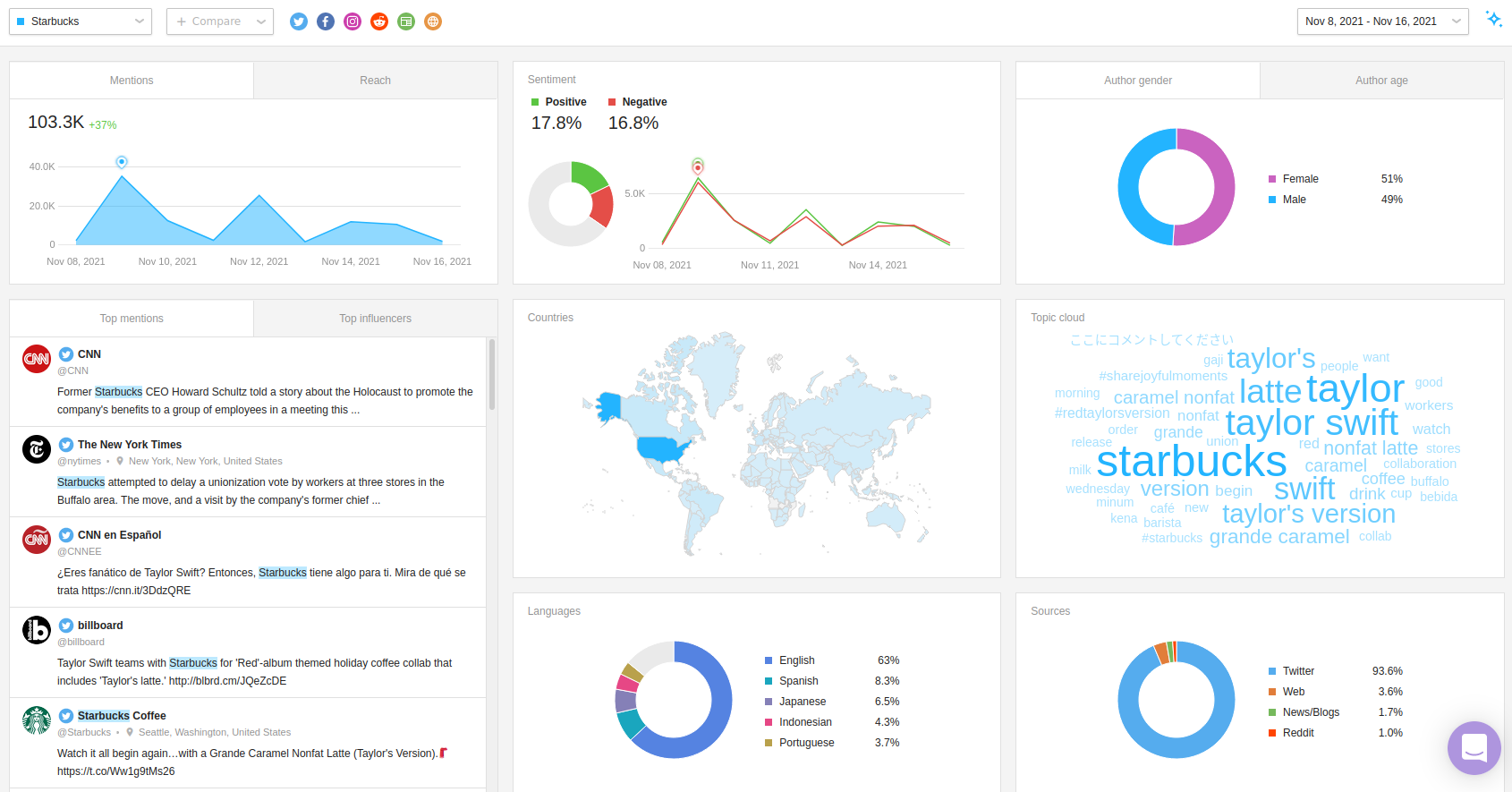 As I mentioned, Awario provides its users with tons of valuable marketing data, so your goals will define what social listening insights will be useful.
For example, if you want to know if your campaign reached its assigned audience, you can take a look at demographics: age, gender, location, and languages. This will tell you of the intended audience of the campaign coincides with the people it actually reached.
Or if you want to know if the campaign helped to raise your brand awareness levels, pay attention to the number of mentions, your campaign reach, and the top mentions. This data will tell you how many people actually came across your campaign-related social media posts online and what influential voices and stories helped to amplify your reach.
Here's a list of metrics that are important to your campaign analysis:
| Campaign metric | Social listening metrics and insights | Explanation |
| --- | --- | --- |
| Brand awareness | The number of mentions and Reach | How many people saw your campaign and related social media posts? |
| Reputation | Sentiment | What feeling did people have towards your campaign and how did it change your brand perception? |
| Audience | Age, Gender, Location, Languages, Sources | Who were the people that were reached by your campaign? |
| Content | Topic Cloud, mentions in the Mention feed | What aspects of the campaign were the most effective? Which social media posts, taglines, videos, etc. |
| Channels | Sources and Influencers | Where and how did people come across your campaign? |
These are the basics of campaign analysis with Awario - if you want to learn more, check out our campaign monitoring guide.
Best Starbucks marketing campaigns:
1. Jumping on the trend
The first campaign that we'll talk about (that actually happened in 2013) is for everyone who's bracing themselves for you know what.
It took a blizzard to hit America for Starbucks to come up with a social media campaign that celebrates warm coffee in winter. The company exploded with Facebook and Twitter posts surrounding conversations around the snowstorm, nicknamed Nemo. Nothing extraordinary - just the images of people in the cold weather holding warm cups of coffee.
These were promoted with Facebook Ads and Promoted Tweets, meaning they appeared when people searched for weather-related hashtags such as #Nemo or #blizzard.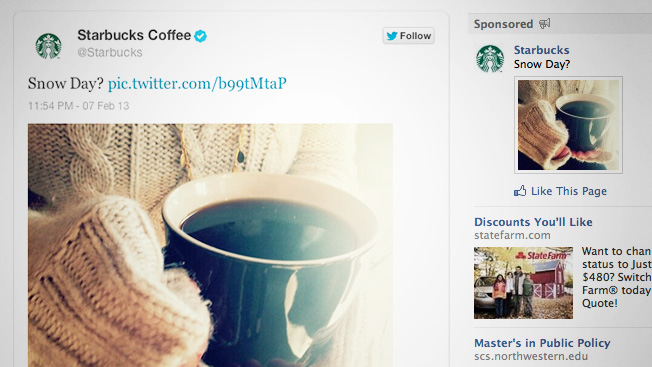 It's the kind of jumping on the trend, real-time advertising that should be happening more often.
Marketing takeaway
It's important to keep an eye on your audience to know exactly what trend they'd be happy to see integrated with your marketing. Smaller brands can use niche references and micro-trends to target the right audience and make their product more appealing.
2. #theredcupcontest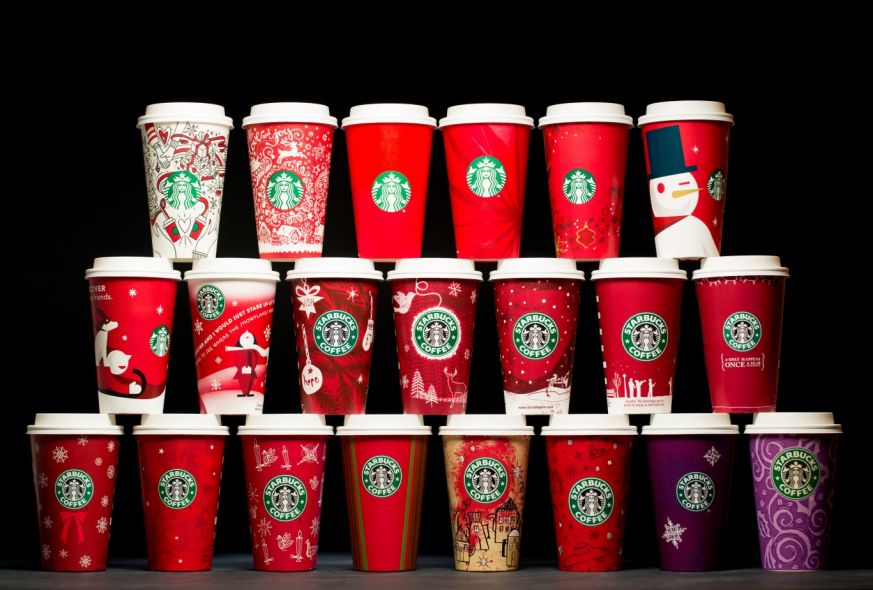 Starbucks red cups became a tradition, the ultimate sign that Christmas is here, and sometimes even a reason for hype and controversy. Seemed like there's no reason to take the matter further and involve social media marketing into the matter, but Starbucks did that anyway.
In 2014 and 2015 they've introduced a holiday #redcupcontest on Instagram. The users had to share and tag photos of their red cups for a chance to win one of five prizes, and of course to include the #redcupcontest hashtag. In 2015 a photo was shared every 14 seconds on Instagram in the first two days, gathering a total of 40,000 entries over the course of the contest.
How did the contest become so successful? Firstly, people love taking photos of food and drinks as it is, and another excuse to do that won't go unnoticed. Customer-generated content is the key to a successful social media campaign, and when it's coupled with the overall holiday excitement, it works even better.
Marketing takeaway
Customers got used to the fact that the closer the holiday, the more brands try to advertise their products and make them buy anything. A good-hearted holiday-themed contest looks much more attractive.
Use-generated content is another advantage of this campaign. People were happy to engage with the brand and highlight their own photos. Give your audience an opportunity to get involved and they'll love it.
3. Tweet-a-coffee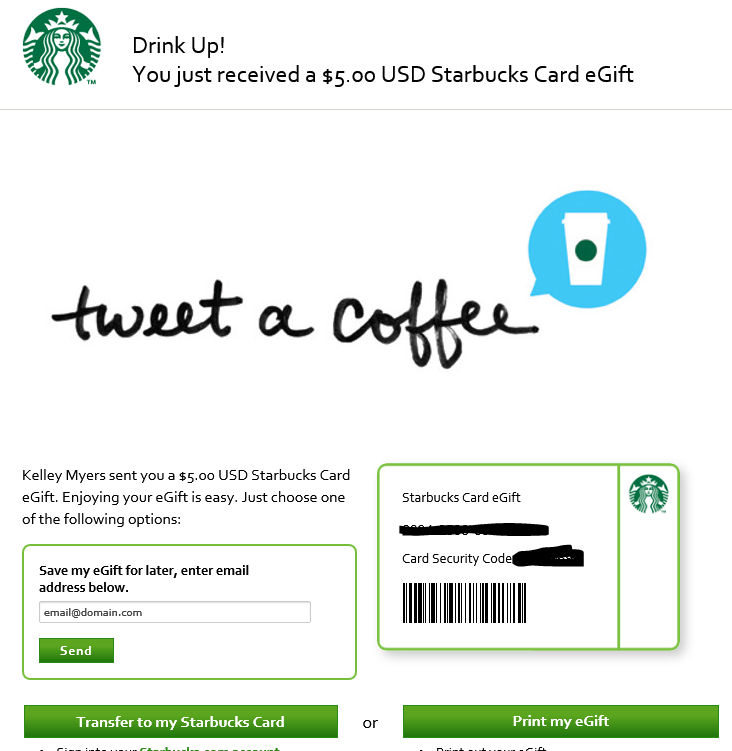 'Tweet-a-Coffee' campaign let people give a $5 gift card to a friend just by putting both '@tweetacoffee' and a friend's handle in a tweet. The coffee was obviously not free, so the users had to link their Starbucks account to Twitter (and create one in the first place if they didn't have one before!) and their credit card to the account.
In two months, more than 27,000 users had tweeted a coffee. It was calculated that the promotion brought around $180,000 worth of coffee. Not only that, but Starbucks got the info, such as Twitter handles, for thousands of coffee-lovers!
Marketing takeaway
Make your customers become your marketers! Not only did this campaign allow Starbucks to get to know their audience and their Twitter profiles, it also greatly raised the visibility of Starbuck's brand on Twitter.
Incentivize your customers to talk about you online, and you won't have to spend thousands of dollars on advertising.
4. Charity Campaign
Combining charity, customer engagement, and collaboration with another social media platform is the definition of taking things a step further. If you want to know how to pull that off, turn to Starbucks.
Once upon a time, the company teamed up with Foursquare, a local search-and-discovery service mobile app, to help spread awareness about AIDS.
For a short period of time, Starbucks donated $1 every time someone checked into one of its coffeehouses in the US and Canada. Starbucks set a limit of $250,000 on its donation during this campaign. Before that, they've donated $10m to the RED charity's fight against AIDS.
Marketing takeaway
Nowadays, people want companies to take a stance and have a message. By combining online visibility with a charitable cause, you both improve your reputation and do something good for the world.
5. Meet me at Starbucks
Starbucks is surely a great place for first dates, second dates, meetups with friends, and even lunches with strangers. Knowing that, the company launched the "Meet Me at Starbucks" social media campaign in 2014.
Starbucks gave their customers the chance to win free coffee for a year in exchange for their "How We Met" story. For the whole year! You can imagine the level of response to that. The #HowWeMet hashtag was used to spread the contest and let people read each other's engaging stories. The campaign was introduced worldwide, so people got to read the most exciting stories and see Starbucks from a whole new angle.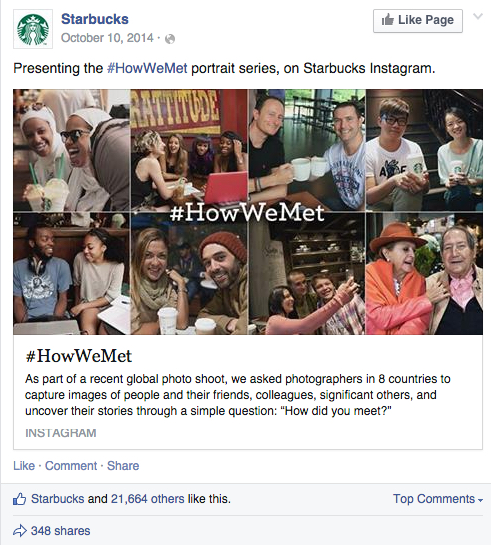 Marketing takeaway
And once again about user-generated content, this time in the form of text.
Storytelling is an important marketing tool. Humans are narrative creatures, we are wired to pay attention to stories. So sharing your own story or reading somebody else's is bound to engage your audience. Add storytelling to your campaigns or combine it with UGC just like Starbucks did.
6. Taylor's Latte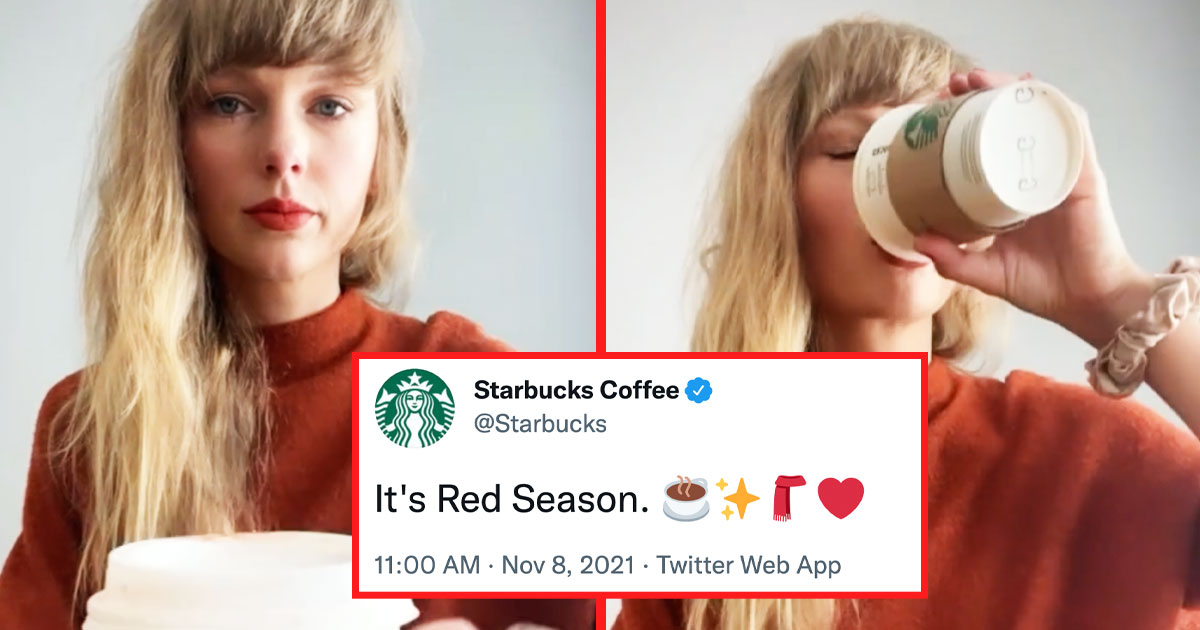 Nowadays Starbucks is more than just a coffee place. It's an image, a takeout cup in the hands of a successful and fashionable young woman walking down the street. And who better represents this woman than Taylor Swift?
Starbucks officially teamed up with Taylor Swift for the re-release of her album Red. They took a smart approach and teased the collaboration on social media in advance.
After a tweet saying "It's Red Season" was posted, fans of Taylor Swift could guess that there is a possibility of something singer-related coming from Starbucks. And it was true.
Starbucks provided the fans with the opportunity to order a "Taylor's Latte" or a "Taylor's Version" drink from Starbucks and get the singer-songwriter's favorite drink: a Grande Caramel Nonfat Latte.
To celebrate this album, Starbucks locations were also playing Taylor's version of the album, plus some of her other hits for fans to enjoy as they drink their coffee. In addition to that, they introduced a Starbucks e-gift card designed with Taylor in mind. The card is decorated with a fall scene and the "All Too Well" lyrics "Autumn leaves falling down."
Marketing takeaway
While you might not have a budget to collaborate with A-list celebrities, take note of how creatively Starbucks approached influencer marketing and incorporated Taylor's image into its marketing and product.
It's vital to understand your audience well to choose the perfect influencer match for your brand. Taylor Swift could be the face of Starbucks' brand since her image fits so well with its audience. Who would fit these shoes for your brand? Figure it out before you dive into any influencer marketing.
7. Leaf Rakers Society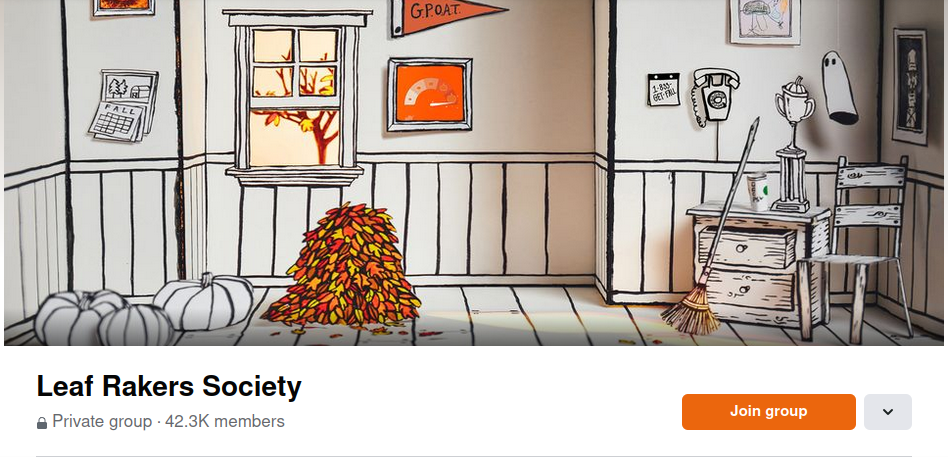 This isn't really a traditional campaign, more like a year0long community building activity. Leaf Rakers Society is a Starbucks Facebook group for lovers of the "all things Fall" including pumpkin spice, scarfs, cold mornings and so on.
Now with more than 40,000 members, the private group helps Starbucks to generate 'meaningful interactions' on Facebook, and build a loyal community around the brand.
The benefits for Starbucks are to foster and further loyalty, with the group helping to create a sense of community and belonging for members. With no direct branding or advertising – just the stipulation that members keep it strictly Starbucks-related when talking about drinks – it maintains authenticity and creates naturally high levels of engagement.
Marketing takeaway
Never underestimate the power of the community. Community building allows you to foster brand loyalty: the more people are engaged with your brand and each other, the more likely they are to become returning customers.
As you see, community building doesn't have to be hard - it could be just a Facebook group that you moderate. In many cases, this will be enough to make people feel like they belong to your community.
Worst Starbucks marketing campaigns
As noted before, you can't carry out dozens of experimental social media marketing campaigns and not fail a couple of times. But the good thing is, knowing what not to do is often at least as important as knowing what to do. So let's have a look.
1. #RaceTogether
Perhaps the most scandalous Starbucks marketing campaign, Race Together, started with the CEO Howard Schultz pointing out the importance of the conversation that should surround race issues. That ended up in the initiative of evoking the conversation with the Starbucks barista. Each cup had the #Racetogether written on it to encourage customers to talk about these issues with the barista.
The idea seemed noble, however blindly stupid. If you're a customer, you probably don't have the time or the motivation to discuss 400 years of oppression while paying for your latte. If you're a barista, you're in the same situation just you're making the latte. And there's a line behind you, and it's 8 am. I mean… What were they thinking?
The campaign hit a backlash on social media and was terminated in six days.
Marketing takeaway
We discussed the importance of taking a stance, but there's a time and place for everything. Starbucks could start an online conversation or release an ad promising to take race issues more seriously but instead, they put the effort on the customers and baristas in completely inappropriate scenarios.
If you want to embrace social justice issues and have a message, don't force people to participate. Give them the opportunity to engage in a way that is comfortable for them.
Track your marketing campaigns
See Awario in action with a free 7-day trial. No credit card required.
By signing up I agree to the Terms of Use and Privacy Policy
2. #SpreadTheCheer
The #SpreadTheCheer social media campaign was introduced in time for Christmas. All it called for was to spread cheerful holiday messages to everyone. As it happens with Starbucks, they went a bit further than your usual Twitter campaign would go - they broadcasted #SpreadTheCheer tweets live on the wall of the ice rink at the National History Museum. It was part of the deal for sponsoring an event at the Museum.
Unfortunately, the timing was absolutely off. They've introduced the campaign after they had cut wages for some employees and apparently had not been paying the corporation tax in England in full. So you can see how the thing could've backfired. In short, the hashtag was hijacked by angry users and used to confront the company on taxes, maternal leave, wages, and whatnot.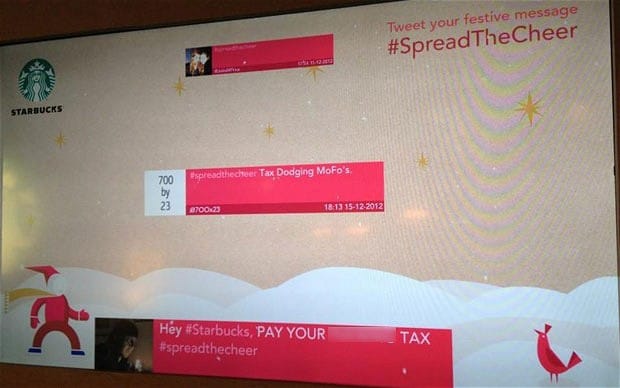 Marketing takeaway
What's there to learn from this experience? Don't introduce innocent cheerful campaigns after going through a scandal. Give people some time to forget. And probably reconsider the live tweet broadcast. It's ridiculously risky with Twitter.
Whenever you decide to run a live online event, put an emphasis on moderating the live chat. If you notice an overwhelming amount of negative comments you can either address the issue (but you need to be prepared for that) or end the event early.
3. Every name's a story
In 2020, Starbucks launched an ad to support its transgender customers. Promoting the hashtag #WhatsYourName, the advert follows a young man called James. The 90-second advert follows him throughout the day as he's continuously referred to as "Jemma" and clearly struggles with his identity.
It ends with James walking into a branch of Starbucks and being asked what his name is. The smiling boy responds with "It's James" before the name is written on his cup. Things round off as the words "Every name's a story" appear on the screen.
The ad itself is great, but what followed was not so positive for the brand. In a wave of controversy, former and current Starbucks employees went to Twitter to expose the latent transphobia within the company's rank. Stories ranged from refusing requests for gender reassignment surgery to simply changing your name on a company login.
Marketing takeaway
Crisis management is a key to handling such situations. Perhaps Starbucks's marketing team couldn't know about the transphobic policies in place at the workplace, but the timely and propper response could eleviate the situation.
A smaller company should have more ability to control its operations as well as messaging, so it'll be easier for you to avoid coming off as hypocritical.
In conclusion
Overall, it's clear that Starbucks has more positive campaigns than negative ones. This, of course, was not the whole list. Much more successes have happened in Starbucks social media history, while most campaigns are rather neutral and hard to analyze without access to the sales/stats/info. What is clear though, is that if you experiment like Starbucks, you mostly win.
Don't miss our next analysis.
Subscribe to Awario blog to get social data analyses, case studies, and social listening how-tos in your inbox.
What's your experience with social media campaigns? What's your social media strategy? Are you looking for new ways to entertain and attract your audience, or use the old proven ones? Let me know in the comments.