[CASE STUDY] Starbucks: best and worst marketing campaigns
As Medium put it, some businesses are made for social media. And Starbucks is definitely one of them. It seems like the minute social media became "the new thing", Starbucks was all over it with its bright cups, and pretty coffee foam, and hipster Instagram filters. Seems like the whole fashion of Instagramming coffee is Starbuck's fault even, though there's no proof for it. How did this happen? How come we not only see their coffee shops on every street, but also on every second Facebook account?
Starbucks Stats in 2017
Twitter (11.9M followers)
Facebook (36.7M likes)
Instagram (15.7M followers)
Google+ (4.9M followers)
Pinterest (302.4K followers)
YouTube (145.5K subscribers)
The short answer is that it's because they're experimenting with social media marketing campaigns all the time. Sometimes the experiments go well, and surely sometimes they don't. But because they've done so many, we can choose the best ones and the worst ones and drive some conclusions about what works and what doesn't. After all it's Starbucks - they've got the budget to play big. Most of us don't - we've got to learn from someone else's successes and failures. Let's get to it.
Best Starbucks marketing campaigns:
1. Jumping on the trend
The first campaign that we'll talk about (that actually happened in 2013) is for everyone who's bracing themselves for you know what.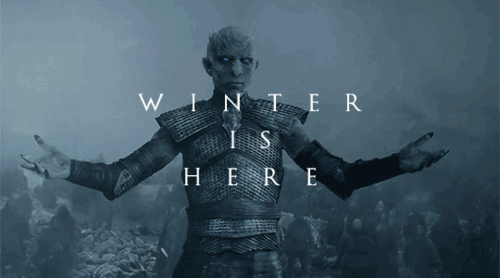 It took a blizzard to hit America for Starbucks to come up with a social media campaign that celebrates warm coffee in winter. The company exploded with Facebook and Twitter posts surrounding conversations around the snow storm, nicknamed Nemo. Nothing extraordinary - just the images of people in the cold weather holding warm cups of coffee. These were promoted with Facebook Ads and Promoted Tweets, meaning they appeared when people searched for weather-related hashtags such as #Nemo or #blizzard.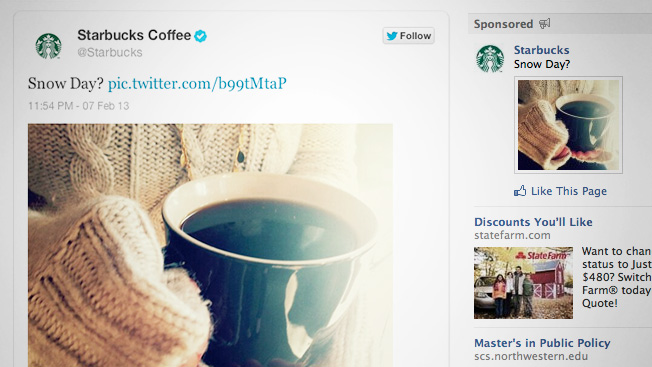 It's the kind of jumping on the trend, real-time advertising that should be happening more often.
2. #theredcupcontest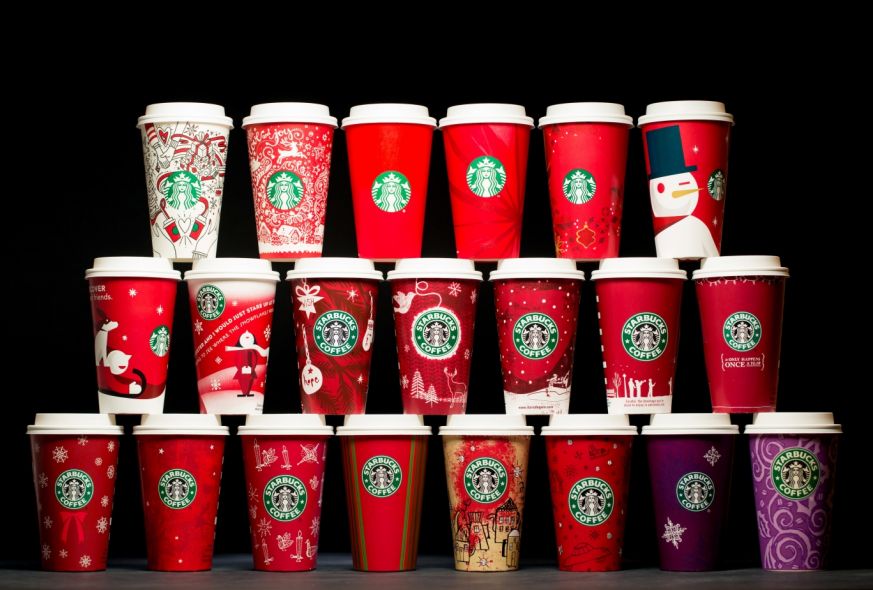 Starbucks red cups became a tradition, the ultimate sign that Christmas is here, and sometimes even a reason for hype and controversy. Seemed like there's no reason to take the matter further and involve social media marketing into the matter, but Starbucks did that anyway. In 2014 and 2015 they've introduced a holiday #redcupcontest on Instagram. The users had to share and tag photos of their red cups for a chance to win one of five prizes, and of course to include the #redcupcontest hashtag. In 2015 a photo was shared every 14 seconds on Instagram in the first two days, gathering a total of 40,000 entries over the course of the contest.
How did the contest become so successful? Firstly, people love taking photos of food and drinks as it is, and another excuse to do that won't go unnoticed. Customer-generated content is the key to a successful social media campaign, and when it's coupled with the overall holiday excitement, it works even better. Customers got used to the fact that the closer the holiday, the more brands try to advertise their products and make them buy anything. A good-hearted holiday-themed contest looks much more attractive.
Enjoying the post? There's more.
Sign up to receive one email a week with exclusive, actionable tips on social media and digital marketing.
3. Tweet-a-coffee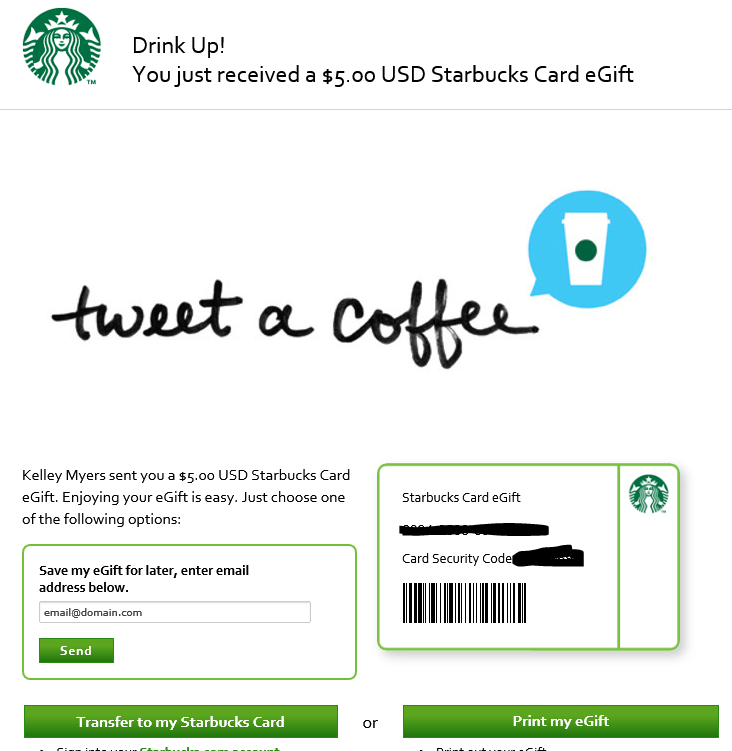 'Tweet-a-Coffee' campaign let people give a $5 gift card to a friend just by putting both '@tweetacoffee' and a friend's handle in a tweet. The coffee was obviously not free, so the users had to link their Starbucks account to Twitter (and create one in the first place if they didn't have one before!) and their credit card to the account.
In two months, more than 27,000 users had tweeted a coffee. It was calculated that the promotion brought around $180,000 worth of coffee. Not only that, but Starbucks got the info, such as Twitter handles, for thousands of coffee-lovers!
4. Charity Campaign
Combining charity, customer engagement, and collaboration with another social media platform is the definition of taking things a step further. If you want to know how to pull that off, turn to Starbucks. Once upon a time, the company teamed up with Foursquare, a local search-and-discovery service mobile app, to help spread awareness about AIDS. For a short period of time, Starbucks donated $1 every time someone checked into one of its coffeehouses in the US and Canada. Starbucks set a limit of $250,000 on its donation during this campaign. Before that they've donated $10m to the RED charity's fight against AIDS.
5. Meet me at Starbucks
And once again about user-generated content, this time in the form of text.
Starbucks is surely a great place for first dates, second dates, meetups with friends, and even lunches with strangers. Knowing that, the company launched the "Meet Me at Starbucks" social media campaign in 2014. Starbucks gave their customers the chance to win free coffee for a year in exchange for their "How We Met" story. For the whole year! You can imagine the level of response to that. The #HowWeMet hashtag was used to spread the contest and let people read each other's engaging stories. The campaign was introduced worldwide, so people got to read the most exciting stories and see Starbucks from the whole new angle.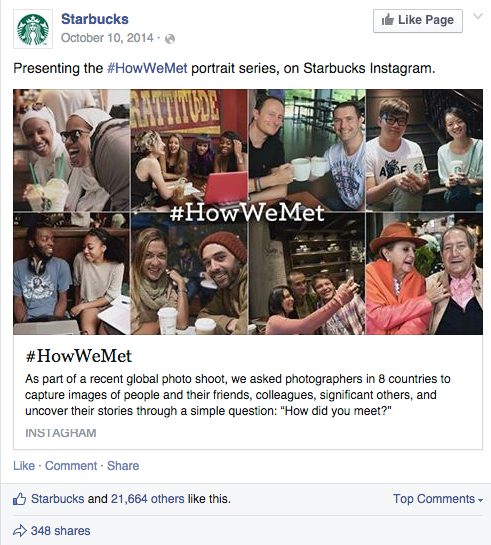 Worst Starbucks marketing campaigns
As noted before, you can't carry out dozens of experimental social media marketing campaigns and not fail a couple of times. But the good thing is, knowing what not to do is often at least as important as knowing what to do. So let's have a look.
1. #RaceTogether

Perhaps the most scandalous Starbucks marketing campaign, Race Together, started with the CEO Howard Schultz pointing out the importance of the conversation that should surround race issues. That ended up in the initiative of evoking the conversation with the Starbucks barista. Each cup had the #Racetogether written on it to encourage customers to talk about these issues with the barista. The idea seemed noble, however blindly stupid. If you're a customer, you probably don't have the time or the motivation to discuss 400 years of oppression while paying for your latte. If you're a barista, you're in the same situation just you're making the latte. And there's a line behind you, and it's 8 am. I mean… What were they thinking?
The campaign hit a backlash on social media and was terminated in six days.
2. #SpreadTheCheer
The #SpreadTheCheer social media campaign was introduced in time for Christmas. All it called for was to spread cheerful holiday messages to everyone. As it happens with Starbucks, they went a bit further than your usual Twitter campaign would go - they broadcasted #SpreadTheCheer tweets live on the wall of the ice rink at the National History Museum. It was part of the deal for sponsoring an event at the Museum.
Unfortunately, the timing was absolutely off. They've introduced the campaign after they had cut wages for some employees and apparently had not been paying the corporation tax in England in full. So you can see how the thing could've backfired. In short, the hashtag was hijacked by angry users and used to confront the company on taxes, maternal leave, wages and what not.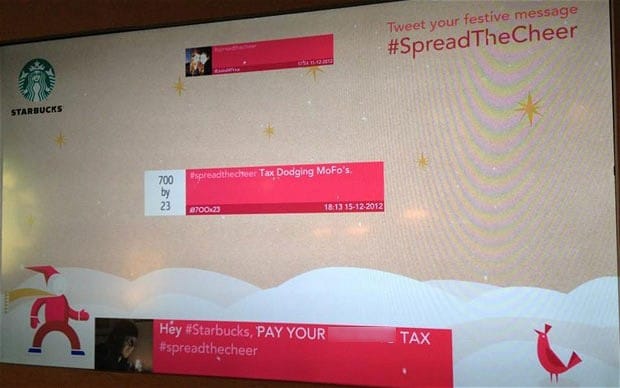 What's there to learn from this experience? Don't introduce innocent cheerful campaigns after going through a scandal. Give people some time to forget. And probably reconsider the live tweet broadcast. It's ridiculously risky with Twitter.
Overall, it's clear that Starbucks has more positive campaigns than negative ones. This, of course, was not the whole list. Much more successes have happened in the Starbucks social media history, while most campaigns are rather neutral and hard to analyze without access to the sales/stats/info. What is clear though, is that if you experiment like Starbucks, you mostly win.
What's your experience with social media campaigns? What's your social media strategy? Are you looking for new ways to entertain and attract your audience, or use the old proven ones? Let me know in the comments.