The Internet's favorite film by Quentin Tarantino [analysis]

Tell me your favorite Tarantino movie and I'll tell you who you are — might not be applicable to the entire human population but is perfectly telling for many of us. Quentin Tarantino is one of the film directors famous to the extent of their lead actors, which is a summit not all film directors reach. Yet Tarantino is recognized so widely precisely because of his movies, of which to this day there are nine. And those are what we decided to study with our social media listening tool Awario.
Specifically, what we embarked on is a social media listening analysis of the nine films by Quentin Tarantino:
Reservoir Dogs (1992)
Pulp Fiction (1994)
Jackie Brown (1997)
Kill Bill (2003-2004)
Death Proof (2007)
Inglourious Basterds (2009)
Django Unchained (2012)
The Hateful Eight (2015)
Once Upon a Time in Hollywood (2019)
Social listening lets us look at things through the lens of social media, i.e. real people who go on social networks to discuss, opinionate, and share with the whole world what they think of other people, brands, products, or phenomena. A social media monitoring and analytics tool like Awario can collect and process tons of social data and draw insights specific to any given analysis. For this study, we used social listening powers to answer the following questions:
Which Tarantino movie is talked about the most on social media?
Which Tarantino movie has the highest online visibility?
Which topics appear the most in conversations about Tarantino films?
Which social media influencers are behind which Tarantino films?
We set Awario to monitor all social media conversations that feature any of the Tarantino movies back in October 2019. Since then, social media listening has been in action to find and analyze every relevant post. We now have 11 full months of social data to support our arguments. Let's see what Awario helped us find out.
Action!
Volume 1: Share of voice
First off, we look at the amount of online buzz around each of the things we track in the course of social media monitoring. Or, as we say in social listening terms, we look at the Share of voice metric. A breakdown of the movies' shares of voice is basically a representation of how much each Tarantino film is discussed online in relation to other Tarantino films.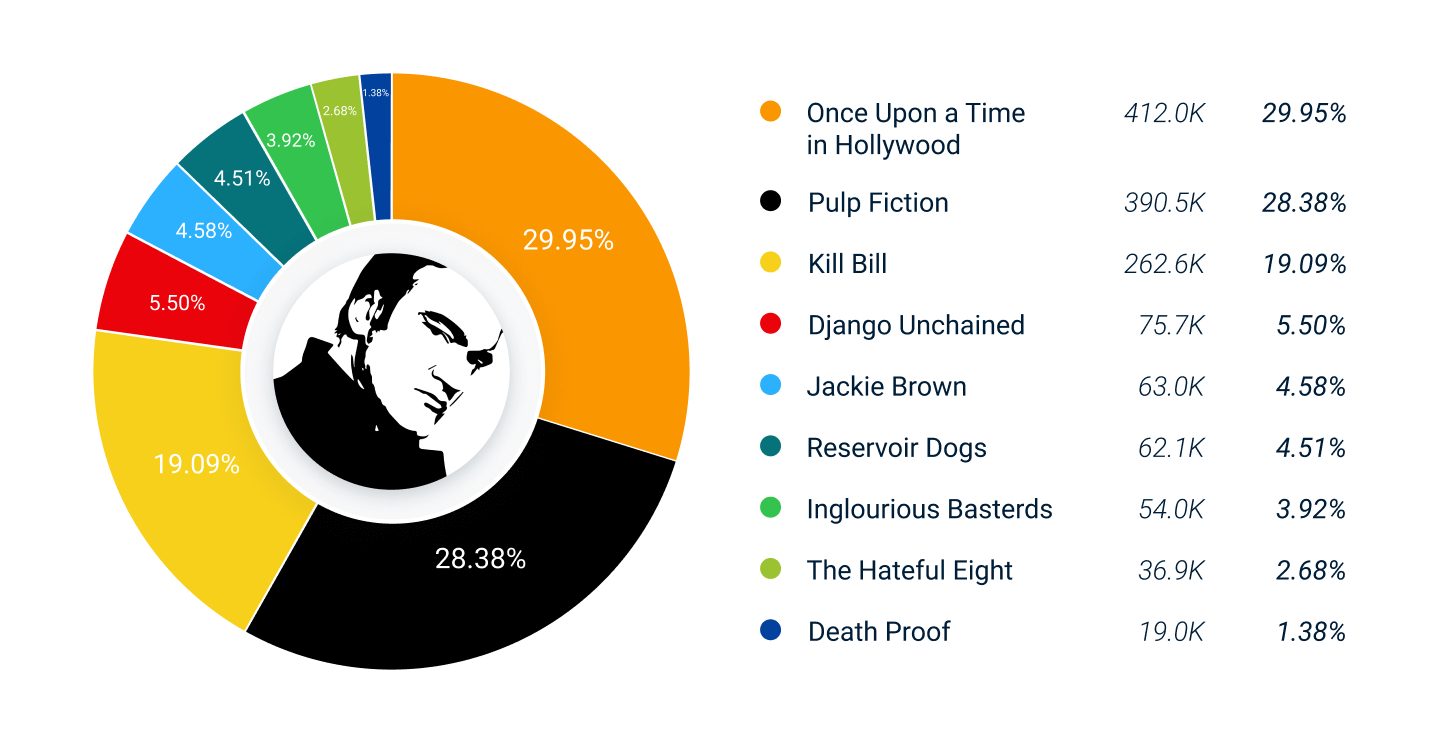 While the most recent movie being the most talked about is a predictable outcome, the lineup is not at all chronological. Once Upon a Time in Hollywood and Pulp Fiction are 25 full years apart, and yet there's not even 2 full percent in-between them in terms of share of voice, which in social media conversations is 412K vs. 390.5K.
The two volumes of Kill Bill go right after, holding a fifth of all conversations around Quentin Tarantino's films. When it comes to making waves on social media, timeless legends like Pulp Fiction and Kill Bill are just as mighty as the newest thing on the screen.
Volume 2: Reach
Second, we look at the Reach of social media conversations around each movie. Reach reflects the number of times social media users have been exposed to mentions of each Tarantino picture over the past 11 months. This metric gives us an idea of online visibility, awareness, and the impact Tarantino movies have had on social media.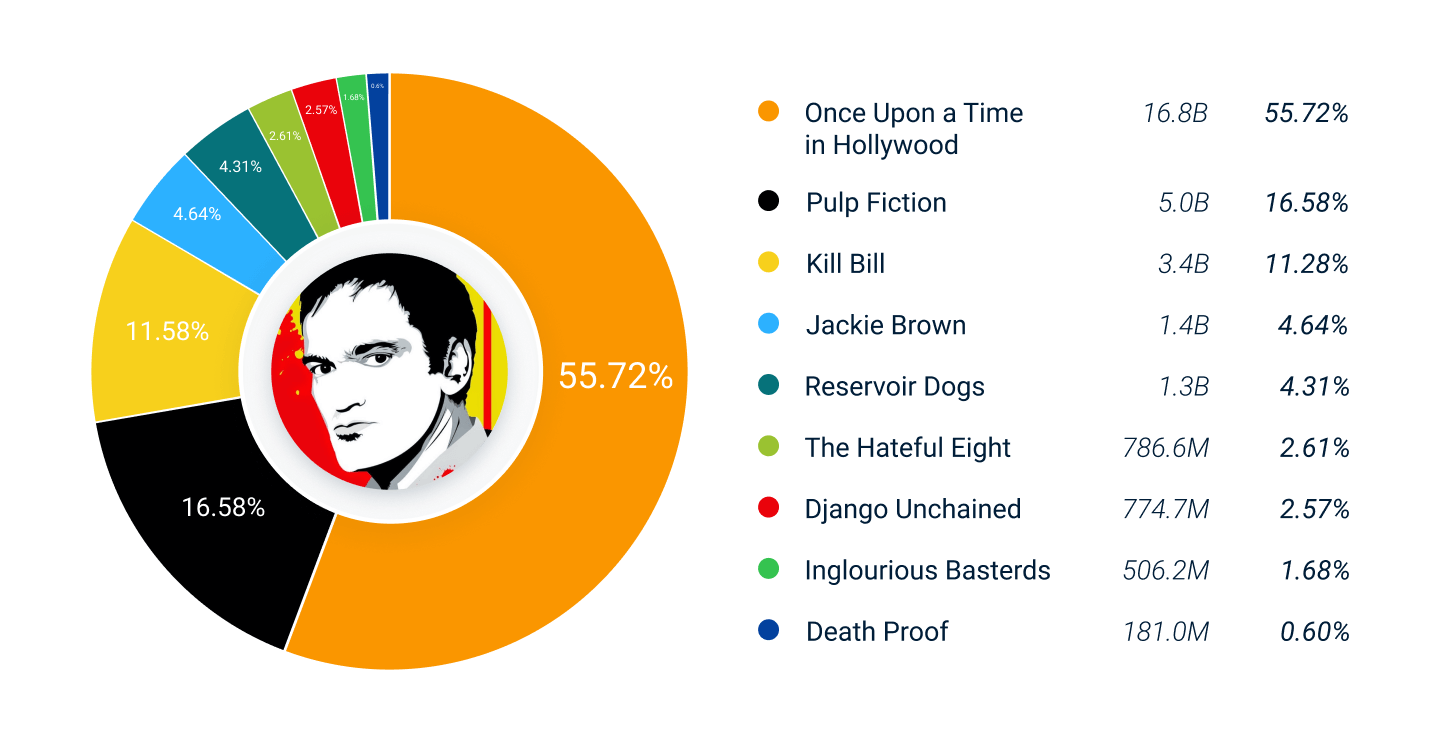 As far as online visibility is concerned, the newest addition to Quentin Tarantino's portfolio as a filmmaker claims over half of all impressions. Over the past 11 months, social media users have been exposed to mentions of Once Upon a Time in Hollywood over 16.8 billion times. For perspective, Pulp Fiction, boasting almost the same share of voice, got only 5 billion impressions.
This is not entirely uncommon in social listening analyses. When more or less the same numbers of mentions generate very different numbers of impressions, it's usually due to influential accounts behind social media conversations on either side. Accounts with larger followings generate more impressions than smaller accounts, and, by doing so, raise the reach bar.
Volume 3: Trends and key themes
We now know the top-3 films by Quentin Tarantino according to their popularity on social media.
The newest — Once Upon a Time in Hollywood.
The hippest — Pulp Fiction.
The bloodiest (and this is a high bar for Tarantino movies) — Kill Bill.
Let's take a closer look at the kind of social media buzz each of them generates. For this, we'll examine Topic clouds — keywords and phrases that appear in conversations about the 3 movies most often.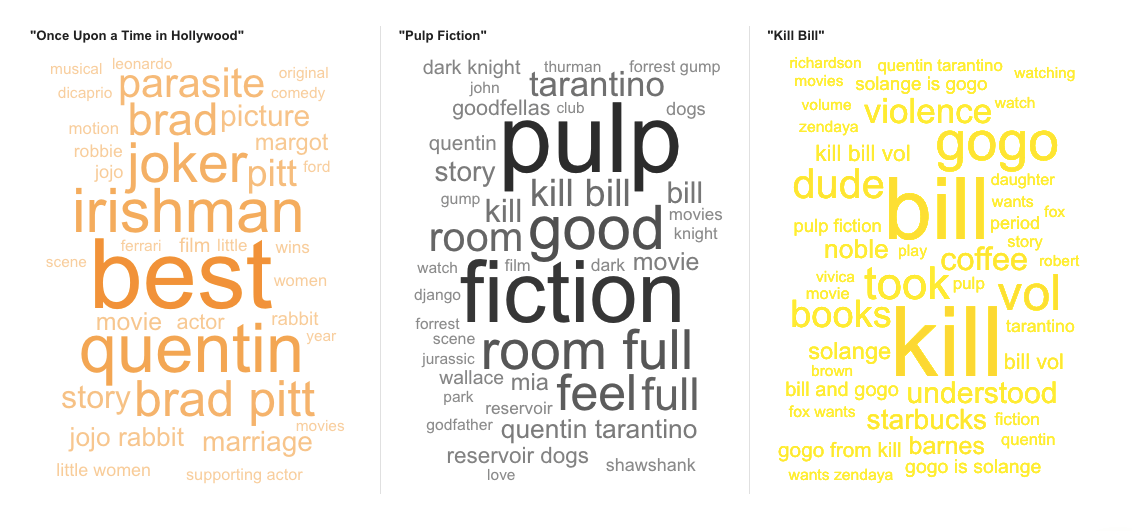 Once Upon a Time in Hollywood, being an Oscar-nominated film, got a lot of other Oscar-nominated film titles in its topic cloud. The Irishman, Joker, Parasite, Jojo Rabbit, Marriage Story, and Little Women are all featured abundantly among key topics and trends. The movie's lead actors Brad Pitt, Margot Robbie, and Leonardo DiCaprio also take their prominent places in Once Upon a Time in Hollywood's topic cloud.
Pulp Fiction, being the farthest away from the newest Tarantino movie in our top-3, also has a lot of movie titles in its topic cloud. Dark Knight, Forrest Gump, Shawshank Redemption, Jurassic Park, Godfather, and Reservoir Dogs all make an appearance as the biggest names featured alongside Pulp Fiction.
However, the absolute biggest keyword combination that has dominated social media posts featuring Pulp Fiction in the past 11 months — room full — had nothing do to with iconic movie titles.
saying "pulp fiction isn't even that good" in a room full of men just to feel something

— carmen (@joanofarcsgf) February 26, 2020
Interestingly, gender analytics supports the point. Although all 3 movies have predominantly male audiences on social media and beyond, Pulp Fiction does have the absolute smallest share of female mentioners, even if only by 0.6%.

Meanwhile, the topic cloud for both volumes of Kill Bill is a collection of keywords with no particular logic behind them. Here, we got a fan theory establishing a similarity between Gogo, a fictional character from Kill Bill, and Solange, a real-life goddess of an artist and a more talented Knowles sister.
Solange is Gogo from Kill Bill and Gogo is Solange. period. pic.twitter.com/TlrR9JbkMc

— c (@chuuzus) February 17, 2020
Then, we have a name drop from my previous analysis that came from Starbucks and Kill Bill being featured in a Twitter story for the ages.
He took me to Barnes and Noble, Starbucks and to see Kill Bill. Books, Coffee and Violence. Dude understood me from two phone calls. When we got home my Grandma told me he was my cousin. https://t.co/xBoilD2fUw

— Guns are post-birth abortifacients♑ (@ritaresarian) February 8, 2020
Lastly, we have juicy gossip of Zendaya, Hollywood's #1 It Girl, joining the cast of the much-anticipated Kill Bill: Volume 3.
"When you grow up, if you still feel raw about it, I'll be waiting."

Could Zendaya be right the Kill Bill 3 actress to play Nikkia Bell and potentially Kill Kiddo? https://t.co/dxuc5tuE9U pic.twitter.com/n9DwQUyNSh

— IGN (@IGN) July 13, 2020
Whatever you're in the mood for — industry news, fan theories, sharp commentaries, rumors — topic clouds for Once Upon a Time in Hollywood, Pulp Fiction, and Kill Bill have plenty to offer. The important thing is people keep talking, and the movies age well in social media (and other) terms.
Enjoying the post? There's more.
Sign up for our newsletter to get our best content by email.
Volume 4: Biggest influencers
You might remember from earlier in this analysis that the total reach of mentions of Once Upon a Time in Hollywood is disproportionately large for its share of voice because of how influential the mentioners' accounts are. We thought we'd take a closer look at what kinds of influential accounts have posted about Tarantino's films in the past 11 months. For this, we go to the Mentions Feed and sort social media posts by Reach.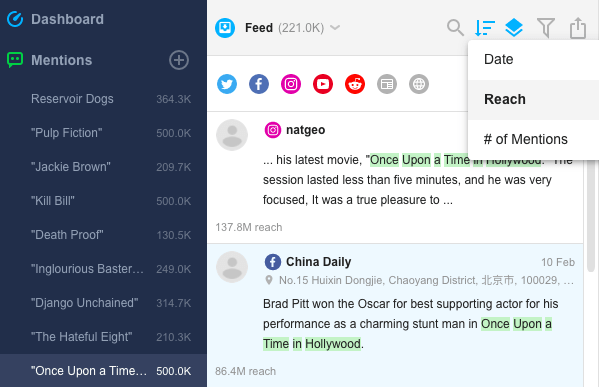 As one would expect, Once Upon a Time in Hollywood, being a recent release, received a lot of publicity from media accounts and publishers. From National Geographic to 5-Minute Crafts, the movie was mentioned by authors of every caliber, resulting in an astonishing reach of over 16.8B.
Among human influencers who've added to the total reach and visibility of Once Upon a Time in Hollywood are big industry names like Ellen DeGeneres, Ryan Seacrest, and Jamie Foxx among others. All of the top mentions had to do with the movie's multiple nominations and subsequent wins.
Pulp Fiction is a piece of film so iconic it doesn't need influencers — there, I said it. In all seriousness, mentions of Pulp Fiction, of which there have been almost as many as Once Upon a Time in Hollywood, are all-round praises and fan tributes from across social media: key publishers to dedicated admirer groups.
Cowboy Bebop via Pulp Fiction from r/alternativeart
Amid the overwhelming fan love and industry recognition, Pulp Fiction still gets an occasional online visibility boost whenever any of its lead actors are mentioned in relation to the movie. In the context of a pandemic-induced lockdown, mentions take on different forms and shapes.
Kill Bill is a similar story in terms of a total lack of need for promo ops as such: the movie has long been a self-sustaining phenomenon with an occasional promise of a sequel or a shout-out from a fan account.
Got an eye for data?
Subscribe for more Awario research, analyses, and how-tos.
Before we wrap up, there's one more thing we thought we could study with Awario. Inspired by an analysis of Google Trends data on Tarantino movies, we wanted to make a remake with more reliable social data as a basis for our analysis. What we ended up with is a map showing the distribution of mentions of top-3 Tarantino movies share-of-voice-wise across the U.S.
Since Once Upon a Time in Hollywood stole the mentions show of the past 11 months, we cut the time span down to 6 months and, by doing so, got rid of the social media outburst related to the movie's release and nominations. Here's what we ended up with.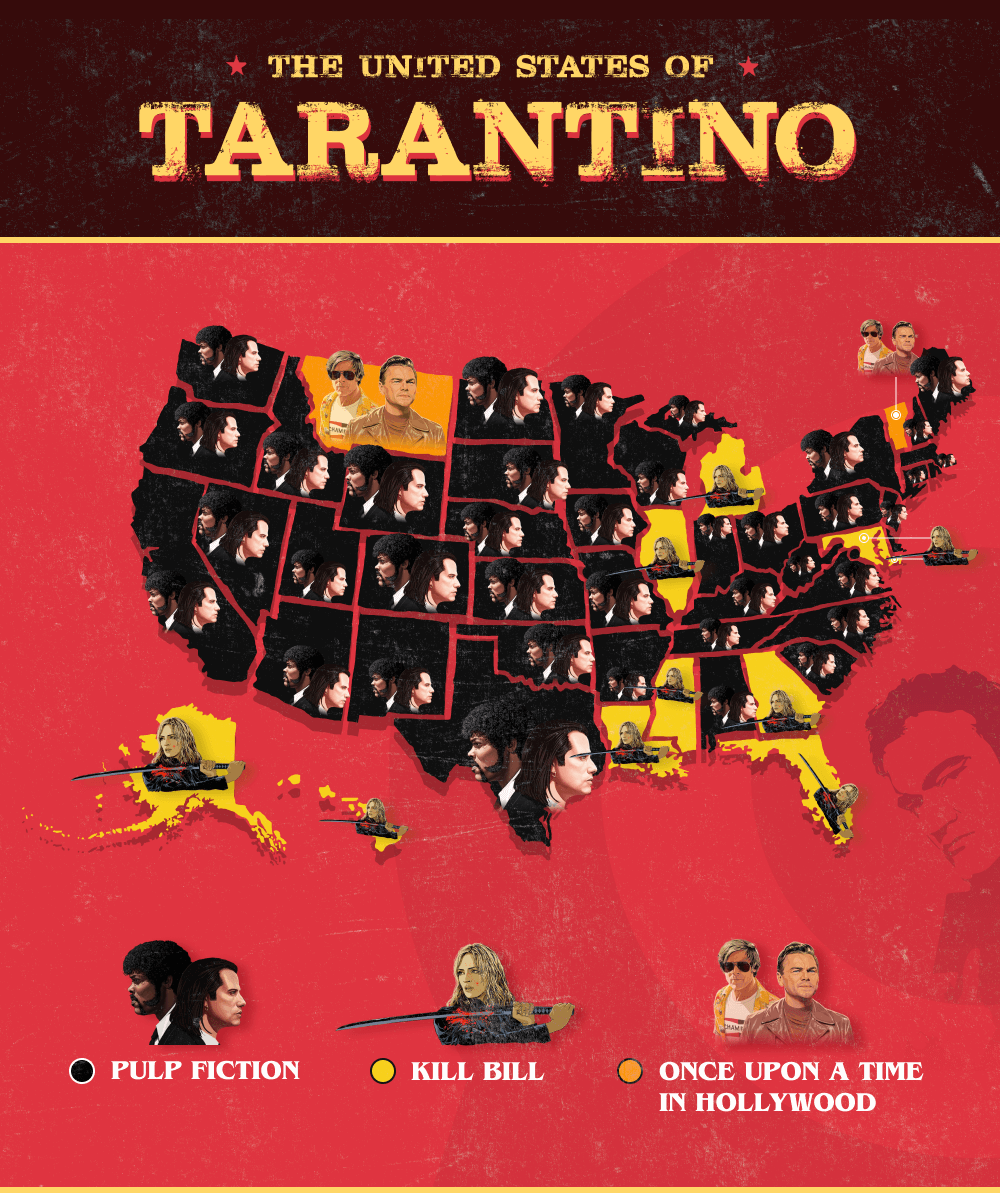 When the hype is toned down by a pandemic and whatever else 2020 shook the world with, Tarantino movie powers lie differently. Pulp Fiction turns out to be the absolute most talked about, Kill Bill is right behind, and Once Upon a Time in Hollywood is hardly in the picture! The timeless legends prove once again that there's no such thing as expiration date when it comes to (some) films by Quentin Tarantino.
It's a wrap!
We wanted to know the Internet's favorite film by Quentin Tarantino. We got as close to the answer as 24/7 monitoring of social media with a designated tool allows. What we know for sure is:
Once Upon a Time in Hollywood has generated the most social media conversations and received the highest visibility over the last 11 months, which was to be expected since the movie came out right before we started monitoring.
Pulp Fiction is the most talked-about Tarantino film in a time span detached from the release and Oscar nomination dates of Once Upon a Time in Hollywood (6 months). Within the U.S., it claimed 36 states.
Kill Bill is the second-most talked about Tarantino movie in the U.S. in the past 6 months. It won in 11 states and proudly left Once Upon a Time in Hollywood behind.
Does this leave us with more questions than we started out with? I don't think so. Some things like timeless Tarantino classics and the way they make an impact never change, not even in the face of 2020.