Top 7 Brandwatch alternatives to cover the full range of daily marketing tasks

Article summary
We've analyzed dozens of social listening and media monitoring tools and picked up seven alternatives to super popular Brandwatch. Keep reading to choose the best option for your daily marketing tasks.
According to users, any (even the flawless one) marketing tool has drawbacks, at least one.
For instance, looking through Brandwatch reviews, you can reveal that this is a multi-language tool with a lack of languages added. Additionally, it is "easy to use" yet contains features that are "a bit confusing at the beginning."
People appreciate its sentiment analysis but point out a lot of mistakes the algorithm makes.
While some are praising the easy to manage dashboard, others are dissatisfied with how hard it is to work with.
In a nutshell, it is so many marketers, and it is so many minds.
This is why the more tools you try, the more objective your opinion of each of them is.
If you want to find the best options for you, have a look at these seven social listening and media monitoring tools. Although they are not exact copies of Brandwatch (do they even exist?), the tools are packed with similar features that enable you to tackle a lot of marketing tasks.
Let's handle objections that the reviews' authors have!
"I don't want to buy a costly tool." — Grab the most affordable one instead!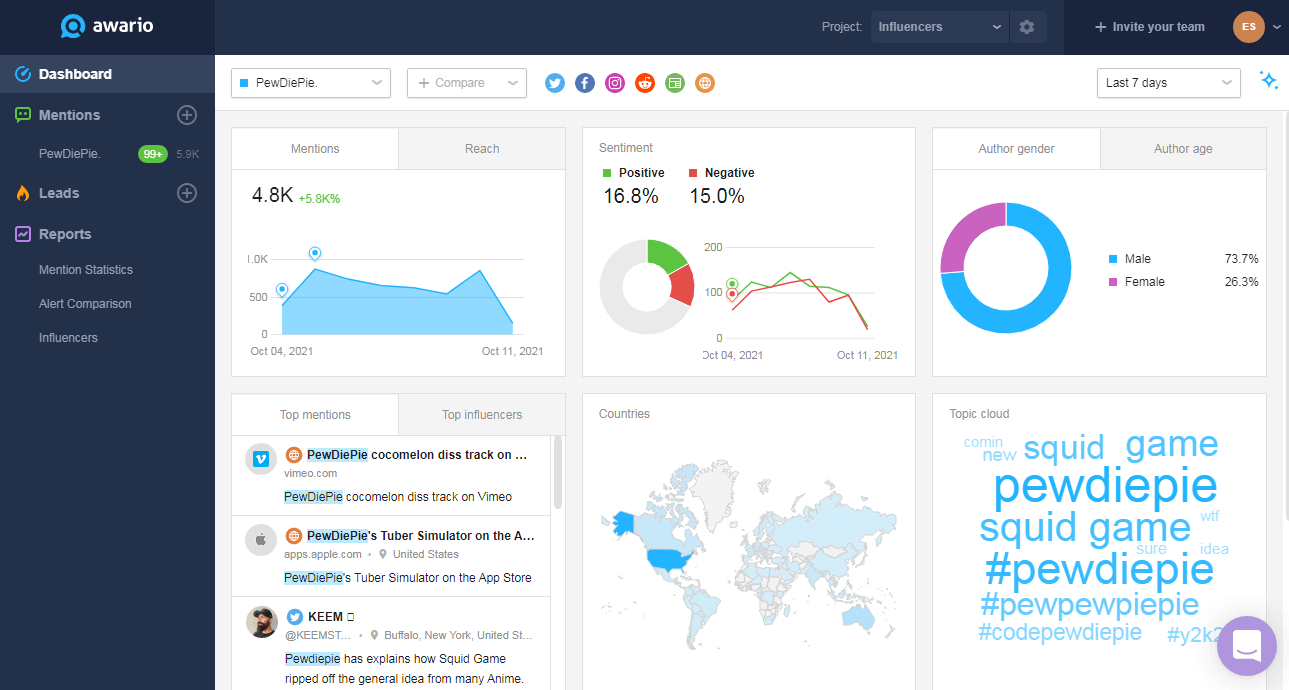 Given the high cost of Brandwatch, it might not work for small and middle-sized businesses. Awario works not only for both of these groups but also for large companies.
The tool listens from across the web to find and analyzes your brand mentions on social media networks, including Twitter, YouTube, Reddit, news sites, blogs, and forums. After it does a quick search, you will see the first results on Dashboard.
In Awario, creating a new query is kind of starting a Google search (Boolean operators for advanced search are available, too). Type in your keywords — your brand name, industry keyword, hashtag, or topic, choose location and language and wait for a couple of minutes. Also, you can expand the date range to gain more insights by analyzing historical data.
As well as Brandwatch, the tool does the sentiment analysis by estimating mentions as negative, positive, and neutral, searches for influencers, and helps you analyze your social media campaigns. You can see how many mentions your message earned, who commented on it and liked it.
Awario converts the raw data into detailed reporting with a white-label feature. So, you can prepare a neat report dedicated to a particular social platform for your boss or client.
Pricing: Awario plans start at $39/mo. Enterprise plan costs $399/mo. By buying an annual plan, you save up to 40%.
Trial: Yes, you can sign up for a 7-day free trial.
Sign up for a free Awario trial
See Awario in action with a free 7-day trial. No credit card required.
By signing up I agree to the Terms of Use and Privacy Policy
"I want more external data in one analytics platform!" — Take a look at this one that blends your data with media monitoring results.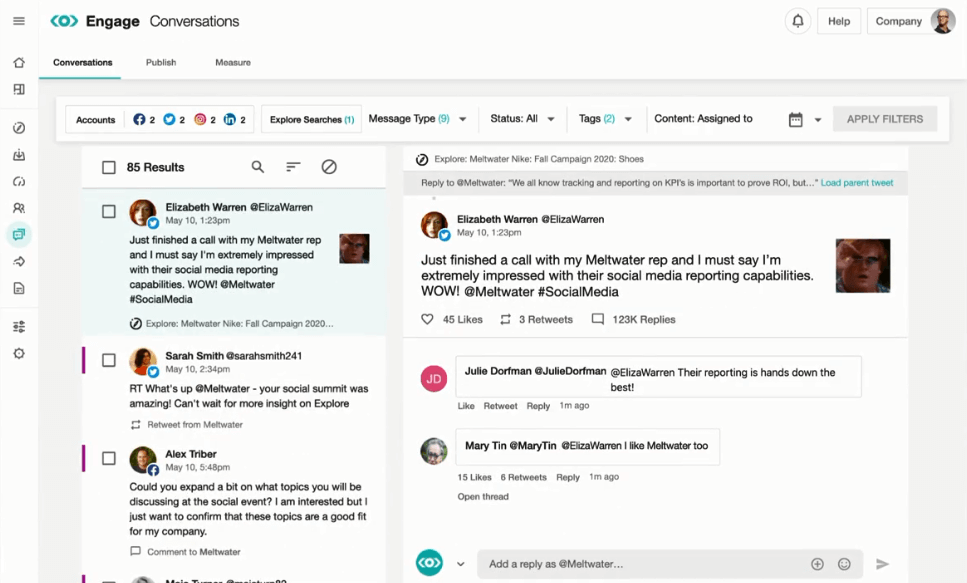 Meltwater is a multi-functional marketing intelligence platform with a lot of opportunities. It includes:
media monitoring,
social listening and publishing,
press releases distributing,
and so on.
By analyzing posts, articles, news, and other publicly available data, the tool gives you an idea if people are talking about a particular brand, product, person, or topic. Meltwater scours data feeds from dozens of sources, including Pinterest, TikTok, WeChat, podcasts platforms, and review sites.
Additionally, the tool enables you to integrate the data from across the Internet with the data from your own applications and BI systems you use. A Meltwater API can be connected to Tableau, Domo, Microsoft BI, and other popular business intelligence platforms.
The tool collects all information on the web and processes it on its own analytics platform. There are custom dashboards and automated reports that show you how your PR and marketing channels are performing. You can benchmark your results against your competitive data to have a reliable comparison of your brand with other players in your niche.
Pricing: The Meltwater yearly plan starts from $4000, according to available public data.
Trial: No.
"I want more performance metrics around my social media campaigns!" — Harness this marketing platform to measure your results and reveal trends.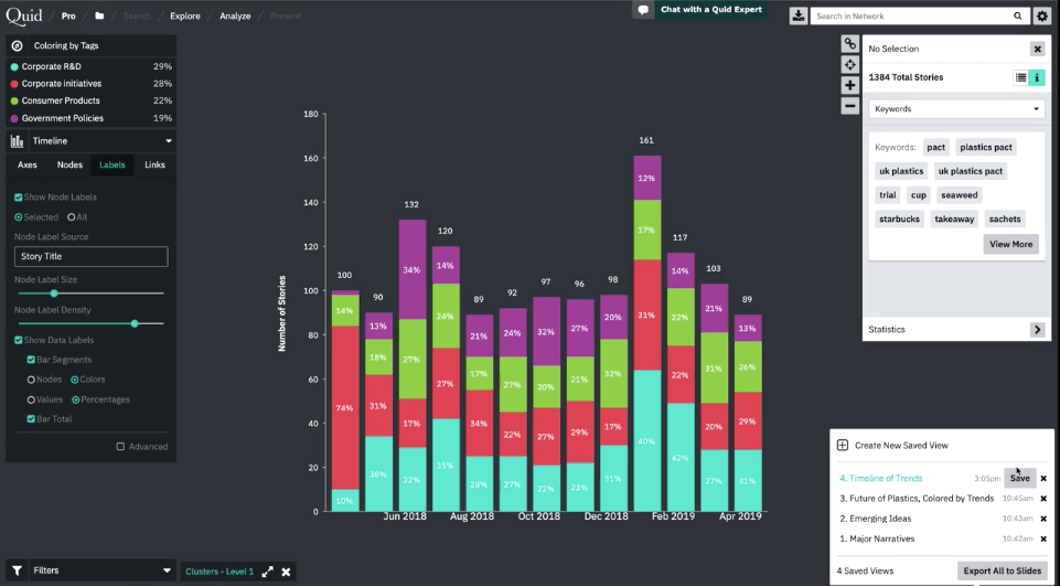 NetBase Quid is another big marketing platform that automates your daily routine. Above all, it is an intelligence tool with a lot of metrics and insights around your brand health, target audience, online activities, competitors, and industry at all.
NetBase Quid monitors your brand perception through customer conversations on social media platforms and websites. It analyzes the sentiment of your mentions and their volume in dynamics to reveal spikes and detect any changes in consumer attitude. Also, the tool shows your brand positions in the media and compares them to your competition.
Collecting and analyzing data related to your target audience helps you create a deeper understanding of your customers and plan your future social campaigns. NetBase Quid provides you with social analytics insights that point out the best platforms for delivering your message, the time for its publication when your audience is engaged most, the best influencers who can increase its reach.
NetBase Quid turns all the information into graphs, diagrams, and reports. You can use this data set to anticipate trends, add hot topics to your content plan, and improve your digital marketing strategy.
Considering its strong customer behavior analytics and trends revealing features, it is cost-effective to use NetBase Quid as an enterprise-level marketing automation platform, not just as a media monitoring tool.
Pricing: You can get actual pricing by contacting the NetBase Quid support team.
Trial: No.
Your mentions are almost here!
Fire up brand monitoring and see Awario fetch social data in real-time.
By signing up I agree to the Terms of Use and Privacy Policy
"I want an easier interface to work with." — Try out this tool with a simple design.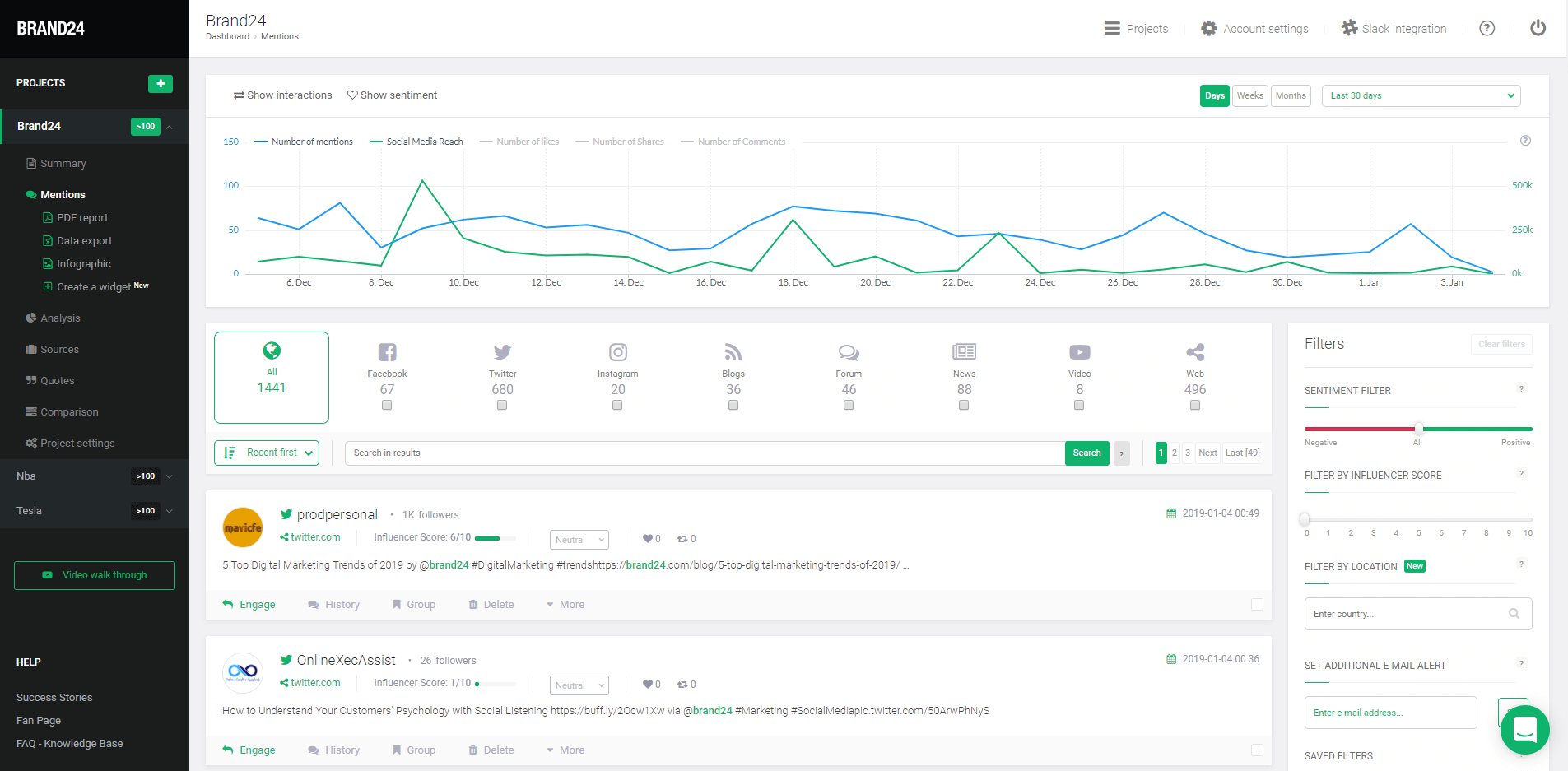 People who are impressed by the simplicity of software solutions will appreciate Brand24. This tool just analyzes data on social channels such as Facebook, Twitter, and Instagram, forums, and news sites to detect your brand mentions.
Brand24 has the same features Brandwatch provides: the sentiment analysis and other mention analytics, instant notifications for negative mentions, influencer research, competitor analysis, and reporting. You can find out what people are thinking of your products and engage in online discussions to respond to your brand advocates, competitors, or haters.
All your mentions are presented on an interactive dashboard. You can adjust the date range to reveal recent or historical data, filter mentions by social sources, separate videos and photos. Also, you can use the mention feed to work with information. There are no game-changing metrics or visualization in the interface, the must-have data only.
As with other similar tools, you can generate custom reports with Brand24. The data gathered can be turned into PDF documents, Xls files, or infographics.
Pricing: The cheapest plan costs $49/mo. The maximum one will cost you $299/mo. Yearly plans save you two months.
Trial: Yes, Brand24 is available for free for 14 days.
"I want more custom reports and social analytics!" — This tool will help you compile data and generate detailed reporting automatically.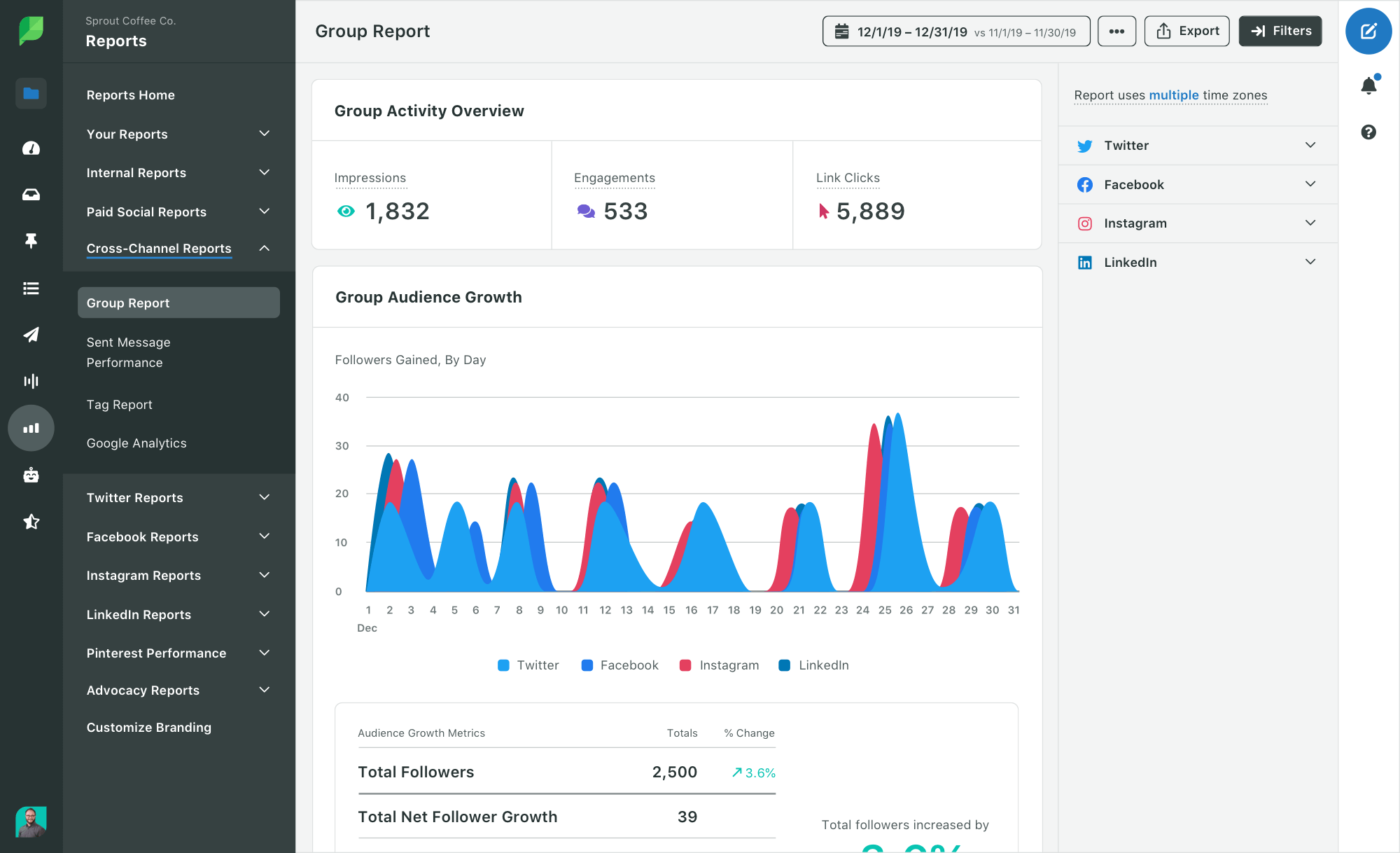 Sprout Social is a social listening tool with strong analytics features. You can measure your content performance on Facebook, Twitter, Instagram, LinkedIn, and Pinterest, getting valuable insights about your company, customers, competitors, and niche. The tool shows your Share of voice, audience demographics, detects sources that drive more traffic to your webpage, measures top-performing posts, hashtags, and tweets, following growth and conversions.
Easy-to-understand onboarding enables you to do a thorough analysis on the first day of work with the tool. Sprout Social's customizable reporting options save your time. You can analyze recent or historical data, compare your results on social media to your competitors, and generate profile performance reports that reveal your impressions, engagements, and clicks.
Report Builder that is available for premium users streamlines your work with reporting. With this feature, you can create custom reports with the most valued social data and interactive graphs and charts. Hundreds of additional metrics simplify your ROI calculation and gain you more insights.
Pricing: The standard plan is $89/mo. The advanced option costs $249/mo. Both prices are billed annually.
Trial: Yes, you can start with a 30-day free trial.
"I need a mobile version to manage social media networks on-the-go!" — Download your app for Android or iOS to start!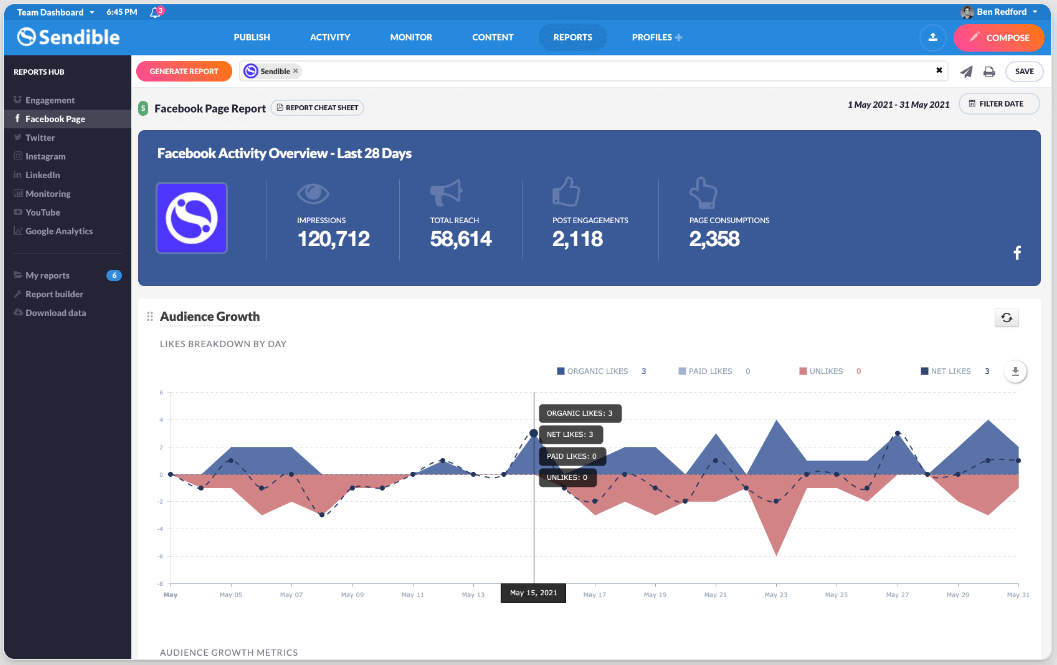 Super active social media managers and marketers will definitely appreciate Sendible. This is a social media monitoring and publishing tool to keep all social activities around your brand on an eye. With Sendible, you can monitor your brand reputation checking your sentiment rate, schedule your posts and campaigns on different platforms at once, create a publishing calendar and share it with your team or clients.
Sendible provides social analytics as well. Social reporting shows engagement and audience behavior metrics, the sentiment of your brand mentions in comments and posts. Also, you can see how your following is growing on YouTube, Twitter, Facebook, and LinkedIn.
The key feature of Sendible is a mobile application for Android and iOS users. With the app, the most of features are available for you, including responding to comments and DMs, composing and publishing posts, notifications receiving and new mentions checking, key social metrics tracking, and so on.
Sendible is ideal for content and marketing agencies, however, brands with a big social presence will like it, too.
Pricing: Sendible's starter plan is $29/mo. The expansion one is available for $399/mo. Yearly plans save you 15% of the price.
Trial: Yes, you can test the tool for free within 14 days.
Enjoying the post? There's more.
Sign up for our newsletter to get our best content by email.
"I need a tool integrated with my CRM!" — Try out this one that knows a lot about your customers.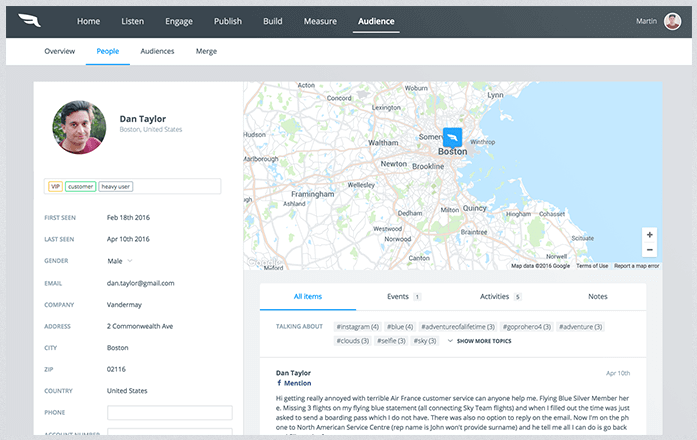 Falcon is another platform packed with all essentials for social media management. As a quick point, its social listening feature is powered by Brandwatch. It means both of the tools analyze what the world is talking about your company, products, or services, discover social trends such as new viral hashtags and most discussed topics, detect your brand sentiment, and the like.
However, Falcon went on and provided profile cards with the data about every person who has ever interacted with your brand online. Each card contains public information such as a name, a social handle of a person, location, gender, email. All new interaction is automatically added to a card. Also, you can enrich it with the data from your CRM.
Additionally, Falcon has features for creating, scheduling, and publishing social media content. With the tool, you can target and launch automated ad campaigns. Of course, engaging with the audience by responding to comments and reaching out to influencers is also available for you.
Performance metrics are collected on real-time dashboards. Falcon gathers the data from hundreds of channels and converts it into clear reports with charts and graphs. You can customize your dashboards using templates with various widgets. Scheduled automatic reports sent to emails of your choice save your time.
Pricing: The tool costs from $108 per month. To learn more about Falcon plans, you need to contact their support team.
Trial: Yes, Falcon has a 14-day free trial.
Wrapping up
Looking for your dream marketing tool, do not feel you are out of luck. Yes, it is really hard to find the best option for you in a day. Your choice often depends on what you are going to do with a tool. To understand it, start with a simple one. Signing up for a free trial will show you more.