Biden's and Trump's election campaigns: a social media analysis

The 2020 election cycle is coming to an end: on Tuesday Americans will cast their votes (if they haven't already done it by mail). 2020 in itself was quite unpredictable. One thing for certain is that social media played a major role in the elections this year.
The global pandemic pushed more and more of our activities to the online realm, and presidential election campaigns were not an exception. The coronavirus pandemic has forced candidates off the campaign trail and turned the 2020 presidential race into a social media one. All the canvassing and rallying had to be moved to social media, candidates' websites, and apps. The team who tackled this task better has a bigger chance of winning. We've already tried to predict the winner based on social listening data, but we haven't done a proper social media strategy examination.
We at Awario love a good social media marketing analysis: we wrote about the best social media campaigns and the most controversial social media campaigns multiple times. Both Biden and Trump put a lot of effort into winning over their respective opponent. Social media marketers could learn a lot from these two, especially, how to adapt your digital marketing to such a formidable change as a global pandemic.
We analyzed the social media strategies of Joe Biden and Donald Trump and derived valuable tips that can be applied to any social media marketing campaign. We broke down how the candidates used their own social media channels, influencers, advertising and other social media marketing channels to convince people to tick off their names in the ballot. Whether you're a social media manager in a small digital agency or a man who is going to represent one of the most powerful countries in the world, these tips will be extremely helpful.
Enjoying the post? There's more.
Sign up for our newsletter to get our best content by email.
Obviously, the main goal of both candidates is the same — to convince more people to vote for them. However, the conditions with which Biden and Trump started their social media campaigns are rather different. You'll see that while they sometimes used similar tactics at first glance, the two campaigns differ in messaging, how they were conveyed, and what channels were used. Both campaigns are also invaluable learning sources for social media marketers!
So without further ado, let's start with the Democratic candidate Joe Biden.
Joe Biden: social media campaign analysis
Main hashtags: #voteforBiden #voteblue #biden2020 #teamJoe #BidenHarris #2020Victory #votebluenomatterwho #settleforbiden
Social media mentions: 2.2 million since June 1 (according to Awario).
Sign up for a free Awario trial
See Awario in action with a free 7-day trial. No credit card required.
By signing up I agree to the Terms of Use and Privacy Policy
When doing competitor analysis on social media, the first and most obvious thing to do is to compare the number of followers. If we compare Joe Biden's initial reach with Trump, it was much smaller.
Trump had more than 30 million followers on Facebook and 85 million on Twitter, while Biden had just under 3 million on Facebook and just over 9 million on Twitter. As you see, the challenge posed to Biden was to grow his audience and at the same time reach as many people as he could without an existent social media following.
"Vice President Biden and Trump have very different challenges right now. Trump needs to hold his base ... and Vice President Biden needs to define and in a lot of ways introduce himself to you new voters, and potential supporters."
Just as everyone else, Biden had to adjust his strategy to the new COVID-19 reality. Hundreds of Biden volunteers participated in a training program focused on digital organizing and creating online content that bolsters Biden's message. Ryan Wright, a Biden volunteer in northwest Ohio, participated in the training and said the campaign was focused on converting the foot soldiers who would normally be phone-banking and knocking on doors into digital organizers who can make contacts with people in their neighborhoods and communities.
The message the campaign staff decided to focus on was the one of love and positivity. Here's an example of one of the videos made for social media that highlight Biden's positive qualities, whereas Trump's videos mainly focus on the disadvantages of his opponents.
Main channels
Twitter, Instagram, Facebook, TikTok, YouTube, Cameo, online games, Reddit.
Given his relatively small pool of followers, Biden had to use all the channels available to him to quickly spread his message. In addition to using his own social media platforms, his team decided to focus heavily on influencers.
Lis Smith, the social media strategist, wrote that Biden must be "digitally omnipresent" -- with Biden supporters and celebrities blanketing local media and social networks. That, Smith wrote, would allow Biden -- whose own social media channels feature relatively small followings -- to reach broader audiences via more popular channels. "He can appeal to very different fan bases; celebrity supporters like them can bring the campaign's message to nontraditional and nonpolitical outlets that might otherwise be disinclined to get into the weeds of an election -- sports-talk radio, Top 40 stations, and gossip sites," Smith wrote.
Biden's outreach goes beyond mainstream apps as well. In September, the campaign debuted Biden-Harris campaign signs in Animal Crossing, the video game that became wildly popular on social media at the start of the pandemic. Some celebrities, like Andy Cohen and Dulé Hill, are fundraising for the campaign on Cameo, the video app, which allows users to post fan-requested video messages in exchange for donations.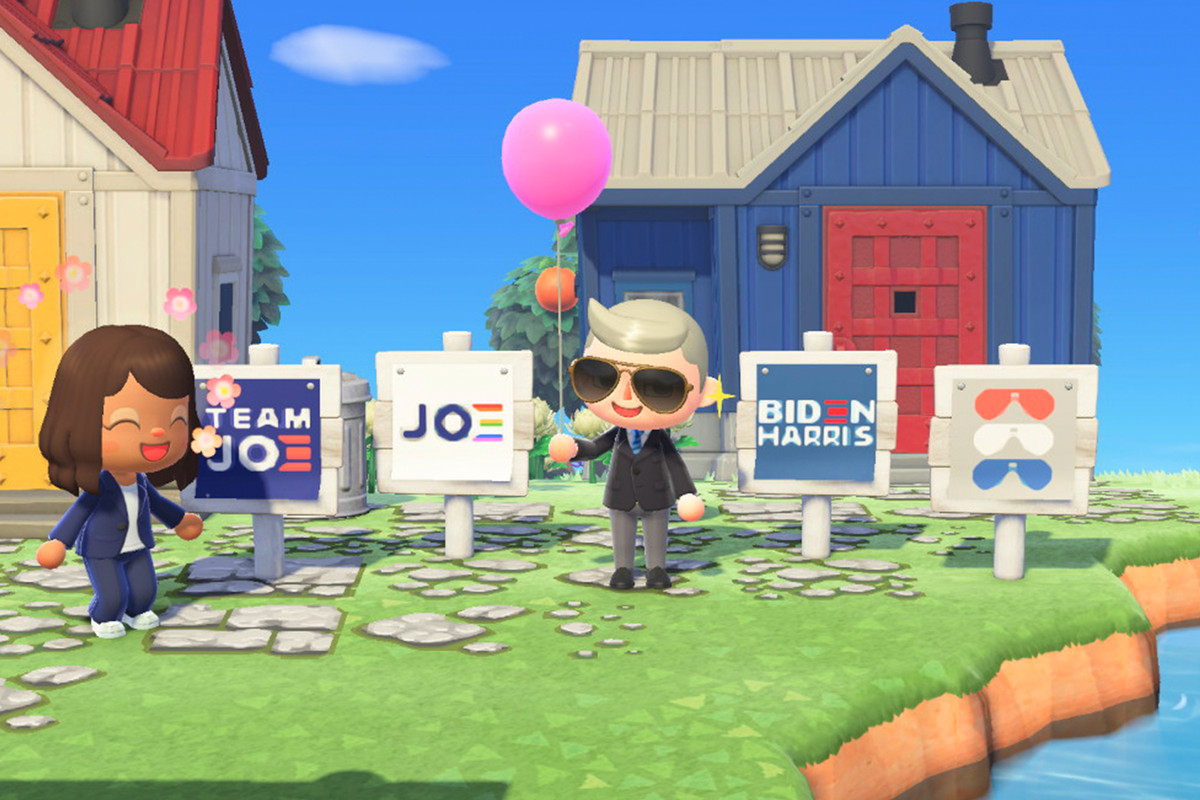 Takeaway lesson:
Find what makes you different and make it your brand. Biden didn't try to take Trump's smear tactics but instead turned his campaign in a completely different direction.

Use every channel that is available to you, but don't forget about the specifics of their respective audience. Messages transferred on Facebook and in Animal Crossing are not the same since the audience is different.
Influencers
Thus, one of the main channels the campaign used to reach voters were influencers of different size: from real-life celebrities to nano-influencers. "We're bringing their fan base into the campaign," explains Adrienne Elrod, Biden's digital strategist. "And that is really allowing us to be more specific and more targeted in our approach and in our reach."
According to researchers from the University of Texas, nano-influencers are people who might have just a few thousand followers but speak to a very specific community, for example, an animal rights activist or a mommy blogger.
The influencers who collaborated on the campaign could be divided into several categories:
Celebrities (Ariana Grande, Dwayne the Rock Johnson, and so on)
Internet macro-influencers with several hundred million followers, most of them are lifestyle bloggers or content producers.
Micro- and nano-influencers speaking to a specific community.
Big left-wing meme pages.
One of the formats Biden's team developed allows influencers' followers to learn more about the candidate: He sits at home in a casual milieu, while the influencer asks him open-ended questions that allow Biden to talk off the cuff about any given topic. These interviews are often streamed on Instagram Live, but they also pop up on Facebook and YouTube. While they are not quite advertisements or endorsement videos, they're not journalism, either. The goal appears to be as simple as engaging with influencers, people who have credibility with particular audiences, and getting those influencers' audiences thinking about Biden.
As for popular meme pages, Occupy Democrats became an alternative to the right-wing social media ecosystem that ardently promotes Trump. In the past three months, Biden's official campaign page has gotten about 8.5 million interactions (reactions, shares, and comments) on posts mentioning Trump, according to data from the Facebook-owned tool CrowdTangle. In comparison, Occupy Democrats has gotten almost 90 million interactions on posts mentioning Trump. The page is not directly managed by Biden's team, but, in the words of the page's founder Rafael Rivero, he's "plugged in" with the Biden campaign.
Takeaway lessons:
If your own social media channels are relatively small, you can turn to influencers to expand your outreach.
Influencers come in different sizes and forms: depending on your target audience you may work with nano-influencers who will be much more effective than Internet celebrities and save your budget.
Advertising
The Democratic candidate's team spent about $60 million on digital ads, including about $9 million on Facebook ads.

Biden's ads, just like his organic social media posts, mostly focus on his program showing him in a positive light and sharing personal experience. For example, in this ad campaign centered around healthcare, Biden talks about the car accident that took the lives of his wife and daughter and left his two sons injured. He emphasizes how the existing healthcare system helped his sons.
On Facebook, the candidate is targeting older people, which is a smart move: the elderly are more likely to vote, but also the younger audience neglects Facebook in favour of other platforms.
The leader of the Democrats has a clear strategy in place: Target older people, those aged 45 and above. According to Bully Pulpit Interactive, the Democratic communications firm, roughly half of their audience has been in the 45–64 age range. An estimated 32.7% has reached users aged 65 and up. His opponent is producing similar results. Another notable difference is that Biden's campaign targets women at roughly 3 to 2 – for every $2 they spend on men, they spend $3 on women. Biden's spending reflects the Democratic Party's gender dynamics. Women are more likely to identify as Democrat than Republican.
Nearly all of Trump's and Biden's campaigns' online advertising involves some sort of call to action, urging the ad's viewers to do something – such as give money, sign a petition, answer a poll, sign up to get emails, or watch the latest video ad. Between June 1 and September 13 Biden's calls to action cost $25.2 million, or 67% of his online ad spending.
Overall, Biden's campaign used demographic and geographic data to make sure they reach voters with specific messages catered to their demographic group.
Takeaway lessons:
Know your audience and the platforms' audiences. It doesn't make sense to use Facebook to reach Zoomers with your ads because they simply don't use it anymore. Use the plethora of targeting options social media provide to deliver specific ads to specific audiences.

Don't forget about CTA! Your ads should encourage people to take action, go to your website, make a purchase, or register to vote.
Donald Trump: social media campaign analysis
Main hashtags: #trump2020 #voterepublican #maga #kag #maga2020 #kaga2020
Social media mentions: 5.2 million since June 1 (according to Awario).
If this election cycle was a running competition, Trump would probably be starting about 200 meters ahead of Joe Biden. You've already caught the mention of a vast network of right-wing personalities, accounts, and channels built on social media in this blog post. This network is Donald Trump's main bargaining chip in his social media campaign, but it's not the only one.
In addition to that, Trump's digital team boasts more than 100 staffers and has been active since 2016, raising funds, engaging with their supporters, and overall excelling in social media. Moreover, social media platforms work to Trump's advantage: the algorithms give preference to sensational posts that evoke a lot of emotions, and a lot of right-wing content matches this description perfectly.
On an average day, President Donald Trump sends about 14 posts to the 28 million Facebook followers of his campaign account. His Democratic rival, Joe Biden, delivers about half that many posts to an audience of just 2 million. The president has spent years cultivating a digital "army" of meme makers and political influencers who retweet campaign messages hundreds of times daily.
Main channels
Twitter, Instagram, Facebook, TikTok, YouTube, Cameo, online games, Reddit, Official Trump 2020 App, Twitch.
This would mean that the president has this social media election campaign in a bag, but there are some caveats. Perhaps, the main obstacle to social media success is the social media platforms themselves. Donald Trump loves Twitter, but the feeling is not really mutual — his tweets are regularly marked as misinformation or hateful content by Twitter's safety and fact-checking departments. The same goes for Facebook and Instagram, although the president uses them much more sparingly.
This was one of the reasons why Trump's team decided to concentrate on their own app that aggregates all the social media content, website, and video in one place. The app is social in nature — it's not just a feed with content. You can find and connect to other Trump supporters on there.
The app is integrated with social media and gamified: you get points for sharing and engaging with Trump's social media posts. You can later exchange these points for campaign merch or even a photo with the president, but we all know that gamification works even when there's no valuable prize to win.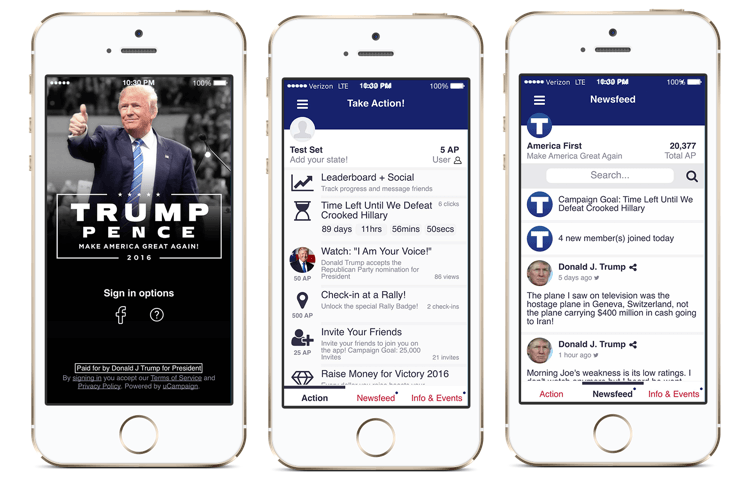 One of the journalists investigating pro-Trump Facebook pointed out how closed from the other sources this network is. With the app, the team is trying to create a whole different world, concentrating everything politics-related in one place managed by Trump's digital team.
Takeaway lessons:
Create your own social media community. Ideally, your followers should feel like they are in a like-minded community when they join your Facebook group or go to your Instagram profile.
Gamify your social media! Of course, not all brands have the resources to create a stand-alone app to consolidate all our customers, but you can host social media contests from time to time as an alternative.
Influencers
Donald Trump didn't have to develop a brand new influencer marketing strategy for this campaign since he already had a pool of notable right-wing personalities amplifying his messages. Additionally, Trump is a macro-influencer in his own right: his posts are seen by millions of people. However, he did take some efforts to reach new audience.
The focal point of Trump's social media campaign is Team Trump Online! which is a nightly live broadcast streamed on Facebook, Twitter, Instagram, and Twitch. The president himself is a rare host of the stream, instead, it's usually hosted by a plethora of influencers and politicians including Trump's daughter-in-law Lara, Mile Pence, Ben Shapiro, and others.
Trump is actively encouraging his network of influencers to create more content, and I'm not just talking about big names. He frequently retweets meme accounts and smaller influencers to boost their posts. The president's steady retweets of everyday users helps fans feel connected to him, says Logan Cook, a Kansas internet meme maker whose work Trump has regularly promoted on his social media accounts. "President Trump's team, they're blending in with social media culture," said Cook.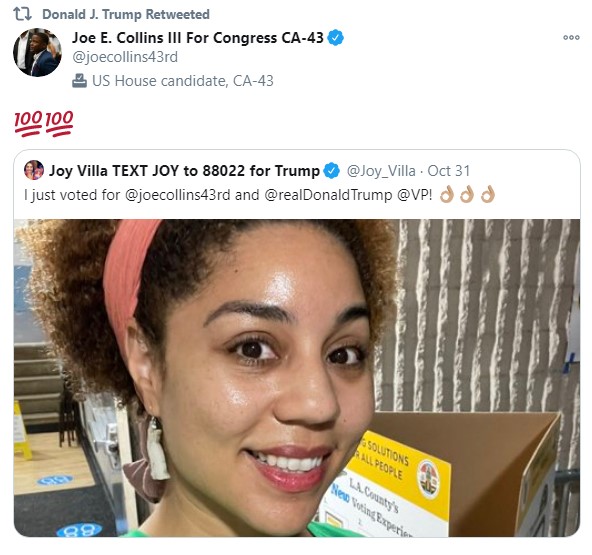 Besides, Trump is actively using platforms popular with younger audiences such as TikTok where you can find "hype houses" that unite several major TikTok influencers: the Conservative Hype House has 1.5 million followers and the Republican Hype House has nearly 900,000.
Overall, Donald Trump's influencer strategy relies on this above-mentioned network of influential conservatives but also amplified the voices of smaller social media users who create pro-Trump content.
Takeaway lessons:
Building relationships with social media influencers requires time. To create as powerful of a network as Trump's you need to contribute a lot of time to influencer marketing.
Engage with your audience. As you see, Trump's followers do appreciate how much he engages with his supporters. Even when you're not trying to win a presidential race, engaging with your audience gives you many brownie points.
Advertising

Here's official data from Facebook's Ad Library on how much he spent on advertising.
While Democrats decided to promote a positive message centered around their candidate, Trump's team used a lot of negative and fear-based tactics in their ads and organic posts. An analysis of the content and targeting of Trump presidential campaign ads by Bully Pulpit Interactive, a Democratic digital campaigning firm that has built an interactive tool to compare spending across campaigns, found that more than half (54%) of Trump's ads have mentioned immigration issues and nearly half (44%) are targeting voters over the age of 65.
The ads convey a sense of urgency. We can highlight some notable features:
Each ad had several versions. Overall, there were more than 200 variations of one of the ads with minor changes targeted at different groups running on Facebook.
Trump's team targeted older Facebook users. As I mentioned above, both candidates are skewing older when it comes to Facebook ads.
What's also interesting, is that the ads were launched a year ago, preparing social media users even before Trump's candidacy was announced.
In general, such features reveal more about what topics and communication styles resonate with Trump voters on Facebook.
Takeaway lessons:
Sometimes appealing to fear pays off. If you're convinced that your audience is more likely to react to a negative message than a positive one, design your ads accordingly.
Micro-targeting is credited for winning Trump elections in 2016, and his digital team is still using this tool. Altered versions of your ads catered to different buyer personas can bring you more conversions.
---
In conclusion
The digital teams of the two presidential candidates designed vastly different campaigns, even though they sometimes used similar methods such as influencer marketing and micro-targeting. For all we know, these elections will show which social media strategy turned out to be more effective. So here's one more reason to anticipate the results for social media strategists!
Sign up for a free Awario trial
See Awario in action with a free 7-day trial. No credit card required.
By signing up I agree to the Terms of Use and Privacy Policy