Eurovision 2021: 6 social media marketing tips for any brand

Article summary
In this article, we go through all the social media strategies Eurovision 2021 used to raise awareness and reach new audiences. We uncover what marketing lessons can we take from Eurovision and how to apply them to your brand's social media.
The Eurovision song contest is a golden standard of excellent event planning and marketing.
It has managed to keep the attention of the audience since 1956! And it grows bigger and bigger every year. Netflix even released a full-feature film dedicated to Eurovision last year when it was canceled due to the pandemic.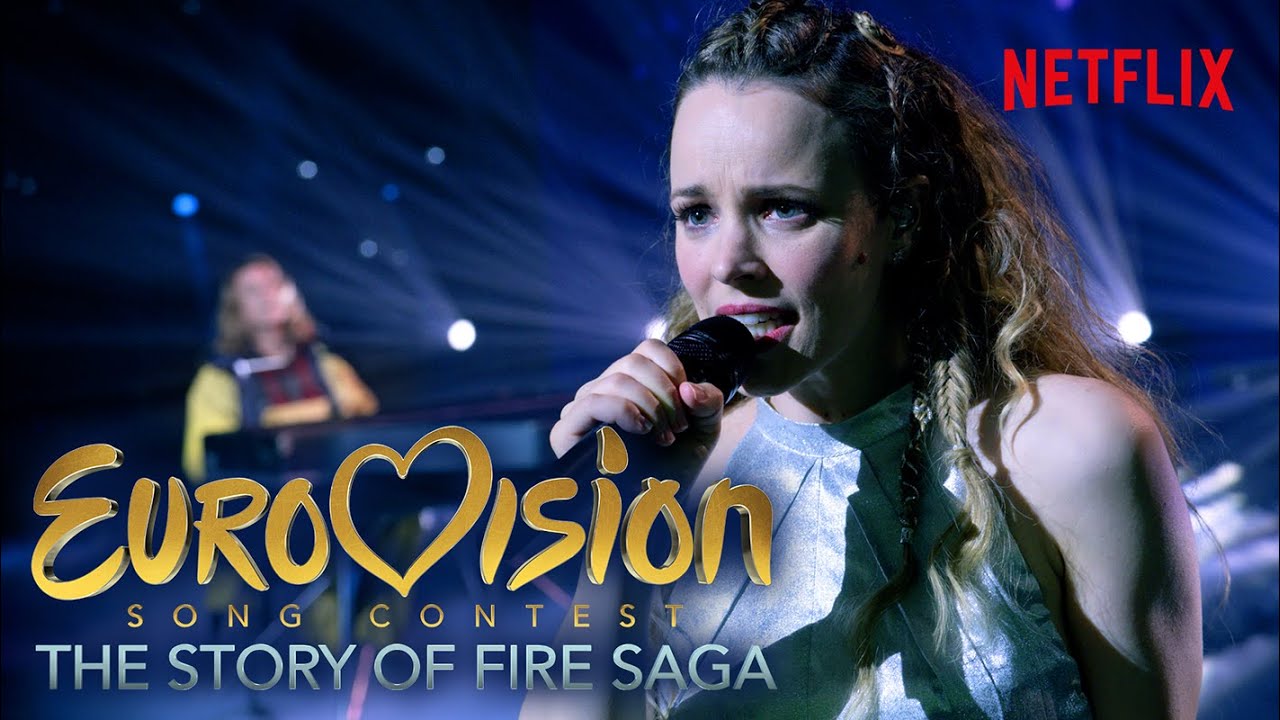 So, what's the secret of this popularity?
Well, there are a lot of components that make Eurovision exciting. For one thing, it's a contest so there's natural suspense. Besides, every European and Australian can vote and influence the results, so people feel extremely involved in the event.
However, it's not just the song contest itself. The Eurovision team is very savvy when it comes to marketing: they know how to build excitement and apprehension among different target groups and glue them to the screens during the Eurovision week.
In big part, the credit goes to Eurovision's social media marketing efforts: the team heavily uses social media to promote the contest. Sine we are huge Eurovision fans, we've decided to look into what marketing tactics they use to find tips and hacks for your own social media marketing strategy.
But before we dive into the exact tactics, let's figure out who is watching Eurovision.
Eurovision 2021: target audience analysis
With the help of Awario social media monitoring tool, we are able to see who talks about Eurovision online, i.e. who are its most active fans.
Sign up for a free Awario trial
See Awario in action with a free 7-day trial. No credit card required.
By signing up I agree to the Terms of Use and Privacy Policy
In May, Eurovision 2021 was mentioned more than 147 thousand times.

The gender breakdown of the Eurovision fans is almost even with a slightly bigger number of men talking about Eurovision.

The most active age group is people from 25 to 34, however, people aged 35-44 are also engaged Eurovision fans. This proves that Eurovision manages to reach different audiences, some that have been with the contest for a while, and some new fans.

Since Eurovision is an international song contest, it is obvious people from all over the world would be talking about it. What was not so obvious is that Americans generate a lot of these conversations: even though their country doesn't participate in the contest, they are still watching the show.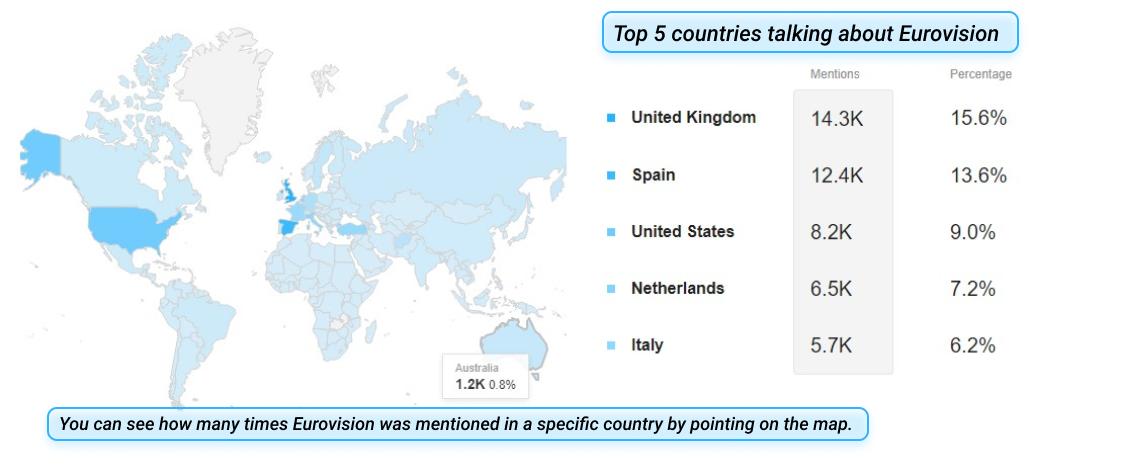 So what conclusions can we draw from these social listening insights?
Eurovision is extremely popular around the whole world, including countries which are not technically involved in the contest. It appeals to young audiences.
Given the age of Eurovision's fans, it's only natural that the contest's marketing team actively works with social media. Let's see what marketing tactics we used this year before, during, and after the Eurovision Song Contest.
Eurovision Song Contest 2021: marketing tips
Since it was the first international event of this scale since 2019, Eurovision 2021 felt even more special. For many artists, it's the first time they were able to perform in more than a year! It's as much a celebration of international connections and returning to the normal world as a celebration of music.
The marketing messaging around Eurovision 2021 reflects that.
The official hashtag this year was #OpenUp, reminding us of the open world we are planning to return to. All the messaging tells us to unite and celebrate different cultures that are finally able to meet after the lockdown. This message is conveyed in the social media content.
After the analysis of Eurovision's 2021 social media marketing, we have pinpointed six major tactics and lessons you can replicate in your own strategy. Here they are!
1. Heavy focus on video marketing on social media
It's only natural that the glitz and glamour of Eurovision are best conveyed through video. After all, Eurovision is a singing and performing contest, and performances are best represented by video.
Eurovision used different video marketing formats across its platforms:
Livestreams (both of the contest itself and of interviews and performances during the Eurovision week)

Interviews

Short videos for Instagram Reels and TikToks

Stories

Challenges for the contestants and the audience

Video compilations
They also introduced a video challenge aimed at creating user-generated content. Eurovision's followers were offered to lipsync and dance to their favorite Eurovision song and then post the video with the hashtag #EurovisionChallenge for a prize.
The artists also challenged the audience to sing with them or lipsync to their own Eurovision entry.
Once the contest was over, they cut the Eurovision final into several compilations of the best performances, funny moments, banter with the artists, and more. This allowed them to repurpose one piece of content in several ways.
The platform that noticeably used the most video was Facebook which is extremely welcomed by Facebook's algorithm, so it was a smart move from the Eurovision team.
Marketing Takeaway
There are so many ways to create video content that will be suitable for any social media platform, from interviews to live reactions and more. Repurpose one piece of video content for several channels: create IGTV, TikToks, video compilations of best moments, and so on.
The best way to engage your audience is to challenge them with a fun task and ask them to record it and share the video on social media.
2. Sharing behind the scenes
Most of what's happening at the Eurovision Song Contest is happening behind the scenes. We only see two semi-final performances and the Grand Finale, but the artists are spending at the contest two weeks rehearsing, going to parties, doing PR, and more.
This year the official Eurovision accounts shared these behind the scenes with us. They posted lots of content about the artists preparing for the performances, hanging out in the hotel, and socializing.
Of course, the main outlet for that were Instagram and Facebook Stories, but we also saw this on TikTok and Instagram Reels as well, especially in the form of the "transformation" challenge popular on TikTok.
Marketing Takeaway
By showing behind the scenes of your work process, you achieve two goals:
You build a connection with your audience since you are letting them in on something not usually shown to everyone.

You give your followers a sense of exclusivity by using ephemeral content: only they can see how everything works behind the scenes, and once your Story is gone, it's gone forever (unless you choose to upload it again).
Posting behind-the-scenes content in Stories is a great way to tease a big presentation, launch, or event your brand is going to have.
3. Keeping up with the trends
When we think about Gen Z's interests, Eurovision is not the first thing that comes to mind. But based on Awario's insights, the contest does have an audience among Zoomers — and maybe we could partially assign that to their amazing social media marketing, especially when it comes to trends.
The platform that showcases this the best was TikTok. Eurovision's official account posted dance challenges, memes, and TikTok trends with the artists that gathered thousands of views and likes. For example, one popular challenge is to sing along with the video and then stitch your videos together, which Eurovision heavily leaned into.
In addition to that, we could see memes popping up on other platforms. For example, during the Grand Finale, Eurovision live-tweeted a bunch of memes and jokes to comment on the performances.
What my non-Eurovision friends say when I regale them with my knowledge of every #Eurovision National Final since 1992. ? #OpenUp pic.twitter.com/P9UlodDhZS

— Eurovision Song Contest (@Eurovision) May 22, 2021
Marketing takeaway
Every social media platform has its own trends and styles of communication.
Utilize all the capabilities of the platforms, engage in trends, use memes: remember that you have to entertain your audience and not just sell to them. TikTok is a platform that heavily uses meme format through different sounds and editing techniques. By hopping on a TikTok trend, you raise your content's discoverability and thus your brand awareness.
If you don't really know the current trends on a platform, Awario can help you with that! Monitor your competitors and your niche on social media to see what are the latest trends and memes and incorporate them in your social media strategy. You can try Awario for free here.
Meet your personal social listening assistant.
Try fully automated, 24/7 brand monitoring with Awario for free.
By signing up I agree to the Terms of Use and Privacy Policy
4. Live streaming and live blogging
As I mentioned when I talked about video marketing, live streaming is an essential part of Eurovision: all the parts of the contest are live streamed for the whole world and we all watch them together.
However, Eurovision 2021 didn't stop at that: they live streamed almost everything. The arrival of the artists to the Netherlands, small concerts at the hotel throughout the week, interviews, and press conferences. They even set up a Twitch channel specifically for Eurovision streams.
Live discussions are a big part of event marketing. Since Eurovision is an international event we all watch together, people comment on the performances in real time through Twitter, Instagram Stories, and Facebook posts. They use the hashtag #Eurovision to share their thoughts on performances, support for the artists, and predictions.
He literally took his glasses off for her this is insane this is really true love ❤️ #efentix #Eurovision pic.twitter.com/Aoi1NUSRyx

— Sailor Claudia Solo ♃ ??? MÅNESKIN WON ESC?? (@italianbabcia) May 23, 2021
Pro tip
Use Awario to monitor and analyze conversations happening online during your event. You can engage with people posting about your event or stream their tweets and posts with your live stream.
Marketing Takeaway
When it comes to event marketing, being there and sharing this experience with other participants and viewers is a big part of overall success. Live streaming allows brands to make people feel like they are there with you.
You don't have to host an international song contest to do that. You can take any marketing event you are planning and stream it.
a presentation of your new product

an important announcement

an interview with your team or CEO, and more
And don't forget to monitor discussions of your event with social listening tools!
5. Influencer marketing
Of course, we could say that the artists that perform at Eurovision are influencers themselves: most of them have a large following from their own countries and by posting Eurovision content they mobilize their fans to watch the contest.
However, this year Eurovision also hired a true social media influencer to host the contest. Nikkie De Jager from NikkieTutorials is a famous makeup artist with more than 13 million subscribers on YouTube. She is the official host of the contest, she interviewed the artists in her own segment called LookLab — a tie-in with her profession — and hosted the contest itself.
Nikkie is popular with a younger audience, so once again it was a good move to attract Gen Z. Besides, many of her fans come from the US that doesn't participate in Eurovision, but was able to learn about it through her.
Marketing Takeaway
Figure out what audience you want to reach and find an influencer that already taps into this audience. This can help you reach the people you would never reach through the traditional channels and build trust with your audience.
Learn more about influencer marketing in this article.
Pro tip
To find influencers that have direct access to your desired audience use Awario. Create a monitoring alert with niche-related keywords and check out the Influencers report — there you can find all the influencers in your niche ranked by popularity.
6. Generating news events
If we look into Awario's analytics of Eurovision, we'll notice that a lot of reach is generated by news websites mentioning Eurovision. It's either the websites themselves or their social media account.
The major topics around Eurovision this year were:
the organization of a big international event during the pandemic

contestants and predictions who will win

COVID-19 - some contestants tested positive during the rehearsals which made the news
Eurovision proactively works with the press and shares press releases through their social channel as well.
Marketing Takeaway
Do not ignore the press. Don't wait until some criticisms of your brand or product on social media get out of control: instead, turn to the media and give them your own perspective to get ahead of the narrative.
---
Eurovision is an international event with a budget counted in millions of euros and a lot of media attention. Your brand may not be in the same position, but you can still profit from the social media strategies they used. I hope you'll find these social media tips useful and that your favorite artist won this year!
Enjoying the post? There's more.
Sign up for our newsletter to get our best content by email.