Creating social media content: 8 ideas to inspire you

Confession time! When it comes to social media marketing, creating content is what I struggle the most with. I think many social media marketers will find it relatable: creating content is the part of our job that requires the most: creativity, understanding trends, great eye for visuals, sense of humor, hours of researching your target audience and more.
There are many many ways to create content for social media for different goals and budgets. But even with the goals clearly defined and a significant social media budget, you may feel a bit lost sometimes. We all hit creator block at some point where you just can't get those creative juices flowing. Do you know what helps me in these cases? A good old list!
But seriously, looking at an organized list of content types you can come up with is genuinely helpful and inspiring. That's why I've decided to do myself and a few thousand people reading this blog a favor, and make up my own social media content guide to turn to when I'm feeling a creative lull.
Before we get to the meat of this article, let's ask ourselves one question: what makes social media content good?
What is good social media content?
Social media content has a short shelf life. That's not good. That's not bad. That just is.

To create the most effective content you have accept the realities of how people consume it.

— Matthew Kobach (@mkobach) February 14, 2020
So before you decide on your social media content strategy, you first need to answer some questions. Yes, I know I said one, sorry for starting our relationship with a lie. There are actually several questions you can ask yourself (and your marketing team, boss, stakeholders and other parties involved) to guide your social media content creation.
The first question is what are your goals? Do you want to raise brand awareness, build more close and trustful relationships with your clients, sell, or something else entirely? The content you publish will depend on the goals you set so determining those might already give you some ideas.
The second question is who is your audience? To know what will attract new followers, grow your engagement, and ultimately help you reach your goals, you need to understand what your audience wants to see. Find out who they are (demographics) and how they use social (user behavior data). Of course, we at Awario are big fans of using social listening for audience research: you can learn what languages your audience speaks, where in the world they are, what platforms they spend time on and how they feel about certain issues and topics.
The third question should be the logical outcome of your answers to the first two. It is what tone of voice should you use? Depending on your goals and audience you might go with a more playful tone of voice or a more serious one, more heartfelt or snarky, more quirky or relatable. A distinct tone of voice will help separate your brand from the rest and encourage a more personal relationship with customers.
And finally, the last thing to ask yourself every time you post something is would you follow your own account? Would you pay attention to the post you just published if it appeared on your own timeline? Obviously, you shouldn't be the final judge of how enticing your content is, that's why we answered question number 2. But if you're not excited about the things you're making, why should your audience be? So the only correct answer to this question is a firm yes, and if you're having doubts I hope this article will be able to change something for you.
By the way, if you're not looking to create simply good content, but great content with a potential to go viral, I suggest you check out our detailed data-backed research into what makes content go viral.
Okay, so now that we had some time to self-reflect, let's get to what I promised you — a cheat sheet to inspire your social media content efforts. I tried to design a list of different content types that any brand could take and make their own. I'm also giving you examples of successful posts from other brands and accounts: stealing a glance at what your competitors are doing is sometimes the best source of motivation.
Enjoying the post? There's more.
Sign up for our newsletter to get our best content by email.
Social media content guide
Let's look at the different types of social media content, where they work best, and review inspirational examples from brands that mastered social media marketing.
1. Lists
You might have already noticed, I love a good list! That's why the first item on this one is so meta and self-referential. People adore organization and structure, why do you think all these productivity apps are so popular? Structuring your post in a form of a list separates it from the rest of plain-text posts on the timeline and makes it stand out. You can also take a dig at the concept of a list altogether and make up a list with funny or ridiculous points.
Where it works best
You can put a list in a text, image, or video form basically on any platform, from LinkedIn to TikTok. But there are some features that make lists especially effective on:
Twitter ​— a thread is a perfect way to organize your list.
Instagram and Facebook Stories — you can put each separate item on your list in a separate story and make people click through them chronologically. Just make sure there are not too many or it would become frustrating.
Inspiration
One of the latest successful examples of using lists is Disney+ announcing their catalog on Twitter. They used Twitter threads to tease every movie and TV show coming to the streaming service and quickly went viral. The sheer scale of the catalog (and thus the Twitter thread) drew the attention of the Internet users. It's a perfect example of using a social media platform's functionality and understanding your audience.
It. Is. Time. From Snow White and the Seven Dwarfs to The Mandalorian, check out basically everything coming to #DisneyPlus in the U.S. on November 12.

Pre-order in the U.S. at https://t.co/wJig4STf4P today: https://t.co/tlWvp23gLF pic.twitter.com/0q3PTuaDWT

— Disney+ (@disneyplus) October 14, 2019
2. Data visualization
A blog post from Awario with no mention of data? That would be ridiculous! It's true, we love data, but it's not just us: people love finding out about what other people do, like and think en masse, that's why every company from Spotify to Pornhub uses data analysis not just for shaping their marketing strategy but also to create newsworthy content. You can create graphics and pie charts with the analytics of user behavior (for example, this is our most popular ice-cream flavor) or use social listening to analyze something happening in your niche. Just remember that the data you share needs to be anonymous and not too detailed: you don't want to creep your followers out.
Where it works best
Once again, pretty much every platform is suitable for sharing data analytics. Images and short videos work best here, so Instagram and Facebook will be your best bets! If you're sharing data around a hot topic that's heavily discussed at the moment, do not neglect Twitter.
Inspiration
I don't really believe in false modesty when it comes to social media marketing, so as an example I wanted to share Awario's Twitter profile (subscribe?). We regularly comment on what's happening in the world with the help of social listening analytics.
Social listening #Oscars2020 predictions: PARASITE has more mentions but 1917 boasts a higher reach.

Who will win? pic.twitter.com/k4xoV8MuJP

— Awario (@AwarioApp) February 10, 2020
3. Infographics
Speaking about visualization, infographics are a great way to visualize anything from statistics to home cleaning lifehacks. The rule of thumb here is that visualization needs to enhance the understanding of the contents, not complicate it, so stay out of stuffing too much information into a single image.
Where it works best
Obviously, platforms that put visual first! Instagram and Pinterest will be the best options, but you shouldn't forget about Facebook and LinkedIn. LinkedIn especially could be a good choice, since there are so many text posts that a great piece of visual content will really make you stand out.
Inspiration
This Instagram account is fully dedicated to making infographics and also is a good reminder that you can add some humor to them. If you're struggling to find a good topic or content for making an informative infographic, just make it silly and funny — as long as it falls in line with your brand voice, your audience will enjoy it.
4. User-generated content
This is a list to help you create content but you know what's the best way to do something? Have someone else do it! In this case, your own followers.
User-generated content is not just a way to be lazy at your job (actually oftentimes it requires a lot of effort to prompt people to generate content featuring your brand for free). It expands your reach, makes your brand seem more authentic, and also lets your customers know that you see them and their posts and care about them enough to feature them on your own page. The posts may be anything from simple brand mentions to full-on reviews and you can choose what exactly you want to share depending on your goals.
Hot tip: use Awario to monitor social media and discover posts positively mentioning your brand even when they don't tag you.
Where it works best
A lot of platforms have a UI that encourages sharing user-generated content. For example, a Facebook page is a great way to see reviews (that you can then screenshot and share on other platforms, *wink-wink*). Instagram is a perfect platform to share user-generated content and recently they made it even more simple by introducing @ button for Stories — you can see everyone who tagged you on their Stories and share those posts to your Stories in one click.
Inspiration
Fashion Nova is one of the new generations of makeup and clothing brands that heavily use user-generated content in their social media marketing strategy. They even say it in the copy: Tag us to get featured!
5. Relatable and personal memes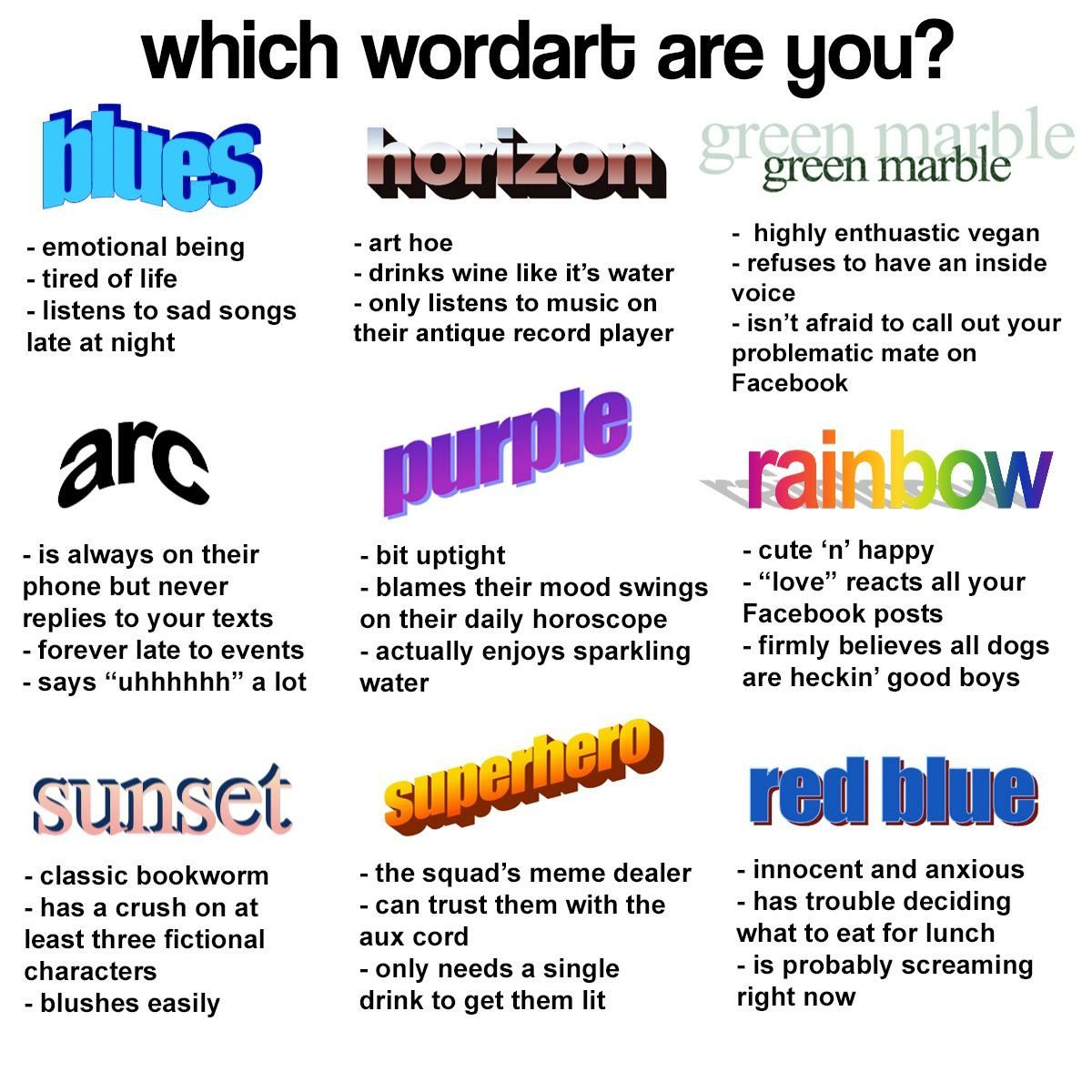 Speaking about authenticity and connecting to your audience, what says "I see you as a person and an individual" better than making a meme catered specifically to them? There are so many ways to create relatable content: you can simply write a text post that a lot of your audience will relate to, create a "tag yourself" type of meme where you have to choose who you identify with based on some criteria, create some kind of questionnaire for Instagram Stories... Relatability is a very strong incentive, so the possibilities are truly endless.
Where it works best
I already mentioned Instagram Stories as a great channel for this type of content, but I saved one feature that is perfect for creating personal content: AR filters. The recent epidemic of "What type of x are you?" filters has already drawn attention from brands. For example, Chipotle launched their own "What type of Chipotle customer are you?" AR filter.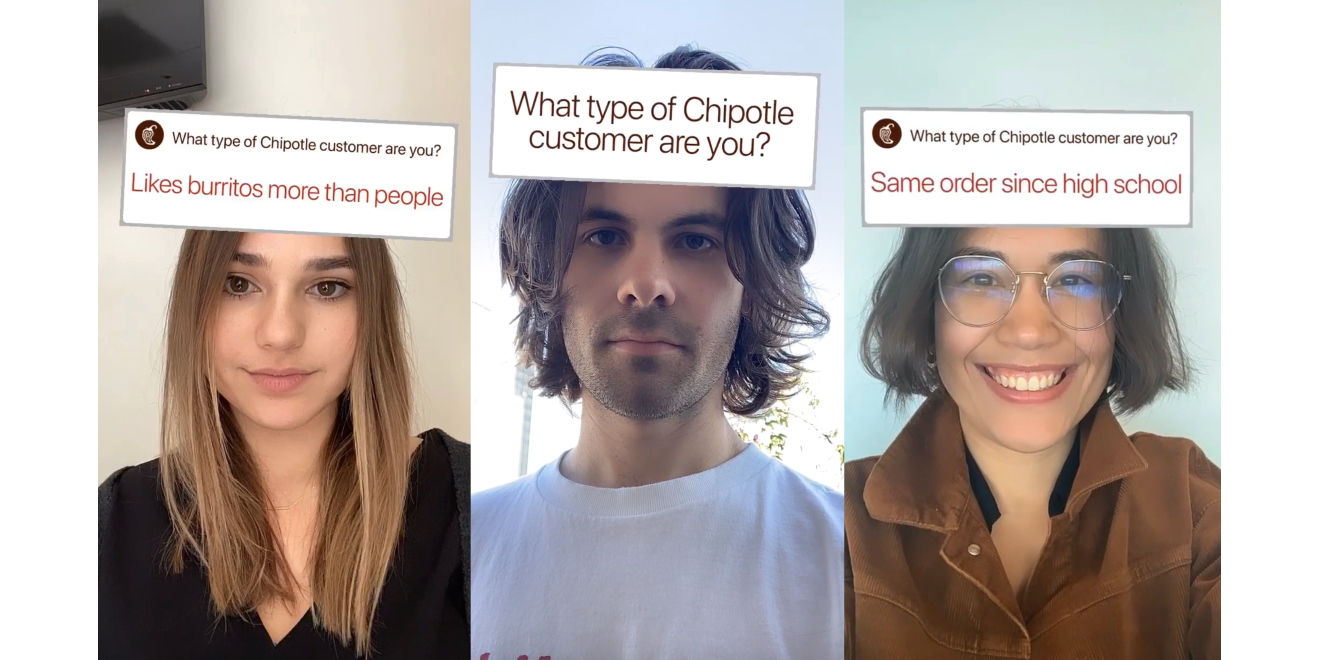 Of course, you don't have to go to Spark AR Studio — sharing memes on Facebook and Twitter works just as well!
Inspiration
I provided a lot of examples that use visuals to be personal, but actually one of my favorite brands that relies on relatability in its social media marketing mostly does so through text posts. It seems like innocent is able to read your mind — or at least the mind of their average consumer who works in an office.
6. Questions, polls, and quizzes
Another way to make your followers feel special is by asking them questions. As you know, most platforms' algorithms prioritize engagement when deciding what to show on a user's feed, and what's the best way to get engagement if not by asking questions? It doesn't have to be a simple open-ended question, you can suggest your followers to:
Vote in a poll
Choose a product they like the most
Take a quiz
Fill in the blanks
and more
Where it works best
Many platforms have features that make asking questions more interesting.
Facebook lets you post polls with GIFs and images as options, and it also has a special post template for asking recommendations (for Business Pages it's only available in Groups).
Instagram Stories has question stickers where you can choose between two options, quizz stickers, and open-ended question stickers.
Twitter also allows you to create polls.
But, of course, you can ask any type of question on any platform, as long as your comments are open!
Inspiration
Here's a great example of an established brand using their own history to hype up an event: Oscars quizzed their Twitter followers on their knowledge of the ceremony's history using Twitter Cards.
Which of these Oscar presenters will be presenting for the eighth time on Sunday? #OscarsPopQuiz https://t.co/tUYFuVWSy8

— The Academy (@TheAcademy) March 2, 2018
7. Contests
A social media contest is an amazing way to raise your brand awareness, energize your audience, and encourage interaction. There are three types of contests that are used the most by social media marketers.
The first one is aimed at raising brand awareness, the requirements are usually to share a post, comment, and like to enter the contest and the winner is chosen randomly.
The second one is also aimed at brand awareness, but it requires the audience to create their own content to enter, like sharing a picture with a product, drawing something, writing a story and so on. And yes, besides brand awareness you're also getting user-generated content out of this.
And the third type is a challenge when you need to do something specific and share it online, either once or, if it's a week/month-long challenge, you need to do some task every day.
The prize, of course, should correspond to the amount of effort participants put in.
Where it works best
There's no one social media network that is specifically better for conducting contests, but Instagram and Facebook are the most popular platforms for that. It's easier to track who entered by checking comments. If you have a Facebook Group, it can be a great place for a week-long challenge so that all the participants can discuss their daily achievements in one place.
Inspiration
This toy brand encouraged its followers to come up with the best caption for the Instagram post. The stakes were pretty low since the prize was a shoutout on Instagram Stories, but the post still gathered more than 2 thousand likes.
8. Shoutouts and cross-promotion
You might have an inner struggle when I suggest you should promote other brands on social media, but it's actually a great way to reach new audiences and create interesting content. It works best if you know your audience well and your niche is quite specific: that way you can collaborate with companies that are not your competitors but whose products actually complement yours. This type of content is especially popular in B2B social media marketing.
You can post a list of companies you want to shoutout or have a monthly segment where you recommend your audience to check out another brand. You can even think about the content you can create together mixing up two tones of voice and brand visions for fresh new content. And yes, fast food brands beefing on Twitter (pun intended) fall exactly into that category: what you think is a snarky banter is actually a clever marketing ruse.
Where it works best
The point of this content is to get reshared by the brands you mention: it's like influencer marketing, but instead of influencers you're taping into other brands' audiences. That's why the best platforms for this are the ones that encourage and simplify sharing: Twitter, Facebook, and LinkedIn (the latter works great for B2B brands).
Inspiration
By posting about and tagging social media tools, this digital marketing agency managed to tap into their target audience (people who are interested in social media marketing) that they previously hadn't had access to.
---
My goal by the end of this article was to inspire myself and anyone who's reading it to go and create something exciting, and to be completely honest with you, I do feel inspired (sorry for the humble brag). Of course, there are many more types of content you can come up with, and even those types can be mixed and matched to create something new. I hope you also felt a creative block lifted and are eager to open Awario, Canva, or Facebook Publishing Tools to design your next viral post!