Social listening for coffee shops: 5 ways to boost your social media strategy

Article summary
Just like other small businesses, coffee shops oftentimes don't have a robust social media marketing strategy. In this article we explain how to boost your digital marketing using social listening.
Coffee shops are the symbol of the modern lifestyle — the takeaway coffee cup or a laptop open in a quiet cafe represents the modern professional. It's where we go to start our day, to work on important projects, or to meet friends.
While coffee shops as a location already have a glamorous reputation, it can be hard for individual businesses and small chains to distinguish themselves from their competitors. Besides, competing with some coffee house giants such as Starbucks in marketing tactics and branding is almost impossible.
Perhaps, for this reason, many such places, while being sweet and bijou, underestimate the power of strong digital marketing for coffee shops. Oftentimes, social media for coffee shops looks just like running a personal profile — and their owners treat them as such, not as a powerful marketing channel for their brand.
However, a proper social media strategy could help them stand out and attract exactly the audience they need. But how do you develop the best social media marketing strategy for coffee shops without investing hours and thousands of dollars in it?
Social listening can help here! At Awario, we are big proponents of using social listening at every step of building your business from product design to marketing. Social listening can give you insights into your target audience and market that you can use to build a robust digital marketing strategy. And you'll save tons of resources by automating this research process. It takes away the guessing out of your social media marketing and replaces it with hard data.
Meet your coffee shop's social listening assistant.
Try fully automated, 24/7 brand monitoring with Awario for free.
By signing up I agree to the Terms of Use and Privacy Policy
Before I walk you through all the ways social listening can boost your coffee shop's social media marketing game, let's briefly discuss what is social listening, in case you're not sure.
What is social listening?
Imagine every time someone walks in, you as a business owner instantly get access to all their thoughts and opinions, on coffee and beyond. You know what desserts they like, but also what they studied in university and where they are going next on their walk.
Sounds like a superpower, but it's basically what social listening does — only instead of the thoughts, you get access to your audience's social media posts.
Social listening tools are able to find, collect, organize and analyze data that people share online, from Instagram posts to online reviews and blogs posts. Everything people share online can be turned into data and the output will become valuable marketing insights for social media marketing.
Social listening tools are able to give you the following insights:
How much people talk about you and your competitors
How they feel about your brand
What they like and dislike about your business in particular
Their demographics: age, gender, languages they speak, etc
Their preferred social media channels
Their interests
and more.
The way social listening tools work is that you feed them some keywords and keyword combinations that you want to monitor. The tools gather and examine all the posts mentioning these keywords (some tools can even recommend you to add new relevant keywords).
Since in this article we are focusing on digital marketing for coffee shops with an emphasis on social media, let's see how social listening can aid with this task.
How social listening benefits coffee shops' digital marketing
As I mentioned above, social listening tools are incredibly versatile and depending on your goals, you can use them for digital marketing, sales, product development, and more. Here are 5 specific cases where social listening can improve digital marketing for small brick-and-mortar businesses.
1. Discovering what product triggers specific interest
When I explained what social listening is, I mentioned that you instantly get access to your customers' opinions, their likes, and dislikes. It's also a perfect tactic to find what products of yours are more popular and why, what brings people to your coffee shop.
Of course, the easiest way to figure out what your customers like is to look at your sales — what positions on the menu they purchase the most often. But this gives almost nothing to your digital marketing strategy. What brings new clients to your coffee shop is what people share online — maybe it's the coffee or maybe it's the cozy pictures of your interior or compliments to your staff.
People may come to your place for many reasons, and by analyzing their social media posts, blog posts, and reviews you can figure out what brings them to your coffee shop and highlight it in your marketing.
How do you find these points of attraction through social listening?
As with all our social listening activities, first, you need to create an alert with the name of your coffee shop. For brick-and-mortar businesses, it's a good idea to add a specific town or city where your coffee shop is located. Luckily, Awario recently launched a city state filter exactly for that.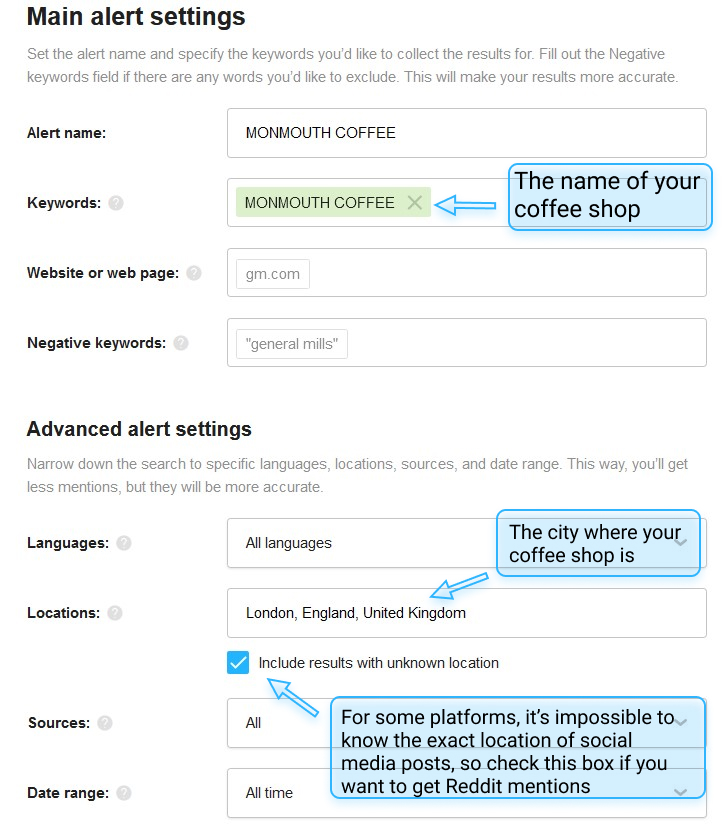 Once you set up your monitoring alert, you'll immediately start gathering relevant mentions. When Awario analyzes this data, you'll be able to see what features of your coffee shop attract customers. Here's what to look for to figure it out:
Topic cloud
The Topic cloud shows you what words and phrases are mentioned most often alongside your coffee shop name. Basically, it's what your customers mention the most when they talk about you.
For example, the Topic cloud for Monmouth coffee features a lot of mentions of beans — that's because people come there to specifically buy their coffee to make it at home since their roasts are so good. Voila, we found the point of attraction!
You can find the Topic cloud widget on your Dashboard and in the Mention Statistics report.
Sentiment analysis
Another important feature to find what drives people to your business is sentiment analysis. You can go to your Mentions feed and filter it to only see positive mentions — this allows you to understand what people are happy about and what they are praising on social media.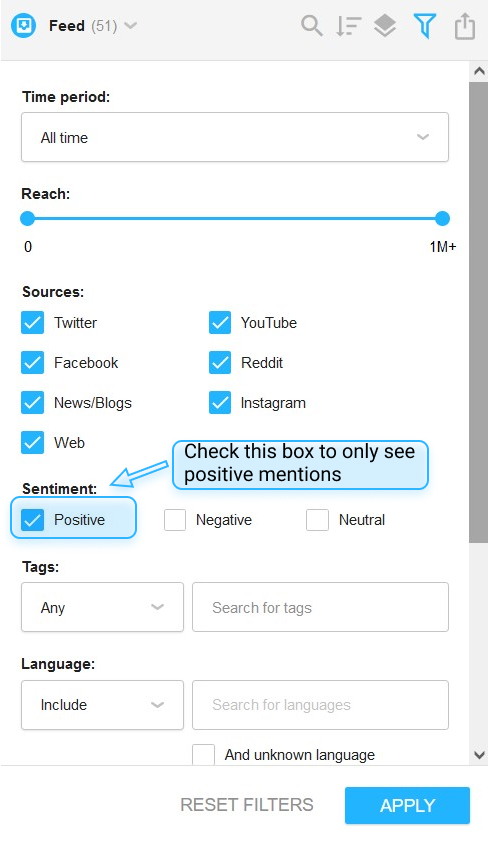 You can then go through positive mentions and take note of what people are featuring on their socials — is it your coffee or a particularly Instagramable location? As you can see on the screenshot of the Monmouth coffee mentions, people primarily praise their drinks and beans.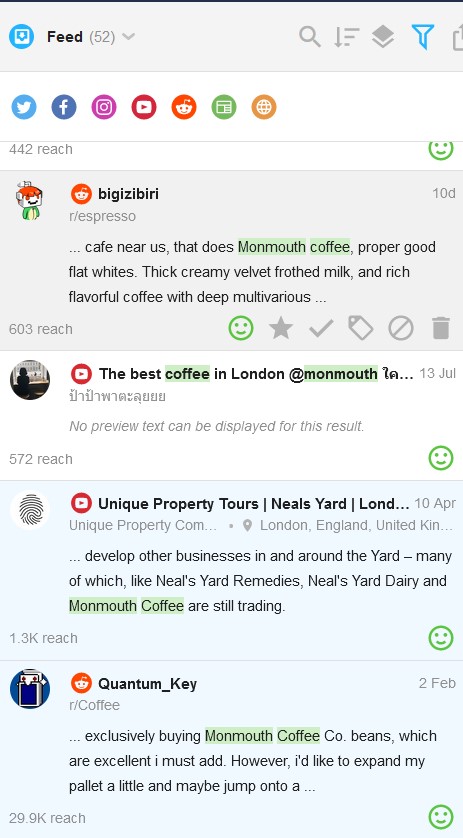 Make sure you highlight these advantages in your social media marketing for coffee shops. You can even mentions, that these features are exactly what your customers like about you.
2. Uncovering the specific language that consumers are using
It's not enough to know what your target audience likes, it's important to know how they describe it — what phrases do they use, what visual aesthetic works for them, what channels. In order to have a successful digital marketing campaign for a coffee shop, you need to know what your audience wants to read and see online.
Learn what people say about your coffee!
You should've been doing it yesterday – but the next best time is now with Awario.
By signing up I agree to the Terms of Use and Privacy Policy
Coffee lovers usually have a very specific aesthetic. Take a look at this Instagram account that posts pictures from different coffeehouses — you'll notice that all the photos have some unifying quality that must be hard to pin down, but it's there.
Of course, it doesn't mean that you have to adhere to this "coffee shop" aesthetic — you just need to understand what the audience YOU are trying to reach will find appealing. And you can do it by using social listening!
You can use the same social listening alert we set up previously, but I'd also recommend adding some of your direct competitors that are fighting for the same audience as you are. For example, if you're targeting hipsters, add the names of all the hipster cafes in your neigbourhood; if your coffee shop is minimal in design and boasts a wide range of professional roasts, add similar coffeehouses to your alert keywords.
Then simply go through the mentions and take note of the phrases people use to describe your and your competitors and the pictures they posts. Use these found aesthetics and language in your social media posts, ads, video campaigns, and other content creation.
For example, if you look up the Monmouth Coffee Company on Instagram, you'll notice that their front sign is featured on a lot of photos since people see it as an attractive location. They would benefit from posting pictures of the London atmosphere since that is what their audience finds appealing.
3. Tracking the fluctuating competitive landscape
In the coffee shop business, there is always a lot of competition. In a big city, there are so many good coffee spots to choose from, that you really need to make an effort to stand out.
Competitive analysis is what can give you the right tools to make your brand special. And there are many ways to get valuable insights from it.
You can compare your online presence through Awario's Alerts Comparison reports with your competitors
You can compare specific offers, for example, a specific drink, and see which one people like more — yours or your competitor's.
You can see determine your Share of Voice and see how much of the market you conquered.
To run a competitive analysis with social listening, you need to set up monitoring alerts with the names of your competitors. It's the same thing we've done previously, but instead of the name of your brand, you add your competitors as the main keyword.
Then, you need to go to the Alert Comparison report and choose the alerts you want to compare — your brand alert and your competitors. Here you can see your Share of Voice both for how much you're mentioned online, and how many people see your brand name online.

You get an incredible source of information. You can see how the sentiment around your brands differs, what is the most loved and most hated brand, what people talk about (though the Topic cloud) how different your audience is, and so on.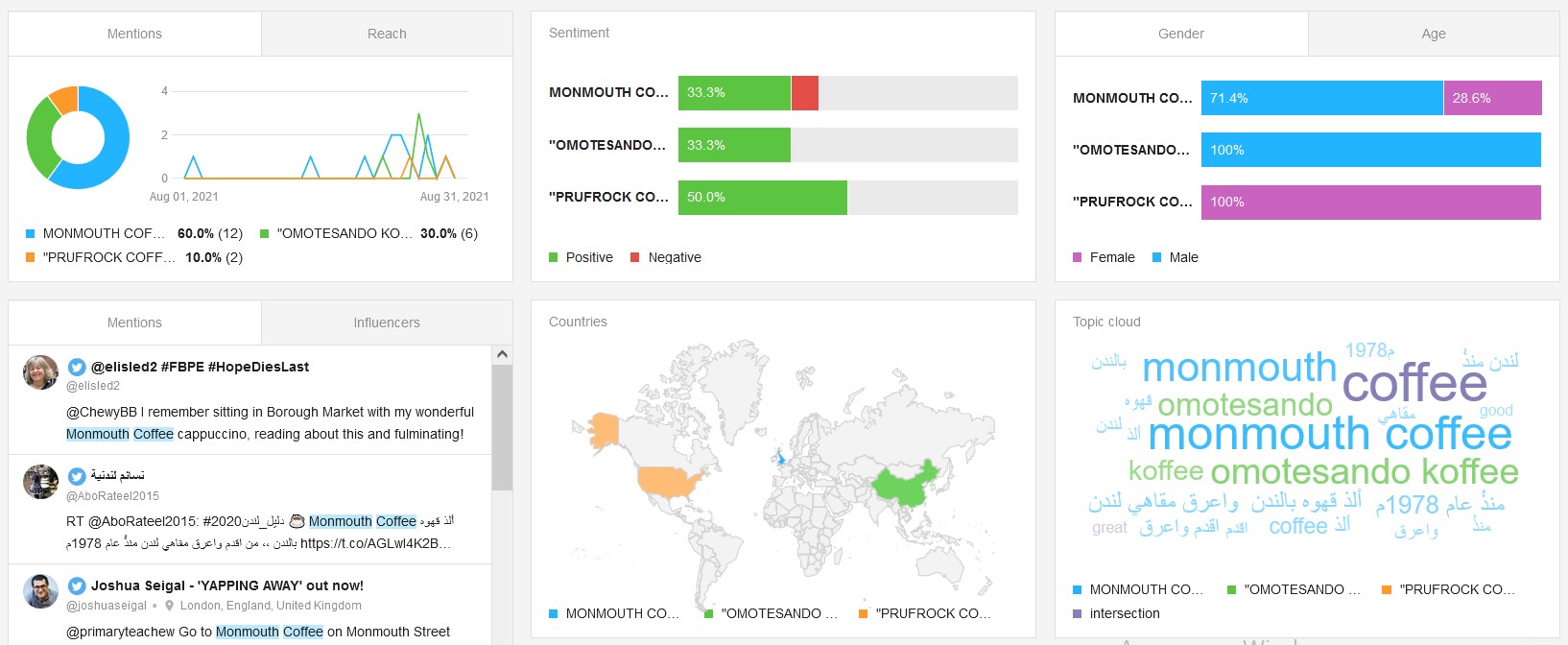 As you see in the screenshot, while Monmouth coffee is the most mentioned of the three, Pruffrock coffee shop actually has a higher positive sentiment, so we can assume that it's more liked by its audience.
And as we mentioned previously, diving into your competitors' mentions can engender a lot of insights for social media marketing for coffee shops. You can find out what customers like and dislike about their company and improve your own service by tapping into these insights.
The best mornings are spent people watching in Omotesando ☕
What are your simple pleasures? https://t.co/pRs1uzlxI6
? @mahisablogs pic.twitter.com/t8wdSn4z1r

— Rathbone Square (@Rathbone_Square) August 27, 2021
4. Creating unique advertising campaigns by being socially aware and measure their success
For coffee shops, social media is probably the best place to advertise: your audience is already there and you get a bunch of filters to target your ads on a specific customer segment and location. But reaching your audience is not just about the right targeting, it's also about crafting the message that they'll find convincing.
Social listening can help you both with the targeting and the content creation parts.
Awario provides a bunch of demographic and psychographic data to help you understand who your audience is: their gender, age, where they locate, what languages they speak, what social media platforms they prefer, and more. You can use all these insights to target your campaigns.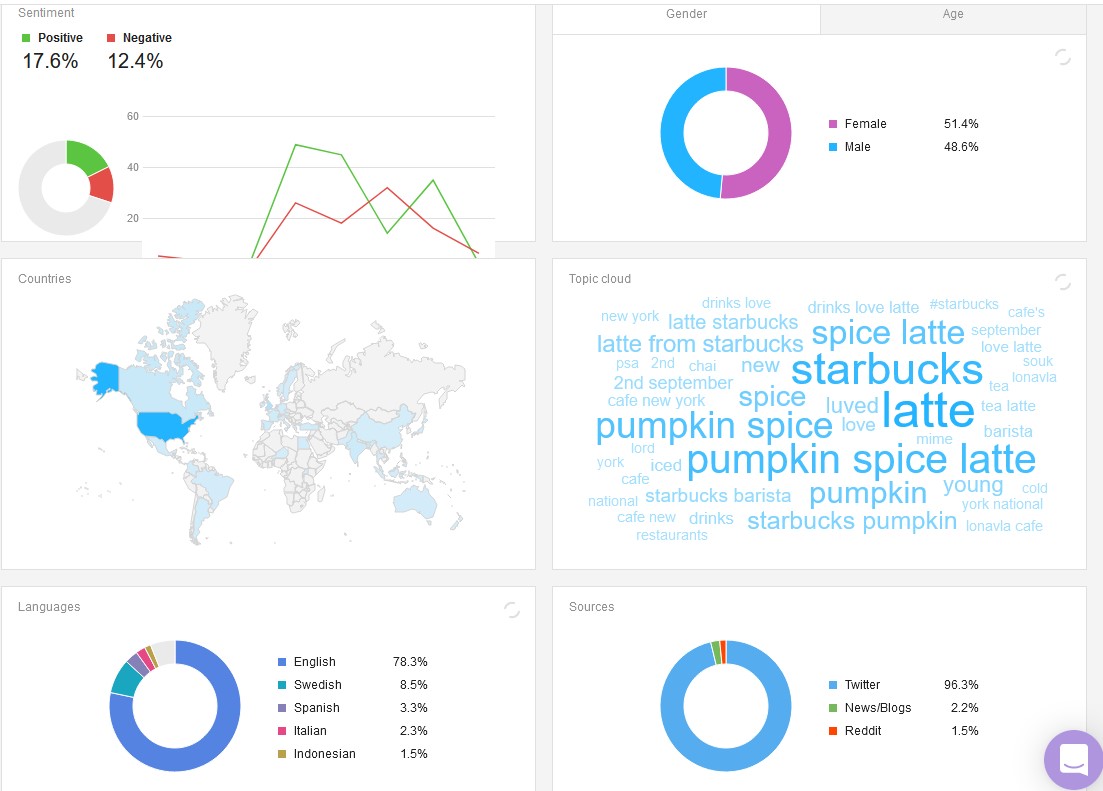 Secondly, once you figure out how your audience communicates about coffee (see section 2), it will be easier for you to create an ad that will catch their attention.
For example, as we found thanks to the Topic cloud and looking at the mentions, people who go to Monmouth coffee praise their beans. It's unsurprising that their Instagram heavily focuses on the beans they sell, different types of them, and how they find and roast beans for their coffee.
And when you launch your ad campaign, you can easily see how it affected your brand by monitoring it with Awario. You can see of the number of your mentions grew, of the sentiment around your coffee shop changes, and if you increased your reach — all in one click!
5. Finding local influencers
Smaller coffee shops don't really think that influencer marketing is a viable digital marketing option for them — they often imagine that it requires a huge budget and a management team. But influencers are not just people with hundreds of thousands of Instagram subscribers. In fact, micro-influencers can be even more beneficial to your coffee shop. And Awario can help you find them easily!
You have two options here: look for coffee lovers who blog about coffee, or just look for bloggers who talk about interesting places in your city. You can even set up two alerts, one related to coffee and one related to going out and visiting places in your city, and look for these two types of influencers at the same time.
Here's an example of alert settings to find an influencer who blogs about good coffee in London — I featured specific sorts to make sure I find a micro-influencer who really knows coffee and is passionate about it (and a bit of a coffee snob if you will). For Monmouth coffee, such a person would be a good match, since the coffee shop cares a lot about the quality of their beans.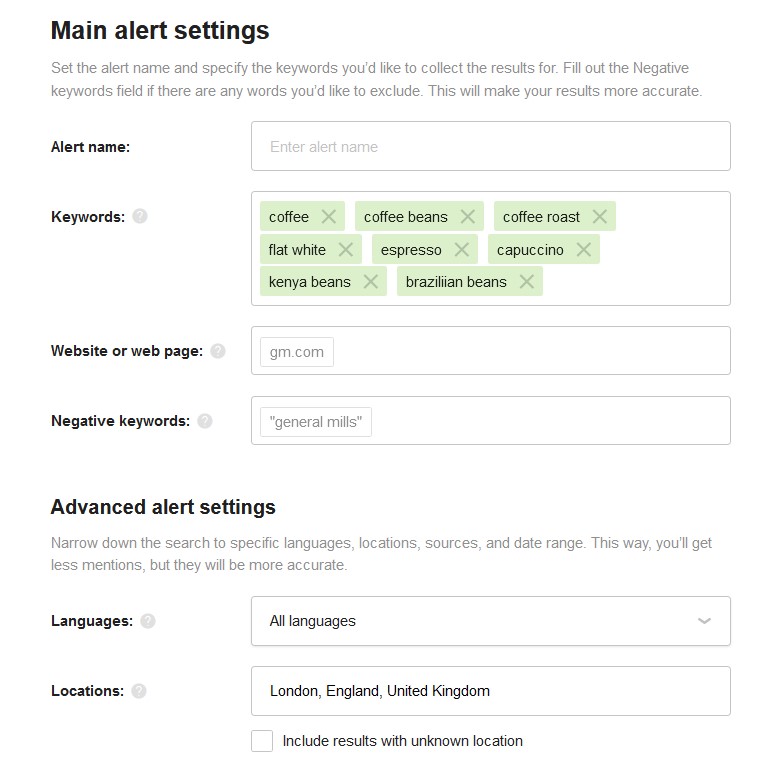 Don't forget to specify the location — we are looking for LOCAL influencers after all! The same way you can discover local media and blogs.
Once Awario gathers enough data go to the Influencers report and check out the social media accounts and blogs you'll find.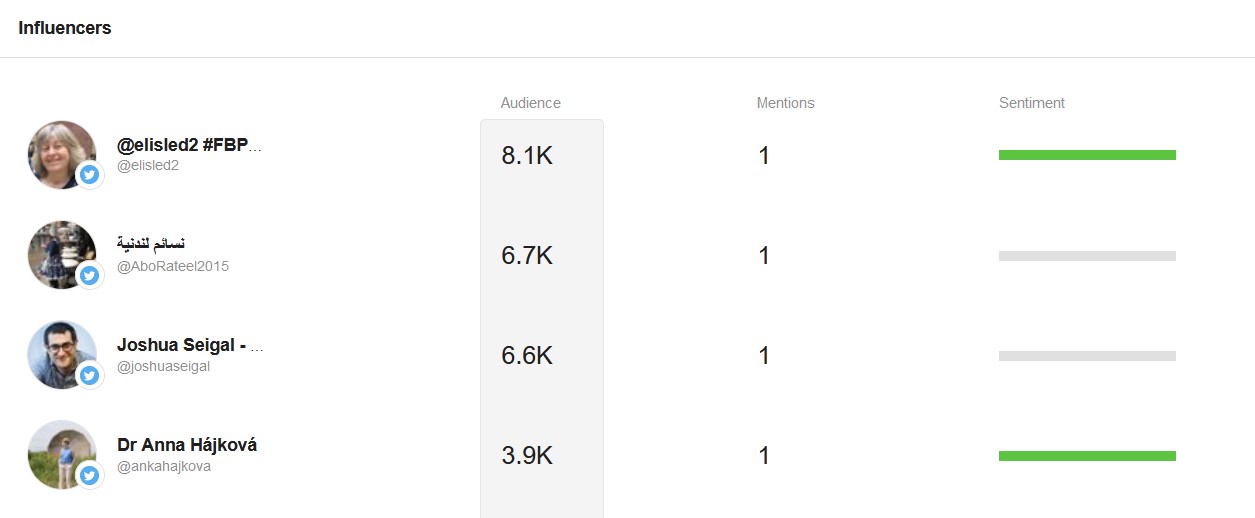 Pick a blogger you like and that you think will suit your brand image and invite them to visit your coffee shop. You can even offer them a free coffee to make a social media post about you (just make sure they don't forget to tag it as an ad). Here you go — influencer marketing has never been easier.
Here's a video from a YouTuber with a small channel visiting Monmouth coffee that gathered 3 thousand views and several comments promising to visit the place.
In conclusion
For small businesses ignoring social listening is a pure mistake. You can't compete with the large coffee chains if you ignore your customers — after all, this personal touch is why people choose you over Starbucks.
By listening to what people say about your brand, competitors, and coffee in general, your coffee shop may become THE spot to visit in your city.
Enjoying the post? There's more.
Sign up for our newsletter to get our best content by email.