Social media, meet ecommerce: a quick guide to social commerce

Americans spend about two hours a day on social media, sharing photos, liking posts, messaging friends, and watching videos. They're also using social networks to make important purchasing decisions: 43% of internet users research products, and 25% discover brands on social media.
Forward-thinking businesses are noticing how customers use these platforms, making it easy for them to buy products while scrolling sites like Facebook or Pinterest. This convergence of social media and ecommerce is known as social commerce.
Keep reading to find out what social commerce is, how it's impacting ecommerce, and ways to integrate it with your overall digital sales strategies.
What is social commerce?
Social commerce uses social networking platforms to promote and sell a brand's products and services. Companies that find their target demographic on social media enjoy new ways of interacting with customers and driving sales.
What is a social commerce platform?
Social commerce platforms are social media sites that help businesses make sales. They enable customers to learn about and buy a product with just a few taps.
Social commerce features include:
Call-to-action buttons, like Shop Now and Add to Bag.
Product tags in images or videos that customers can click for details.\
Product information and checkout directly in-app.
Links that direct consumers to product pages or checkout on the brand's website.
Social сommerce platforms
Here are some of the top sites businesses are turning to for social commerce. Before launching your social commerce strategy, consider which platforms your target audience is using.
1. Facebook.
Facebook is the most popular social networking site, attracting 63% of global internet users. The social media giant directs users to ecommerce sites using a "shop now" button, like this one on Lammes Candies' post.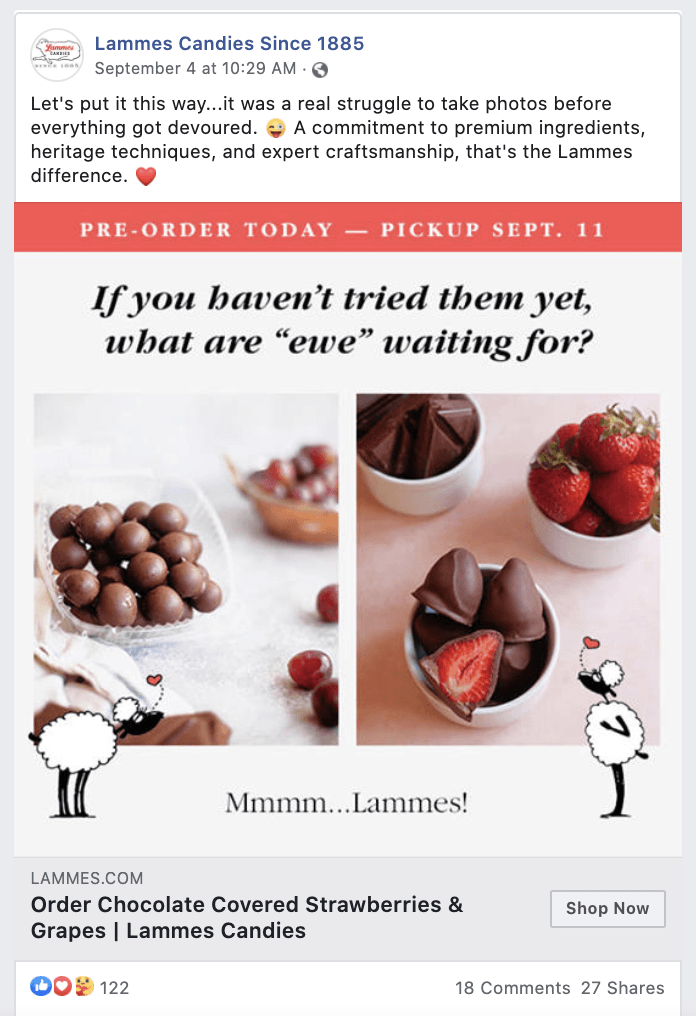 Facebook's newest shopping feature enables businesses to sell directly through its platform without customers needing to visit a brand's ecommerce site. Facebook Shops lets you list as many items as you like and organize them into categories.
2. Instagram.
More than two-thirds of people aged 18 to 29 use Instagram, a photo and video sharing service. Instagram has shoppable posts and stories that allow users to tap on links in an image or video, which lands them on a corresponding product page on the company's website. Those within the United States can purchase items in-app, which is one of the biggest ways to make money on the platform.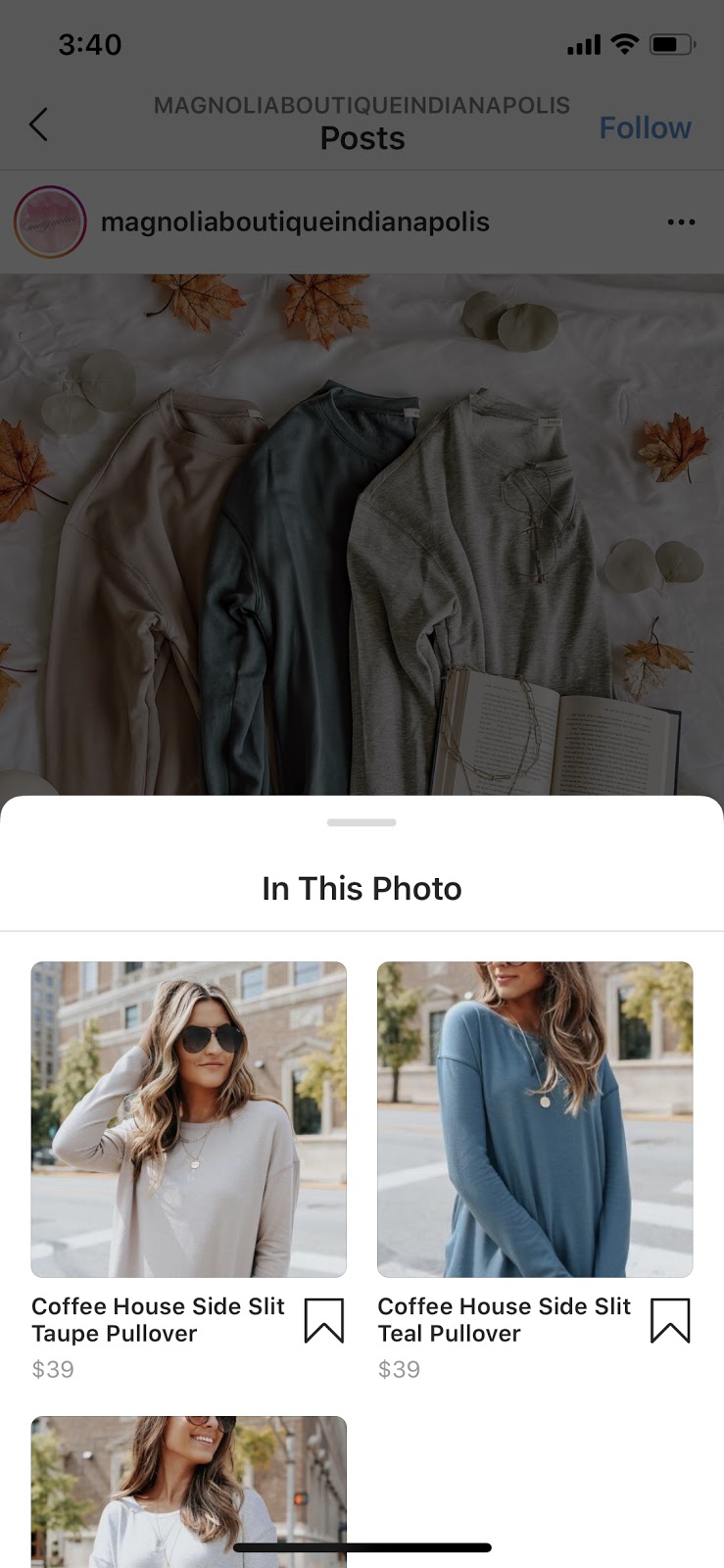 3. TikTok.
As one of the most downloaded apps of 2020, TikTok offers rich marketing opportunities for brands trying to reach Gen Z.
One-third of TikTok's users are between the ages of 10 and 19, and another 30% are between 20 and 29. The video app is just starting to venture into social commerce, introducing the ability to link directly to ecommerce sites from user profiles and videos.
4. Pinterest.
Pinterest is a popular site for sharing images of things that people find inspiring, often in categories like food, fashion, home and garden, and beauty. According to a survey of Pinterest users:
90% say the platform helps them decide what to purchase.

78% find it useful to see content from brands.

66% purchase after seeing a brand's pins.
Companies can use Product Pins to direct users to an ecommerce website. A fashion brand like Revelry, for example, can feature a collection of products and link each item to the appropriate product page on their website.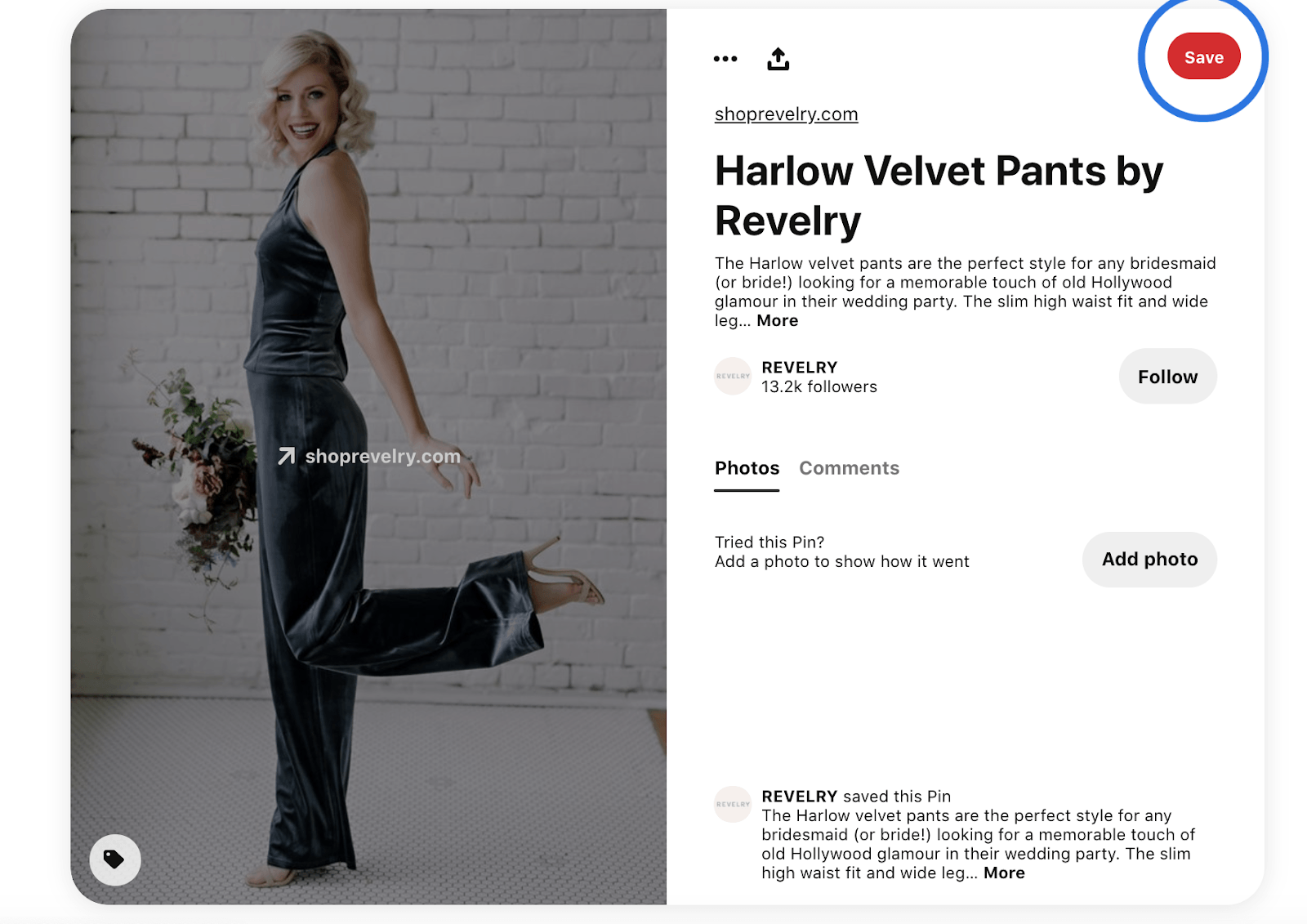 5. Snapchat.
This photo messaging app is expected to have 365 million global users by 2023 and is popular with a younger audience, particularly 13- to 29-year-olds. Its users are highly engaged, with 48% of U.S. users posting content on Snapchat weekly.
Companies can run Dynamic Ads to drive selected Snapchat audiences to a brand's website or mobile app to purchase goods. Ads are linked directly to a product catalog, so pricing and availability is always current.
Social сommerce has its benefits
Social commerce gives your brand extraordinary opportunities to connect with users — after all, these digital spaces are all about interaction. Here are some spin-off benefits.
1. Drive real engagement.
Put the spotlight on your customers and show them they're more than a sale. Entice them to create user-generated content and build a feeling of community.
Skincare brand Bliss invites TikTok users to upload dance videos using the hashtag #ThisIsBliss. Solo Stove customers use the hashtag #solostove to post images of the outdoor fires they've made using the company's stoves. This content is then used by the companies in their marketing and as social proof.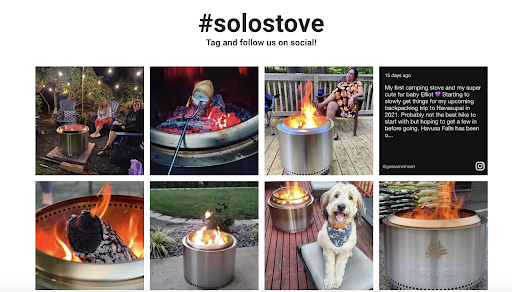 2. Build customer loyalty.
Your company's social media content can create positive associations with your brand and build trust over the long term.
Outdoor gear company Camelbak created an Instagram giveaway. By partnering with brands in related niches, they demonstrate their community roots, commitment to a healthy lifestyle and environment, and feeling of authenticity.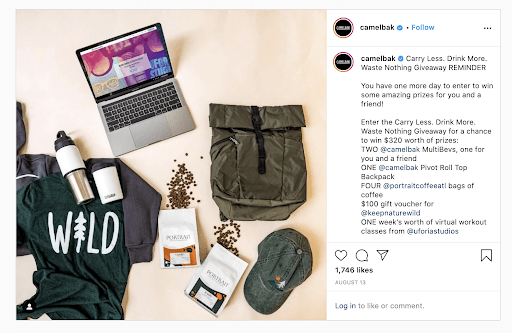 3. Enhances your customer experience.
Social commerce facilitates the purchasing journey by making a customer's experience as effortless as possible. Shoppable digital media puts product information right at their fingertips, making a transaction possible with a few quick taps.
Brands can also conduct their customer service activities through social apps. You can live chat with customers and make sales all while being a social platform.
4. Increased sales for mobile customers.
Considering that social media and chat are top activities when on a mobile phone, social commerce is an important channel for reaching the 3.5 billion smartphone users around the world. In fact, by 2021, more online purchases are expected to be made on mobile than on desktop or other devices. A social commerce strategy meets the needs of these users.
5. Reach a global audience.
Social media platforms are truly global; they're available in multiple languages and countries. According to Statista, 3.6 billion people worldwide are on social media, with penetration estimated at 49% as of January 2020.
This number is expected to grow as less developed digital markets mature, giving businesses extraordinary access to customers worldwide.
How to get started with social commerce
Now that you've considered the opportunities and benefits offered by social commerce let's explore ways of getting started. Here are tips for improving your chances of success.
1. Highlight your best products that are low cost.
While it's tempting to upload as many products as possible to your social commerce platform, start with a few products that you know will sell well. Lower-priced products can also encourage sales, as they're seen as less of an investment risk by first-time buyers.
2. Partner with influencers to share your products.
An easy way to get your product wider exposure is to team up with a social media influencer who has a strong reach among your target audience and is known for being at the forefront of trends in your niche. Influencers can endorse or review a product, offer a promo code to followers, and host a giveaway.
3. Measure your success.
The obvious metric of success of a social commerce campaign is conversions, but brand awareness and customer trust are also important building blocks that can lead to sales. Consider other measurements, such as:
Consider having an ecommerce platform to complement social commerce
Social commerce can help you reach a wider customer base, but it shouldn't be your only focus. Here's why using an ecommerce platform along with your social strategy can strengthen your brand.
1. Control of your online business.
There are many channels you can sell on, but it's important to bring everything together under a single brand so customers can always find you. Integrate channels, such as social media and online marketplaces, with an ecommerce platform, and manage inventory, marketing, and sales from a single dashboard.
2. Receive better customer insights.
Ecommerce platforms collect detailed user data. You can use this information to gain a better understanding of your customers, where your website traffic is coming from, what pages visitors are browsing, when they leave your site, and purchase history. This information helps to personalize marketing to these customers and provides insight into how your overall sales strategies are working.
3. Added security.
Despite the growing popularity of social commerce, not all users are ready to purchase on a social media platform. A securely hosted ecommerce site can reassure concerned customers of the safety of their financial information and provide them with alternatives for purchasing.
Conclusion
Social commerce enables customers to buy from a company through popular social media platforms, either in-app or through links to a brand's ecommerce website.
Businesses that can find their target audience on a social media network can expand their reach, boost user engagement, and drive sales. By integrating social commerce with an ecommerce platform, businesses can streamline their operations and sync product inventory, customer information, and analytics across all channels.
Enjoying the post? There's more.
Sign up for our newsletter to get our best content by email.