Social listening FAQ: 19 social media monitoring questions, answered

As the famous saying goes, there are no stupid questions. With social listening, it's more relevant than ever — since it is a complicated topic that generates a lot of (non-stupid and expected) questions. This is why at Awario we strive to make social listening accessible to everyone, both through our tool and through the piles of learning materials we provide such as our complete guide to social listening.
The amount of questions around social listening is only natural, given that the social listening tools' technology combines language processing, machine learning, data analysis, and other seemingly complicated practices. The marketing community doesn't make this any easier: why is it called social listening when data often comes not only from social media but other sources as well? And what's the difference between social media monitoring and social listening?
As much as we try to go in-depth on each aspect of social listening on this blog, sometimes you just need one place where you can get the answers to all your burning questions quickly. Of course, you could always turn to our Customer Care team (they are lovely!) but if you're not in the mood for socializing, this is the post for you.
Enjoying the post? There's more.
Sign up for our newsletter to get our best content by email.
We wanted to gather the most frequently asked questions about social listening and answer them. What I ended up with is the list of questions varying from the most obvious to quite specific (but still popular). This blog post contains a lot of links to our learning materials, so if you want to learn more about the specific topic, just click the appropriate link. So without further ado, let's crack this chest of social listening knowledge open!
---
Contents:
---
Social listening F.A.Q.
1. What is social media monitoring?
Social media monitoring is the collecting of, and interaction with, online mentions on social media with the help of a social media monitoring or listening tool. The mentions collected are based on the keywords, keyword combinations, and filters such as language, source, date, etc you choose.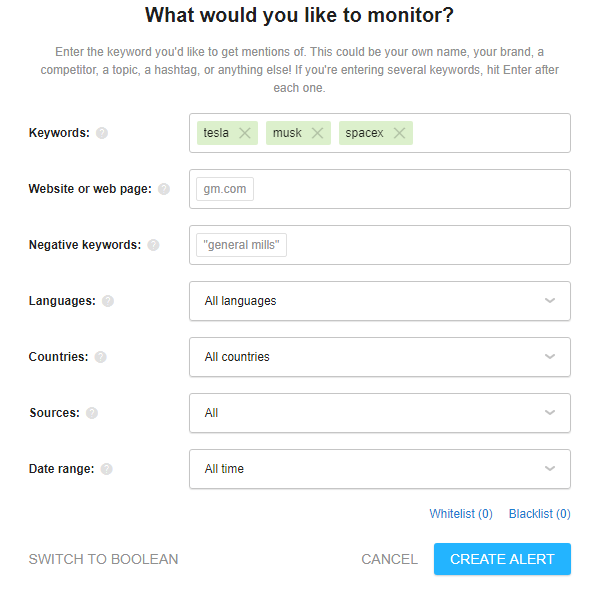 2. What is social media listening?
Social media listening is the process of collecting and analyzing social media and online data. The analytics can include the number of mentions, reach, sentiment, demographic and behavioral data, and more. Both monitoring and listening are done with special social media monitoring/listening tools.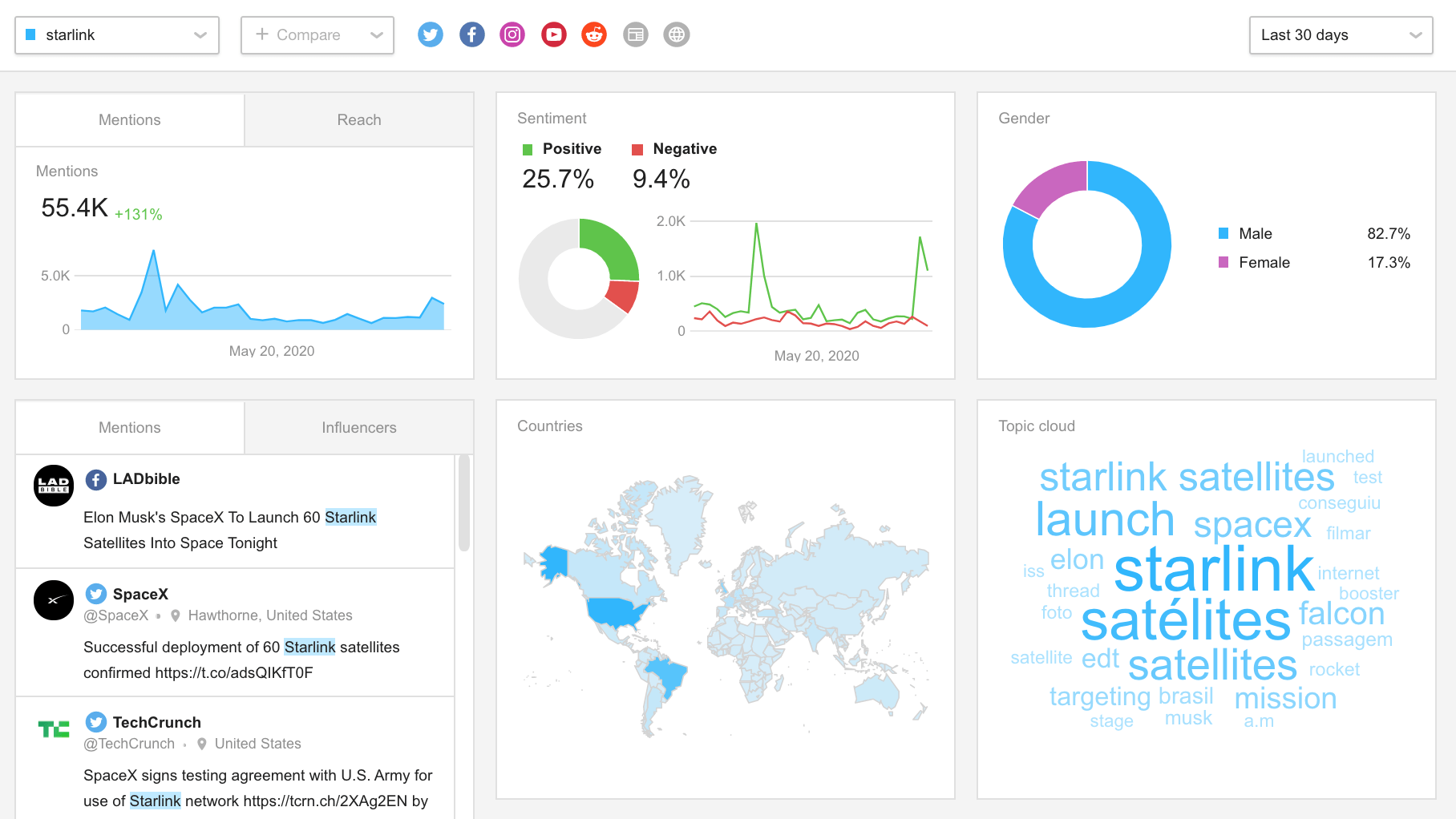 3. What is the difference between social listening and social media monitoring?
While social media monitoring and listening can be done simultaneously with one tool, their objectives are different.
Social media monitoring allows you to engage with individual mentions for day-to-day tasks: social customer support, lead generation, and so on. Basically, you find mentions that interest you and respond to them — that's it.
In contrast, social listening can help you identify prevailing trends in online conversations without looking at individual mentions. The essential part of social listening tools are the analytics which provide valuable business insights.
4. How does social listening work?
Both social media monitoring and listening are done with the help of tools. They collect online data, categorize it, and analyze it. For social media networks, the data is collected through APIs — the tool sends out requests for mentions based on your keywords and criteria, and the social media platform sends relevant mentions back to the tool. All of this happens in a matter of seconds.For tools to get API access, social networks often have a complex review process in place - that's why adding more sources to track can be a long and difficult process for a social listening tool.
For other online sources, such as blogs, news websites, forums and so on it's common to use crawlers.
Social listening tools may also index the data they find creating their own databases. This allows them to provide users with historical data and find mentions quicker.
5. What is a mention?
A mention is any document (social post, blog post, review, comment and so on) that contains your keywords and corresponds with the filters you set. For example, if you want to track all the conversations about dogs on Facebook in Canada, you have to use a location filter and a source filter, and you'll find Facebook posts that contain the word "dogs" and come from Canada.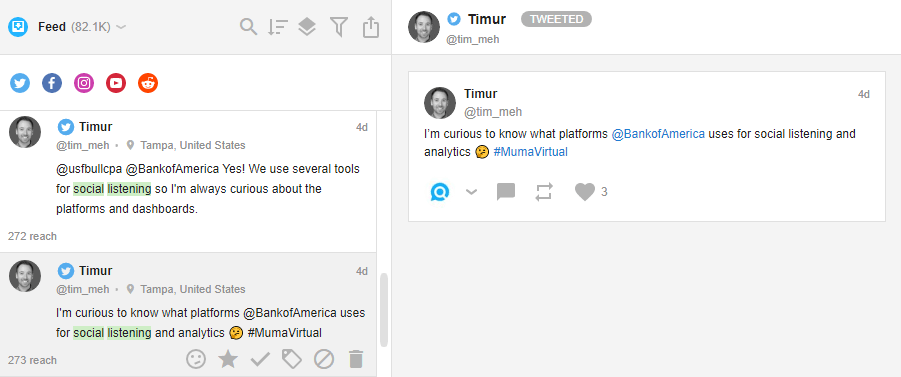 6. What kind of data can social media monitoring tools collect?
Social media monitoring tools collect public social media posts, blog posts, articles, forum posts, comments on select platforms (for example, Reddit). Some platforms, mainly Facebook and Instagram limit the trackable posts to those that come from business profiles: i.e. Public Pages on Facebook and Business and Creator accounts on Instagram.
For now, there's no way to monitor ephemeral content i.e. Stories or Snaps.
7. Is there any social listening tool that does listening in Linkedin/Facebook groups?
When I talked about the way social listening tools source data, I mentioned that social media monitoring happens through API access granted by social media platforms. That means that, all in all, it's the social media platform that decides what kind of data you're able to monitor. At the moment, LinkedIn doesn't allow third-party tools to monitor content on the platform. So whether it's a LinkedIn group or page, you won't be able to get data from there.
Facebook's API doesn't include Groups monitoring, so you won't be able to get data from Groups as well. Sometimes, tools use scraping to access this kind of data, but these practices are often against social media platforms' policies. Most of the time such tools are quickly identified and banned by social media platforms.
8. How to make sure you get relevant social listening data and no spam?
Of course, if you've been online for any amount of time, you know how much spam there is. But social listening makes sure that you only get the data relevant to your business. How?
Firstly, you can use Boolean search mode to create laser-focused queries and eliminate any irrelevant mentions from your search. It allows you to leverage different Boolean operators to write long keyword combinations with a large number of attributes.
Secondly, many tools offer different ways to eliminate spam. For example, Awario enables you to blacklist users or websites, so the tool will ignore these pages and domains when looking for mentions.
9. What is Boolean search?
Many social listening tools offer Boolean search mode as another option to set up social media monitoring. It allows you to create more detailed queries for when you're tracking commonly used words (for example, Apple), or looking for very specific data.
Boolean operators enable you to create queries that take into account the keywords' word order, grammar form, special symbols, and upper/lower cases. You can choose to monitor certain keywords in certain languages and specify how far your keywords can be from each other. Basically, the Boolean search allows you to narrow down your search to find relevant mentions in the specific and niche use cases.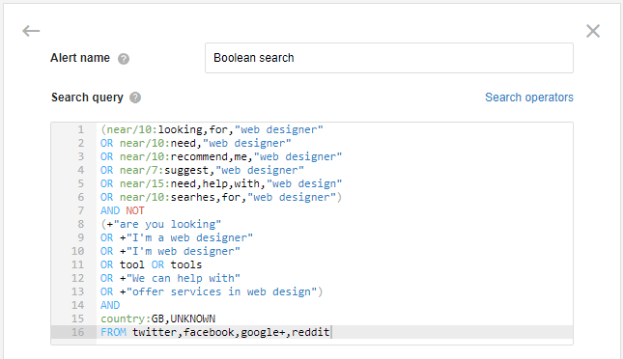 10. Why is social listening important?
First of all, it's proven that your customers hate to be ignored when they are trying to contact you on social media. 48% of customers make a purchase with a brand that is responsive to its customers and prospects on social media. Without social listening, it's extremely easy to miss a customer request or question, especially if they mess up your account's handle.
Secondly, social listening opens up an exciting world of business insights. You can use a tool to monitor and manage your reputation, analyze market trends, spy on your competitors, do audience research, and more. All the data you get through social listening is organic and unbiased: these are opinions your audience expresses on the Internet out of their own will.
11. How to use social listening?
I tapped into how to use social listening with my previous answer a bit. Truly, social listening is a multipurpose tool. It can be used for:
Brand monitoring

Campaign monitoring

Market research

Influencer marketing

PR

SEO

Content marketing

Lead generation
… and more. Your goals will determine the keywords you choose and the way you'll be handling data. The process is similar to most social listening tools: you put in your keywords, choose filters, and then engage with individual mentions and analysis of social listening data.
12. What are the best social media monitoring tools?
The best will always depend on your goals and needs. You might choose a straight-up social listening tool like Awario, which provides you with powerful social listening data analysis. If you want to have all your social media activity in one platform, tools like Agorapulse or Sprout Social that combine management and listening would be great. If you're looking for a data analysis platform, you can go with such tools as Brandwatch, Digimind, or Meltwater.
You can check out our social listening tools' comparison to see which tools suit your needs best.
13. How to choose a social media monitoring tool?
There are several points to consider when choosing a social listening tool, but first and foremost, define your goals. Do you simply want to track your brand name and associated hashtags? Do you need specific metrics in social listening data analysis? Do you want to monitor a specific platform? It's completely normal to have more than one goal for social listening since its applications are so diverse, but you need to map out all of them to choose the best tool for you.
For example, you need a tool to monitor your campaigns and analyze your audiences on multiple platforms. That means you're looking for a social listening tool that covers as many sources as possible and offers robust analytics including sentiment analysis, word clouds, and demographic data.
Once you have a list of goals that easily becomes a list of requests, decide on a budget. With these two in mind, you can research the market and decide what is the best social listening tool for you. Most tools offer either free trials or demos (for example, Awario offers a 7-day free trial), so you can test them out before making an investment.
14. What are some affordable social listening tools for small businesses?
Social listening tools can generally be separated into two price tiers: middle tier and enterprise.
The middle tier usually offers several options starting from very affordable and adding more capabilities with each plan for enterprise-level monitoring. Awario is an example of this price tier — the Starter plan costs $29 and you get more data, more analytics, and more advanced capabilities with other plans.
The pricing for enterprise-level tools starts at around a couple of thousands of dollars as those tools are aimed at big companies.
15. What is the best free social listening tool?
A lot of social listening tools offer free trials or some kind of free versions, however, it should be noted that the free tools' capabilities are fairly limited. Besides the development costs, you need servers to store data and the API to monitor social media, which can also cost quite a sum. That's why free tools are not able to find as many mentions and conduct as thorough of social listening analysis as the paid tools. But, if you want to check out some free social listening tools, you can take a look at Social Searcher or Tweetdeck, free management and monitoring tools for Twitter.
Some tools, while they don't have free versions, offer free trials — for example, you can sign up for Awario's 7-day free trial.
16. How does web monitoring work?
As I mentioned above, social listening tools use crawlers for web monitoring. These are the bots that constantly travel through web pages and collect data that is publicly available on those pages. Awario prioritizes websites based on their importance and crawls them accordingly: some websites are monitored in real time, some every 5 minutes, and some every two hours – you get the idea.
Social listening tools can also opt into using a third-party database that provides them with indexes of web pages instead of creating their own.
17. Does social media monitoring violate users' privacy?
No. All the data that is collected by social listening tools is publically available. For example, you can't track tweets from a private Twitter account. As I already mentioned, some social media platforms go even further and allow tracking only for the Public Pages and business accounts. So there's no infringement of privacy as long as the tool you are using relies on the social networks' official APIs.
18. How does sentiment analysis work?
Social listening tools use sentiment analysis to determine whether a mention is positive, negative, or neutral. Tools may use different natural language processing algorithms, either proprietory or developed by a third-party vendor. The basic principle is assigning a certain sentiment to certain words or phrases. Here's one way of doing sentiment analysis:
First, the algorithm analyzes each word and phrase in the mentions, marks them as either positive, negative or neutral, and assigns a score to them.

Then the scores of each word and phrase in a mention are added up.

The sentiment of the mention is calculated based on this overall score.
As you might now, Awario currently offers sentiment analysis for data in English, but we're developing an algorithm that supports sentiment analysis for 80 languages as I'm writing this post, so look out for international sentiment analysis!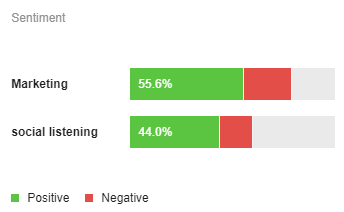 19. What are social listening KPIs?
Social listening metrics can be helpful for evaluating your business performance. Here's how social listening metrics connect to major business KPIs:
Brand awareness can be expressed through the number of mentions and reach of mentions.

Your market share is represented by a share of voice.

The sentiment score will show you the Customer Satisfaction rate.

Net Promoter Score can be described by the share of positive mentions.
Depending on your goals and KPIs, you can incorporate more social listening analytics into your brand evaluation.
---
I hope I managed to shed some light on the world of social listening. If you have more questions, I'll be monitoring (pun intended) the comments on this post and happily answer them.