How to use social listening for video marketing: 5 awesome ways

Article summary
In this article we explain how social listening can greatly improve your video marketing strategy and give you tips on how to use social listening insights.
We live in the age of video. Every social media platform out there is prioritizing video with their algorithms: Facebook, Instagram, even LinkedIn. TikTok, which is a video-based app, is the most successful new social media platform.
According to InVideo, In 2020, 96% of consumers increased their online video consumption, and 9 out of 10 viewers said that they wanted to see more videos from brands and businesses. No wonder marketers are so eager to dive into video marketing - it brings amazing results!
The caveat is that video creation requires quite a lot of effort. While there are less effort-consuming ways to get into video marketing, for example, live streaming, most videos require planning, writing a script, producing, and editing. That's more complicated than creating visuals and writing copies.
So it's only natural that we want to be certain our video performs well. Well, real life is not very much like Mad Men, and while your inspiration and creativity are important, hard data plays a major role in designing a video with a potential for virality. Every good marketer understands that.
Social listening is able to provide this hard data that is so valuable. It can aid your video strategy and direct it where it needs to be to reach your audience.
Before we move on to the exact ways social listening enhances your video strategy, let's briefly discuss what we mean by social listening.
Sign up for a free Awario trial
See Awario in action with a free 7-day trial. No credit card required.
By signing up I agree to the Terms of Use and Privacy Policy
What is social listening?
Social listening is the process of gathering and analyzing publicly available online data from social media and the web. This data includes social media posts, videos, forum notes and comments, blog entries, and so on as well as some metadata such as engagement and views on them. So anything that can be read online can be analyzed by social listening tools.
The process of social listening entails choosing keywords and keyphrases to monitor and collect data around. For example, if you choose your brand name as a keyword, Awario social listening tool will collect every mention of it online and analyze how popular it is, where it's mentioned the most often, what people talk about in relation to it, and so on.
Social listening allows you to understand your audience, their content preferences, influencers they follow, and brands and trends they like. All in all, it's an extremely multifaceted tool that can be used to achieve different results depending on what your goals are.
How social listening can enrich your video marketing strategy
Social listening gives you the insights to form any sort of marketing strategy including video marketing. It helps you understand who your audience is, what they want to see, what your competitors are doing, and what impact your video has beyond likes and comments.
Here are five ways social listening can improve your video marketing.
1. Choose the best platform to reach your audience
It's typical that when we design a video campaign, we pay much more attention to video creation than distribution. That's understandable, video creation takes a lot of effort, but a planned-out distribution makes sure that people will be able to see your video.
I see two ways brands tend to distribute their videos: either by uploading them to the most obvious platform (YouTube) or by dumping them on every platform they have a presence on.
A better way to decide where to place your video is to run a platform analysis. Perhaps you'll find out that there are some platforms such as Vimeo or Twitch that have a large chunk of your audience - but you neglect them.
Awario's social listening analysis can help you uncover this hidden potential. What you need to do is create a social listening alert with niche-related keywords. Something that your audience would say when discussing their interests.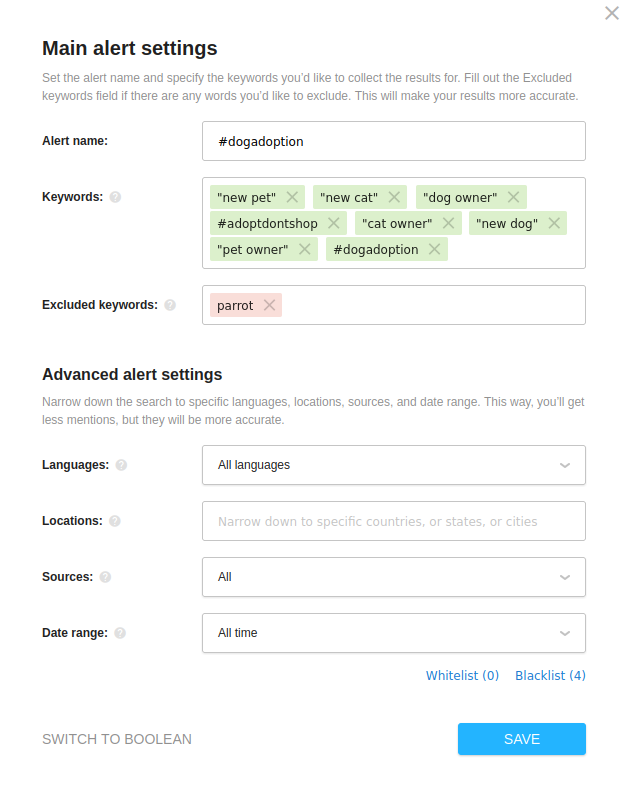 You can make your search more precise by choosing languages, countries, and the time frame of the analyzed data.
Sign up for a free Awario trial
See Awario in action with a free 7-day trial. No credit card required.
By signing up I agree to the Terms of Use and Privacy Policy
Once you've done that and Awario collected enough data (which can take a few minutes), go to the Mention Statistics and check the Sources widget. The tool will show you which platforms host conversations about your niche - you can then use these insights to plan your video distribution.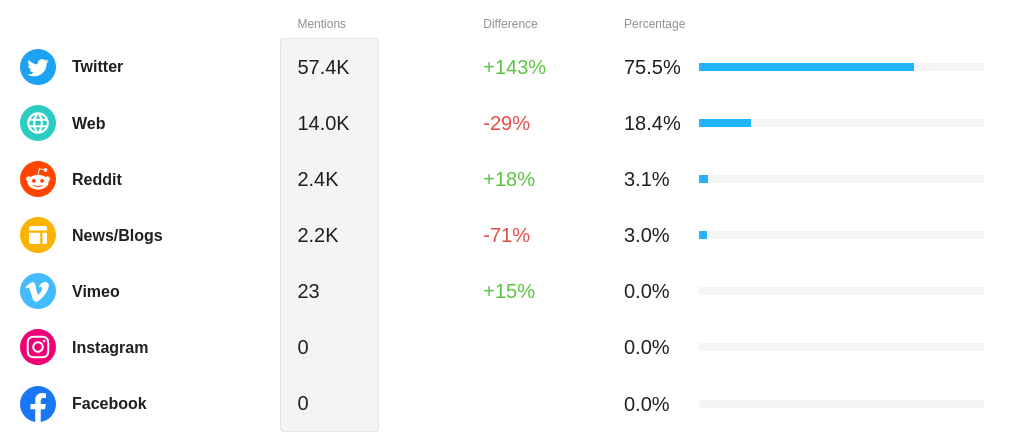 You can run the same analysis for your competitors and see on which platforms they are mentioned the most. If you use Awario's Alert Comparison report you can even find the platforms with a high volume of relevant conversations but a low volume of competitors' mentions. That way you will find less competitive platforms where you can be the first to conquer.
2. Understand what your audience wants to see
Knowing where to reach your audience is one thing, but how about the actual videos you create? Do you know what will attract attention to your content - what kind of aesthetics, references, influencers, and easter eggs they might like?
The trick to audience analysis is that, like everything in marketing, your audience changes as well. While their demographic statistics and defining qualities stay the same, the trends they like and the topics of conversations evolve over time. It can be hard to keep up with, but Awario is here to help.
To understand what makes your audience connect to a video, you can use social listening. Once again, choose the keywords that are likely to be used by your audience: brand names, personalities, topics, hashtags, and so on.
Once your social listening alert is collecting mentions, check out the Topic Cloud. It will show you the topics that are most prevalent among your audience. You can change the timeframe of the analyzed data to see what topics were popular a month ago, a week ago, and which have the spotlight now.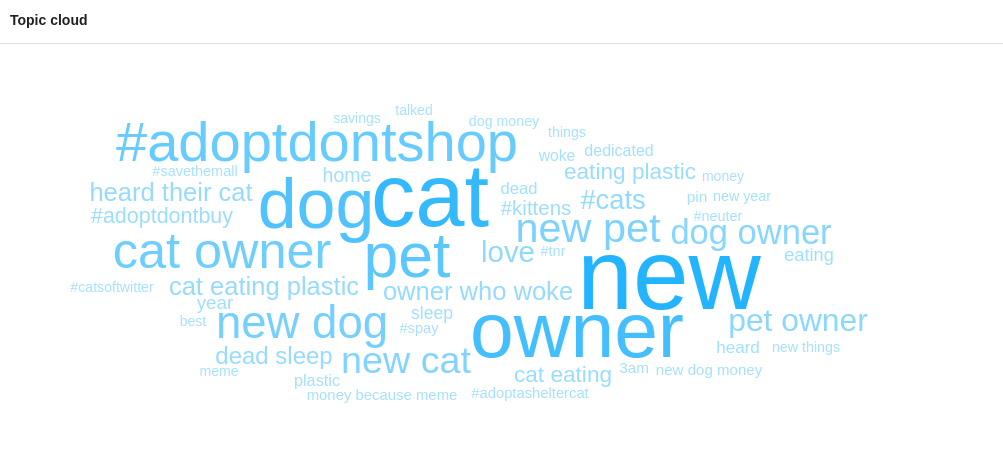 After you check out the Topic Cloud, go to the Mention Feed for the alert and dive into the actual conversations. I recommend sorting mentions by reach, since it will allow you to see the most popular posts forts - and logically the most popular posts are those that embody the current trends.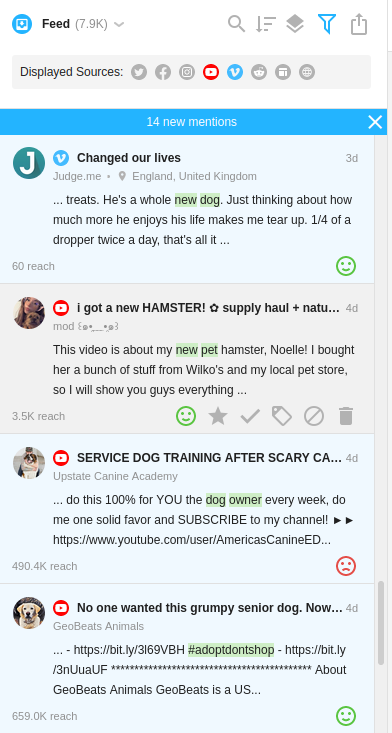 In addition to that, you can filter out those that are irrelevant with a variety of filters Awario provides. Reading the social media posts, articles, and comments, and seeing what links people share will give you a better insight into what's hot right now.
3. Keep an eye on your competitors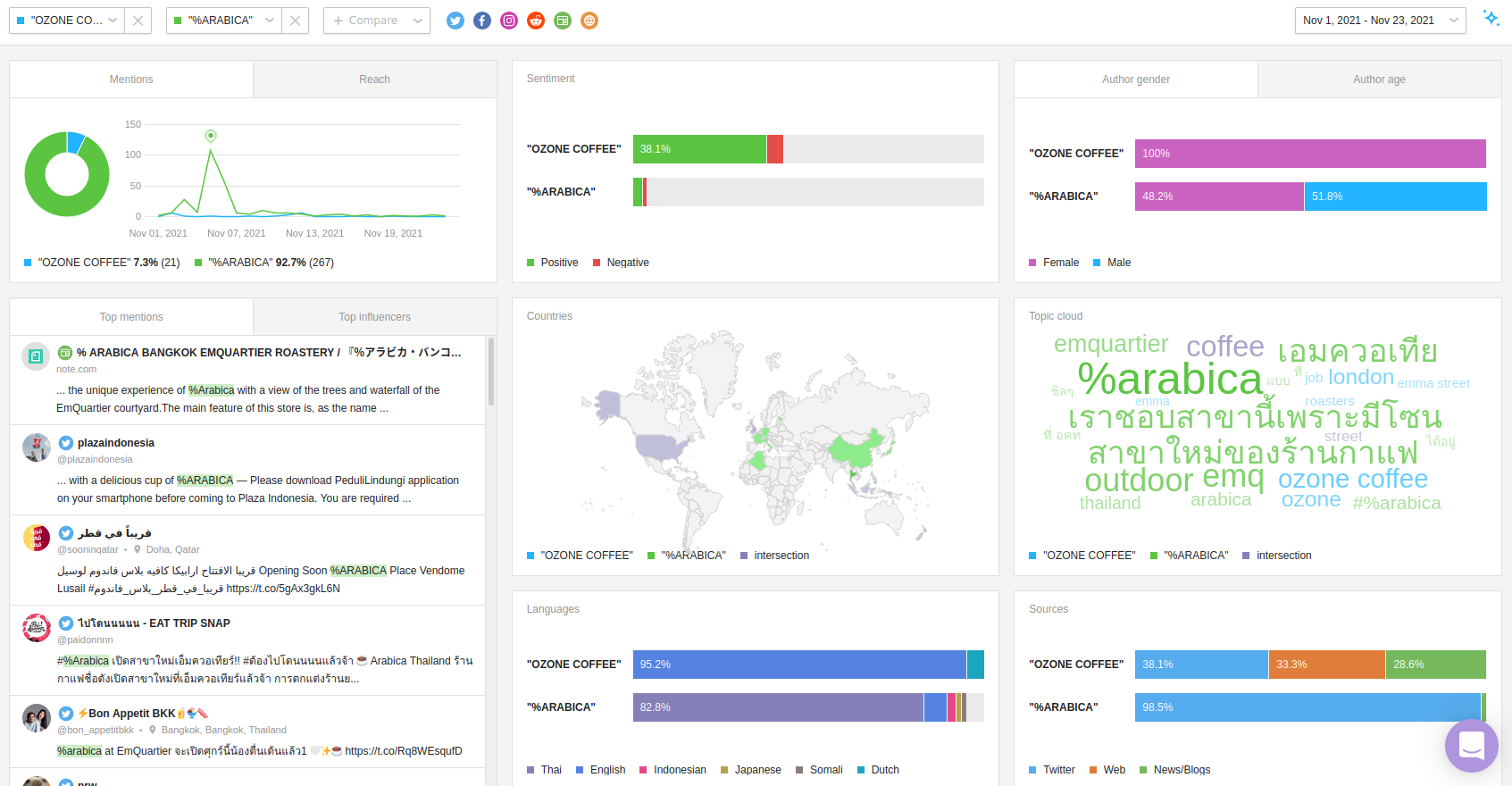 Keep your friends close but your enemies closer - the famous saying goes. In the marketing world, we don't really have enemies but we have competitors, And in this case, you can be closer to them by monitoring and analyzing their marketing strategies, for example, video strategy.
Competitor monitoring with Awario is quite simple. All you need to do is create a social listening alert with your competitors' brand names as keywords. Along with brand names, you can use their branded hashtags, slogans, the names of their products, links to their websites - anything associated with them.
If there are specific videos that you'd like to keep an eye on, you can put in the names, taglines, and hashtags associated with the videos as keywords instead.
As a result, you get insights on your competitors' audience, the way their brand awareness changes after their video campaigns, the sentiment around them, and so on. Since Awario has access to historical data, it's quite easy to find out how the release of a specific video changes their popularity and if it managed to generate buzz around them. You can pick a specific time around the video release and check the Dashboard to see that.
All that information gives you a picture of their video marketing strategy and how it affects their brand. You can dive into the mentions to see which videos were more successful, what people are saying about them, and what parts of the video they discuss the most. These insights can be used to inspire your own video campaigns.
4. Turn your customers' feedback into videos
If social listening is not a part of your routine marketing activities, you might be surprised by how much feedback you are missing. Every day people share their opinions on your brand: on dedicated review websites, social media, local forums, etc. If you're not actively seeking out these opinions, you are neglecting them.
By setting up a brand alert, you'll get notified every time someone mentions your brand or product. In addition to providing social customer care, and tuning in when necessary, you can use those reviews to enrich your video strategy.
If there is an aspect of your brand that attracts people and gathers a lot of positive reviews, highlight it in your videos! You can even reach out to people leaving favorable reviews and ask them to record a video reading their review (perhaps in exchange for a discount or coupon). You can then use them for social media posts - such user-generated content always seems more trustworthy to your audience.
Negative reviews can inform on some parts of your product people don't understand - and you can create explainer videos to make them clear.
For example, in our recent interview with Brooke Sellas, she describes how a lot of negative mentions about a coffee macing that was particularly hard to set up lead them to create a video instruction which in turn led to raising positive sentiment around the brand.
5. Analyze your performance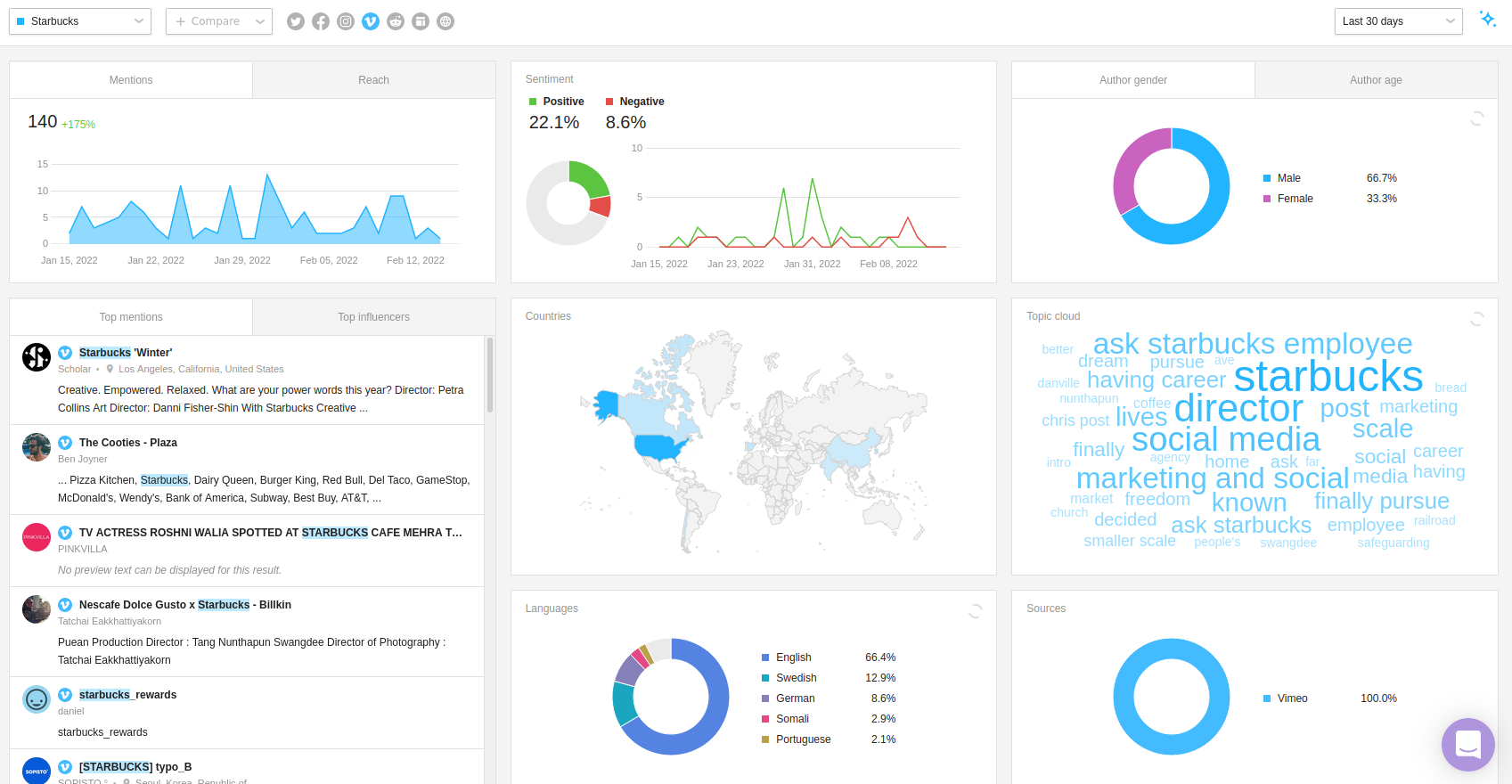 Finally, last but not least - analyze how your videos perform with social listening. Social media platforms give you quite a lot of analytics to work with. You can check your videos' engagement rate, see how it was shared, and read the comments to understand what people think about it.
However, Awario is able to pick up on the long-term results of your video campaign. It answers the questions:
How did the video(s) affect your brand awareness?

How did it change the sentiment around your brand?

Were you able to reach the designated audience?

What messages, moments, or personalities resonated with the audience the most?
With Awario you can clearly see the results not just for your social media profiles, but for the company in general. Take note of these insights and incorporate them into your next video marketing campaign.
In conclusion
Video marketing, while being one of the most effective ways to reach your marketing goals, is quite tricky. You can ensure you get the results you expect by amplifying social listening data to guide your video strategy. Analyze your audience, competitors, and your previous work to find the path to success with Awario!