How to build an all-in-one social listening strategy in 7 steps

Article summary
In this article, we explain how a comprehensive social listening strategy can help your business and how to build one from scratch.
The new year is an excellent excuse to try something new in your business strategy! Whether you decide to embark on an influencer marketing journey, try investing in video, or hop on a trend and conquer virtual reality, there is a tool that can help you on every stage of your marketing path.
If you're an Awario user already, you probably guessed that I'm talking about social listening. If not – this article will be even more exciting for you. Social listening can introduce big and small changes to your marketing if you are using it right.
It can help raise your brand awareness, find new audiences and hot leads, understand how to improve your product and make your customers happy, and even get to the nitty-gritty of marketing with such tasks as link-building and content distribution.
You might already be using some kind of social media monitoring or listening already by looking up your brand name on Twitter, checking your tagged mentions on Instagram, or even gathering mentions with the help of Google Alerts. However, all these activities are far from constituting an actual social listening strategy.
A good social listening strategy is more than keeping an eye on where you get mentioned and why. It is set up to analyze data, give you marketing insights, streamline your customer interactions, and generally support all your marketing decisions. It's an integral part of your strategy and not a side-activity you do on a whim.
In this article, I'll explain how to set up a comprehensive social listening strategy that takes care of your needs. If you are new to social listening, you can use it as a guide. If you've been an Awario user for a while now, don't think that you can skip this article – rather use it as a checklist to make sure you are getting everything you can from the social listening tool.
Before we dive into the steps required to build the perfect social listening strategy, let's take a second to think about why we do it.
Why do businesses need a social listening strategy?
Social listening tools collect any publicly available data on the Internet based on the parameters you give them, analyze this data for the audience, competitive, and other marketing insights, and enable you to engage with the users. It's on you how you choose to utilize these abilities.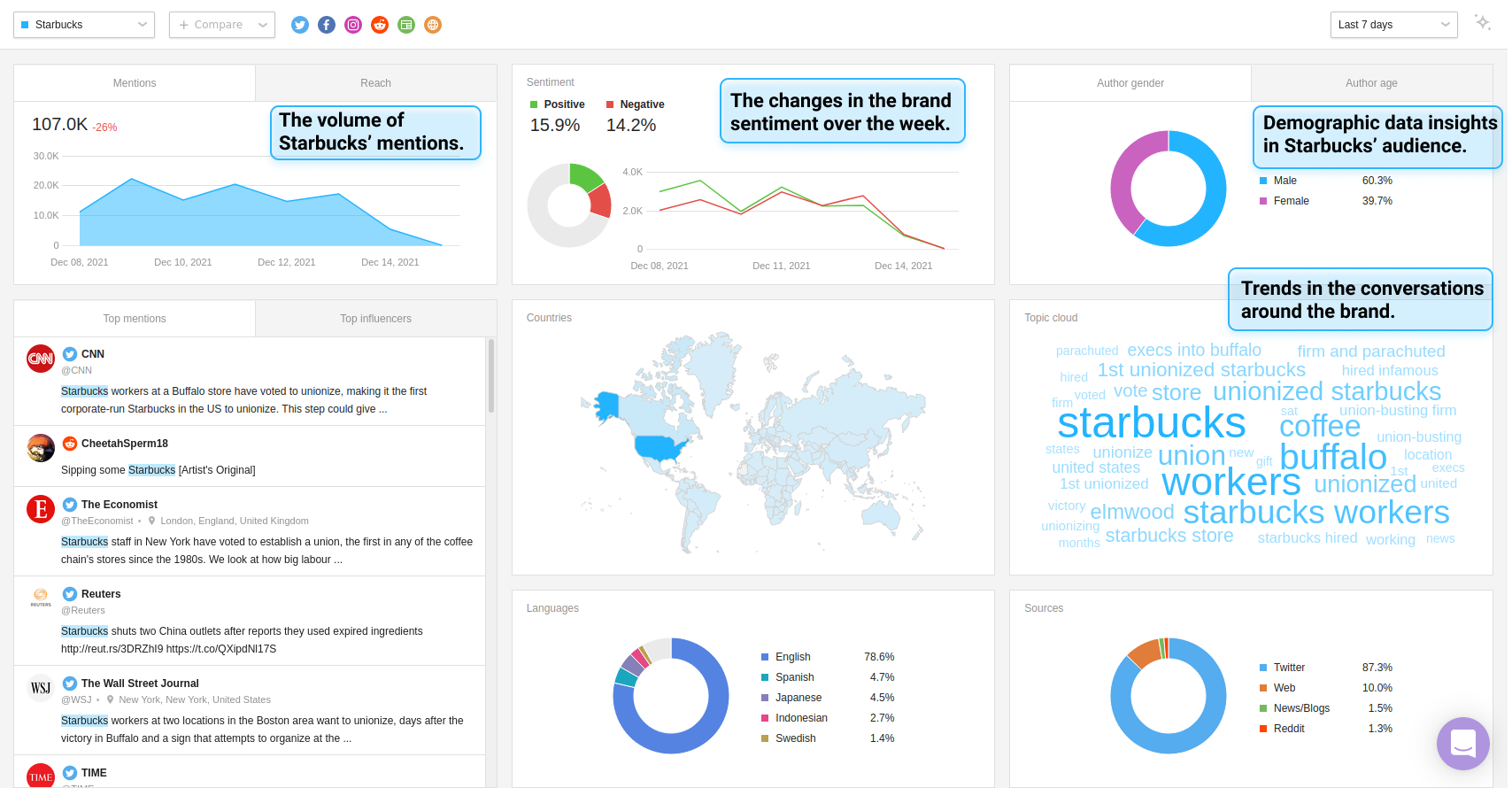 A though-out social listening strategy can help you:
Raise brand awareness

Explore new markets

Improve your product according to customers' needs

Increase your conversion rate

Boost brand loyalty

Incentivize word-of-mouth promotion
One tool to rule your marketing strategy, or at least inform it with data analysis and support your various marketing endeavors.
Now that you understand how much value a social listening strategy can bring, let's get down to the business of building it! To make it a hands-on experience, you can sign up for Awario's free trial (if you haven't already) and follow these instructions step by step.
Meet your personal social listening assistant.
Try fully automated, 24/7 brand monitoring with Awario for free.
By signing up I agree to the Terms of Use and Privacy Policy
How to build a social listening strategy from scratch
Surprisingly, building a social listening strategy is not hard – you just need to be very thorough about it to make sure you're not forgetting anything.
Of course, it's a useful practice to come back to the method below once in a while and check if your strategy is still working the best it can and update it according to your changing objectives and goals. Speaking of goals, as with any strategy, defining them is the first step.
Step 1: Define your goals and needs
As stated above, social listening is truly a multi-purpose tool that can assist with many business processes at once. Nevertheless, you need to be clear with the kind of assistance you need in order to make it useful. Defining your goals should be the first step to building your strategy,
Possible goals that could be accomplished with social listening include:
As you can guess from the number of links in this list, we wrote extensively on each of these topics, so I encourage you to check out these articles if you have a specific goal in mind.
Obviously, you don't have to settle on one goal, but you'll need to create several monitoring topics or "alerts" to achieve them.
Keep in mind that one goal can include several smaller objectives that will also require you to set up more than one social listening alert. For example, raising brand awareness might include:
determining your current brand awareness level and tracking it going forward,

finding out your share of voice,

identifying new channels for your content and promotions,

analyzing audience trends to know what attracts them,

discovering relevant influencers, and more.
It goes without saying that your objectives should be SMART.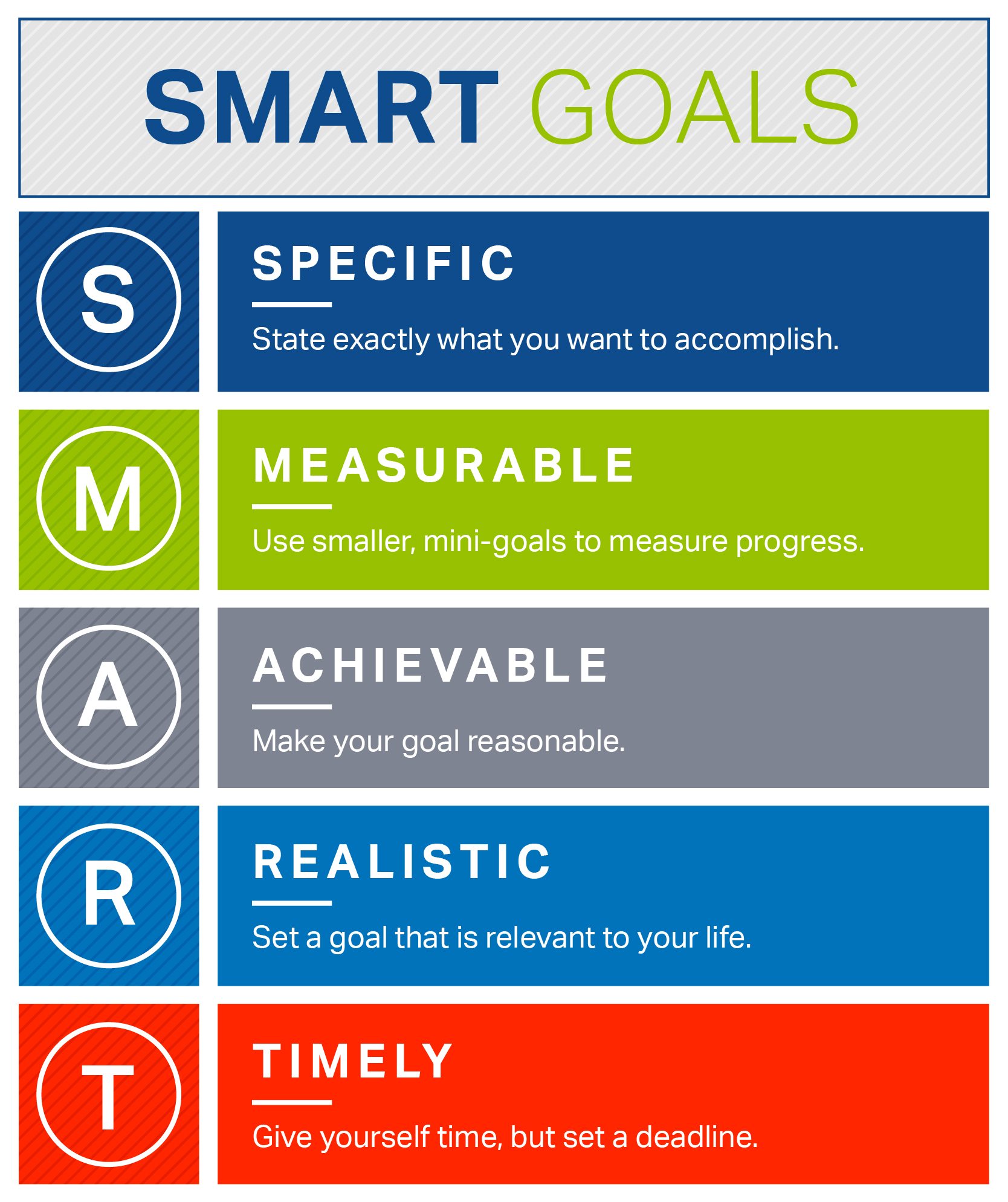 Pinpoint your main business goal (or a couple of them), break them down into smaller objectives and activities, and try to see how social listening can fit into that. Maybe you need to analyze your competitors or a specific target audience, maybe it can help you reach your customer personas and direct them into your sales funnel.
Your goals, needs, and objectives determine how you will set up the tool and your further workflow, so it's truly the most important part of the process.
Enjoying the post? There's more.
Sign up for our newsletter to get our best content by email.
Step 2: Chose a tool according to your needs
Hopefully, you've already signed up for Awario, and can happily skip this step. But if we are building a social listening strategy from scratch, choosing a social listening tool is the next logical step.
When it comes to selecting a social listening tool we are obviously biased: after all, the team behind Awario tries really hard to create the best software for all your needs. Nevertheless, depending on your goals and budget you might want to explore more options.
How to choose a social listening tool? Your goals will guide you but here are some questions to answer before you invest in one:
What sources and channels do you want to prioritize? Some social listening tools focus on specific platforms, so if you, for example, need TokTok monitoring, it may narrow down your choices.

What kind of analytics do you require? Do you need to know the sentiment around your brand or specific trends? Do you want to get a lot of demographic and behavioral data on your audience? Are you looking to run thorough influencer research?

Do you need any specific features such as white-label reports, API integration, or Boolean search for very specific monitoring queries?

What's your budget? The prices in this category can vary greatly, so it's ultrapractical to keep a certain number or range in mind.
Once you've answered the questions, you know exactly what you're looking for. This list of social listening tools is pretty representative of the variety the industry provides.
Step 3: Set up necessary social listening alerts
It's finally time to get your hands on a social listening tool and start setting up monitoring alerts.
An alert is a cluster of keywords that you'll be tracking online and collecting data around them with some additional filters. The alert setup determines what kind of data you'll receive, so you should put a lot of thought into it.
Firstly, decide what you want to track based on the objectives you set – your brand, competitors, influencers in your niche, relevant industry topics, product reviews, key public people from your company, etc.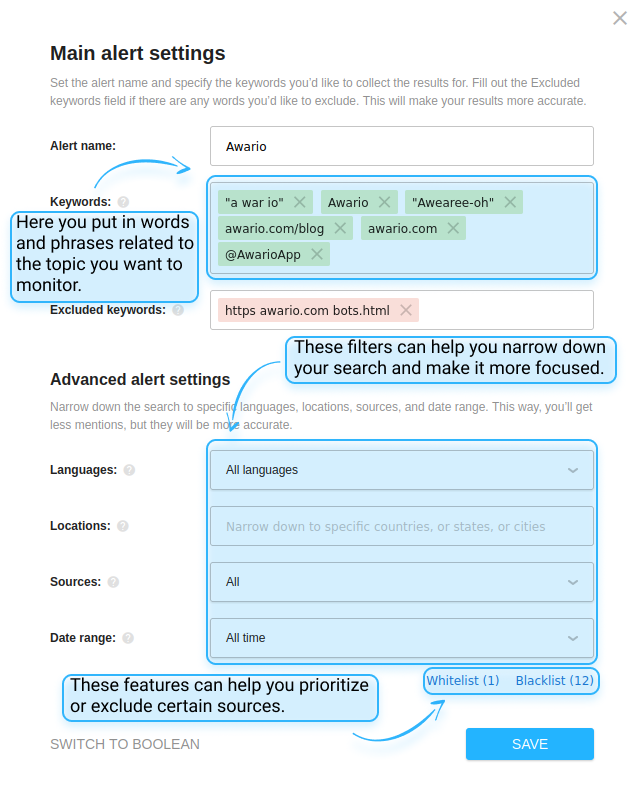 Write down keywords associated with the chosen subjects. For example, if you choose to monitor your brand, don't just write down your brand name. Add abbreviations, common misspellings, your social media handles, a URL to your website. These will be your keywords.
Then think about the filters you want to introduce to your search. Do you want to focus on a specific country or language? Is your brand name a common word so you need to weed out irrelevant data by introducing negative keywords that help you exclude spam? Are you interested in the data from a specific online platform?
Pro social listening tip
If you want to analyze different segments of your audiences, set up multiple alerts with different filters. Let's say you want to compare your British audience with the Canadian one. Set up two alerts with the same keywords but different location filters. That way you can quickly see the differences and similarities between them in the tool.
Another handy filter provided by Awario is the Blacklist (and the Whitelist). With them, you can either block or prioritize specific websites or social media profiles for data search. Make sure you block spam accounts and irrelevant sources while prioritizing influencers and industry media by including them on the White list.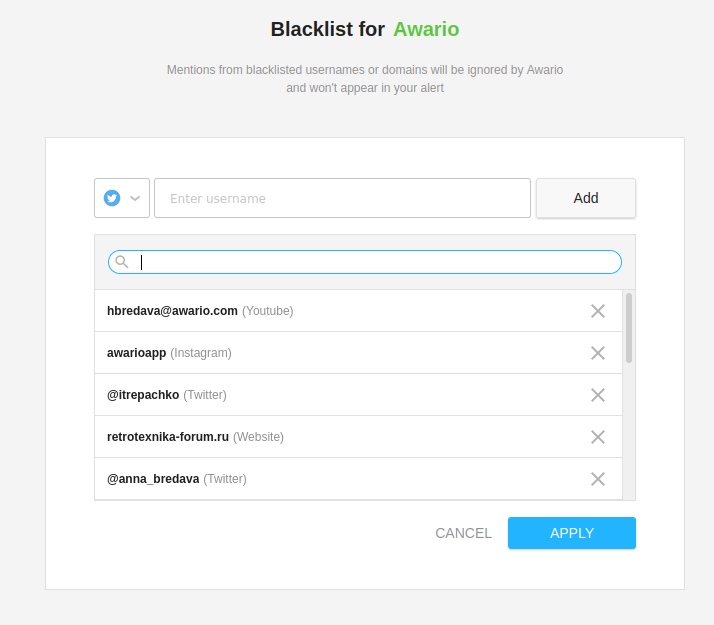 Pro social listening tip
Boolean operators allow you to create sophisticated search queries that may combine several small audiences or specific topics in one alert. Turn to Boolean if you're looking for a laser-targeted search or get a lot of irrelevant conversations in your results that you can't filter out.
Awario also provides users with a separate Leads alert that requires a bit of a different setup. This type of alert is designed specifically to find sales prospects on social media and forums. It uses predictive algorithms to find complaints about your competitors or social media posts indicating buyer's intent (such as "can anyone recommend me X").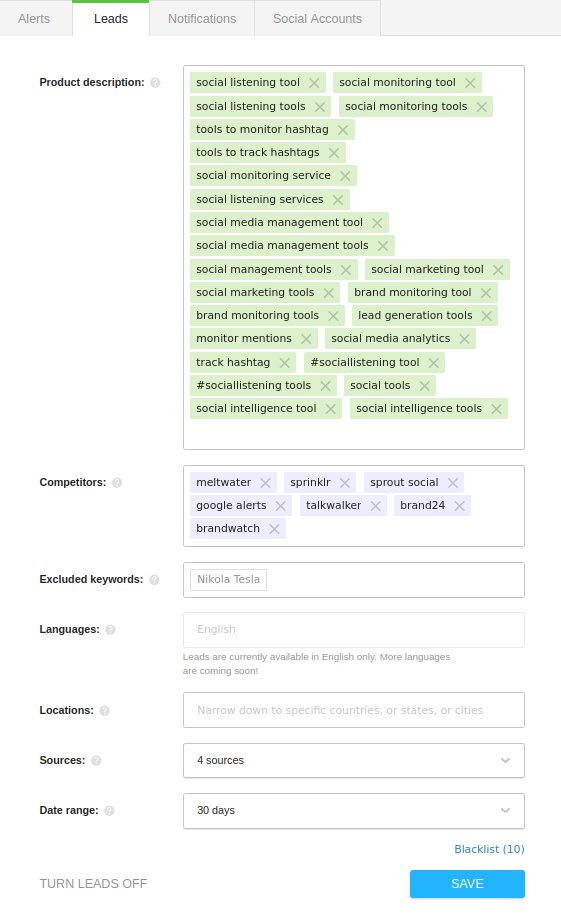 Awario Leads is easy to set up – you just need to add your product type and description and competitors' name, and the algorithm will do the rest for you.
And that's it. As soon as you click Create in the alert settings, Awario starts gathering and analyzing online data. The next logical step is to take a look at the data.
Step 4: Take a look at the data and tweak the alert settings accordingly
Once you launched your search, check incoming conversations to make sure you're not pulling a large chunk of irrelevant mentions. You can do that by clicking on the name of the alert on the left sidebar. This will immediately take you to your Mention Feed where you can read and interact with conversations collected by Awario.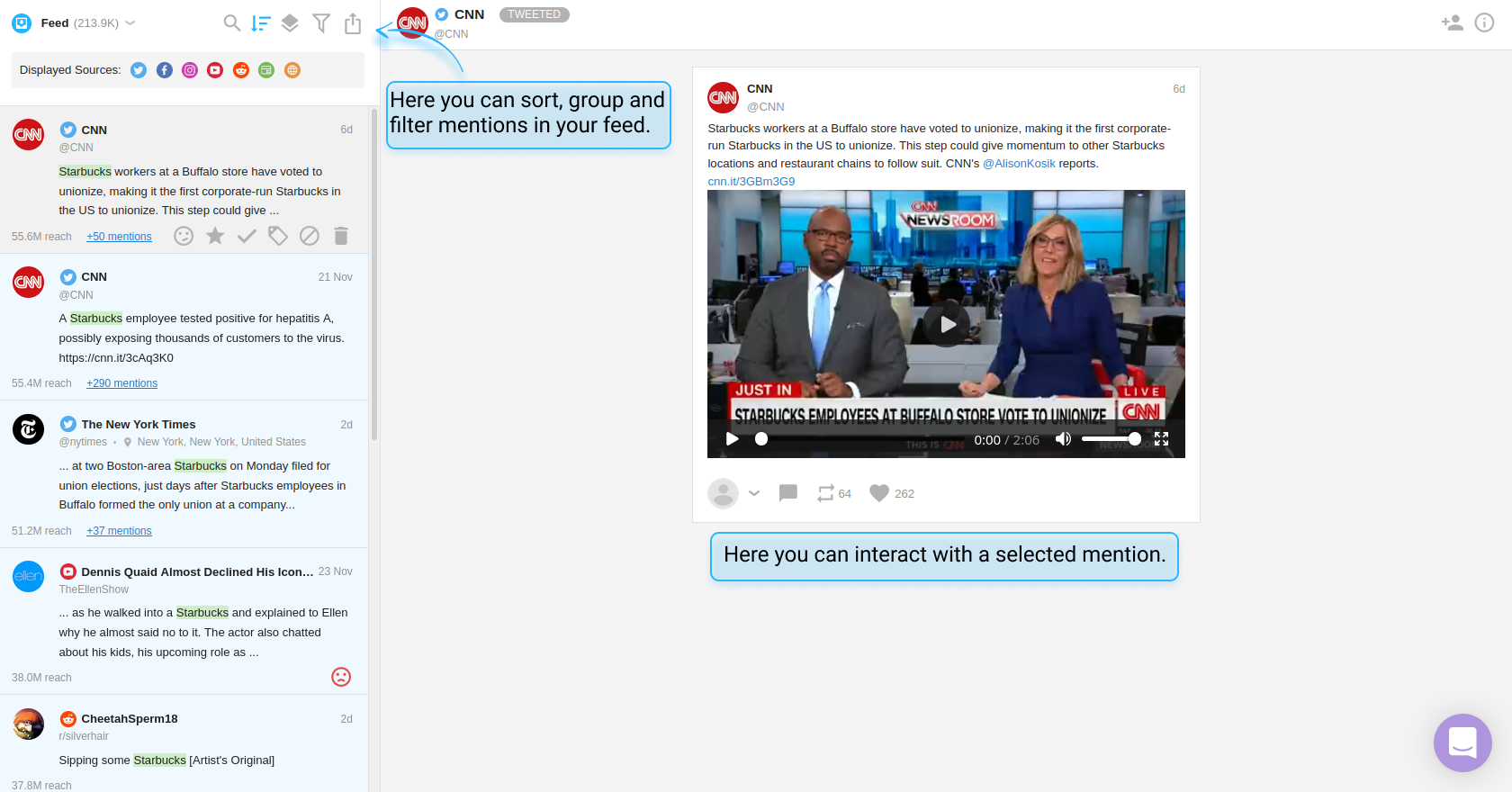 If you notice a large number of irrelevant mentions, go back to your alert settings and add more filters to narrow down the search. If the irrelevant conversations are few or coming from select accounts you can just delete them or add these accounts to the Black list right from the feed.
Social listening is oftentimes the "set it and forget it" kind of deal but I still recommend checking and changing your settings regularly.
Meet your personal social listening assistant.
Try fully automated, 24/7 brand monitoring with Awario for free.
By signing up I agree to the Terms of Use and Privacy Policy
The Mention Feed provides you with many ways to work with conversations. You can sort them by their reach or the number of engagements on them, filter them by different parameters, assign them to people on your team, and tag and categorize them. You can even search through the data looking for conversations that mention something specific.
These features may come in handy based on your goals. For example, if your primary goal was growing your brand, you may sort the mentions on your feed by reach to see the most influential first. If you want to take care of social customer requests, you may filter out all the positive mentions, leaving the complaints and grievances.
All these actions will be part of your social listening routine which we will tackle next.
Step 5: Establish a social listening routine
Everything we've done so far led to this moment. At this stage, you determine how you'll be using the tool in your business activities. Establishing a social listening routine allows you to convert your intentions for the tool into practical actions and fix them in time. Here are some questions to ask at this stage:
How will I engage with relevant conversation? (respond to customers, engage sales prospects, promote brand engagement, or simply look for user-generated content)

How often do I need to check these conversations?

What analytics and insights are important to me?

How often do I need to check these analytics?
When you have the answers, you can create a workflow. For instance, my goal is to raise brand awareness. Here's what my workflow may look like:
I open Awario, go into the Mention Feed and sort the conversations around my brand by reach. I check the mentions and respond when appropriate.

I check out the conversations around my niche and try to get involved in the discussions with the high reach and a large number of participants.

I go to the Dashboard to see how the volume of my brand mentions and reach changed this week and what are the main topics of conversation in my industry.

I check my brand sentiment.

Once a week I open the Mention Statistics report and look for audience trends and emerging opportunities for promoting my brand.
Your workflow may include additional steps not even connected with Awario – maybe you'll want to keep track of every account you engaged with in a separate CRM for example.
Another important thing to pay attention to here is how you want to be notified of the new mentions. You can choose to receive notifications to your email (or several emails) and Slack channels. Decide if you need notifications and how often you want to receive them to enrich your social listening routine.
Of course, the workflow will depend on the size of your team, the time you have, and other circumstances. Understand what works for your goals and stick to it.
Step 6: Create a protocol for crisis moments
Once in a while, there might be something that breaks your usual workflow: a sudden spike in negative sentiment, an organic mention from a huge influencer, or a budding viral trend that you've just noticed.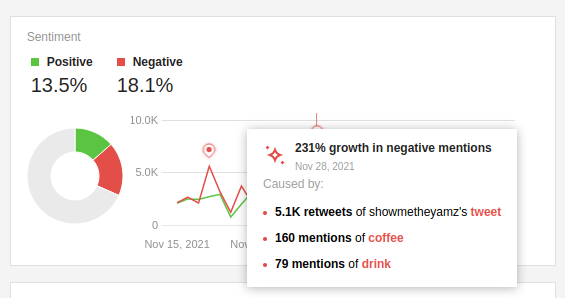 As you see, not all these events are bad, so we can't call them crises per se but you need to know what to do in this situation to react quickly. Awario is monitoring and analyzing data in real time which means that some events will require a quick response or solution to handle them properly.
This stage is only partially connected to social listening since, in all honesty, you should have a protocol for these kinds of events even outside of your social listening routine. However, since Awario is quick to point out opportunities and weak spots, it can encourage to take care of those in advance.
Figure out how you should react in crises situations and make sure your team knows what to do as well.
Step 7: Master the social listening reports
Most social listening tools organize their marketing insights into reports which makes it easier to analyze your current stats and present them to other stakeholders. Awario, for example, offers three types of social listening reports.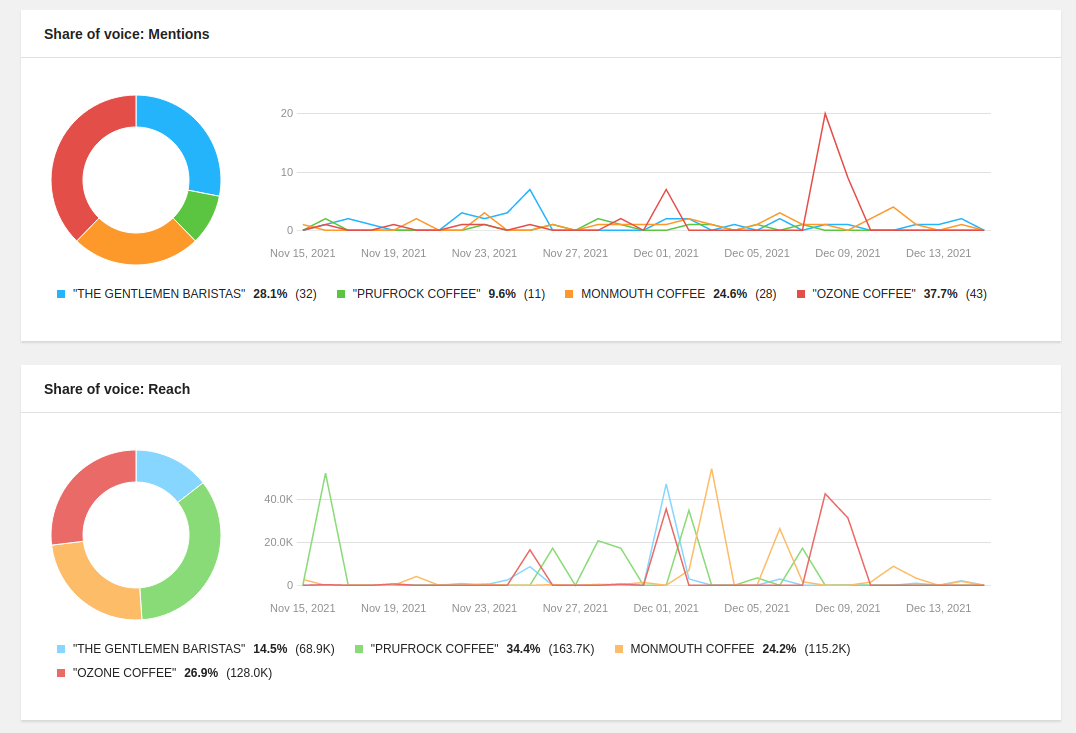 The Mention Statistics report presents all the insights around your social listening alert including demographic, psychographic, and behavioral data on your audience and the conversation trends.

The Alert Comparison report allows you to compare brands, audiences, and topics. It's extremely useful to calculator your share of voice, set benchmarks against your competitors, or compare online trends.

The Influencers report finds and analyzes influencers using your chosen keywords. It ranks them by popularity and relevance to your search and allows you to contact them.
You can customize the reports by adding and deleting different analytics widgets. Consider what metrics will be indicative of your goals and make sure you present them in your report.
Don't just leave these reports on the table (or rather desktop). The point of data analytics is to implement the insights you get into your business processes – so once you check out the reports, note how you can improve your product, your marketing, or customer care with the insights you got from Awario.
Conclusion
With these seven steps, you have a comprehensive social listening strategy that works for your brand.
As you might have noticed, this strategy is extremely flexible and customizable. Since social listening is such a multipurpose tool, there is no cookie-cutter template for any brand – your needs will determine what kind of value Awario brings you. However, you can be certain that it will work in your favour.